Picture this: you've just reached the top of an epic hike and are feeling your energy levels flagging. You could do with an espresso but there's no coffee shop in sight. Or you're staying in a hotel that only has grim coffee sachets or a pot of drip that's been sitting for 3 hours.
What's the solution? Having one of these picks for the best portable espresso machine with you. (Spoiler alert: it's the Wacaco Picopresso and it's not close).
Each of these travel coffee makers has its pros and cons. And they can do vastly different things. So which is really 'best' all depends on what you're looking for. And, I guess also what your definition of "portable" is.
As an ex-barista who loves to travel, I've put all the top options through their paces. So you can pick which of our favorite portable espresso makers is right for you. Just keep in mind that all, bar one, require an external heat source and they all specialize in espresso, not coffee.
1. Wacaco Picopresso – Overall Best Portable Espresso Machine
An upgrade from the excellent Nanopresso, the Wacaco Picopresso is hands down the best portable espresso machine.
It's absolutely tiny at just over 4 inches tall but it has everything you need to pull an excellent espresso shot. The upgraded 52mm basket with a max dose of 18g for full bodied espresso, even pulling a double shot.
All the accessories have been upgraded too. Quality tamper, funnel, and distribution tool allow you to get the perfect coffee puck for extraction.
Almost no plastic is used in the construction. This is good from more of a durability standpoint than anything to do with taste or safety. The travel case will help keep it safe too.
For those looking to make genuine, cafe quality espresso on the go, it is the only choice.
2. Wacaco Nanopresso
We spend long periods living out of a backpack and absolutely love the Wacaco Nanopresso:
It looks great, it's small, it's light, it's easy to use and it makes great espresso. Pretty much the whole package for your on-the-go coffee needs!
Plus, this handheld espresso maker works on a modular system. That means you can buy little extra bits to have your coffee just how you like it. For example, the NS-Adapter allows you to use Nespresso coffee pods or the Barista Kit allows you to make double shots.
For us, the Wacaco Nanopresso ticks as many boxes as a portable espresso maker can tick. It also comes in a variety of colors, which is just bacon bits on the top.
It won't compare to seriously high-end home espresso machines in terms of quality, and you have to heat the water separately. But for the price, size, and ease of use, it's a very impressive portable espresso maker.
With the Picopresso surpassing it in terms of espresso quality, the Nanopresso is really now only the best option for those who want Nespresso on the go with the NS-Adapter.
3. Flair Classic – Best for Espresso Enthusiasts
Flair manual espresso machines are beloved by those who adore their espresso. They are the perfect machines if you want to fiddle with every detail of the espresso-making process to brew exactly how you want it.
So, it's the ideal travel espresso machine for you if you have the time and desire to perfect your espresso making at home or on the go.
The Flair Classic model is deceptively simple with its lever design.
But, in being so simple, it gives the user almost complete control of the process. You can set all the parameters from dose to temperature to pre-infusion to pressure to duration. Hopefully resulting in exceptionally delicious coffee.
Plus, it looks really cool.
Whilst it's not the most portable espresso maker on the list by any stretch, it's still a great option for moving around. The Flair Classic packs flat into a hard carry case, making it easy to take to work or on vacation. So you never have to compromise on your coffee quality again.
But, realistically, you're not taking it camping or hiking as it's much bulkier than the other portable espresso makers you will find on this best portable espresso machine list.
If you're happy to get the extras like a grinder and water thermometer. And, if you only want to drink espressos, then this is a great manual espresso machine.
4. Handpresso Wild Hybrid
Do you want the flexibility of using both E.S.E. pods or ground coffee in a super compact and easy-to-use mini portable espresso maker?
Then the Handpresso Wild Hybrid could be the machine for you.
This incredibly portable device is very simple to use: about as difficult as using a bicycle pump.
With the flexibility to use either ground coffee or E.S.E. pods, this portable espresso maker is ideal for those who have limited space in their backpack or purse but still want to have a good espresso on the go.
The Handpresso Wild Hybrid makes a good espresso, reliably, with minimal fuss. In terms of pure coffee quality for the price, we prefer the Wacaco Nanopresso. But it's slightly more complex to use and more difficult to clean, especially as it needs 6 monthly deep cleans. Plus it's insanely hard to get hold of outside of Europe.
If ease of use and cleaning are your main priorities when looking for a good espresso on the go, then the Handpresso Wild Hybrid will serve you very well.
5. Cafflano Kompresso
This portable espresso maker is the brainchild of Korean coffee lover, Hansang Yoon. He was sick of paying too much for his morning caffeine fix. But also didn't want to splash out for a big, complex espresso machine.
So, instead, he designed one of the best espresso machines under $100 – the Cafflano Kompresso.
Since its initial Kickstarter campaign in 2013, Cafflano has taken the coffee world by storm.
Now, the Kompresso is the most recent addition to their portable espresso makers. And this machine offers a similar level of control as other manual espresso machines but in a very compact and easy-to-use form.
If you're a coffee nerd who wants to play around with grounds, water temperature, and various coffee beans then this is a fantastic budget option for you. It's a bit utilitarian-looking, unlike the funky UniTerra Nomad, but so are most portable espresso machines.
With the Cafflano Kompresso, you can meddle with elements to your heart's content. Plus, you can pull really high-quality espresso shots with a nice crema.
However, if you're just looking for a quick espresso before work or the best portable coffee maker for camping, then it's not ideal. It can take 8 minutes to brew your espresso and many many things can go wrong if you're half asleep or hungover.
All in, it's a great product for a new market of coffee lovers.
6. Staresso Portable Espresso Maker
When it comes to the best portable espresso makers, Staresso is kind of a big deal. But, what they offer is more than just portability:
The Staresso stands out from the crowd as, not only can you take your espresso on the road, but this is also a portable latte maker. It has the added bonus of being able to froth milk, all in an easy-to-use device.
This makes the Staresso portable latte maker a rare find, with its dual-purpose role. So, if you're someone who enjoys a cortado or similar espresso and milk drink, then this could be the answer for your on-the-go coffee needs.
The fact that it's incredibly simple to use and clean is a big plus point too.
However, unless you're specifically looking for the milk frothing feature, then you can get better quality espresso from the other portable espresso makers listed here. Although the directly comparable portable devices, like the Wacaco Nanopresso and Cafflano Kompresso, are also slightly more expensive.
7. Bialetti Moka Express
So we know, a Moka Pot doesn't "technically" make espresso.
However, for millions of people, the "espresso-like" Italian coffee produced by the Bialetti Moka Express is exactly what they want. So we've included it as one of the best portable espresso machines.
It's also simple to use and easy to transport, as long as you have a stove of some sort. Perfect as a portable espresso maker for camping in an RV or for taking to the office. Plus it's cheap and sturdy – the Bialetti espresso maker really does have a lot going for it.
Being all one unit, this is a portable espresso maker that heats the water whilst making your coffee. You don't need to add the hot water as you do with the others.
Designed by Bialetti in 1933, the classic design not only looks great but is made to last too.
The only real downside is that it will only make one style of coffee. It falls in that halfway house between true espresso and drip filter.
So, if that isn't what you like to drink on a daily basis then this isn't the coffee maker for you. If it is, then it's very hard to argue against the top-quality Moka Coffee Pot.
8. Wacaco Minipresso
An earlier generation of the Wacaco Nanopresso, the Wacaco Minipresso really only has 1 advantage over the newer model:
If you're someone who wants to only use Nespresso pods to make your espresso, then the Minipresso NS just sneaks into the lead.
The Minipresso NS is made solely for Nespresso pods. And it's considerably cheaper than the Nanopresso, especially once you've bought the Nespresso capsule add-on for the Nanopresso.
This mini portable espresso machine only generates 8 bar of pressure. But for Nespresso coffee, you probably won't notice this difference very much. Although you definitely will if you go for the Minipresso GR model which takes ground coffee.
Either way, the Wacaco Minipresso is a quality backpack espresso maker for those looking to make a good espresso no matter where you are. You just need access to hot water.
The device is small, light, and insanely easy to use, making espresso available to anyone, anywhere.
It's very affordable. But our recommendation would be to pay a little extra for the Wacaco Nanopresso – an updated version that is improved in almost every way.
However, if you are only after a single espresso on the go, the Minipresso will do the job admirably. You can choose between the NS and GR models. Both are great, depending on your coffee preference, for a hike, at work, or on vacation – and at an affordable price.
9. De'Longhi EMK6
A slightly different take on a portable espresso maker is the DeLonghi EMK6:
This is one for those who take their RV camping with them or need something to plug into a hotel room or Airbnb as they travel.
Unlike the others on this list, it doesn't require an external heat source. But it does need to be plugged into a power source.
The DeLonghi EMK6 is another Moka Pot, but this time it's an easy-to-use electric Moka pot. So, it makes "Italian espresso" as it doesn't generate enough pressure to create "true" espresso. But it does take almost all the hassle out of making Italian espresso.
While it doesn't make "true" espresso, for those who are a fan of the style of coffee produced by Moka Pots, the Delonghi EMK6 is safe, easy to use, and clean.
However, it's incredibly easy to use and it's a lot safer than a regular Moka Pot. Plus, it has a "keep warm" function which is a nice touch. It's also relatively inexpensive so it has a lot going for it.
Whilst it is an electric stovetop espresso maker, it is still small enough to be thrown in a bag or stored in the cupboard of an RV. So, it's the perfect portable coffee maker for life on the road without having to compromise on coffee quality.
Despite being electric, it's not much more expensive than a regular Moka Pot. Although some users don't like that De'Longhi has removed the stainless steel top chamber in favor of plastic. But, we enjoy watching in anticipation as our coffee bubbles away.
10. AeroPress – Best Portable Espresso Machine on a Budget
Once again, we know the AeroPress doesn't make "true" espresso. But you can't have a list of the best portable coffee makers without including the Aeropress, it is one of the biggest names in the game after all.
The AeroPress has taken the coffee world by storm since its invention in 2005. Now, there are international competitions and thousands of YouTube videos and articles on the best ways to make AeroPress coffee.
You can buy an attachment that will allow you to create true espresso from this portable coffee maker. And, if you like the freedom and versatility it brings, it's an awesome budget option.
The Aerobie AeroPress is a cheap, portable coffee maker that makes exceptionally good coffee – with a little bit of practice.
However, even with the extra attachment, it won't be able to produce a top-notch espresso. The pressure exerted will, instead, create a good black coffee. But, unless you are specifically looking for a true espresso machine, this isn't much of a negative.
You may need to buy a manual grinder if you want truly exceptional coffee. But then, with the price of the Aeropress being so low, this will hardly break the bank.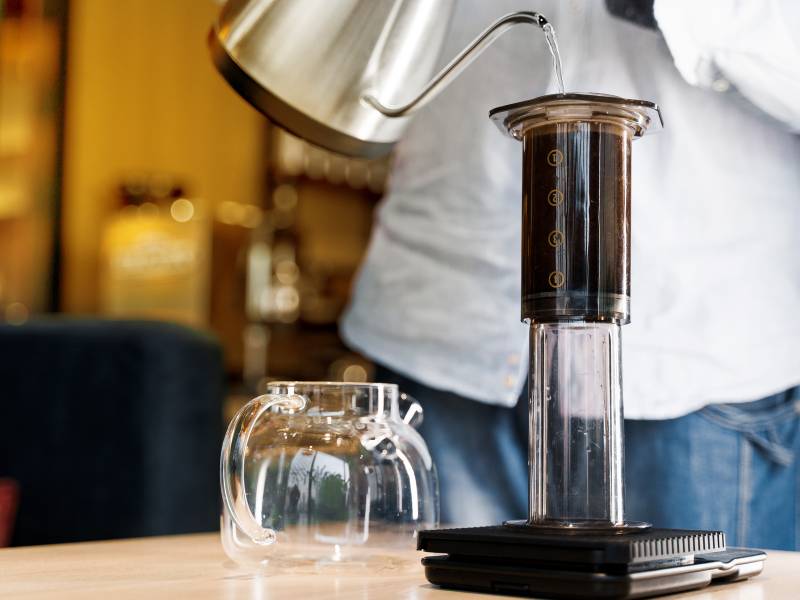 So, what is the best portable espresso machine to take on your travels?
For us, it has to be the Wacaco Picopresso.
When you spend your life on the road, it's hard to beat. The high level of pressure in the hand-pumped backpack espresso maker gives you the flexibility to have great espresso no matter where your life takes you.
But any of the espresso makers on this list will set you up with a great cup of coffee. You certainly won't be disappointed.