Do you dread poor quality coffee when you travel? Or, maybe your office coffee maker just doesn't hit the spot? If so, you need this Wacaco Nanopresso review to find the solution and save you from bad coffee, no matter where you are.
The Wacaco Nanopresso is a pocket-sized espresso lover's delight. The handheld espresso maker can be used at home or taken anywhere with you due to its incredibly small, lightweight, and compact design.
This travel espresso machine is the brainchild of Wacaco. After having a poor espresso shot in a hotel whilst traveling, the founder dreamt up the idea for a portable espresso maker. His desire was to ensure that good espresso was available to everyone who wanted it, no matter where they are traveling.
So, let's dive into the full Wacaco Nanopresso Review and find out if is worthy of becoming your must-pack item.
We have scoured the internet for all the expert reviews on this espresso maker to collate with our own. This means we have the most comprehensive coffee maker review you can find. Whilst not all home coffee experts give numerical scores, we have averaged these out. Therefore, you can get a consensus opinion on how good this travel coffee maker is and know for sure if it is the right espresso maker for you.
This article may contain affiliate/ compensated links. As an Amazon Associate, we earn from qualifying purchases at no additional cost to you. For more information please see our disclaimer here.
At a Glance: Wacaco Nanopresso Review
Wacaco Nanopresso
The Wacaco Nanopresso is a superb handheld espresso maker for your on-the-go coffee needs.
Being able to create 18 bar of pressure with the hand pump means you get a superb espresso. Plus, the ability to use both prepacked espresso pods or ground coffee is a massive bonus.
It won't compare to seriously high-end espresso machines in terms of quality, and you have to heat the water separately. But for the price, size, and ease of use, it's a very impressive espresso maker.
This pocket-sized machine should be seriously considered by anyone who loves espresso.
Pros
Portable
Makes great espresso
Easy to use and clean
Can make cold espresso
Built-in coffee cup
18 bar pressure
Nespresso pod adapter available
Cons
Needs heat source for water
Time consuming to make multiple espressos
Pumping manually can be tiring
Allan key needed for deep cleaning
1. 18 Bar of Pressure
18 bar is a big deal. Most budget home espresso machines can only create 15 bar pressure with a vibration pump. So, to be able to create 18 bars from a hand-pumped espresso machine is incredible. The extra pressure allows you to get excellent espresso, even out of light or medium roast beans.
2. Lightweight Portable Espresso Maker
In terms of portability, the Nanopresso really can't be beaten. It weighs in at less than 12 oz. That's the whole device, including a handy espresso cup, in a convenient travel case. All for just 0.74 lb.
3. Very Easy to Use
Despite looking like something only a teenager would know how to use, the Nanopresso is deceptively easy. The instructions are very straightforward, so it's incredibly easy to get great results from your first use. Minimal effort or technical skill is required.
4. Excellent Accessories
To take your espresso-making game up another notch, there are great add-ons to the Nanopresso. You can get an NS Adapter which will allow you to use Nespresso pods. You can also purchase a "Barista Kit" which allows you to brew 2 espressos at once for double the fun.
Pre-Heat Your Nanopresso: For the best results when brewing, you want to make sure your Nanopresso is warm. This is easily done by running some hot water through it before you start.

Add Your Ground Coffee: Take out the filter and add your ground coffee using the scoop. You can use the back of the scoop to tamp down your grounds too. Then put the filter back in the Nanopresso.

Add Hot Water: Add your hot water to the water tank. There are two fill lines, 50 ml and 80 ml. Fill to the line of your preference.

Screw Nanopresso Together: Once your coffee and water are in their separate chambers. Screw the Nanopresso back together and turn it upside down.

Pull Your Espresso: Use the hand pump to first build pressure then extract your espresso. Start pumping in a steady rhythm. The first 8 or so will build the pressure, then keep pumping until all the water is gone. This should take around 25 pumps in total.
It's so simple to use and the espresso quality really is excellent. If you have the NS Adapter, it's even easier. You simply pop a Nespresso capsule in instead of adding and tamping the ground coffee. A total game-changer.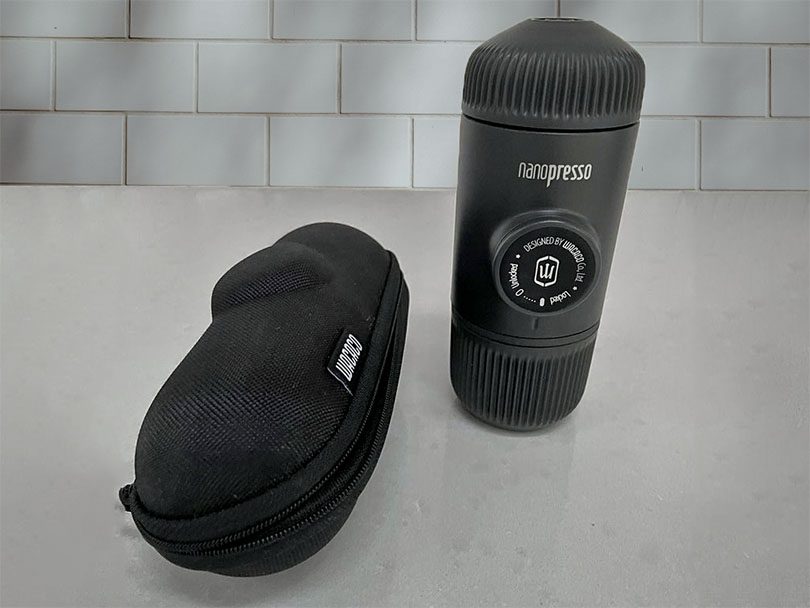 The Nanopresso portable espresso machine is designed to work with ground coffee. But pod fans fear not. You can buy an attachment that will allow the Nanopresso to work with Nespresso Original capsules: The Wacaco Nanopresso N-S Adapter. So, technically it can use both. But not on the basic model straight out the box unlike the other Wacaco espresso maker, the Minipresso.
Whilst prepacked espresso pods don't produce as good quality coffee as freshly ground, it does make life a lot easier on the road. But, if you choose not to buy the adapter, you'll either need to buy a grinder or use pre-ground coffee beans.
If you're using this portable machine for travel, having a grinder may not be feasible. But you will still get an excellent espresso with pre-ground coffee, especially if you take measures to keep it fresh.
The tastiest espresso starts with the best espresso beans. Check out our top picks from global coffee experts.
Although the espresso maker is made from plastic, it feels very sturdy. And the build quality on the pump is exceptional. It's so smooth to operate, making almost no noise at all.
The design is very ergonomic:
It fits nicely in your hand and the pump has smooth edges for your thumb and forefinger to rest on whilst using. This makes it comfortable and easy to use, even with wet hands.
To make travel life even easier, all the components pack back up into the sleek design. So, you never have to go hunting for a scoop, tamper, or espresso cup when the need for caffeine hits. The handy espresso cup is made from plastic which will never be as great as a glass or ceramic espresso cup, but that's being pedantic and they are less likely to survive the rough and tumble of travel anyway.
I know this all seems a bit sales-y as we have no negatives to say. But the design really couldn't be any better.
Now, you do have to fiddle with the grind and water temperature. Doing so ensures you get exactly what you want. However, you can get a great espresso, no matter your choice of roast.
Pre-ground coffee also produces an excellent espresso. Honestly, it performs closer to a high-end espresso machine in taste than a budget portable one. The NS adapter means your espresso will be just as good as it is from your machine at home.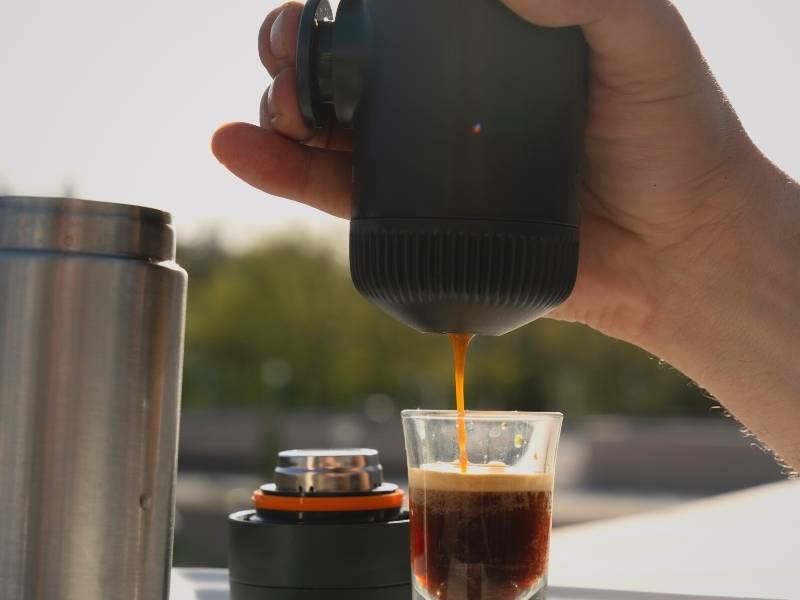 Firstly, you can buy an extra attachment for using Nespresso pods. The Nanopresso N-S adapter is super simple to use, it just screws in, and makes this handy device even easier. It doesn't work with K-Cup capsules though – just Nespresso.
There is also a "Barista Kit" you can purchase. This allows you to brew 2 espressos simultaneously for either more coffee for yourself, or to share with your travel buddy. It does, however, require you to carry two separate cases with your espresso maker. So, a little extra room in your travel bag is needed for this added convenience.
Straight out the box, the Nanopresso comes with a handy carry bag. However, if you want something a little more robust, Wacaco also sells a Nanopresso S-Case. This is a hard carry case offering more protection to your device.
Shop the Nanopresso's Accessories
Everyday cleaning is simple. You don't need to worry about expensive cleaning products – simple soap and water will get the job done.
There are, however, lots of parts compared to competitors like the small Cafflano espresso maker. So, you will need to take care not to lose them when you take everything apart.
There is a small brush included with the Nanopresso that is perfect for cleaning out the portafilter. It's important to keep on top of cleaning as any grinds left inside can prevent the nozzle from creating a perfect seal. Without a vacuum seal, the right amount of pressure won't be created for extraction.
Cleaning the Nanopresso is especially easy in a fixed location like at home or in the office. But it can get a touch messy when on the go:
You need to find a way to dispose of your espresso grounds. Now, if you're out camping or hiking in the wilds, this is fine. Coffee grounds are pretty good for the soil and absolutely fine to tip into the wilderness. But you also need access to water.
However, cleaning can be less convenient if you're in a hotel room. Most hotels are less appreciative of coffee grounds being thrown on the floor or down the bathroom sink (they can cause blockages). So you may want to have a ziplock bag handy to put the machine in, then clean it later.
Every 20 shots or so, you'll need to take the whole thing apart to deep-clean. This is pretty quick and easy, but does require access to a sink.
Wacaco recommends that once or twice a year, you clean the metal mesh. This is slightly more involved and requires an Allen Wrench. But it's not exactly difficult – simply remove the 3 screws and rinse the mesh. Just keep track of the screws as you don't want to misplace them.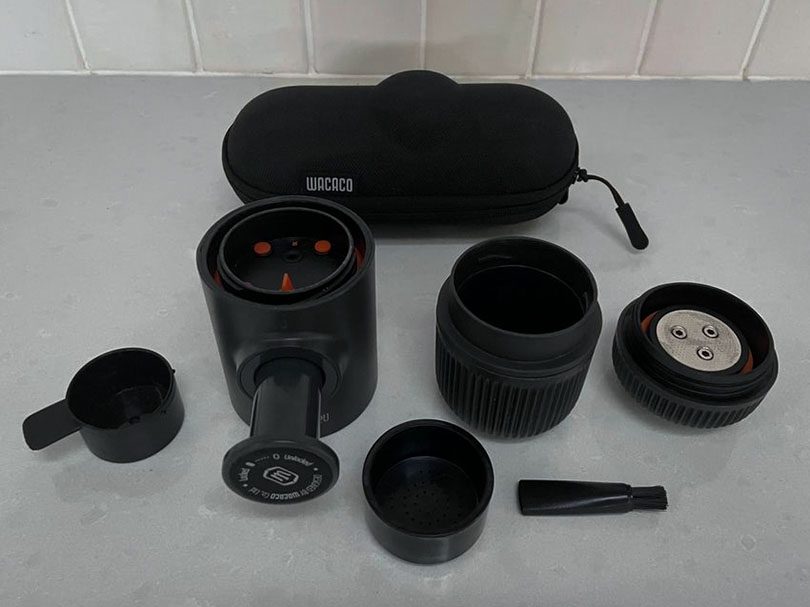 To kick-off, the Nanopresso is smaller but has a larger water tank and grounds basket. So you can make more espresso. It also has 18 bars of pressure, compared to just 8 bars on the Minipresso.
With the Minipresso, you can choose from 2 versions: GR and NS. The GR works only with ground coffee, and the NS works only with pods. This differs from the Nanopresso which is a modular machine, meaning you can buy attachments that screw together. So, whilst it works with grounds only, you can purchase the NS Adapter, allowing it to work with pods too.
For a full breakdown of the differences, watch Wacaco's helpful video here:
Firstly, the AeroPress makes good quality strong black coffee – not espresso. Compared to the Nanopresso which makes good espresso with crema. Whilst you might not get true espresso from the AeroPress, you won't be disappointed by the smooth flavor of the coffee.
You also have total flexibility with the AeroPress. You can control coffee quantity, brew time, and water temperature, giving you more opportunity to have your coffee just how you like it.
The AeroPress is simple to use, to make a basic coffee. But it does take a lot more fiddling around with to get your perfect brew. On the other hand, the Nanopresso is easy to use straight out of the box.
If you don't mind heating the water separately, you can have an espresso comparable to a serious coffee shop for a fraction of the price.
With the built-in espresso cup, the Nanopresso is ideal for you if you want quality espresso wherever are. There's a reason it's taking the portable espresso world by storm: it's a clear top choice.
So, whilst the Nanopresso couldn't look less like a traditional espresso machine in design, price tag, or experience; it's a seriously top-range espresso maker in terms of quality. Every interaction we have had for this Wacaco Nanopresso review has left us blown away by this high-pressure, hand-pumped device.
Don't forget to Buy Your Wacaco Nanopresso Today
You Might Also Like
If you're a black coffee or cappuccino drinker, this Jura coffee machine could be a perfect match. Discover why in our expert Jura E6 Review

Looking for a compact espresso machine? Read our Breville Bambino vs Bambino Plus expert review to compare features, performance, and price