Wacaco is the premier name in portable espresso making and has slowly been working its way through the thesaurus with the Minipresso, Nanopresso, and now Picopresso. Since we absolutely loved the Nanopresso, we had to grab the new offering a do a full Wacaco Picopresso review.
The Picopresso is a significant upgrade on the Nanopresso and is comfortably the best portable espresso maker on the market just now. With a professional-sized filter basket, excellent tamper, and consistent pressure you'll get an exceptional shot from something that can be chucked in a small bag. All you need is hot water and coffee, and you're good to go.
A lot has changed between the two models, so after putting our Picopresso through its paces at home and on the road, we'll share our in-depth review. Grab a coffee and let's dive in:
This article may contain affiliate/ compensated links. As an Amazon Associate, we earn from qualifying purchases at no additional cost to you. For more information please see our disclaimer here.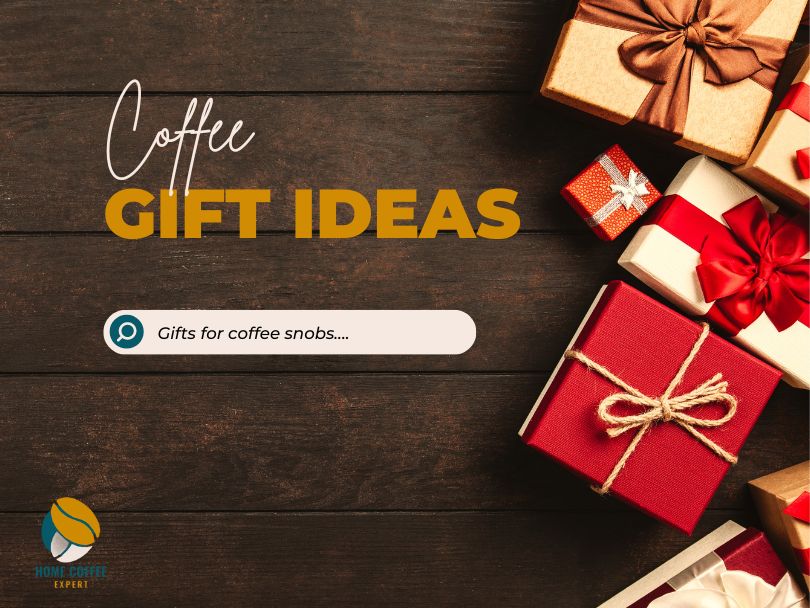 The holidays are coming. Which means stressing over the perfect gift is here too.
But stress no more. We've put together a list of all the best coffee gifts to please even the most discerning of coffee lovers in your life.
Check out our guide if they're on your 'nice' list. Or maybe be 'naughty' and buy something for yourself!
At a Glance: Wacaco Picopresso Review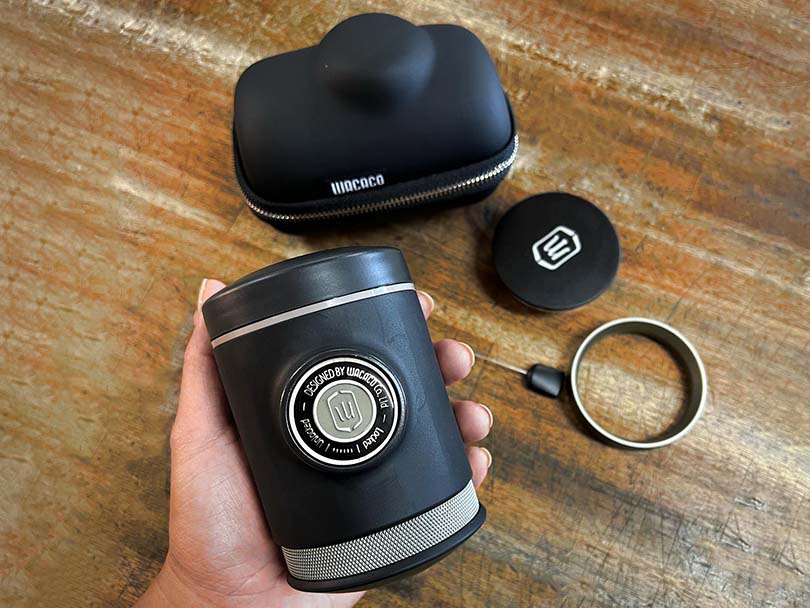 When it comes to portable espresso makers, the Picopresso produces some of the best quality espresso shots. The only options that really challenge it on quality are much larger (like the Flair Classic) and push the bounderies of what is realistically "portable".
You'll need a quality manual grinder and to thoroughly pre-heat the Picopresso to get the best results. If you have space, a coffee scale will make all the difference too (Wacaco sell a compact scale though). It'll also take some practice to dial it in, though this is true of most manual espresso machines.
You'll be rewarded with espresso shots nearing professional quality.
And you can have them anywhere you can get hot water. Whether it's camping, backpacking, vanlife, or just traveling for work, the Picopresso will make sure you don't miss your favorite barista while on the go.
Pros
Very compact
Beautiful design
18g max dose
18 BAR max pressure
Lightweight
Can produce excellent espresso
Easy and fast to clean
Cons
Takes practice
Needs a quality grinder and scale for best results
Need to be thoroughly preheated
1. 52mm Filter Basket
Quality is the name of the game. So the Picopresso comes with a naked portafilter with a wide 52mm commercial filter basket that can hold up to an 18g dose. This allows you to pull double espresso shots and get better extraction – a rare feature on compact espresso makers.
However, it also leaves little room for error. So it's best suited to home brewers who've already mastered the art of espresso pulling or are ready to geek out and learn.
2. Up to 18 Bar Pressure
Pressure is what separates espresso from regular coffee, and it needs at least 9 BAR of consistent pressure to technically be espresso.
As long as you use both hands, the Picopresso can reach a maximum of 18 BAR pressure at the pump which translates to 7-9 BAR of pressure going through the coffee puck. This is ideal for consistent extraction and is similar to a lever espresso machine. The result is rich, syrupy, and balanced espresso shots.
3. Weighs 0.77lbs
The Wacaco Picopresso is super lightweight at only 0.77 lbs (350g). So if you're planning a long hike, going cycling, or you just have a tight luggage allowance, you shouldn't have any issues packing this little espresso maker.
4. Accessories
All of the accessories are designed to fit inside the Picopresso and most of them are well made. You get a stainless-steel ergonomic tamper and funnel, plus a plastic distribution tool, brush, and coffee scoop.
The stainless steel elements are made with ease-of-use in mind as well as helping you to get the perfect puck for superb espresso.
However, the plastic WDT tool is flimsy, messy, and doesn't give the best results so I'd recommend buying a better one or making your own.
Then there's the coffee scoop. Not only is it pretty useless (it's only worthwhile with pre-ground coffee which won't taste great), but what really winds me up is that is measure 8g. But Wacaco's recommended dose is 18g. Why not make it a half measure at 9g? Honestly, my wife is sick of hearing me rant about this, but it just baffles me so much.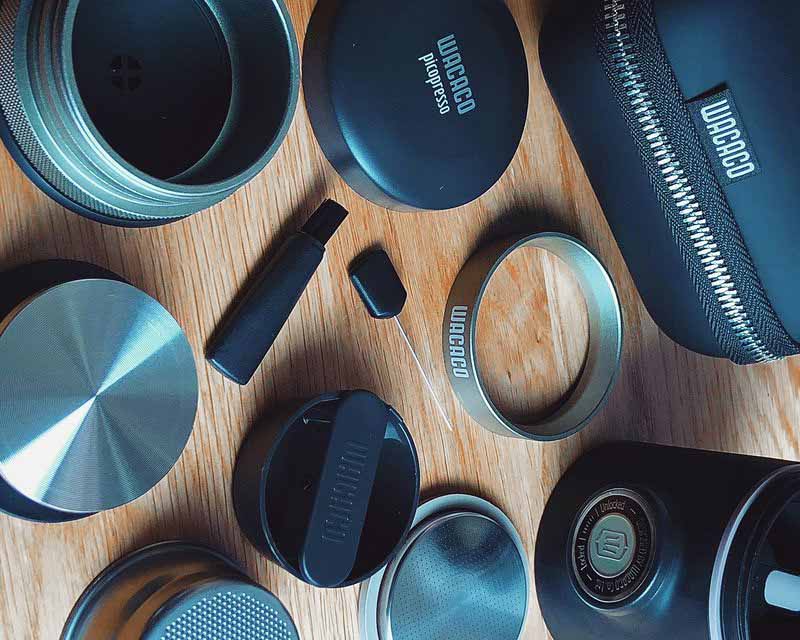 5. Very Compact
At 2.8" by 3.1" by 4.2" (7.1 x 7.8 x 10.6 cm) the Picopresso is absolutely tiny. You could comfortably fit it in a purse or cross-body bag for whenever that espresso need hits. It also helps anyone with little hands to use the pump.
6. Protective Case
Don't worry about careless luggage handlers or dropping your bag as the Picopresso comes with a snug carry case that will protect it from mistreatment. Or just plain clumsiness if you're anything like us.
Using the funnel, distribution tool, and tamper you can get your perfect puck. Then it's a case of re-assembling the Picopresso, adding hot water (it doesn't heat the water for you), pumping for pre-infusion, and again for extraction.
All the steps are relatively straightforward. The difficulty is getting them consistently perfect but these are our tried and tested tips:
Pre-heat the entire device, not just the chamber, by filling it with boiling water for a few minutes with the lid on. Then use the pump to push the water through. This helps loosen the pump but you'll need to act fast to pull your espresso whilst everything is still warm.
The naked portafilter means the Picopresso is unforgiving to low-quality, stale, or pre-ground beans. So you really need to freshly grind your own. You're looking for a fine espresso grind size which you'll need to dial in whenever you change your beans. As a rule of thumb, if nothing comes out after 10 pumps, you need to grind coarser.
The included distribution tool isn't great so I'd recommend upgrading.
Pre-infusion makes all the difference to the final shot. Aim for 10-15 seconds.
Operate the pump smoothly and slowly to ensure consistent pressure. You'll need to use two hands and will need relatively good hand strength/ mobility.
To get the best results, you need a full setup including a kettle, quality hand grinder, and coffee scale.
But I appreciate that if you're on the go, that's a lot to carry around. So you could always fill a thermos will hot water and pre-dose vials of coffee beans. This means you have the right weight of coffee to put into your grinder but you'll have to eyeball the ouput. So its not ideal, but a workable compromise.
With a little practice you'll soon nail your workflow and be pulling your perfect espresso no matter where you are.
My Picopresso Setup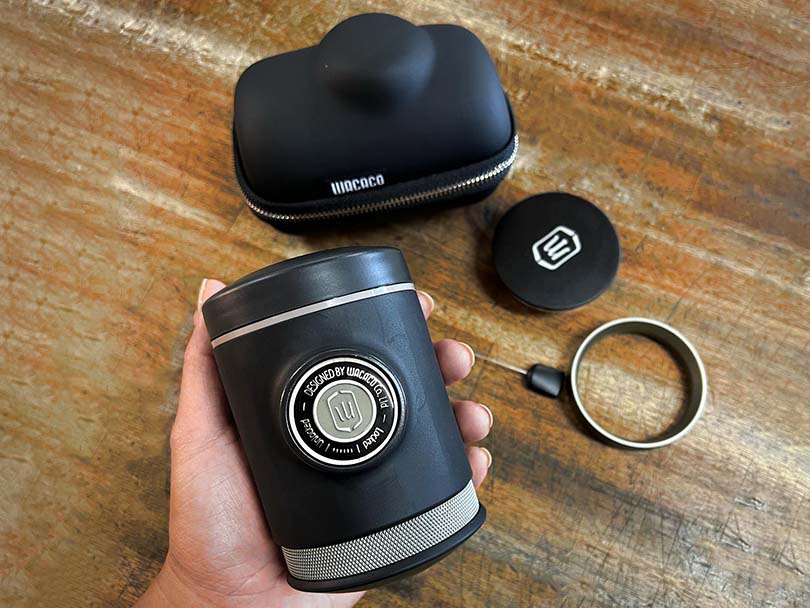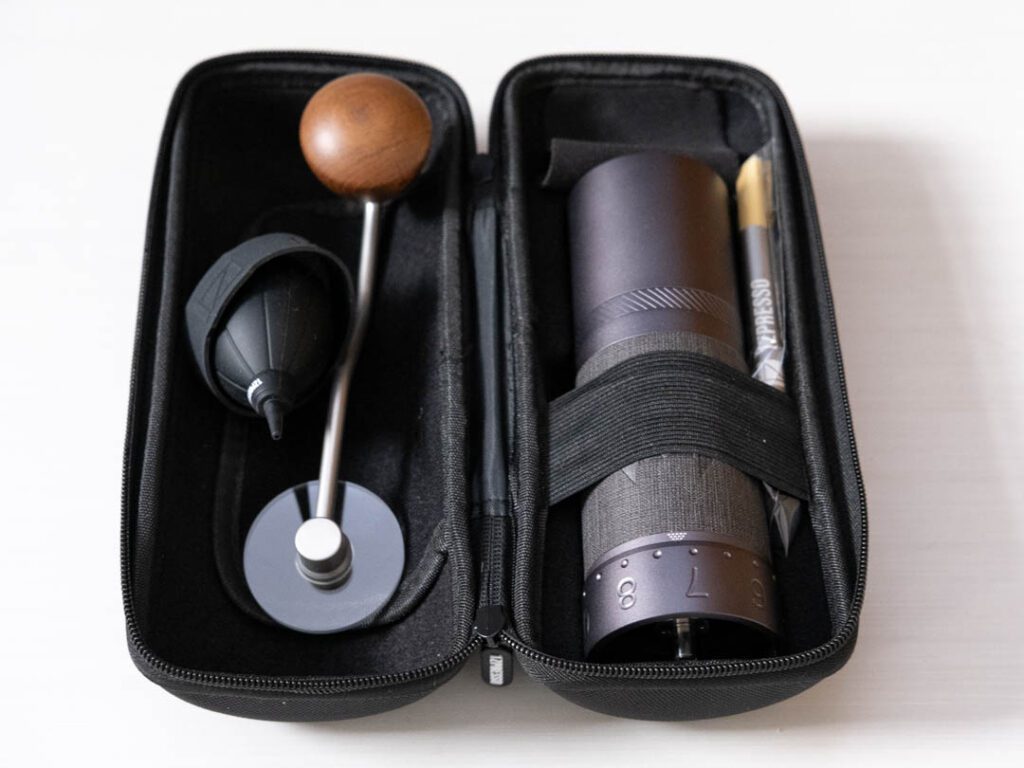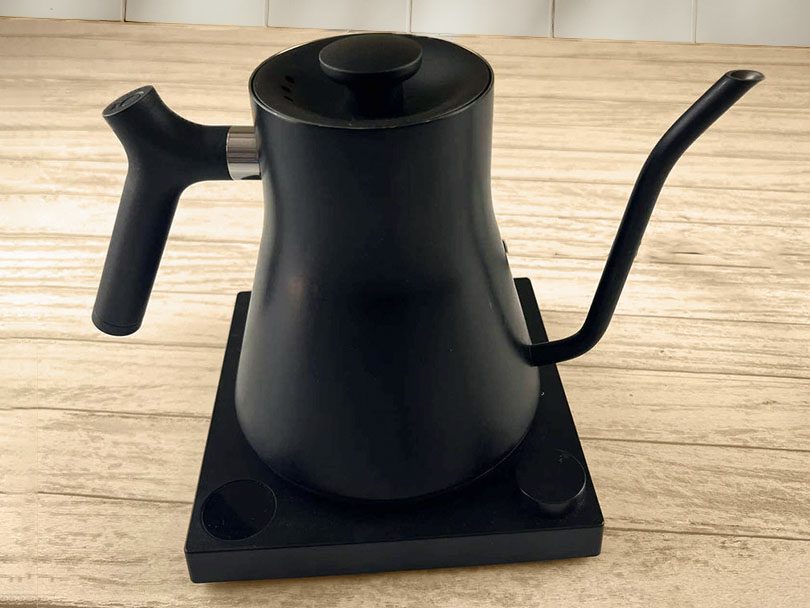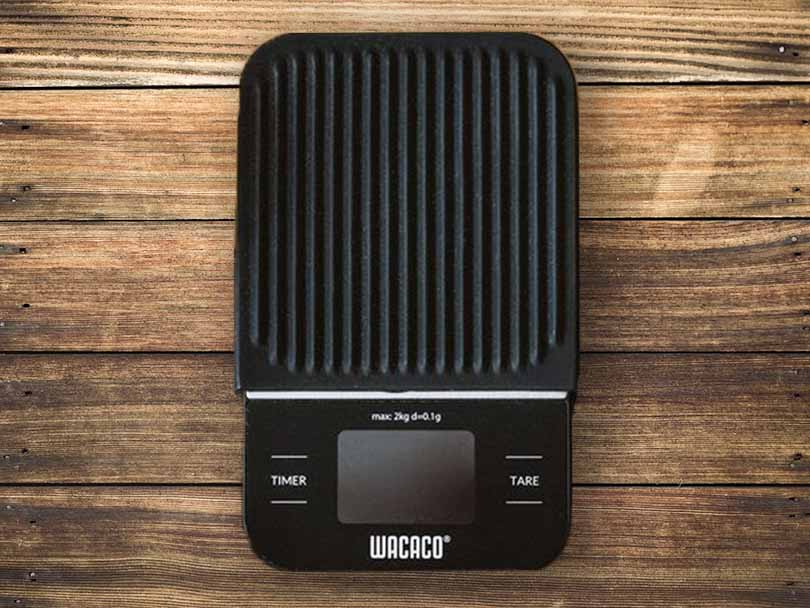 Having an unpressurized basket means the Picopresso knows if you use bad quality coffee (think old, stale, pre-ground). And it will not forgive you.
So you really need a quality burr grinder to get the best tasting espresso.
If you plan to make the most of this portable espresso maker while on the road, you'll need a manual grinder like the 1Zpresso J-Max (that's what we use when we travel). Or, if you'll only use it at home, an electric grinder like the Breville Smart Grinder Pro is a good option. Whatever you choose, it needs to be capable of grinding well for espresso – not all grinders excel at the finer end of the spectrum.
We recommend sticking with medium or medium-dark roasts to really get the best flavor in your cup. The Picopresso will really struggle to get the best from a light roast. And really oily dark roasts but can clog up your grinder.
So freshly roasted, freshly ground medium roast coffee is the sweet spot for getting crema and well-balanced, full-flavored espresso shots.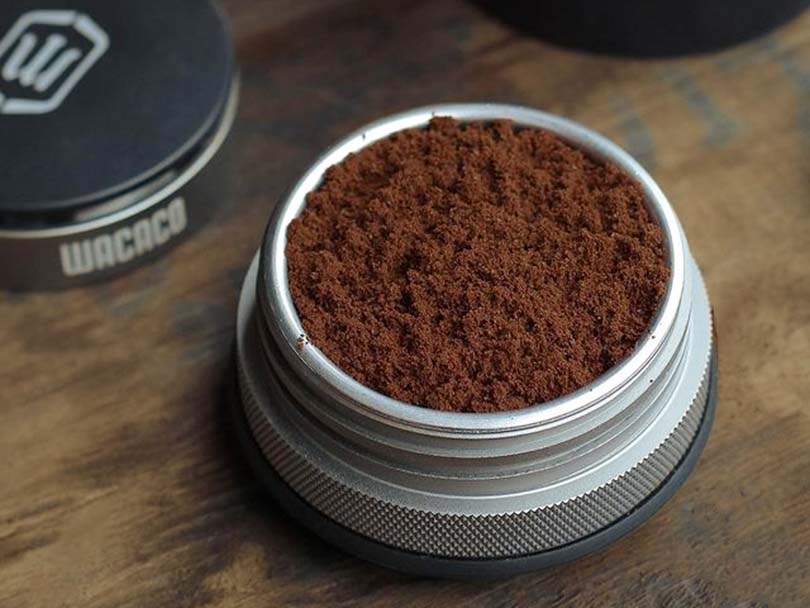 Can you use Nespresso pods with the Wacaco Picopresso?
Unlike the Nanopresso, there is no add-on to use Nespresso pods with the Picopresso. It only works with ground coffee.
So if you're a fan of taking Nespresso pods with you for travel espresso, then you'll want the Wacaco Nanopresso with NS-adapter instead.
The Looks
The Picopresso is definitely an upgrade on the Nanopresso in terms of looks. The smaller size along with the stainless steel components gives a premium look and feel to the pump espresso maker.
The way everything fits together in a compact 4.2" tall cylinder is impressive. As well as a nice aesthetic feature, this also helps us not to lose any of the small but vital components while traveling.
It only comes in black, but I don't imagine too many people will be upset by this (though you can also buy a protective sleeve if you want to change up the color).
The carry case is functional but not the prettiest in the world. However, at this point, we're maybe trying too hard to find negatives for our Wacaco Picopresso review.
The Build
The Picopresso's build quality is exceptional. Everything from the way it all fits together, to the comforting weight of the stainless steel parts, to the smooth operation of the pump.
We often refer to ours as 'The Tank' as it's survived a fair amount of rough and tumble in our backpacks.
It's surprising how much the move away from plastic gives you confidence in the durability of the Picopresso. (Excluding the distribution tool and coffee spoon which are both plastic and aren't great).
I'm also a big fan of how the funnel and tamper combine to stop you from over-tamping the puck. The funnel stops you from packing the grounds too tight if you're not sure of the right force to use.
At 2.8 by 3.1 by 4.2 inches, the Picopresso is absolutely tiny. Weighing just 0.8lb (even with all that stainless steel) makes it ideal for anyone who's worried about weight allowances – cyclists, hikers, backpackers, or travelers.
It's also a Reddot design winner 2022 so it isn't just us who love it.
Our one criticism of the build quality is how hot it can get to touch. If you correctly pre-heat it and then pull a few shots in a row, the outside can get incredibly hot or even burn your hands. So if you're likely to pull multiple shots at a time, you may want to look at a sleeve. We've not personally used one (it won't fit inside the case whilst wearing it), but we've heard good feedback that this makes all the difference.
Another thing to keep in mind is that you need to stabilize the portable espresso maker yourself which can get a little messy. So Wacaco sells a stand to make this a little smoother/cleaner. It's overkill to keep in your travel bag but looks really useful for home use. Again, this isn't something we've used – the only add-on we're keeping our eyes peeled for is rumors of a pressure gauge being released soon!
With the large dose capacity, wide portafilter, and consistent pressure, the Wacaco Picopresso has everything you need to pull an excellent espresso anywhere.
Crema is very achievable as is a deep, nuanced flavor.
The only drawback is that dialing in your grind and getting your workflow sorted will take practice and a little organization. If you're more happy-go-lucky, haphazard in your coffee brewing style, you'll find it a little frustrating at first.
And you may really dislike the flavor of your coffees, to begin with.
But with great organization comes great rewards. By dosing, freshly grinding, pre-heating, pre-infusing, and then carefully brewing, you can yield an espresso far superior to many you'll find from traditional espresso machines at the same price.
If you're happy always doing things manually then you could replace a budget espresso maker with this and enjoy better espresso at home, as well as on the go.
The Picopresso is very easy to clean as it can be disassembled and rinsed out after use, or once you're back from your hike. The rubber cap on the bottom stops it from leaking coffee grounds or water all over your bag after use if you can't rinse it there and then.
In less than 5 minutes, you can have the whole device sparkling and clean. That has to be music to the ears of any coffee lover.
However, there are some key differences that are important depending on what you want your portable espresso maker for:
The Picopresso exclusively uses finely ground coffee to make barista-quality espresso shots – with a little work. It has a wide filter basket with an 18g double shot capacity and a bottomless portafilter for getting the absolutely best flavor from your ground coffee.
The Nanopresso, with no attachments, only pulls a single shot of espresso. If you want to make double shots, you need to buy the Barista kit as an add-on. Even with this, it's still cheaper than the Picopresso though.
The Nanopresso also has the NS-Adapter add-on which allows you to use Nespresso pods. So, if you're a pod user, this is what could set the Nanopresso apart. Or if you travel a lot and just don't like the idea of bringing beans, a grinder, and scale.
Overall, the Nanopresso is less mess and less fiddling around. It's also more forgiving if you're new to espresso making. Sure, the espresso won't be as good, but it's a solid contender.
Plus, it's marginally lighter (336g vs the Picopresso's 350g), and a different shape which may make packing easier or harder, depending on what else you're trying to squeeze in there.
For those looking to use ground coffee, the Picopresso is smaller, easier to use and clean, and pulls better espresso due to the wider portafilter. It's slightly more expensive but you're getting a much better portable espresso machine. So it takes the win for us.
Sure, you have to be willing to learn to manually pull espresso. You'll have to work to dial in and perfect your workflow. And you'll realistically need to buy a complete setup.
But, as long as you're willing to put in the work, you'll get to enjoy high-quality espresso no matter where you are.
When putting together this Wacaco Picopresso review, we spent a lot of time testing it at home and on the road. And we're so impressed that you could genuinely consider replacing your home machine with this little device.
It'll give as good, if not better, espresso than most machines around the same price. Plus it's tiny.
Don't forget to Buy your Wacaco Picopresso Today
You Might Also Like
If you're a dedicated home barista looking to manually pull espresso shots without it costing a fortune, this Flair Classic review is for you

All the best coffee deals in Amazon Prime Big Deal Days 2023 in one place so you don't have to go searching for them yourself.