We all know what it's like. The need for that sweet cup of coffee can hit anytime, anywhere. But, pop the Staresso portable espresso maker in your bag and you will never be too long or too far from a cup of the good stuff again. If this sounds like the solution you've been looking for, this Staresso review is just what you need.
The Staresso coffee maker is so compact and portable that you can use it anywhere. Take it camping, on vacation, to the office, or to the in-laws if their coffee just isn't up to scratch. Or maybe that last one's just me…
Dive right into our Staresso review to find out if this is the all-round coffee-making solution you need.
We have scoured the internet for all the expert reviews on this portable espresso maker to collate with our own. This means we have the most comprehensive handheld espresso maker review you can find. Whilst not all home coffee experts give numerical scores, we have averaged these out. Therefore, you can get a consensus opinion on how good this espresso machine is, and know for sure if it is the right fit for you.
This article may contain affiliate/ compensated links. As an Amazon Associate, we earn from qualifying purchases at no additional cost to you. For more information please see our disclaimer here.
At a Glance: Staresso Review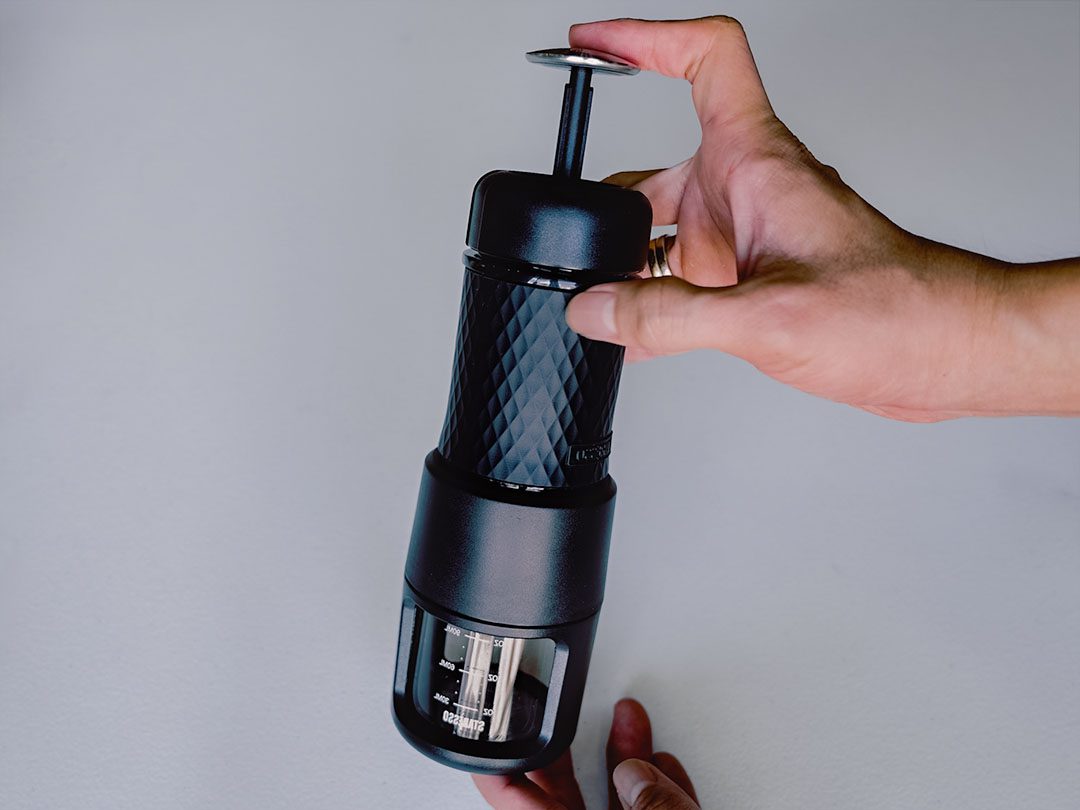 STARESSO Basic
The Staresso coffee maker is a shining example of what on-the-go coffee means.
Not only is it a good portable espresso maker. But it also has the added bonus of being able to froth milk for a cappuccino or latte no matter where you are.
However, unless you're looking to use the milk frothing feature, the other portable coffee makers on the market are probably a better option.
Both the Wacaco Nanopresso or the Cafflano Kompresso are better coffee makers. Although they are also slightly more expensive.
Pros
Excellent build quality
Easy to use
Portable mini coffee machine
Good value for money
Can froth milk
Comes with a glass to drink from
Cleaning is easy
Consistent extraction
Cons
Tamper is way too small
Frothing milk doesn't work brilliantly
Noisy
Pump can get difficult to use over time
1. 15 – 20 bar Pressure
The pressure which you can get from the Staresso espresso maker is great for pulling good espresso shots. You will find counter-top coffee machines at this price point that don't create as much pressure so it's really impressive in a portable machine.
2. Milk Frother
The Staresso coffee machine also has the ability to froth milk. This is a nice addition if want to enjoy milk-based espresso drinks like latte or cappuccino on the go. Although, you do still need to find a way to heat your milk up.
3. Two Coffee Shot Glasses
To make it easier to enjoy your freshly brewed coffee from any location, the Staresso Basic comes with two espresso glasses. Drinking from the glass cups is far superior to drinking from a paper cup in our opinion (plus less wastage). As they are glass, I would be slightly worried about them breaking over time but they seem pretty sturdy.
4. Available in a Range of Colors
You can carry your Staresso portable coffee machine like the latest fashion accessory, ensuring it matches your luggage. You can choose from a range of colors including black, white, and pink.
When looking at all the Staresso Basic components, it can look like a confusing puzzle. But, just like a jigsaw, there is only one way to put them back together. And there is a helpful diagram in the included instructions manual to make sure you get it right the first time. Once you've done it a couple of times it will become like second nature, though a touch time-consuming.
That being said, it isn't as easy to use as the AeroPress, Cafflano Kompresso, or Wacaco Nanopresso.
Also, the tamping tool is pretty terrible. Firstly it's made of flimsy plastic. But to add insult to injury, it's far too small for the basket so it takes quite a few goes to tamp the whole thing down.
Being able to froth milk on the go is a nice touch. But the reality is more lukewarm frothed-ish milk. It takes a long time to do and your milk is cooling down the whole time.
On the plus side, the glass cup fits neatly inside the compact espresso coffee maker. The benefit of this is that you won't end up with espresso everywhere.
Using the manual pump takes a bit of work. But it's hardly arduous to get the necessary pressure to pull your espresso. And I was always told that nothing in life worth having comes easy.
How to Use
Time needed: 5 minutes
Heat your Water: This will need to be done separately (for a portable coffee maker that heats water, your best bet is a battery-powered machine).

Pre-Heat your Coffee Maker: To help maintain your espresso temperature while building the pressure, you should pre-heat your Staresso. Simply access the water chamber (perfectly sized for 1 espresso – 2.7oz) by unscrewing the top and running hot water through the chamber, filter basket, and glass cup.

Add Coffee: Unscrew the coffee basket from beneath the water chamber and add 7-10g of ground coffee using the provided measuring cup, and tamp.

Add Hot Water: Pour 50-80ml hot water into the top water chamber (it is also possible to use cold water if you prefer cold brew style).

Pump the plunger: Press and turn the stainless steel plunger counter-clockwise to get it ready for action. It rests neatly inside the Staresso's lid so turning it will make it spring back into position. Then you can start pumping. It should take around 12-15 hand pumps (around 60 seconds) which will get increasingly more difficult as pressure builds.

Froth Milk (Optional): Frothing milk is similarly easy as it follows all the same steps but you put milk instead of water in the chamber.

Enjoy your Coffee!
So, if Nespresso coffee pods are your preference you would need to find the right type. What you're looking for are the ones that have soft foil at both the narrow and wide end. Then, poke some holes in the narrow end before putting them in your portable Staresso.
So, yes it can be used with coffee capsules. But it isn't designed with this in mind so it feels unfair to give it credit for this.
As the Staresso is designed as a portable coffee maker for camping, to use at home, in the office, or whilst traveling, then you will need to carry a separate grinder too. Alternatively, you can opt to buy pre-ground coffee. Just take care of the storage as ground coffee degrades much more quickly than coffee beans.
Freshly ground coffee can take your cup of coffee from zero to hero – even whilst you're travelling.
Read our rundown of the top manual coffee grinders that are equally as compact and portable as your Staresso.
Having the cortado glass type espresso cup fit inside the machine is an excellent design feature. You can brew safe from any fear of spilling your precious espresso. Plus, it looks pretty slick.
Being a pump action manual espresso maker, it takes around 12-15 pumps to get your espresso fully extracted. This is pretty simple to do, although you will need both hands to do this operation. Whilst we've not experienced an issue, we've heard complaints that the pump can get a bit sticky over time. This is a problem, especially as it's not one shared by the competition.
The coffee maker is mostly made of BPA-free plastic, so the Staresso feels very sturdy. As the coffee chamber is made of stainless steel, you don't have to worry about any parts breaking under the pressure.
We do have concerns about the glass espresso cups breaking. But then we also much prefer drinking out of glass cups to plastic ones, so you've got to pick your poison there.
In all honesty, we are not convinced by the claim that the Staresso Basic can build 15-20 bar of pressure. Based on the espressos we have tried, our guess would be that the limit isn't much over 15 bar.
It may take a couple of tries to get the grind right on your beans. But once you do, you will be very impressed with the results.
You can also make cold espresso with the Staresso which is always a bonus. This will take a bit more practice to get the brewing time just right but, with work, it can produce a good cold brew espresso shot.
So, do we get a thumbs up or thumbs down for coffee quality in this Staresso review? Overall, it's definitely a thumbs up that will make any morning taste a little sweeter.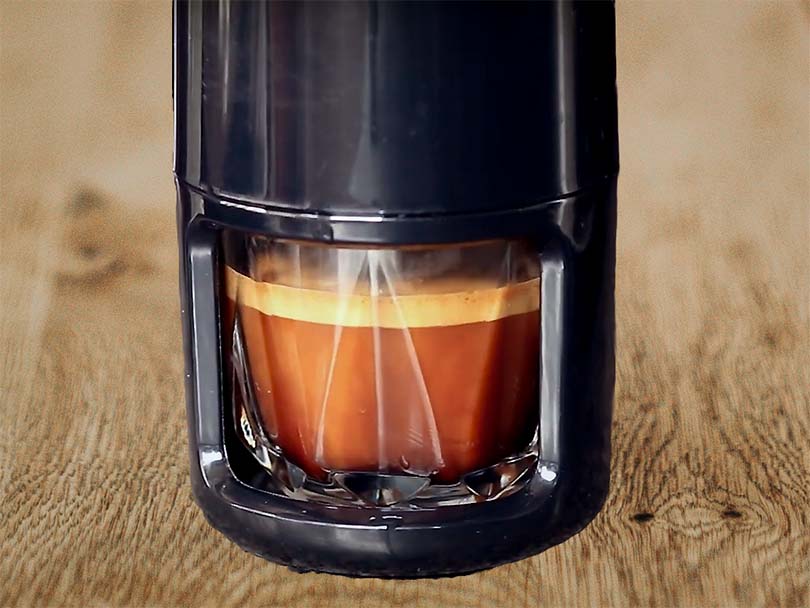 However, it does take a bit of time to get the milk suitably frothed which means the milk can go a bit cold.
You also need to be able to heat the milk somewhere which may be more difficult than heating the water. But credit where credit is due, as this feature isn't something the competition can do.
Really, it's the portability that makes the Staresso stand out.
Simply rinse all the parts under the faucet. And BOOM, the job is done very quickly.
Plus, it also comes with a handy brush, allowing you to pop the grill out from inside the coffee basket and give it a deeper clean. This is particularly helpful for getting rid of more stubborn coffee grounds that are less helpful at washing away.
In total, cleaning the Stareso espresso coffee maker probably takes less than 5 minutes.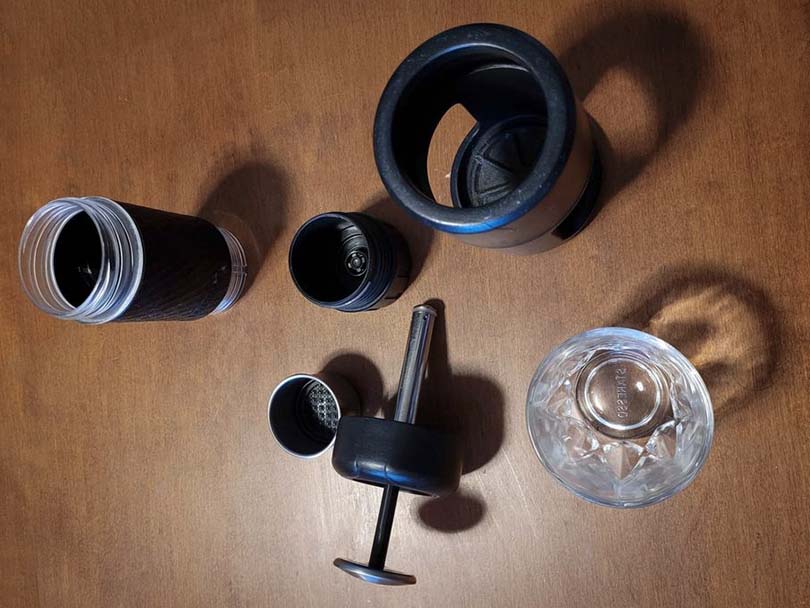 Staresso vs Nanopresso
The main competition for the Staresso is the Wacaco Nanopresso (full review here). But which one is best for you?
First, let's talk money:
The Nanopresso is slightly more expensive. But not prohibitively more expensive – both are still great portable espresso machines under $100.
Plus, the Nanopresso can only use ground coffee. Nor can it foam milk.
However, of the two, we feel the Wacaco Nanopresso is the best portable espresso maker for 2 key reasons:
1. The ease and quality of the manual pump action:
The pump on the Wacaco portable coffee machine is incredibly smooth, quiet, and easy to use. Plus, the build quality means it will never fail for you.
The Staresso pump is good. But it is noisier. And there have been reports of it becoming sticky and difficult to use over time.
2. Quality of espresso:
The coffee quality mostly boils down to the pressure created.
Staresso claim their espresso makes creates between 15 and 20 Bar of pressure, and I'm sure it theoretically can. But in reality, you're getting a smidge north of 15 bar. This creates a good espresso, but not a great espresso.
The Wacaco, on the other hand, consistently creates 18 bar pressure. And this can bring out more nuanced flavors, especially from light or medium roast coffee.
So, in the battle of Staresso vs Nanopresso, the Nanopresso comes out as top dog for us.
Staresso vs AeroPress
The AeroPress has taken the coffee loving world by storm. But is it the one for you?
Well, let's get one thing straight from the beginning. The AeroPress isn't an espresso maker. What do I mean? Well, it doesn't exert enough pressure to technically make espresso. Instead, you will get a halfway house between true espresso and drip coffee. But that halfway house is pretty darn good coffee.
The AeroPress is also cheap. Whilst it and the Staresso both come in under $100, you are far cheaper buying the AeroPress.
Plus the popularity of the AeroPress has a huge following – there are even competitions including the World AeroPress Championships. So, you really do join a coffee community and club with this piece of kit in your backpack.
So, if you are after true espresso, the Staresso is the one for you. But for good coffee (not espresso), then the AeroPress is our winner.
However, in the Staresso vs AeroPress battle, AeroPress wins for added extras that have nothing to do with the coffee maker itself and everything to do with the community of people behind it.
Let's start with the Staresso Mini:
Sold as the world's smallest espresso maker, it comes in at 2.5 inches shorter than the basic model (just 6 inches tall).
Everything about this mini machine is the same as their basic model (Staresso SP-200). The only difference is it holds a little less water. And it takes up a lot less room in your bag.
So, unless you particularly want a longer coffee, the Staresso Mini will have your back. Being such a small coffee maker, it can fit anywhere allowing you to have coffee in the office, at home, whilst traveling, or on vacation.
The Staresso Mirage (also known as the Staresso Pro), looks like a coffee making spaceship thanks to the kickstand. So, for coolness alone, it wins points.
The Mirage is the 3rd generation of Staresso portable espresso makers. The mechanics are the same, but they have gone bigger (9.5 inches tall). But, is bigger better?
The new design allows you to pull dual shots, so there's no more fighting over who gets the first cup of coffee.
You can also choose between 3 espresso cup sizes: single shot, double shot (doppio), or lungo.
So, if you have a little more room in your bag our Staresso Mirage review verdict is that it's 100% worth the extra space. You have much more flexibility to get your coffee just how you like it, whilst retaining all the great qualities of the Staresso basic.
For us, the Wacaco Nanopresso is a superior portable espresso maker though. Whilst it is slightly more expensive, it more than makes up for that. It is easy to use and pulls a high-quality espresso shot. This ultimately comes down to the pump mechanism which is incredibly quiet and smooth on the Wacaco. On the Staresso, this is a bit noisy and can jam.
But the Staresso manual espresso maker is still an excellent piece of kit. Where it outshines the competition is by being able to froth milk on the go.
If you want portability and milk foaming capability, as well as the option to use pods without buying an add-on, then this will do very nicely for you.
So, to sum up our Staresso review: a great all-round handheld espresso maker that makes quality coffee.
Don't forget to Buy Your Staresso Espresso Maker Today
You Might Also Like
Beautiful, simple, and delicious espresso for around $1000? We had to test if such a thing was possible – read our Jura ENA 4 review to see

Jura ENA 8 vs Gaggia Babila is a battle of philosophies. Is the convenience of the ENA 8 superior to the precision of the Babila?