Flair started as a Kickstarter campaign to produce a minimalist manual espresso machine that could pull incredible espresso shots while also being portable. It's been on our 'must-try' list for a while so we recently got one to test out. It was a wild ride with many ups and downs that you can read all about in this Flair Classic review.
First things first: the Flair Classic is absolutely capable of pulling exceptional espresso shots. But it has a steep learning curve. Very steep in fact.
It also packs away nicely, making it portable enough for camping or an RV. However, it does require a full setup with a grinder, tamper, and kettle to really get the best from it. So whilst it's technically a portable espresso maker, for most people it's simply not feasible to travel with.
Don't let this put you off though. This is an excellent espresso maker for lots of coffee lovers. Read on as we dig into exactly who will get the most out of this lever machine and how it works.
This article may contain affiliate/ compensated links. As an Amazon Associate, we earn from qualifying purchases at no additional cost to you. For more information please see our disclaimer here.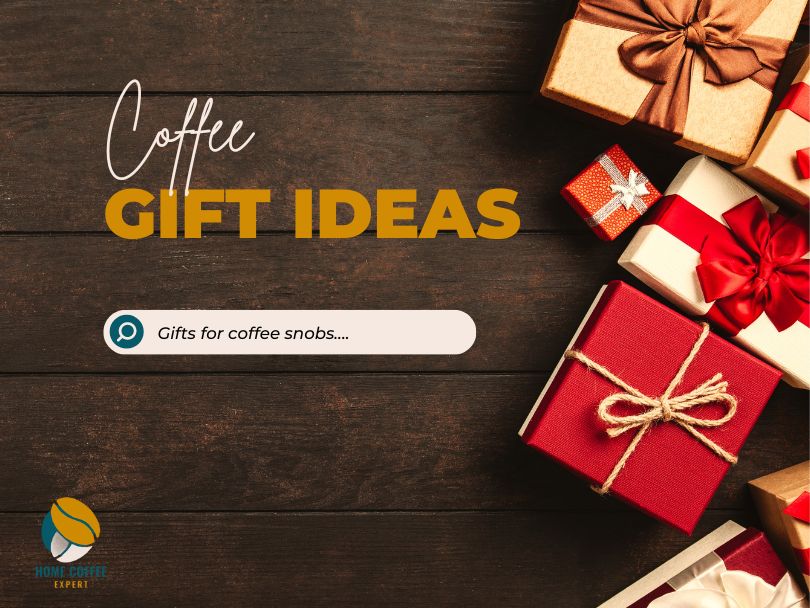 The holidays are coming. Which means stressing over the perfect gift is here too.
But stress no more. We've put together a list of all the best coffee gifts to please even the most discerning of coffee lovers in your life.
Check out our guide if they're on your 'nice' list. Or maybe be 'naughty' and buy something for yourself!
At a Glance: Flair Classic Review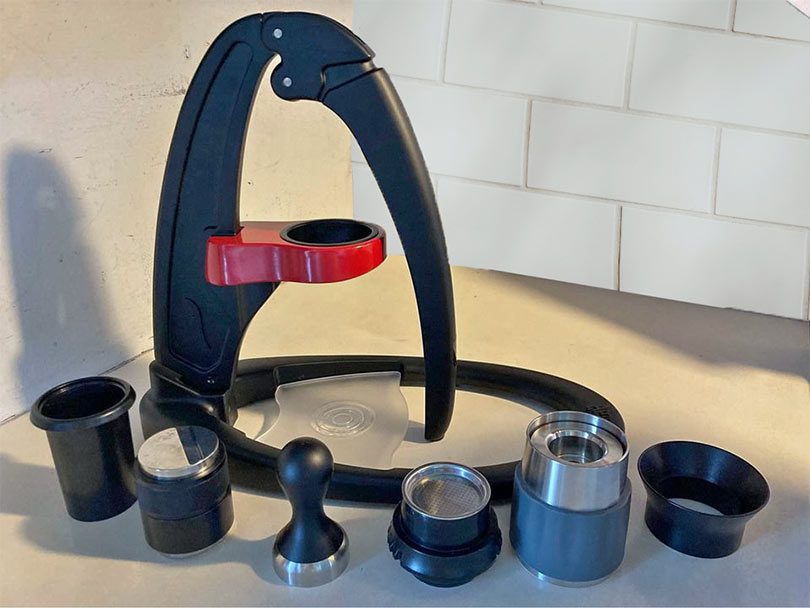 Flair Classic
The Flair Classic is designed for committed home baristas. It takes time and focus to get the incredible shots the Flair is capable of pulling. Which makes it fantastic if you're willing to put in the effort. But awful if you aren't.
It's portable with the handy carry case. However, it's a lot bulkier than the Wacaco Picopresso and more difficult to use too. But it looks really cool and can make better espresso.
To make the Classic worth using, you've got to invest in a high quality grinder. We also recommend getting the add-on pressure kit as it makes using the Flair significantly easier.
Be prepared for it to take time to get right. But, once you do, you'll be rewarded with some of the best tasting espresso ever.
Pros
18g max dose
Affordable & good value considering the espresso quality
Complete control over the brewing process
Easy to clean
Portable
Capable of excellent espresso
Cons
Steep learning curve
Bulky compared to other portable machines
Needs high quality grinder
Lots of small parts to keep track of
1. Total Control
As a fully manual espresso maker, you get to control every element of the process – great for the espresso nerds out there.
With a 12-18g dose and a max water capacity of 60ml, you can pull perfect single or double espresso shots with your preferred coffee-to-water ratio. Ristretto and Lungo are also possible if you want to switch up your routine.
2. Durable Construction
Built using high-quality stainless steel and aluminum parts. The Flair Classic is built simply and to a high standard to ensure maximum longevity. The simpler the machine, the less there is that can go wrong.
My only concern is the number of small parts as I'm constantly worried that I'll lose one.
3. Carry Case Included
This is a great feature for anyone who wants to be able to make espresso anywhere. The Flair Classic comes with a sleek padded carry case so you can set up at the office, campsite, R.V., or wherever you want to brew your espresso shots.
When packed, it weighs 5lbs (2.7kg) and measures 12.5 x 9 x 3.35 inches (32 x 23 x 8 cm – length x width x height).
4. Pressure Gauge and Stainless Steel Tamper (Optional)
There are two options when buying the Flair Classic – Solo or Pressure Kit. The latter costs around $65 more and includes a pressure gauge and stainless steel tamper to help with your espresso pulling. I think it's well worth the extra spend as the pressure gauge allows you to see whether you're consistently getting the optimal pressure for your extraction – you'd just be guessing otherwise.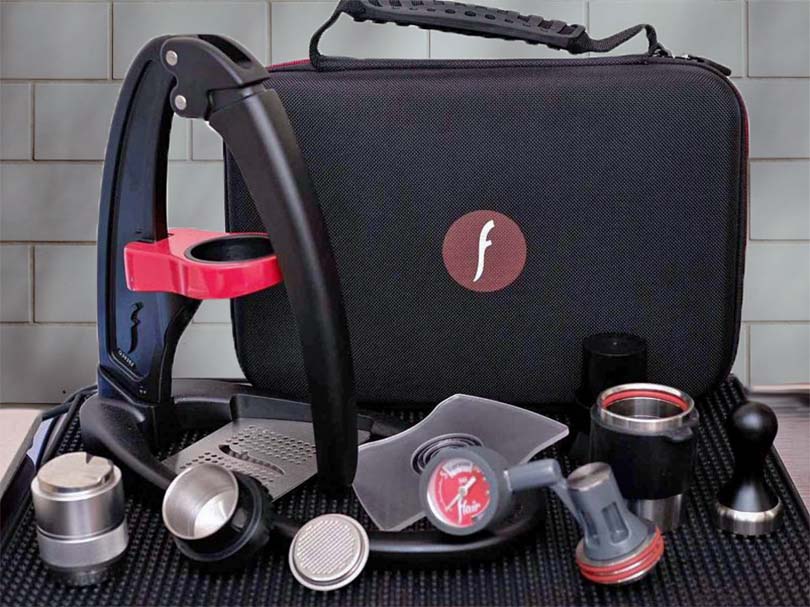 The first time you use any lever espresso maker, it's daunting. And the Flair Classic certainly doesn't make things easy in the beginning. So it will likely take a hot minute to work out how to get the best from your machine.
On the face of it, you simply dose and tamp your coffee, add hot water, then press the lever. The issue is you have to get all these things completely right or your espresso will be undrinkable.
It's also a pretty involved process, so don't expect to be pulling multiple shots in a row.
For the best results, you'll need a full setup:
Using pre-ground coffee in a manual machine is a big nope – why waste all your effort? So you'll need a quality burr grinder (we used the 1Zpresso J Max but if you prefer an electric option, the Breville Smart Grinder Pro is excellent.) If you use a budget grinder, you'll likely end up frustrated by the inconsistent grind size. You might nail your shot one day then be way off with the same settings next time. So it's not the place to compromise.
A gooseneck kettle that can hold the boil temperature will make all the difference and you'll need an accurate coffee scale too. I'd also recommend buying (or making) a WDT tool to avoid channeling.
We opted for the Flair Classic with pressure kit so the gauge was included allowing us to keep track of our extraction pressure. Without the gauge, I don't want to imagine how long it would have taken to get right. So, whilst it pushes the price up significantly, I do think it's well worth it for the time and frustration saved.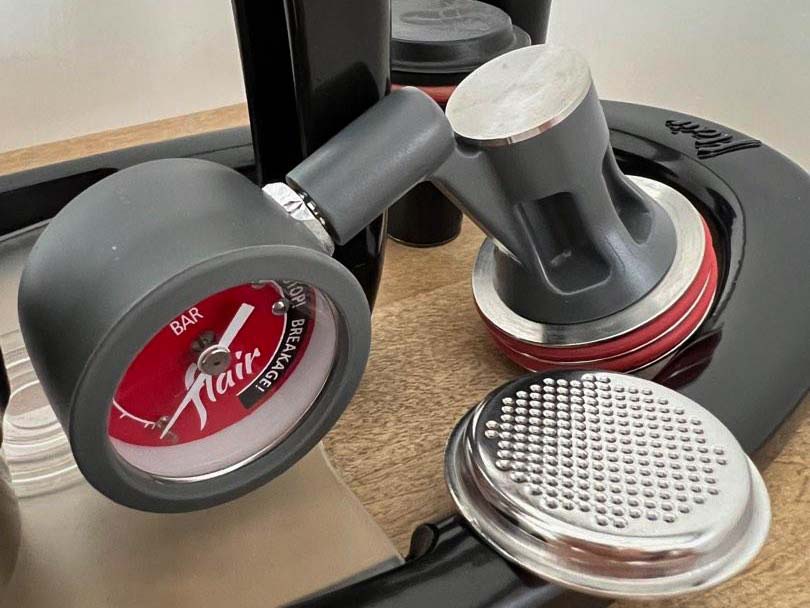 Tips for Pulling Great Shots
It took us multiple attempts to get the results we wanted from the Flair Classic and it was a frustrating process. Depending on your experience, patience, and luck, it might take you more or less time. But it will take time, so be ready to commit.
Once we nailed it though, it was some of the best espresso we've ever had. We were pulling (phenomenal) espresso with a 1:2 yield from a 16g dose in 45-50 seconds. This will vary depending on your preferred yield and chosen espresso beans.
To help pull high-quality espresso from the Flair Classic, use our tried-and-tested tips:
Pre-heating the Flair's brewing unit is non-negotiable. We do this with the kettle's steam by placing a kitchen sink strainer (unused!) over the top. This saves you from dunking the brewing unit in boiling water and burning your fingers when retrieving it. But it only works if your kettle will hold the boil temperature. When you do take it off the heat, use it straight away (max 15 seconds delay) so the temperature doesn't drop.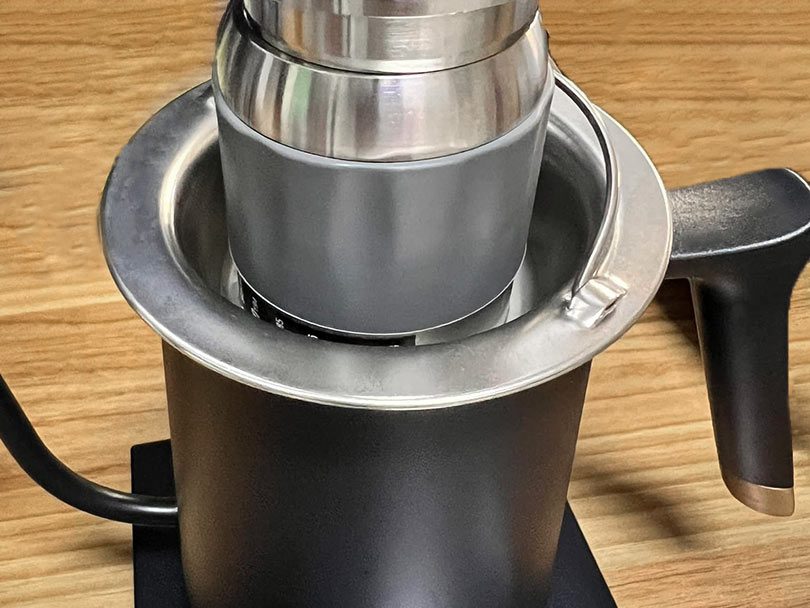 You'll likely need to grind a little coarser than you'd expect for espresso brewing. We used our 1Zpresso J-Max grinder and found settings 1.6.2 worked well with medium-dark roast beans. However, we had to go closer to 1.4 for medium roasts. Whenever we change the beans, we go back to 1.6.2 and work from there.
Use a WDT tool, aggressively working the grounds from the bottom to the top.
Finding the sweet spot for pre-infusion will take some trial and error. But a good starting place is to use 2 BARs until you get 1g in your cup.
After pre-infusion, aim for 9 BARs until you get your desired yield (it will take more effort than you think so you'll need good arm/wrist strength). As you get more confident, you can experiment with ramping down the pressure when you hit 15g output until you get your final yield.
If you're not getting the results you're looking for, only change one element at a time (beans, grind, dose, distribution, temperature, pressure). If you change too many things, you won't know what worked.
Join the 'Brew with Flair' Facebook group for troubleshooting and sharing your wins.
None of the steps are complicated, but nailing all the elements is. It's a very rewarding experience, just go in with both eyes open.
For a visual demonstration, this video by Flair takes you through the process:
Using freshly ground, freshly roasted beans (around 10 days from roasting to give them time to degas) will yield the best results with the Flair Classic. If you use pre-ground or stale supermarket beans, you'll get a flat, flavorless espresso.
However, the world is your oyster in terms of which beans you want to use. It all comes down to what you prefer to drink.
Just keep in mind that any time you change your beans, you'll need to find the right grind size all over again. And if you change roast, the difference in your grind size will be pretty big.
We say that with one caveat though:
When you first get any Flair espresso maker, you need to be prepared to pour (at least) a few shots down the sink. So I wouldn't recommend using your favorite specialty coffee with a high price tag or you'll (literally) be pouring your money down the drain. Instead, opt for something cheaper until you get the hang of things.
Ultimately, the Flair Classic is for those searching for the best possible espresso shots. Anyone who's after convenience or simplicity need not apply.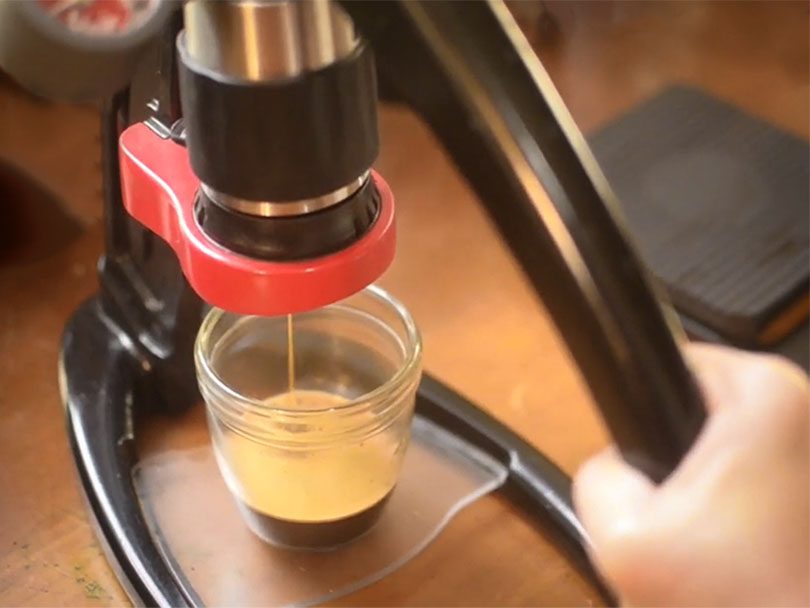 The Looks
If nothing else, the Flair Classic is an interesting-looking machine. The black forged aluminum with a red accent is nice enough and it has an industrial elegance that we really enjoy.
It does look "cheaper" than the Pro 2 and 58 models. But it is… so I guess you'd expect that.
Lever espresso machines aren't the norm in most households so if you have space then displaying it on your shelf or countertop is a great conversation starter.
When put together, it's very narrow at 6″ wide but the 10″ height (when the handle is pressed down) and 12″ length mean it's right on the edge of being a "compact" machine. Though compared to the bulk of an automatic espresso machine, it's teeny.
Packed in the carry case, it's more compact at 12.5 x 9 x 3.35 inches (32 x 23 x 8cm). So it's a good size for an RV but will take up a decent amount of your carry-on space if you were planning to fly.
Part of Flair's mission was to make a superb portable espresso machine. However, it weighs 5lbs (2.7kg) so it's not exactly light. Plus, you need a full espresso setup to get a decent shot from it. So it's not entirely practical as a "portable" coffee maker if you were planning to take it camping or hiking.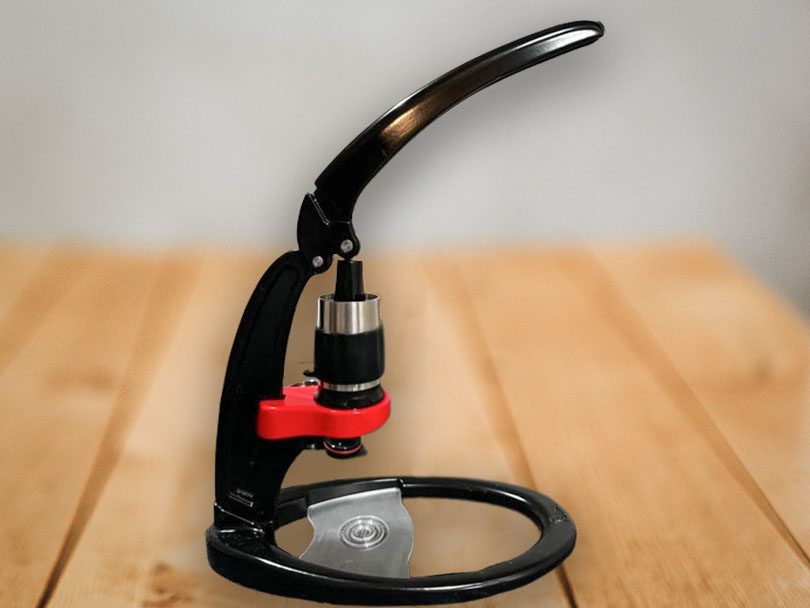 The Build
The great thing about simple machines is that they tend not to break. All the pieces of the Flair Classic are high quality and with such a simple operation there's nothing really that can go wrong.
Just as long as you don't lose any of the small parts.
The base and lever are made from weighty forged aluminum whilst the brewing unit is made from stainless steel. That solid feeling gives me a lot of confidence in the durability. After all, you need to put a lot of pressure through the handle so it needs to be pretty solid to be up to the task.
We'd much rather take a little grumble over it weighing a lot than have it break on us. It's not unrealistic to expect the Flair Classic to be working perfectly a decade from now.
It also comes with a 3-year warranty just in case something does happen.
The obvious caveat to this is that you have to nail your workflow and settings to get the amazing espresso that we've promised here. But some of the best espresso you've ever tasted is definitely on the cards.
Your local barista might wonder why you've suddenly stopped visiting.
Any time you change beans, you'll have to start the dialing-in process all over again. Now this is true of any style of espresso machine, but with a manual one like the Flair, it's more work each time.
Stunning espresso is very achievable. You just have to ask yourself if you're willing to go to the effort to get it each time you want a coffee. Using the Classic is more of a hobby than simply a coffee maker.
So while you do need to clean it after every use, that cleaning is quick and easy. There is no monthly descaling, no concerns over milk residue buildup, and no crevices where coffee grounds can build up.
You'll need a fair bit of space to dry all the parts. And take care not to lose any.
How simple it is to clean is a big plus for the Flair Classic.
Neo Flex
The Neo Flex is the budget offering from Flair. Being the most affordable model, it's a stripped-back espresso maker aimed at beginners. It offers total convenience, whilst still offering high-quality shots.
Thanks to the Flow Control portafilter, the Neo Flex is easier to use. Not only does this make pulling your shots easier, but it means you can use an entry-level burr grinder and still get good results. So your whole setup is cheaper.
You can then switch to the bottomless portafilter when you're feeling confident in your skills. This requires a grinder upgrade too though.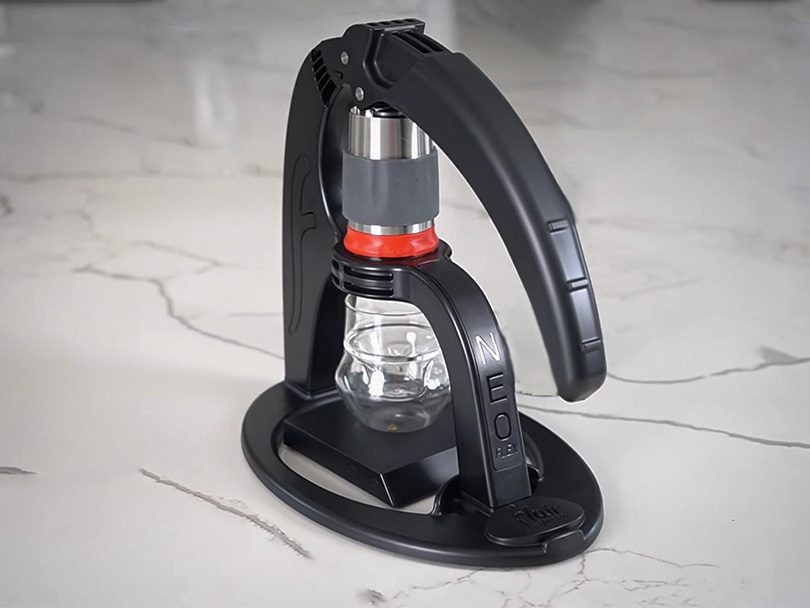 Pro 2
The Pro 2 features a load of upgrades from the Classic to improve your espresso quality and brewing experience:
The lever has an added silicon grip to help control your pulling action. Plus, it has a larger brew head for greater control of your brew ratio. The spout is removable and there is an enhanced bottomless portafilter. The pressure gauge comes as standard and it's available in 3 colors.
If you already have the Classic with the pressure kit, it's not worth the upgrade – you're better off saving until you can splurge on the 58. But if you're getting your first Flair, it's a great place to start.
58
The Flair 58 goes well beyond the Pro 2 in terms of features… and price.
With a new detachable pre-heating cable allowing you to choose between 3 preheating levels, a better valve for single shots, and improved ergonomics. This is the ultimate in manual espresso making for those who are incredibly serious about the art of espresso.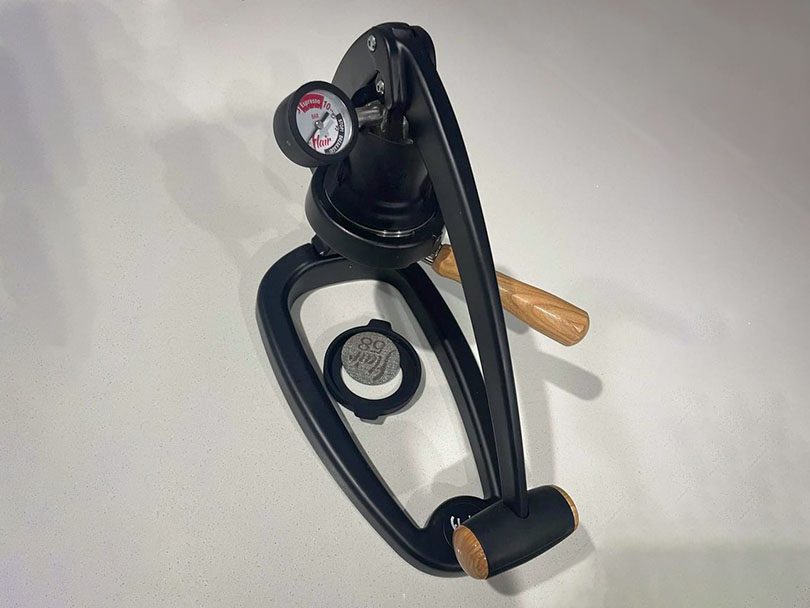 58+
The Flair 58+ is mostly an aesthetic upgrade on the Flair 58. Walnut accents, a magnetic mirror to inspect your shots, and some custom branding. It is definitely prettier than the Flair 58 for not much more money. Though you can splurge a fair bit more to have a hard-shelled carry case. You just need to decide if the looks justify the extra expense.
It takes patience, a full setup, and practice. But the quality of the espresso you can produce can't be matched by any automatic espresso maker (or barista) when you get it right.
The setup we used when testing and writing this Flair Classic review was the pressure kit, 1Zpresso J-Max grinder, coffee scale, homemade WDT tool, tamper, and kettle. All in, this setup costs roughly $600. This is comparable to an entry-level super-automatic espresso machine but for exceptional espresso which is pretty amazing, if you ask me.
It's just a question of whether or not you're willing to put in the work to dial in your espresso. Then repeat the process every time you want one. This is an espresso machine for those who see espresso as more of a hobby than just a beverage. If that's you, you're in for hours of fun!
Don't forget to Buy Your Flair Classic Today
You Might Also Like
Traveling a lot gave us the perfect chance to do an in-depth Wacaco Picopresso review. A spectacular portable espresso maker for coffee lovers

All the best coffee deals in Amazon Prime Big Deal Days 2023 in one place so you don't have to go searching for them yourself.