Does the thought of going a day without good espresso fill you with fear? We are so there with you and often dread leaving home for a business trip (or even just the office) knowing that the quality of coffee is going to be poor. In steps the Cafflano Kompresso. This is our complete Cafflano Kompresso Review – your guide to the lightest portable espresso maker in the world!
Being such a portable, tiny espresso maker you may be left wondering if the Cafflano Kompresso can make good coffee?
Fear not, for she may be small but she is mighty.
Korean coffee lover, Hangsan Yoon, was fed up with paying expensive coffee store prices. And he also didn't want to splash out on an expensive espresso machine. So, he created this cheap, portable device instead.
Read on for the full Cafflano Kompresso Review to find out if is worthy of becoming your must-pack travel item. We have scoured the internet for all the buying guides and expert reviews on this espresso maker to collate with our own. This means we have the most comprehensive coffee maker review you can find. Whilst not all home coffee experts give numerical scores, we have averaged these out. Therefore, you can get a consensus opinion on how good this espresso maker is and know for sure if it is the right gadget for you.
This article may contain affiliate/ compensated links. As an Amazon Associate, we earn from qualifying purchases at no additional cost to you. For more information please see our disclaimer here.
At a Glance: Cafflano Kompresso Review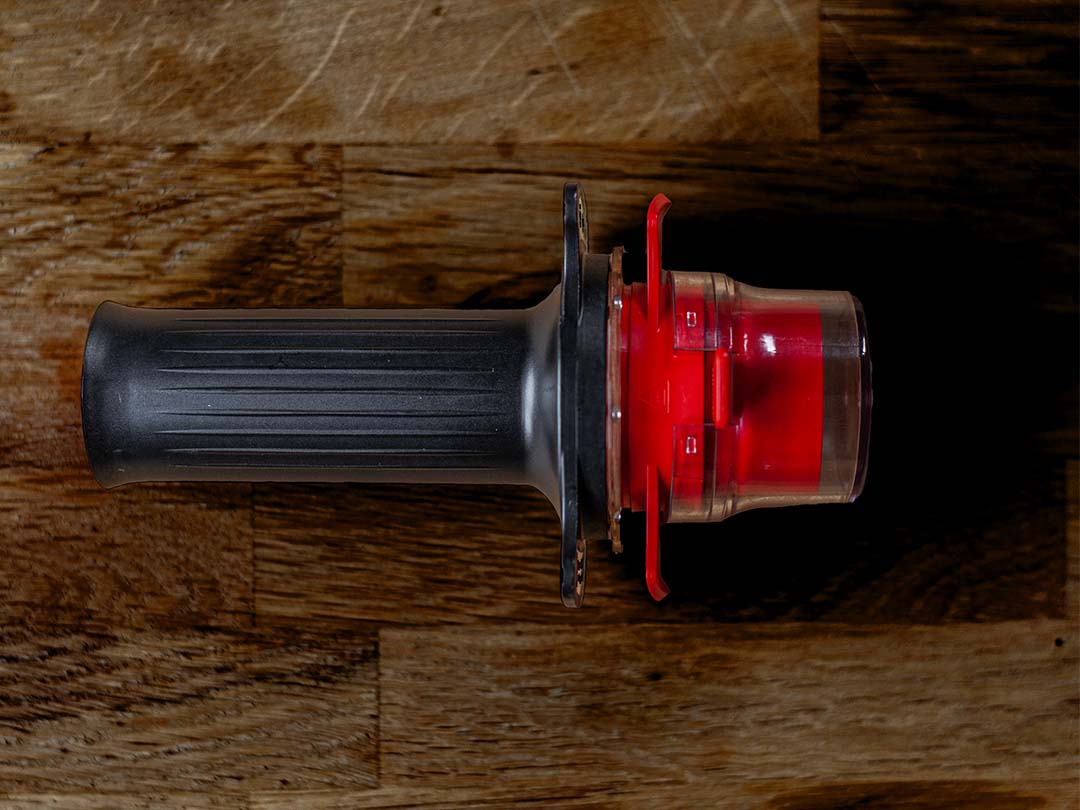 Cafflano Kompresso
If you're a coffee nerd who wants to play around with grounds, water temperature, and various coffee beans then this is a fantastic affordable espresso maker for you.
With the Cafflano Kompresso, you can tinker away to your heart's content. Plus, you can pull really high-quality creamy espresso shots with a nice crema.
However, if you're just looking for a quick espresso before work or a coffee maker to take camping, then it's not ideal. It can take 8 minutes to brew your espresso and many many things can go wrong if you're half asleep or distracted by the morning rush.
All in, it's a great product for a new market of espresso fanatics.
Pros
Weighs less than 0.5lbs
Durable and difficult to break
No filters to replace
Can make hot or cold brew coffee
Lightweight and easy to store or take with you
Makes espresso comparable to much more expensive espresso makers
Inexpensive when compared to the alternatives
Cons
Can only use up to 2.7oz of water at a time
Takes a bit of practive to get right
Need to preheat the Kompresso for a perfect brew
Takes up to 8 minutes for a single shot
Doesn't have the high-end feel you would get from other espresso makers
1. Lightweight
Weighing in at less than 0.5 lbs, the Cafflano Kompresso is the lightest espresso maker on the market. Being so light makes it super easy to pack up, and portable enough to be taken anywhere.
2. Scoop/ Tamper Tool
Included in the box when you buy the Cafflano Kompresso are the espresso maker, tamping scoop, and a cup. When not in use, these pack perfectly together. The scoop doubling up as a tamper is a nifty addition and so handy when you're on the go. It's also the perfect size for filling the basket with the right amount of freshly-ground coffee.
3. Sturdy Design
When traveling, glass espresso makers just aren't going to cut it. So, Cafflano designed their espresso maker to be sturdy, able to stand up to whatever life may throw at it. And, it can certainly stand up to a large amount of pressure without breaking. In fact, the Kompresso is pretty indestructible – crucial for a travel-friendly espresso maker.
4. Pressure
With the small design, you would be forgiven for wondering whether this portable espresso maker can make real espresso. However, the hydraulic compressor has been designed to maintain 9 bar of pressure. This is enough to pull true espresso shots.
There is a learning curve involved when you start using the Cafflano Kompresso. However, once you've got the hang of it, it's very easy to use. Particularly when stacked against other manual espresso makers like the Flair. However, it is much more complex when compared to a single-serve or automatic espresso machine like the Jura range, which all work at the touch of a button.
So how do you make coffee in your new handheld espresso maker?
Start off by pre-heating the Kompresso. For top-quality espresso, it's really important not to skip this step. To pre-heat, just make an "espresso" with no coffee – basically, just run hot water through the device.
Then, fill the basket filter with your finely ground espresso beans. Fine grounds are best for espresso-making due to the shorter brew time. Although, if you go too fine then you won't be able to push anything through.
The scoop doubles as a tamper which is very useful. Although, the embossed Cafflano logo does make things a little more awkward but not impossible. Tamp it hard enough that the logo is emblazoned on your grounds.
Screw the water chamber onto the filter chamber, and make sure it's tight.
You're now ready to add the hot water to the water chamber. Pop the piston in and press it to the bottom.
Give your espresso around 10 seconds to rest. This allows the coffee to pre-infuse, giving you the best espresso shot you can.
The complexity comes in mastering these very simple steps. It is a balancing act of water to coffee ratio, and your technique in pressing/ squeezing the piston, to get the perfect tasting espresso.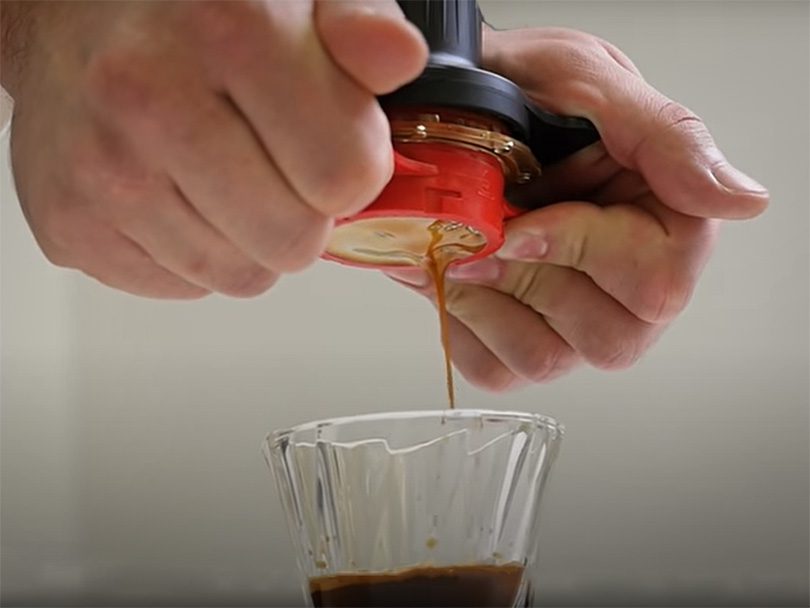 The Cafflano Kompresso requires fine espresso grounds. You may need to play around with your grinder until you find the ideal grind size. If you go too fine, then you won't be able to push anything through. If you go the other way and end up too coarse, you will get a gritty, sour, watery coffee.
Whilst you can use the device at home, meaning your favorite coffee is always on hand, it is largely designed to be portable. This means you'll either need to carry your coffee grounds with you or have a portable manual grinder in your bag too.
The grind basket takes around 15g or 3.5 teaspoons of coffee. So it should be easy enough to grind at home, then take it with you – even if you want to make multiple espressos!
To get the highest quality smooth, rich espresso, use freshly roasted coffee beans which are medium-dark roast. And always grind just before using.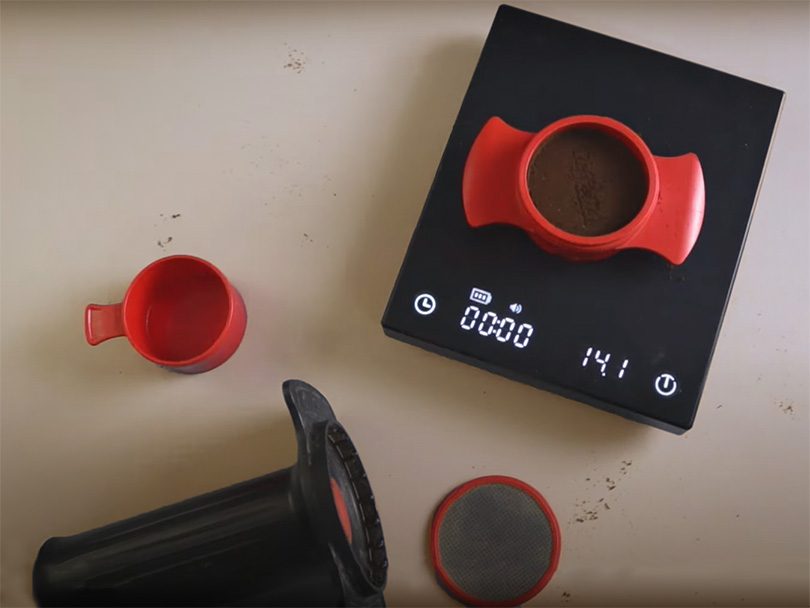 The Cafflano Kompresso portable espresso maker is the brain child of Korean coffee lover, Hangsan Yoon. Hangsan decided that he didn't want to pay for expensive coffee from coffee shops or splash out on a big complex machine. So, instead, he created this cheap, portable device.
Made from non-BPA plastic, with some parts made of stainless steel, it doesn't feel like it's heavy duty. But it can withstand a lot of pressure. This includes putting almost all of my 200lb bodyweight on it when I have accidentally ground my coffee too finely.
The rubber rings designed to prevent leakages are the only part that looks like they might fail over time. But they are easily and cheaply replaced if this does happen. It should be mentioned that complaints of issues with the Kompresso are very rare.
To look at, the Cafflano Kompresso is a bit odd-looking. With the big plunger and the coffee basket, it won't be winning any awards for being beautiful. But, it works and ultimately that's all that really matters. Yes, you will look a bit strange pulling out this red contraption and making your coffee on the go. Although nowadays with the AeroPress being so common, and so many other in-office coffee or tea making gadgets, you won't be a total outsider.
Now for the million-dollar question: can the Cafflano Kompresso espresso maker make high-quality espresso?
The short answer is yes. But it takes practice. You can even get a nice crema from the Cafflano Kompresso. Although you will need to use freshly ground coffee beans at the right grind size.
All of this will take practice to perfect. So, it's likely you will make some rather unpleasant shots while you're working on your technique. But, once you do, you will have great portable espresso neatly packed into your bag.
The ability to control everything from water temperature, to beans, grind size, and pressure means you can get espresso exactly how you like it. You've just got to want to spend the time working it all out. Getting a higher quality espresso than at most coffee shops is very achievable though.
A big thing to note about this portable espresso maker is that it can take 8 minutes to pull your espresso. This is especially true if you're grinding by hand. So, it's not a quick process by any stretch, and you need an extra hot water source.
You can also make cold brew with the Kompresso. To do so, you tamp down extra hard then use a 1 minute pre-infusion before pressing your espresso. This technique works really well and the ability to make both hot and cold brew is a big plus – it's something which most machines in the budget price bracket can't do. Check out this video from Cafflano to learn how:
There's not much to see here. As a travel-friendly, affordable espresso maker, the Cafflano Kompresso does exactly what it says on the tin: it makes great espresso.
In the box, you will get the espresso maker, tamping scoop, and a cup. Which all nest in together, making transportation easy. So, it would be harsh to criticize the Kompresso for its lack of bells and whistles. It is your one-stop-shop for espresso on the go.
That said, the tamping tool isn't the best. Being made of plastic and having the logo emblazoned across the middle makes it a little awkward to use, but not impossible.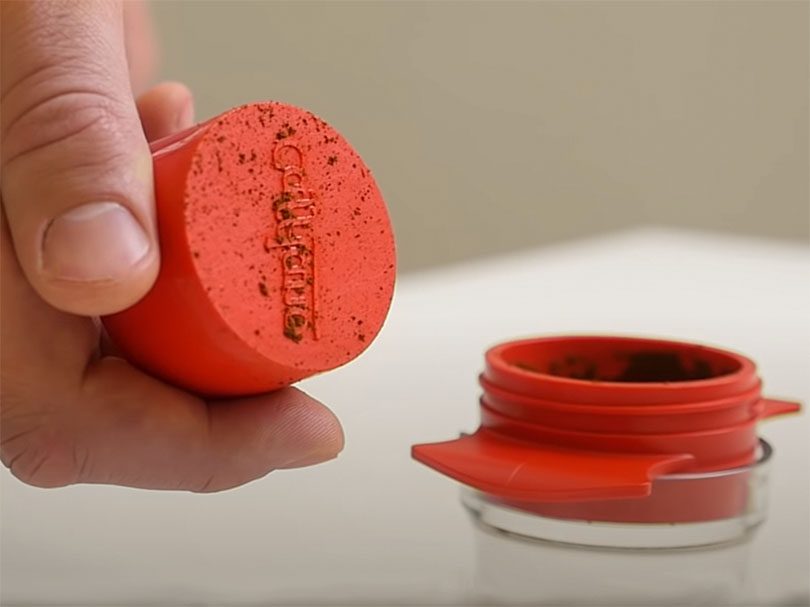 You do need to take the Cafflano Kompresso apart after each espresso shot. If you don't, you are signing yourself up for stale coffee and demotion from Head Home Barista. However, this is a simple process.
You just need to dismantle the device then wash and rinse the parts. It should take less than 5 minutes, and you're done. Which, as manual espresso makers go, is pretty impressive.
If you are finding it difficult to get the coffee puck out in one go, lift and depress the piston again before you dismantle it. After pulling your shot, doing this will push the last of the water out of your coffee. This will allow the puck to tap out with ease.
Again, this is more labor-intensive than a decent mid-range home espresso machine like a single-serve. But the trade-off is that you get so much more control, portability, and value. So it really comes down to what is important to you.
There's not a lot to dislike about this handheld espresso maker. It is perfect whilst on the go or to make espresso at home. However, at home, you may be looking for something a little bigger that can handle more than one cup at a time. In this case, manual or semi-automatic coffee makers may be more up your street.
Sticking to a similar brewing method, but at countertop size, the Signature Flair Espresso Maker provides a good balance. Whilst designed for the countertop (and looking great whilst sitting there), it can also be moved around with ease. It comes with a carry-case if you want to pack it up when you're on the move. Although, at 5 lbs it's nowhere near as lightweight or portable as the Kompresso.
For life on the road, two of the best portable coffee makers are the Wacaco Nanopresso and AeroPress, offering great alternatives.
The Wacaco Nanopresso offers a budget-friendly option for a portable espresso maker. It exerts a higher pressure (18 bars) and can take a little more water than the Kompresso (2.7 oz).
Whilst the AeroPress has taken the portable espresso maker market by storm. Although, the coffee produced is not a true espresso – there isn't enough pressure – it is pretty close.
Stacked up against the competition, the Cafflano Kompresso stands its own. If you are after the smallest, lightweight portable espresso maker in the world, then the Kompresso is you for.
Getting the best-tasting espresso shots from this coffee maker will take patience and a bit of dedication. And not everyone is going to want to do that which is totally fine.
But if you are willing to put in the work, you will not be left disappointed.
Also, if you want to make espressos on the go – whilst out camping or just traveling in general – the Cafflano Kompresso is a great option. Especially with the ability to make high-quality cold espresso too. No batteries or electricity are required, so you really can have espresso anywhere. All you need are water and ground coffee, and your caffeine fix will soon be met.
So, for our final thoughts on the Cafflano Kompresso review: it really is hard to argue with at this price point. Any espresso lover would be chuffed with this device.
Don't forget to Buy Your Cafflano Kompresso Today
You Might Also Like
Read this Jura ENA 8 review to see whether the stripped-back version of the awesome E8 offers good value for money or whether it falls short

Jura's E4 has shunned a milk frother in favor of espresso quality. But is it worth the sacrifice? We break it all down in this Jura E4 review