If you want to enjoy coffee on the go, the biggest difficulty is finding a heat source. As your water needs to be heated, you need a campfire, stove, or outlet in an RV. Or maybe a thermos flask full of hot water that you just hope is still hot enough when you want to brew your coffee.
But what if there was another way? One that involves no extra packing or hunting for fire? Enter the battery operated coffee maker.
By packing a battery powered coffee maker, you open up a world of possibility. You can make coffee literally anywhere as long as you have ground coffee and water.
So, it is a good solution if you spend your life on the go, work on construction sites, or if you just don't want to risk spending a fortune for terrible coffee in a random café on your travels. Just remember, they come with their limitations.
Read on as we outline the best battery powered coffee makers you can find. Free yourself from being tied to heat sources and electricity outlets.
This article may contain affiliate/ compensated links. As an Amazon Associate, we earn from qualifying purchases at no additional cost to you. For more information please see our disclaimer here.
1. Makita DCM501Z Lithium-Ion Cordless Coffee Maker
Pros
No need for hot water
Works with ground coffee or pods
Comes with an insulated coffee cup
Makes 3 coffees per charge
Compatible with any 18V LXT Lithium-Ion Makita rechargeable battery
Cons
Battery and charger not included
Heavy
Really only a portable travel coffee maker if you travel with a van and tools
Makita is not a name you'll see often in the coffee space. But if you work in construction – or just love home DIY – you will have seen their name before.
They are a Japanese company specializing in power tools. In fact, we have a fantastic cordless drill made by them at home.
And their DCM501Z coffee maker certainly looks like it should be a power tool – it's blocky and super utilitarian. Any opportunity to smooth out lines and make it look more like a coffee machine has been avoided but it does make a perfect heavy-duty battery coffee maker.
This is an ideal option for anyone working in construction. Not only because of the look and size but also because, bizarrely, it doesn't come with a battery. It uses a standard Makita rechargeable battery. So if you already use one of their cordless power tools, you'll have a rechargeable battery that can be plugged into this coffee maker.
It has been designed to solve an incredibly specific problem: Making coffee on building sites with the power turned off.
It doesn't need paper filters, you just put your grounds (or a pod) in. Then add cold water to the tank, push the button, and off it goes. The cup of coffee produced is surprisingly good making it a pretty good portable coffee maker.
Just some fairly odd and unique drawbacks.
Battery powered coffee makers have their own limitations by design. So it's harsh to judge the DCM501Z Makita cordless coffee maker against any coffee maker that requires hot water and/or a power outlet.
This has been designed for a very specific customer – someone who works on construction sites and who already owns Makita power tools.
It's small-ish and light-ish, easy to carry, and it comes with an insulated mug with a lid. Plus, there's a 3.5inch cup clearance so you can use a range of coffee cup sizes if your colleague is already using the included mug.
That said, it's quite expensive. And if you don't already have batteries from Makita tools then it's a bit too expensive to be useful. Maybe treat yourself to one of their excellent cordless drills? Makes building IKEA furniture A LOT easier – especially when fuelled by coffee.
2. Conqueco Portable Espresso Machine
Pros
Fully portable, no need for hot water or a heat source
Rechargeable battery with car charger
Compact – fits into a cup-holder or backpack side pocket
Uses your favorite Nespresso or L'Or capsules
Easy to use
Cup included
Cons
Only makes espresso
Takes 12 minutes to heat up water
Must follow instructions closely
Need to buy accessories
Are you an espresso drinker who travels a lot? Maybe you spend a lot of time in your car or in hotels around the country, or even the world?
If so, having an espresso maker on hand to guarantee a good espresso machine style coffee, no matter where you are, sounds ideal.
The Conqueco is fully portable, fits nicely into car cup holders, and comes with 2 chargers – one for an outlet and one for your car.
It doesn't take ground coffee. Instead, it works with Nespresso or L'Or coffee capsules. This might irritate some people, but it means you don't need any extra kit, helpful when you're living out of a bag.
However, it does take 12 minutes to heat up the water using its rechargeable lithium-ion battery which feels like a long time for coffee. But as one of the most compact coffee makers, you have to make compromises somewhere.
Overall, the Conqueco makes a decent espresso from capsules with a 15 bar pressure pump. Considering it is battery-powered, that's quite an impressive feat.
For us, the main annoyances are the little things you don't realize until you read the instructions:
You can't use the Conqueco portable espresso travel coffee maker while it's plugged in
You can't move the device when it has water inside in case it damages the mechanism
It's fairly fragile so if you're taking it traveling, you'll want to buy the hard travel case for it too
Having said all this, you have to remember that there are very few genuine battery powered coffee machines so your pickings are slim. And the Conqueco pulls a decent espresso.
Having it for a break on your cycle or hike – lovely. Taking it with you so you don't have to rely on the coffee from service stations or motels – also great. But, like all the best battery operated coffee makers, you just need to accept there are limitations and adjust your expectations accordingly.
3. Linkind Automatic Pour Over Coffee Maker
Pros
Affordable
Can make iced or regular pour over coffee
Makes excellent coffee
Sturdy and portable
Cons
Water needs to be boiled separately
One cup coffee machine with small brew size
Need a grinder to make the most of it
Whilst the Linkind Automatic Pour Over Machine is technically a battery powered coffee maker, it does require hot water to operate.
So, what are the batteries doing?
Good question. The Linkind uses the batteries to get even extraction from your pour over. This removes the need for you to manually pour the hot water at the right speed and evenly over the grounds. Instead, you can fill the coffee grounds and hot water, press a button, and let your pour over make itself.
Plus you can do this anywhere. As long as you have hot water, the AAA batteries will do the rest for you.
It works with making cold brew too. So if you want to drink cold brew on the go, there is no need for hot water. Just set up and go.
So, if you're a pour-over lover, the Linkind machine will work well. It couldn't be easier to use – once you've poured the water over the grounds, you don't need to do anything.
This machine is small, sturdy, and battery powered. So it really can be taken anywhere.
The problems are not insurmountable by any stretch, more slight annoyances:
You still need hot water to make hot coffee which isn't the greatest if you're on the go. It also doesn't make much coffee. Although, since this is common with all portable travel coffee makers, it's maybe harsh criticism on the Linkind.
To really get the most out of this drip coffee maker, you really need a good grinder. Whilst this does mean more outlay, the JavaPresse Manual is a superb budget grinder. And you can get both the grinder and the Linkind for cheaper than many other battery-driven coffee makers. So it's still good value.
Using pre-ground coffee with pour over is just a waste of time. You may as well just make drip or percolator coffee at that stage as you're not getting the benefit from the pour over method. So a good grinder is worth its weight in gold.
4. Nowpresso
Pros
Rechargeable battery
Uses Nespresso capsules
No need for hot water
Makes decent espresso
Compact and portable
Cons
Expensive
Takes 10 minutes to heat water
The Nowpresso espresso maker is another capsule-based battery powered espresso machine. It can be recharged either from the mains or via USB.
You can use cold or hot water, input your Nespresso capsule, and the 15 bar pressure pump will extract a delicious espresso for you, anywhere. There are very few coffee machines on the market that are genuinely battery powered, requiring no external heating of the water so this is pretty revolutionary.
The Nowpresso is, however, quite expensive compared to the other coffee makers on this list. That said, it does work really well, making a decent espresso no matter where you are.
The drawbacks are that it's very expensive compared to competitors, and not really any better.
You'll get 3 espressos from cold water per charge. And it takes around 10 minutes to heat the water for extraction.
Or, if you use hot water, you can get around 100 espresso coffee shots per charge.
These are fairly ubiquitous issues with battery operated coffee makers. But with the increased cost of the Nowpresso, you'd want at least one of these issues solved. And, at double the price of the competition, it's hard to see what benefit all that extra money is giving you.
Overall, this is a relatively compact handheld coffee maker. Although, at almost 2lbs, it's not the lightest. But it does make a good option for the outdoorsy types who want an easy espresso on the move.
5. Handpresso Auto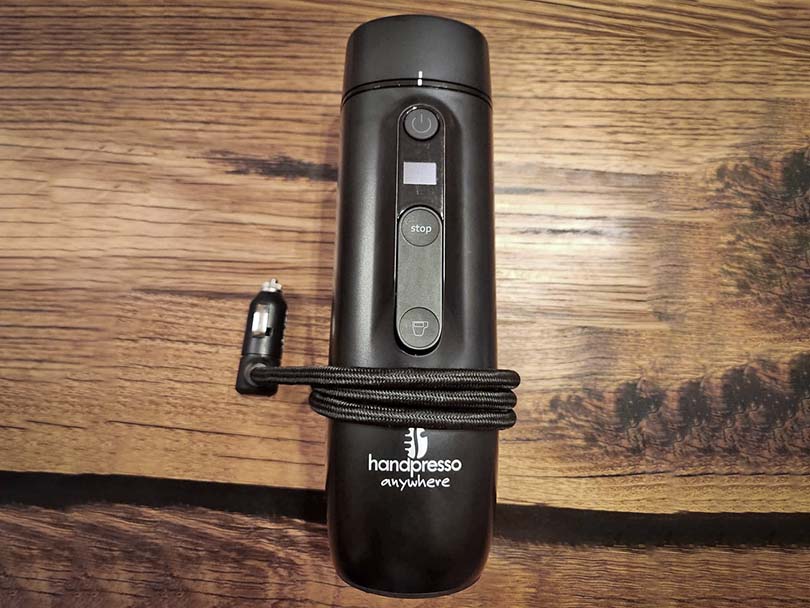 Pros
Easy to use
Heats the water too
Quick and easy to clean
Makes proper espresso
Well-built, quality feel and finish
Fills your car with the smell of fresh brewed coffee
Wow factor
Lots of blends to choose from
Can use ground coffee or E.S.E. pods
Cons
Unreliable
Comes with a premium price tag
Coffee could be hotter
Works best if the car has cup holders
Can be messy
Single shot – slow if you need more than one
Do you basically live in your car? Is life an endless stream of hoping you encounter a quality coffee at a random gas station in the middle of nowhere? Or maybe you spend a fortune at big brand coffee shop drive-thrus?
Then, the Handpresso Auto is your answer. But only if you live in Europe.
With this 12v coffee maker, you don't need a specific portable coffee maker battery – it is powered by your car battery. And it makes a decent espresso in 3 minutes. This extraordinary coffee brewing experience can be made with either grounds or E.S.E. pods. Or the Handpresso Auto Capsule uses Nespresso pods. That's got to be better than forking out for endless mediocrity in your coffee life.
Like many of the others, it does come with limitations:
Your cup of coffee can be a bit cold. And using coffee grounds when you're in your car is, shall we say, sub-optimal? But if you're a coffee pod espresso drinker then this device could improve your daily coffee experience and save you quite a bit of money in the long term.
Long commuters and those who drive up and down the country for work can rejoice.
Don't get us wrong, in-car coffee makers aren't a perfect solution – the espresso can be a touch cold, the machine occasionally jams, and it is messy to use fresh grounds in a confined space.
But you can get a quality espresso, in your car, wherever you are in 3 minutes.
That's pretty darn impressive and can save you a lot of money in the long run in addition to improving your daily espresso experience.
If you're a fan of Nespresso capsule coffee then the Handpresso Auto Capsule is the the ideal coffee maker for you. Although it's slightly frustrating that you can't just get an attachment for the regular one.
They have fairly large limitations. Plus, there's the fact you can find a coffee shop every 50 ft or so at the moment.
Before you jump in and get yourself a battery-powered machine, it's important to understand what they can't do. Then you can see if it's something that will make a big difference to your life.
Unable to Make Lots of Coffee at Once
Heating water takes A LOT of energy. So batteries that can provide enough power to heat water to 200ºF will have several limitations.
And one of these limitations is the amount of water you can physically heat at a time. You're really limited to one cup of coffee, or one espresso, per heating cycle. Which just might not cut it for your specific coffee brewing needs.
If you're looking to make a large pot for everyone, you'd need a car battery or something similarly large. Which would kind of defeat the purpose of having a portable, battery powered coffee maker.
Batteries Need Frequent Re-Charging
A lot of the limitations of battery-operated devices follow the same theme:
Being able to heat water requires a lot of energy. And you can only pack a finite amount of energy into a portable battery. 3 coffees appears to be about the max that any of these devices can make.
Most of these battery operated coffee makers are rechargeable. So if you want to make a couple of espressos on a day hike then recharge when you get home, this is no problem. But you won't be able to go camping for a week without recharging.
Heating Water Takes Time
Think about how long it takes a pot of water to boil on your stove at home. Then imagine trying to heat water from a battery with a heating element small enough to fit in a travel coffee maker.
It's hardly going to wow your socks off.
Instead, it takes around 10 minutes to get the water hot enough. So, battery powered coffee makers are not a great option for anyone in a hurry.
Heavy
Batteries are heavy.
Remember the days when you could still take your phone battery out? Remember how light your phone was without it? (If you don't, please don't tell us – we will just feel old. Trust us, it was a thing).
Making coffee via battery requires some serious batteries to operate. And that means serious weight. It's not like carrying breeze blocks around with you, but just something to remember.
By the same token, they will also be bigger than any non-battery portable coffee gear.
Battery powered coffee makers absolutely have their place. And, if the benefits of coffee on the go without needing access to a heat source or hot water are what you are looking for, despite the drawbacks, there are some great options.
However, you can also get superb (better) coffee from many portable coffee makers that DO need a heat source or hot water to hand. We've detailed our 3 favorites below.
For Espresso: Wacaco Nanopresso
Pros
Produces great espresso
Small and lightweight – a great portable device
Quiet
Can make cold espresso
Easy to use
18 bar pressure
Adapter available to use Nespresso pods
Coffee cup integrated within the design
Cons
Requires practice to perfect the technique
Needs hot water
Time-consuming to make multiple shots
Hands down, the Wacaco Nanopresso is our favorite portable espresso machine. It is a seriously impressive espresso maker even stacked up against traditional machines. So, as a portable option, it is outstanding.
This small bit of kit can produce up to 18 bar of pressure with an easy-to-use hand pump. The result is you enjoying great espresso anywhere.
If that wasn't enough, this cordless coffee maker is also a modular system. So you can buy addons for Nespresso capsules or for to make double espresso shots.
Whilst it isn't cheap, you really get what you pay for in terms of portability, ease of use, and functionality. It also comes in a variety of colors, which is just gravy really.
Some of the drawbacks of this portable espresso maker are the same as the best battery operated coffee makers listed above:
It is time-consuming to use. And cleaning while traveling can be tricky.
But, if you will have access to a hot water source on your travels, say a kettle in hotel rooms or a flask of hot water, then this is the best option for espresso on the go. Plus, if you don't want to carry beans and a grinder, you can purchase the NS which will allow you to use Nespresso pods with your Wacaco.
Allround, the Nanopresso offers a handy coffee brewing experience for espresso enthusiasts who are always on the go.
For Flexibility: AeroPress Portable Coffee Maker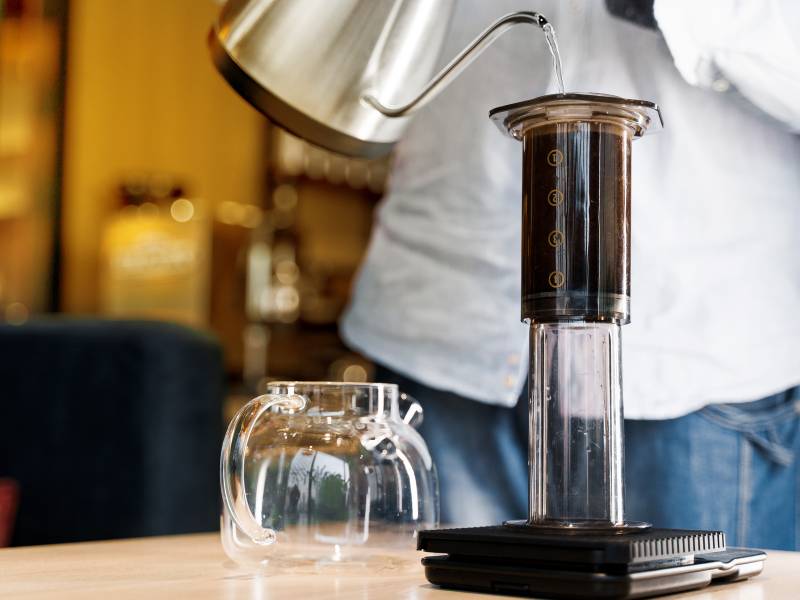 Pros
Simple to use and clean
Great coffee
Cheap
Very sturdy
Can make cold brew
Fast brewing time
Plethora of information available
Cons
You need a supply of filters
Needs separate hot water
Needs fresh ground coffee to be at its best
Can take practice to perfect
The AeroPress is a triumph for simplicity in coffee making:
A couple of pieces of plastic and a filter has launched a global phenomenon that has spawned international competitions, hundreds of methods, and thousands of YouTube videos. You will not find a coffee maker (portable, battery powered, or electric) with more information on how to use it than the AeroPress.
It makes a great coffee, whatever your preferred method is – from espresso to cold brew, to a myriad of other options. Plus, it is light, small, and easy to use.
There are also grinders designed to fit inside it. Or you can buy an attachment that claims to create enough pressure for "true espresso" (8 bar).
The range of possibilities with the AeroPress makes coffee brewing exciting.
The only downsides are that it requires hot water and some people don't like having their coffee come into contact with plastic. Although there is no scientific basis for this dislike.
On a tight budget, the AeroPress is probably the best cordless portable coffee maker you can buy.
Now a coffee institution, the AeroPress has a lot going for it. For life on the go – or at home – it offers an extraordinary coffee brewing experience.
The drawbacks are the amount of other coffee-making gear needed:
You'll need hot water and a grinder. Using pre-ground is, of course, an option but you're really wasting what the AeroPress offers in terms of coffee quality. You can get the AeroPress plus a good manual grinder, like the JavaPresse Manual, cheaper than many other portable coffee makers by themselves though.
It is still a single-cup coffee maker. So if you're making a few cups it also has the downside of time.
For Campers: Bialetti Moka Express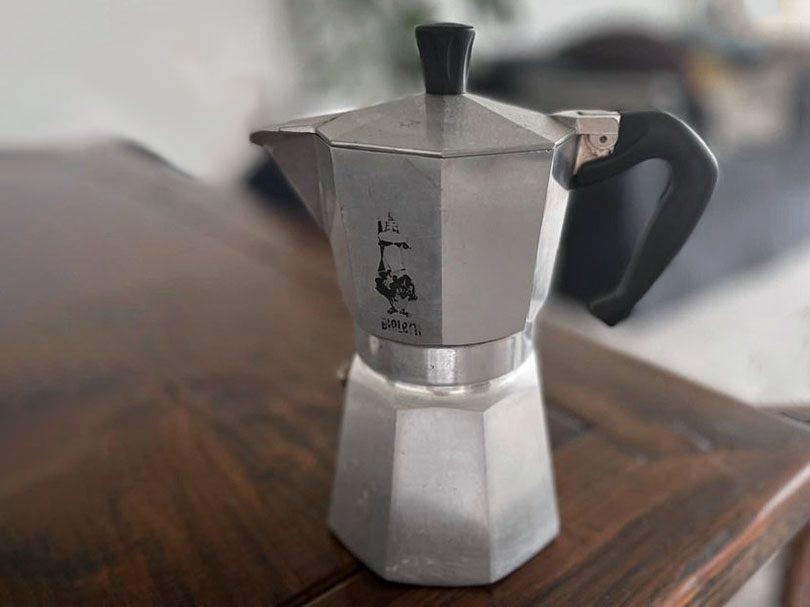 Pros
Good coffee
Built to last
No electricity needed
Budget-friendly
Available in multiple colors and sizes
Cons
Needs a heat source
Only makes a specific style of coffee
Takes practice and needs to be watched
Not dishwasher safe
The Italian espresso classic.
Bialetti's 1933 invention, the Bialetti Moka Pot is a piece of coffee history and is still very popular today. And with good reason – it makes rich, intensely flavored coffee (not quite true espresso), it's simple to use, and it works anywhere you have a heat source.
These things are almost invincible too. In fact, they can last a lifetime if properly cared for which makes this coffee maker ideal for traveling.
This is an ideal coffee maker if you're camping, in your RV, or even staying at AirBnb's with stoves and questionable coffee facilities rather than hotels. All you need to do is chuck it on the stove and, when you hear the characteristic gurgling noise, pour your black gold.
Where it won't work so well is if you're out hiking or if you spend a lot of time in your car.
Anyone who travels with a camping stove or in an RV with hobs will love the Bialetti Moka Express. It's hard not to.
The Moka pot makes a halfway house between espresso and drip coffee. And, when made properly, will deliver a very tasty cup of coffee.
With a range of sizes available, you can buy one that suits your needs. Then, once you have it, you may never need to replace it.
If you're going to be spending a lot of time in hotel rooms, this isn't really going to work for you in terms of useability. Or, if the style of coffee that it makes isn't your thing then it doesn't matter how portable and sturdy it is, it only makes that style.
But it's cheap, it works well, and it's simple to operate (after a couple of practice tries). It all depends on what obstacles to making coffee you'll face on your travels.
So, how do you cut through the noise and get the best battery operated coffee maker for you? Look out for these points when you're shopping:
Where will you use your coffee maker?
Are you in the market for a portable travel coffee maker to use whilst staying in hotels? Or something which can be used whilst on the open road?
Your intended use will make a big difference to the best battery driven machine for you. For frequent travelers, you will need a sturdy device that is built to withstand a little rough and tumble. Plus, you need to be able to pack it.
If you're just looking for a simple coffee maker to use at home if the power goes out, these concerns are less important.
What type of coffee do you drink?
The ideal coffee maker for you depends on the type of coffee you like to drink. If you love espresso, a battery operated drip coffee machine is never going to meet your coffee brewing needs.
Check the Capacity
If your mind is set on a battery powered coffee maker, you will already have come to terms with the limited capacity. But there is small, then there is really small.
For example, the Linkind only makes 4oz at a time compared to the Makita rechargeable coffee maker which can make 3 coffees.
Buying a cordless coffee maker with a bigger capacity than you need just means more weight to lug about. So you need to find the happy medium.
Does the Water Need to be Pre-Heated?
Not all battery coffee makers are made equal. In our mind, the benefit of having one is that it can heat the water whilst you are traveling. However, some need the water to be heated separately. This will either work for your needs or totally negate the benefits. So choose wisely.
If you are constantly on the go and need a portable coffee maker that heats your water for you, this is a great way to go. But they are not without flaws. So, when looking for the best all-around option for you, you will need to balance up the benefits to limitations.
If on reflection, you can heat the water separately, then you can get a better quality coffee for the price in a machine without a battery. But don't let that put you off – the Makita is a great option.
You Might Also Like
Beautiful, simple, and delicious espresso for around $1000? We had to test if such a thing was possible – read our Jura ENA 4 review to see

Jura ENA 8 vs Gaggia Babila is a battle of philosophies. Is the convenience of the ENA 8 superior to the precision of the Babila?