Espresso is the building block of many of the world's favorite coffee drinks. It's also, for many, the purest form of coffee to drink. But shopping for a machine can be confusing: there are so many different types of espresso machine and brands available and a mountain of technical jargon. So how do you know which one is best for you?
That's where we come in. In this guide, we will break down all the key types of espresso makers, what you can expect from them, and what their pros and cons are. We will include super simple pod machines, traditional manual espresso makers, and everything in between.
Knowing which style of espresso machine is best for you is key to home coffee happiness. So let's jump right in:
This article may contain affiliate/ compensated links. As an Amazon Associate, we earn from qualifying purchases at no additional cost to you. For more information please see our disclaimer here.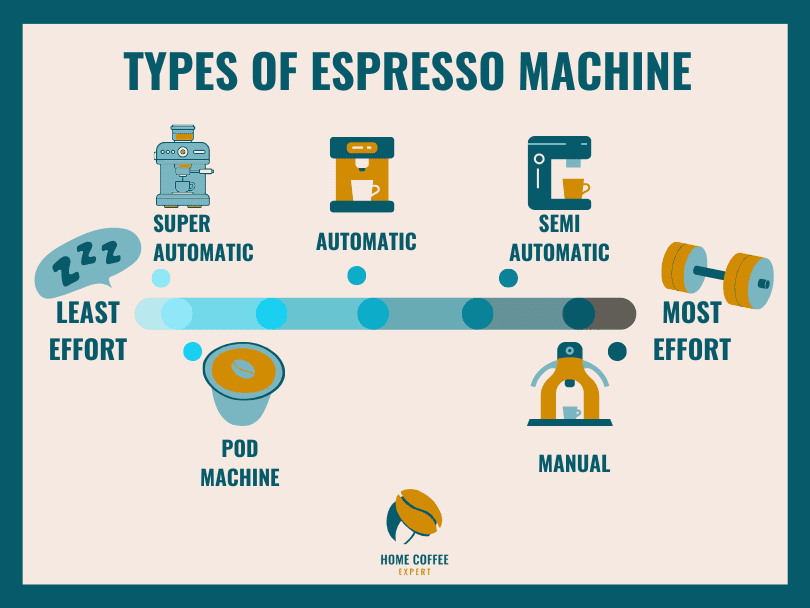 Manual espresso machines are a purist's dream: you can get into the very essence of what it means to make espresso.
Here, the pressure is generated by you, usually by pulling down on a lever (like the picture below), hence them also being called lever espresso machines. Though you will see them called piston espresso machines too.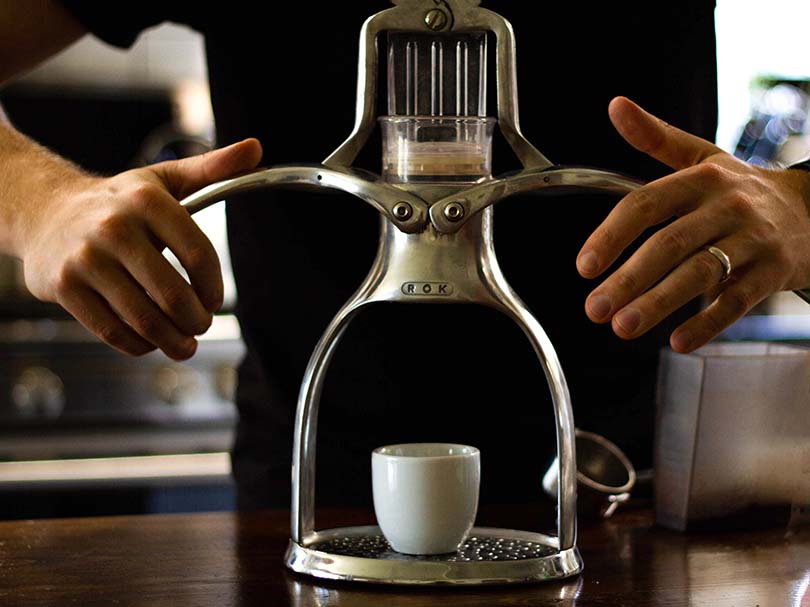 It's also possible to get a portable version in which case you usually have to use a pumping mechanism to manually build the pressure to the necessary 8-10 bars.
Many serious espresso geeks will tell you that using a manual machine is how to get the best possible espresso.
The reason? You can control every aspect of the process. Choice of coffee beans, grind size, dose, tamp pressure, water temperature, water volume, the pressure of extraction, and the final volume. In other words, there are a lot of variables in your hands.
By getting all of these right, you'll have a truly incredible shot of espresso. The obvious downside of this is that you have to get all these variables right.
Manual espresso machines are a labor of love. They're perfect for anyone that really wants to perfect the art of pulling an espresso shot. Even just sipping on a coffee you've worked so hard to nail adds a little something to the taste.
These machines often look really cool or are portable so can be taken with you on business trips or on vacation. They're also (generally) a lot cheaper than many espresso machines capable of producing equally good espresso shots.
Pros
Amazing espresso quality is possible
Relatively inexpensive
Can be portable
Often look great
Compact
Cons
Very steep learning curve
Time-consuming to use
Requires other equipment (grinder, temperature controlled kettle, coffee scale)
Who are Manual Espresso Machines for?
Manual espresso machines are ideal for people who want to invest a lot of time into pulling amazing espresso shots.
If you're looking to build your own espresso machine setup with a great grinder, kettle, scale, and machine then a manual espresso machine could be for you.
Alternatively, some models like the Wacaco Nanopresso are superb for frequent travelers who want a travel espresso machine in their bag. Some even work with Nespresso capsules, so you don't need to take all your equipment with you. Although this does dampen the romanticized, manual process somewhat.
Basically, there are many types of manual espresso machines available to suit a wide range of needs.
If you just want a great coffee or don't want to work too hard for your coffee, then a manual espresso machine isn't the one for you. You'll also need to have a separate milk frother if you're a fan of milky espresso drinks.
Some of Our Favorites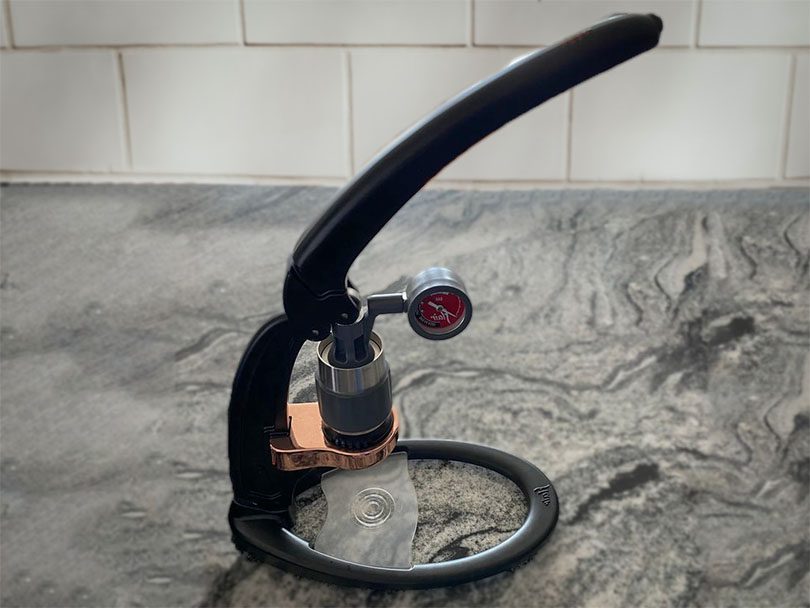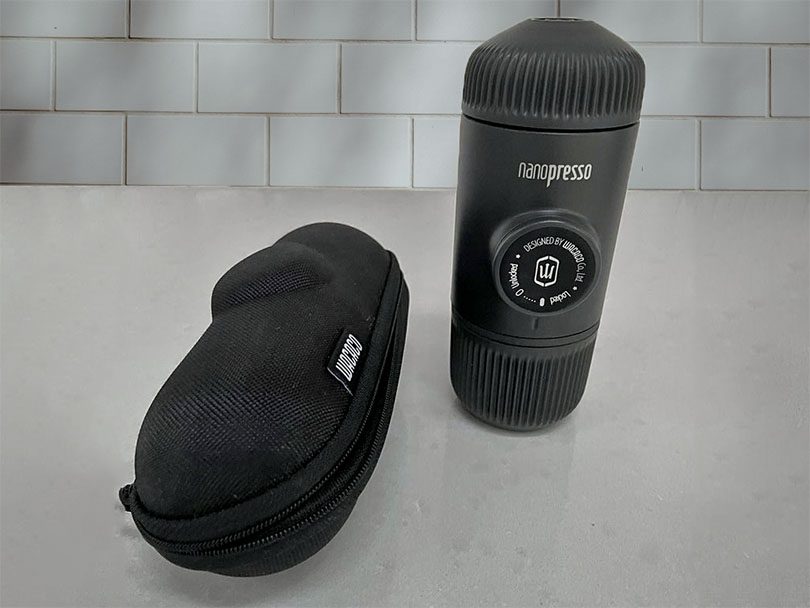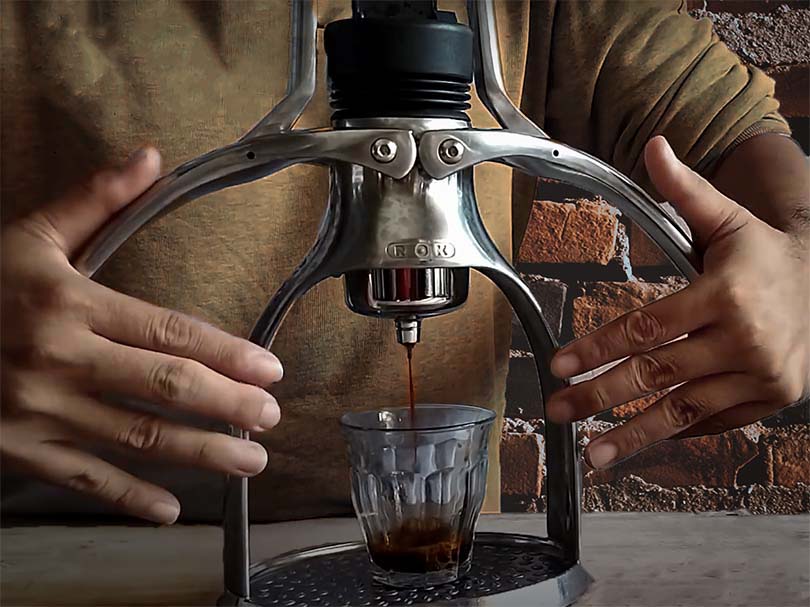 So you're still in control of grinding, dosing, tamping, and timing the shot. But there's no messing around with heating the water and manually exerting the 9 bars of pressure needed.
This is a great option for people who love espresso and want to really be involved in pulling a shot. But also for those who don't really want to get as involved as a manual machine requires. So as long as you're happy grinding, weighing, and tamping your grounds then timing/weighing the extraction, they're great. Any more work than that would be too much.
It's possible to buy a semi-automatic machine at all price points.
As the price goes up, you're usually paying for more consistent pressure and temperature – both incredibly important for pulling great espresso. So the cheapest espresso machines tend to have inconsistent pressure and temperature so they often use double-walled filter baskets to hide their flaws.
At the budget-friendly end of the scale, you can expect a decent espresso. But not a great one.
By the time you're paying $300 or more, you can get a really good shot. Then the semi-automatic espresso machines at the top end can pull exceptional quality espresso. Having very high-quality pumps and boilers sets them apart and ensures you get the perfect pressure and temperature for extraction.
Pros
Great espresso is possible
Available at all price points
Easier to use than manual machines
Can be compact
Most models come with simple manual milk wands
Cons
Still require a grinder and coffee scale to make good espresso
Can have a steep learning curve
Variable quality between machines
Some semi-automatics are steam-powered which can lead to burnt, bitter coffee
Who are Semi-Automatic Espresso Machines for?
Semi-automatic machines are a match for two types of people:
Firstly, for those on a budget. Anyone who is looking for a machine to make a couple of coffees in the morning to save some money on coffee shop drinks will benefit from this type of espresso machine. There are lots of good semi-automatics between $100 and $200 for the casual coffee drinker.
The second type of person is the beginner espresso enthusiast. If you want to get into pulling great espresso shots at home but don't know where to start, a semi-automatic espresso machine is ideal. It takes care of the water so you can focus on getting the perfect puck and extraction time.
Some of Our Favorites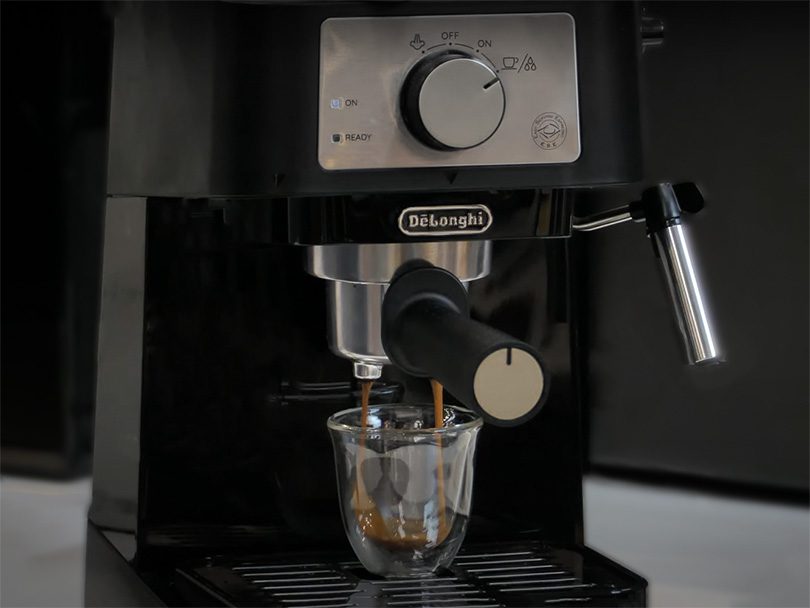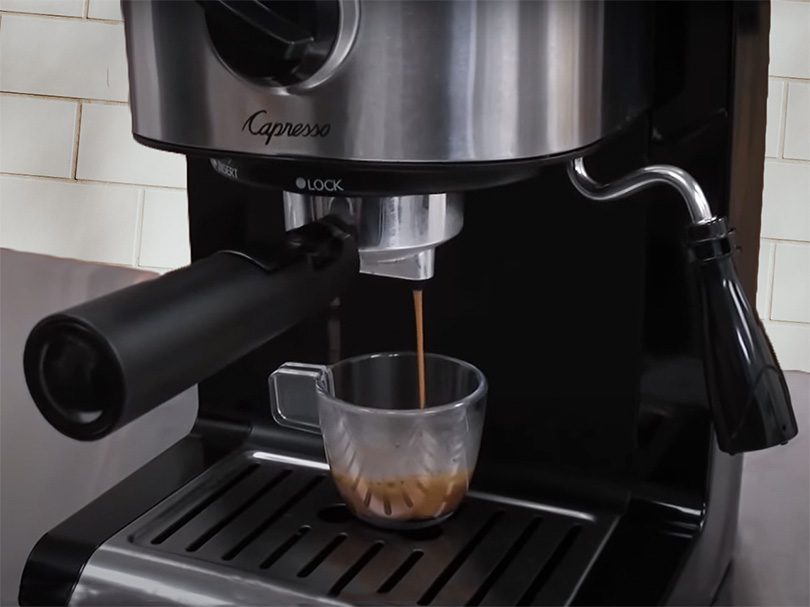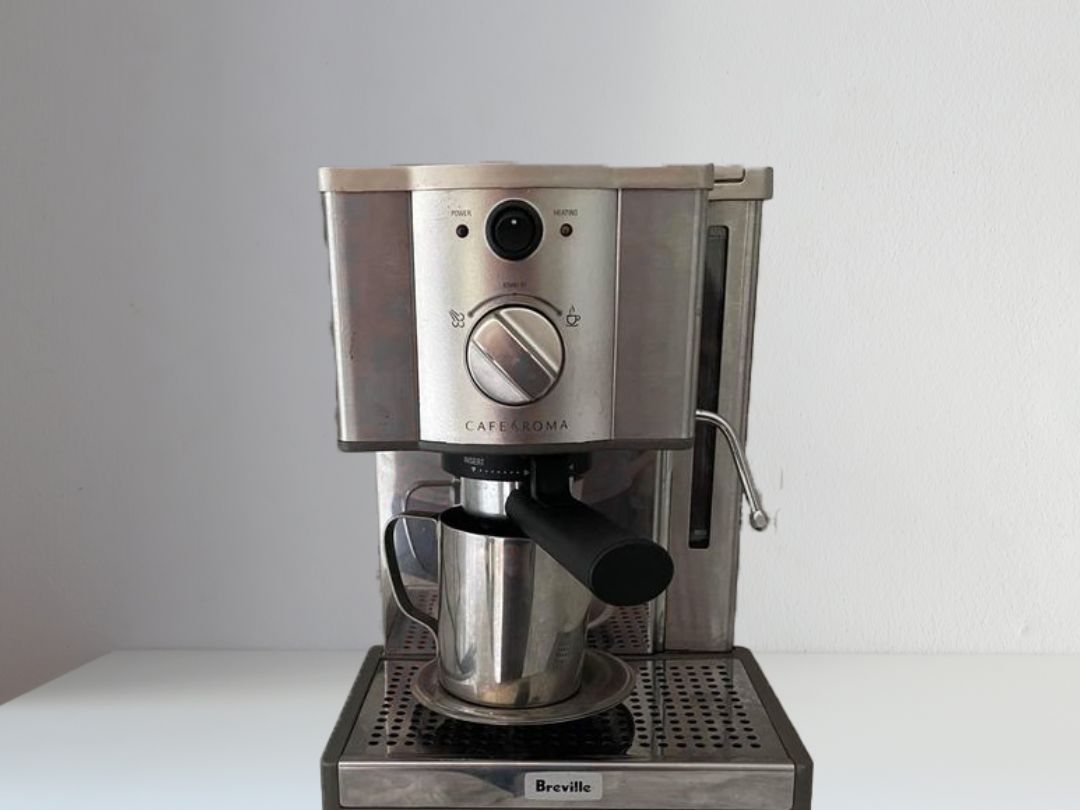 The only real difference is that automatic espresso machines will stop the extraction when a specific amount of water has been pushed through the puck. This can be set by the user so you only need to push the button and you'll get your desired water volume. That way you don't have to time every shot.
As soon as you get above $300, automatic espresso machines are the norm. But the level of precision can vary wildly. Plus some will allow you to choose a specific pre-set volume or time whilst others will allow you to set this yourself.
With these types of espresso machines, you still have to grind and tamp your coffee. And, realistically, you'll probably also set the volume by timing the shots to "dial in" your machine. (Dialing in is the term used by coffee enthusiasts to describe finding their perfect grind, tamp, and water volume.)
The only difference is that the machine will then save your settings so you only have to do it once.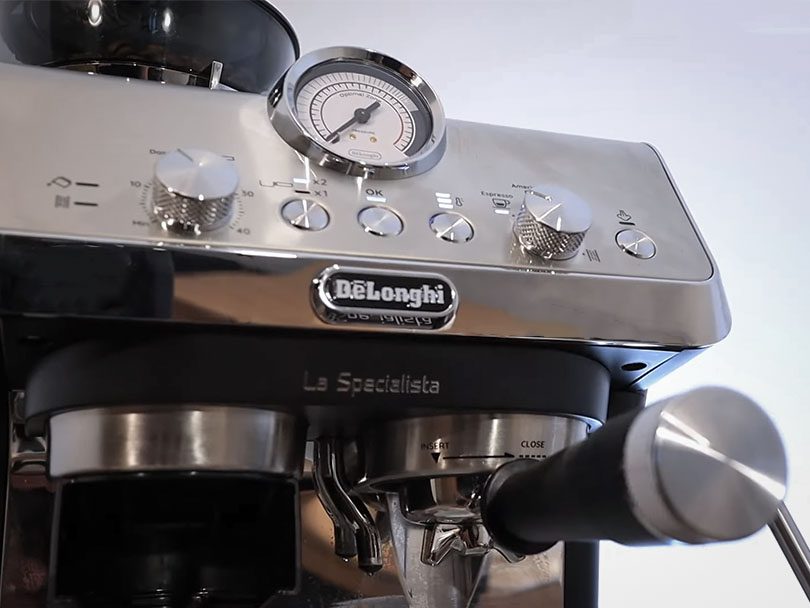 Pros
Can pull great quality espresso
Relatively affordable
Easier to use other options
Will save your shot volume
Almost all automatic machines will have either a manual or automatic steam wand
Cons
Need a grinder, scale, and tamper
A bit of a learning curve to nail your technique
More expensive than semi-automatics
Who are Automatic Espresso Machines for?
Automatic espresso machines are basically for the same people as semi-automatic ones.
They're just a little more user-friendly as you can simply push the button and use the factory settings. But they're still a great option particularly if you're new to the espresso-pulling game and want to start perfecting your skills.
The downside is that they're generally more expensive than semi-automatic espresso makers. However, they justify the price tag by offering more consistent pressure and temperature. And, if you're lucky, you might even get pre-infusion and temperature settings to play with too.
With almost automatics, you'll get a higher quality milk frother (sometimes manual, sometimes automatic). So this is a big win if you're into latte art but maybe an unnecessary expense if you're a black coffee drinker.
Overall they're usually better-built espresso machines than many of the alternatives. 
Some of Our Favorites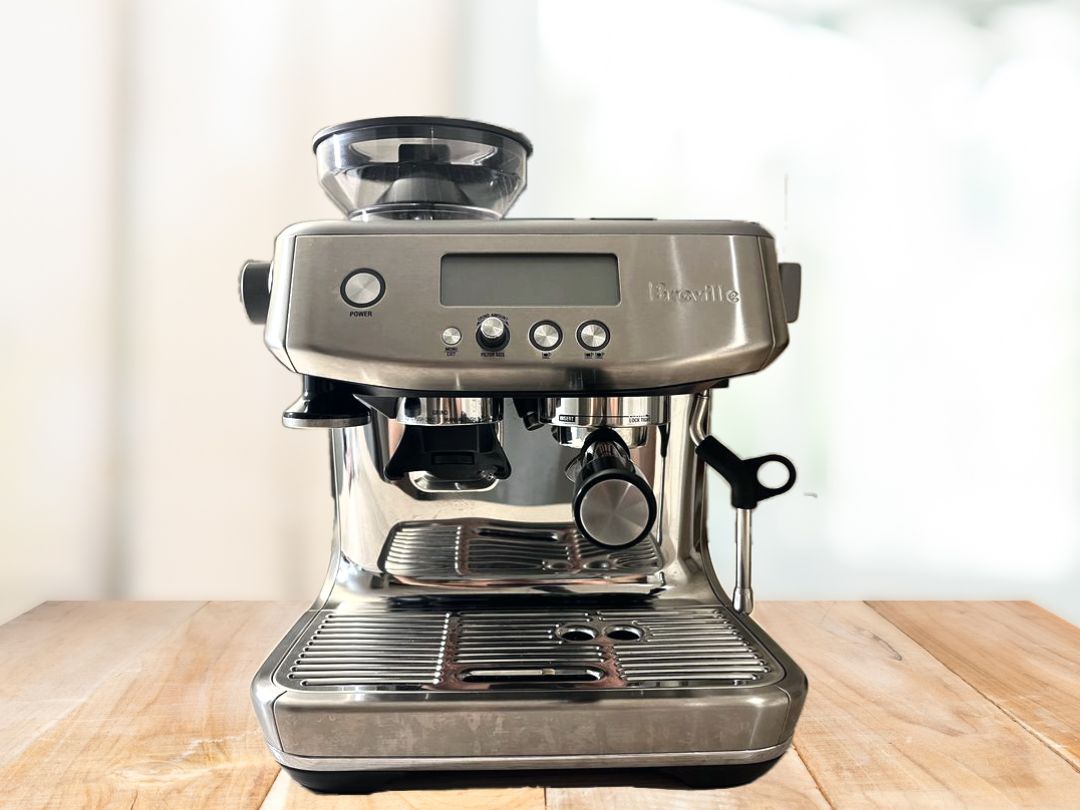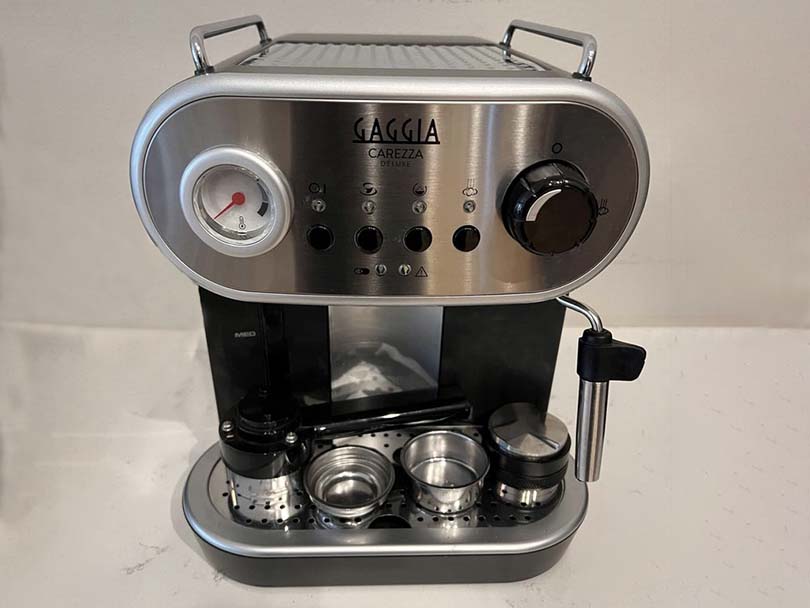 At the push of a button, the machine will grind the coffee beans, tamp, pull the espresso, and some will even foam the milk too. If you love coffee but actually learning to pull espresso at home is not something you're interested in,  these are your perfect espresso machine match.
All that ease comes with a price tag as you obviously pay more for these types of espresso machines. You'll also take a dip in espresso quality over what is possible with similarly priced espresso machines where you retain some of the control.
If you pay top dollar for one of the best Jura coffee machines, you'll get something approaching exceptional espresso. But even they aren't as good as a professional or home barista who really knows what they're doing.
The convenience is immense though. With pre-programmed drinks being pretty standard, your favorite coffee is often just one touch away. They're fast, easy, and often wildly customizable so you get the absolutely perfect drink for you.
For a lot of people, it's absolutely worth the extra cost, and the extra space, of a super-automatic espresso machine.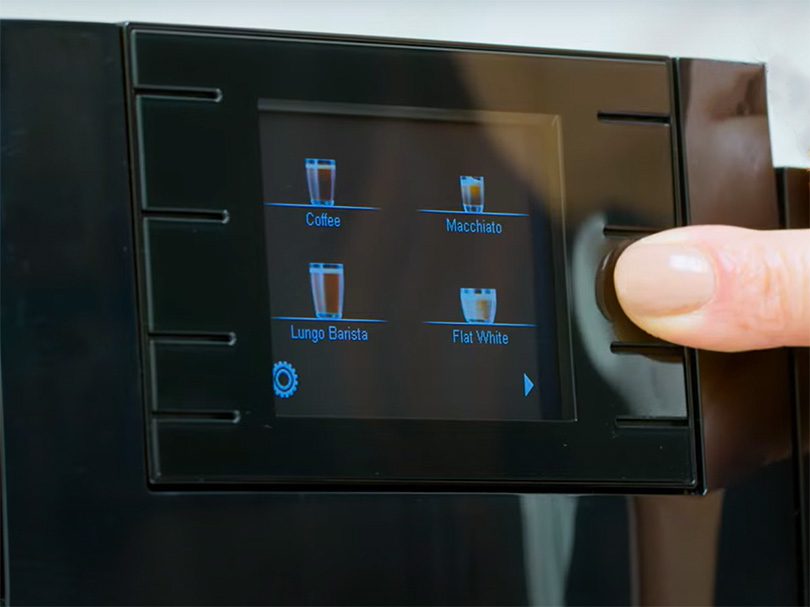 Pros
Very easy to use
Lots of drinks options
Customizable
No need for a separate grinder, tamper, and scale
Cons
Expensive
Slight dip in possible espresso quality
Usually very big, bulky machines
Who are Super-Automatic Espresso Machines for?
Super-automatic espresso machines are best suited for people who want coffee at home to be as easy as possible. Using these machines, you can get whatever drink you love at your local coffee shop at home at the touch of a button.
The espresso quality, the number of drink options, and how customizable they are will vary between machines.
However, they do cost more than other types of espresso machines. Doing everything for you costs money. But compared to buying coffee at a high street coffee chain every day, they are probably still cheaper over their lifetime. Like having your own personal barista at home.
Some of Our Favorites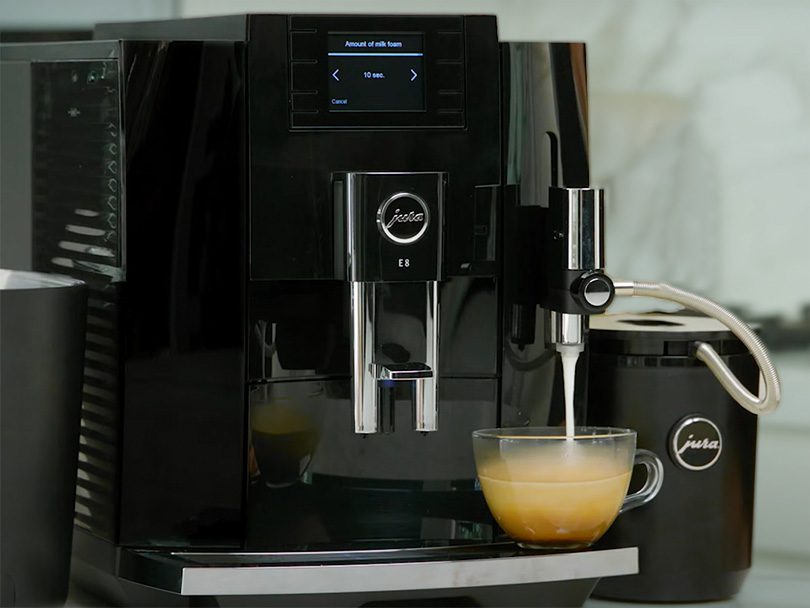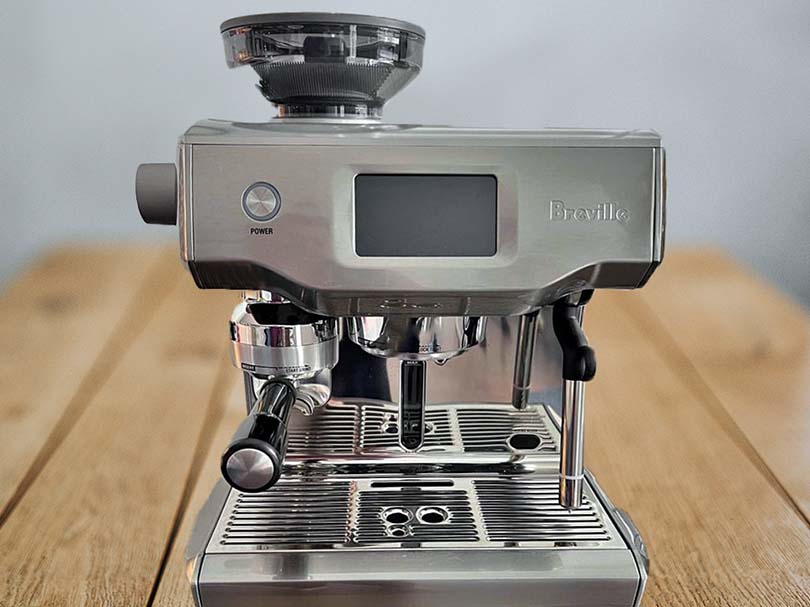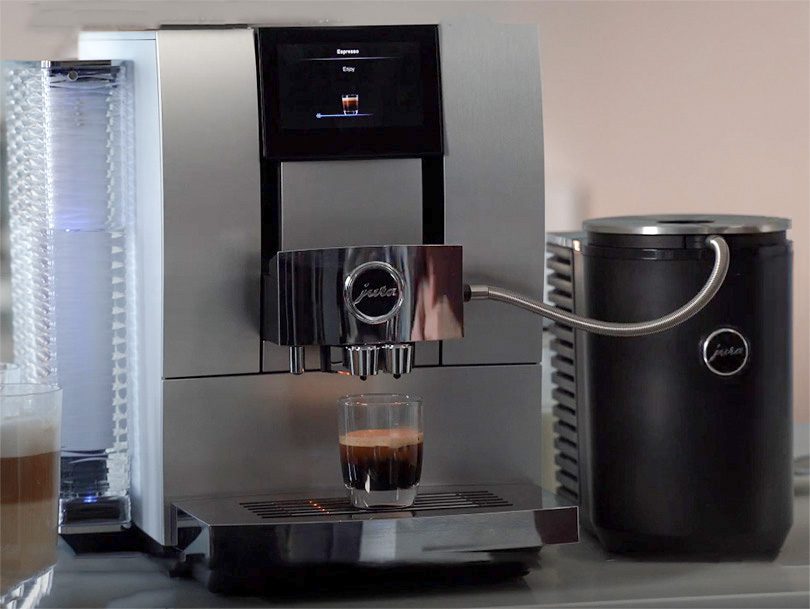 Knowing you'll get exactly the same coffee every time is something most people like. Especially when combined with being simple to use, needing almost no cleaning, and being pretty affordable.
As all pod machines require pods or capsules, the obvious downsides are the drop in quality versus using fresh beans. This also means you're tied into a manufacturer for which pods you can use.
Plus, there's also the environmental impact of all those coffee pods and some suspect supply chains to boot. Although, there are some more eco-conscious reusable options around these days that allow you to use your own grounds.
Pros
Incredibly consistent
Simple to use
Minimal cleaning is required
Affordable
Cons
Limited choice of pods
Not as good as using fresh beans
Some environmental issues
Who are Pod Espresso Machines for?
Pod espresso machines are for people who want incredibly consistent coffee with no effort but can't afford a super-automatic espresso machine.
Being able to get espresso at the touch of a button for a fraction of the cost of a bean-to-cup machine is a tempting offer for most casual coffee drinkers. The ease of cleaning is a bonus and pod recycling schemes are getting better.
Some of Our Favorites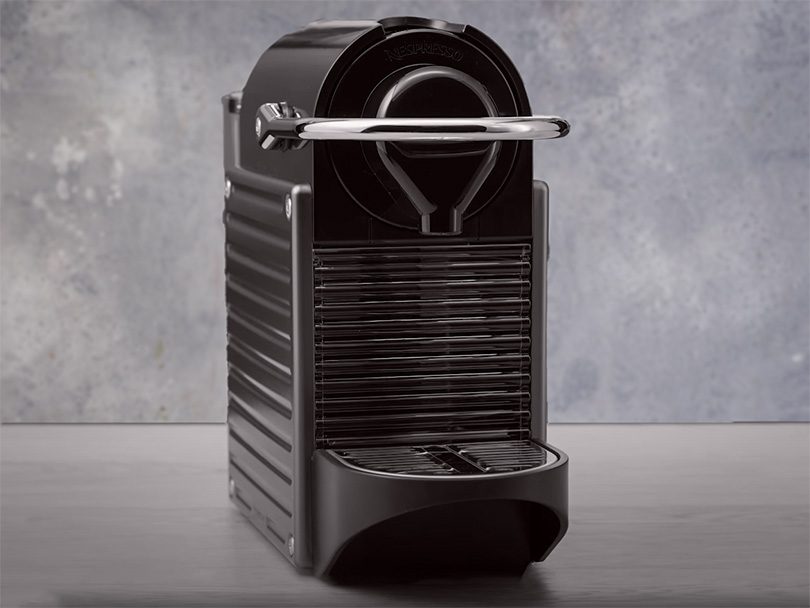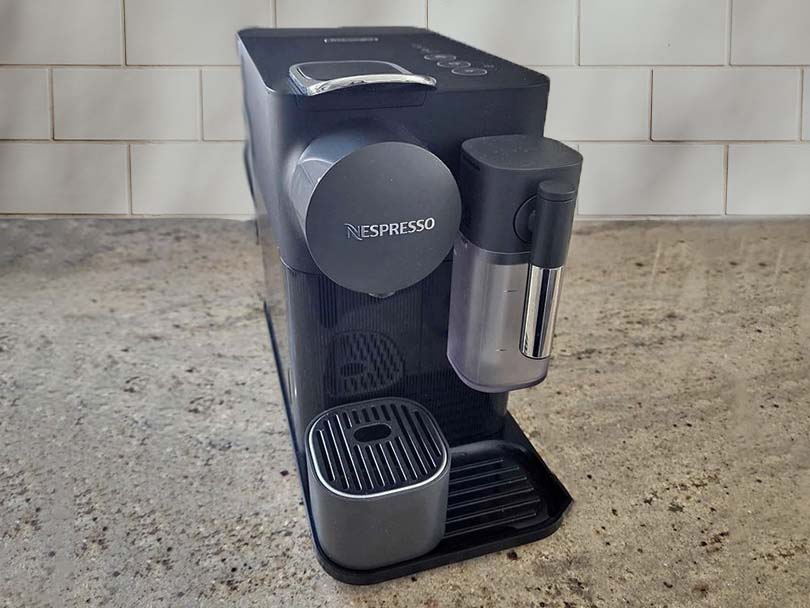 There is a minimum amount of pressure to make espresso: at least 9 bars. But stovetop espresso machines (also known as Moka pots) sit around 1.5 bars.
Instead, they produce "Italian Espresso". The Bialetti Moka pot first hit the shelves in 1933, predating the stuff we now think of as espresso by around 15 years. But they are one of the most traditional coffee makers.
They are very easy to use and very cheap to buy. All you need is a stovetop and you're good to go which is what makes them a popular choice for camping or RV owners. But, on the downside, they have a pretty 'functional' (although iconic) design. Plus, the espresso produced isn't the best – the water gets too hot resulting in a bitter-tasting cup of joe.
What you get is a syrupy and intense cup of coffee. Stovetop coffee makers can't make anything near the "true espresso" level of flavor so it's not the ideal choice for making lattes and so on and so forth.
Overall, they are a good, cheap, and reliable option with almost no learning curve. Just as long as you really enjoy the style of Moka pot coffee.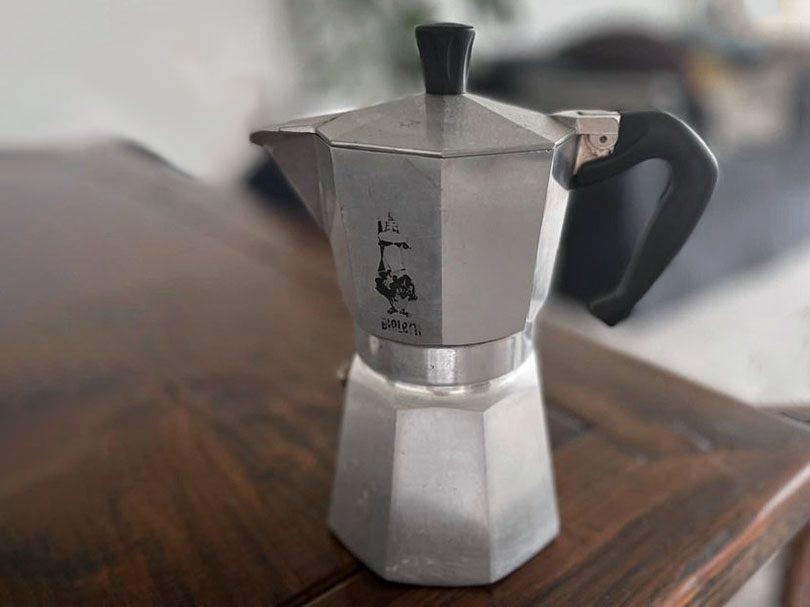 Single boiler, dual boiler, steam boiler, heat exchange, PID. It all gets a little confusing. So we've quickly explained each type of boiler to help you understand what you need.
Single Boiler Espresso Machines
The most common type of espresso machine is the single boiler model. These are exactly what they sound like:
The machine contains a single boiler for heating the water for espresso and producing the steam for foaming milk, if it has a steam wand.
Single boiler espresso machines are cheaper to build and can be smaller. The downside is that you can't pull espresso shots and foam milk at the same time.
It also means there will be a delay between these two processes as the boiler heats up or cools down, as appropriate. (Top tip: always make your coffee before the milk to avoid burning your coffee grounds). This can be less than 30 seconds though and it depends on the manufacturer.
Even some of the most expensive espresso machines still only have a single boiler.
Dual Boiler Espresso Machines
The name is pretty self-explanatory here too. Dual boiler espresso machines have two boilers – one for the coffee and one for the steam. This means you can simultaneously pull your espresso and foam your milk. Commercial espresso machines are all dual boiler.
It also means it's less likely the water for pulling your espresso shots will be too hot and burn your grounds.
Double boiler espresso machines tend to be big, more expensive, or professional espresso machines. If you're just making your coffee at home for a few people there's no real reason you need a dual boiler machine. If you want one, now that's totally different.
Having said that, making lots of milky coffee in a row greatly benefits from dual boilers.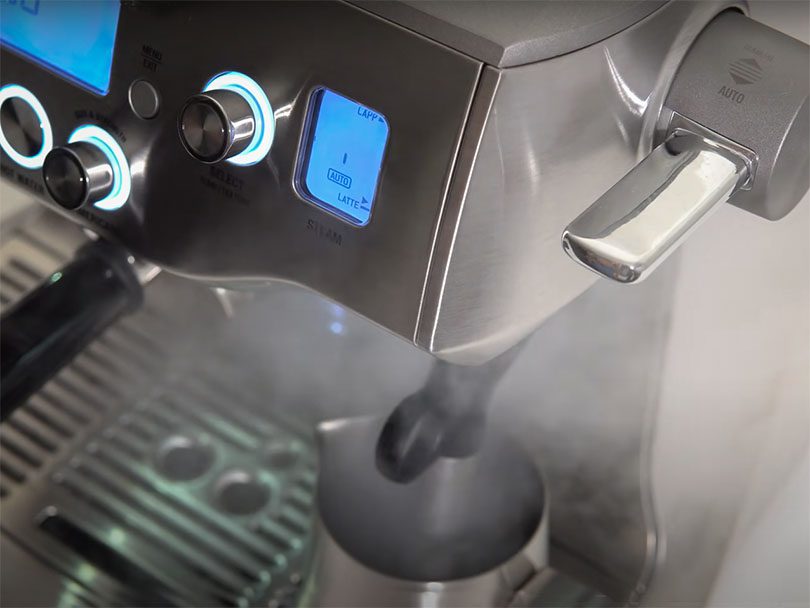 Steam Boiler
Steam-powered espresso machines are exactly what they sound like:
The pressure is created by steam rather than a vibration or rotary pump. These machines are usually very cheap and the espresso from them generally isn't very good. This is due to the water being too hot and burning the grounds.
They're a good budget option, usually available for under $100. So they're useful if you just need coffee and like it bitter. But for all other circumstances, we'd advise avoiding them if at all possible.
Heat Exchange Boilers
Heat exchange boilers work by heating metal around a narrow tube that carries the water. The water is heated to the desired temperature as it moves through the boiler – a process that can heat water very quickly and efficiently. It also makes it easier for machines with a single boiler to generate heat for both espresso and milk steaming.
Heating the metal to a specific temperature also means the water won't be overheated. If your thermoblock is set at 200°F, then that's the maximum temperature your water can reach. This helps greatly with accuracy, depending on how accurate the boiler thermostat is of course.
The downside is that the narrow tubes can block easily.
As thermoblock boilers (a type of heat exchange boiler) are common on most espresso machines these days you have to "descale" them frequently to keep them working. This is the process of removing mineral build-ups within the boiler tubes.
However, many new espresso machines use water filters to minimize this, keeping descaling to a twice-a-year job rather than an every-month job. But it does often depend on the mineral content of your water.
PID Espresso Machines
Traditional espresso machines have thermostats that shut off the heating element when the water reaches the correct temperature. But since heating elements take time to cool down, this often results in a few degrees of variation in water temperature.
A PID (proportional integral derivative controller) adjusts the heat as the water nears the desired temperature. This results in incredibly accurate water temperature – ideal for espresso brewing.
PID systems are rare in espresso machines, but there are many ways that you can install one yourself on some home espresso makers.
It's most common to see PIDs in dual boiler machines or some single boiler machines. Other espresso machine variants are less likely to use them. But, if you install one yourself, you'll get an interface to allow you to monitor the precise temperature for the perfect extraction.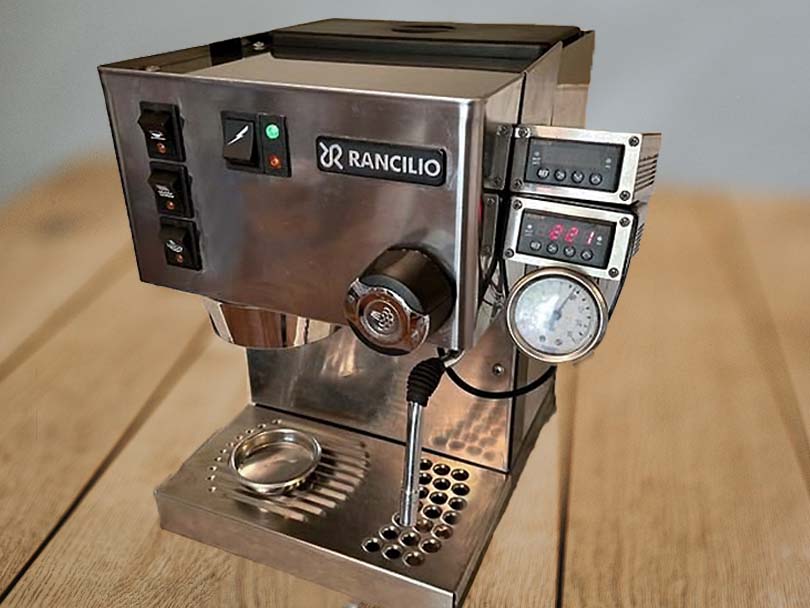 When looking at the types of espresso machine available, the best one for you usually boils down to one question: How much work do you want to do?
There's a sliding scale from the most work in a manual espresso machine to the least work with a super-automatic (or pod) machine. Asking yourself this, tied with potential espresso quality, is the best way to get the right style of espresso machine that you'll love for years to come.
You Might Also Like
Beautiful, simple, and delicious espresso for around $1000? We had to test if such a thing was possible – read our Jura ENA 4 review to see

Jura ENA 8 vs Gaggia Babila is a battle of philosophies. Is the convenience of the ENA 8 superior to the precision of the Babila?