Manual espresso machines can be pricey. But they give you the flexibility to control all aspects of your perfect espresso. In this Flair espresso maker review, we break down the top features of this affordable lever manual espresso maker.
Flair has four manual espresso makers in their range: The Neo, Classic, Signature, and Pro. We focus on the Signature Espresso Maker in this review, although the mechanics are the same across the range.
Born out of a Kickstarter campaign, the Flair was designed to be a portable espresso maker minimalist in design whilst robust in quality.
The quality of the coffee is impressive. Especially considering the price. If you are a lover of the craft and art of making great coffee, the Flair Signature is the one for you.
Here we break down our full Flair Espresso Maker Review so you can work out if this is the top manual machine for you. We have scoured the internet for all the expert reviews on this device to collate with our own. This means we have the most comprehensive Flair review you can find. Whilst not all home coffee experts give numerical scores, we have averaged these out. Therefore, you can get a consensus opinion on how good this coffee maker is, and know for sure if it is the right fit for you.
This article may contain affiliate/ compensated links. As an Amazon Associate, we earn from qualifying purchases at no additional cost to you. For more information please see our disclaimer here.
At a Glance: Flair Espresso Maker Review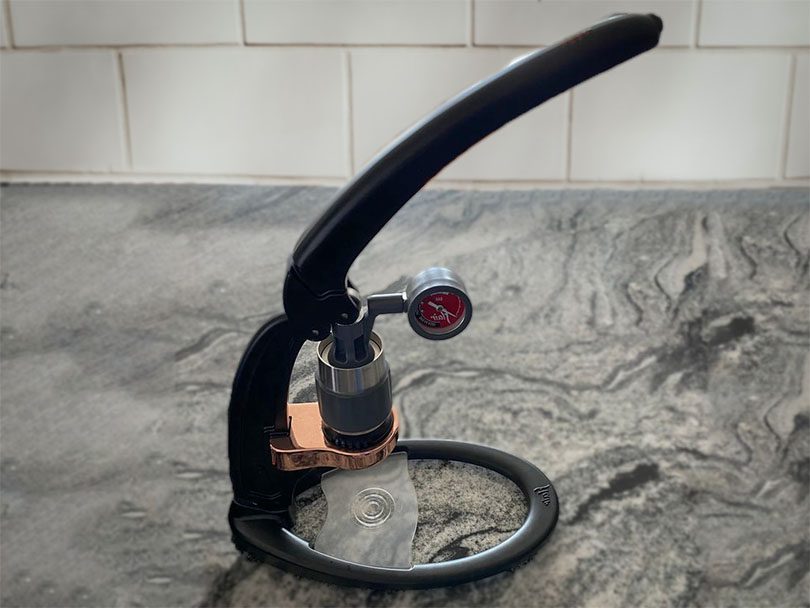 Flair Signature Espresso Maker
The Flair Signature is one for the home barista. For the person who wants to spend time perfecting every stage of their espresso-making process.
Yes, it is portable. But, realistically, you're not taking it camping or hiking as it's much bulkier than the other portable espresso makers like Wacaco Nanopresso or Handpresso Wild Hybrid. But it looks really cool.
If you're happy to get the extras like a grinder and water thermometer, and if you only want to drink espressos. Then this is a great manual espresso machine.
Pros
Uses optimal pressure to pull espresso
Pressure gauge for precision
Complete control over brewing process
Easy to clean
Portable
Cons
Steep learning curve
Not as portable as other options
Slow to make multiple espressos
Needs accessories to get the best from it
Need to be strong enough to exert enough force
1. Portable
The Flair Signature is easy to take apart and stores flat in the included carry case. This makes it easy to take with you when you travel.
Whilst it's easier to transport than your average espresso machine, it's still not a patch on one of the best pocket-sized devices like the Handpresso.
2. Pressure Gauge
The benefit of the Signature model is that it has a pressure gauge. This allows you to see when you're exerting the perfect amount of pressure for your espresso. When you first start using the lever espresso machine, this is incredibly useful as it's a steep learning curve. But, over time, you will find that you stop using it as muscle memory kicks in and you are able to pull the perfect shot automatically.
3. Brew Head Disassembles
The brew head is easily inserted and removed in one piece. But, once removed, it can be disassembled into 4 pieces.
This allows you to pre-heat the brew head correctly and tamp your coffee grounds before pulling your shot. The end result is a better espresso.
With its simple lever operation, you'll have no problem getting espresso from the Flair espresso machine. However, getting good or excellent espresso is an entirely different matter. The attention to detail and precision needed makes it more complex than many other espresso machines.
Follow these steps to use the Flair Signature Espresso Maker:
Add your grounds: Put 0.5 oz of finely ground coffee in the filter basket and tamp them down.

Connect screen: Put the screen on top of the filter basket and attach it to the water cylinder.

Add water: Add 60ml of water to the cylinder

Press the lever: Press down on the lever aiming to get a consistent 9 bar of pressure on the gauge.
This will result in a basic espresso. But the whole point of the Flair Signature is that you have total control over every aspect of making your espresso. So, to get the best possible performance out of the Flair, you need to do a lot more.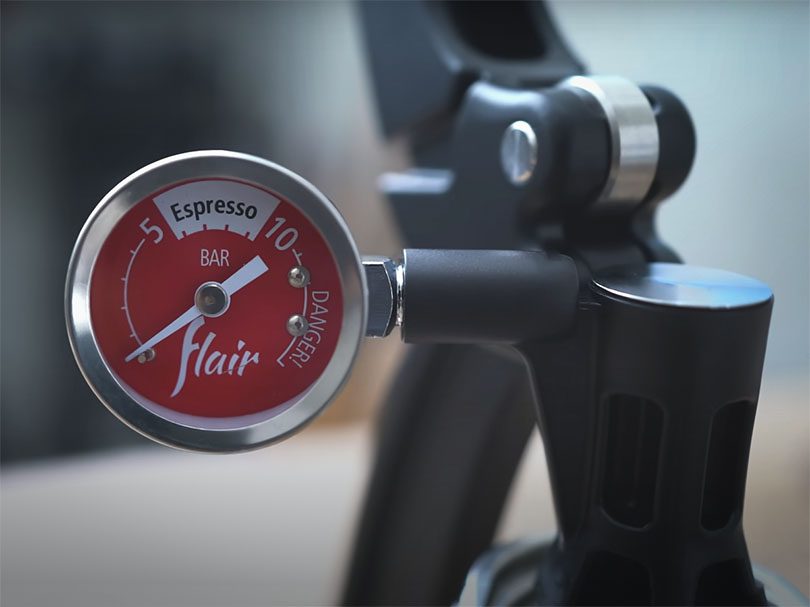 Tips for Improving Your Coffee Quality
Firstly, you need to ensure you have the right espresso beans. The Flair will create true espresso, but as it only produces 9 bar of pressure, it won't get the best out of light or medium roast coffee beans.
Beans selected, you then have to make sure you have a good grinder. This ensures your beans are freshly ground and the right grind size.
Next up, you have to pre-heat the machine. This involves submerging the parts in boiling water before you use them. Doing so ensures your water temperature stays consistent whilst pulling your espresso shot – key to producing good espresso.
Now there is water temperature: it is recommended you use water between 195 and 205° Fahrenheit for the best espresso. So, you'll need a thermometer or a very good temperature-controlled kettle to achieve this.
Once you've got all this nailed down, you can pull the lever down, making sure you add a consistent 9 bar of pressure. The included pressure gauge makes this easy to monitor and maintain.
Controlling all these variables will ensure you have the best possible espresso from the Flair Signature.
So, it's very simple to use. But it will take a bit of work, and a few accessories, before you're getting those great espressos at home.
This video by Flair takes you through the process step-by-step:
The Flair Signature only works with coffee grounds. It is designed for the enthusiastic home barista who wants something small and portable but is still capable of great quality espresso. It's also for the home barista who wants to tinker with every variable in the extraction process.
This means you'll really have to buy a quality grinder to go with it. If you're buying pre-ground coffee for your espresso, you're as well working with a cheaper and simpler espresso machine as you won't be getting the full value from the Flair.
The Flair Signature is portable but it's not exactly small by portable espresso maker standards.
It weighs 3.5lbs and is 10.5 inches tall by 7 inches wide and 12.5 inches deep. So, it does have a very small footprint which is great if you're short of counter space.
When it's packed into its travel case, it weighs 5.3lbs and is 3.8 inches high by 13.4 inches wide by 8.7 inches deep. Whilst that's hardly "chuck-in-the-backpack-and-go" size, it's a lot more portable than most countertop espresso machines.
The simple design is very elegant and will look really cool on your counter. It comes in white, black, or chrome to fit most kitchen decors. Plus, the polished copper accents make a great-looking machine.
The Flair manual espresso makers stand apart from their competitors due to their unique stainless steel brewing head. Being made of stainless steel, this doesn't expand when hot. Therefore, creating a consistent cup of coffee each time.
Overall, the machine is very sturdy and you'll have no worries about it breaking as the build quality is very high. But it's also got so few moving parts there really isn't much to go wrong.
Assembly is a straightforward case of screwing the lever mechanism into the base. This is done with an Allen wrench – that is provided – and takes less than a minute. Once done, you're ready to start brewing espresso.
This isn't a quick fix. So, if you enjoy a dark roast coffee or "espresso roast", and you're willing to spend 5 minutes or so pre-heating, grinding, and getting everything 'just right' to pull your shot, the Flair Signature will pull great espresso.
The flip side to this is that it only creates 9 bar of pressure, so lighter roasts won't extract properly. Plus, you'll lose the sweet notes and delicate nuance of the beans.
Also, if you don't pre-heat the machine or if you get any other stage wrong you will, most likely, pull a very "meh" espresso.
So, yes a very good espresso is absolutely achievable. But you have to want to work for it and love the craft that goes into making it. Something which isn't for everyone, but is part of the beauty of manual espresso machines.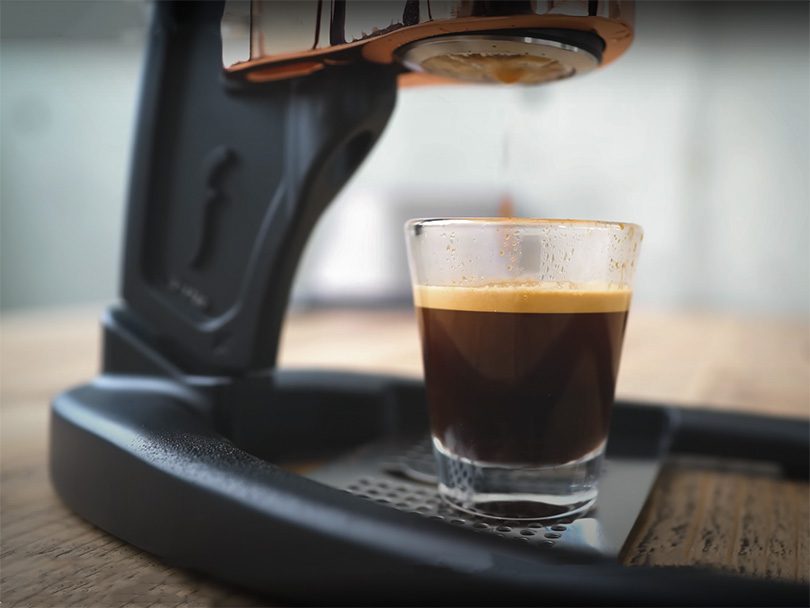 You will get a padded carry case with your machine. This is handy if you want to pack it up and travel with the Flair Signature. It packs flat, so can easily slide into a briefcase or bag.
The Signature model also has a pressure gauge. This is very useful when you are getting started with the machine. It helps you get a better sense of how much pressure you are exerting, to ensure you get it right. Over time, you will come to do this by muscle memory and find you no longer need the gauge though.
The next model up in the Flair range is the Pro. This comes with a special stainless steel tamper and an extra brewing chamber.
But the point of the Flair is it doesn't have any extras. What you see is what you get.
The Flair Signature is unusual in that the entire brew head can be detached and taken apart to clean.
Once removed, the brew head disassembles into 4 parts. These parts can then be simply run under cool water.
This makes it very simple to clean. And, as there are not really any moving parts, you don't need to do a "deep clean" every 100 espressos or so like you do with other types of coffee maker.
A quick clean down after each use is sufficient to keep your Flair Signature in perfect working order.
There are 4 types of Flair espresso makers: Classic, Neo, Signature, and Pro:
Classic: The Flair Classic is the original Flair espresso machine, launched back in 2016. It's their most basic model, capable of 6-9 bar pressure. Looks sleek and doesn't have a pressure gauge.
Signature: The Flair Signature is a step up from the Classic. It has a more sleek, eye-catching design, and comes in a choice of colors (white, black or chrome). Plus it has a pressure gauge for immediate feedback when brewing.
Pro 2: Pro 2 is the top-of-the-range model from Flair. The level has added grip to help control your pulling action. Plus, it has a larger brew head for greater control on your brew ratio. The spout is removable and there is an enhanced bottomless portafilter. This is in addition to the features seen on the Signature – pressure gauge and color options.
Neo: The Neo is the latest offering from Flair. This is a stripped-back model aimed at beginners in the entry-level market. It offers total convenience, whilst still offering high-quality levels – and is even more affordable than the other models.
The Flair Signature makes good espresso and it gives you amazing control over the whole process. So, you can get your espresso just the way you like it.
However, you've got to want to spend a good deal of time calibrating everything to get it just right. And if you don't have a thermometer for water and a good quality grinder, there really isn't any point in buying this espresso maker.
This machine is definitely one for the coffee nerd who loves to tinker, But it's not one for someone looking for a good espresso on the go with minimal fuss.
It's also tough to pull multiple shots. So, if you're planning on having more than 2 espressos at a time you will have to be prepared to spend a few minutes on each one.
If portability is your main concern, then the Wacaco Nanopresso or the Handpresso Wild Hybrid are much better options. Both can also take pods (the Nanopresso needs an attachment to do this) which adds to travel convenience.
But if you're after something mostly to use at home, with the option to take away on vacation, then the Flair Signature is perfect.
Overall, if you want to tinker with your machine to get that perfect espresso each morning, then we hope this Flair espresso maker review has shown you that this machine gives you all that at a price that doesn't break the bank.
Don't forget to Buy Your Flair Signature Today
You Might Also Like
Read this Jura ENA 8 review to see whether the stripped-back version of the awesome E8 offers good value for money or whether it falls short

Jura's E4 has shunned a milk frother in favor of espresso quality. But is it worth the sacrifice? We break it all down in this Jura E4 review