If you want something done properly, you have to do it yourself. It's why Flair offers a range of manual espresso makers that allow you total control over pulling your shots. They're fantastic for anyone who loves the process as much as the results. But it can be hard to choose between them, which is why we put together this Flair espresso maker review and comparison guide.
The Flair Classic with the add-on pressure gauge and the Flair 58 are the 2 best options in the Flair range. They're aimed at beginners and espresso nerds respectively.
Regardless of which espresso maker you choose, you'll need a high-quality burr grinder, WDT, coffee scale, and gooseneck kettle to get the best results. They also take a lot of dialing in. But the results are spectacular.
Choosing which Flair is the best fit for you will depend on your skill level/experience, your budget, and your current setup. To help you decide, we've broken down the entire range. This is based on our experience of owning the Classic and Signature (now discontinued), plus thoroughly testing the other models owned by our fellow caffeinated friends.
This article may contain affiliate/ compensated links. As an Amazon Associate, we earn from qualifying purchases at no additional cost to you. For more information please see our disclaimer here.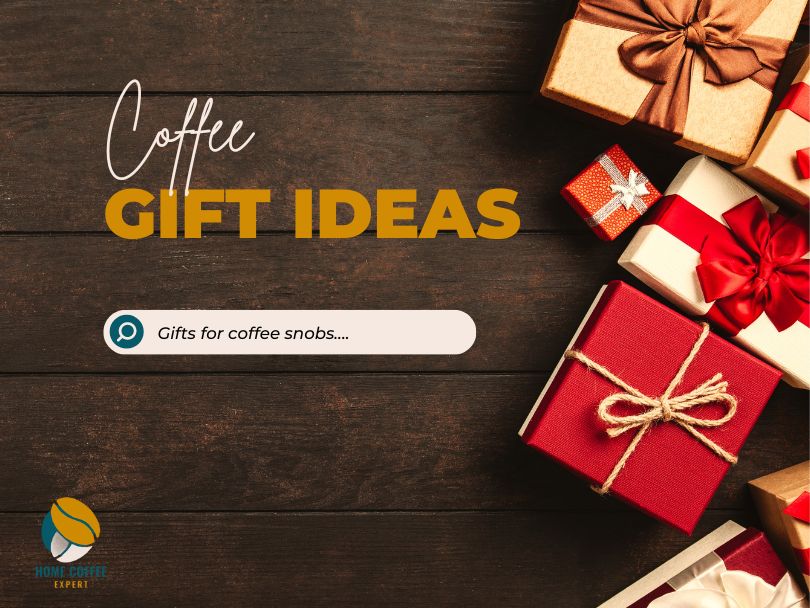 The holidays are coming. Which means stressing over the perfect gift is here too.
But stress no more. We've put together a list of all the best coffee gifts to please even the most discerning of coffee lovers in your life.
Check out our guide if they're on your 'nice' list. Or maybe be 'naughty' and buy something for yourself!
Flair Neo Flex
The Neo Flex is an entry-level model aimed at those who are new to manual espresso brewing.
While it doesn't include a pressure gauge as standard, it is compatible with the Flair Pressure Gauge Kit which makes all the difference to perfecting your espresso game.
You do get 2 portafilter options though:
When you're just getting started, we recommend using the "Flow-Control Portafilter" (the red one). This helps to generate pressure and makes espresso pulling considerably easier than the other portafilter/ other Flair models. You don't need to worry so much about dialing in and can get away with lower-quality coffee too.
Then, when you're feeling more confident in your skills and ready to take the training wheels off, you can use the bottomless 2-in-1 portafilter instead. Using this, you can pull better-tasting espresso shots. But you will need a higher degree of accuracy with the dose, grind (will need a quality grinder), tamp, and extraction.
Flair Classic
Where it all began. This is the first model Flair released back in 2016 with the aim of stripping back all the gadgetry and simply focusing on simple, delicious espresso.
The Flair Classic is available with or without a pressure kit with a $65 difference between the two. For us, it's absolutely worth the extra spend. Without a pressure gauge, it's just too difficult to use and hone your skills and consistently pull great shots.
It has a simple design with black aluminum, red plastic accent, and a stainless steel brewing chamber. Nothing fancy but it feels sturdy, durable, and worth keeping on display.
The Classic is for those who know what they're doing with a manual espresso machine but are on a budget. Or anyone who's willing to put in the work to learn without having a massive outlay in the beginning.
Read next: Flair Classic Review
Flair Pro 2
This is the first Flair model we would actively call "pretty". It also comes in a choice of 3 colors (black, chrome, or white) with a rose gold accent.
Looks aside, the Pro 2 also offers a larger dose and water reservoir to give you more flexibility with your espresso shots. You get a stainless steel spout, which is removable, a better quality bottomless portafilter, and a nice silicone grip on the lever for more comfortable brewing.
The biggest upgrade over the Classic is that it automatically comes with a pressure gauge.
However, it also costs over $100 more than the Classic with pressure kit. And, having tested both, I'm not convinced it justifies the extra cost. It feels like more of an aesthetic choice than a serious functional upgrade.
Flair 58x
The Flair 58 series offers the best manual espresso brewing options in the Flair range. Flair even goes as far as to call the 58/ 58x:
'The Gold Standard in Manual Espresso'.
They feature upgrades that were requested by owners of the Classic and Pro.
There is now a professional 58mm portafilter and chamfered basket that allows you to use coarser grounds and makes dialing in easier. It will also work with a wider range of grinders.
However, for less than $20, you can get both the standard basket and a straight-walled high-flow basket. The additional basket will require a much more high-quality burr grinder and is harder to dial in. But it can result in significantly better espresso shots.
The difference between the 58 and 58x is electric preheating. The 58x stays true to the Flair tradition of not needing electricity. Although it is compatible with the electric preheat controller as an optional upgrade if you change your mind down the line. But it will cost you more than just buying the 58 in the beginning.
Flair 58
Pre-heating the brewing unit might be the most irritating thing about using a Flair espresso machine.
So I love that there's now a version – the Flair 58 – that has electric pre-heating and 3 temperature settings. It also allows you to add your brewing water without removing the stem.
I know some purists argue that it isn't purely "manual" anymore and it's slightly less travel-friendly. But it makes life, and espresso pulling, so much easier.
Just like the 58x, it comes with a chamfered basket as standard. Or you have the option to order the straight-walled basket if you prefer.
Compared to the previous models, the T-grip lever makes a huge difference. It feels a lot nicer to use, and is easier and smoother, especially at higher pressure.
For us, the Flair 58 is the best manual espresso brewer available, not just in this range but of any currently on the market.
Flair 58+
The 58+ is mostly an aesthetic upgrade on the Flair 58.
You get walnut accents on the portafilter, palm tamper, and T-grip handle that look a lot nicer and more sleek than the plastic and pine of the 58. Plus, they've added a magnetic articulated mirror as standard, allowing you to check your shots as you go and further perfect your workflow.
Both the chamfered and straight-walled baskets also come as standard.
The price difference is pretty small when compared to the Flair 58 if you also buy both baskets and the magnetic mirror. So, for the nicer-looking model, it's probably worth it unless your kitchen is mostly pine anyway.
The 58+ can also be bought with a hard carry case if you're planning on taking your espresso skills on the road. Something that isn't offered with the other 2 machines in the 58 series.
Neo Flex
Classic
Pro 2
58x
58
58+
Ease of Use
8/10
5/10
6/10
6/10
7/10
7/10
Best For
Beginners
Budget Conscious
Intermediate
Espresso Nerds
Espresso Nerds
Espresso Nerds
Dose
12-18g
12-18g
16-24g
16-20g
16-20g
16-20g
Water Reservoir Capacity
60ml
60ml
70ml
90ml
90ml
90ml
Pressure Kit Included
✗
(but compatible)
✗
(but compatible)
✓
✓
✓
✓
Portafilter
Flow control & 2-in-1 bottomless portafilter
2-in-1 bottomless portafilter
Improved stainless steel bottomless portafilter
58mm bottomless portafilter with low flow basket
(optional high flow basket)
58mm bottomless portafilter with low flow basket
(optional high flow basket)
58mm bottomless portafilter with low & high flow baskets
Electric Pre-Heating
✗
✗
✗
✗
(but compatible)
✓
✓
Carry Case Included
✓
✓
✓
✗
(optional extra)
✗
(optional extra)
✗
(optional extra)
Warranty Length
1
3
5
5
5
5
Price
$
$$
$$$
$$$$
$$$$
$$$$$
The Flair espresso makers are all made from cast aluminum and stainless steel with plastic or wood accents. They need to be tough as they're undergoing a lot of strain while you're pushing down on the lever to extract your delicious coffee.
The Pro 2 and 58 series have been upgraded to have a stronger lever, post, and base.
These machines are built to last for as long as you love using them. We've certainly not managed to find reports of the structure of the Flair machines failing and have spoken with people who've been using theirs since it was first released in 2016.
The Neo Flex and Classic may not have had the upgrades, but they're still solid, sturdy espresso makers that will survive the rigors of manual shot pulling.
The only part we would question in terms of longevity is the electric component of the Flair 58 and 58+. Not because we have specific concerns, but just because cabling is a weak point on any machine. But they've not been out long enough for any issues to have arisen.
You can buy spare parts from Flair if you lose or break a specific element in your espresso maker.
Flair also offers a generous warranty with all their machines – 1 year for the Neo Flex; 3 years for the Classic; and a whopping 5 years for the Pro 2 and 58 series. So you can take comfort from that.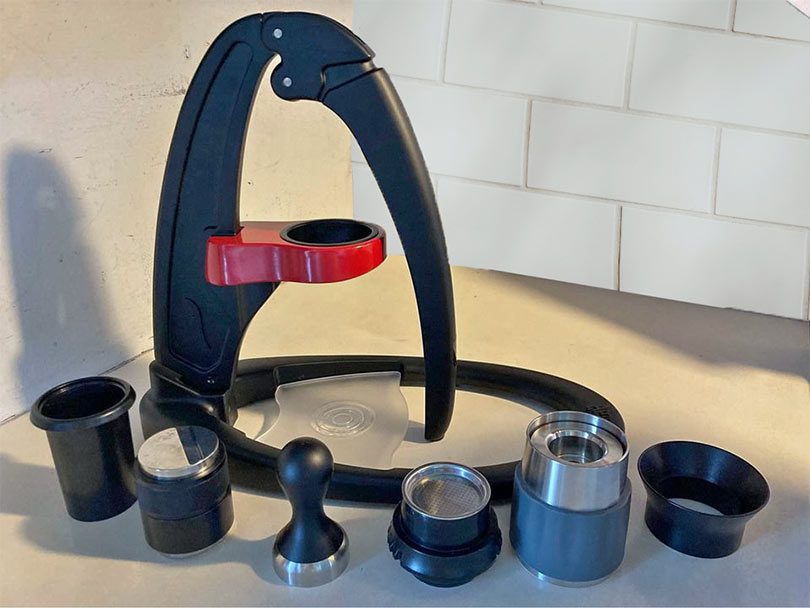 In a world with so many "push button for espresso" options, the Flair machines are the complete antithesis of this. Even the entry-level "easy to use" model is still very complex compared to most espresso makers.
This style of espresso maker is for those who see espresso as a hobby, not just a beverage. It's a labor of love.
Ensuring you have the correct grind, dose, tamp pressure, water temperature, preheating the brewing unit (extremely important), pre-infusion, and extraction pressure are all important to the final result. So you've got to be willing to work for it.
It's why there are so many available on second-hand sites:
If you buy a Flair thinking you'll instantly get incredible results, you'll likely be disappointed. But if you treat it as a skill to be learned and honed, you can get some of the best espresso of your life.
Greatly rewarding with an equal balance of fun/ frustrating to use. The results can be spectacularly good but it will take time, particularly if you're new to manual espresso making.
I'm going to go against conventional wisdom here and say that when you first get your Flair, it's best to start with some cheaper beans.
You'll likely need a few attempts to get your espresso dialed in and nail your workflow. Which may mean throwing a lot of coffee down the sink. So you don't want to go through a bag of expensive and delicious beans while doing this.
The third-wave coffee movement usually suggests using the freshest coffee only – as close to the roasting date as possible. But we've been seeing much better results from slightly older beans. By old, we mean 10 days to a month though, not something that's been at the back of the cupboard for a year.
Medium or medium-dark beans yield the best results across the Flair range.
If you prefer dark roasts, just make sure you keep on top of cleaning your grinder. Light roasts are definitely possible but will be much harder to dial in and almost impossible with the Neo Flex or Classic.
If you're using the Neo Flex with a budget burr grinder then you'll need to go darker. However, if you have a high-quality espresso grinder then medium-dark or medium roasts can all return superb espresso.
During all our tests, we used both medium and medium-dark roasts and got great results. This was with our beloved 1Zpresso J-Max grinder (read our J Max review), which is superb and we highly recommend buying one to use with a Flair.
Just keep in mind that you'll need to grind a little coarser than you'd normally expect for espresso.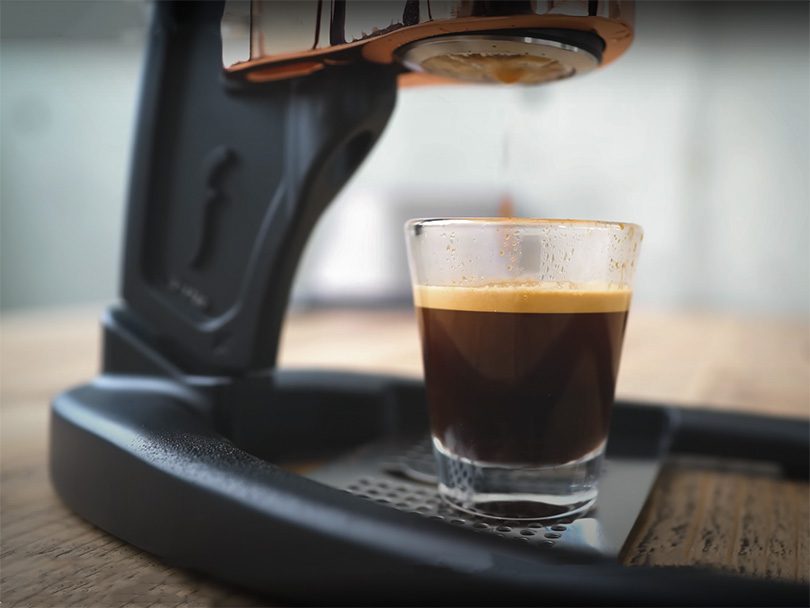 Experience
Are you new to pulling espresso at home or are you a grizzled veteran of dialing in many espresso machines?
Pulling great espresso can be frustrating, especially when you're doing everything by hand. It can be very easy to fall out of love with the process if all you're getting are terrible shots.
For those with little experience, the Neo Flex is ideal.
The pressurized basket will ensure you get drinkable shots as you hone your skills. You can then move to the bottomless portafilter when you're feeling more confident in your skills. At that point, you'd probably want to get the pressure kit too.
For anyone who's got more experience under their belt, the 58 is a no-brainer.
Current Setup
If you're an espresso aficionado, you may already have a high-quality burr grinder, WDT, gooseneck kettle, and coffee scale. So all that's missing is a Flair machine and your costs will be relatively low.
But, if you have none of the above then you may want to save some money on the machine so you can focus on building your setup.
In this case, the Neo Flex may be a good place to start as you can use a lower-quality burr grinder but will also get lower-quality espresso.
Or, as a good middle ground, the Flair Classic with pressure kit will leave you more funds for a high-quality grinder and coffee scale whilst dropping you straight into the top end of espresso pulling. Until you're ready for the 58.
Budget
Like most things in life, the decision will probably come down to your budget.
Those with the cash should absolutely spring for the Flair 58 or 58+, depending on your style preference. The electric pre-heating is a game changer and makes espresso brewing with the Flairs so much more enjoyable.
Those on a tighter budget, or maybe those who also need to invest in a full espresso-making setup should go for the Classic with pressure kit.
You're almost always better off paying more for a top-quality grinder than spending extra on a fancier espresso machine. This is certainly true when comparing Flair espresso makers:
Using the Classic with pressure kit and an excellent burr grinder will give you better espresso shots than the more expensive 58 with a mediocre grinder.
Rok
Rok's manual espresso maker looks like a wine opener with 2 handles to press down instead of one. This makes it slightly easier to operate and build pressure.
However, they don't offer the same excellent features that Flair does, like the pressure gauge. But they're cool to look at and not too expensive.
Wacaco
Wacaco is a big name in the portable coffee maker market with plenty of options to choose from.
But their Picopresso is a serious piece of espresso kit. Bottomless portafilter, large dose, good quality built tamper, and the ability to generate up to 18 bar pressure. Oh, and it's tiny.
This is very much aimed at people who travel a lot or hikers/ campers. You won't get the same quality espresso as you would from a Flair but its cheaper than all but the Neo Flex and it fits in your pocket.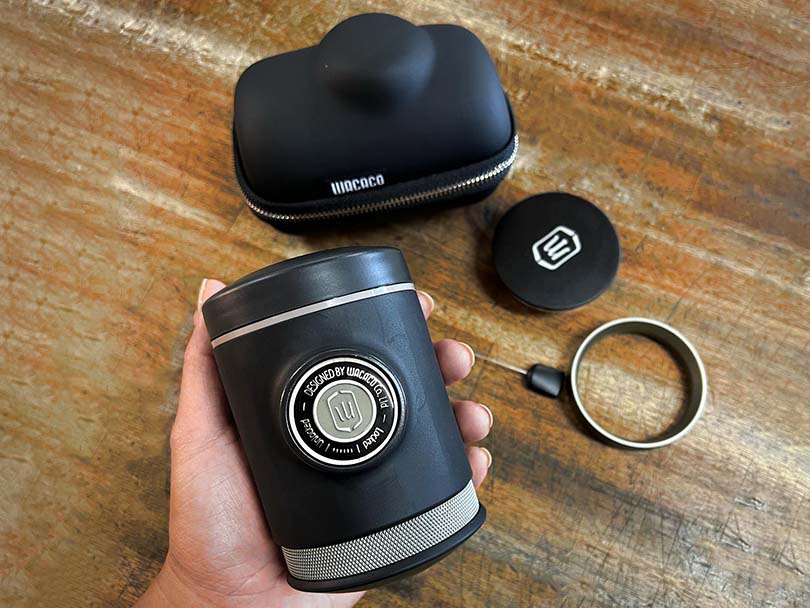 Wacaco Picopresso
Check Price or Read our Review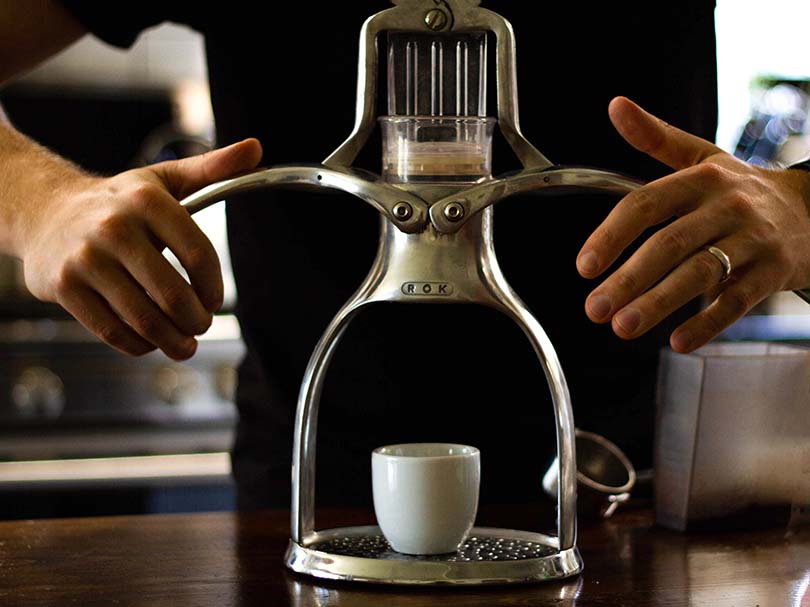 Rok GC
Check Price or Read our Review
The Flair Classic with pressure kit and the Flair 58 or 58+ are the best options for serious espresso lovers, depending on your budget.
The Flair Neo Flex offers some training wheels for beginners. But it's still a complex espresso maker to use so be prepared for that.
For us, the Pro 2 sits as an awkward middleman that doesn't really stand out compared to the others. Or at least not for the cost.
To get the best results from any of the models, you really need a full setup. But there are 2 features that really stood out for us during testing for this Flair espresso maker review:
First is the pressure gauge. It makes all the difference to your experience as it makes pulling shots so much easier. It gives you instant feedback to help you diagnose possible issues and ensure consistency.
Second is the electric preheating. Preheating your Flair is absolutely critical to getting good results but is awkward on the earlier models (we opted for sitting it on top of our temp-controlled kettle in a sink drain!) So having this done automatically makes the Flair 58/ 58+ so much nicer to use.
You Might Also Like
If you're a dedicated home barista looking to manually pull espresso shots without it costing a fortune, this Flair Classic review is for you

Traveling a lot gave us the perfect chance to do an in-depth Wacaco Picopresso review. A spectacular portable espresso maker for coffee lovers