If you love to drink espresso but don't love how much money you are spending at your local coffee shops, then we have the solution for you. This is our complete Bialetti Moka Express Review, the stovetop espresso that you will want in your life straight away!
Moka Pots are super simple to use. There are no fiddly buttons that can go wrong when your caffeine needs are at an all-time high. Plus, they are friendly on the budget too. The Bialetti Moka Express is a classic and our favorite stovetop espresso maker.
Read on for the full Bialetti Moka Express Review to find out if is worthy of becoming your favorite too. We have scoured the internet for every expert review on this espresso maker to collate with our own. This means we have the most comprehensive coffee maker review you can find. Whilst not all home coffee experts give numerical scores, we have averaged these out. Therefore, you can get a consensus opinion on how good this Moka Pot is and know for sure if it is the right espresso maker for you.
This article may contain affiliate/ compensated links. As an Amazon Associate, we earn from qualifying purchases at no additional cost to you. For more information please see our disclaimer here.
At a Glance: Bialetti Moka Express Review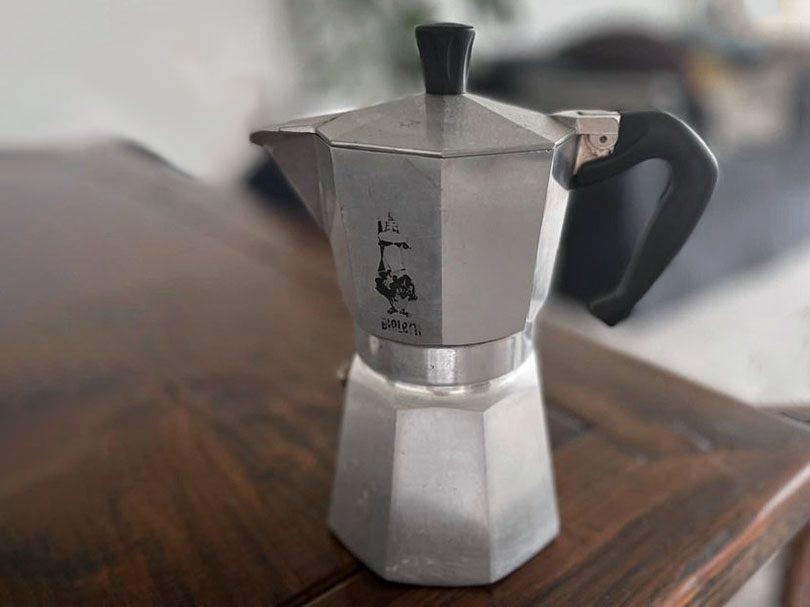 Bialetti Moka Express
Cheap, sturdy, easy to use, and portable: The Bialetti espresso maker has a lot going for it.
The only real downside is that it will only make one style of coffee. It falls in that halfway house between true espresso and drip filter.
So, if that isn't what you like to drink on a daily basis then this isn't the coffee maker for you. If it is, then it's very hard to argue against the iconic, top-quality Moka Coffee Pot from Bialetti.
Pros
Very good coffee quality
Built to last
No electricity needed
Easy to clean
Budget-friendly
Portable
Available in a range of fun colors and different sizes
Two-year warranty
Cons
Leaves aluminum residue if used incorrectly
Not dishwasher safe
High maintenance: can't turn on then ignore
Long brew time
Takes practice to master the brewing technique
1. Portable
You can take your Bialetti Moka Express anywhere and use it to make coffee, as long as you have a heat source. Your stovetop espresso maker can be used on an electric stove, gas stove, camping stove, or just a hotplate. Basically, as long as you can get the water to boil, you can make your coffee.
2. Classic Design
Bialetti created their Moka coffee pot in 1933 and the design hasn't changed since. Its simple, old-fashioned style looks great in every kitchen. If you prefer a more industrial style decor at home, this fits in much better than a lot of space-age-looking espresso machines.
3. Great Value for Money
The Bialetti Moka Pot is very cheap and very durable making it an amazing value coffee maker. It does take practice to perfect the brewing process, and it is limited in the style of coffee it produces. However, it can be a once-in-a-lifetime purchase if you look after it correctly.
4. Very Easy to Clean
You just take the sections apart and give them a rinse. There is no descaling or dismantling half an espresso machine. Instead, just take it to pieces, give it a quick wash in your sink, and the job is done.
The Bialetti Moka pot is very easy to use when compared to manual-espresso makers. However, it is much more complex when compared to single-serve or automatic machines that work at the touch of a button.
How do you make coffee in your Moka pot?
Fill the bottom chamber with water up to the fill line.
Put your freshly ground coffee in the basket. You don't tamp them down like you would with other espresso machines.
Put the top on and put the Bialetti Express on your heat source, not too high though.
When you hear the distinctive gurgling sound, your coffee is ready to pour.
The complexity comes in mastering these very simple steps. Getting the perfect coffee is a balancing act of water to coffee ratio and how quickly you heat the pot. Although, Bialetti strongly advises that you don't put the Moka Pot on high heat as this can create pretty horrible coffee and possibly damage the pot.
As this is a very cheap coffee maker, you could buy a grinder separately. Combined, you will still pay less than for some of the entry-level espresso machines. This way, you get fresh ground coffee exactly how you like it.
You can just buy ground coffee if you aren't too worried about the loss of flavor that happens over time after grinding coffee beans. Storage can help to mitigate this problem too.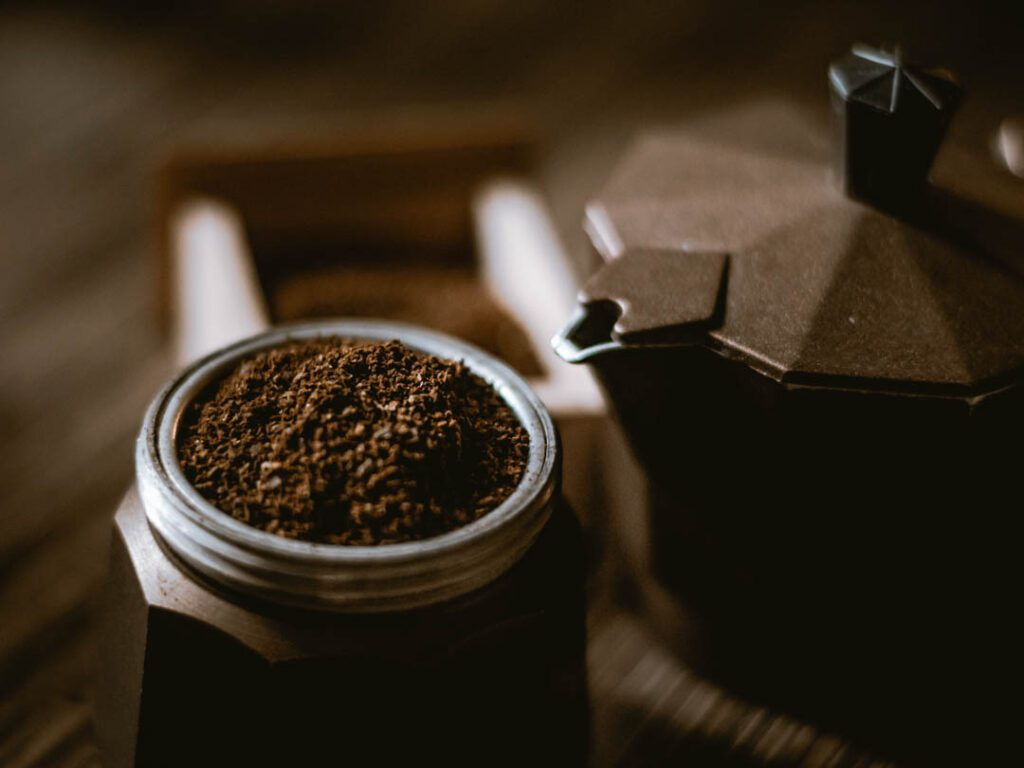 We love the design. Bialetti first came up with the design in the 1930s, and their Moka pot espresso maker hasn't changed since. Its unique design of brushed metal and angular shaping still looks great today. It looks particularly at home if you are into an industrial or vintage style, in your kitchen.
We appreciate that the unique look won't be for everyone, especially if you have a very modern kitchen. But then how often are people watching you make coffee?
Due to its small size, you can easily store it in a cupboard. Even the bigger Moka Pots aren't that big – they go up to 31oz capacity.
As these Moka pots are made of aluminum, they won't work on an induction stove. However, they have released a stainless steel version that will work as an induction stovetop coffee maker. This version, the Bialetti Venus, is just as good as the Express Moka, it's just a bit heavier.
There are a few stories hanging around of Bialetti Moka pots leeching some aluminum into the coffee. These reports are rare and there is no strong evidence that small amounts of aluminum being ingested are harmful. However, if you are concerned about this, we recommend doing some reading into official medical sources in order to decide for yourself.
Generally speaking, as long as you don't put the Moka espresso maker on too high a heat, then they're pretty indestructible. You'll find many people who have used the same one for 20+ years.
The Bialetti Moka Pot markets itself as an "espresso maker". Now, while it does make strong coffee, it doesn't produce what we would think of as "espresso" today.
This is mainly due to the fact that it doesn't generate enough pressure to create the crema topped, syrupy richness of modern espressos. If you're looking to get a good crema using a Bialetti Moka Express, you make have to look elsewhere. Whilst it is possible, depending on your technique, it is really only seen inside the pot and won't transfer to your coffee cup.
Now, saying that, if you enjoy a slightly longer coffee that is rich and strong then the Moka Pot will deliver exactly what you're after. It's a halfway house between true espresso and drip filter coffee. The quality of your coffee will vary a bit in the beginning. But once you've got it nailed down – probably after 4 or 5 attempts – it will be remarkably consistent. If you're not sure if Moka pot coffee is right for you, check out our Moka pot vs French press article for a deep dive into these coffee styles.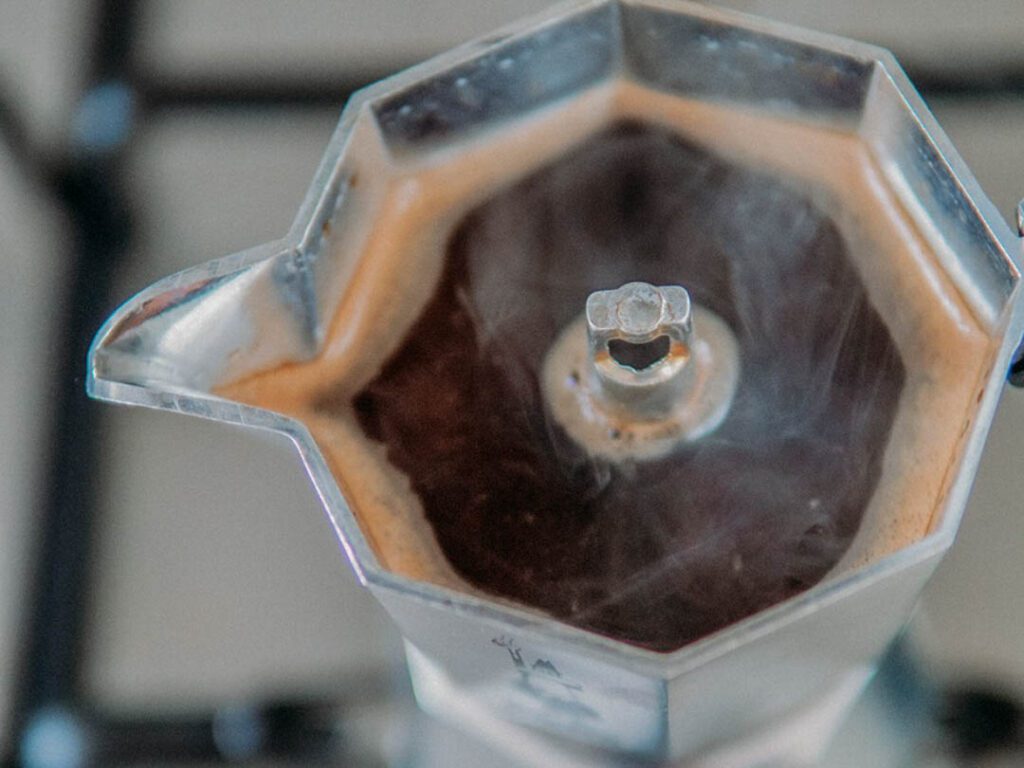 The Moka pot is sold precisely on its lack of bells and whistles – it does what it says in the tin (or box). So it would be harsh to criticize the Bialetti Moka pot for not having any fancy gadgets. It has a purpose, and it serves it well.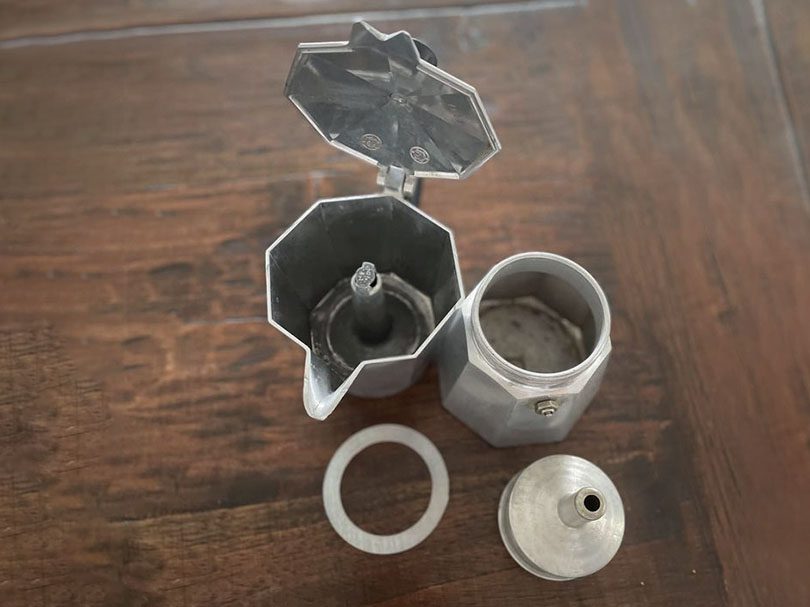 You clean the Bialetti Mok Express by dismantling it and rinsing it in the sink. This will have to be done after every use and while it may seem labor-intensive and time-consuming. It really only takes a minute or two at the most.
Sadly, the Bialetti Moka Express is not dishwasher safe. Whilst putting it through the dishwasher won't destroy it, you can end up damaging the aluminum which leads to some being leeched into your coffee. This hasn't been shown to be harmful, but definitely isn't great.
It is very important to ensure you clean the Moka pot after every use. Failure to do so can result in it getting blocked which can cause it to explode when heated up! You will be able to find horror stories of exploding coffee makers online if that's your thing (personally, no thanks!). However, this is always due to improper maintenance of the pot and it is not a fundamental issue with the espresso maker.
The Bialetti Brikka is their newer model. Whilst it is not hugely different in the way it brews coffee, the Brikka produces coffee closer to that of "true espresso" than the Moka Express. It is also harder to use, to begin with. So for simplicity, the Moka Express is better, for coffee closer to espresso, the Brikka is the one.
First up is the coffee itself. There are distinct performance and flavor differences between the two models. This puts the Bialetti Brikka closer to a traditional espresso machine than a Moka pot. The Brikka produces a crema that the Moka Express doesn't. There is a slight taste difference, although not that most would notice, and the coffee from the Brikka is much stronger.
If you're used to using the Moka Express, be prepared for a new learning curve if you purchase the Brikka. The brewing process is much faster which you will need to watch to prevent burning.
As the Brikka is a more complex model, it also means there is more room for error. People have reported numerous issues, such as, low pressure where there are gaps in the filter. As the Moka Express is one of the most popular coffee makers in the world, issues there are few and far between. You know what they say – don't fix what's not broken!
The Bialetti Moka Pot espresso maker is absolutely ideal for you if you love the strong, rich style of coffee that it makes. The coffee style could be considered the love child of espresso and a drip filter coffee. Certainly stronger than you would get from other traditional brewing methods like the French press or pour-over drip maker.
The price, style, and ease of use of this Moka pot all make it a great coffee maker for your home. Although Bialetti does only make one style so if that's not what you want from your coffee, then this isn't for you.
Whilst using a stovetop coffee maker is undoubtedly more involved than a simple pour-over cone, it's still a simple setup. With a little practice, you will soon be a well-caffeinated pro. If you like the sound of the Bialetti but don't like the idea of using it on the stove, there is an electric version you can buy. We did a full review of the De'Longhi EMK6 too.
The portability and longevity are also massive pluses for the Bialetti Moka Express. Even the biggest coffee nerds need to have respect for this great coffee maker.
So, to conclude our Bialetti Moka Express Review: If millions of Italians use it every day for their coffee, it's got to be good!
Don't forget to Buy Your Bialetti Moka Express Today
You Might Also Like
If you're wondering 'Why Does My Coffee Taste Watery?' And more importantly, 'How Do I Fix It?', then this is the simple guide for you

Find the perfect gifts for coffee snobs in your life. From budget-friendly to high-end, there are gift ideas for every coffee lover