Does the desire for espresso hit you any time, anywhere? Maybe you get the desire for a rich shot of coffee goodness half-way round a hike? Or on vacation? Or in the office where the quality is questionable?
If espresso anywhere would greatly enrich your life, then you'll be delighted to discover there are many great portable espresso makers to allow you to do this. Our Wacaco Minipresso review digs into the pros and cons of the on-the-go espresso machine by one of the biggest brands in portable coffee making.
So, what is a Minipresso?
Minipresso is Wacao's first generation, portable, handheld espresso maker. Being compact and lightweight, it's ideal for those on the move and is designed to give you a fantastic espresso experience anywhere – as long as you can get hot water.
Read on for the full Wacaco Minipresso review to find out if is worthy of becoming your top travel item. We have scoured the internet for every expert review on this espresso maker to collate with our own. This means we have the most comprehensive coffee maker review you can find. Whilst not all home coffee experts give numerical scores, we have averaged these out. Therefore, you can get a consensus opinion on how good this device is and know for sure if it is the right espresso maker for you.
This article may contain affiliate/ compensated links. As an Amazon Associate, we earn from qualifying purchases at no additional cost to you. For more information please see our disclaimer here.
At a Glance: Wacaco Minipresso Review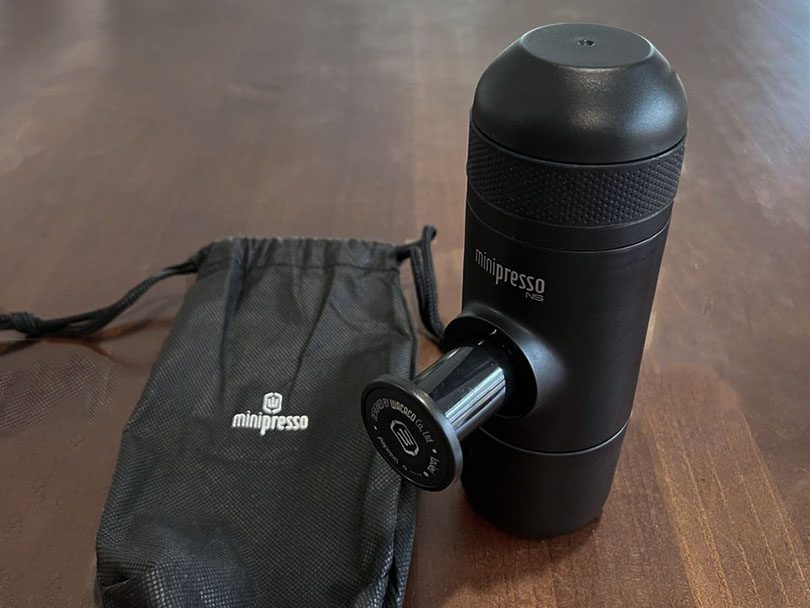 The Wacaco Minipresso is a quality espresso maker for those looking to make a good espresso no matter where you are. You just need access to hot water.
The device is small, light, and insanely easy to use, making espresso available to anyone, anywhere.
It's very affordable. But our recommendation would be to pay a little extra for the Wacaco Nanopresso – an updated version that is improved in almost every way.
However, if you are only after a single espresso on the go, the Minipresso will do the job admirably. You can choose from two models – NS which only uses Nespresso pods or GR which only uses ground coffee. Both are great, depending on your coffee preference, for a hike, at work, or on vacation – and at an affordable price.
Pros
Small, light and packable
Smart design and feels durable
Easy to use
Makes good coffee quickly
Able to pour a quality coffee shot anywhere – as long as you can boil water
Relatively cheap price tag
Cons
Cap doesn't stay on
Can leak if not thoroughly dried
Water tank and cup a little on the small side
Cup not insulated
Have to choose either a pod or ground coffee version: won't work with both
Only 8 bars of pressure
1. 2.35oz Water Tank
The water tank is the perfect size for pulling a single 1.7oz espresso shot, so it's great for one person.
If you prefer a double espresso shot or you travel as a couple, you can buy the Minipresso Tank. This is a larger 4.05oz water tank so you don't have to wait to pull a second shot.
2. 8 bar Pressure
Getting true espresso from a hand-pressed machine can be difficult, it needs at least 9 BAR pressure. However, the Wacaco Minipresso uses just shy of this at 8 BAR. Whilst this is still impressive for a handheld device and will extract great flavor from your coffee beans, it falls just a little short of traditional espresso makers.
3. Either Ground Coffee or Nespresso Pods
Wacaco gives you the option to pick the espresso machine that suits your needs – either the NS or GR. The Wacaco Minipresso NS uses Nespresso pods, and the Wacaco Minipresso GR allows you to use ground coffee. But neither machine has the flexibility to change depending on what you have available.
If you are using the NS model, all you need to do is pop your favorite Nespresso pod into one end of the machine. Then your hot water goes in the other end and you pump until you have your espresso.
If you are using the GR version, you simply add your ground coffee to the basket, tamp down, then attach this to one end. Your water goes into the water tank. And you finish by using the hand pump to get your espresso.
It really couldn't be any simpler – no matter which Minipresso you have.
The mechanism on the pump is smooth and doesn't take much effort. You can comfortably do this with one hand which leaves your other hand free to hold the included cup. This is great when you're short on space.
A handy espresso cup is part of the complete Wacaco Minipresso portable espresso maker. However, it doesn't remain attached when you are pulling your shot. So there is an element of 'aiming' which is why a flat surface is preferable.
Cleaning is also incredibly simple – a quick rinse will get the job done.
To make your Wacaco Minipresso work best for you, you really need to pre-heat the device. This means you need enough hot water for pre-heating as well as your coffee. It's not difficult or time-consuming to do. But it's definitely something to be aware of, particularly if you plan to use your espresso maker whilst camping.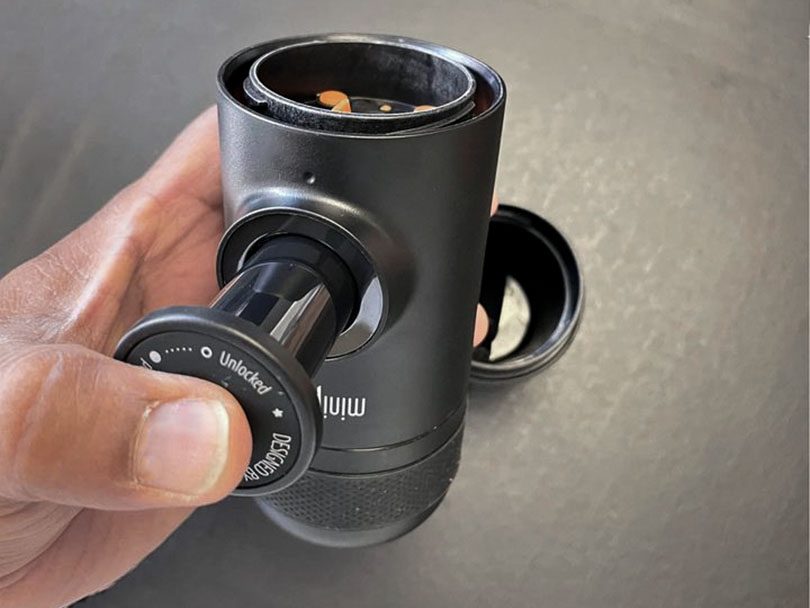 This is frustrating as it means you are tied to using a specific type of coffee, depending on which model you have. Wacaco later released the Nanopresso which, although slightly more expensive, is a modular machine. This means you can buy an attachment that allows you to use pods, giving you the flexibility to choose either.
Now, this isn't an issue if you only use ground coffee or Nespresso pods. And, if you will continue to only use ground coffee or pods. But we would prefer to have a touch of flexibility with it.
All portable espresso machines that use ground coffee run into the same issue:
You either need to also take a portable grinder with you. Or you have to accept that you won't be using freshly ground beans to make your espresso.
Again, this boils down to how particular you are:
If you've always used pre-ground and are perfectly happy with the taste, then no problem. If you usually have fresh ground but are willing to accept a little bit of degrading to be able to make espresso on the road, then that's fine too.
Grinding whilst on the go does add an extra layer of effort and variability to the whole process. So, it just depends on what works best for you.
This espresso maker has a fairly simple design that doesn't really WOW in any way. But, it does make it very easy to hold in your hand and use the pump. Plus, it's designed to keep everything neatly in one package – ideal when chucking in and out of your bag.
The most important part of all pump espresso machines is the mechanism on the pressure pump. And the Minipresso doesn't let us down – it's smooth, easy to operate, and very quiet. It feels robust so it will last for a long time without any issues at all.
The whole device is slightly heavier than you would expect for its size. But it needs to withstand the hand-pumped pressure. So, if it were much lighter it would probably run into issues long-term.
We did note a couple of design drawbacks in this Wacaco Minipresso review:
Firstly, the cup provided isn't insulated so your espresso cools down quite quickly. Our top tip is to pre-heat the cup, but it will still lose heat quickly.
Also, after use, the cup doesn't screw on tight enough to make it water-tight. So, if there is any coffee residue left it can leak into your bag.
This mini portable espresso machine pulls a 1.7oz espresso shot, which isn't particularly big even by espresso standards. It would be nice if the water tank were bigger to get a 2oz espresso, but I guess this would make the whole machine bigger too. And you can always buy the Minipresso Tank or Minipresso Kit to upgrade to a 4.05oz water tank if that's a deal-breaker for you.
In the ultimate test in the Wacaco Minipresso review – does it make good espresso – sadly, it isn't even true espresso due to the 8 bar pressure which is just shy of enough. That said, if you pre-heat your Minipresso, you will get a decent shot from it and still have a crema, just maybe not quite on par with the quality from a good coffee shop.
So, if you're looking for a high-quality espresso shot, you do run into a few issues. A pressure of 8 bar isn't enough to get a quality espresso from either medium or light roast coffee beans. So, if this is your preference, you are most likely going to end up with a weak-tasting, bitter espresso – which no one wants.
If you are using ground coffee, it needs to be freshly ground to get the most flavor from your beans. But this would mean also purchasing a hand grinder and it can get a bit messy whilst on the road.
If you're using pre-ground coffee, it will never have the depth of flavor that fresh grounds do – it quickly deteriorates after grinding.
You will have to undergo a little trial and error to work out exactly the best grind size and how hard to tamp down. But this is common in all espresso machines to get the best espresso shot possible from them.
This is a portable espresso machine designed to do 1 thing and do it well:
Pull a single espresso shot on the go.
The newer Wacaco model, the Nanopresso, has attachments you can buy but that's not possible with the Minipresso. These attachments allow you to use Nespresso pods or brew double espressos. However, if all you need is a single espresso anywhere you go, then this doesn't really matter.
There are, however, a couple of added extras that make life with the Minipresso that little bit sweeter:
The first is a Protective Case. Nothing fancy, just a perfectly shaped, hardshell case. This gives your espresso maker some extra protection when living its life on the road, being thrown in and out of a bag all the time.
Next is the Wacaco Minipresso Kit which is an accessory for your machine. It includes an extra-large water tank taking your capacity from 2.35oz to 4.05oz. Plus, there are three additional filter baskets with caps.
If you don't want the extra espresso filter basket but do want the additional water capacity, you can get the Minipresso Tank on its own. This takes you up to the same 4.05oz water reservoir size.
Every so often it's a good idea to run just hot water through the whole coffee maker to give the full mechanism a rinse. If you're preheating your Minipresso, you're already doing this.
Keep a soft toothbrush or toothpick handy for any stubborn coffee grounds that get stuck in the basket. But it should be fairly easy to rinse out after use.
Being so small, and with minimal parts, it won't take much water either. So if you are backpacking or camping, it's not too big a drain on your water source. With access to a sink, it's an incredibly painless task.
As it's quite common for the Minipresso to leak a bit after use if there's any water left, it might be worth taking a ziplock bag with you. Then you can just pop the machine in the bag after use, preventing any soggy mishaps in your bag.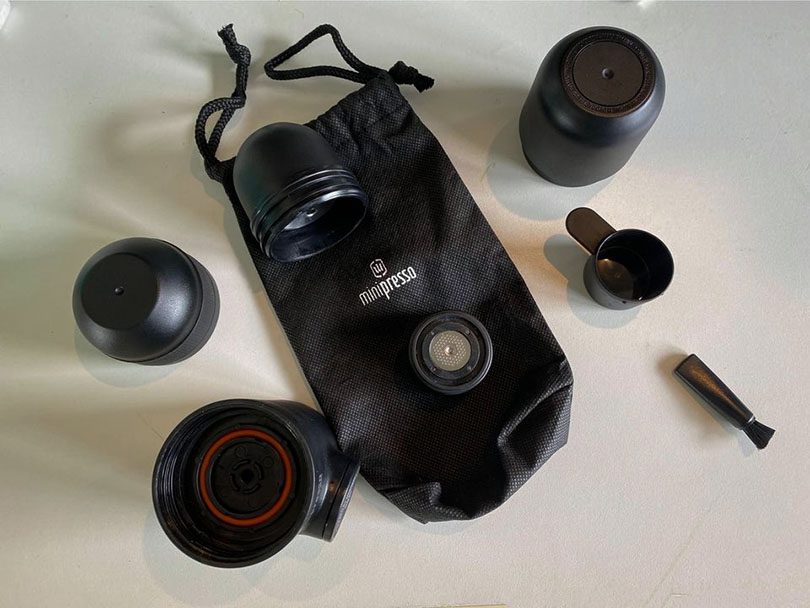 Basically, the Minipresso is the younger sibling to the Nanopresso. It was the first generation and, in our opinion, they ironed out any teething issues by the time the Nanopresso came around.
Psst.. For more information you can check out our full Wacaco Nanopresso Review.
To kick-off, the Nanopresso is smaller but has a larger water tank and grounds basket. So you can make more espresso whilst taking up less space.
The Nanopresso also generates 18 bars of pressure, compared to just 8 bar on the Minipresso.
With the Minipresso, you can choose from 2 versions: GR and NS. The GR works only with ground coffee, and the NS works only with pods. This differs from the Nanopresso which is a modular machine, meaning you can buy attachments that screw together. So, whilst it works with grounds only, you can purchase the NS Adapter, allowing it to work with pods too.
For a full breakdown of the differences, watch Wacaco's helpful video here:
So, what's the verdict on our Wacaco Minipresso review?
The Wacaco Minipresso NS & GR are both excellent portable espresso makers. They put the ability to have a lovely espresso, no matter your location, right into your hands.
They have slight foibles. But, overall, they do the job very nicely.
Our main gripe is that the new version – the Wacaco Nanopresso – is superior in every way:
The Nanopresso is more expensive – by at least $20. But it's still very much in the budget range, coming in as one of the best espresso machines under $100. So, it would be our pick if you're looking for a top portable espresso maker.
That said, as this Wacaco Minipresso review shows, this little espresso maker gives you a good bang for your buck. So you certainly wouldn't be disappointed with an espresso from this machine whilst in the office, at home, or traveling.
Don't forget to Buy Your Wacaco Minipresso Today
You Might Also Like
Beautiful, simple, and delicious espresso for around $1000? We had to test if such a thing was possible – read our Jura ENA 4 review to see

Jura ENA 8 vs Gaggia Babila is a battle of philosophies. Is the convenience of the ENA 8 superior to the precision of the Babila?