If you're newly venturing out into the world of home coffee making, you may be questioning "What is an AeroPress? And why in the heck is everyone talking about it?" But, ask no more as we have all the answers in this AeroPress coffee maker review.
The shortest answer is that the AeroPress is a gravity and pressure-powered coffee maker. So, why does it look so much like a toy and unlike more traditional coffee makers?
Well, Aerobie – the creators – are frisbee producers. The inventor, Alan Adler, complained to a colleague's wife about the poor quality, watery coffee that drip machines produce. From then, he made it his mission to make a device that would bring delicious, quality drip coffee to the masses.
And, with the AeroPress, he certainly achieved that. His device has quickly become one of the most popular methods for brewing coffee.
Here we break down everything you need to know about the AeroPress so you can work out if this is the top coffee maker for you. We have scoured the internet for all the expert reviews to collate with our own. This means we have the most comprehensive AeroPress review you can find. Whilst not all home coffee experts give numerical scores, we have averaged these out. Therefore, you can get a consensus opinion on how good this little powerhouse really is.
This article may contain affiliate/ compensated links. As an Amazon Associate, we earn from qualifying purchases at no additional cost to you. For more information please see our disclaimer here.
At a Glance: AeroPress Coffee Maker Review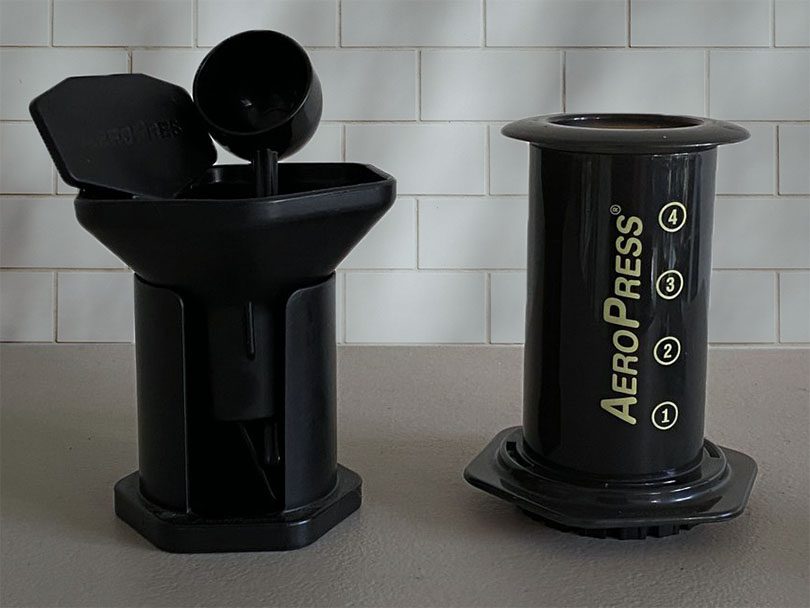 AeroPress
The Aerobie AeroPress is a cheap, portable coffee maker that makes exceptionally good coffee – with a little bit of practice.
Whilst many tout it as an espresso maker, it won't be able to produce a top-notch espresso – even with the extra attachment. Instead, the pressure exerted will create a very good black coffee. But, unless you are specifically looking for a true espresso machine, this isn't much of a negative.
In order to make the best tasting coffee possible, you will want to buy a separate grinder. (Freshly ground is always better than pre-ground coffee.) But then, with the price of the AeroPress being so low, the combination shouldn't break the bank.
Pros
Easy to set up, use, and clean
Quickly brews great tasting coffee
Versatility in types of coffee that can be brewed (including cold brew)
Tough, resilient, high-quality component parts
Portable
Cheap, affordable price
Cons
Single brew device – multiple cups require multiple brews
Need a constant stock of paper filters
Everything but the brewing has to be done separately
Low water pressure so limited crema
It doesn't make espresso, just strong black coffee
Steep learning curve to make consistently great coffee
1. Convenient
The AeroPress offers you a very convenient way of making good quality coffee. It's very quick – under one minute using the traditional brewing method. Plus, as long as you have hot water, you can make your coffee from anywhere.
2. Cheap
This unique coffee brewer is very budget-friendly. And, better than that, the paper filters needed for the AeroPress also come in very cheap. When you first buy your device, it will come with 350 filters. After that, they work out at around 2 cents per filter to buy.
3. Low Maintenance
There is no maintenance required whatsoever (just the cleaning). So, it's easy to see why many coffee lovers adore the sturdy plastic construction and simple design – the AeroPress really is a dream to look after.
4. Travel Bag
It is possible to buy the AeroPress on its own, but make sure you get the option that includes the handy tote bag. It's only a few dollars extra and the carry bag is incredibly helpful for traveling. As top-dog of the travel coffee brewers, if you intend to take your AeroPress with you to the office, on vacation, or camping, then the bag is super helpful to keep everything together. Even at home, it stops you from misplacing any of the parts.
5. Compact Coffee Brewer
The AeroPress is just a little coffee maker, sizing up at 11 inches tall with a 5.1-inch diameter, and weighing about 15oz. This makes it compact and lightweight – ideal for throwing in your backpack or purse.
6. Single Serve Coffee Maker
The water chamber holds 12 oz. So, at a push, you can make 2 smallish coffees at once with the AeroPress. But, realistically, it is a single-serve device.
If you are planning to share, you are most likely going to have to start the entire coffee brewing process again.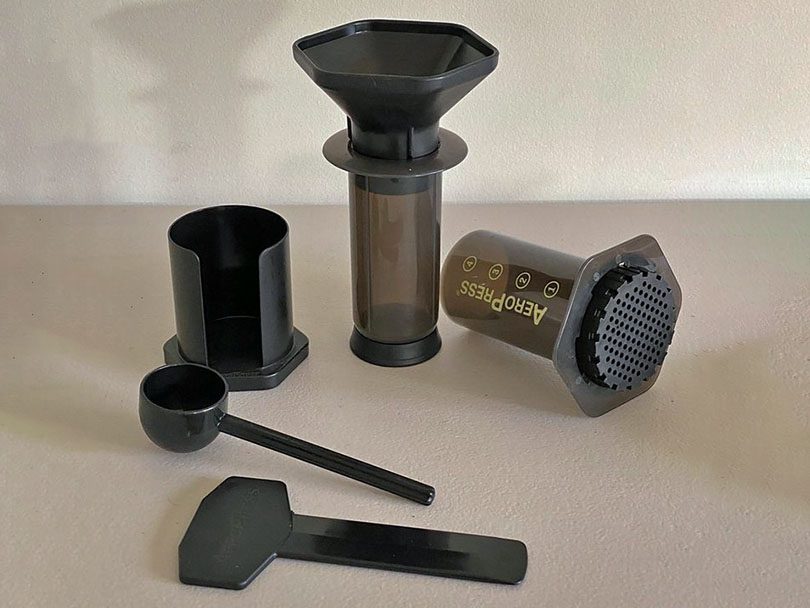 You can make a simple cup of coffee using the basic coffee brewing method incredibly easily. But there is also an astronomical amount of information out there on all the different, more complex variations you can opt for.
Unlike many manual coffee makers, the AeroPress is very easy to use at first glance:
You measure your pre-ground coffee and water, stir for 10 seconds, then press. And, that's it – you are done.
But, like all things in life, it's never that simple. Just type "how to make AeroPress coffee" into Google and you will be hit with just shy of 1.5 million articles. That's enough to boggle the mind of even the biggest coffee lover.
The reason you will find so many responses is that everyone has their own "best" way to make AeroPress coffee. And the device gives you a great amount of flexibility, so you will be able to find your favorite way too. Just with a little bit of practice and patience.
You could choose to vary the coffee grounds to water ratio; the stirring time; or the water temperature. Of, you could opt to steep the grounds using the "inverted method" – with your AeroPress the other way up (it will drip through the filter if you try and steep for a few minutes the right way up).
For cold brew, you add room temperature water instead of hot water.
There are even World AeroPress Championships. That's how different the coffees can be, and how many coffee pros love this great coffee brewer.
So, yes it is very easy to use. But it's very complex to master. To help, this video by Coffee Time serves as a handy beginner's guide to how to make AeroPress coffee:
Being the simple little coffee maker it is, there are no included gadgets or gizmos to add different functionality.
This will mean you have to either buy ground coffee or buy a coffee grinder. Whilst you can get away with minimal extra coffee gear, given the emphasis on complex and superb tasting coffee from the AeroPress, buying the best coffee beans and freshly grinding them will serve you best.
Using a grinder right before brewing will ensure you don't lose any of the subtle flavors which can quickly be lost when the beans are pre-ground. So, if want to make the best cup of coffee possible, a grinder and high-quality beans will be a sound investment.
Psst.. For a grinder that fits inside the AeroPress for the ultimate ease check out the Porlex Mini: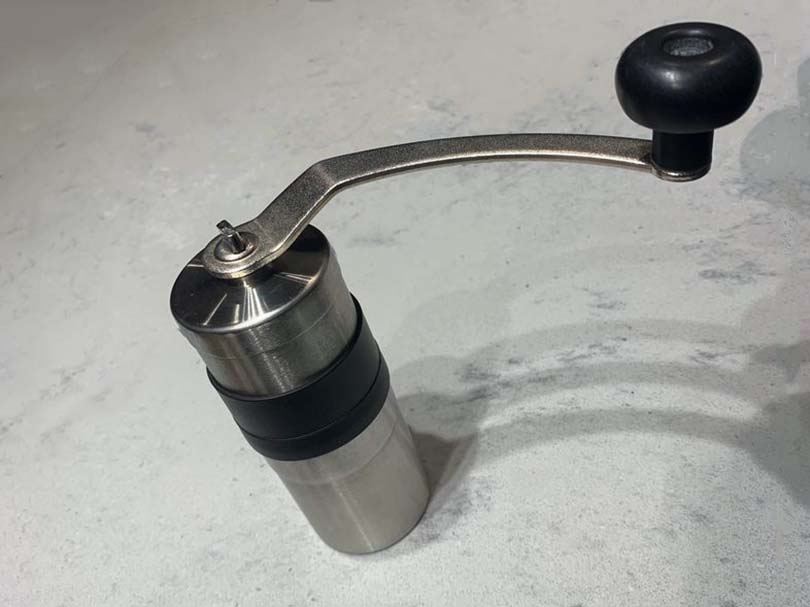 It may not be quite as eye-catching as a Chemex pour over brewer, or iconic as the French Press coffee maker, but it has its purpose and serves it well.
Both the AeroPress and the even smaller AeroPress Go travel coffee press are made up of the same 3 basic parts: the plunger, the chamber, and the filter cap. Included with the device are a range of accessories – a funnel, scoop, and paper filters – everything you need to make the best quality coffee with ease.
The non-BPA plastic is sturdy and feels up to the task of constant use. Aerobie's AeroPress has been around for a long time and there are no complaints about the build quality. It's one of our favorite travel coffee makers and we've never had a problem throwing it in and out of a backpack.
The only downside of the design is that due to the flexibility in ways to make your coffee, it's not obvious how to do it when you get started. There are no indications as to measurements of coffee grinds or water.
So, if you're an absolute beginner to coffee making, it can take quite a few tries to get it right. But thankfully the internet is your friend with millions of videos on YouTube to help you get it just how you want it.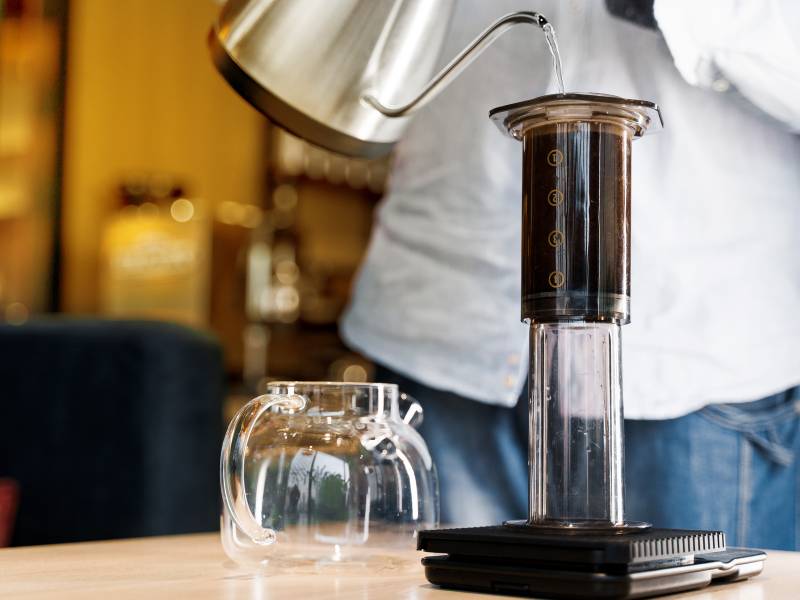 Arguably the most important part of this AeroPress coffee maker review is whether the cup of coffee produced is any good.
But, it's an answer of 2 halves:
Firstly, yes, the coffee produced is delicious. AeroPress coffee is rich, smooth, and has no bitterness. All the nuanced, subtle coffee flavors of your chosen coffee bean variety will be very well represented. Plus there is loads of room for flexibility to create your coffee just how you want it, second only to manual pour overs (and available at a fraction of the price of a high-end drip coffee maker too).
However, it does not make a true espresso:
The Aeropress can't generate enough pressure to make true espresso. Instead, what you're most likely to get is a halfway house between espresso and drip coffee.
Now, this might be exactly what you're after. And, in that case, this is fantastic. However, if you're looking for true espresso on the go you'll want to look at one of the best portable espresso makers. Portable coffee brewers such as the Wacaco Nanopresso, Cafflano Kompresso, or the Staresso Portable Espresso Maker.
There is an attachment to the Aeropress called the "Fellow Prismo" which claims to create a "true espresso". However, this is almost as expensive as the AeroPress itself – although neither product is particularly expensive. But buying the two together prices the full kit on par with the other portable espresso makers on the market which don't need extra parts.
What you see is what you get: only the basic components are available. And that's all that's needed to create your coffee on the go.
Being so compact, you can easily fit this coffee maker into your bag or purse. So, no bonus extras, but then that's kind of the point.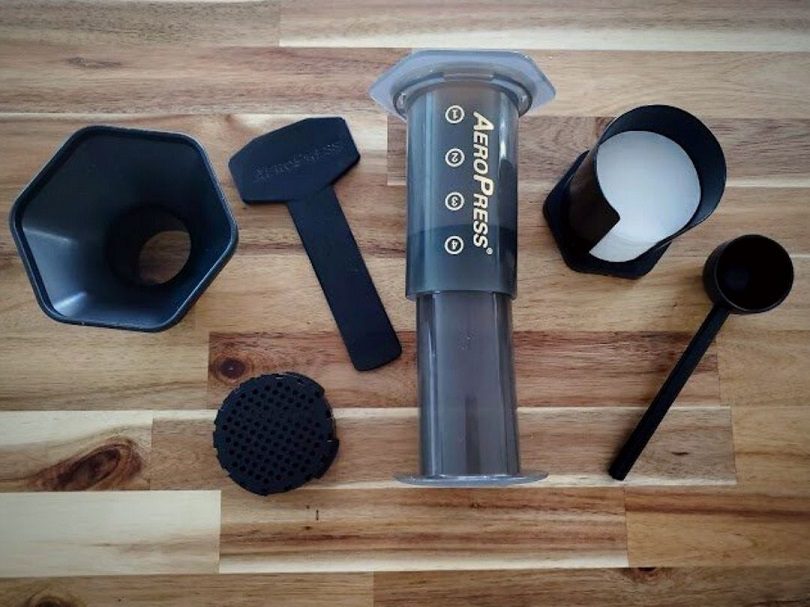 Cleaning the AeroPress really couldn't be simpler:
The puck is easily disposed of. Then, you only need to rinse the rest of the Aeropress under the faucet. And that's you done with just a few seconds of work.
Unlike many other coffee makers, the device is also dishwasher safe. So, if you want to give it "a proper clean", you can place it in the top rack of the dishwasher. It doesn't really require this level of cleaning so it's not worth doing overly often.
The French Press has stood the test of time. It's a much-loved brewer around the world, starting its life in Milan, Italy over 80 years ago. The AeroPress, on the other hand, has only been around since 2005. But, since then, has taken the coffee world by storm.
Both are portable, compact, and use ground coffee. They just need the grounds and hot water to be added.
Price-wise, they are pretty similar. The AeroPress retails around the $40 mark and the French Press generally falls in the $25-45 range.
The serving size is generally much larger on the French Press. With the AeroPress, you can only serve one person per brew. But that is not the case with most French Press'. Generally speaking, you will get 6 to 8 oz from an AeroPress compared to 28 to 35 oz from a French Press.
A coarser grind is preferred in the French Press. This is to prevent coffee bean grounds from passing through the metal filter but it also means a longer brew time is required. So, overall it is a very low-maintenance cup of coffee as it can be left for 3 to 5 minutes with no attention.
Criticisms of the French Press are that grind can often pass through the filter, leading to a gritty taste in your coffee.
The AeroPress is loved due to the flexibility and range of coffee that it can produce.
Overall though, it comes down to what you want from your cup of coffee. If you need to brew coffee for lots of people quickly, then the French Press is your best bet. To let your creativity shine through, the AeroPress is the right coffee maker one for you.
Which is the Top 'Press' For You?
Psst… Want to see how AeroPress compares to another iconic classic in the coffee world – Chemex? Check out our full comparison below:
For those looking to master the art of home coffee making, it gives you control over almost every aspect of the process. And for those looking for a quick delicious cup in the morning, it is simple enough to provide this.
If you're after a true espresso, then this isn't the coffee maker for you. Although you can get an attachment to help with this, it will still lack the pressure to get a quality espresso with a good crema.
But, if you're looking for a strong black coffee – somewhere between drip coffee and espresso – then this is perfect. As long as you're willing to fiddle a little bit to get your AeroPress coffee just right for you.
Having the AeroPress in your arsenal will up your home coffee making. As well as improving the office coffee, and the quality of coffee on your travels.
For total portability, the AeroPress Go travel coffee press is even smaller. Plus, the travel case doubles as a mug.
So, there you have it. Has this AeroPress coffee maker review convinced you that it's the one for you?
Don't forget to Buy Your Aerobie AeroPress Today
You Might Also Like
If you're wondering 'Why Does My Coffee Taste Watery?' And more importantly, 'How Do I Fix It?', then this is the simple guide for you

Both coffee makers are budget-friendly. Both make great tasting coffee. So how do AeroPress vs French Press compare & which is best for you?