Long gone are the days when the only way to enjoy a nice espresso was in a fancy café or by spending a small fortune on a machine for your home. Now, there are quite a spectacular array of portable espresso makers that claim to give you café quality espresso wherever you are. One such machine is the Handpresso Wild Hybrid, review in full here.
Of all the portable coffee makers, the Handpresso Wild Hybrid is one of the simplest in terms of design and usability. And we've put it to the test to see if you really can have incredible espresso wherever you are.
Read on for the full Handpresso Wild Hybrid review to find out if is worthy of becoming your top travel item. We have scoured the internet for every expert review on this espresso maker to collate with our own. This means we have the most comprehensive coffee maker review you can find. Whilst not all home coffee experts give numerical scores, we have averaged these out. Therefore, you can get a consensus opinion on how good this device is and know for sure if it is the right espresso maker for you.
This article may contain affiliate/ compensated links. As an Amazon Associate, we earn from qualifying purchases at no additional cost to you. For more information please see our disclaimer here.
At a Glance: Handpresso Wild Hybrid Review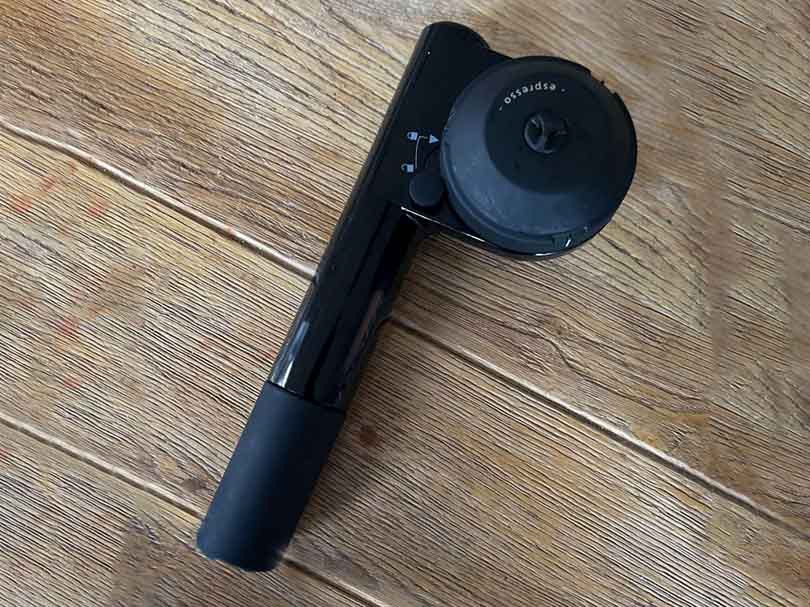 The Handpresso Wild Hybrid makes a good espresso, reliably with minimal fuss.
If you're looking for something that can use pods or grounds, is incredibly easy to use and clean, and you can chuck in your backpack or purse, then this is a great option for you.
However, if you're looking for a non-espresso style coffee, like French press or pour over, then something like the Aeropress would be a better portable option.
In terms of pure coffee quality for the price, we prefer the Wacaco Nanopresso. But it's slightly more complex to use and more difficult to clean, especially as it needs 6 monthly deep clean.
If ease of use and cleaning are your main priorities when looking for a good espresso on the go, then the Handpresso Wild Hybrid will serve you very well.
Pros
Portable
Easy to clean
Relatively cheap
Durable construction so it can withstand the occasional knock or bang
Simple to operate, low-tech and reliable
Espresso is surprisingly high-quality and tasty for a compact machine
Can use E.S.E pods or ground coffee
Up to 16 bar of pressure
Cons
Boiling the water can be inconvenient
Incapable of commercial quality espresso shots
The shot created is smaller than a standard espresso shot
Can't vary the strength of the espresso and it can end up fairly weak
1. Maximum Pressure of 16 bar
The minimum amount of pressure needed to make espresso is 9 bar. And many home espresso machines only operate around this level. So, seeing 16 bar on a countertop espresso machine would be good never mind a hand-pumped portable device. Being able to create this amount of pressure means you can get a "good" quality espresso.
2. Weights 11oz
The Handpresso Wild Hybrid is small enough and light enough to be thrown in any backpack or purse. This makes it perfect for taking to work or using on vacation, traveling, or even camping.
3. Uses E.S.E Pods or Ground Coffee
Freshly ground coffee might be your first choice for the best quality, but whilst you're on the go this isn't always feasible. So having the flexibility to use E.S.E. pods (Easy Serve Espresso) is a big plus. Plus, using the pods cuts down on mess.
To use, just follow these easy steps – it should take around 5 minutes:
Heat the Water: You need to do this separately or use a thermos flask to carry pre-heated water.

Get Pumping: Push the hand pump (which is just like a bicycle pump) until the pressure gauge gets to the green zone.

Add the Water: The opening is nice and wide, making this simple and spillages minimal.

Add Coffee: Next, add your coffee grounds or an E.S.E. pod to the coffee basket.

Infuse: Push the "infusion" button to force the hot water through your coffee grounds at high pressure. And just like that, you have your espresso.
For a single shot of espresso, this can take a couple of minutes to complete the process. So it's not ideal if you're making espressos for a group of people – although it would be a great workout for you!
You also have to be happy enough pumping up your pressure like a bike pump wherever you are. Probably less of an issue whilst camping, but in the office or the park, it may look a touch odd.
The Handpresso Wild Hybrid uses ground coffee or E.S.E. pods.
This allows you to use your favorite espresso beans from wherever you like to shop, finely ground to your exact specifications. For the best results, you will also need a manual grinder so you can freshly grind when you're ready to brew. But that's not always practical whilst traveling so, if you're using pre-ground coffee, make sure to carefully store it to keep it as fresh as possible.
Being able to use E.S.E. pods is a great option. It's particularly handy for life on the road, or for those days where you just can't be bothered messing around with grinding your own coffee. It's even better if you're favorite coffee comes in pod form anyway. All you need to do is chuck your pod in and off you go.
Using pods also reduces mess on the go as they are easier to dispose of than coffee ground pucks. Although coffee grounds make great compost so it's hardly problematic for the environment to chuck them into the fields if you are camping – less advisable on the office floor.
The Handpresso Pump is 8.7 inches by 3.9 inches by 2.8 inches and looks like a bike pump with a small hockey puck attached. Mainly because that's basically what it is.
It is very simply designed and sturdy. Sturdy enough to survive a few accidents, which is handy when you plan on taking it in and out of your backpack. I wouldn't recommend throwing it around, but if you drop it occasionally it should be fine.
Whilst it isn't going to blow anyone away with its looks, it isn't unwieldy or bizarre-looking either.
Every part of the Handpresso is robustly built. And, with very few moving parts, there isn't really anything to go wrong. So it stands up to long-term use very well.
You can also get your Handpresso Wild Hybrid in a variety of colors which is a nice touch.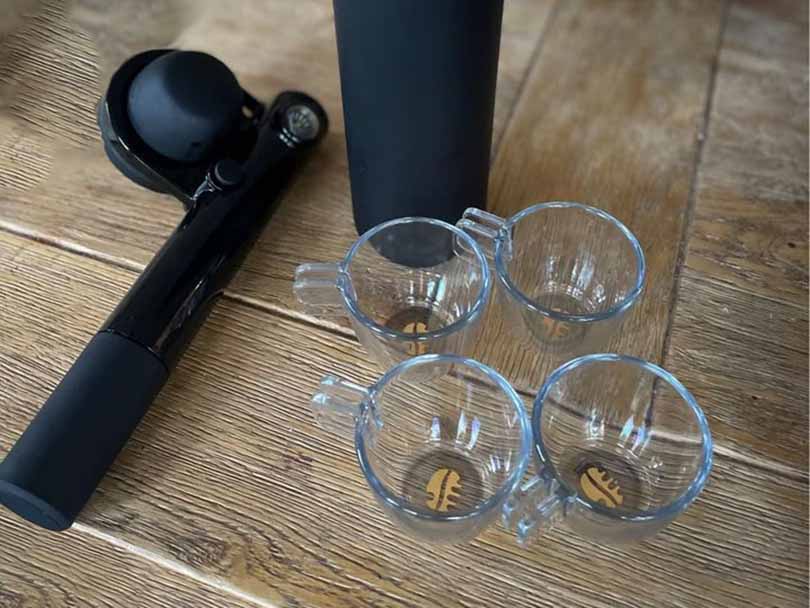 The ultimate test in the Handpresso Wild Hybrid review: how good is the espresso?
The 16 bar pressure produces a good quality espresso with that full-bodied flavor that espresso lovers are after.
The machine works on a ratio of 7g of coffee to 50ml of water. So if you're a fan of the 1:2 or 1:3 ratio espresso, then this may feel a little bit dull for you.
The shot that you pull is a little shorter than a standard espresso shot. And you need to grind your coffee a little bit finer than you would normally, otherwise it can end up a little weak.
Within a couple of tries, you'll have this nailed down, if not on the first go.
It doesn't have enough pressure to create an espresso comparable to the high-end home espresso machines that can produce 20 bar of pressure. But it's also considerably cheaper – and portable – so you have to pick your battles.
The Handpresso only makes espresso. So if you're looking for French press or pour over style coffee, then this isn't the device for you. The AeroPress would be a better-suited portable coffee maker for this. And it also makes excellent cold brew if that is your thing.
Being so compact and portable means there are no bells and whistles with the Wild Hybrid.
You can, however, buy the espresso maker as part of an "outdoor set". This set includes a nice case, thermos flask, and indestructible cups. So, if you're looking for something to take hiking or camping this could be a good option for you. It also makes a great gift for all the coffee lovers in your life.
You simply have to dispose of your grounds or E.S.E. pod – trash for the pod or just the wilderness for your grounds. Give the brew head a quick rinse. And that's it. You're done.
It really couldn't be simpler. Plus, there's no need to do a lengthy deep clean every so often either which is a nice bonus.
If you're camping or hiking in the wilds, you might want a ziplock bag for your spent E.S.E. pods until you can next get to a trash can. But this is hardly a great inconvenience.
So, what's the verdict on our Handpresso Wild Hybrid review?
This little device is a very impressive portable espresso maker: It's cheap, it's durable and it makes a good espresso.
Personally, we feel the Wacaco Nanopresso is a better espresso machine and it is slightly cheaper. Although it is also a little bit harder to use and clean so it all comes down to what's important to you.
But, bottom line – if you want easy espresso on the go, you will not be disappointed with this hand-pump portable espresso machine.
Don't forget to Buy Your Handpresso Wild Hybrid Today
You Might Also Like
Beautiful, simple, and delicious espresso for around $1000? We had to test if such a thing was possible – read our Jura ENA 4 review to see

Jura ENA 8 vs Gaggia Babila is a battle of philosophies. Is the convenience of the ENA 8 superior to the precision of the Babila?