Are you tired of watching your money disappear into your local coffee shop? And, do you want an easy espresso machine that doesn't need hours to learn how to use it?
If you answered, yes, then the Nespresso Pixie by Breville could be just what you need.
Here, you can read our Nespresso Pixie review to understand why this compact espresso machine is much-loved by espresso enthusiasts. Then, you can see if there is space for it in your life. And since it takes up so little room, we are pretty confident it will!
We have scoured the internet for all the Nespresso Pixie reviews to collate with our own. This means we have the most comprehensive review you can find. Whilst not all home coffee experts give numerical scores, we have averaged these out. Therefore, you can get a consensus opinion on how good the Pixie really is and know for sure if it is the right espresso maker for you.
This article may contain affiliate/ compensated links. As an Amazon Associate, we earn from qualifying purchases at no additional cost to you. For more information please see our disclaimer here.
At a Glance: Nespresso Pixie Review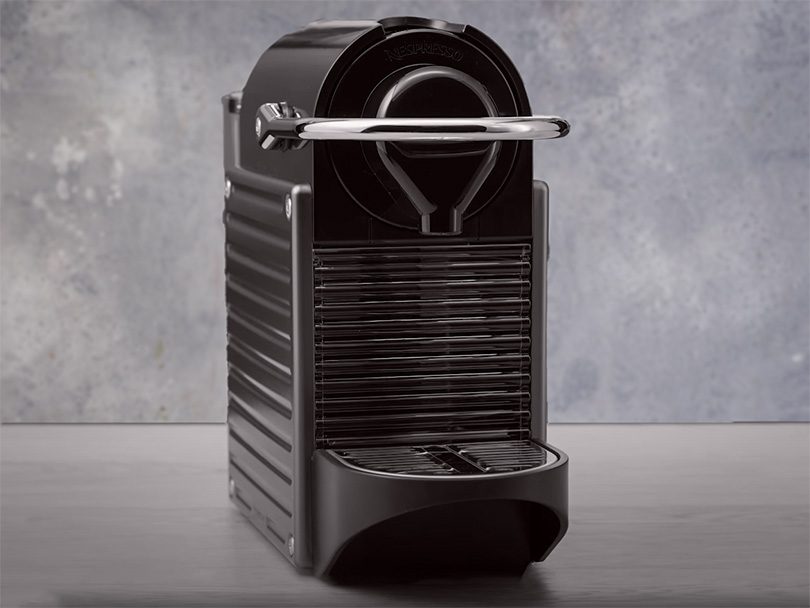 The Nespresso Pixie espresso maker is extremely compact and easy to use. Perfect for limited kitchen space and offices alike.
This single-serve machine will only pull espresso – single or double. But the quality of espresso you get is excellent, and it's consistently this good too.
There is a large selection of Nespresso capsules to choose from. Plus, they are recyclable, although not as easily as we'd like.
So, if you're looking for something simple, then this is an amazing budget option for those short on space.
The Pixie gives you total convenience at the expense of flexibility. So, if you're looking for foamed milk, you will also need to buy a separate accessory.
Pros
Good tasting coffee
Quick brewing time
Small and compact
Easy to clean
Well-made
Wide range of available capsules
Cons
Only works with Nespresso capsules
No milk frother
Only makes espresso
1. 19 BAR Pressure Pump
The Nespresso Pixie features a 19 bar pressure pump.
For context, the minimum pressure required to make quality espresso in 9 bars. And the standard pressure for espresso makers in this price bracket is 15 bar.
So, having 19 bars of pressure on a budget machine is superb. It means the quality is great and doesn't taste watered-down which is a common complaint about single-serve espresso machines.
2. Energy Efficient
The Pixie is not a power-hungry espresso machine when compared to its competition. Which is great for both the environment and your bank balance:
All of the lights are LED lights. And, if you leave the machine inactive for just 9 minutes, it has an automatic shutoff. Great for when you have a million things to remember in the morning – turning off your machine doesn't have to be one of them.
3. Compact Espresso Maker
Sizing up at just 9″ high, 4″ wide, and 11″ deep, makes this machine great for small kitchens. It can fit on almost any kitchen counter, desk, or even a dorm room.
To make an espresso, you simply move the silver handle back to reveal the capsule-sized recess. Into this, you insert your chosen capsule. Then, just move the handle back to its original position and push the button for either a single or double espresso shot as shown here:
Once the machine has finished brewing your espresso shot, all that's left to do is lift the handle once more. This opens the brew chamber, automatically dropping the used capsule into the used capsule chamber.
That's really all there is to it.
All this ease of use comes with an obvious limitation: you have zero control over the process.
The capsules come in a wide variety of styles and flavors, so you should be able to find what you like. But you are confined to using Nespresso brand capsules.
You'll also only get a single or double espresso from the machine: it can't make coffee or milk-based espresso drinks. If espresso is all you want, then it doesn't matter. But if you are a longer coffee drinker, the only way to do this is by stacking espressos. However, this uses a lot of not particularly cheap capsules in the process.
There is also the issue that the capsules have to be returned to Nespresso for recycling. This can be done at a Nespresso store or you can get a prepaid bag from UPS and drop them off there.
This makes recycling a bit of a hassle. Although Nespresso is currently working to make their pods suitable to be put in with your normal recycling. But, until then, you have to go out of your way.
You also need to ask yourself if simply recycling the aluminum pods is actually that good for the environment? This is very much a personal decision:
If you're happy using Nespresso pods and recycling them, then this is one of the best single serve coffee makers. But it's something we recommend you consider and think about before purchasing.
The main selling point of the Nespresso Pixie, as you can probably tell from the name, is that it is extremely compact. At only 4″ wide and 11″ deep, it has a very small footprint. So, you don't need much space to squeeze in this espresso machine.
The downside to the small size of the Pixie machine, you can only fit espresso-sized cups on the drip tray. If you are using a larger cup, you'll need to flip up the drip tray, which is easily done, to slide your cup underneath the spout.
The Pixie espresso maker is quite cool-looking. You can buy replacement sides in different colors if you want to switch up the look. These just screw on and off so it couldn't be easier to match your coffee maker to your kitchen.
The water reservoir is on the smaller side at 24oz. But it is a smaller machine so the space-saving has to come from somewhere. It's not a disaster though, as this does still give you 20 single espressos or 9 double espressos before you need to add more water, which is pretty good.
If you're moving your machine around, make sure to remove the water tank first. We've managed to drop and crack too many water tanks to count, so don't be like us!
The handle for opening the capsule slot is satisfying to use. And both the foldable drip tray and the used capsule container are easy to clean. All in all, this is a very well-put-together machine.
I know some people say that aluminum ruins the taste, but a few years back, we worked in a high-end restaurant that used a Nespresso machine. We found that no one ever complained about the coffee quality unless they knew it was Nespresso. Take from that what you will.
Using the Pixie removes the control you have with other espresso machines. However, this means you also can't make any mistakes. And the consistency of the espresso is outstanding.
There are limitations, of course:
With this machine, you can only make espresso or double espresso – Nespresso calls it "lungo" but it's really a double espresso. So, if you're looking for longer coffee drinks this machine isn't ideal for you. To work around this, you can just pull a bunch of long espressos together. But that makes a very strong cup of coffee and is also not cheap.
The Nespresso Pixie is designed as a budget machine, under $200. And to be as compact as possible. This means that there aren't any added extras that come with this single-serve espresso machine.
You will, however, see it being sold as a bundle with the "Aeroccino". This added device is for foaming milk – and works really well.
Even when they are bought together, the bundle is still cheaper than a lot of other pod espresso machines. So, it's definitely still something to consider.
After using 10 capsules, you will need to empty the used capsule container. This is simple to remove and empty into the garbage can.
The water tank needs to be emptied and cleaned every couple of days. If you don't do this, you might get a shock to discover algae developing at the bottom of the tank, which is pretty gross.
Other than this, all you really need to do is descale the espresso maker every 6 months. This needs to be done because calcium builds up in the narrow channels of the thermoblock boiler and the machine can jam if it isn't cleared.
Of course, Nespresso provides its own descaling fluid and the process is simple enough. It should only take around 20 minutes to do.
So, as espresso and coffee makers go, the Nespresso Pixie is incredibly low maintenance.
Nespresso CitiZ Benefits
The CitiZ is nearly identical in all the ways that matter to the Pixie. There are only a couple of things which you could point to as "better". First, the water reservoir is much bigger, 34 oz to the Pixie's 24 oz, so it will need to be refilled less frequently. Realistically you're getting 5 more espressos before refilling, not exactly life-changing stuff.
While we're on minute differences that don't make much of a difference, the capsule container can hold one extra capsule before needing to be emptied. One. Maybe you think this is worth it, we're not here to judge, but only the most generous person would call this a plus for the CitiZ.
Something we almost never talk about but actually is a big plus is that the power cord is a foot longer. This means you will have more choice on where to position your Nespresso machine. As someone whose kitchen counter only worked in one configuration due to outlets and power cord lengths, this is genuinely a good thing.
CitiZ Drawbacks
The price is the biggest drawback of the CitiZ. It's $50 or so more expensive than the Pixie, for a bigger water tank and a longer power cord. It also looks cheaper, though it is available in more colors so it can look cheaper, but in red or white too.
Nespresso Pixie vs CitiZ Conclusion
The Nespresso Pixie is clearly the better choice for us. It simply is not worth the extra money to refill the water reservoir less often. The fact that it looks much better is a bonus, and the coffee quality is just as good as the CitiZ. Save your money for more capsules and get yourself the Pixie.
These limitations include only being able to pour espresso, not full cups of coffee. And not having a milk frother. Although, some more expensive machines will overcome these issues.
If foamed milk is a deal-breaker for you as you love a cappuccino or latte, then the Pixie bundle with the Aeroccino is a good option.
Even buying these two items combined will almost certainly be cheaper than single-serve espresso makers that include this option. And those expensive machines won't have excellent space-saving abilities like this one.
The verdict of our Nespresso pixie revies is that the small, compact design of this machine make it ideal for shared accommodation, apartments, and offices. Or, indeed, anywhere with limited counter space.
All that's left to do is work out what Nespresso capsules you love the most. And it's also good to consider how you'll recycle your capsules before you buy the Nespresso Pixie.
Don't forget to Buy Your Nespresso Pixie Today
You Might Also Like
Beautiful, simple, and delicious espresso for around $1000? We had to test if such a thing was possible – read our Jura ENA 4 review to see

Jura ENA 8 vs Gaggia Babila is a battle of philosophies. Is the convenience of the ENA 8 superior to the precision of the Babila?