Are you are looking to ditch expensive coffee shops in favor of a budget-friendly machine that brings lattes, cappuccinos and espressos into the comfort of your home? If so, the Capresso EC100 Pump Espresso and Cappuccino Machine could be just the ticket. Here we dive into an in-depth Capresso EC100 Review for an affordable way to enjoy coffee shop quality at home.
When starting out on your home espresso-making journey, it is easy to get overwhelmed by the options out there. And, one thing is certain:
Not all espresso machines are made equal.
So, looking at the manufacturer is a good place to start. Capresso has been around since the 1990s and has built a reputation for quality coffee machines and accessories like milk frothers and coffee grinders.
Looking through their range, a great example of impressive value for money is the Capresso EC100 Espresso Machine.
Here you will find our complete review and buying guide, so you can discern if this is the budget-friendly espresso machine for you. We have scoured the internet for all the Capresso espresso maker reviews to collate with our own. This means we have the most comprehensive review you can find. Whilst not all home coffee experts give numerical scores, we have averaged these out. Therefore, you can get a consensus opinion on how good this machine really is and know for sure if it is the right espresso maker for you.
This article may contain affiliate/ compensated links. As an Amazon Associate, we earn from qualifying purchases at no additional cost to you. For more information please see our disclaimer here.
At a Glance: Capresso EC100 Review
Capresso EC100
The Capresso EC100 is perfect if you're looking to replace your daily coffee house coffee with an easy-to-use home espresso machine. Plus, this machine gives you the flexibility to create cappuccinos or lattes in a fun, easy way.
This small coffee maker, with a classic look, will fit in most kitchens.
And it will quickly pull your morning coffee – even if you've not quite managed the brainpower to face the day yet.
The EC100 isn't designed for serving a crowd. But, great coffee for one or two people is no problem at all.
Pros
Quick to heat up
Good milk frother
Good value for money
Large water tank
Easy to clean
Warming platform
15 bar pressure
Cons
Inconsistent brew quality
Not good for large groups
Coffee quality deteriorates over time
1. Dual Frother
The frother has two functions:
With the black plastic frothing sleeve on, it will swirl steam through the milk creating a cappuccino-style foam.
With the sleeve removed, it will put steam directly into the bottom of the jug for latte milk.
This makes the EC100 perfect if you like milk-based espresso drinks as there is no need to learn how to steam milk.
2. Thermoblock Heating System
The Capresso EC100 is fitted with a unique thermoblock heating system by JURA, a leading machine parts brand.
The thermoblock mechanism is lined with stainless steel. This design allows the espresso machine to heat up very fast for coffee brewing. You, therefore, will get a delicious hot coffee with great flavor extraction and aromas.
3. Warming Platform
The top of the machine has a warming platform on which you can place cups. Pouring great quality coffee into a cold cup is sacrilege. So, by keeping it warm whilst you foam your milk, you will be rewarded with an even better cup of coffee.
Even better? It is a removable warming tray, making cleaning easy too.
4. 46oz Water Reservoir
The large water reservoir means you rarely need to refill the machine. Anything that involves fewer steps between us and our first cup of coffee is a winner in our eyes.
Being transparent, you can easily keep an eye on water levels and top up when needed. The water tank is removable, making filling and cleaning simple.
To make your coffee, you start by measuring your ground coffee into the basket. Simply tamp down, then twist the portafilter into position.
Next, you turn the knob to the "coffee" symbol. This will start the Capresso pushing water through the grounds using the 15 bar vibration pump.
Once you have the amount of coffee you are looking for, simply turn the knob back again.
This does mean you have to judge your own espresso length (which is standard on semi-automatic machines). But it also means you can play around a bit to get your perfect extraction length.
The milk foaming is similarly simple – keep the frothing sleeve on for a cappuccino, or take it off for latte.
By turning the knob to the "steam" icon, you will start the process. This isn't the fastest, but the results are pretty good. You won't have frothed milk to rival a trained barista using a top-end espresso maker. But, you'll get the right amount of foam for your drink and the bubbles aren't too big. A couple of taps will remove any slightly larger bubbles on top.
The machine has an auto-rinse feature that vents excess pressure after brewing the espresso through the drip tray. So you must always wait at least 15 seconds after pulling your espresso shot before turning the espresso machine off.
But there really isn't much that can go wrong:
It will only take a few tries to get your espresso pulling time just how you like it. And fiddling with this can be rather satisfying.
To get a good crema and the best espresso, it is always recommended to freshly grind your own beans. Plus, the smell is wonderful.
However, if you're on a budget and just looking for a caffeine hit in the morning then pre-ground will do the job.
The Capresso EC100 Pump Espresso Machine doesn't come with a built-in grinder, so if you're looking to get the best from your machine, you'd need to buy a separate grinder.
It is 11.75″ tall by 8.25″ wide by 10.25″ deep. This makes it a fairly compact machine with will not take up too much counter space for those with not much space to spare.
The mostly stainless steel exterior and drip tray make it feel a bit sturdier and more "premium" than a lot of similarly priced semi-automatic espresso machines that are shrouded in black plastic. But it's not as sleek and space-age as some of the more expensive espresso machines are, so it won't be winning any design awards.
There are a couple of nice features on the EC100:
Firstly, the water reservoir is 46oz. This allows you to brew quite a few espressos without having to refill.
Plus, the milk frothing wand has a good range of movement. It's also easy to maneuver out of the way when you aren't using it.
There have been some reports that the quality of espresso from the EC100 degrades over time. And that excessive use will lead to consistently weak shots being pulled. But, this all depends on usage:
If you're planning on making lots of coffee every day with your espresso machine, then you are better paying a bit more for something more solidly built. However, if you're looking at saving money by replacing your morning coffee from a café with one at home, then this machine will serve you well for a few years at least.
This espresso maker does run into a couple of the same issues we find with a lot of budget espresso machines under $100 or even $200:
Firstly, the 15 bar pressure isn't enough to get all the flavor from light or medium roast beans. Additionally, pulling multiple shots in a row leads to inconsistency in the espressos. So if you're looking at pulling 4 or 5 shots in succession, then there will be a drop-off in the quality.
This comes down to what you're looking for from your espresso machine.
Do you want a cappuccino, latte, or espresso before you head to work in the morning and maybe another in the evening? If so, this will do the job nicely for you at a good price.
However, if you're looking to make coffee for 4+ people (or more than 2 double shots for yourself) every morning. Plus more during the day, then it won't have the consistency or longevity you need.
Overall, this is a good semi-automatic espresso machine for the occasional drinker.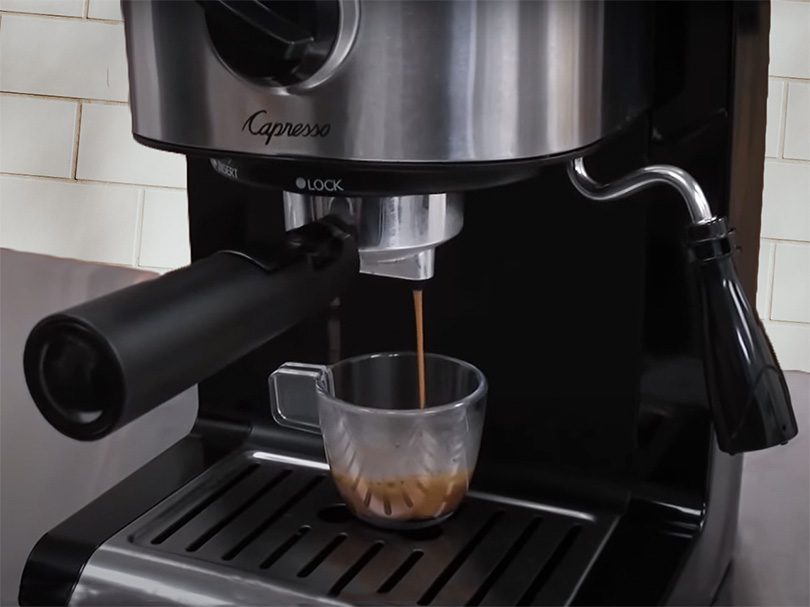 There are a couple of nice added features that stand out on the Capresso EC100:
Firstly, there's the milk frothing wand with a plastic sleeve. This allows you to make steamed milk for either cappuccino or latte, depending on your preference.
It works remarkably well, although it isn't the fastest. But leaving the plastic sleeve on gives you a decent cappuccino foam and taking it off gives you nice textured milk with a little foam for a latte. There is no skill required which is a nice little feature at this price point.
Secondly, the warming plate on the top of the espresso maker. This removable plate will keep your espresso warm while your milk froths or will warm up the cups for you before pulling your espresso shot. It is also easily detached and cleaned.
It's rare to get any kind of bonus features on these budget machines so two that work well is excellent.
Remove Coffee Puck: Use the clip to keep the filter in place and knock the used coffee puck into the bin/compost/recycling.

Clean Portafilter: Thoroughly rinse the portafilter ensuring there are now coffee grounds stuck anywhere in it.

Clean Drip Tray: Remove and empty the drip tray before giving it a thorough rinse and wipe down.

Clean the Warming Plate: Remove the warming plate cover from the top of the machine and give it a wipe down.

Clean the Milk Wand: Take a damp cloth and thoroughly clean the milk wand, milk goes nasty quickly so make sure it's cleaned properly after each use.
The full cleaning process barely takes a couple of minutes to do.
Due to the thermoblock system, the Capresso will need regularly descaled. This is simple enough to do by adding white wine vinegar to the water and running a few cycles through to clear out the insides. It will need to be done every 3 months or so, depending on usage, just to make sure everything keeps working correctly.
Not keeping on top of the descaling will contribute to the degrading quality of espresso shots over time. That said, it is not a time-consuming process. 20 minutes or so every couple of months is hardly a huge ask to keep you fuelled with good quality espresso.
It's compact and looks pretty good with enough ability to fiddle around to keep you interested, even if you start to become a bit more of a coffee nerd.
The EC100 won't perform like a top-end espresso machine but then it's a hell of a lot cheaper so it wouldn't be fair to expect it to.
The main concern we have with this espresso maker is that it can't pull a lot of espresso shots in succession. And it seems to lose quality in a couple of years. Although, by then, you've probably saved enough by making coffee at home to buy a new one.
Don't forget to Buy Your Capresso EC100 Today
You Might Also Like
Beautiful, simple, and delicious espresso for around $1000? We had to test if such a thing was possible – read our Jura ENA 4 review to see

Jura ENA 8 vs Gaggia Babila is a battle of philosophies. Is the convenience of the ENA 8 superior to the precision of the Babila?