Hot and cold coffee? From a super-automatic espresso machine? Surely not. These are the initial thoughts we had upon reading about the newest Jura machine. It sounded too good to be true. So we obviously had to try it out and do a Jura Z10 review to see if we should be as excited as we think we should be.
The Jura Z10 is an exceptional espresso machine that is absolutely worth the price tag if you're a fan of iced coffee. More than just a gimmick, the cold coffees are superb and with Jura's signature looks and build quality the Z10 can churn them out for the next decade.
Here you'll find our complete Jura Z10 review and buying guide. We spent time playing with all the settings, trying all the drinks, and cleaning the whole machine to see what living with the Z10 would actually be like.
This article may contain affiliate/ compensated links. As an Amazon Associate, we earn from qualifying purchases at no additional cost to you. For more information please see our disclaimer here.
At a Glance: Jura Z10 Review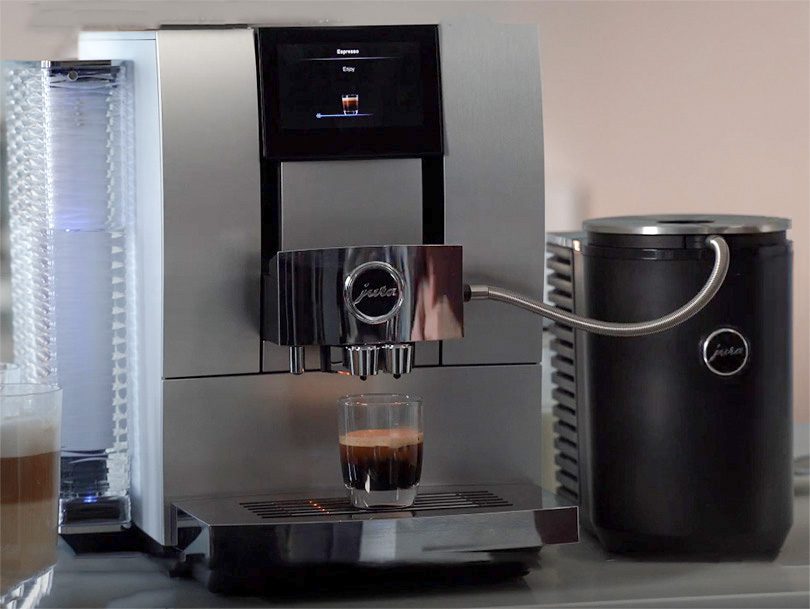 Jura Z10
The Z10 is a remarkable coffee machine that does something that no other fully automatic coffee machines can do: brew cold coffee. Whatever little foibles we may have with it (where is my milk container?!), we can't fault it's looks, build or performance in any way.
The sticking point is purely financial. With a high price tag, it has to be vastly superior to a low cost coffee machine. And it is.
If you're looking for an awesome coffee machine and the Jura Z10 is in your budget you should buy it, no question. Just buy a milk container and some whiskey rocks at the same time.
If you don't like cold brew coffee, then look at the Jura E8 or Breville Oracle Touch instead. Both are stunning machines with top end coffee making skills and awesome performance. But if you think an iced latte on a summer day sounds nice, there is nothing else out there like the Z10.
Pros
Makes 28 specialty coffees
8 cold brew coffee options
Special grinder adjusts automatically to the brewing method
Can be controlled remotely
Near endless customization options
Superb espresso and milk foam
Beautifully designed
Exceptional build quality
Cons
Expensive
Milk container sold separately
1. Product Recognising Grinder
The grinder will automatically adjust the grind size to suit the coffee selected. It is smart enough to grind more finely for short coffees like ristretto and coarser for longer coffees and cold brew specialty coffees.
2. Cold Extraction Process
Eight cold brew specialty coffees are available at the touch of a button.
3. Height and Width Adjustable Dual Spout
Not only can you adjust the height to fit your favorite coffee cup, but you can also adjust the width. This means you can use whichever 2 cups you have to hand.
4. J.O.E. App Compatible
Customize, save, and pour your morning brew from your phone with the excellent app. Set it to go from the comfort of your bed and have a perfectly brewed coffee waiting when you step into the kitchen.
5. 10 Coffee Strength Settings
Whatever your preference, you'll get it. Plus, it's variable for those days you need something a little stronger than normal.
6. 10 Milk/Foam Temperature Settings
Lava hot latte? Cool cappuccino? No problem – the Jura Z10 will always have your back.
7. Automated Cleaning
Self-cleaning protocols keep your machine in perfect working condition without the hassle of cleaning it yourself. When you're splashing the cash, you want to know that your espresso machine is going to stand the test of time and the Z10 is definitely on your side.
8. Easy to Use Interface
The gorgeous touchscreen on the Jura Z10 makes selecting, customizing, and saving your perfect coffee easy for casual coffee drinkers and coffee fanatics.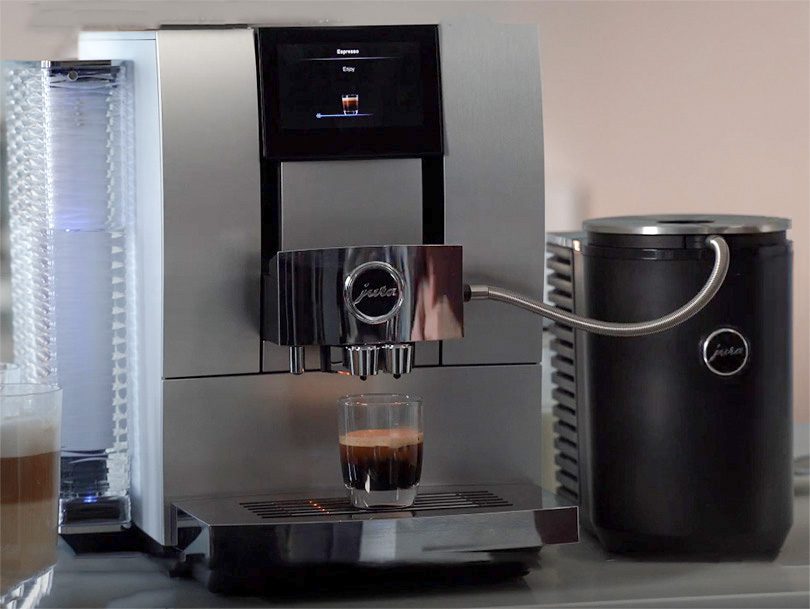 You have three options when it comes to brewing coffee on your Jura Z10 automatic coffee machine: touch screen, rotary dial on the side, or the J.O.E. smartphone app.
If, like me, you love playing with the settings, the smartphone app is a superb way to use the Z10. They boast that the app is now "twice as fast" which is nice, but does beg the question of "how bad it was previously?".
When you start using the Jura Z10, it can be a bit overwhelming with all the different specialty coffee options. Plus, it's easy to accidentally hit the wrong button and end up with the wrong drink. But once you get used to it, it's so easy to set up your favorite drinks. You can then save them to select from your own personal coffee menu.
On a rainy afternoon, it's worth taking the time to set up all your favorite coffees so you don't have to think about it when you're tired or *ahem* hungover. Coffee preferences can be saved on the machine so you don't have to select everything, every time. But if you have multiple people with different preferences then the app is the best way to keep everyone happy.
Using the touch screen or dial is basically the same process, it just depends if you prefer something more physical for navigating menus. The screen is 4.3 inches and beautifully displays all your customization options for grind, strength, brew temperature, and milk.
Automatic coffee machines are supposed to make brewing coffees easier and the Jura Z10 automatic coffee machine does that.
Milk Frothing
The quality of the foam produced by Jura coffee machines is not in question – it's brilliant, and don't let anyone tell you otherwise. You have 10 milk temperatures to play with, up to 150°F (66°C), and can happily fiddle with the milk-to-foam ratio to your heart's content. There's no functionality for latte art at this stage, but maybe on a future generation.
The quantity of milk is measured in seconds, to be fair to them I can't imagine how difficult it would be to use ml or g, you get used to it pretty fast. Here is a rough estimate of how much milk you get per second.
1 second of hot milk = 6ml (0.2 fl oz)
1 second foam = 4-5g (0.14-0.17 oz)
It's really hard to judge the precise amount of foam in volume but hopefully, this helps.
Here is my biggest annoyance with the Z10 though, you don't get a milk container with it. You can pay $40 or so for the Jura branded jug that you keep in the fridge, or just put the hose in any old jug you have lying around.
If you're feeling very fancy, you can buy one of Jura's special milk containers that keep milk at a perfect 4C for you and connect directly to their machines, at a cost of $300 or so. These things are a real pain to clean too, so keep that in mind.
To get the best out of your machine you have to use good quality espresso beans. After all, if you put rubbish coffee beans in, you get rubbish coffee out.
The fancy new grinder technology, or your own brilliance at selecting the grind size, will ensure every drink is perfectly extracted for full flavor. It should also be mentioned that the new grinder is slightly quieter than the Z8 too, which is nice.
The bean hopper lid has a good rubber seal to keep your beans fresh for longer too, a simple feature that is weirdly absent on so many high-end espresso machines.
There is the customary chute for pre-ground coffee for the occasional decaf, flavored, or any other kind of coffee that isn't your usual and you want to have on hand in pre-ground form. This is pretty standard on other fully automatic coffee machines too.
Just a note on the cold brew options, if you use pre-ground cold brew coffee the grind size won't match what the Jura Z10 is expecting. This means your cold brew coffees may be a bit rubbish – either thin and watery or bitter and over-extracted. But hot drinks will work perfectly.
To get the best results from your shiny new automatic espresso machine, you need to start with the best espresso beans.
Check out the top choices from experts throughout the coffee industry:
The Looks
I quickly run out of new words to describe how great Jura coffee machines look, and the Jura Z10 automatic coffee machine is no exception:
It's beautifully engineered with an aluminum front and plastic casing. The large touchscreen display and chrome details on the front of the machine and spouts add a sleek flash under your kitchen lights. It looks like a seriously premium piece of kit, which of course it is. Sleek, minimalist, stylish, and classy, are all good words to describe the Jura Z10.
As with almost all super automatic espresso machines, the Jura Z10 is not a small coffee machine. It stands at 15 inches high by 12.5 inches wide by 17.7 inches deep. So, it's going to take up quite a lot of space on your counter. Remember that the bean hopper is on the top too, so you need access to it for refills.
The water tank has a lovely geometric pattern on it, which not only makes it look great but also means if you scratch it over time it won't be as noticeable as with a sheer plastic one. It is only on the outside too so no need to worry about trying to clean all those little crevices.
It's going to be the focal point of almost any kitchen unless you have a particularly impressive stove or some incredible sculpture.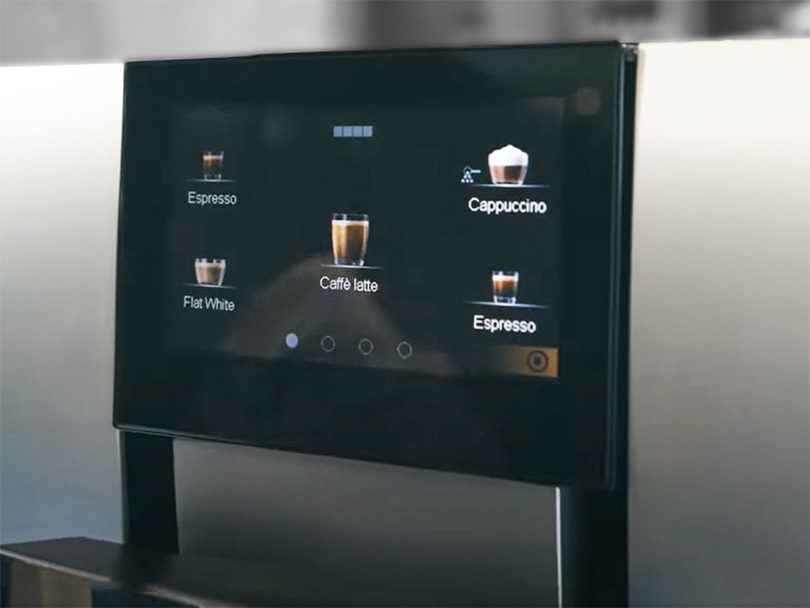 The Build
The Jura Z10 continues the company's reputation for high build quality and precision design. A couple of things of note on the Z10 are that even things like the drip tray feel solid and premium. Some of the other Jura models have quite flimsy feeling drip trays and grounds bins, it's not a problem it's just something we notice. The Z10 feels solid in every single element, even down to these less sexy parts.
The bean hopper has a rubber seal and fits very snugly so your 9.9oz of coffee beans stay as fresh as possible and the beautifully crafted water reservoir holds a staggering 81 oz of water. The whole machine weighs 27lbs, there's a lot of complex machinery and motors in there adding weight, I can't think why you'd consider moving this thing around unless you're moving apartment/house so the weight doesn't bother me at all. I'd be more concerned if it was light.
The new stainless steel grinder, well new for the Jura Z range, with its automatic adjusting for each coffee is still a reliable high-quality grinder that should last a decade or so of use. The slightly quieter grinding vs earlier Jura coffee makers is a nice bonus. It is also a feature on the Jura Giga 6, but that's a full $1500 more than even the Z10 (compare them both, here).
We love the fact the coffee spouts adjust horizontally as well as vertically. Ok so we don't own any cups that require them to move horizontally but I like that I have the option to do this if I want.
Connectability
One other thing to mention is that the Smart Connect is now over wifi instead of a Bluetooth dongle. It is also included on the Z10, which it isn't on many other Jura machines. Wi-Fi is more reliable and means there is a higher chance you can brew hot coffee first thing in the morning from your bed.
The different coffee strengths go up to 10 if you need to run through brick walls, see through time, or maybe are a new parent. Spinal Tap fans will be sad you can't turn your coffee strength to 11.
Jura coffee machines are unusual in that the strongest settings are actually far stronger than 99% of people will ever need. 15 years of working in the service industry means I medically need strong coffee just to wake up and anything above 7 is too much for even me. Which is amazing.
The only thing to note is that Jura programs the espresso to be too long, usually 2oz. We always turn this down to 1oz for a fuller-bodied, more flavorful shot.
The ability to play with the temperature and ratio of milk to foam gives you a genuine latte, cortado, flat white, cappuccino, and so on and so forth. This kind of milk customization really only comes at the top end of super-automatic espresso machines. The more budget-friendly options tend to give you a cappuccino-style foam which does not a flat white or latte make. It would be nice if they'd throw in the milk container though.
Overall the Z10 produces the best coffee quality we've had from a super automatic coffee machine, it's hard to compare side by side with every machine we've ever tried, but we certainly have never had noticeably better brews at the touch of a button.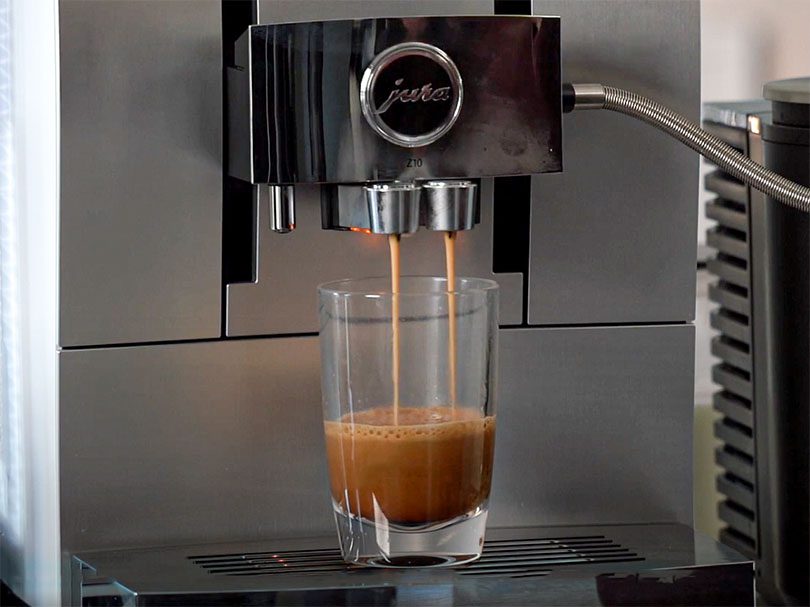 The Jura Z10 uses a coarser grind and pulses unheated water through the grounds, very slowly extracting the flavor and producing a cool, but not cold, espresso, lungo, coffee, whatever, that is slightly sweeter in style. So in this respect, it absolutely does make cold brew, and it's rather brilliant, to be honest.
If you're after a colder iced coffee then we recommend chucking some ice, or even better some reusable whiskey rocks, into your cup before brewing. You'll get a sweet, rich, beautifully cold, iced coffee in around 2-3 minutes. Cold brew specialty coffees from a machine – incredible stuff when you think about it.
If you're more of an iced latte/cappuccino drinker, you can turn the milk temperature right down, again chuck ice or whiskey rocks in your cup/glass, and you'll have beautifully chilled, milk specialty drinks. We think it's fantastic, the most versatile coffee machine available.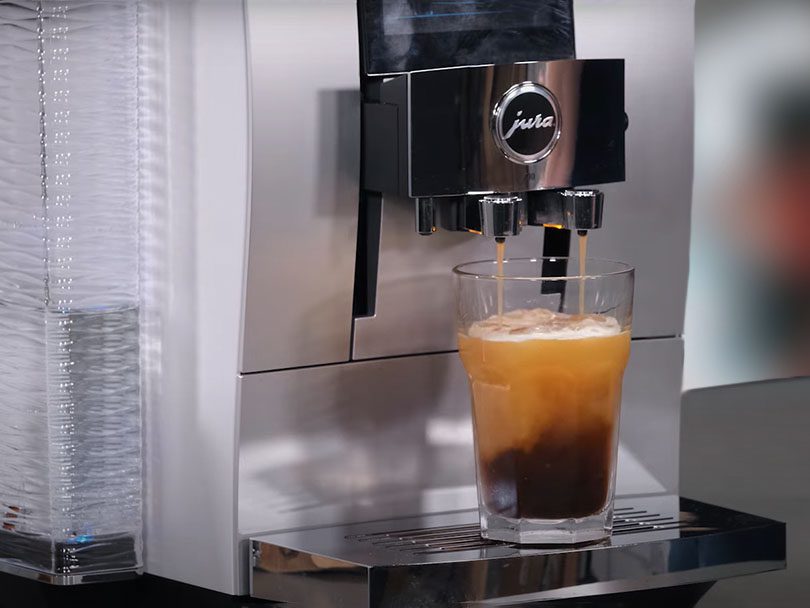 Not sure the Jura Z10 is the one for you?
Compare the Jura automatic coffee machines, each with individual reviews, to find your perfect match:
The usual suspects of the pulse extraction process, the pre-heating, the getting the bloom and the grind perfect are all present in the Jura Z10, and most Jura coffee machines to be honest. All with their fancy acronyms and confusing explanations such as "3D brewing" – if anyone has a coffee machine that manages the coffee brewing process in two dimensions, please let us know.
The new and exciting piece of kit is the cold extraction process. As we've mentioned above, this means automatically grinding the coffee coarser and using a longer extraction time while pulsing the unheated water through the grounds. A cold espresso takes 2 minutes to extract and has the characteristic sweeter flavor of a cold brewed coffee.
The best thing is that this works for 8 of the specialty coffees offered by the Z10 from espresso to cortado to flat white. Now you'll need ice or something to make genuinely iced coffee as the milk is still warm and the water is merely not heated rather than chilled. But having the option for cold brew specialty coffees sets the Jura Z10 apart.
The Z10 will automatically rinse after use, which is fine as the water tank and drip tray are both huge. The Claris water filter will mean descaling is a very infrequent job and you can see when the next one is due on the app. You do need to be at the machine to perform descaling but the screen takes you through all the steps and it only takes 20 minutes or so.
If you've opted for one of Jura's milk fridges then the tubes will need to be frequently cleaned which, unfortunately, is not so easy. If you're just using a container, branded or otherwise, then this is much simpler.
Jura recommends its own branded cleaning products which are more expensive than others although not outrageously so. Plus, when spending this much on a coffee machine we always feel it's worth spending a little more on the maintenance too for longevity.
The brew group is fixed and can't be removed for deep cleaning. Whilst some people don't like this, it doesn't seem to cause any issues. If you want to give your Jura Z10 some extra TLC, you can take it to a Jura specialist for cleaning every year or two.
*UPDATE* A fellow coffee geek used a Jura machine for 1 year then dismantled it to check how clean the brewgroup was. It was spotless, Jura's internal cleaning works perfectly.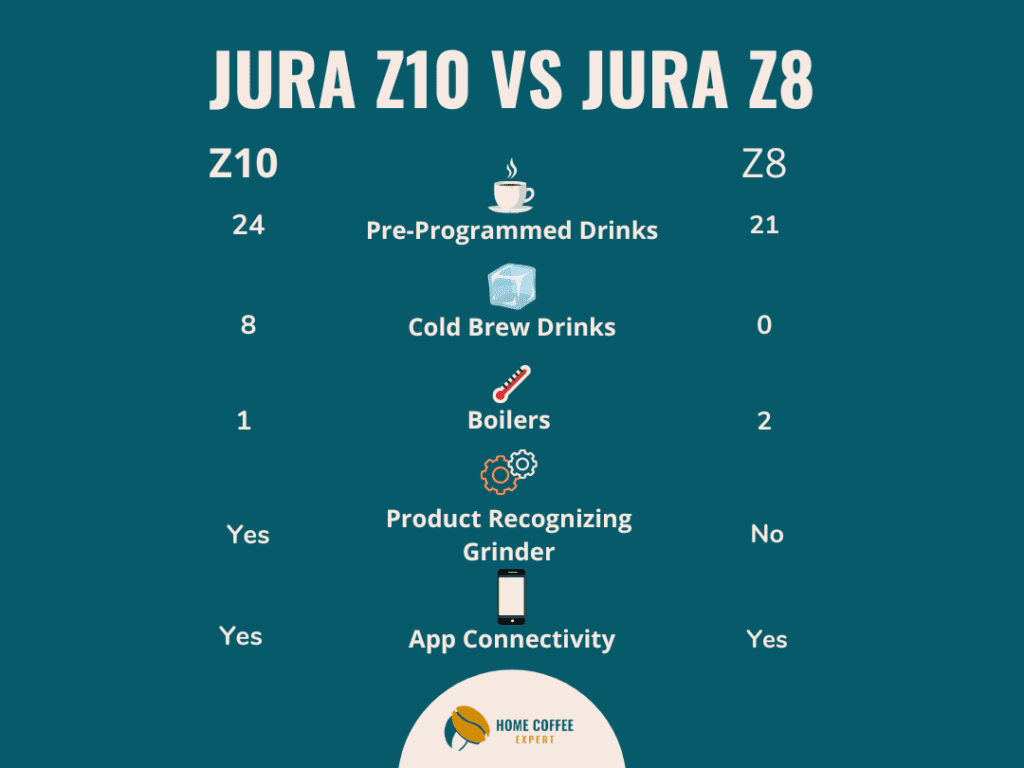 With the exception of two features, these Jura coffee machines are nearly indistinguishable. Firstly, the Z8 has two boilers compared to the Z10 which only has one. And the Z10 can make cold coffees.
We've talked a lot about how good the cold coffee function is on the Jura Z10, assuming you like cold coffee. So, let's look at the slightly strange decision by Jura to go back to one boiler after having two on the Z8.
So the reason for having dual boilers, as lots of the best super-automatic espresso machines have, is that you have one for coffee and one for milk. This means there's no need to wait for it to cool down or heat up; instantaneous coffee to milk and back again. Seems sensible.
Now the waiting time between coffee and milk on a single boiler coffee machine can vary but on the Jura Z10, it's barely noticeable. They have apparently put in a new steam valve and the "intelligent pre-heating" has removed the need for two thermoblock heating systems.
The latte from the Z10 is much better than from the Z8, so maybe they're right. But maybe that's all the other updated stuff like the grinder. We still maintain that making 5+ milk-based drinks in a row will be irritating with the wait, but then who actually does that at home?
You can get some good deals on the Z8 as it's been discontinued and it's an incredible coffee maker.
While you won't be able to get brand new machines like the Z10 refurbished, you can get some slightly older Jura models at amazing discounts.
These coffee makers look like they're brand new and come with a 1-year manufacturer's guarantee, new ones come with 2 years. Considering the quality of the build on Jura machines, I'd be expecting 5-10 years' use out of them if properly maintained.
1st in Coffee has an excellent selection of refurbished Jura coffee makers so you can grab yourself a bargain.
This is the first coffee machine that does cold specialty coffees at the touch of a button, so I guess they can charge whatever they like.
That is the main point with the Jura Z10, do you want cold brew specialty coffee? If you don't, there are many other coffee machines like the Jura E8 or Breville Oracle Touch which are significantly cheaper, look stunning, and will make vastly superior brews than the average pod coffee machine.
Overall, the Z10 is an innovative coffee machine that is worth every penny of the price tag. If you can afford to spend this much, it is the overall best coffee machine on the market. The looks, build quality, functionality, and quality of coffee and milk foam are all as good – or better – than other coffee machines available. This is ultimately all you need to know. The only major issue I found in our Jura Z10 review is that they don't include a milk container, which says a lot.
Don't forget to buy your Jura Z10 On Amazon | On 1st in Coffee
You Might Also Like
Beautiful, simple, and delicious espresso for around $1000? We had to test if such a thing was possible – read our Jura ENA 4 review to see

Jura ENA 8 vs Gaggia Babila is a battle of philosophies. Is the convenience of the ENA 8 superior to the precision of the Babila?