Starting the day with great coffee should be a legal requirement. But it often requires a lengthy, complicated precision process. Or, an expensive habit at your local coffee shop… Or is there another way to start the day right?
That's where our Breville Oracle Touch review comes in. This truly is the top dog of the coffee makers: Serving up professional barista-quality coffee at home, automatically taking care of every part of the process for you. Whilst also allowing you an incredible level of customization.
There's just one catch – that impressive skillset comes with an impressive price tag. So we are here to help you work out whether it justifies that price tag and, ultimately, if it's worth it.
We have scoured the internet for all the Oracle Touch espresso machine reviews to collate with our own, meaning we have the most comprehensive review you can find. Whilst not all home coffee experts give numerical scores, we have averaged these out. Therefore, you can get a consensus opinion on how good this automatic espresso machine really is and know for sure if it is right for you.
This article may contain affiliate/ compensated links. As an Amazon Associate, we earn from qualifying purchases at no additional cost to you. For more information please see our disclaimer here.
At a Glance: Breville Oracle Touch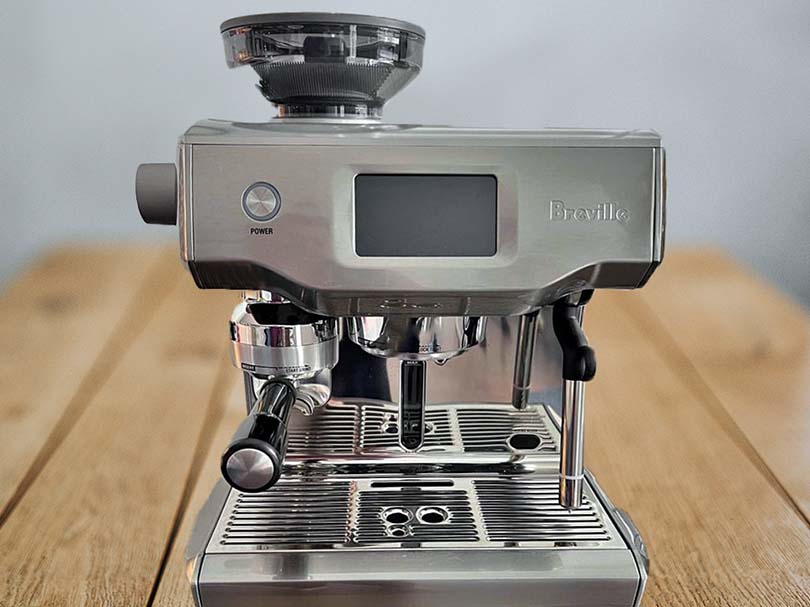 Breville Oracle Touch
As a coffee nerd, I absolutely love the Oracle Touch. I think it deserves binning half your kitchen appliances just to make room for it.
You can endlessly fiddle with grind and temperature to get the perfect espresso for your different beans. You can perfect your latte art. And you can probably sell a kidney so you can afford it.
If you aren't in the market for personalized perfection and, instead, just want to push a button and for delicious coffee to appear, then this isn't the machine for you. Though it can be very simple to operated.
Using this incredible machine, you'll feel like a barista and can show off your superb coffee. It doesn't matter how inexperienced/ tired/ hungover/ drunk you are, you will always create perfection.
And, for me, that has to be worth the money
Pros
Pulls high quality espresso
Great for beginners and experts
Automatic milk frothing
Easy to clean
Incredibly consistent
Can make nearly any coffee at a touch
45 grind settings
Cons
Very expensive
Big and heavy
Takes a while to heat up
1. Touch Screen Interface
Coffee drinks selection can be done through the intuitive, easy-to-use touchscreen interface. Simply swipe through the options on the LCD touchscreen to choose your coffee.
2. Top-Quality Integrated Burr Grinder
With 45 grind settings, you can fine-tune your grind size depending on your beans and coffee preferences with amazing precision.
3. Dual Boilers
A dedicated boiler for coffee and milk means you can steam your milk at the same time as your espresso pouring.
4. Precise Water Temperature
Alter your water temperature by increments of 2ºF.
5. Perfect Milk Every Time
Choose your milk temperature and level of microfoam to get that perfect milk, no matter what coffee you are making.
So, does the Breville Oracle Touch really qualify as a super-automatic? After all, you do have to move the portafilter from one place to the next in order to brew your coffee. And you have to place the milk jug under the steam wand.
Truly a Herculean effort in the morning whilst desperately seeking caffeine.
However, we do put the Oracle Touch espresso machine into the super-automatic category. Why? Because you don't actually do any of the processes in coffee brewing yourself.
You simply push a button and your coffee is ground and tamped. Then you move the portafilter and your espresso shot is pulled. The milk is also automatically steamed to your preference.
If you feel this is too much work then there are machines like the De'Longhi Magnifica XS where you literally just push a button and go. But boy, you are missing out.
The Oracle Touch is a brilliant piece of coffee engineering from Breville that draws you into the process of making great coffee but takes care of all the bits you might mess up. Like having an expert Barista Rat controlling you as you go….. or maybe we watch too many animated films.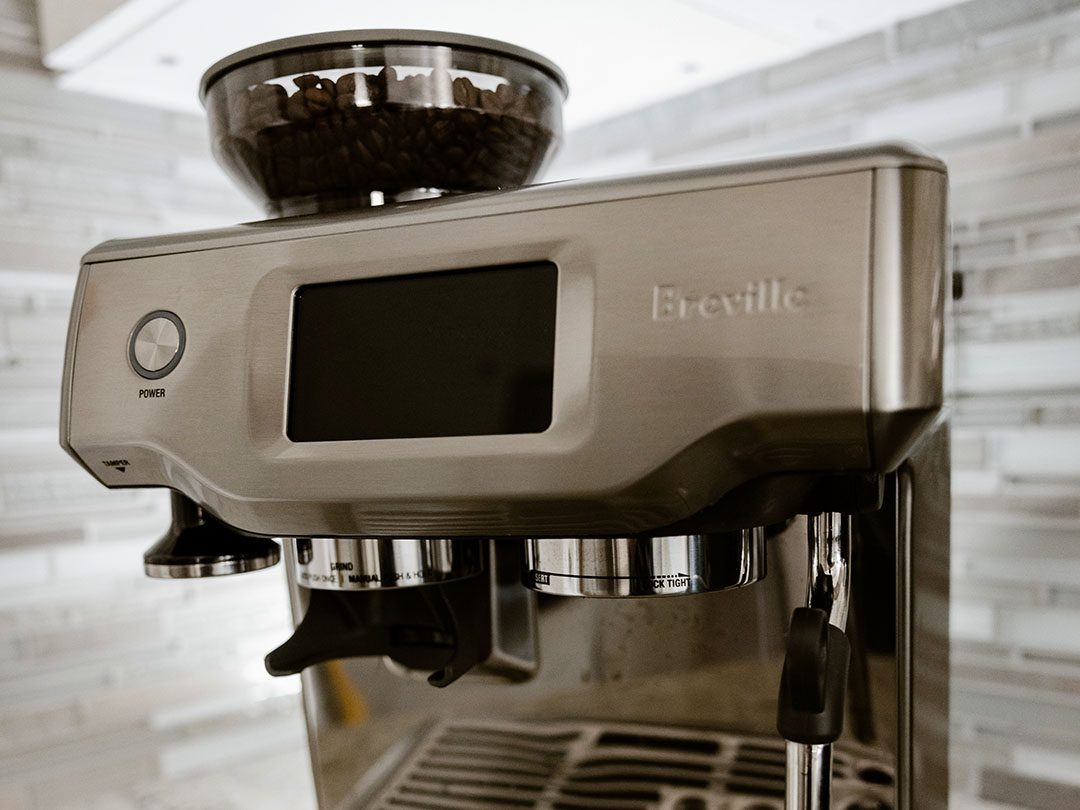 Starting by selecting your preferred grind size, the machine will perfectly dose and tamp the portafilter for you. This can, of course, be adjusted – not only grind size but also dose amount (the default is 22g).
Then, once you have locked the portafilter into the group head, the Oracle Touch will pour a single or double shot. You can also play with the volume and water temperature if you wish. Plus, the group head sports a dedicated heating element to keep the portafilter at temperature.
While your espresso is pouring, your milk can be foaming at the same time. The presets work perfectly but you can still play with the temperature and level of foam you are looking for. You can even manually foam the milk if you prefer, although it isn't necessary as the automatic foaming is very good.
It sounds like a lot of steps vs just touching a button. But if you don't want to do any fiddling with settings, you literally just move the portafilter from one place to the next and put the milk jug under the steaming wand.
What is so brilliant about this coffee maker is that you can really get into the weeds on grind size, dose, water temperature and volume, milk temperature, and foam stiffness, if you want to.
It's basically impossible for a total novice to mess up. However, it also allows the more seasoned espresso maker to make the subtle changes they feel necessary to get the best out of their beans.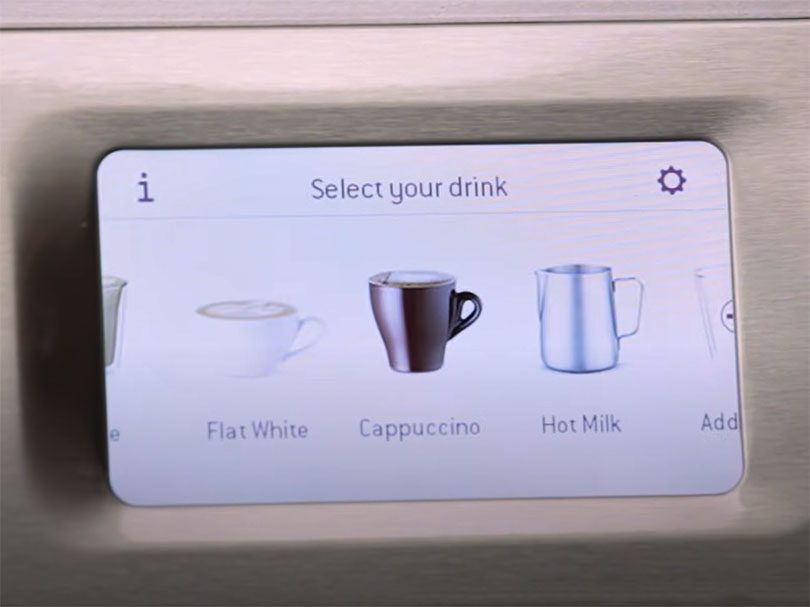 However, as it uses a portafilter system, you can use pre-ground coffee if you prefer. If this is your preference, you will need to buy a separate tamper as it's otherwise all done internally. Whilst not ideal, tampers aren't expensive to pick up.
You wouldn't want to do this often. But the occasional decaf coffee for a guest may be something that you would want to use pre-ground for instead of whole beans.
To get the most out of your shiney new espresso machine, you need the best espresso beans.
Check out the top choices from experts throughout the coffee industry
The Looks
The Oracle Touch is a fairly bulky machine – 14.7 inches by 14.5 inches by 17.6 inches. So the bean hopper can be difficult to access if you need to fit it under cabinets or shelves in your kitchen. It's also seriously heavy, 37.3lbs, so you don't want to be moving it around too often.
Personally, I love the look of it. It's bold, bordering on ostentatious, but it looks like a proper espresso machine. It comes in brushed stainless steel or "black truffle". For me, the stainless steel looks better. But whichever you choose, it will become a feature piece in your kitchen.
The LCD touchscreen is bright, eye-catching, and easy to read. If modern tech isn't for you and you prefer buttons and knobs, the Breville Oracle (not Touch) is a better choice.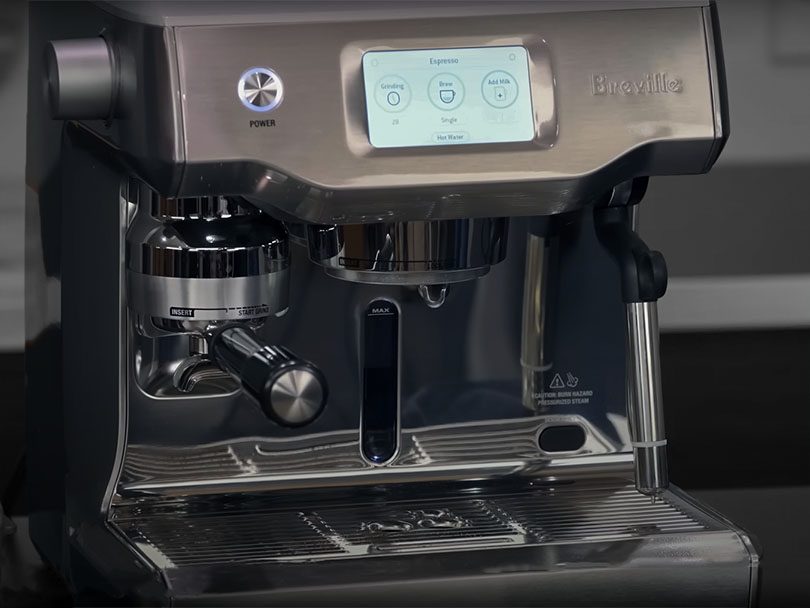 The Build
As you'd expect from a fully automatic at this price range, the Oracle Touch has dual boilers. This means your coffee can brew at the same time as foaming your milk. So, even if you have to make 5 or 6 coffees in a row, it won't take too long.
At such a high price tag, you may expect your coffee machine to do all the work for you rather than moving the portafilter yourself.
But, having control over these things is what makes this machine so exciting to coffee nerds like me. You can play at being a barista, fine-tuning your espresso to absolute perfection. But in reality, the machine is doing all the work so you can't mess it up.
The Grinder & Milk Frothing
Many super-automatic espresso machines have 10-15 settings on the grinder. But the Oracle Touch takes it up a notch with a staggering 45 grinder settings. This is like having a $300+ professional grinder in your espresso machine, allowing you to dial in espresso shots to an outrageous level of precision.
The milk foamer is also spectacularly good. You can control the milk temperature between 104 and 167ºF – 104 is barely textured and 167 is boiled to death.
Plus, you can choose your foam consistency from 1-9: 9 is like a milk bubble bath, 3 is perfect for a latte, and I wouldn't go higher than 7 for a cappuccino. Either the machine can do this for you, or you can do it manually.
Of course, all the pre-programmed drinks come with "optimal" settings for coffee and milk froth. So you can push the buttons and enjoy or change things up and go your own way. It's the choice that is really impressive.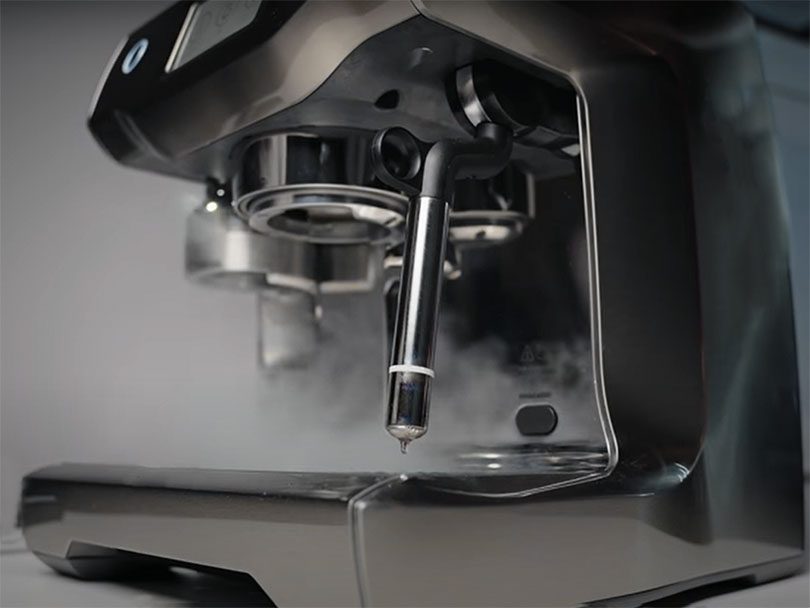 Love the Oracle Touch but don't love the price? If you can compromise on the touchscreen and ability to save your custom coffee creations, the Breville Oracle might be the one for you:
It has everything you need for quality coffee: an excellent grinder, doser, tamper, and consistent temperature and pressure throughout extraction. You're paying a lot of money for this machine so making good coffee is the absolute minimum standard.
Where you'll really notice the difference between the Oracle Touch and other super-automatic machines is when you try different beans with different roasts or origins. Then you can get into customizing the brewing process accordingly to get the best out of them.
This can be done with a level of precision far beyond many machines, even at this price point. This is the coffee machine for someone who wants to explore the full spectrum of coffee – both single origins and roasts.
If you're looking at using your favorite beans every day to make your preferred coffee, then it's something that you'll probably never use. In that case, you're better off looking for a cheaper machine that makes your preferred drink at the push of a button.
Not sure the Breville Oracle Touch is for you?
Check out our picks of the top super automatic espresso machines
The Oracle Touch espresso machine stands head and shoulders above the competition thanks to its incredible features:
Having 45 settings on the burr grinder is far above what you'll find on any coffee machine. It's in the realm of stand-alone top-end grinders.
The precision in brewing temperature and volume of water is also superb. Many machines will allow you to choose between 5 set temperatures, at a push. But the Oracle touch lets you change by 2ºF at a time. Again, it's all about precision.
The automatic milk frother is brilliant, altering temperature and foam level depending on your preferences.
All these settings can then be saved so you don't need to remember your settings. In total, you can save up to 8 custom drinks. So you can either enjoy the variety (it is the spice of life, after all) or save yourself from arguing with family members who like it a little different from you.
There are also brushes to give the machine a good clean every so often. But you don't need to worry about wet coffee grounds building up in your brew group.
The steam wand needs wiped down after each use but will clean itself internally, which is great.
The grinder comes completely apart so you can remove any grounds that have gotten stuck in there. This only needs to be done once a month and doesn't take long at all.
Really, it's more of a "clean as you go" style coffee machine. Which, compared to the occasional deep clean that other super-automatic machines require, makes a big difference. So just comes down to preference – little and often or big but rare cleans.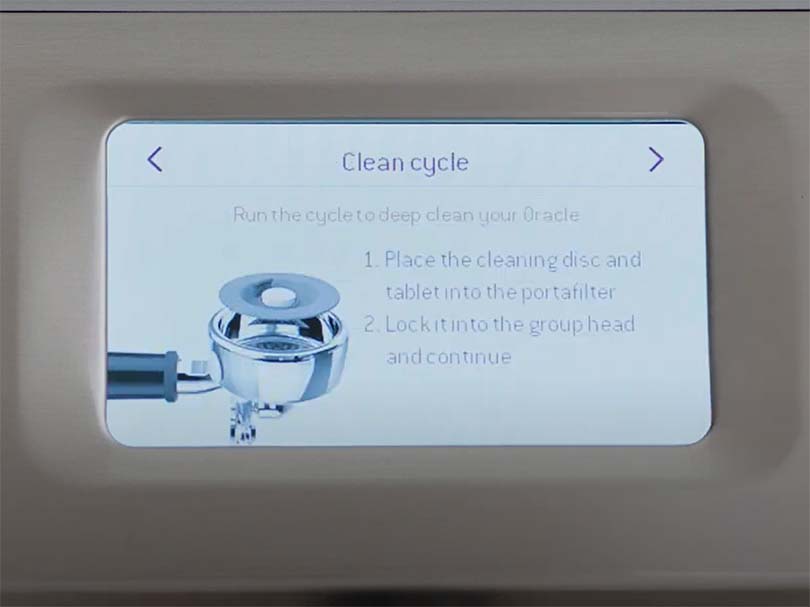 Both automatic espresso machines use Breville's intuitive LCD touchscreen interface. So, with both machines, you can easily select and customize your barista-style drinks. Then save your preferences to your user profile.
But, there are a few key differences:
First up, and most noticeably, the Barista Touch is smaller. So, it will take up less room than the behemoth Oracle Touch but also has a smaller portafilter, bean hopper, and water reservoir. But when we say smaller, we don't mean tiny. It is still a sizable machine.
The Barista Touch loses one of the automatic features of the Oracle Touch. Instead of automatically grinding and tamping your coffee beans, on the Barista Touch, you have to press the portafilter into the grinder cradle to activate the grinding. Then you have to tamp it yourself too.
Finally, you only get a single boiler on the Barista Touch. So you can either brew or steam milk, not both at the same time. The boiler temperature is also pre-set and can't be changed so you lose some of the precision control that the Oracle Touch offers.
Like all things, you have to balance your priorities. The Barista Touch costs a lot less, but you also lose a lot of the functionality. So, you need to decide which is more important to you.
For us, it's a resoundingly big positive to the Breville Oracle Touch review. The fact that it can be used by amateurs and experienced baristas alike is amazing. And, no matter your level of experience, you will get superb results.
I love that it feels like making a coffee when you use it rather than just pressing a button. But, the detail of customization just blows my little socks off.
Don't get us wrong, it is not perfect:
You may not want to move portafilters around and put milk jugs under spouts to get your coffee. Especially when you're spending so much money, and I understand that.
You may not see the need for such a granular approach to customizing your coffee. And again, I can understand that.
But this espresso machine is definitely for you if you're interested in making great coffee at home and want a little help to make sure it's always great. Or if you want to explore everything from single-origin espresso to nailing your latte art.
If that's you, then this automatic machine is truly the best thing you can buy.
Don't forget to Buy Your Breville Oracle Touch On Amazon | Buy Direct from Breville
You Might Also Like
Beautiful, simple, and delicious espresso for around $1000? We had to test if such a thing was possible – read our Jura ENA 4 review to see

Jura ENA 8 vs Gaggia Babila is a battle of philosophies. Is the convenience of the ENA 8 superior to the precision of the Babila?