Do you want to learn how to make top-quality espresso but with the added bonus of a safety net to catch you? Then this DeLonghi La Specialista Maestro Review is for you.
For many years, De'Longhi has been a go-to company for budget espresso machines and super automatics that are great value and easy to use. But they also have some superb machines for those looking to make pulling espresso a serious hobby.
The La Specialista Maestro allows you to get much more into the details of pulling espresso than their other machines. It also has a safety net for you the entire time, so the worst outcome is still not bad. It also benefits from a bold design that we absolutely adore.
So let's jump right into our review of the DeLonghi La Specialista Maestro as we give you our full, unvarnished opinion. We break down all the pros, cons, features, and capabilities so you can decide if this is the right semi-automatic espresso machine for you.
This article may contain affiliate/ compensated links. As an Amazon Associate, we earn from qualifying purchases at no additional cost to you. For more information please see our disclaimer here.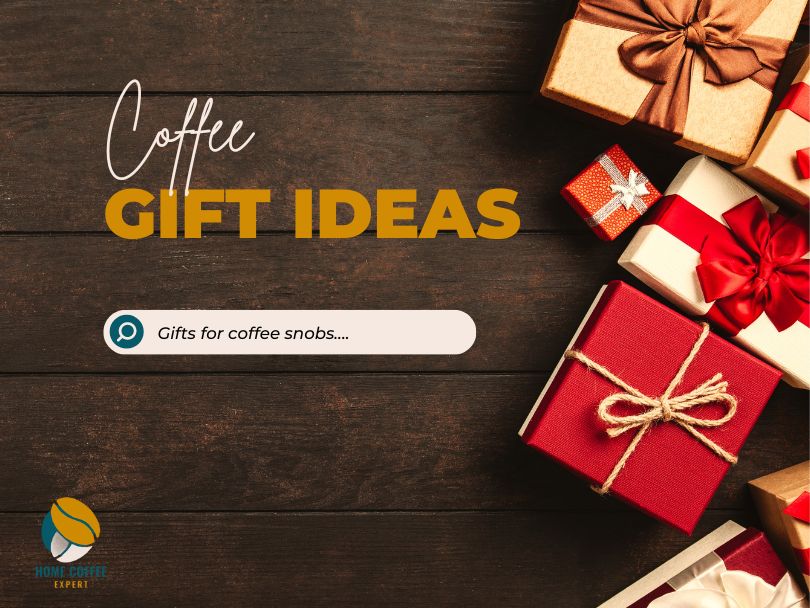 The holidays are coming. Which means stressing over the perfect gift is here too.
But stress no more. We've put together a list of all the best coffee gifts to please even the most discerning of coffee lovers in your life.
Check out our guide if they're on your 'nice' list. Or maybe be 'naughty' and buy something for yourself!
At a Glance: DeLonghi La Specialista Maestro Review
A bold look (that we love), more control (that we also love), and a helping hand so nothing goes too wrong. The Delonghi La Specialista Maestro has a lot going for it.
This machine is aimed at those who want to get into pulling espresso shots but only on medium difficulty.
Grind size, dosing, tamping, and water volume are all elements you'll need to nail for that perfect shot. But the La Specialista Maestro won't let you go too wrong. The flexibility to use either the excellent LatteCrema system or manually foam milk is also nice.
The downsides are that it's a touch messy whilst using, and it's limiting for serious espresso pullers.
But, overall, this is a great middle-ground coffee machine for amateur coffee enthusiasts. And just look at it *heart eyes emoji*. We'd take these looks over a plastic box any day.
Pros
Looks incredible
Gives you control and a safety net
19 bar pressure
Dual boilers
8 grind settings
Produces good milk foam
Dosing and temperature control
Easy to clean
Cons
Messy to use
Can't steam milk while brewing espresso
1. Grinder with Smart Dosing
The integrated high-quality conical burr grinder has 8 grind settings for you to choose between. Plus, the clever Sensor Grinding Technology ensures you get the perfect coffee dosing level every time.
2. Smart Tamping Station
All the best DeLonghi espresso machines come packed full of proprietary technology to improve your home coffee making experience. And their 'Smart Tamping Station' means you always get perfectly tamped coffee grounds with no mess. In other words, consistent coffee pucks and better-tasting espresso.
3. Five Brew Temperature Settings
Active Temperature Control gives you five adjustable coffee temperature settings to get the perfect extraction for your preferred type of coffee beans.
4. Dynamic Pre-Infusion
Another piece of proprietary tech that evenly wets the ground coffee and is adjusted depending on the density of your coffee puck. The result is a more even, consistent, and, ultimately, delicious shot of espresso.
5. Pressure Gauge
To help you perfect your espresso brewing technique, you can keep an eye on the pressure gauge throughout.
(Not sure how much pressure you need? You need to read our Espresso Pressure Guide.)
6. Six Coffee Options
On those mornings when you just need coffee NOW, then there are 6 pre-set coffee options to get you started. Just press a button and it will easily walk you through the simple steps to brew a cappuccino, latte, macchiato, espresso, long coffee, or americano. Zero thought needed.
7. Flexible Milk System
Getting an incredible microfoam is a skill that needs to be learned. And the My LatteArt Steam Wand makes that process smooth. But, for days when you just need the easy fix, the LatteCrema milk system will deliver your milk automatically with your choice of 3 foam levels.
The DeLonghi La Specialista Maestro coffee machine is as simple to use as you want it to be.
You can select one of the classic hot coffee options and it'll walk you through the process of dosing, tamping, extracting, and adding milk (if necessary). What is great about the La Specialista Maestro is that it also lets you subtly adjust all these stages if you want.
So you get the feel of being a barista without being thrown in at the deep end.
You can set your own ideal coffee dose using the left-hand dial, from 0-30. You can then control how much force you tamp with via the tamping lever. Once it comes to brewing, you can adjust the temperature, the pre-infusion, and of course the extraction time.
All these stages can be tweaked and adjusted until you're happy with the result. Ultimately the La Specialista works hard to stop you from pulling a truly dreadful shot. Which is ideal if you're new to all this. But for those looking for a more manual coffee machine to get into the minutiae of espresso, it's a bit restrictive.
The milk is similarly controlled. You can let it do its thing, using the LatteCrema system and just adjusting the foam level as desired. Or you can use the My LatteArt wand manually. Both yield milk as good as the best coffee machines.
Along the top, there are 3 big retro-style displays. The left-hand one shows your dose settings and where you are in the brewing process, the middle is the pressure gauge, and the third allows you to see your chosen coffee drink.
The first thing you'll need to choose is the dose setting which you alter using the first dial on the left-hand side. In the beginning, the 30 dose settings may be a little overwhelming. But they're pretty simple once they've been explained:
Each roast level is given 5 settings. Extra light is 1-5, then light, medium, dark, and extra dark accordingly.
It's unlikely you'll ever need to go above 25, but to each their own. Realistically you're probably not going to get a great espresso with a light roast from the La Specialista Maestro either. But with a little fiddling, the settings for medium and dark are great.
As standard, the La Specialista Maestro will dose for a single 1oz espresso shot. But if you would prefer a double, just hit the 'X2' button on the right-hand side of the dosing dial.
There are laser cut marks within the portafilter for maximum and minimum dose. We always go to the max line as we want as much flavor as possible.
Once you insert and lock the portafilter into place, the grinder will start its job. Of the 8 settings on the conical burr grinder, the standard setting is 5. But, when you make your first coffee drink, we'd move this down to at least 3 to start with. You may need to go finer but 5 (or above) is really too coarse in our opinion.
Remember to only change the settings while the grinder is in use. You can adjust it as you're running through some initial coffees to clean the system out and is very easy with a dial below the bean hopper.
When tamping, you'll probably want to pull the handle down twice to get a good tamp. But you may need to play around with this until you perfect your pressure and speed. If you want a professional-looking finish, remove the portafilter while the tamping handle is still down.
The in-built conical burr grinder has 8 settings for you to choose from to get the best from your preferred specialty coffee beans. Plus the dosing sensor will adjust the quantity depending on your grind settings to ensure you get an optimal coffee puck.
With all coffee machines, we advise using the best beans you can find. No machine will make great coffee from terrible coffee beans. (For recommendations from experts throughout the coffee industry, read about the Best Espresso Beans.)
There is also the option to use pre-ground coffee if you need to. We like having this flexibility for decaf coffee beans, flavored coffee, or just someone who can't tell the difference so isn't worth wasting your high-grade coffee on. We won't tell anyone.
The Looks
I could go on about the looks for a while here, I'm a little in love.
You get the very classic espresso machine look with stainless steel and black plastic. And we love the big dials and bold lines of the La Specialista Maestro – it looks like a classic car from the 1950s.
Everything lights up or flashes to help you through the process of brewing your coffee. The combination of digital and analog dials also adds to the aesthetic in our opinion. I guess it could be seen as a bit over the top by some, but we absolutely love a boldly designed coffee machine.
At 16.5 inches wide by 14.5 inches high by 18.3 inches deep, it's certainly not a small machine. So you need to make sure you have ample space for it. The height of the bean hopper will mean that you need space without cabinets above so you still have easy access to the water tank and for topping up your coffee beans.
But at least it'll look great while taking up that much room. It's also very similar in size to other top coffee machines like the Breville Oracle Touch or Gaggia Babila.
The Build
When it comes to build quality, DeLonghi puts its money where its mouth is.
They offer a 2-year warranty as standard plus you can get an extra year when you register the product. This is a big reason they have such highly-rated coffee machines.
The La Specialista Maestro is also mostly stainless steel and has fewer automated elements to break than other top super-automatic espresso machines.
Many people, including my parents, have used DeLonghi machines for years with no issues at all. Not a big sample size, but you get the point.
Our DeLonghi La Specialista Maestro review would be lying if we didn't mention our biggest frustration:
Despite there being 2 heating systems, you can't foam milk and brew espresso simultaneously. The waiting time in between is pretty much non-existent, but it's a little weird and annoying. Other coffee machines with dual boilers allow simultaneous milk frothing and espresso extraction.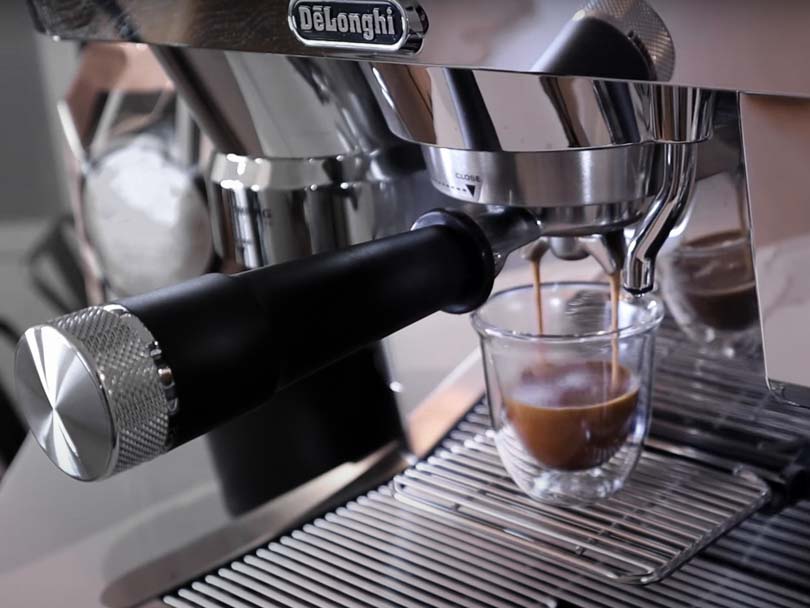 Once you've selected your preferred espresso drink from the dial, the settings are automatically adjusted slightly. You lock the portafilter under the grinder and it'll automatically dose the shot for you. Then you are fully in control of tamping using the handle.
All that's left to do is lock the portafilter into the brew head and off it goes.
Now it'll probably take a few tries to get it right. The default settings will yield good hot coffee, but you're going to want to adjust some things. It's all really simple and the displays and light-up buttons really help out with this.
This is exactly what you get the La Specialista Maestro for:
It'll hold your hand, gently offer advice, but ultimately let you do you. Within certain sensible parameters of course. This makes it a really good espresso machine for anyone who wants to make home coffee with some control, but not a lot of effort. Once you've nailed it, the consistency is superb.
You can use the automated LatteCrema system or the manual milk wand. Both work really well, so you shouldn't be disappointed with the results.
The LatteCrema has 3 foam levels and will produce a really nice microfoam for flat white, or great cappuccino foam. This DeLonghi espresso machine is also pretty clever as it will dispense the coffee and milk in the correct order, depending on your chosen drink.
If you'd prefer to try and nail your own latte art with the manual wand, it is very doable. But it will need some practice if you've never done it before. Ultimately, we're lazy and the results from the automatic system are so consistently good that we prefer to let the La Specialista Maestro do the hard work for us.
Not only is there an automated milk system, if you want to use it, but it's got smart dosing, tamping, and pre-infusion to help you nail the perfect espresso shot.
Generally, the semi-automatic espresso machines around the same price give you one of two options:
Much less help, but much more freedom.
Or a lot more help and nearly no freedom.
So DeLonghi has struck a really nice balance between automation and manual input for this machine. So if you're looking for an option that falls into that niche between the two sides, you will love the La Specialista Maestro coffee machine.
Rinsing all the parts with warm water after use is enough for daily cleaning. DeLonghi also provides a brush to help you clean any coffee grounds off the shower screen. Or any other areas that need a bit more work to clean properly.
The main annoyance is the level of splashback you get during extraction, although this is mainly an aesthetic one. In an attempt to minimize this, there is a little foldaway shelf you can put a short espresso cup on, reducing the distance to the spout. But, even then, there will still be some degree of splashing.
So, if you want to keep your machine in all its shiny glory, you will need to regularly wipe down the front. The coffee addict may spend a lot of time doing this.
The LatteCrema system is also nice and easy to clean, plus it's detachable for easy storage. You can dismantle it to give it a proper clean daily too.
This may sound like a lot, but it's only 10 mins a day max to keep it in good condition. All the top coffee machines will need some daily cleaning and it will ensure your machine lasts for years to come.
Remember to clean out the coffee bean grinder every couple of weeks too. You don't want a dirty grinder ruining your quality coffee beans. A soft brush is best, but you can use a vacuum if you like. And never use water.
You'll be prompted by the machine when it needs to be descaled (as most espresso machines do) every few months depending on your water hardness. Thanks to the dedicated descaling button, there's no guesswork required. The whole process should only take 20-30 minutes to complete too. Overall, really good.
We recommend only using DeLonghi branded descaling liquid, particularly whilst your machine is still under warranty. Failure to do so can cause issues that DeLonghi won't cover.
The Other La Specialista Models
The original La Specialista coffee machine has had a facelift and now comes in 3 options: the Arte, the Prestigio, and the Maestro. The Maestro is the top-of-the-range option with all the fun extras, but what about the other 2 La Specialista models?
DeLonghi has set these up in a nice sliding scale of how much control and help you want from your semi-automatic espresso machine.
The Arte lacks intelligent dosing sensors, Smart Tamping Station, dual boilers, and an automated milk system. It's much more on you to get that perfect espresso shot. Although, it does come with a nice dosing funnel, tamper, and tamping mat.
But, honestly, if you want to do most of the work yourself, you're better off buying a cheaper espresso machine, coffee scale, and grinder. For the same price, you can get far more control and precision if you skip the built-in grinder.
The Prestigio is in a similar boat:
You get 20 dose levels with the active dose control sensors, dual boilers, and tamping assist. There are only 6 grind settings, which is weird since the other models have 8. It also lacks the automatic milk wand. But it is $400 less than the Maestro.
Dialing in your espresso is much harder on the Prestigio and it doesn't look as good as the Maestro either. You also don't have the excellent LatteCrema system. We think there are better espresso machines at this price if you're looking for this level of functionality. The Breville Barista Pro for example.
On looks and functionality, the Maestro is worth the extra money. We feel both the Arte and the Prestigio aren't as good value compared to their competition.
La Specialista Maestro vs Breville Barista Touch
You may like the style of the Delonghi La Specialista Maestro but feel it's a little too complex. If so, the Breville Barista Touch could be the ultimate coffee machine for you.
The full-color touchscreen is easier to use for selecting and customizing a single coffee. It also has a superb milk wand with an in-built thermometer for perfect milk every time, and it needs less cleaning.
Breville coffee machines have a more simple and stripped-back look. But they produce great coffee. Less of a learning curve also means less control for you though. So something to keep in mind if you're leaning towards the Barista Touch coffee machine.
But if you're looking for the looks of an old-fashioned espresso machine but with all the ease of a super-automatic, the Breville Barista Touch is the home coffee machine for you.
Initially, it may seem daunting but with the help of the big displays and nice light-up buttons, you'll soon be making near perfect coffee that will rival your favorite coffee house.
If you want to graduate beyond that point and take a serious deep dive into espresso extraction, you will be limited. But if you're one of the many people who just want quality coffee without getting into the weeds on these things then you're exactly who this semi-automatic espresso machine is for.
Our DeLonghi La Specialista Maestro review reveals a machine in the middle ground. There are options that make things easier but we love the balance of complexity to functionality, and also just look at it. It makes a real statement on your countertop.
Overall, this is a really good option for the beginner home Barista willing to put in some work. Just not too much.
Don't Forget to Buy your DeLonghi La Specialista Maestro today
You Might Also Like
If you're a dedicated home barista looking to manually pull espresso shots without it costing a fortune, this Flair Classic review is for you

Traveling a lot gave us the perfect chance to do an in-depth Wacaco Picopresso review. A spectacular portable espresso maker for coffee lovers