Buying a good espresso machine is an investment. But, with the increasing number of companies and options available to you, it can be a daunting decision that can make or break your coffee quality (and the bank). Thankfully, Breville has an excellent reputation for making top-quality espresso machines for avid espresso drinkers so you are in good hands.
In our Breville Barista Pro review, we'll look at all the factors that matter when choosing an espresso machine so you can tell if it's right for you. Breville has a wide range of espresso machine options so it's important to make sure the Barista Pro is aimed at you or if they have a different machine that would suit you better.
We have scoured the internet for all the Breville Barista Pro reviews to collate with our own, meaning we have the most comprehensive review you can find. Whilst not all home coffee experts give numerical scores, we have averaged these out. Therefore, you can get a consensus opinion on how good this semi-automatic espresso machine really is and know for sure if it is the right fit for you.
This article may contain affiliate/ compensated links. As an Amazon Associate, we earn from qualifying purchases at no additional cost to you. For more information please see our disclaimer here.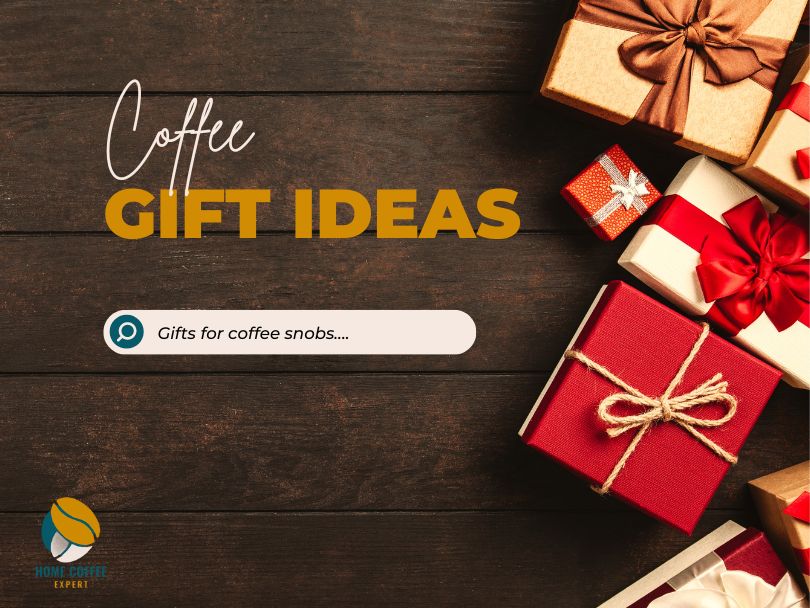 The holidays are coming. Which means stressing over the perfect gift is here too.
But stress no more. We've put together a list of all the best coffee gifts to please even the most discerning of coffee lovers in your life.
Check out our guide if they're on your 'nice' list. Or maybe be 'naughty' and buy something for yourself!
In Brief – Breville Barista Pro Review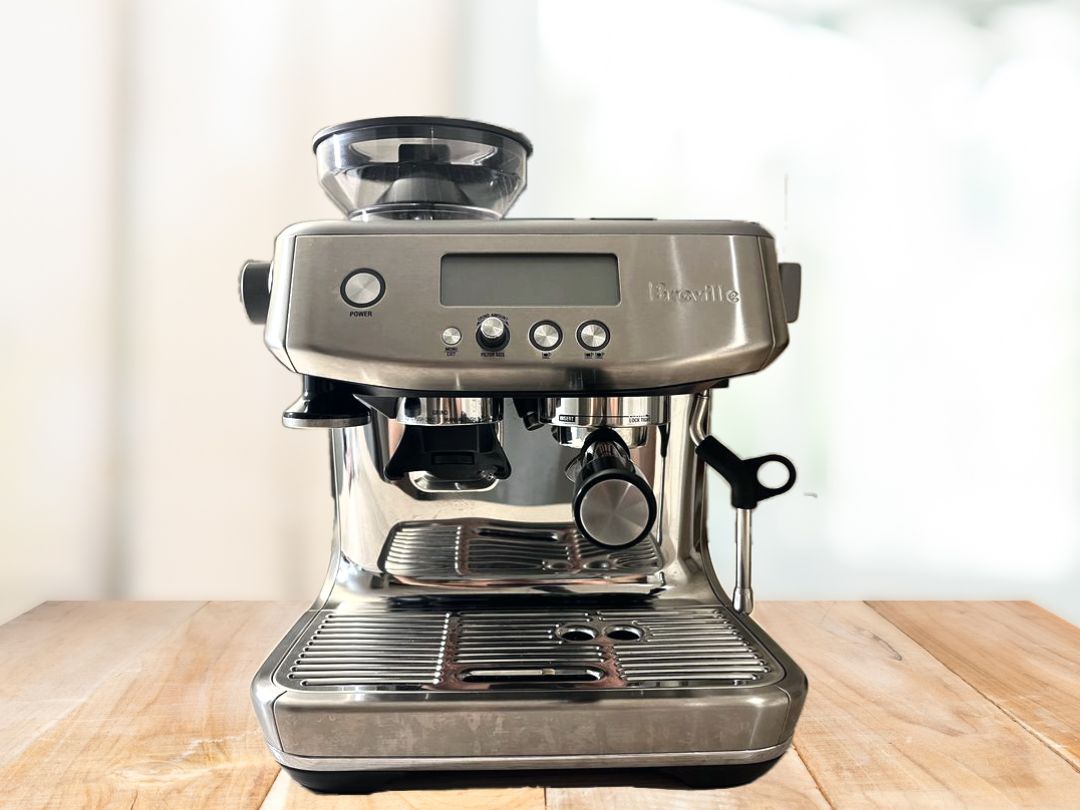 Breville Barista Pro
The Breville Barista Pro espresso machine is an outstanding coffee maker that allows you to make coffees as good as any professional barista. The LCD display, tamper, trimmer, and milk wand are all designed to help the average coffee lover pull espresso shots like a seasoned pro.
It can be a little messy, but it's one of the more compact espresso machines at this level of performance. It's also one of the most reliable espresso machines you can buy and should easily last 5 to 10 years.
This is a user-friendly espresso machine that can be used by beginners and advanced coffee lovers alike. If you're looking for more control than a super automatic espresso machine can provide at this price point, you won't be disappointed.
Pros
Quality built-in grinder
LCD display for precise grinding and extraction
High-quality trimmer and tamper
Pressurized and non-pressurized portafilter baskets
Can pull exceptional espresso
Easy-to-use milk wand
Heats up fast due to ThermoJet system
Cons
Cleaning is messy
Not the easiest for beginners
1. Innovative ThermoJet System
The TermoJet heating system means your espresso machine is ready to go in 3 seconds. It also greatly reduces the time between pulling espresso and foaming milk.
2. Integrated Smart Grinder Pro
The Barista Pro's integrated precision conical burr grinder comes with 30 settings that can be easily adjusted from a dial on the front. It also has dose control to deliver you the correct amount at the correct grind size for your chosen drink. You're essentially getting two-for-one: Breville's top-of-the-range Smart Grinder Pro and an incredible espresso machine.
3. LCD Display
The LCD display allows you to accurately time both the dose of coffee grounds and the extraction of your espresso shot. Being able to control both of these is critical for delivering top-quality espresso drinks.
4. Dual and Single Wall Filters
There is a choice of two portafilter baskets (both in single or double shot size) – either dual wall or single wall. Dual wall filters help to maintain consistent pressure and are great for beginner baristas. Single wall filters will allow the more experienced espresso puller to get more nuanced flavors from their beans.
5. Magnetic Tamper and Trimmer
An integrated high-quality tamper and trimmer – perfect for dosing and tamping your coffee grounds, making consistent extraction easy.
There is nothing complex about grinding the beans, tamping them down, fitting the portafilter, and pushing the button to pull your espresso. But getting that perfect 20-25 second extraction for a single espresso (25-30 for a double) with full flavor and a rich crema can take practice.
The good news is that the Barista Pro knows this and has features to help you out. There is a "dosing timer" on the grinder so you can work out exactly how long you need to grind beans for to get the perfect amount of coffee. The tamper and Razor trimmer are also excellent, really excellent. As an added bonus, they are magnetic and attach to the machine.
When it comes to extracting your espresso you can use a double-walled basket to ensure a good crema. Once you're confident in your espresso skills you can move to a single-walled basket to get more nuance to the flavors from your beans.
Then there is the extraction timer, with those easy-to-follow guidelines on extraction times, it's simple to adjust until you get it right. As home espresso machines go, this is one of the best for a beginner barista or a seasoned veteran of home espresso.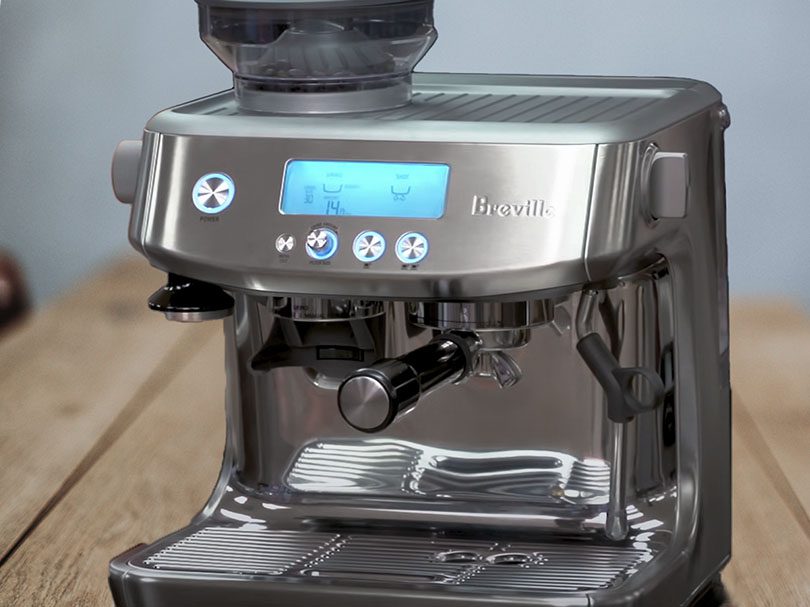 Who is the Breville Barista Pro For?
The Breville Barista Pro is for you if:
You want to learn about pulling perfect espresso shots or know quite a bit already.
You want to be involved in making your coffee, rather than just pushing a button.
Those looking for an easy "push button and go" type coffee experience may find all this a bit excessive. That's perfectly reasonable. There are super-automatic espresso machines available for those looking for a simple coffee experience that is still excellent.
The Smart Grinder Pro that is integrated with the Barista Pro has 30 grind settings and is easily adjusted via a dial on the front.
In-built grinders are always inferior to the best stand-alone models. However, you're looking at spending $400 or so to get a better electric grinder than the one in the Barista Pro. I'd say that makes it a pretty good deal.
Being able to use some pre-ground is helpful on those odd occasions you need to make some decaf coffee or (regular caf) for a guest or yourself. You will get inferior-quality espresso but you also don't have to empty the bean hopper out and clean the grinder just to make one coffee.
To get the best tasting cup of joe, you need to start with the best espresso beans for your shiny new espresso machine.
We asked coffee experts to pick their favorites and you can check out the results here:
The Looks
Breville espresso machines tend to be styled like professional espresso machines. You have the portafilter and milk wand, drip tray, and buttons/display running across the front. In brushed stainless steel this looks very slick – like a mini-pro setup has been placed on your kitchen counter.
The LCD screen and buttons make operating the Barista Pro espresso machine very easy. All changes are logged on the screen and your grinding and extraction times are clearly displayed for you to get the perfect results. It's a simple LCD screen, but it does the job nicely and I like how easy it is to operate with a few buttons and a dial.
At 13.9" x 13.5" x 16", it isn't a "small" machine. But it's certainly a more compact espresso maker than many others and doesn't take up an obscene amount of counter space. One thing to be aware of is you need to get into the top of the bean hopper which may be a little tight if placed under cabinets.
The Barista Pro is also available in 9 colors if you buy direct from Breville – Amazon only stocks 2. This customizable design is not a common feature on the more expensive espresso machines (like Jura machines) which tend to stick to shades of grey, white, and black. None of the colors are particularly bright, but there's bound to be one that fits your kitchen's general look.
The Build
Breville's build quality is superb. Everything is well engineered and finished to a high standard. Even simple things like the tamper and trimmer are of very high quality. They've also clearly thought out how people will actually use the machine, allowing them to attach magnetically for simplicity.
The integrated Smart Grinder Pro is a very high-quality conical burr grinder. While it isn't as good as the very best electric grinders available, you'd need to spend around $400 to get a better one. 30 stepped adjustments will be enough for nearly everyone to tweak their exact espresso setup, even those who adjust for room temperature and humidity. You only run into issues when you use very old, stale beans, so our advice would be to not do that.
The ThermoJet heating system is very impressive, meaning the Breville Barista Pro espresso machine is ready to use in seconds. You do need to flush some water through before pulling your espresso but you need to pre-heat your filter anyway so it's not really a hardship. Other similar espresso machines will take much longer to be ready to use.
Looking after your Breville should allow it to easily last 5-10 years. Many people are still using the previous version, the Barista Express, since its revamp in 2013. There's no reason to expect any less from the Pro.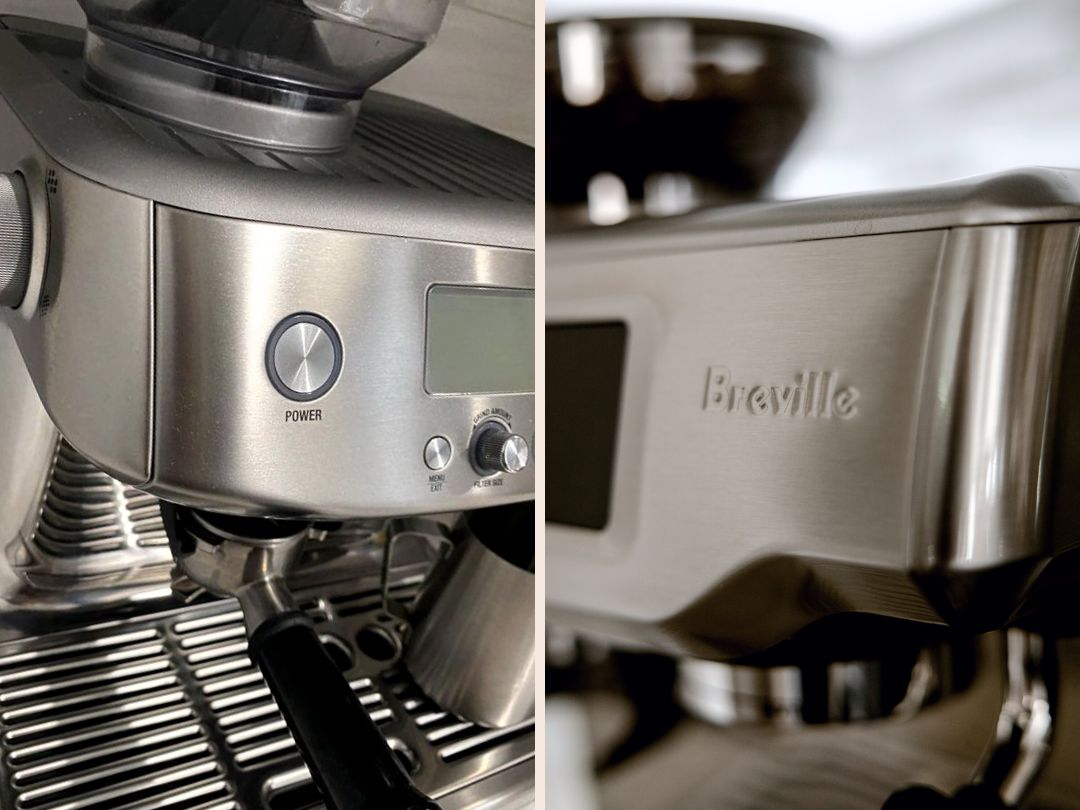 Nailing the grind size, dose, tamping, and extraction time are all key to getting that perfect coffee. That said, once you're dialed in, it's very easy to get it perfect every single time.
The Barista Pro is designed for those who want to be involved in the coffee-making process, but not necessarily those who are already experts in it. You need to want to get all the elements perfect, but the Barista Pro makes it very easy for the novice to do this. Having your extraction time precisely measured, along with your dose and grind settings, make it simple to adjust until it's perfect.
If you're someone like me who switches their beans quite often, you'll probably need to tweak your settings for each new type of coffee beans. This gets easier and faster with practice, and I really enjoy it. It's also true of various espresso machine models and not at all unique to the Barista Pro. But I understand it's not for everyone, and a more automated machine would make it easier.
Realistically it'll probably take you 2 or 3 attempts to get a really good coffee, and less than 10 to get a perfect one. It's not that complex and the Barista Pro holds your hand the whole way.
Milk Frother
The milk frother is a classic wand style you see on barista espresso machines. This means you need to work on your microfoam, but getting good textured milk is pretty simple. It also means you can get your latte art on, if that's your thing. Whilst super-automatic machines may look cool, they can't draw perfect patterns in milk as they take away the manual element that the Barista Pro still leaves up to you.
Other espresso machines in the Breville range have both automatic and manual milk frothing from the wand. But you need to shell out at least $1000 before you get that kind of feature.
Having your grind setting, dose time, and extraction time clearly and accurately measured allows you to make the small adjustments needed to make fantastic espresso with ease.
The Razor trimming tool needs to be mentioned too. It's one of the big reasons the Barista Pro allows you to pull such amazing coffee. Basically, the Razor trimmer is used after tamping your grounds to level out the coffee and ensures it's at the perfect depth below the rim of the portafilter.
It's really easy to use. After grinding the coffee, you tamp the coffee down firmly, then insert the Razor trimmer. By rotating the trimmer, you'll scrape any excess coffee that is sat too high in the portafilter. The result is a perfectly level coffee puck at the right depth for inserting into the machine.
Don't get me wrong, this isn't a cheap espresso machine and you can get some entry-level super-automatic machines for roughly the same cost. But the alternatives don't offer the same level of control that comes with a semi-automatic like the Breville Barista Pro. Nor the satisfaction from brewing perfect coffees yourself.
If your dose is a bit big, you'll get coffee grounds in the drip tray. It's likely this will happen quite regularly. The same issue comes with tamping and trimming your grounds in the portafilter.
You're likely to end up with a kind of coffee grounds/water sludge in the drip tray which doesn't look very nice. This only takes 30 seconds to clean, but it's slightly irritating nonetheless.
You need to stay on top of cleaning the milk wand too. Make sure to blast steam through it after use and clean thoroughly. It's very easy for milk wands to get covered in "burnt-on" milk. So make sure you wipe it down after every use.
Neither of these things takes long to clean, but they're a bit messy and is a slight inconvenience to do every time you use the machine. On the other hand, a more expensive super-automatic will need descaling and deep cleaning every few weeks but not a wipe down after every use. So it's a case of which do you prefer – "little and often" or "infrequent but in-depth".
The grinder will also need cleaning out every 2 weeks or so. It can be dismantled pretty easily, then you just brush out the gunk and grounds that build up in the burrs. This needs to be done with every burr grinder so it's not an issue that is unique to the Barista Pro.
Breville Barista Pro has more grind settings, heats up faster, has an easier-to-use display, and better milk frothing wand. There is only one thing about the Barista Express that we wish the Pro had: the pressure gauge which really helps you nail that extraction.
That being said, the LCD display makes adjusting your settings so easy that you don't need the pressure gauge. You can see from the extraction time if your espresso is going to be perfect and adjust from there.
The Pro is around $200 more than the Express. But it's worth every penny of that for a better grinder, better heating mechanism, better display, and better milk wand. Ultimately you are paying for better coffee.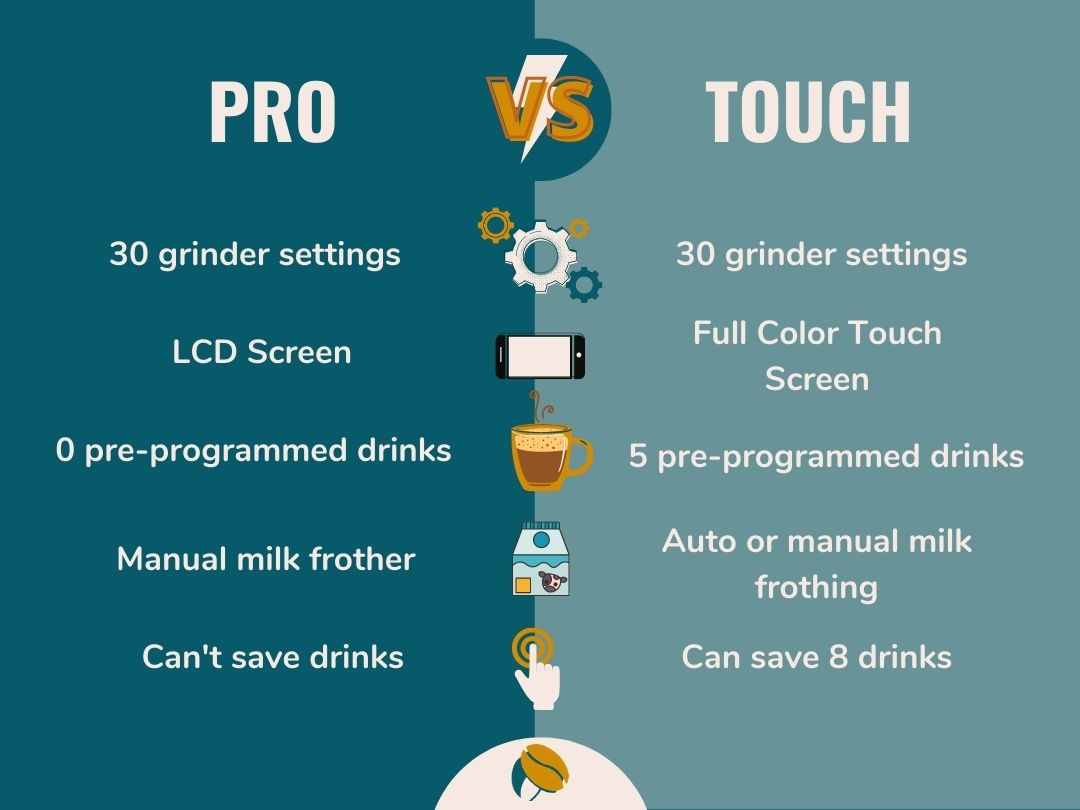 Brewing Your Coffee
Breville's Barista Touch comes with 5 options as standard: espresso, americano, flat white, latte, and cappuccino. These are just the pre-programmed drinks. It's possible to create and save up to 8 custom drinks of your own, so your favorite coffee is available at the touch of a button.
You still have to move the portafilter from the grinder to the brew head and put the milk into the jug for frothing, but the machine does the rest for you. Human error in dosing, tamping, extraction, and milk foaming are all removed. This makes the Barista Touch more of a beginner (or less interested person's) espresso machine.
The Barista Pro can make all of the drinks the Touch can, but you need to do it yourself. There are no savable options and no easily selected settings. It's very simple to pull the perfect espresso and froth the milk to your liking yourself, but it takes practice.
Milk Frothing
The automatic milk frothing is the big difference between the Barista Touch and the Barista Pro. All the drinks start with espresso, so if you've nailed your single and double shots then the machine doing it for you isn't really helping much. But the machine perfectly frothing your milk is a huge help.
You can wander off while your Barista Touch perfectly foams the milk for your flat white, safe in the knowledge that it'll be the same as last time. And the same next time. In fact, it will be consistently perfect every time.
Manual milk frothing is not particularly difficult, but you do have to pay attention and it's possible to occasionally mess it up. So, if you getting perfect milk every time with no effort sounds good to you then it may well be worth the extra $200 for the Touch over the Barista Pro.
The grinder, tamper, trimmer, and portafilters all make it easy for even a novice Barista to get a great coffee. With a little work, you can get exceptional quality espresso easily.
The Barista Pro does require some work from you, a little fiddling with settings to dial it in. It's not a "one touch" machine taking all the work out of your hands, and you'll need to learn to froth your own milk. Cleaning is also a bit fiddly.
With all that said, our Breville Barista Pro review shows there's a reason coffee lovers adore this machine. You can get exceptional coffee from it, you can foam professional-level milk and do it all with relative ease. It also looks great and isn't obscenely expensive. Overall, this is a great choice for any coffee enthusiast or beginner barista.
Don't forget to Buy your Breville Barista Pro today
You Might Also Like
If you're a dedicated home barista looking to manually pull espresso shots without it costing a fortune, this Flair Classic review is for you

Traveling a lot gave us the perfect chance to do an in-depth Wacaco Picopresso review. A spectacular portable espresso maker for coffee lovers