Jura has an interesting lineup of super-automatic espresso machines that makes categorizing them tricky. With the "entry-level" coffee machine costing $800 and the "top-of-the-range" model falling at around $5k, comparing them to other companies is complex.
Coming in as one of Jura's "mid-range" machines, this Jura S8 review looks at whether the super-automatic machine bridges the gap between the large, premium offerings and the compact, more-affordable options. But always keep in mind that its competitors are the flagship models of other espresso machine makers, as the price tag is still over $2500.
Here you'll find our complete Jura S8 review and coffee machine overview. We look at every aspect of the Jura S8 so know for sure if it's the espresso machine for you.
This article may contain affiliate/ compensated links. As an Amazon Associate, we earn from qualifying purchases at no additional cost to you. For more information please see our disclaimer here.
Jura S8 Review – In Brief
The Jura S8 automatic coffee machine is everything you want in an espresso maker. An extensive list of coffees is available at the touch of a button, all easily customizable to make your perfect cup. The touch screen makes navigation simple and you can operate everything from your phone if you prefer, which I do.
You have to move your cup across to get the milk (the horror!) Plus, it's a pricey option to purchase and to clean thanks to needing Jura branded everything to keep your machine in top shape. Jura automatic coffee machines all share this maintenance expense but they do last a long time so maybe they're onto something.
The result is an exceptional coffee maker that will produce perfect coffee, exactly how you like it, with great ease for years and years. Its only real problem is that the Jura E8 is better value, and the Jura Z10 is more impressive. The S8 finds itself sandwiched between two of the top Jura coffee machines, but any of the three will make you very happy.
Pros
15 customizable drinks
Superb coffee quality
Professional quality milk frothing
Auto-cleaning
Can be operated via app
Very simple to use
1. 15 Pre-Programmed, Customizable Drinks
The Jura S8 comes fully loaded with 11 coffee options, the choice of 2 hot water temperatures, plus the option for either hot milk or milk foam. All at the touch of a button.
2. Super Fast Aroma G3 Grinder
The Aroma G3 grinder is incredibly fast and quiet but manages to keep all those precious oils in the grounds – vital for great-tasting coffee.
3. Touchscreen Display
The 4.3-inch full-color touchscreen display couldn't be easier to use, it makes customizing your drinks simple. Great coffee really is just at your fingertips.
4. J.O.E. App Compatible
If you add Jura's Smart Connect accessory, you can connect your espresso machine to your phone via Bluetooth. The Jura Operating Experience – J.O.E amongst friends – can be downloaded from the app store on either Apple or Android devices, allowing you to personalize your coffees and save them for even easier caffeination.
5. Self-Cleaning Programs
Jura not only simplifies coffee making but also the cleaning up. The S8 espresso machine will rinse itself after use and will inform you when it needs to be descaled. Now if only it would clean the rest of the kitchen too.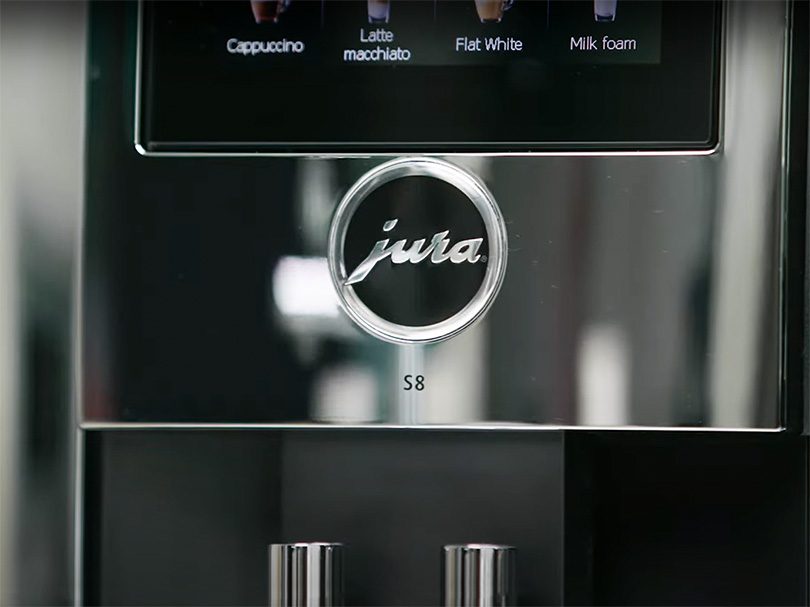 It needs to be mentioned that all automatic coffee machines at this price point are pretty simple to use. Where most Jura coffee machines excel is at making the thousands of possible combinations seem less daunting. They hold your hand as you pick your options and save them. So you only have to go through such an ordeal once.
The touchscreen could be better – sometimes it's not that responsive which can lead to selecting the wrong options. Whilst we're nitpicking here, user-friendly coffee machines need to be just that: easy for the user. There is also some really good competition out there so nitpicking seems appropriate.
J.O.E. Smart Connect
If you choose to get the Smart Connect accessory and use the painfully named J.O.E. app, it's even easier to get the best coffee from the Jura S8. You can select all your options on your phone and then save them for later. In the packet, it's just a piece of blue plastic but it will allow your espresso machine to talk to your phone via Bluetooth.
I personally love this feature because I like to tinker with things endlessly. Those who know what they like and stick to it may not get as much benefit. Other super-automatic coffee machines don't make choosing your coffee this easy.
J.O.E. has had some updates recently that have made it even simpler and more user-friendly. It was initially pretty overwhelming and not easy to use. Don't get me wrong, it's still not perfect but it's pretty darn good, allowing you to choose and perfect your preferred coffee and then send it to your Jura S8 coffee machine.
I also like making guests download the app to order their coffees to the machine. My wife says it's because I'm lazy but it's like having a digital barista in your kitchen – who doesn't want that?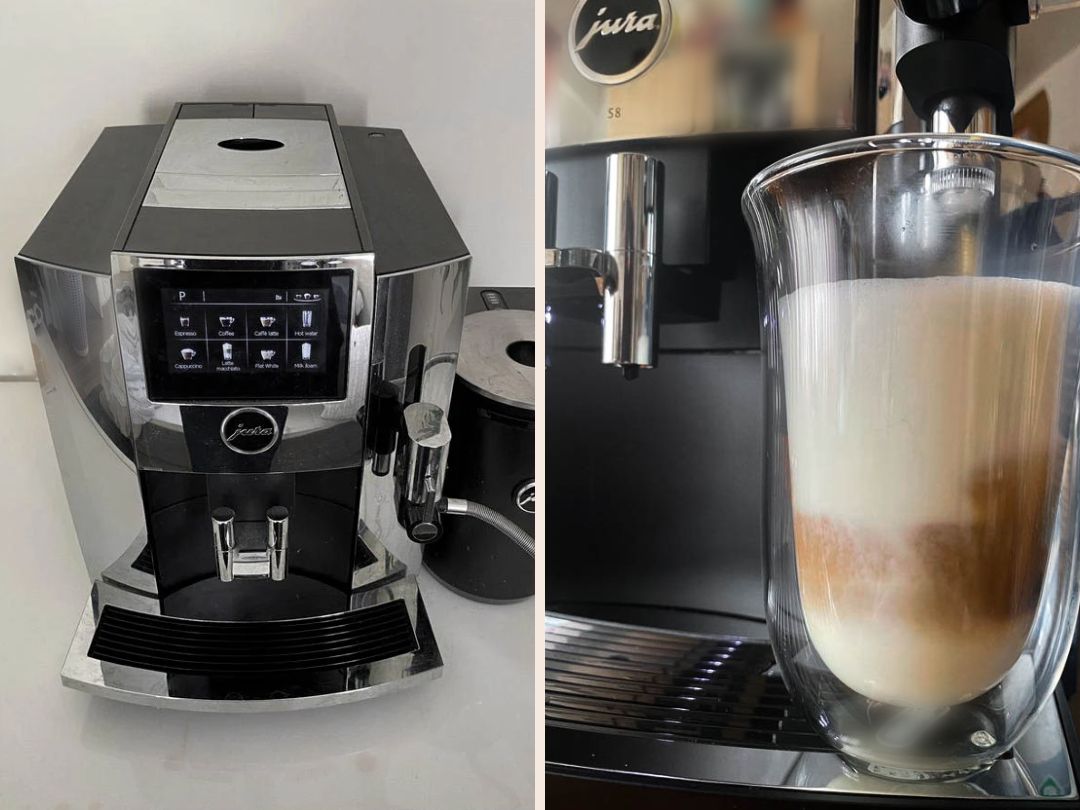 It's a standard case of put crap in, get crap out. It may feel like a magic amazing coffee box, but feed it bad beans and you'll still get bad coffee.
As with the other Jura coffee makers, there is also a chute for pre-ground coffee beans. We usually suggest this is for the occasional decaf coffee or perhaps the occasional fully caffeinated coffee or even flavored coffee.
Whilst many people will deem this an unnecessary feature, I'd be disappointed if the Jura S8 automatic coffee machine didn't have it. All the best super-automatic coffee machines do.
The Looks
The Jura S8 looks fantastic. Great curves, bright and beautiful touchscreen display. The chrome accents on the coffee and milk nozzles contrast nicely with the black or silver body.
Available in "moonlight silver", chrome, or black, it's designed to fit a stylish modern kitchen and achieves this very nicely. High-end coffee machines should look like they're high-end, something Jura excels at.
Jura doesn't do bright and colorful. They also don't do coffee machines that look like traditional espresso machines with portafilters and milk wands (their competitor, Breville, is a better bet if that's what you're after). Instead, they make sleek and beautiful coffee spaceships in neutral colors. I doubt this would put many people off; unless you have a super old-fashioned kitchen. So as long as you don't have an AGA and copper pans on hooks, a sophisticated Jura coffee maker will fit in nicely.
All those features need a place to live which means the Jura S8 is a big espresso maker. It's 11" x 13.8" x 17.3". Having 1.4 square feet of countertop space for a coffee machine is not a luxury we all have. It's obviously very heavy too, so you're not moving it unless you have to. But if you're blessed with a large kitchen, it's worth every square inch of space taken.
The Build
Part of the appeal of a Jura machine is the quality of the engineering that goes into it. Everything feels premium quality from the drip tray to the water reservoir to the bean hopper lid. It's this kind of attention to detail, combined with exceptional coffee quality, that makes Jura one of the best coffee machine brands in the world.
The water reservoir holds 64 oz, enough for a lot of coffees, and the bean hopper has a 10 oz capacity. The bean hopper also has a rubber seal and UV protection. So, you are safe in the knowledge that your coffee beans are being kept fresh while waiting to become espresso. The best Jura coffee machines all have features focused on keeping the beans in the best possible condition.
Most coffee machines use milk containers but Jura prefers to have a hose that can be placed in any container you like including a standard frothing pitcher. I like this as it means less wastage, just use whatever you have to hand. Jura also sells a very nice-looking milk container or the much fancier, all-contained unit – the Jura Cool Control. Avoiding having milk sitting in a container and going warm is a big plus for me.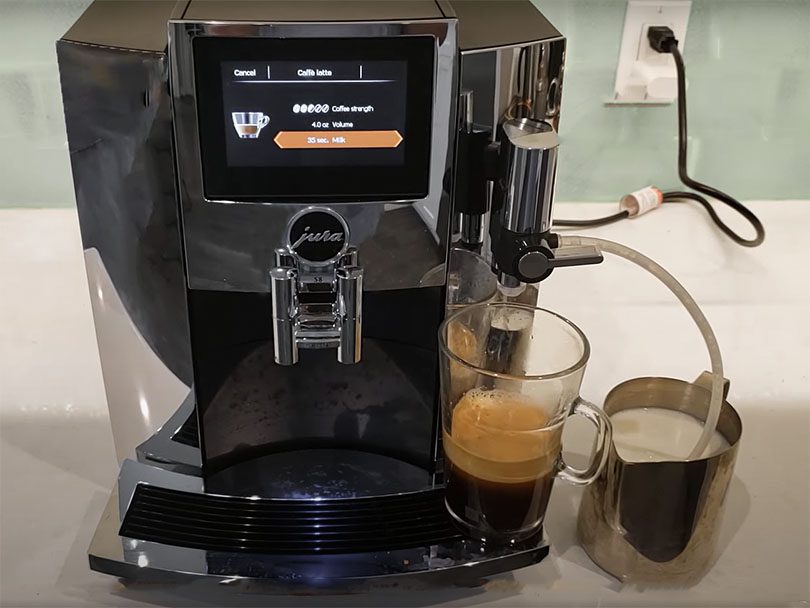 The pulse extraction process coffee brewing system that Jura uses in all its espresso machines gets incredibly consistent extraction. Rich and full-bodied espresso, bursting with the complex aroma of your beans is achieved without having to turn all the settings up to max strength. It's common on cheaper machines to need the settings at maximum to get a rich espresso. This is never a problem with Jura.
This means there is actually a point to the 10 strength settings – it's not just a few watery espressos and one good one. The array of options makes counting the many different coffee drinks the S8 can brew near impossible. Doing the math to work it out hurts my head so let's just say you could spend years trying different variations without repetition.
The milk foam is also very good quality and there is a manual lever to adjust the microfoam density. Although this doesn't change it an awful lot. But some people (like my friend and flat white fanatic) will notice the difference – for them, this kind of thing is very important. It should be noted that one of the S8's competitors, the Breville Oracle Touch, offers far more milk customization if that's your thing.
Want to see how the Jura S8 compares to the darling of the Breville coffee making range: The Breville Oracle Touch?
Check out our in-depth Breville vs Jura article for all the juicy details:
The reason Jura coffee machines are so popular and command such a high price point is that they have features that make brewing perfect espresso simple for anyone. The J.O.E. app is an amazing feature that makes all the available customization options easy to understand and use.
With the app, you can create and save lots of different coffees and then get your Jura S8 to make them with a tap. It is also Apple watch compatible so you can order from your wrist for the ultimate in 21st-century, coffee-making wizardry.
This saves messing about with different profiles on the machine to find your specific drink in the moment. Whether it's an extra strong flat white when you're hungover, or the super light latte you enjoy of an afternoon, just tap your phone and you're done.
It does cost extra – you need to buy a separate Smart Connect accessory. But by the time you're looking at a coffee machine at this price, spending a bit more to get arguably the coolest thing about it is definitely worth the money.
As the S8 uses a thermoblock heating system (the same as all Jura machines), it requires descaling every so often. This ensures the narrow passages of the heating system don't get blocked. But the S8 will let you know when to do this and, if you use a filter for your water, it'll probably be every few months.
The process requires some branded cleaning products and takes around 20 minutes. All in all, it's pretty painless though the cleaning tablets aren't exactly cheap. Most other coffee machines also require this descaling process so it's not a knock on Jura. They make it easier than most.
There are some who argue it's impossible to properly clean the brewgroup if it can't be removed and cleaned, like in all Jura machines. I don't know if this is true – I've never taken apart a 2-year-old Jura to check. But we've never had or seen any issues mentioned by people who've owned Jura coffee machines long-term.
There is no indication that this is an issue and Jura is so reliable in everything else that if they claim their cleaning systems work, I'm going to believe them.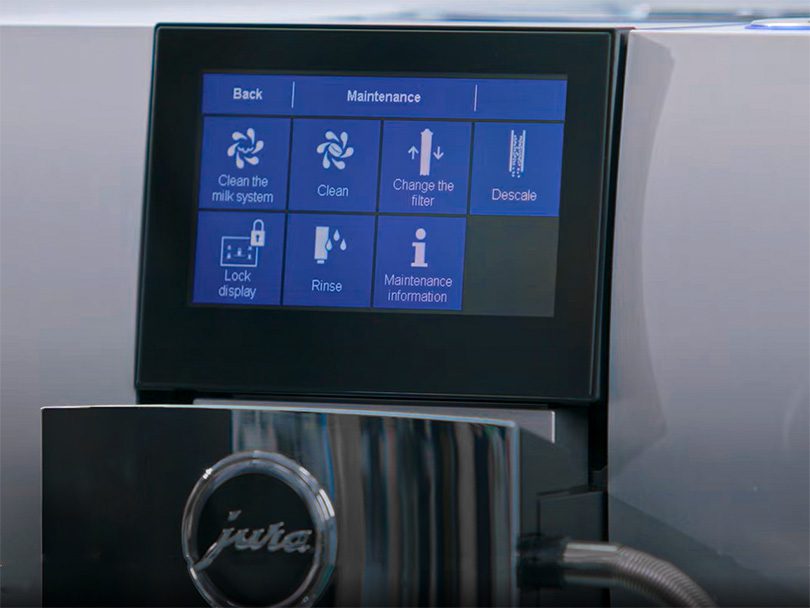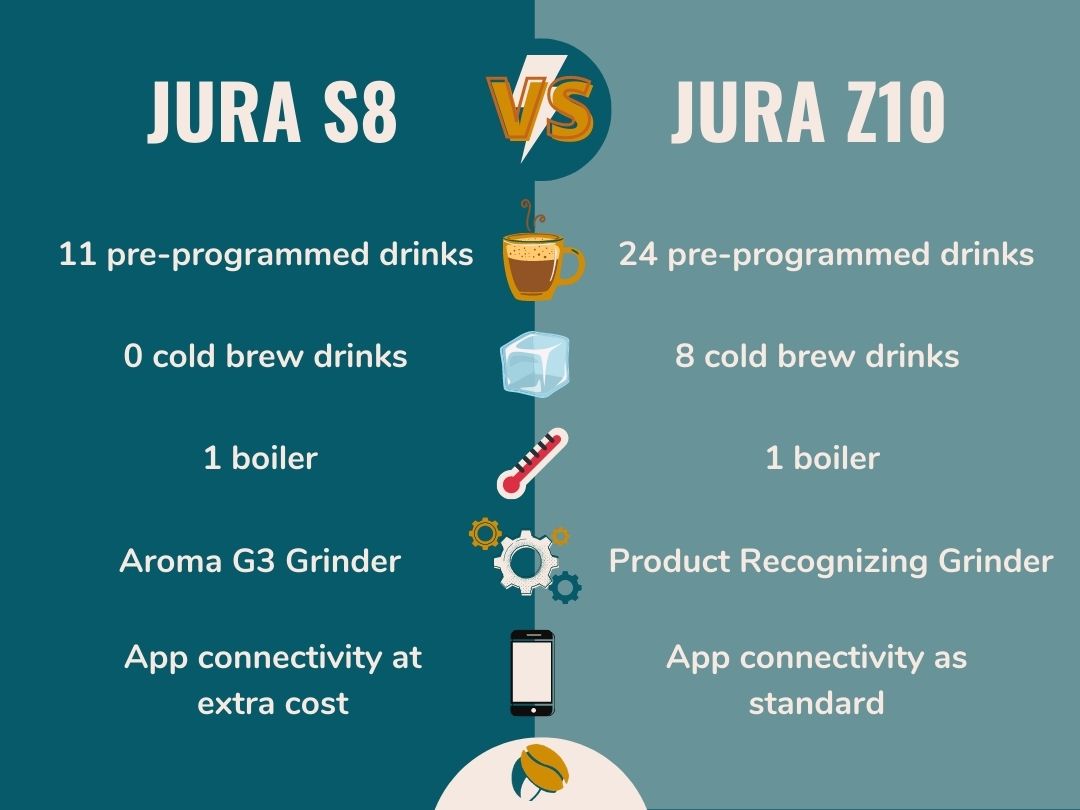 Coffee Options
The Jura S8 coffee machine has 11 different coffee options, once we remove the hot water and hot milk settings. The Z10 has an incredible 24 different coffee settings. But the biggest draw for the Z10 over the S8 isn't the number of coffees available, it's the fact that so many of them are cold coffees.
With the new "Product Recognizing Grinder" (P.R.G.), the Z10 automatically switches grind settings for each coffee. This allows it to use a completely different setting and brew cold espresso drinks (by cold we mean room temperature but you get it).
The Jura Z10 is the only espresso maker to offer this feature and you could well justify the price for this alone. Having features like this is what keeps Jura at the top when looking for innovative coffee machines.
Connectivity
The Z10 connects to your Wi-Fi and this feature comes as standard, rather than having to pay extra for Smart Connect like on the S8. The Wi-Fi connection is more stable than using Bluetooth. But I'm not sure how often I want to operate my Z10 from far enough away that Bluetooth wouldn't connect.
Not having to pay extra for the very useful app is a bonus. But when we're paying this much, it should be included.
Price
Buying a Jura Z10 will cost around $1000 more than the S8, so we're talking a lot of money. That said, the Z10 is a top-of-the-range espresso machine. Every possible piece of coffee brewing kit has been jammed into it and it genuinely does things no other machine can.
Verdict
If you want a genuinely exceptional coffee machine, the Z10 wins over the S8. No question.
But if you don't drink cold coffee and are looking at that big price jump, it's harder to justify the expense over the absolutely superb Jura S8.
Psst… Want to see how the Z10 stacks up against its predecessor, the Z8? Check out our comparison article here.
There are two big differences between the espresso machines: the E8 has 4 more coffee options in real terms, and the S8 has a touch screen and profiles to save drinks.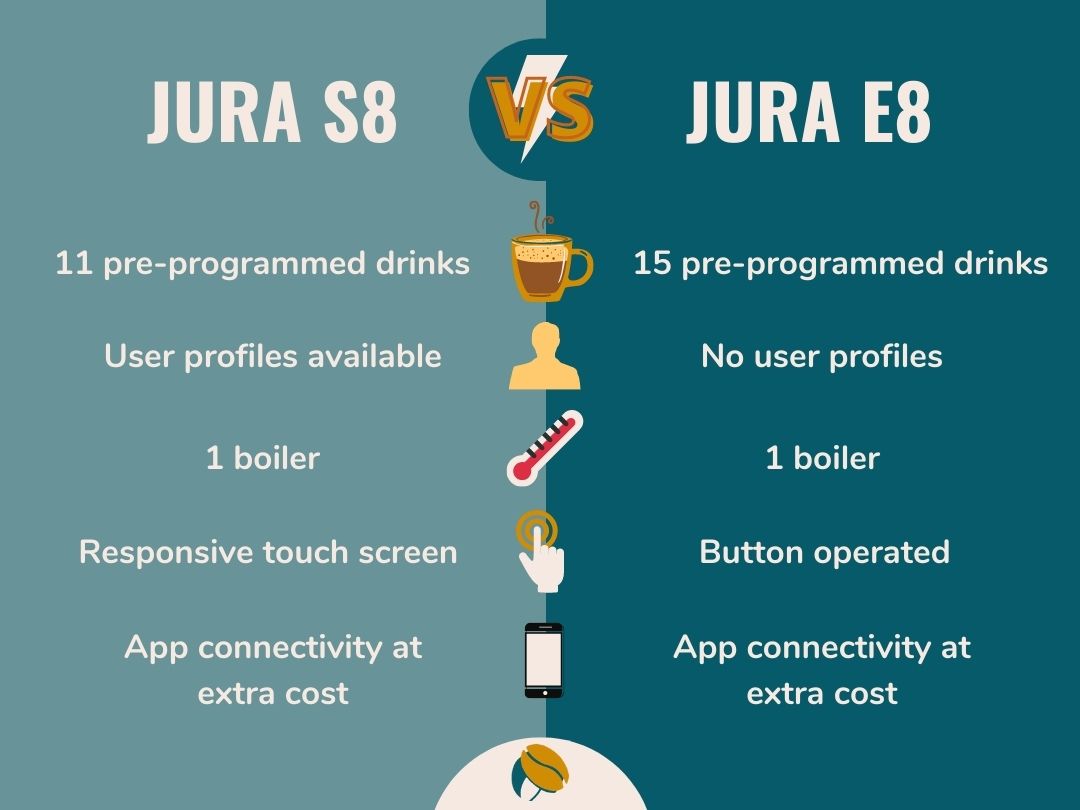 Once we remove the hot water and hot milk options from both machines we're looking at 11 drinks for the S8 and 15 for the E8 (advertised as 15 and 17 respectively). Now, most of these are just extra shot versions but it's a significant difference nonetheless. The S8 compensates for this with the ability to save many different coffee drinks to your profile in the machine making things a little easier.
This idea breaks down when you can get Smart Connect for both the Jura E8 and Jura S8, so you can save all the drinks you want on the app with both machines. So you're essentially paying $400 for a touchscreen display on your espresso machine – a hefty price tag, making the E8 our winner here.
Psst… Want to take a deeper dive into the differences between these two great machines? Read our full Jura E8 vs S8 Comparison here.
It is expensive, but if you're looking at getting a top-of-the-range espresso machine then it isn't massively more than the competition. Overall, we think the E8 is probably better value for a few hundred dollars less, and the Z10 is a much better machine if the price tag isn't an issue.
That said, if you want a great espresso machine that is incredibly easy to use, will customize your coffee exactly how you like it and will look sleek and stylish while doing it, then the Jura S8 is a superb choice. You won't be disappointed with your coffee quality and your machine will likely last 5-10 years.
While doing a Jura S8 review, you have to mention the other options around it. It's just a bit awkward in the Jura line-up, falling in no man's land between the functionality of the E8 coffee machine and the price of the Z10. They're all great coffee machines, it's just about picking the perfect one for you.
If this machine is perfection for you, Don't Forget to Buy your Jura S8 Today
You Might Also Like
Beautiful, simple, and delicious espresso for around $1000? We had to test if such a thing was possible – read our Jura ENA 4 review to see

Jura ENA 8 vs Gaggia Babila is a battle of philosophies. Is the convenience of the ENA 8 superior to the precision of the Babila?