When the temperatures rise and the sun shines down on you, there's only one sensible solution to cool you down: a refreshing, super easy cold brew coffee.
As long as you use the best coffee beans for cold brew, you will be rewarded with a smooth and mild drink with lower acidity and less bitterness than its hot coffee counterpart. This brewing method is a perfect way to bring out the more subtle flavors in your coffee beans.
So, what coffee beans should you use?
Well, there are definitely some options that are better suited to creating great tasting cold brew coffee than others. Luckily, we have picked out the best choices for you.
And to help understand why they made the cut, we explain which types of beans make the best cold brew so you can shop with confidence.
Lifeboost Biotics Cold Brew Coffee Beans
Lifeboost is an ambitious coffee brand with a focus on health and low acidity coffee beans.
Their Nicaraguan beans are sourced from a single, family-owned farm on Mt. Kilambé. The high altitude (5,700 ft) gives the coffee beans a moderate body with a bright fruity flavor. You will find both caramel and chocolate notes.
The focus of the brand is on organic, shade-grown coffee. Plus, all their beans are tested for toxins and pesticides by a third party to ensure the coffee you buy is as good for you as possible.
Healthy coffee beans are the prime focus of Lifeboost so you can expect low acidity levels. This is particularly good for anyone who has indigestion or acid reflux. Their coffees all have a pH of 6 or higher, making them ideal for anyone with sensitive stomachs.
You can opt for either whole bean coffee or ground. Plus, you can choose from light, medium, and dark roast. For cold brew, the best coffee beans are their whole bean Biotics Cold Brew to get the full nuance of flavor.
To learn more about Lifeboost Coffee, including reviews of all their coffees, jump over to this article.
Tiny Footprint Coffee Cold Brew Elixir
Tiny Footprint Coffee is a small US roastery focusing on two things in equal measure: great coffee beans and sustainability in the coffee supply chain.
By drinking their coffee, you can make an impact in the world through something you already love to do – enjoying a great cup of joe.
For every pound of coffee sold, Tiny Footprint offsets its carbon by funding reforestation in Ecuador's Mindo cloud forest. Thanks to the extra trees planted, the net effect is 50lbs of CO2 removed from the atmosphere, making them the first carbon-negative coffee company.
Aside from this amazing policy, they also work closely with coffee farmers. This ensures that their supply chain is 100% focused on paying everyone a fair price for their labor.
Their Cold Brew Elixir is a blend of light and dark roast beans, including some top-quality Ethiopian beans. It has been created explicitly for cold coffee brewing. The result is a slightly lighter style of cold brew than most, but with a nice punch of the rich, darker flavors.
Stone Street Coffee Cold Brew Reserve
The fan favorite out of all the best cold brew coffee brands: Stone Street Coffee.
It's easy to see why this small US roastery, based in New York is so beloved:
They small batch roast the beans in their Brooklyn roastery, focusing on the freshest quality.
Whilst they offer a range of flavored coffee beans for cold brew, you can't beat the classic dark roast flavor of their regular Cold Brew. The premium Arabica single-origin Colombian Supremo beans are dark roasted to perfection.
You can choose between whole bean or "cold brew grind". The latter is a great coarse grind that takes away all the guesswork for convenient cold brew coffee brewing. Either way, you can expect to enjoy a crisp, clean, well-balanced cup of coffee.
Stone Street Coffee has crafted this blend specifically for the cold extraction process. So, it's easy to understand why it's a favorite of cold brew veterans and newbies alike.
Café du Monde Coffee with Chicory
Café du Monde is a legendary institution in New Orleans serving the heavenly combo of coffee and beignets. Operating since 1862, their signature Chicory Coffee is hands down one of the best cold brew coffee grounds options.
The practice of adding chicory root – the root of a special type of endive – to coffee was started in the civil war era when coffee supplies ran short. The taste is distinctive and the chicory helps to cut the bitterness of the coffee nicely.
The distinctive sweet and smoky flavor isn't for everyone.
But in cold brew, the reduction in bitterness makes the coffee feel sweeter and smoother. Plus the intensity of flavor lends itself to the addition of dairy if you are a fan of cream or milk in your cold brew coffee.
Volcanica Cold Brew Blend
With a name like 'Volcanica' it probably won't shock you to learn that they use coffee beans grown in volcanic soil around the world. Why focus on volcanic soil only? Well, it is highly sought after by farmers not just for coffee, but also for everything from grapes to tomatoes due to its rich, diverse nutrient profile. This abundance of exciting nutrients and minerals can add extra complexity to the flavor of the final product.
Using organically grown beans, Volcanica has put together this blend of rich, bold Sumatran coffee beans. The use of lighter, more delicately flavored, and acidic Arabica beans give a well-balanced cold brew when paired with the deep chocolate notes from the Sumatran beans.
Crafted with cold brewing in mind, make sure you get the "French press grind" option if you're not buying whole beans. They recommend using 1 cup of coffee to 4 cups of cold water in a French press, brew for 12 hours, and then plunge. It's as simple as that.
Real Good Coffee Co. Breakfast Blend
If you are after whole coffee beans for cold brew, the Read Good Coffee Company has your back.
They are a small coffee roaster based in Seattle, with a focus on sustainability. All of their beans are ethically sourced and their packaging is 100% recyclable.
Their Breakfast Blend is a light roast coffee, making it fruitier and more delicate than many of the other options for best cold brew coffee beans. But, it makes an excellent cold brew with a more fruit and floral-based profile.
That said, because it is a light roast, it will need longer to steep. We recommend giving your grounds at least 20 hours for the best results.
Coffee Bros Cold Brew Blend
Founded by two brothers, Coffee Bros. focuses on ethically sourced, micro-lots of coffee beans. They follow the process from farmer to roaster to ensure sustainability in all parts of the supply chain.
When importing the beans, they are kept in GrainPro bags. This completely seals them, ensuring they don't pick up anything like odors, moisture, or mold which could be detrimental to the flavor. Their commitment and passion for their coffee beans is abundantly clear.
Roasting takes place in small batches to ensure everything gets their full attention. You can taste this attention too, through the perfect roast and fresh quality.
Their Cold Brew Blend combines naturally processed coffee beans from Brazil and Ethiopia. The result is a naturally sweet, smooth brew with flavors of chocolate, dark berries, and caramel.
And, if you're still not convinced that they are all-around good guys – Coffee Bros partner with One Tree Planted to donate 1% of all revenue towards planting trees.
Cold Buzz Coffee Hazelnut – Cold Brew Coffee Bags
Cold Buzz Coffee aims to make the cold brewing process as easy as possible for home brewers.
To do this, they sell individual coffee bags rather than whole coffee beans. They're just like tea bags but full of coffee grounds. And they come with simple instructions for brewing at home.
This takes the complexity out of finding the best cold brew coffee grind size, as well as removing the need for any equipment. All you need is a big jar to soak your coffee bag in overnight.
Being pre-ground, you do, however, lose some of the fresh vibrancy from grinding your own beans.
Cold Buzz Coffee has made cold brewing accessible to anyone who wants to try it. Some coffee lovers may miss the flexibility and control – what you get is what you're given. But as an easy, entry-level option for cold brewing, you (literally) can't go wrong.
There is a range of different flavors on offer. From their lineup, we recommend the hazelnut as the best coffee for cold brew. The sweet, buttery flavor of the dark roast is superb although it should be noted that flavors are added which may not appeal to everyone.
Stone Cold Jo, Jo Coffee
If you're looking for top-quality specialist coffee on Amazon, Jo Coffee is your answer. They launched to allow shoppers to access great coffee without having to search around for a local roaster who could deliver to their area.
Plus, they tick just about every box when it comes to ethical coffee. They are fair trade certified, USDA certified organic, non-GMO, and Kosher certified.
But behind the labels is great quality. They offer a wide range of whole coffee beans and ground coffee to suit every taste. And their Stone Cold Jo is one of the best coffee beans for cold brew.
Designed specifically with cold extraction in mind, the quality of the dark roast blend shines through. Think chocolate, wine, caramel, and a sleek body – yup it's my ideal night-in in my morning coffee.
Java Planet – Guatemala Organic
Java Planet Organic Coffee Roasters has an extensive range of single-origin beans to choose from. And they have a big commitment to sustainability and fair wages in their supply chain.
As a married couple themselves, all of their coffee is grown on family-owned farms which are USDA organic certified. Not stopping at one environmental commitment, their coffees are also Fair Trade, Bird Friendly and/ or Rain Forest Alliance.
Their medium-roast Guatemalan coffee beans are low in acid so they work beautifully in cold brew. You will find fruity notes complementing the rich mouthfeel and heftier undertones of the roast.
However, any of Java Planet's medium or dark roasts are a good choice for cold brew and can be bought either as whole bean coffee or pre-ground. If pre-ground is your preference, keep an eye out for the Java Planet organic cold brew coffee beans blend.
Hugo Roasters Dog Daze
Drink coffee, save dogs.
Pretty much the best deal you can ask for in our opinion.
Hugo Roasters donate a percentage of proceeds to help rescue dogs by paying for vet bills and finding them homes.
Their Dog Daze is another cold brew coffee bag option making them amongst the best coffee grounds for cold brew.
It really couldn't be simpler to use the filter bags although does take away control over the process. So definitely only for you if you want a simple, tasty solution and not if you want to perfect the elements of your cold brew coffee.
What you get is a rich, smooth, and delicious cup of coffee that you can even make whilst camping. And did we mention you help save dogs?
Metropolis Coffee Cold Brew Blend
As far as a commitment to freshness goes, it's hard to beat Metropolis Coffee. This Chicago-based, family-owned coffee company roasts their coffee beans to order Monday-Thursday.
Their story started in 2003. Whilst amped up on obscene amounts of caffeine the father and son team bought a roaster. And, since then, they've gone from strength to strength.
The Metropolis Coffee Cold Brew blend is another cold brew coffee bean blend, crafted specifically for this brewing style. The dark roast is a deliciously refreshing full-bodied brew filled with flavors of dark chocolate and a sweet roasted finish.
You do need a grinder for this blend. So, if whole coffee beans for cold brew aren't for you, Metropolis Coffee also sells easy-to-use coffee bags with the same great flavor.
Koffee Kult Dark Roast
Bold and unapologetically so, Koffee Kult's dark roast is a punch in the face of aroma and rich roasty flavor.
Working closely with their farmers, they have grown quickly since launching in 2010. At the time, their founder got bored of drinking average coffee and decided to start roasting his own. And we're glad he did!
The Dark Roast is 100% arabica beans sourced from Colombia, Sumatra, and Guatemala. Being oil-free, cleaning your grinder is a lot less work if you opt for the whole coffee beans option.
The heavy body and strong taste make these coffee beans great for espresso as well as cold brew. Even with the big flavors, this is still an incredibly clean and smooth-tasting coffee.
You've no doubt seen it on coffee shop menus and heard painfully trendy people talking about it for a while. So, let's dive into what cold brew coffee really is and you can fit right in.
Thankfully, it's exactly what it sounds like:
Coffee grounds are placed in cold water to steep over a long period of time to brew coffee that is cold.
Now, you may be thinking "cold coffee is horrible". And while coffee that was brewed hot and then gone cold isn't the best, cold brew coffee has a totally different flavor profile. This makes it the ideal summer coffee beverage and it's effortless to make at home.
Acids in the coffee are only derived when exposed to heat. So, cold brew coffee is much lower in acid and kinder to the stomach. Although, for some, people, the subtle flavors are just too subtle.
This complete guide will help you to get you started on your cold brewing journey.
The light, bright citrusy notes from a light roast coffee tend to be muted in cold brews as the brewing method produces a much lower acidity. Light roast beans have a very light, delicate flavor which may be a bit too delicate – even for those who really enjoy a light roast hot coffee.
Whereas when using darker roasted coffee, cold brewing brings out the rich, chocolatey notes.
This is why many feel medium and dark roast is best for cold brewing.
In addition to the extraction of the rich warm flavors of dark roast coffee, it also tones down the bitter elements. The end result is a very rich and smooth coffee.
Read Next: Ultimate Guide to Coffee Roasts
Grind matters for all kinds of coffee brewing. And cold brewing is no exception to this rule.
For the best cold brew coffee, you want a very coarse grind. If you go too fine, not only will the coffee be harsh and bitter but the grounds may clump together, inhibiting proper extraction.
If you're buying ground coffee make sure to ask for coarse ground, similar to what you would use to make French press coffee. Many prefer to freshly grind their own beans (a French press grinder is a good option) as this is the best way to get the maximum flavor from your delicious coffee.
If you are using the cold drip coffee machine, coarse ground coffee will also allow the water to filter through the beans and drip out the bottom. Using finely ground coffee may inhibit this.
Whilst freshly ground coffee will produce better results, it will be less obvious than with other brewing methods thanks to the nature of cold extraction.
So, don't stress over whether you can use regular ground coffee for cold brew. Just follow these top tips when your shopping for the best results:
Check the date: Ensure the coffee was roasted very recently – there should be a "roast date" on the packet
Size matters: Buy "coarse ground" or "French press" grind so that you have the right size of coffee particles. Avoid going too fine by staying away from espresso blends.
Ask the experts: Get your coffee ground for you in a specialist coffee shop, if possible. Plus, you can ask them what beans and grind size they recommend for cold brewing in your specific coffee maker
No matter what coffee bean variety you choose, grinding fresh at home will always produce the best results. But don't let the fact you don't have a grinder put you off trying cold brew coffee.
But the way you make it will dictate the flavor, the best coffee beans to use, and how long it will take.
Immersion Brewing: Coffee grounds are steeped in cold water for anywhere between 12 and 24 hours before being filtered. This is, generally, the preferred method for home-brewers as it is pretty easy and can be made in a mason jar or French press
Drip Brewing: Ice water is dripped onto the coffee grounds, and the resultant brew is collected in a waiting carafe. This method is much faster although will still take 3-5 hours and requires buying specific equipment
Flavor-wise, the results from immersion brewing will be more full-bodied and concentrated. Whereas, drip brewing yields a more medium-bodied brew.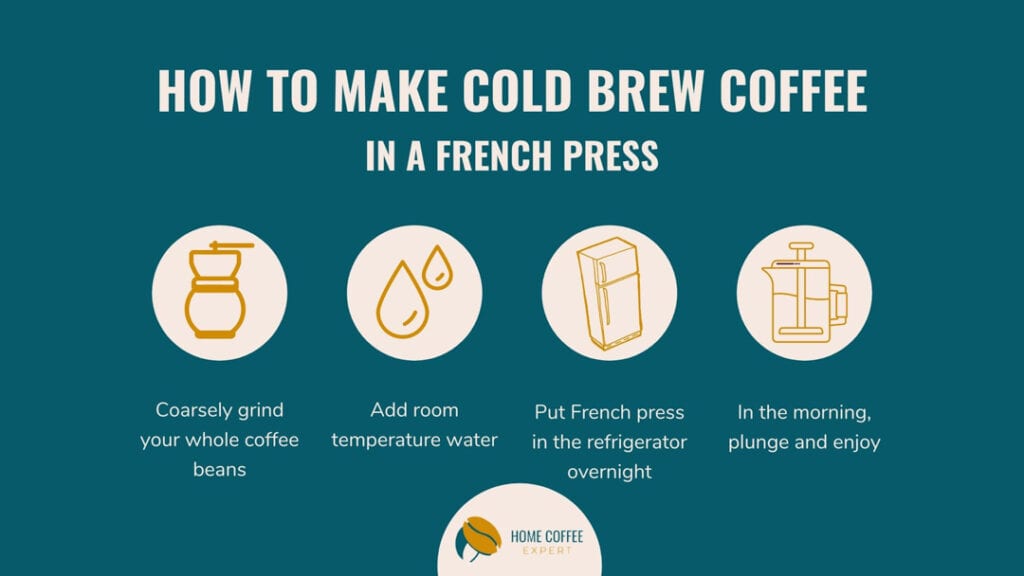 We are big fans of the immersion method as it doesn't involve additional expenditure or getting a specific cold brew coffee maker. All you need is the right coffee beans for cold brew.
A good starting point is a simple cold brew ratio of 1oz of coarsely ground beans to 1 cup of water.
You can use a big mason jar or French press, mix your coffee and water and leave in the fridge for 12-24 hours. The exact length of time will depend on your beans and strength preferences.
Then simply pour through a coffee filter or push down the plunger and you'll have your cold brew concentrate.
Mix equal amounts of concentrate and water which, adjusted to suit your desired strength. And there you have a super easy cold brew coffee.
Depending on your preferred taste and strength, you may want to use less water or steep for longer (Starbucks steep for 20 hours). As a general rule, the darker the roast, the shorter the steeping time.
Basically – have fun. Experiment. Make the cold brew coffee that makes your heart sing.
Well, maybe not. If you add ice cubes to help you stay cool and refreshed, just remember that they will melt. And, when they do, it will dilute your cold brew and mess up the flavor.
The solution? Buy some whiskey stones and keep them in your freezer. Then, when you're ready, you can pop them in your cold brew, keeping it cold without diluting the flavor.
If you don't fancy spending some money on reusable ice cubes, then freeze some cold brew in an ice tray. Then use that to keep your drink chilled instead of frozen water. This way, as they melt it won't ruin the taste of your coffee. These are the science lessons I needed at school.
Remember – cold brew and iced coffee aren't the same thing. Iced coffee is simply regular brewed coffee that is cooled and poured over ice. Then there's nitro cold brew coffee which is a regular cold brew with nitrogen through it for extra creaminess.
Read Next: How to Make Nitro Cold Brew at Home
Whether you prefer medium or dark roast; immersion or drip brewing; milk, straight or on the rocks – just do you. Any one of the cold brew coffee beans reviewed here will yield great results to keep you cool, caffeinated, and happy.