The world leader in premium super-automatic espresso machines, Jura, plays in a slightly different league from the rest. So whilst this Jura E8 vs S8 battle is between two "mid-range" super-automatic espresso machines, they are both priced between $2500 and 3000. But which one's better?
We believe the Jura E8 is the better espresso machine, particularly for specialty coffee drinks. Although this is only true if you download the J.O.E. smartphone app and get the additional Smart Connect adapter. Whilst the S8 is billed as a slightly more premium machine, the extra options and touchscreen don't add any real value when you can simply use the app for everything.
But there are some major differences to consider between the two Jura coffee machines. And one solution doesn't fit all. So to help you decide which one is better for you, read on as we take a deep dive into all the differences between the Jura E8 and S8.
This article may contain affiliate/ compensated links. As an Amazon Associate, we earn from qualifying purchases at no additional cost to you. For more information please see our disclaimer here.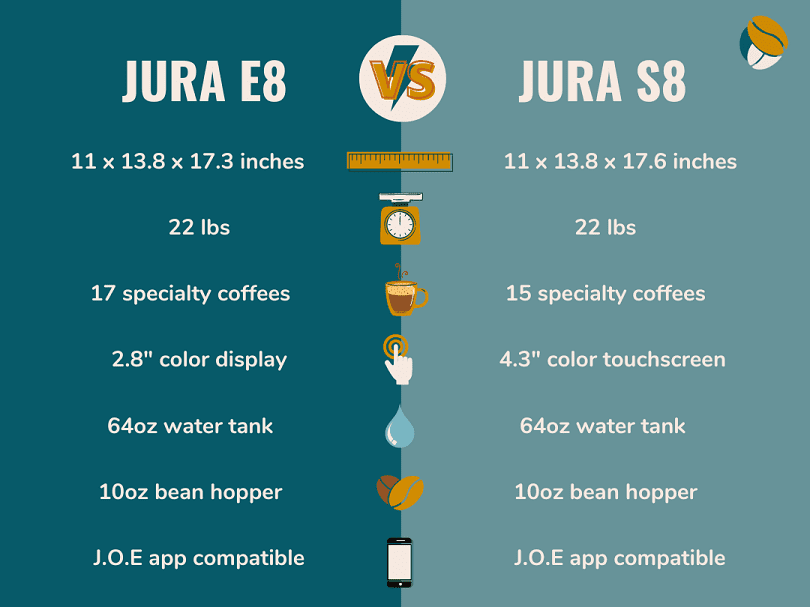 The Jura S8 automatic coffee machine is both beautiful and exceptional.
The touchscreen is easy to navigate and makes customizing your coffee simple. You can set up multiple user profiles, making it an ideal machine for the office or a household with multiple coffee drinkers. Plus it can also be controlled by the J.O.E smartphone app, so a cup of great coffee is just at your fingertips.
However, it does have the standard caveat of all Jura coffee makers – it's expensive to buy and clean.
But when you balance that with superb coffee for the best part of a decade, the price tag is worth it. Although the S8 is just a little awkwardly priced between the great-value E8 and the truly exceptional Z10 leaving it a little in no man's land.
Pros
15 customizable specialty coffee drinks
Superb coffee quality
Professional quality milk frothing
Milk frother auto-cleans
Can be operated via the J.O.E app
Top quality Aroma G3 Grinder
Very simple to use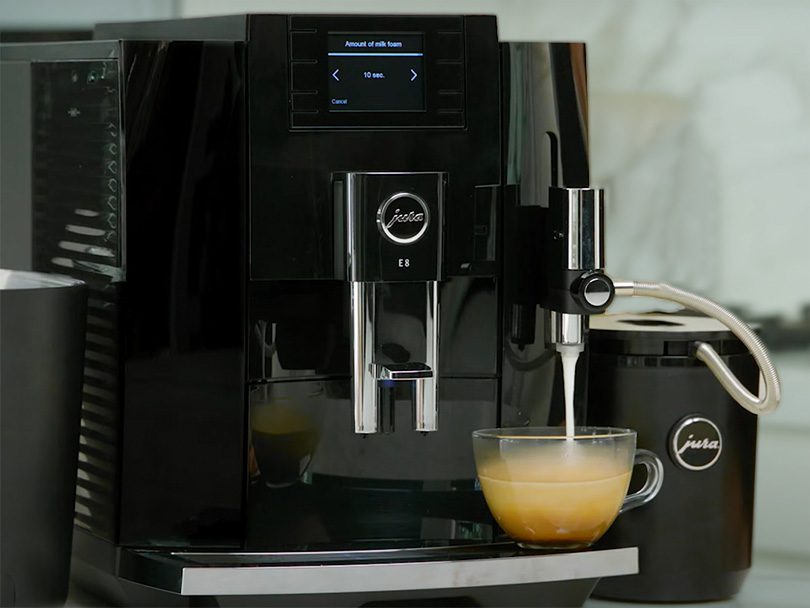 The Jura E8 espresso machine offers arguably the best balance between function, price, and looks.
Whilst there's no touchscreen, it is simple to use with a very nice display, dial, and buttons for selecting options. The result is several quality coffee drinks to satisfy the whole family with a million different options to choose from.
The biggest negative is the lack of user profiles to save your perfect drinks. However, this can be easily solved by using Jura Smart Connect (an additional Bluetooth connector) and the J.O.E app.
While great value in the lineup of Jura's automated espresso machines, this is still an expensive machine to buy and then clean. But, if you're looking for a Jura coffee maker that offers the most bang for your buck, this is our pick.
Pros
Settings are easily adjusted
Automatic cleaning
Fantastic tasting coffee
Uses Jura's intelligent pre-heating system
Can be operated via the J.O.E smartphone app
Cons
Slight delay between brewing coffee and frothing milk
Usability
The biggest difference between the Jura S8 and E8 is how you interact with the machine:
The S8 has a touchscreen and, as touchscreens go, it's really nice to use. It's bright and sharp, responsive, easy to navigate, and equally easy to use. On the other hand, the Jura E8 uses a smaller screen with buttons at the side and a rotary dial to select your preferred options.
As a result, the S8 is sleeker and feels more modern. But, if you're more of a tactile person like me, you might quite like using the buttons and rotary anyway. I also have clumsy fingers so the Jura E8's design is my personal preference.
Another point of difference is that the Jura S8 features a more adjustable nozzle height than the E8. This may not seem a big deal at first, but it makes the S8 more likely to fit your travel mug. On its own, this might not be much of a game changer but if you need a coffee machine to fill your mug to-go, then it will make life a whole lot easier.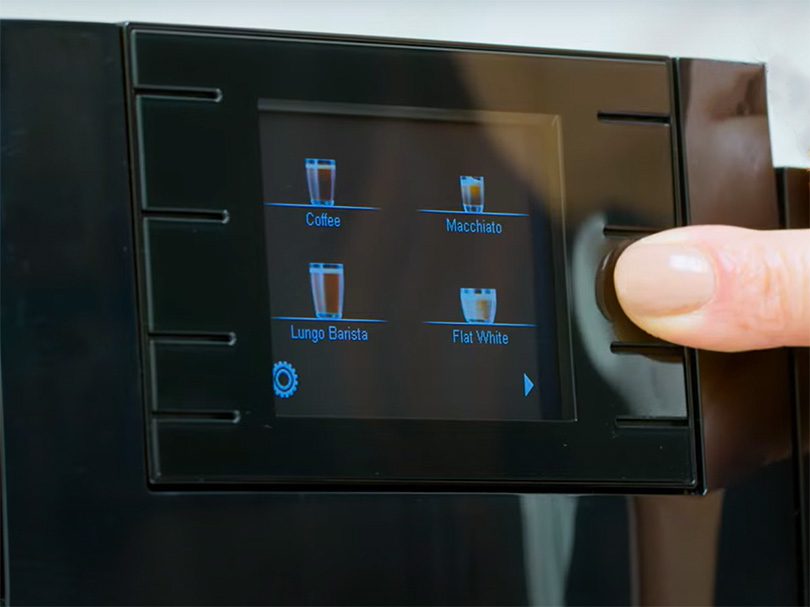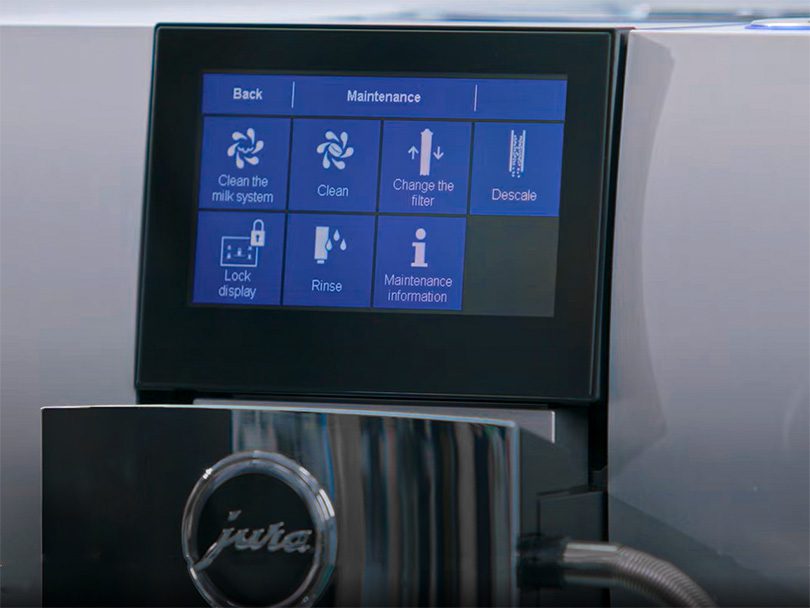 Grinder
To get the best-tasting cup from your favorite whole bean coffee, you need to start with a good grinder. And, whilst these two super-automatic machines come with different generations of grinder built-in, you won't be disappointed with either.
The S8 uses the Aroma G3 grinder – the most recent generation of Jura's excellent coffee grinder. The E8, on the other hand, uses a previous generation – the Aroma coffee grinder.
Whilst this doesn't mean much in terms of grind settings or performance, the G3 is quieter and faster than the Jura E8's basic Aroma Grinder. But not to the point that you'd really notice.
Coffee Options
The number of pre-programmed coffee options is listed as 15 for the Jura S8 and 17 for the E8. But, this information isn't as helpful as it first appears when it comes to deciding between the two super-automatic espresso machines. Unfortunately, the E8 doesn't simply have two more specialty coffee drinks than the S8, the drink options are actually quite different:
With the Jura S8, you have the option for ristretto (single or double), caffè latte, a portion of milk foam, and hot water for green tea. None of these options exist on the E8.
The Jura E8, on the other hand, has the option for other delicious coffee drinks. Drinks such as a caffè barista, americano, espresso doppio, cortado, and extra shot versions of the flat white, cappuccino, and latte macchiato.
To make things a little clearer, the following table breaks down the specialty coffee options for each machine:
| Specialty Coffee | Jura E8 | Jura S8 |
| --- | --- | --- |
| Ristretto (including double) | ✗ | ✓ |
| Espresso (including double) | ✓ | ✓ |
| Coffee (including double) | ✓ | ✓ |
| Caffè Barista | ✓ | ✗ |
| Americano | ✓ | ✗ |
| Espresso doppio | ✓ | ✗ |
| Cortado | ✓ | ✗ |
| Macchiato | ✓ | ✓ |
| Caffè latte | ✗ | ✓ |
| Cappuccino | ✓ | ✓ |
| Cappuccino with extra shot | ✓ | ✗ |
| Flat white | ✓ | ✓ |
| Flat white with extra shot | ✓ | ✗ |
| Latte macchiato | ✓ | ✓ |
| Latte macchiato with extra shot | ✓ | ✗ |
| Milk foam | ✓ | ✓ |
| Hot milk | ✗ | ✓ |
| Hot water | ✓ | ✓ |
| Hot water for green tea | ✗ | ✓ |
Using this table, you can check whether your favorite coffee style is a standard option on either machine. Of course, you may have no interest in the standard options and prefer to make your espresso based drinks your own way. But, when you have guests over and want to show off your amazing Jura coffee machine, the pre-programmed drinks make things a little easier.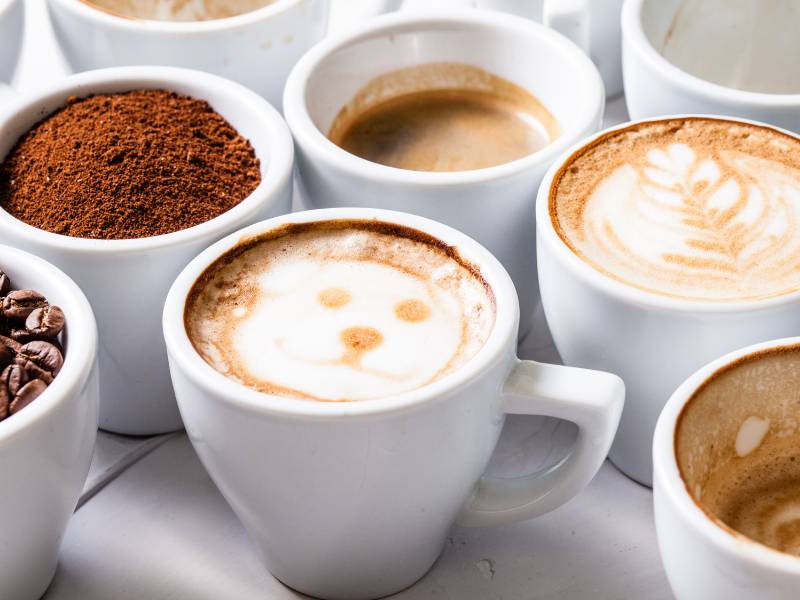 Saving Drinks
Once you have perfected your coffee craft, the ability to save your settings is a game changer. But this doesn't work the same across the Jura E8 vs S8.
The S8 has a touch screen and user profiles. So you select your preferred coffee drink, tinker until it's just how you like it, then save it to your profile so it's perfect for next time. When your partner/child/parent/roommate/caffeinated dog comes to make their coffee, they can switch to their own profile and save their special coffee just how they like it too. This is brilliant for any household with multiple coffee drinkers.
Unfortunately, the Jura E8 coffee machine doesn't have different user profiles. So, whilst it will save alterations to the standard drinks menu like your specific strength of cappuccino, it won't retain this information if the next person wants a weaker cappuccino. In a busy house or office, this might mean constantly altering the settings for each drink although less of a problem if there's only one or two.
That said, this issue is entirely negated by using the J.O.E app. With the app, everyone's drinks are saved to their phone so the existence or lack of user-profiles becomes fairly irrelevant. You do have to shell out an extra $60 or so for the Smart Connect Bluetooth dongle though, which is slightly frustrating.
Bluetooth/ WiFi Connection
Both the S8 and E8 can be connected via the Bluetooth "Smart Connect" accessory to your mobile phone. Additionally, the Jura E8 can be connected to your WiFi with a special "WiFi Connect" dongle. Whilst both of these accessories come at an annoying added cost for either Jura espresso machine, we believe it's 100% worth it to use the J.O.E app and customize your coffee.
The WiFi connectivity obviously has a better range than the Bluetooth one and is more stable. But, being realistic, you're going to need to be near the machine to put your cup underneath the spout anyway. So telling it to make a cortado from your bed isn't that practical. For us, the Bluetooth Smart Connect dongle is the best solution for this.
If you're thinking about either the Jura E8 or S8 for the office then this is a must. Every employee can have their own coffee saved on their phone and send it directly to the machine when they need a coffee. No fiddling with buttons on the machine is required, and no risk of upsetting Kevin in accounts by messing with their preferences.
The Looks
To look at, these machines obviously aren't completely identical. But you have to look fairly hard to notice the differences. This is fairly true across all the best Jura coffee machines. As a brand, they have an aesthetic and they stick to it.
This look appeals to a lot of people: they're sleek with neutral colors and a modern design that fits in with most people's kitchens. That said, if you're not a fan of the "coffee spaceship" design, then Jura probably isn't the brand for you.
If that's you, don't fret, as there are many interesting coffee machines out there you may find more appealing. Check out all our favorite super-automatic espresso machines, or compare Jura and Breville for a more suited match.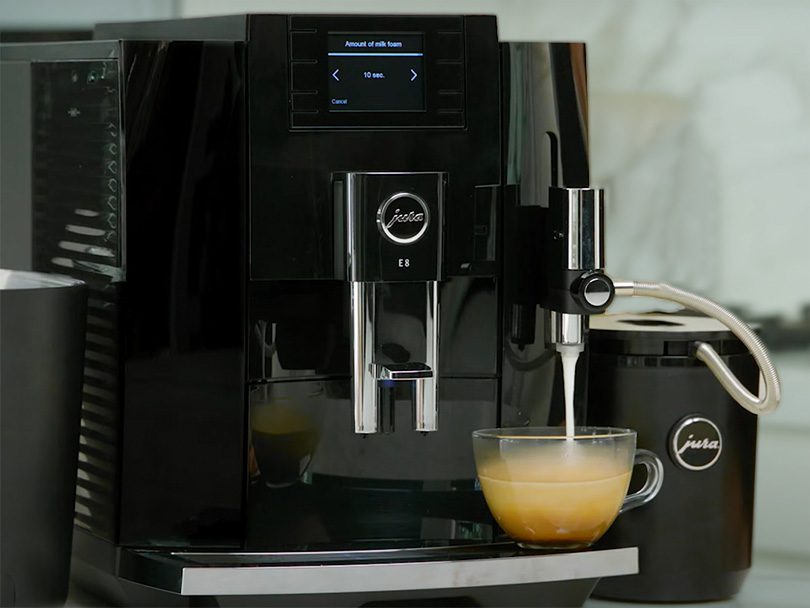 Brewing Quality
Knowing exactly how good a cup of coffee you're going to get is, arguably, the most important part of any coffee machine.
It doesn't matter which Jura super-automatic coffee machine you pick, you are in for a top-notch cup of joe. In this category, the difference between the E8 and the S8 is basically non-existent. Maybe someone with a more finely tuned palate could find something to separate the two machines, but for us mere mortals, the coffee is the same outstanding quality on both.
You can also easily switch between your favorite coffee beans and something new thanks to the pre-ground coffee chute on both machines. We like this feature for those occasions when you need a good decaf coffee or want to try out some new espresso beans before committing.
Size Matters
Before you take the plunge on one of these beauties, you have to consider how much countertop real estate you will need to give up. Especially if you have a smaller kitchen.
At 11″ wide by 13.8″ tall and 17.3″ deep, the S8 is ever so slightly smaller – an entire 0.3 inches less deep – than the E8. So, they are essentially the same size. But you never know, maybe your counter is just too small for the Jura E8 automatic coffee machine.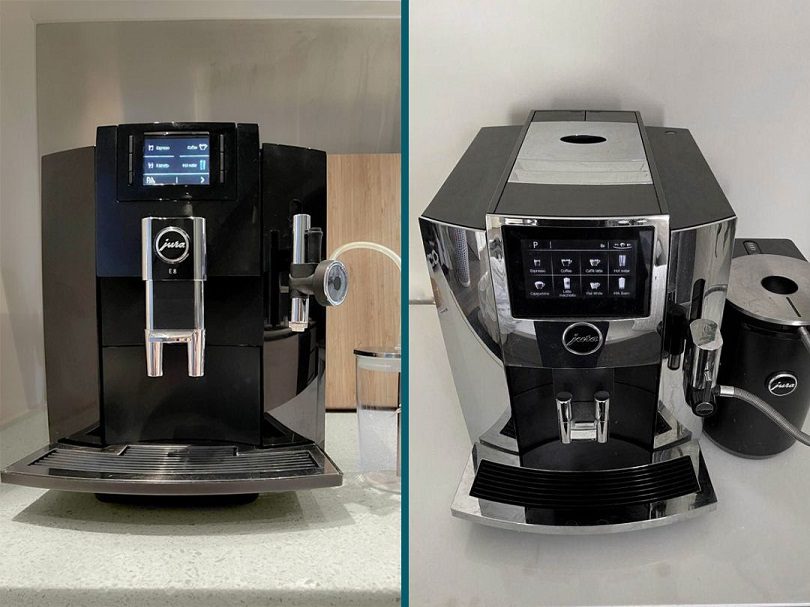 Customization
The number of different ways you can tweak your coffee until you reach personal perfection is the same for the E8 and S8. By the time you've changed strength, volume, grind settings, and temperature you reach a number of options far higher than I'm capable of counting.
This may feel like you'll just be overwhelmed, but you don't have to change everything. Or even anything. You can always just stick with the standard settings if you enjoy the standard options or only tinker with one thing at a time.
J.O.E. App Compatible
The E8 and S8 are both compatible with Jura's painfully named "Jura Operating Experience" smartphone app. The app (available for both iOS and Android) has improved greatly over the last year or so and is now fairly easy to use.
You can save your favorite coffees in the mobile app and then send them to the machine to make. It functions as a mobile coffee menu and barista in one. Apple Watch users can even prepare up to three coffees with a touch of the wrist.
This makes customization really easy. And if you're in a household or office with lots of people using the machine it means everyone gets personalized coffee without fiddling with the machine's settings.
One small note, as both the E8 and S8 fall in Jura's mid-range lineup, the Smart Connect system needed to connect your coffee maker to your phone via Bluetooth is an optional added accessory. (Or the WiFi Connect for the E8 only). You will need to buy this separately, but it's very easy to set up and makes all the difference in our (humble) opinion.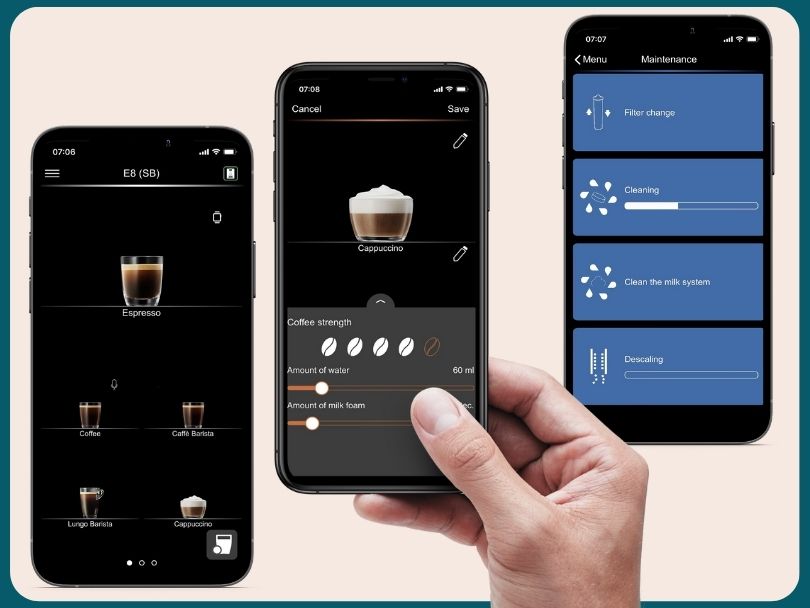 Ease of Cleaning
Cleaning your Jura coffee maker is easy – the machine will walk you through each step. This is true for both the E8 and S8. The only downside is that they recommend using their branded cleaning products which are obviously more expensive than the generic alternatives.
Some people have concerns that the brew group can't be removed and cleaned separately. This is an annoyance because it's easy for grounds to get stuck in there and make your machine unsanitary. It is for this reason that we recommend sticking with the branded cleaning products. Jura knows this can happen, so it's best to pay a little extra to use the products they claim will stop this from becoming an issue. And (touch wood!) we've never had an issue in all our years using Jura machines.
You can also find some Jura specialists who will dismantle and deep clean your coffee machine. This is something to think about doing every couple of years just to be on the safe side.
Build Quality
Jura has a reputation for making superior-quality espresso machines. This is a well-earned reputation so no matter which of Jura's automated espresso machines you buy, everything will feel well-made.
Many people have happily used their Jura for up to 10 years without issues, at which point it's usually the grinder that starts to struggle. This obviously depends on usage, but buying a Jura is an investment that should last a long time.
Milk
For both the E8 and S8, Jura opts to use a rubber milk hose that can be placed in any milk container rather than a milk container attached to the machine. We actually prefer this as it means less waste, and less possibility of horrible milk congealing in the corner of a tank.
This means you have a couple of options, depending on what suits you:
The best, but also most expensive, option is the Jura Cool Control. This climate-controlled cool milk container sits beside your super-automatic espresso machine, keeping your milk cold and ready to go whenever you want it. It's not cheap, but it does mean zero extra steps for getting your coffee when you want it. It's a bit of a pain to clean though, so just be aware.
Alternatively, you can buy a Jura milk container (or any non-branded one) with a hose attachment which you can keep in the fridge and only attach when needed. If you're really in a bind, any container will do – we've put the hose straight into a mug before and the results are the same.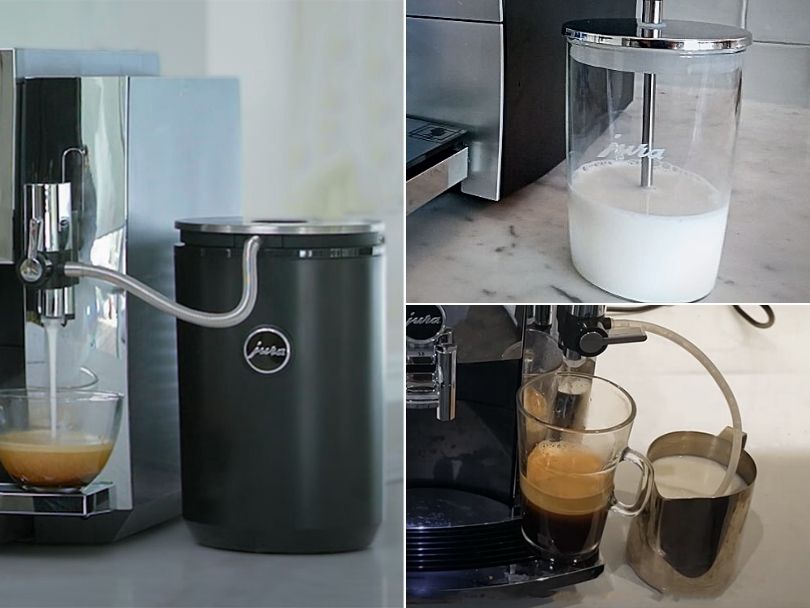 So, which of Jura's mid-premium super-automatic espresso makers takes the top prize?
For us the Jura E8 is the best coffee machine: it's cheaper, it has better technology inside, and it has more coffee options you'd actually want to drink.
It also has the same ability to save personalized drinks as long as you connect via the Smart Connect Bluetooth dongle to the smartphone app.
Don't get us wrong, no matter your pick in the Jura E8 vs S8 battle you will get an impressive super-automatic espresso machine. But unless you really, really, want a touchscreen, we can't think of any reason to buy the S8 over the E8.
Check the latest prices of the Jura E8 on Amazon | 1st in Coffee | Refurbished Models
Check the latest prices of the Jura S8 on Amazon | 1st in Coffee | Refurbished Models
You Might Also Like
Beautiful, simple, and delicious espresso for around $1000? We had to test if such a thing was possible – read our Jura ENA 4 review to see

Jura ENA 8 vs Gaggia Babila is a battle of philosophies. Is the convenience of the ENA 8 superior to the precision of the Babila?