When it comes to making high-end automatic espresso machines, Jura doesn't mess about. And at the peak of what they do, you'll find the Z line Jura coffee machines – home of all the top gadgets, tech, and all-around cool coffee-making toys. The full Z series is where you'll find the best machines for home use. So how can you possibly decide between the Jura Z8 vs Z10?
As the current top model, the Jura Z10 is undoubtedly a better super-automatic espresso machine than its predecessor, the Z8. It has more drink options, a better grinder, better extraction, and cold brew options too. Whilst the Jura Z8 has been discontinued, all is not lost as you can still get some great offers on used or refurbished Jura coffee machines. So it's still a superb espresso maker, particularly if you're more budget conscious.
To help you decide which one will work best in your home, we put them both to the test. We compared the specs, technology, drinks options, and everything else you need to know to help you decide whether you're team Z8 or Z10.
This article may contain affiliate/ compensated links. As an Amazon Associate, we earn from qualifying purchases at no additional cost to you. For more information please see our disclaimer here.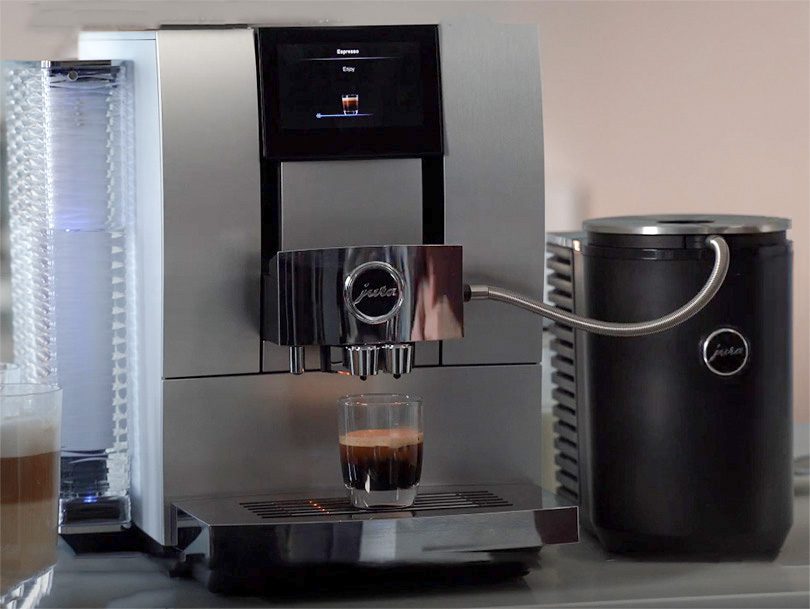 Jura Z10
Espresso machines don't come much better than the Z10.
Not only does it come packed with all of Jura's top coffee gadgetry, but it can also make cold brew at the touch of a button.
The only drawback to this great machine is the hefty price tag. But if it's within your budget, it's 100% worth it.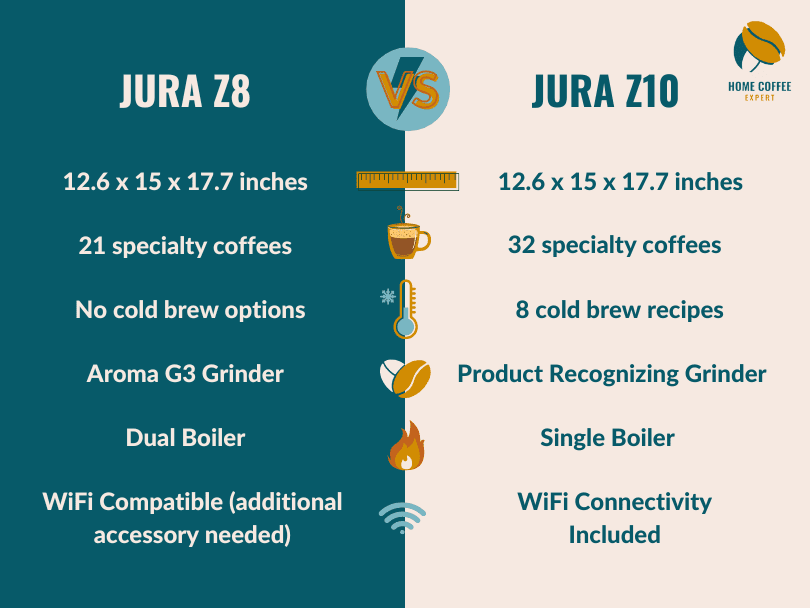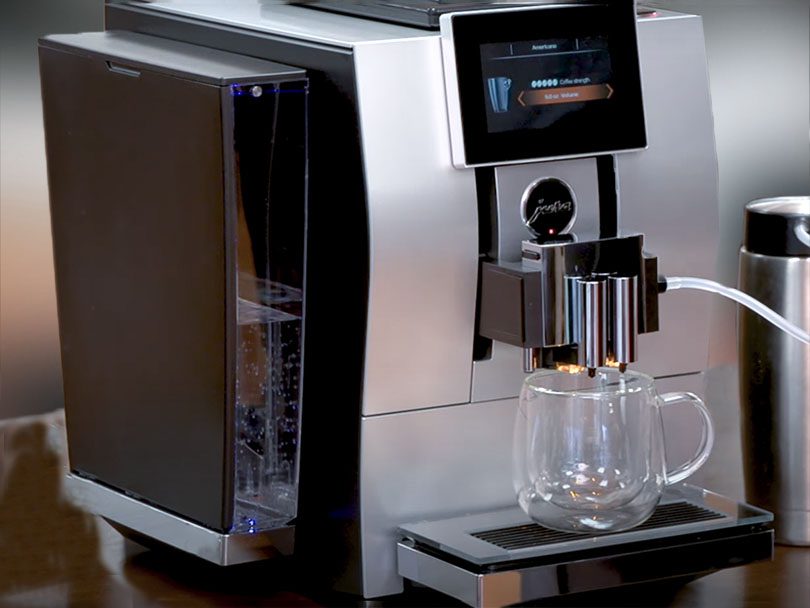 Jura Z8
The Z80 has now been discontinued but all is not lost. You can now pick up an absolute bargain (as super-automatic espresso machines go) for an otherwise great machine.
This is a slick, high performing machine that will suit a huge number of people's requirements.
It just lacks some of the finesse and options of the Z10.
Pros
21 pre-programmed specialty coffees
More affordable
Intuitive display
Comes with a two-year manufacturer's warranty
Cons
Discontinued model
Fewer drinks options
Missing some of Jura's latest tech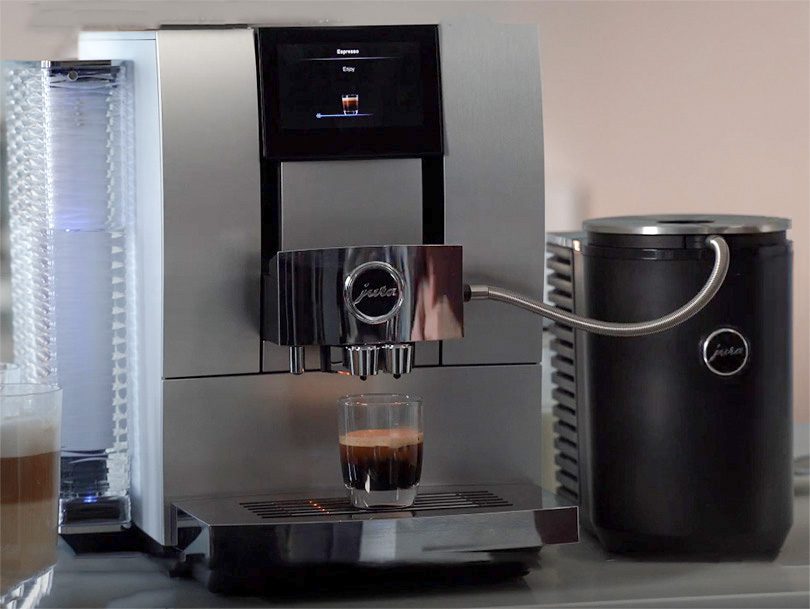 Jura Z10
The Z10 is the best of the best. And it can do something that no other fully automatic coffee machine can do: brew cold coffee.
It's sleek, it performs incredibly, and it makes great tasting coffee.
Just as long as you can stomach the price tag.
Pros
Extensive range of 32 pre-programmed specialty coffees
Can make cold brew coffee
Houses Jura's best grinder
Has all the latest tech
Comes with a two-year manufacturer's warranty
Size
The Jura Z8 and Z10 are exactly the same size: they're both 15 inches tall, 12.6 inches wide, and 17.7 inches deep. Even as automatic coffee machines go, this makes them on the large side.
That said, 12.6 inches isn't that wide when compared to other coffee machines. When shopping for a mid to high-end espresso machine, this is a pretty normal amount of counter space needed. The depth is less of an issue as most countertops are easily deep enough to fit these coffee makers.
Given their identical dimensions, unsurprisingly this means the bean hopper and water tank are also the same size on both Jura coffee makers. Both machines have a 10oz bean hopper and a huge 81oz water tank. The water tank is so big that unless you're a heavy user, we'd recommend emptying it each day to keep the water fresh.
When considering where to house either machine, keep in mind that the bean hopper loads from the top. So try not to put it somewhere with overhead cabinets.
Looks
These two machines look surprisingly similar. This is probably because the Z8 is one of the best-looking automatic coffee machines so there wasn't much room for improvement when designing the Jura Z10.
If we're being picky, the water tank looks a little nicer on the Z10. Plus, the touchscreen is a little sharper although it's exactly the same size as the Z8's. But both very much look the part of premium coffee machines.
The bean hopper cover looks a little slicker on the Z10. But given it's on the top of the machine and not that obvious, this is a very minor detail that definitely doesn't constitute a "glow up".
Overall, they are two of the best-looking automatic coffee machines out there.
Dose Size
Both the Z8 and Z10 have the larger brewgroup which is on most Jura coffee machines. This means you can have a range of 5-16g of coffee per dose. These larger doses are key to getting the deep, rich flavor from your espresso. This is one part of why Jura espresso machines stand out from the super-automatic machine crowd.
You'll find these larger brew groups on all Jura coffee makers except the budget ENA series, which have a maximum of 10g. (If this is what you're looking for, check out our Jura ENA 8 review.)
Coffee Strength Levels
As both the Z8 and Z10 have the same capacity for coffee, it may not come as a surprise that they both offer 10 coffee strength levels in their customization options.
That said, coffee machine manufacturers often do some strange things. And not all Jura machines with the 5-16g brewgroup have the same number of strength levels (for example the Jura E4, reviewed here.)
Coffee Temperature Options
You get 3 temperature options for your coffee and hot water on both the Z10 and the Z8.
We almost never use the lowest setting on any super-automatic espresso machine as this tends to yield thin, watery coffee that is too cold. And the Jura machines are no exception.
However, those who like green tea or maybe a cooler americano/caffè barista may find the lower water temperature is a nice option for making these drinks. When splashing the cash on premium coffee machines, it's always nice to have options.
Milk Customization
You'll be greeted with an incredible array of customization options on both the Jura Z8 and Z10.
The volume and temperature of milk and milk foam can be set to your perfect levels. You can also set the interval that the machine waits between pouring the milk and coffee on drinks like the latte macchiato.
It's either incredibly overwhelming, or an absolute dream come true depending on your point of view.
But, if the standard drinks are perfect for you, you obviously don't have to adjust any settings at all. Having this level of milk customization is well beyond what you'll find on many other coffee machines.
Cold Brew Specialty Coffees
What may make the Z10 the perfect Jura coffee machine over the Z8 is the ability to have "cold brew" coffees at the touch of a button.
If we're being pedantic, these aren't technically "cold brew". They're brewed at room temperature, using a coarser grind over a much longer time scale than the hot options. So it still has that smoother, sweeter flavor but they're not the 12 to 24-hour cold extraction of "true" cold brew.
That being said, they're very impressive. And, currently, the Z10 is the only home espresso machine that makes anything resembling cold brew (unlike the iced coffees of some of the top DeLonghi espresso machines.)
It takes around 2 minutes to get your cold coffee, depending on which style you choose. By cold, we mean whatever temperature the water in your tank is. For something cooler, just pop in some ice (or our preferred option – whiskey stones) and you'll have a very enjoyable cold drink.
Is it perfect? No. But it's so good that we don't see the point in getting bogged down in the technicalities. So, if you're a fan of chilled, delicious coffee, the Jura Z10 will be your ideal next coffee machine.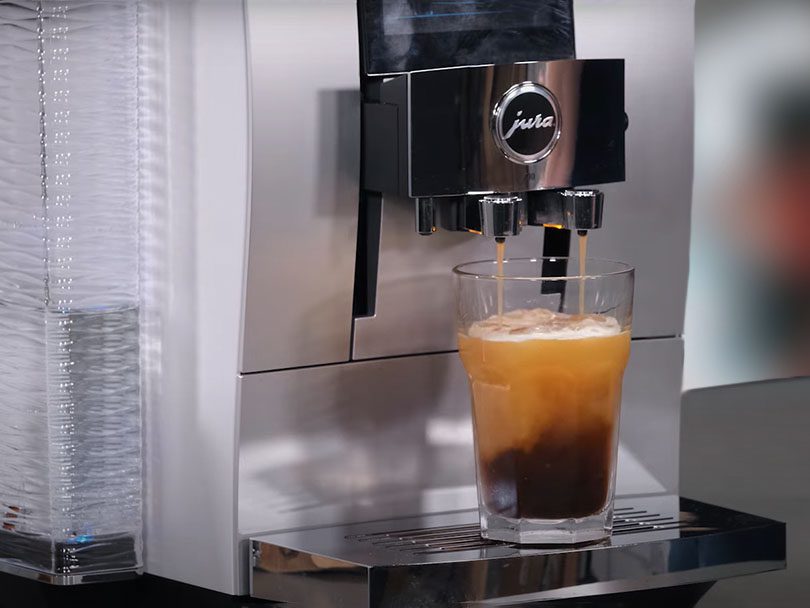 Coffee Drink Options
This is never a straightforward calculation as every coffee machine manufacturer counts as many possible things as "drinks". This only helps their marketing material to have the biggest possible number and not you or I, the coffee drinkers.
So, the Jura Z8 lists 21 specialty coffee drinks and the Z10 lists a massive 32. But are these different Jura coffee machines really offering very different options? The following table breaks down the available drinks on the Jura Z10 vs Jura Z8 so you can see which one has your favorite:
| Drinks | Jura Z8 | Jura Z10 |
| --- | --- | --- |
| Espresso | ✓ | ✓ |
| 2 x Espresso | ✓ | ✓ |
| Espresso Doppio | ✕ | ✓ |
| Cold Brew Espresso | ✕ | ✓ |
| Coffee | ✓ | ✓ |
| 2 x Coffee | ✓ | ✓ |
| Jug of Coffee | ✓ | ✓ |
| Cold Brew Coffee | ✕ | ✓ |
| Ristretto | ✓ | ✕ |
| 2 x Ristretto | ✓ | ✕ |
| Caffè Barista | ✓ | ✓ |
| 2 x Caffè Barista | ✓ | ✓ |
| Americano | ✓ | ✓ |
| 2 x Americano | ✓ | ✓ |
| Cortado | ✕ | ✓ |
| Cold Brew Cortado | ✕ | ✓ |
| Macchiato | ✓ | ✓ |
| Cold Brew Macchiato | ✕ | ✓ |
| Latte Macchiato | ✓ | ✓ |
| Cold Brew Latte Macchiato | ✕ | ✓ |
| Latte Macchiato with Extra Shot | ✕ | ✓ |
| Caffè Latte | ✓ | ✓ |
| Cold Brew Caffè Latte | ✕ | ✓ |
| Caffè Latte with Extra Shot | ✕ | ✓ |
| Cappuccino | ✓ | ✓ |
| Cold Brew Cappuccino | ✕ | ✓ |
| Cappuccino with Extra Shot | ✕ | ✓ |
| Flat White | ✓ | ✓ |
| Cold Brew Flat White | ✕ | ✓ |
| Flat White with Extra Shot | ✕ | ✓ |
| Portion of Milk | ✓ | ✓ |
| Portion of Milk Foam | ✓ | ✓ |
| Hot Water | ✓ | ✓ |
| Hot Water for Black Tea | ✓ | ✕ |
| Hot water for Green Tea | ✓ | ✓ |
It's a long list so let's break it down to make it a little easier as a direct comparison:
Since only the Z10 has cold brew drinks, let's remove those 8 cold brew options leaving 24 hot drinks. And we'll also remove the different water temperatures, milk portion, and portion of milk foam. So, we're left with 20 hot coffee options.
The Z8 has the same milk options plus an extra hot water one. So, when we remove them, we're left with 16 hot coffee options.
The Z8 has a ristretto as a one-touch drink but, interestingly, the Z10 does not. Whilst you can program the espresso on the Z10 to be a ristretto, that involves a few extra steps.
Conversely, the Z10 offers cortado and espresso doppio which the Z8 doesn't. Plus, it has a bunch of "extra shot" options built in as standard.
Other than this, they offer all the same base coffees. So you have to ask yourself what drinks you actually need. If you're a fan of a flat white with an extra shot, then the Z10 is great. But, if you're never going to use the cold coffees or extra shot options, the Z8 may well be the better machine.
Grinder
The Z8 uses the Aroma G3 Grinder which is a full 2 generations behind the spectacular Product Recognizing Grinder (P.R.G.) on the Jura Z10 automatic coffee machine.
Don't get us wrong, the Aroma G3 is still a good grinder and can still be found in a number of different Jura espresso machines, including the ENA series. It has a continuous scale for adjusting grind sizes, is pretty fast, and is also pretty quiet. Compared to plenty of other quality coffee machines, it's still miles ahead.
But tech moves fast. And the P.R.G. on the Z10 is a whole different animal.
Although it only has 5 settings, it will automatically adjust the grind depending on the type of espresso drink you are making. So you no longer have to adjust to coarser grind settings for longer coffees and finer ones for espresso. This is especially important for the cold brew options.
But if you're not vibing with the setting the Jura Z10 coffee machine chooses for you, you can override this in the "product settings" menu for each coffee drink.
Boiler
The Jura Z8 is a dual-boiler machine. This means it has a dedicated boiler for brewing coffee and one for steaming the milk. So two boilers are often found on the best coffee machines.
In theory, this should result in better espresso quality and better milk foam as the temperature will be more stable than from a single boiler coffee machine.
However, the upgraded Z10 has moved to a single boiler. In fact, very few Jura espresso machines have two boilers.
This seems a little weird and like a step backward but Jura claims that they've developed a new steam valve that rapidly adjusts the temperature back down after using the boiler to steam the milk. This removes the need for separate boilers.
We put both machines through their paces and never found a noticeable difference in milk quality between the Jura Z8 vs Z10. So, whilst I'm only a humble barista and not an engineer, I guess this means their fancy new valve works and the Z10 can perform just as well. Even as a single-boiler coffee machine.
Brewing Technology
Both the Z8 and Z10 boast Jura's special Pulse Extraction Process (P.E.P.). This uses pulses of pressurized water to extract better flavor rather than a constant flow.
But the Z10 has an extra piece of tech to get even more deliciousness from your coffee beans.
The Z10 has "3D Brewing" technology. This is based on getting even extraction from the whole coffee puck, leading to better balance and more flavorful coffee.
It also has Intelligent Pre-Heating (pre-infusion) technology that the Z8 doesn't. Pre-infusion is really important to allow the CO2 trapped in the grounds to escape. Improving this makes a big difference to the flavor quality of your espresso.
The result of all this tech is a noticeably better espresso from the Z10 than the Z8. The Z8 is still really good but having a better grinder, better pre-infusion, and better extraction leads to a real jump in the final espresso shot flavor. Which ultimately is the most important part of any espresso machine.
WiFi Connectivity
This last one is just a small difference separating the Jura Z8 from the Z10. But it's worth noting if only because it's something that greatly annoys me about some Jura machines.
Both the Jura Z8 and the Jura Z10 have the capability for WiFi connectivity and to use the J.O.E. smartphone app. Which is great and allows you to customize and save your exact coffee recipes on your phone. Then, you can order them to the machine from anywhere in the house. Basically, everything you'd expect on a top-quality automatic coffee machine.
But only the Z10 comes with WiFi Connect included (the little plastic dongle needed for the connection.) This is something you'd expect, especially on such an expensive machine. So it's really annoying that the Z8 doesn't include it – a strange omission on such a high-end super-automatic coffee machine.
It costs around $60 for Jura WiFi Connect so it hardly pushes the Z8 close to the Z10 price. But it's an annoyance of ours as many low-cost coffee machines include a similar feature as standard.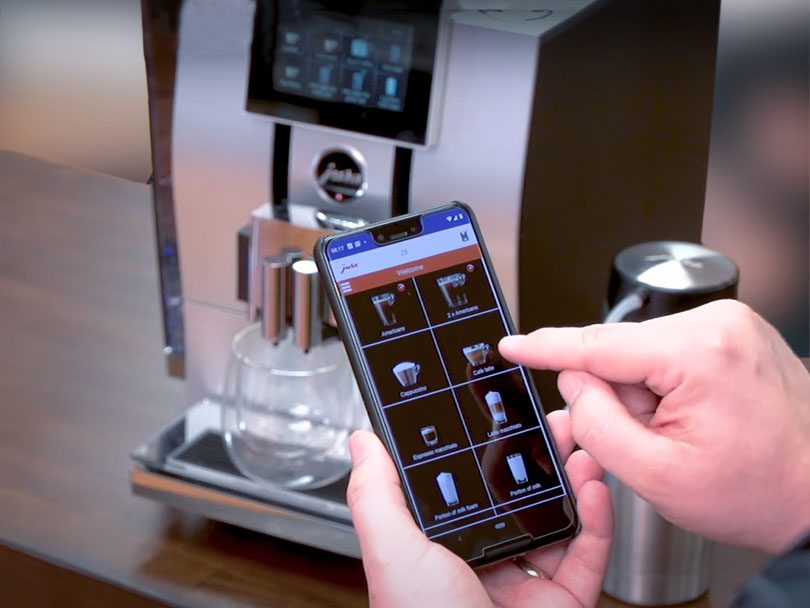 Overall, the Z10 is the better espresso machine with better coffee-making abilities, more options, and a better grinder. Whilst the Z8 is still a superb option, it's clearly been superseded by the newer model.
If, however, you don't actually want all the new features of the Z10 but still fancy a top-of-the-line Jura super-automatic espresso machine, then a second-hand or refurbished Z8 could be a great deal for you. All while saving some cash.
In other words, choose the Jura Z10 if you want:
Better tasting espresso
Cold brew coffee
A wider range of coffee options
And choose the Jura Z8 if you want:
A quality coffee machine for a lower price
You Might Also Like
Beautiful, simple, and delicious espresso for around $1000? We had to test if such a thing was possible – read our Jura ENA 4 review to see

Jura ENA 8 vs Gaggia Babila is a battle of philosophies. Is the convenience of the ENA 8 superior to the precision of the Babila?