As coffee makers go, the French press is elegant in its simplicity. All that's needed is some good coffee beans (freshly ground) and hot water, a 4-minute wait, then plunge and pour. What could be easier?
Brewing via steeping has great benefits: all the delicious oils from the beans stay in the coffee, and it's easy to adjust your brew to suit your tastes.
So, if like many households around the world (including ours), you're a French press fan then you may be wondering what's the best coffee for French press? And, having kissed many coffee-covered and French-pressed frogs, we are here to answer exactly that.
We've picked our favorite beans from around the world. There was just one criterion: the coffee beans had to be at their very best when brewed in a French press. The great thing about this brewing method is the flexibility it provides you. So, when picking the best coffee beans for French press you can explore the nuance of different coffee growing regions without having to buy any expensive equipment.
Volcanica – Ethiopian Guji Coffee
Ethiopian coffee is synonymous with great quality. And this offering from Volcanica is no exception:
Ahabu owns and operates the 300-hectare Kayon mountain farm where this coffee comes from. It is 520km south of the capital Addis Ababa in the Guji region of the country. 
The farm was taken over in 2012 by Ismael Hassan, they are focused on sustainably growing some of the best 100% Arabica coffee beans in Ethiopia. The meticulous care that is taken in the growing, harvesting, and processing of the beans shines through in the cup.
Using Acacia and other indigenous trees for shade growing and natural fertilizer adds to the quality and sustainability of this coffee. The farm is 5500-6500 feet above sea level, complex flavors develop thanks to the slow-ripening cherries which are then hand-picked to ensure the best quality coffee for your French press.
With floral notes, hints of complex citrus fruit, and bright acidity, this is a complex and refreshing coffee.
Spirit Animal – Bourbon
Spirit Animal Coffee specializes in microlot coffees from the stunning coffee-producing nation of Honduras. And this particular specialty French press coffee comes from the Yuliana Hernandez microlot in Marcala.
The medium roast coffee beans are from a single Honduran coffee farm, located over 6,000 feet above sea level. Here, the processing method used is the natural process which intensifies the sweet fruit flavors.
Spirit Animal works very closely with the farmers of these microlots to ensure only the highest quality coffee beans make their way to you. Whilst this obviously means it's a relatively expensive coffee, you can feel good about the money going to the people it should: the talented growers and workers on their farms.
Plus, you'll be delighted by the quality of the resulting French pressed brew bursting with tropical fruit, cacao, hazelnut, and white wine notes.
Lifeboost Coffee – Dark Roast
The entire Lifeboost Coffee range comes from a single farm in the Mt. Kilambe area of northern Nicaragua. Here, the coffee cherries are farmed at an elevation of 5,700 ft and are hand-picked at peak of ripeness before being washed processed. This preserves the bright, clean flavors of Nicaraguan coffee grown at altitude.
Lifeboost's primary aim is to create low acid coffee that is kind to the gut. They also have all their coffee beans tested by an independent third party to ensure there are no mycotoxins. So you know you're only getting good coffee beans and a good cup of joe.
They don't just look after you though, they also work with Rainforest Trust to preserve biodiversity and habitats across coffee-growing regions. On top of this, they are USDA Certified Organic and their coffee is all Shade-Grown.
Hands down, this is one of the best dark roast coffees available and is perfect when used with a French press. You can enjoy smooth caramel and chocolate notes, dried fruits, and just a hint of spices.
Equator Coffees – Cajamarca Peru
From the Andes in the north of Peru comes this delicious coffee. This coffee is from the Chirinos cooperative which was founded in 1968 and now has 700 members. They are looking to improve the quality of life in their area through, education, environmental protection, food security programs, and diversification.
The Cajamarca region is in the north of Peru and extends all the way to Ecuador. These farms are between 4,300- 6,500 feet asl, perfect for coffee growing. The washed processing keeps the unique style of Peruvian coffee in the final cup.
The highly floral aroma gives way to sweet dried fruit and candy notes on the finish. This lighter roast works perfectly with French press. The aromas are bold and steeping allows for perfect balance of flavors.
Koa Coffee – 100% Ka'u Private Reserve Medium Roast
In the south of Hawaii's "Big Island" lies the Ka'u Forest reserve just to the north of the small town of Pahala. The coffee from this region is comparable in style to some Central American coffees. But it has its own quirks that make it an exciting brew to try, particularly as a coffee for French press.
Koa Coffee specializes in the unique flavors of Hawaiian coffee, having started as a small, family business in 1997. Their dedication to quality coffee has seen them named in lists of the best coffee in America multiple times. And, over the years, they have gone from strength to strength.
The medium roast whole bean coffee has notes of bright citrus fruit, jasmine, caramel, and currants. A syrupy mouthfeel and very smooth finish give this coffee the WOW factor that will have you clamoring for more of Hawaii's finest.
Volcanica – Jamaica Blue Mountain Peaberry Coffee (Luxury Pick)
Peaberry Coffee from the Blue Mountain region of Jamaica is possibly the most prized and sought-after coffee in the world. And, after just one sip, it's clear to see why:
It has big flavors with excellent balance and arguably the most intoxicating aroma of any coffee.
Very strictly controlled by the Jamaican government, coffee from the Blue Mountain region has been prized as the "best in the Caribbean" for a long time. And you will find many coffee experts who will say it's the best in the world. Why? The combination of elevations over 2,000 feet, rich soil, and continuous rainfall create perfect coffee farming conditions for the world's finest coffee beans.
To add the already extreme exclusivity and desirability of Blue Mountain coffee, we have the rare Peaberry. This is when the cherry produces 1 seed instead of 2 – something that only happens in around 5% of the crop. Peaberry is generally thought to have more complex flavors and better balance than regular coffee. Plus, as there is no way to guarantee growing Peaberry, you'll pay a premium for the experience.
The natural processing adds an extra hint of sweetness to this creamy and floral coffee, with smooth chocolate notes and a light but refreshing acidity. For a taste of luxury, these are truly the best French press coffee beans.
Out of the Grey – Costa Rican La Minita Coffee
On the site where the indigenous people of Costa Rica went to search for gold, in the Tarrazú region, lies a 1,200 acre farm growing supremely good coffee.
Whilst the farm is located in the Tarrazú region, they believe the geography and microclimate give their coffee better balance and more flavor than most of the region's coffees. It is for this reason, they don't put Tarrazú on the label.
A lot of experimentation and effort has gone into producing the best beans from the particular microclimate of the farm. So, whilst Caturra, Catuai red, Catuai yellow, and Hibrido Tico coffee varietals all grow on the farm, they concentrate predominantly on Caturra with a little Hibrido Tico.
The farm is also home to 200 acres of rainforest which will never be put under cultivation. Across the rest of the farm, they have a rotation of coffee cultivation to ensure the natural biodiversity is maintained. It is this care and attention to the local environment that ensures the coffee's Rainforest Alliance Certification.
When carefully brewed in a French press, this Costa Rican coffee bursts with flavors of caramelized sugar and sweet citrus. The coffee has a medium body and a creamy finish.
Joe Coffee – Burundi Turihamwe IWCA
This exceptional coffee from the small nation of Burundi is sourced through Jeanine Niyonzima-Aroian of JNP Coffee and sold by Joe Coffee. She is an incredible woman who is making a real difference to the communities she works with in Burundi through her community empowerment, financial literacy, and gender equity work.
In the northern Ngozi region, 7 IWCA members pooled their resourced to buy their own wet processing mill called Gitemzi. By doing so, the women can ensure the quality of their coffee beans is maintained right through from growing to export.
Through fair payment of wages, this ethically grown coffee does good whilst also tasting good.
The stone fruit and berry flavors are countered by a pleasant citric acidity and floral notes on the nose. High elevation and careful processing help produce the incredible quality coffee. Whilst not all brewing methods can support the delicate flavors of the light-medium roast, the French press is definitely up to the task.
Altruistic Joe – Cream & Crimson Blend
What separates the average from the amazing coffee for French press is the aromatic oils that are retained in your cup of joe. And Altruistic Joe are nailing it with this blend of highly aromatic coffees from two exciting coffee countries.
By mixing the bold, sweet fruit flavors of Guatemalan coffee with the berries and flowers of coffee from Ethiopia, you end up with a big aromatic punch in a cup.
Light to medium roast isn't for everyone. But this sharper style of coffee really shows off the best flavors of these regions and steeping is an excellent way to extract all that goodness.
Altruistic Joe is a Veteran owned company. They also donate 20% of net profits to a range of charities. So you can feel good about your coffee beans purchase.
Stone Street – Cold Brew Reserve Colombian Supremo
The French press doesn't just make delicious hot coffee, you can also use it to make incredible-tasting cold brew too. And, Stone Street's Cold Brew Reserve is exactly what you need to help you whip up a batch. So, these great-tasting coffee beans feature on both our lists of the best coffee beans for French press and for cold brew.
The 100% Arabica coffee beans are dark roasted in a small New York roastery. There, they ensure the single-origin Colombian beans receive the best treatment and make their way to you at their optimal freshness.
You can expect a smooth and well-balanced coffee flavor that combines beautifully with the deep, rich results of the French press brew method to draw out the fruity, nutty Colombian flavor profile.
Stone Street offers up either whole bean coffee or a coarse grind, perfect for the French press. Although we find the pre-ground to be a little uneven so you're better off grinding your own, if possible. Either way, you can expect to enjoy a crisp, clean, well-balanced cup of coffee.
As different brewing methods bring out different qualities, the best coffee for French press will differ from the best Chemex coffee beans or espresso beans.
The beauty of French press brewing is the flexibility it affords you. You can opt for any roast from any region and still get a delicious cup of coffee. That said, there are a few top tips to follow:
Whilst it's true that only a bad worker blames their tools, a bad French press will result in silty, muddy coffee – hardly a great start to the day. So start with a good quality French press coffee maker. Or, if you travel a lot, look for a traveling French press instead.
Steer clear of pre-ground coffee wherever possible as it loses freshness too quickly after grinding. Instead, freshly grind whole bean coffee yourself. You want a grinder that performs well at the coarser end of the spectrum – here is a list of the best options.
Use the correct ratio of coffee to water to match the size of your French press and how strong you like it. For most French press coffee lovers, a 1:12.5 ratio is a good place to start. But our handy calculator takes away all the guesswork – click here to check it out.
Keep it clean. There is nothing worse than mixing old, stale coffee with vibrant, freshly brewed coffee. So, keep on top of cleaning your French press.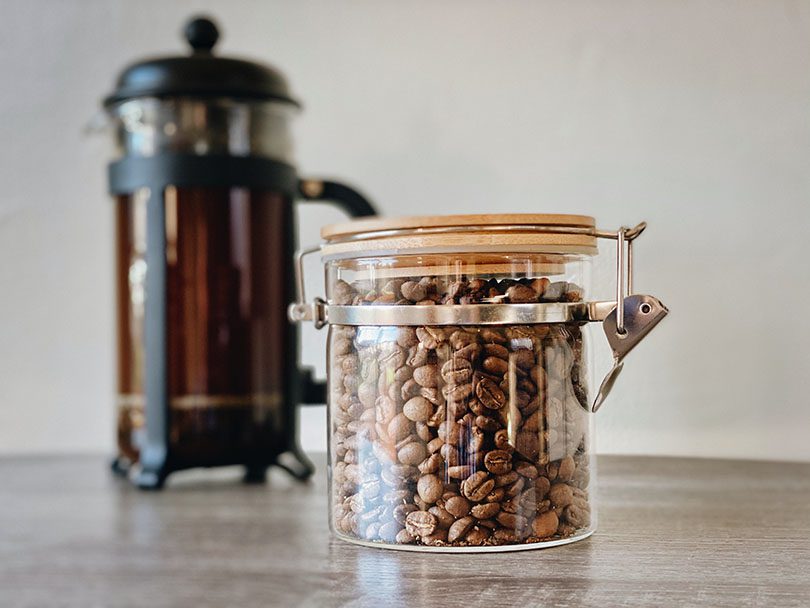 Best Roast for French Press
The best roast for French press depends on just one thing: What do you like drinking?
Not sure? Then check out our complete guide to the different coffee bean roasts and what you can expect from them.
One of the best features of the French press is that it brews up delicious coffee, no matter what roast you opt for. As a general guide of what to expect from the best coffee for French press, follow these roasting rules:
If you want to explore the unique flavors of a certain growing region then light roast coffee is best for you. These coffees will be citrusy and delicate, with less of the caramel and chocolate flavors you may be used to. But, brewing light roast coffee in a French press will allow you to enjoy the nuance in flavor.
For us, medium roast coffee beans are the best roast for French press. You still get the unique taste of the growing region but with more of the classic coffee flavors. This balance between bean flavor and roast flavor leads to a delicious cup of joe when steeped in a French press and allows you to explore the diverse world of coffee.
As the roasts get darker, you taste less of the beans and more of the roasting process. This is great if you love big, bold coffee with hints of smoke and bitter chocolate notes. You can still taste general stylistic differences in the countries of the world but to a much lesser degree.
If you're relatively new to grinding and brewing French press coffee at home, you may want to start with darker roasts – it's more like what you'll be used to. Then get gradually lighter roasted beans to find the perfect level for you.
Best Coffee Grind Size for French Press
The most important thing when brewing French press at home is ensuring you have the right coffee grind size.
Whilst we don't recommend it for freshness, if you get your coffee pre-ground, make sure you buy coarse ground coffee beans. Some roasters will even label this as French Press Grind to make life even easier.
If you're buying from your favorite roaster, you can ask them to grind it for you. Then they'll be able to get the grind size right and also advise you on the optimum brewing time and ratio for their beans.
But to really get the best cup of coffee from your French press, it is best to freshly grind the whole bean coffee yourself. Doing so keeps all those delicious oils in your brew and means you'll never have "stale" coffee.
A bit of trial and error is needed depending on your grinder. But the best way to work is to set it as coarse as possible and then work finer from there if needed.
And remember: what works for one coffee bean might not work for another. So have fun and experiment.
Single-Origin or Blend?
For us, single-origin coffee is the best option for great tasting French press coffee brews. It is all about the excitement of tasting something different, seeing how the climate and processing change the cup.
Don't get us wrong, blends can be great too. However, many blends are created as an easy way to use up lower quality coffee beans by mixing them with some better ones to add "top notes".
When buying coffee for French press, single-origin coffee beans will best. This is because steeping draws out all the delicious oils and minerals that make coffee beans taste so great. And, with so many places growing amazing coffee, you'll never be short of choice.
The best thing to do is pick a couple of different beans from totally different regions of the world and try them next to each other.
We love tasting Spirit Animal's Bourbon Honduran beans next to the flavorful coffee beans from Ethiopia by Volcanica as they show two completely different but delicious sides to coffee. Throw in some wet-hulled Sumtatran beans for when you need a serious jolt in the morning, and you are onto a winner.
So, our recommendation for the best coffee for French press is simple:
Taste everything. Life is too short to limit yourself to just one style of coffee beans.