Java may be the most famous of Indonesia's islands for coffee but these days you're more likely to see Sumatra Coffee as a single origin at your local coffee shop. Sumatra is the largest island that is entirely part of Indonesia and the 6th largest island in the world.
Why does Sumatra coffee get special recognition from one of the biggest coffee-growing nations in the world? More importantly, what's it like, and is it worth trying?
We break down all you need to know about coffee from Sumatra and the best ones to buy here.
This article may contain affiliate/ compensated links. As an Amazon Associate, we earn from qualifying purchases at no additional cost to you. For more information please see our disclaimer here.
Sumatra coffee history starts in the 1600s when coffee was brought to Indonesia by the Dutch. It was initially brought to Java, obviously, but spread across the islands that were ideally suited to coffee growing. Though it didn't reach the highlands of Sumatra until 1888.
Coffee leaf rust decimated the Arabica coffee plantations of Indonesia and they were replanted with Robusta, which is much more disease resistant than the Typica Arabica variety that had initially been brought to the islands. To this day most of the coffee grown in Indonesia is Robusta.
The high-altitude plantations on Sumatra were much less affected, many did not suffer from coffee leaf rust at all. As a result, more Arabica varieties were planted there – some with mild disease resistance. Now, most of the Arabica coffee grown in Indonesia is Sumatran. Green coffee production remains strong to this day, with over 61,000 tons being exported in 2019.
Mandehling is the name of a tribe that lives in Sumatra, it has no special meaning in terms of coffee processing/quality/varietal at all. In the early days of coffee production on the island, coffee bags were often stamped with the name of this tribe and people mistook this for the area.
Another misconception is that it is one of the Sumatra coffee brands, but most coffee from Sumatra is actually from smallholder farmers.  
Any big "brands" that may exist are best avoided. The name has stuck, and you'll still see a lot of coffee labeled as "Mandehling" from Sumatra. But it's entirely a marketing exercise so don't pay any attention to whether coffee is labeled as "Mandehling" or not.
If you want to know more about the coffee produced on other Indonesian islands, we've got you covered.
Gayo/Aceh
Named after the nearby Gayo Mountain, the coffee grown in this region is from roughly 4000-5500 feet above sea level. This region also produces some "aged coffees" which have been stored for months or years bringing a completely different flavor profile. We wouldn't describe them as better or worse than other coffee from Sumatra, but they are very different. We wouldn't pay a hefty price for them though.
Lintong
The other major coffee region in Sumatra is Lintong. From around Lake Toba in the central region of the island, just to the South of Medan. Lintong coffee tends to be of a medium body and slightly more balanced than some of the big styles grown elsewhere in Sumatra.
Ankola
From near the port of Padang on the west of Sumatra, Ankola is unusual in that most of the coffee from this region is dry processed, rather than the traditional Giling Basah (wet-hulled) that we see elsewhere.
This gives the coffee from Ankola a more intensely sweet fruit style, less spice and lighter in body. This is a nice change-up if you want to try something totally different from Sumatran Coffee. It is, unfortunately, also incredibly difficult to get hold of.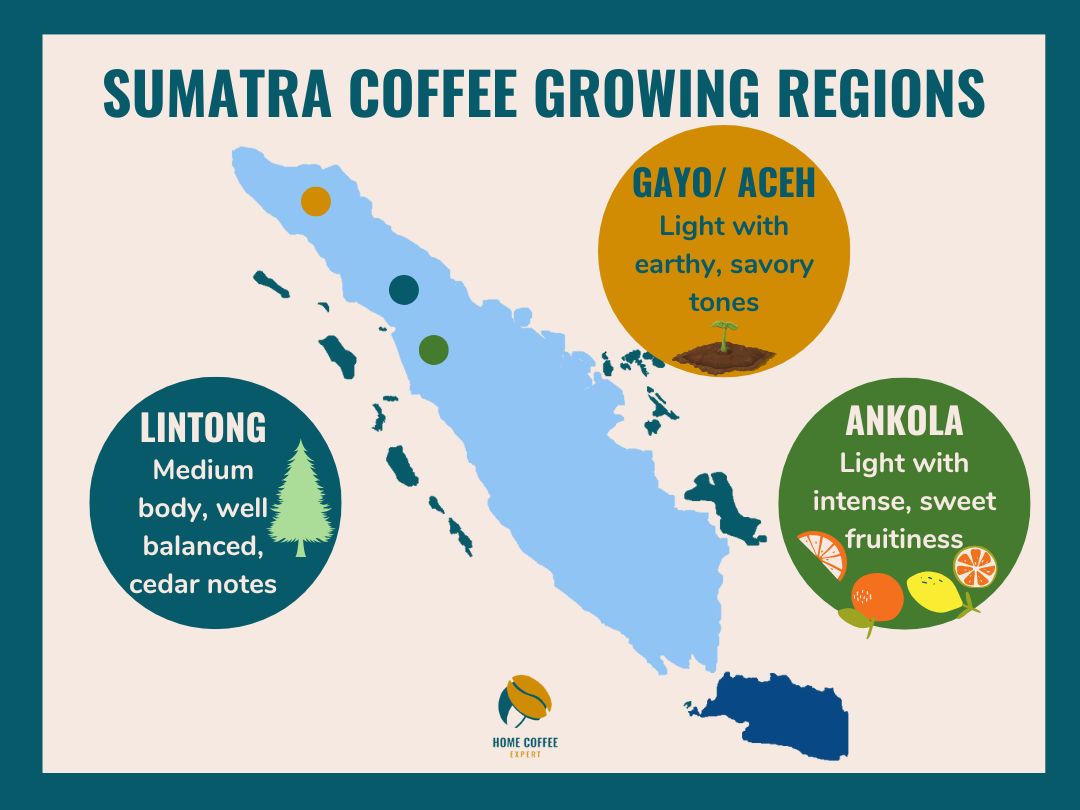 Wet hull processing involves removing the hull and husk of the coffee cherry at a much higher moisture level. This works particularly well in the humid environment of Sumatra and the rest of Indonesia but isn't seen much outside the islands. The process gives the beans a blueish tint and gives the rich, earthy notes associated with Sumatra Coffee.
If you want to know more about how coffee beans are processed, we've explained all the methods and how they affect the flavor of your coffee
Sumatra Gayo Volcanica Coffee – Best Overall
If you're looking for a pure taste of Sumatran Arabica then we think the best Sumatran coffee beans available are Volcanica's single-origin, washed processed coffee from Gayo Mountain.
A relatively rare find, compared with other areas of Sumatra, the distinct microclimates of the farms around Gayo mountain create unique and diverse flavor profiles. These beans are grown near the town of Takengon with the shade of the rich forests creating a complex variety of flavors from the slow-ripening beans.
The combination of sweet stone fruits with rich earthiness and low acidity makes for a very unique coffee drinking experience.
These beans are also grown in conjunction with the Orang Utan Coffee Partnership. They work with coffee farmers to ensure a sustainable business without clearing the rainforest and precious habitat of these amazing animals.
Sumatra Queen Ketiara, Equator Coffee – Best for Pour Over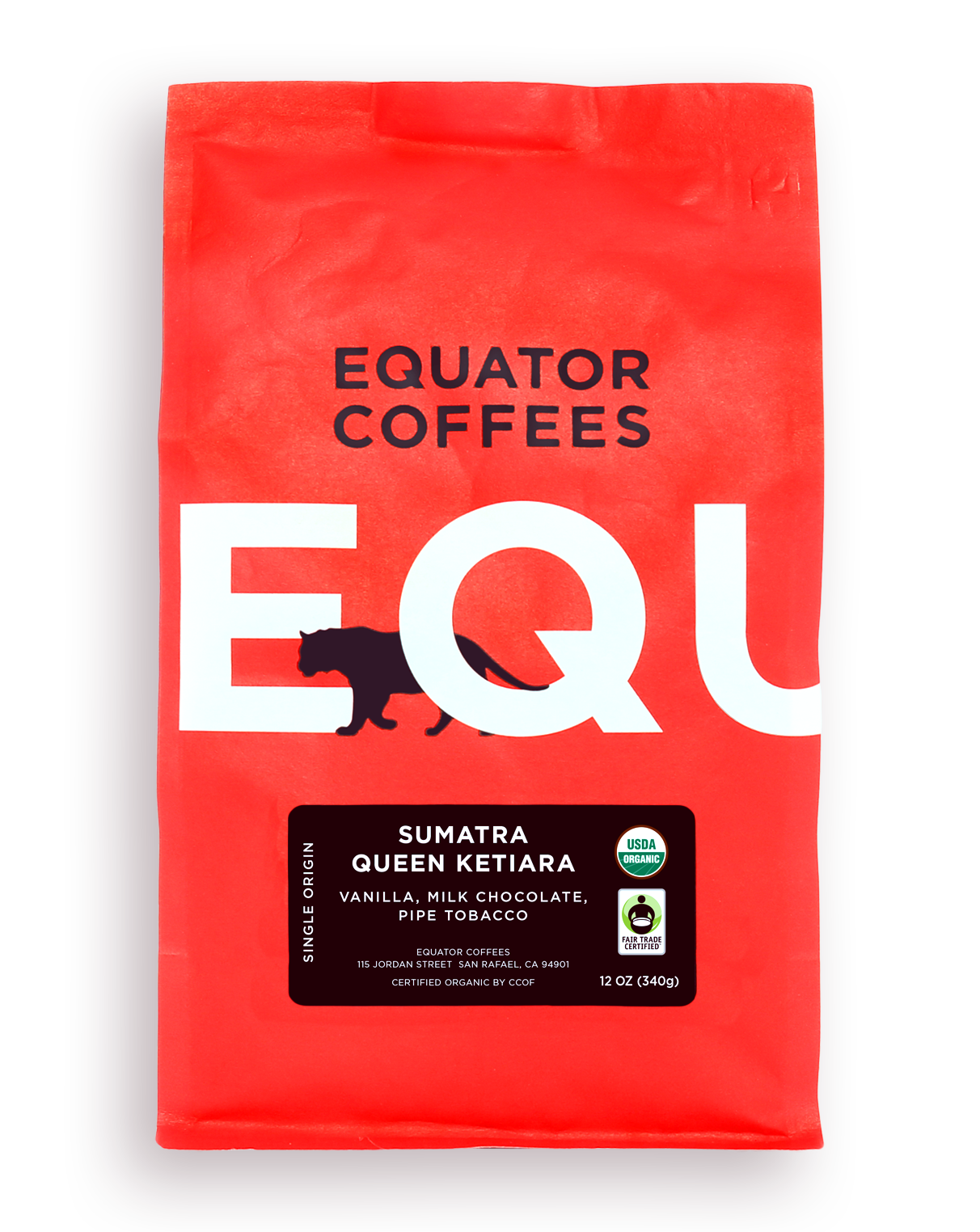 What to Expect:
Source: Takengon
Roast: Medium-Light
Processing: Wet-hulled
Aroma: Fresh herbs, chocolate, and tangerine
Tasting notes: Milk chocolate, vanilla, tobacco, and clove
Important notes: From a single producer, Equator pay extra for the "Queen" designation to support programs that benefit women in Sumatra
Another phenomenal coffee from near the town of Takengon in the Gayo Highlands. This coffee comes from a cooperative with a majority female membership and is sourced solely from the women-run farms within the cooperative. With women making up over 80% of the coffee-growing workforce in Sumatra it is important to support those who are empowering women to run their own sustainable businesses.
This coffee is wet-hulled "giling basah" processed, which creates those earthy notes that are so well associated with Sumatran coffee but these beans also offer notes of sweet stone fruits and that gentle acidity Sumatra is famous for.
Medium to light roast makes this an ideal pour over or French press bean if that is your preferred brewing method. It can be used for other coffee methods too, but not ideal with espresso as you may lose some of the fruit notes.
Sumatra Dark Roast, Cooper's Cask Coffee
If you're a dark roast type of human and you're looking to see what Sumatra has to offer then Cooper's Cask's Sumatran offering is the one for you. Organic and Fairtrade, small batch roasted to rich, dark perfection making them ideal for the espresso machine or just those who like things a little darker.
You'll still find some of those sweet stone fruit notes that other Sumatran coffees boast but these are bolstered by rich, woody aromas and a touch of tobacco on the finish.
These beans are sourced from Lintong in North Sumatra near Lake Toba. The site of an extinct volcano, the rich soil in this area can give very interesting flavors to the coffee beans.
Sumatra Mandheling Coffee, Out of the Grey
What to Expect:
Source: Mount Leuser
Roast: Dark-Medium
Processing: Wet-hulled
Aroma: Cherry, dark chocolate, and spice
Tasting notes: Rich earthy notes, dreid berries, chocolate, and cedar
Important notes: Cherries are "triple picked" or hand selected 3 times to ensure quality. Also available as a swiss water process decaf.
Grown on the slopes of Mount Leuser, near Padang in Western Sumatra the beans here are double or triple-picked to ensure quality (this refers to the number of times they are hand-selected). This coffee is wet-hulled and the very full body and spicy/earthy taste profile is bold and slightly in your face.
An unapologetic Sumatran coffee that doesn't try to tone down the flavors that have made this island so famous for its unique style. Probably not to everyone's taste, but if you like big, bold coffee with serious intensity, and low acidity, then you're on to an absolute winner.
Single Origin Sumatra, Java Planet
Java Planet is a reliable source of high-quality, organic, and FairTrade Certified coffee. They sell on Amazon, but we've never had any issues with coffee from them tasting "stale", I expect their turnover is so high that this isn't a problem.
Their Sumatran offering is exactly what you'd expect having read about the flavors from the island. It's bold, it's full-bodied, and it has chocolate and earthy notes that are characteristic of the island.
They don't trace the beans back to a single farm or cooperative so there is less nuance than in some of the other offerings, but the accreditations give you confidence that they're doing things the right way.
Sumatra Swiss Water Processed Decaf, Fresh Roasted Coffee – Best Decaf
Not wanting (or being able) to consume caffeine does not exclude you from the joys of Sumatra coffee. Fresh Roasted's Swiss water process decaf brings all the punch of the regular beans without the jitter. The Swiss Water Process is chemical-free and uses flavor-infused water to extract the caffeine without taking away any of the precious flavor giving compounds from the coffee.
From the Takengon region of Sumatra, these beans are grown at 3,300 feet above sea level. Organic and Fair Trade certified, the rich, smooth, earthy flavors still punch after the caffeine has been removed and the sweet chocolatey finish is a joy. Especially for those of us who can't drink much caffeine.
Sumatra Gayo Peaberry, Volcanica – Best Peaberry
Grown between 4,500-6,000 feet above sea level in Ache, at the northernmost tip of Sumatra, these washed processed Peaberry beans are bright and fruity with delicate hints of cacao. Not the same bludgeon of flavor that is expected from the Wet Hulled process, but with the rare peaberry beans you want to get more nuance and subtlety.
These beans are purchased through Direct Trade with various smallholder farms in the Ache region near Takengon in Sumatra. These smaller farms rarely have the money or time to pay for Organic or Fair Trade accreditations but by dealing directly with the farmers, Volcanica makes sure they're paid the right price for these exceptional products.
Sumatra Lake Toba, Allegro Coffee – Best Light Roast
From farms in Lintong Nihuta near Lake Toba in Northern Sumatra, the light roast gives more of a herbal style to the coffee compared to the darker roasts with more earthy flavors.
Allegro Coffee sources its beans directly from various smallholder farms in the region. They work closely with the Batak people to ensure their businesses are sustainable long term and the local environment is preserved, as well as paying a fair price for their excellent produce.
Light roast suits those who prefer non-espresso brewing methods, particularly French press and pour over. The subtlety of the fruit notes combined with the savory flavors imparted during the Giling Basah processing gives a herbaceous feel to the cup. It's still a full-bodied coffee oozing but somehow more restrained. A great one to try and, if you're a fan of lighter roasts, then it's an absolute must.
Organic Dark Sumatra, Portland Coffee Roasters
Portland Coffee Roasters is a carbon-neutral company that predominantly produces excellent blends. But there is a couple of fabulous single-origin coffees in there too. The dark roast Sumatra brings rich chocolate and spice along with the classic earthy notes of Giling Basah processed beans.
They take sustainability seriously and work not only to ensure the farms they source from are doing all the right things but all the way through the company to the office staff. Composting, recycling, and energy-efficient lighting, as well as bicycle deliveries within the Portland area, the carbon neutral certification is impressive but also something they are working to improve on.
Image
Product
Details
Best For
Volcanica Gayo Coffee

Medium Roast
Washed processed
Caramel, peach, wisteria, and cacao nibs

Pour Over/Aeropress
Equator Coffees Queen Ketiara

Medium-Light Roast
Wet-hulled Processed
Milk chocolate, vanilla, tobacco, and clove

Pour Over
Fresh Roasted Sumatra Swiss Water Processed Decaf

Medium Roast
Wet-hulled Processed
Sweet berries, earth, spices

French Press
Volcanica Sumatra Gayo Peaberry

Medium Roast
Washed Processed
Caramelized peach and flowers

Pour Over/Aeropress
Allegro Coffee Sumatra Lake Toba

Light Roast
Wet-hulled Processed
Grapefruit and herbs

Pour Over/French Press
Cooper's Cask Sumatra Dark Roast

Dark Roast
Washed processed
Smoke, sweet berries, chocolate

Espresso
Out of the Grey Sumatra Mandheling

Dark-Medium Roast
Wet-hulled Processed
Cherry, dark chocolate, spices

Espresso
Java Planet Single Origin Sumatra

Dark Roast
Wet-hulled Processed
Chocolate and sweet spices

Espresso
Portland Coffee Roasters Organic Dark Sumatra

Dark Roast
Wet-hulled Processed
Intense, chocolate, earth

Espresso
Sumatra coffee beans are known for their bold flavors and full body. The unique wet hulling process and diverse landscape make for exciting flavor profiles and a diverse collection of beans to try. The difficulty can be in finding the different styles produced as most of the coffee is wet hull processed and sold as "Sumatran Coffee" rather than by the smaller regions that the beans come from. Maybe not for everyone, but definitely worth trying as there is nothing else like it in the world.
You Might Also Like
Naming your new furry friend is a tall order. But if you love coffee as much as your pup, get inspired by one of these Coffee Names for Dogs

The Kyoto Latte is an incredible addition to the coffee world from % Arabica's flagship store in Japan. Discover what makes it so special