If you're looking to try the best Ethiopian coffee beans, then you're in the right place.
Ethiopia produces some of the most stunning and diverse coffees this world has to offer thanks to the country's topographical range. The jaw-dropping coffee flavors combined with the mystical history as coffee's birthplace makes Ethiopia one of the most talked about coffee nations.
Not only is Ethiopia home to the Arabica coffee tree but also to coffee as we know it today. Skip forward a few centuries and coffee now plays a key social and economic role in Ethiopian culture. But, having changed dramatically over time, the coffee scene is complex, to say the least.
So dive right in to understand how Ethiopian coffee went from goats to gourmet coffee beans, where the coffee is grown, and what it tastes like. Then, most importantly, which Ethiopian coffees that you need to try.
This article may contain affiliate/ compensated links. As an Amazon Associate, we earn from qualifying purchases at no additional cost to you. For more information please see our disclaimer here.
Image
Product
Details
Volcanica – Ethiopia Golocha Harrar Coffee

Medium/light roast
From Harrar region
Flavors of blueberry, honey, lavender, chocolate

Volcanica – Ethiopian Yirgacheffe Decaf Coffee

Medium/Light roast
From Yirgacheffe
Flavors of blackberry, blueberry, lemon

Out of the Grey – Oromia Yirgacheffe

Medium/dark roast
From Yirgacheffe
Flavors of orange, lychee, creamy chocolate, light spice

Equator Coffees – Ethiopia Sidama Ardi

Light roast
From Guji region
Flavors of sweet lemon, lavender, vanilla

Fresh Roasted – Yirgacheffe

Medium roast
From Yirgacheffe
Bright citrus & sweet tea notes

Stumptown – Ethiopia Duromina

Medium/Light roast
From Jima region
Flavors of peach, grapefruit, black tea

BLK & Bold – Limu, Ethiopia Single-Origin

Light roast
From Limu region
Taste of blueberries, honey, bitter chocolate

Cooper's Cask Coffee – Ethiopian Bold Roast

Light roast
From Gomma region
Lemon, honey, floral
Best Overall: Volcanica, Ethiopia Golocha Harrar
What to Expect:
Roast Level: Light-Medium Roast
Region: Golocha, Harrar, Ethiopia (Single-Origin)
Varietals: Heirloom varietals like Buna Guracha, Shumbure, Arso and Abadir
Processing Method: Natural
Tasting Notes: Blueberry, honey, chocolate, and lavender
Important Notes: All Volcanica coffees are roasted and sealed after you place your order for maximum freshness
A group of 10 smallholder farmers across the Golocha region in Harrar cultivate the local heirloom varietals from indigenous Ethiopian coffee trees on roughly 5 hectares of land each. Here, the farmers handpick and sort the coffee cherries before they undergo natural processing to bring out the big fruit flavors of Harrar coffee.
By hand sorting the cherries, the farmers can ensure that only the very best Ethiopian coffee beans make it to your cup. And that the signature vibrant flavors of Ethiopian coffee are brought out of the beans. The result is a phenomenal tasting brew.
Volcanica's Ethiopia Golocha Harrar is a truly stunning representation of the local terroir found 5,000 to 6,500 feet above sea level. In fact, it so expertly displays what makes Ethiopian coffee special that the Wine Spectator featured it in their April 2021 edition on the birthplace of coffee.
Out of the Grey, Oromia Yirgacheffe
What to Expect:
Roast Level: Medium-Dark Roast
Region: Yirgacheffe, Ethiopia (Single-Origin)
Processing Method: Natural
Tasting Notes: Sweet and complex flavors of sandalwood, orange, and lychee, creamy chocolate, and light spice
Important Notes: Organic, Rainforest Alliance, and Bird Friendly Certified coffee. The Oromia cooperative are committed to improving prices and living conditions for each of its members and their communities
This Ethiopian coffee offering from Out of the Grey is grown by the Oromia Coffee Farmers' Co-operative Union. The cooperative was founded in 1999 by 35 organic certified farmers in Yirgacheffe, in the mountains of southwest Ethiopia.
In this area, access to electricity and running water is a rarity. So the Oromia Coop fights for and invests thousands of dollars to provide access to potable water, electricity, healthcare provisions, and childhood education. The improvements in education and infrastructure not only help the members but also the surrounding communities.
They also operate under the Auction Market Waiver. This allows them to sell directly to specialty coffee markets in the US, Europe, and Japan, getting the best possible prices for their members.
Each of the indigenous farms is certified Organic, Rainforest Alliance, and Bird Friendly. This trifecta of ethical coffee labeling ensures the people and environment are properly looked after for future generations of coffee farmers.
The natural processing draws out flavors of orange zest and lychee with hints of sandalwood and creamy chocolate on the finish. For us, there's nothing better than French press brewing this delicious medium-dark roast Ethiopian coffee on a lazy weekend morning.
Equator Coffees, Ethiopia Sidama Ardi
What to Expect:
Roast Level: Light Roast
Region: Guji, Ethiopia (Single-Origin)
Varietals: Sidama Heirloom
Processing Method: Natural
Tasting Notes: Sweet lemons, lavender, and vanilla
Important Notes: Equator Coffees have a long-term relationship with the farmers of Ardi and have been engaging in Direct Trade with them since 2013
In Southern Ethiopia's Guji Zone, coffee farming is the main source of income for the 3,000 inhabitants. Each of the smallholder farm owners contributes to growing this incredible coffee, taking great care over their work.
As Equator Coffees buy directly from the community at Guji, the coffee farmers receive a fair price for their whole bean coffee. All of this money goes directly into the hands of those responsible for growing, harvesting, and processing the coffee beans without passing through any middlemen.
Inspiration for the Sidama Ardi coffee's name came from the discovery of Ardipithecus Ramidus, the oldest hominid skeleton ever discovered. Being quite the mouthful, the name of the 4.4 million-year-old fossil was shortened to Ardi upon being found in Ethiopia's Rift Valley – the same place this coffee is grown.
The sweet flavors of the naturally processed Ethiopia coffee are deeply complex thanks to the high altitude (5,800 feet asl) where they are grown. This develops the signature delicate body and complexity that Ethiopian coffee is so well loved for.
Fresh Roasted, Ethiopian Yirgacheffe Whole Bean Coffee
What to Expect:
Roast Level: Medium Roast
Region: Yirgacheffe, Ethiopia (Single-Origin)
Varietals: Indigenous heirloom varietals
Processing Method: Washed
Tasting Notes: Bright citrus flavors of sweet tangerine and lime alongside notes of sweet tea
Important Notes: This coffee is USDA certified organic and freshly roasted in their USA-based environmentally friendly Loring Roaster in a bid to reduce their carbon footprint
A cooperative in the Gedeo Zone, Southern Ethiopia harvest this Ethiopian Yirgacheffe whole bean coffee sold by Fresh Roasted. The area gets its name from the indigenous Gedeo people of the area.
In drinking this coffee you can experience a shining example of the complexity of high-altitude grown Yirgacheffe coffee. With farms between 5,500 feet and an astonishing 8,000 feet above sea level, those complex flavor molecules have lots of time to develop in the slow ripening cherries.
It's not often you find washed coffees from Ethiopia – after all, water is hard to come by in the African nation. But these coffee beans have undergone washed processing, drawing out the clean, complex flavors. Then they are medium roasted in the US to preserve the unique style from this part of Ethiopia.
Stumptown, Ethiopia Duromina
Stumptown Coffee Roasters has been in the game for a long time. So you know you are going to get a well-crafted thoughtful coffee when you buy from them. They roast in small batches and just enough to really bring out the best in the beans. In this case, that means the lighter end of medium coffee bean roasts.
The word "Duromina" means "improve their lives" in Afan Oromo. And that is exactly what the 320 members of the Duromina Cooperative set out to do and have achieved.
Like many Ethiopian coffee farmers, each of the members grows their coffee in small plots close to their homes. This is then brought to the centralized processing station where they are hand-sorted.
This coffee offers something a little different from the traditional Ethiopian coffee taste. Rather than deeper fruity flavors, you get a cup of coffee bursting with peach, grapefruit, and black tea. It is certainly a unique, interesting taste that we haven't found elsewhere.
BLK & Bold, Limu Ethiopia Single-Origin
What to Expect:
Roast Level: Light Roast
Region: Limu, Ethiopia (Single Farm)
Varietals: 100% Arabica
Processing Method: Natural
Tasting Notes: Blueberries, honey, and bitter chocolate
Important Notes: BLK & Bold was founded by Pernell & Rod and quickly attained B Corp Certification. They donate 5% of profits to support at-risk youth both locally and nationally
Next up we have a coffee that not only tastes good but does good too. BLK & Bold is a black-owned B Corp Certified company established with a mission: to help young people live their best lives and overcome difficult circumstances. To do this, they donate 5% of profits to projects that support at-risk youth locally and nationally.
Purchasing this coffee specifically supports No Child Hungry to improve the lives and futures of at-risk young people in America.
Their excellently light roasted Ethiopian coffee comes from the Western region of Limu. The coffee beans are grown at altitudes between 6,000 and 6,500 feet asl then naturally processed to bring out the berry fruit flavors.
If you're a black coffee drinker, you will love the Ethiopian bright, light coffee profile with a big aroma and big burst of flavor.
Cooper's Cask Coffee, Ethiopian Bold Roast
What to Expect:
Roast Level: Light Roast
Region: Gomma, Ethiopia (Single Farm)
Varietals: Heirloom varietals
Processing Method: Natural
Tasting Notes: Incredibly bright, clean flavors of lemon tart and honey with sweet floral notes
Important Notes: Grade 1 Ethiopian coffee beans are paired with award-winning whiskey or rum barrels to create unique but delicious flavor profiles
If you want to step outside the mainstream coffee regions and see what the rest of the Ethiopian coffee scene has to offer, these coffee beans from Cooper's Cask Coffee are a great place to start. They come from small farms in the Gomma woreda (district), so offer up a different taste.
Cooper's sources only Grade 1 specialty coffee beans which they pair with their award-winning whiskey and rum barrels to create a unique flavor profile. Being lightly roasted, you get to experience the intense natural flavors of the coffee beans from lemony, fruity, and floral notes to the sweet honey tastes.
Once brewed, this whole bean Ethiopian bold light roast coffee has a smooth, velvety body that complements the array of flavors. Thanks to the complex vibrancy, this makes a great tasting pour over coffee.
Best Decaf Ethiopian Coffee: Volcanica, Ethiopian Yirgacheffe Coffee Decaf
For anyone who wants to enjoy great Ethiopian coffee but without the caffeine injection, Volcanica's Yirgacheffe decaf coffee is the answer.
This is a pretty special coffee that really shows off what makes Ethiopian Yirgacheffe coffee special. It has a unique and complex flavor that is medium-bodied and bursting with lemon acidity but balanced by the big fruity notes of blueberries and blackberries.
When browsing the best Ethiopian coffee brands, you will see that several offer organic coffee beans. But, organic certification is not always possible due to the high costs and barriers to entry of the certification process. And that's the case here – whilst the coffee beans are organically grown, they don't bear the USDA seal of approval.
The Swiss Water Process is used to decaffeinate the beans, retaining all the flavor and removing 99.9% of the caffeine.
The story goes that in the 9th century, an Ethiopian goat herder – Kaldi – noticed his goats were eating the fruit from a certain tree. Whenever they did, the goats became energized and started "dancing".
Not wanting to be left out, he decided to try the fruit too. And he also became very energetic.
Excited by the discovery of a seemingly energy-producing fruit, he took the berries to a monk. But, unimpressed with their bitter taste, the monk threw the rest into the fire.
The smell of coffee beans roasting on the fire drew the interest of the other monks and they decided to recover the beans from the embers. Once retrieved, they ground them up and mixed them with hot water. It might not be the best way to brew Ethiopian coffee but they did create the world's first cup of coffee.
… It's a nice story. But, that's probably all it is as the first recording of this tale was 800 years after the event supposedly took place.
So, for a whistle-stop tour of Ethiopian coffee history from the dancing goats to the more factual modern-day events, check out our infographic: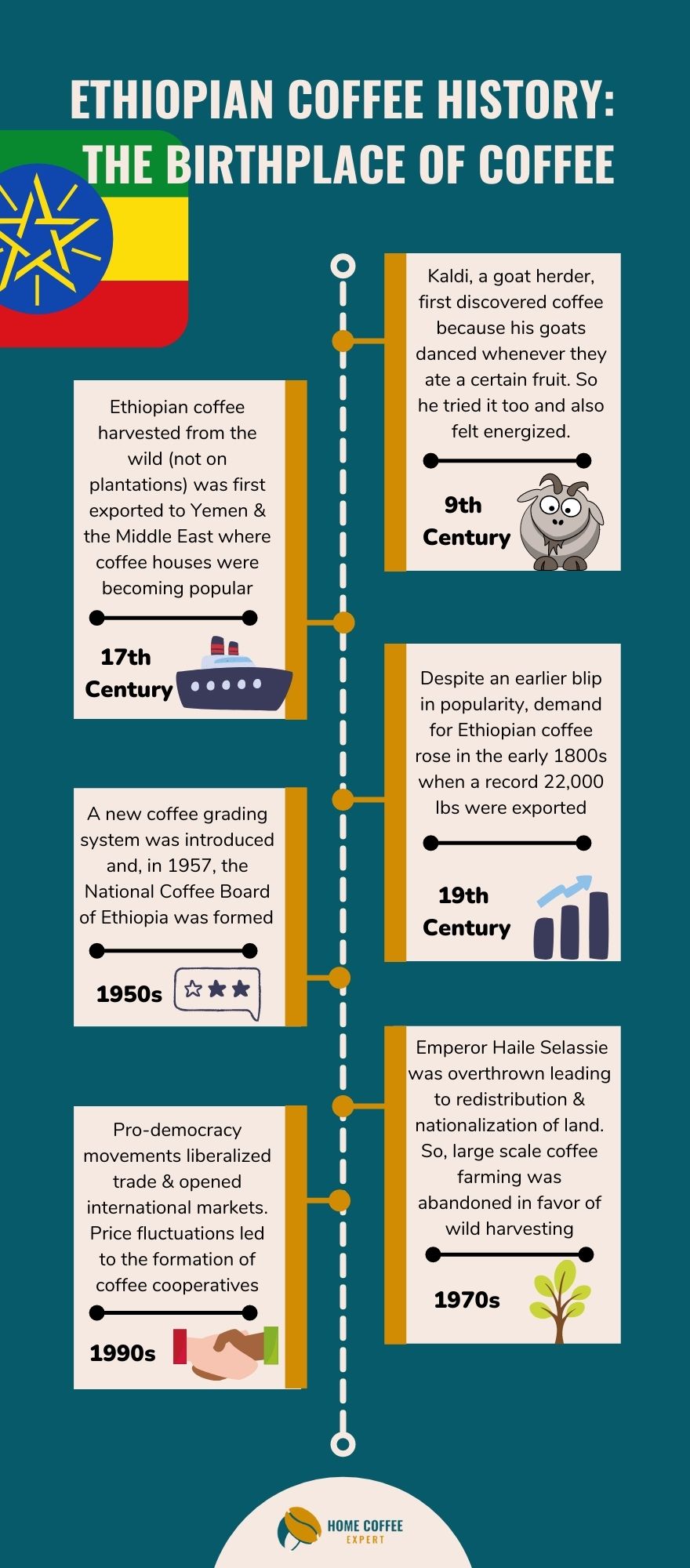 But, most Ethiopian coffee beans display great complexity and elegance regardless of which region they are from.Whilst it's possible to enjoy a wide variety of taste profiles, the most predictable coffee flavor notes are citrus, bergamot, candied fruit, and tropical notes.
Coffees that are naturally processed in Ethiopia (the most common processing method) tend to be intensely fruity and exciting with pleasantly unusual flavor notes. Deep berry fruits combined with zesty acidity are usually found.
Whereas washed Ethiopian coffees tend to be more elegant, complex, and lighter. Notes of jasmine and lemongrass are common.
But no matter what style of coffee you are into, it's likely you will find an Ethiopian coffee flavor you love. Whether it's the brilliant acidity or the earthy tones or maybe the bursting fruits.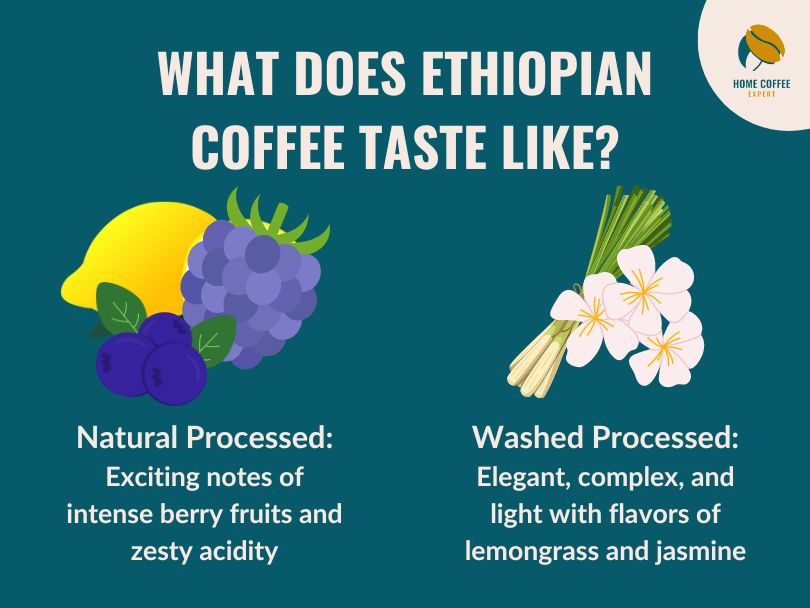 Well, when it comes to drinking coffee from Ethiopia there are some basics to help you always get the best quality. And that starts with where the coffee comes from. Most is grown in the Southern regions, but we will break down each of the big names you are likely to come across:
YIRGACHEFFE
Ethiopian Yirgacheffe coffee is some of the best and most interesting coffee in the world with truly unique styles and eye-popping flavors.
Located in the Southwest of Ethiopia at altitudes 5,750-7,200 feet asl, it is a shining example of the small farming tradition throughout the country. Most Yirgacheffe coffee farms are less than 5 hectares in size.
Most Yirgacheffe whole bean coffee is washed processed and the result is almost overwhelmingly aromatic with big punchy citrus and floral flavors, and a light, elegant body. That said, it is possible to get naturally processed coffee from this region. When you do, they will be just as exciting and enjoyable as the washed coffees but much fruitier.
When shopping around, you will notice that the best Yirgacheffe coffees are expensive. But, given how amazing they are, that's understandable and generally always justifies the price tag. As a coffee drinker, it is an area well worth taking your time to explore.
SIDAMO
Sidamo is the largest of all the Ethiopian coffee regions. The reason is that the Ethiopian Coffee Exchange uses a broad definition for Sidamo coffees to include Sidama and regions from Nensebo woreda to the Konta woreda (a woreda is a defined district in Ethiopia).
Of all the coffee regions in Ethiopia, only three are government trademarked: Sidamo, Harrar, and Yirgacheffe. The Ethiopian government decided to trademark these coffees in 2004 to bring wider recognition and protection to their distinctive styles.
You will find both washed and natural processed Sidamo coffee beans. But, either way, the organic Ethiopian Sidamo coffee profile is powerfully fruity and aromatic.
This region was first formed in 1942 after Ethiopia achieved liberalization from Italy and was named after a group of native people who lived there – the Sidama. For this reason, you will see both Sidamo and Sidama on coffee labels. It also has some of the highest farms in Ethiopia with an altitude range of 4,600-7,200 feet above sea level.
LIMU
Limu might not have the same hefty reputation as the larger Ethiopian coffee regions of Sidamo or Yirgacheffe. However, it still produces incredibly good coffee that is well worth a try.
Similar to Sidamo, there are some very high-altitude farms in Limu between 4,600 to 7,200 feet above sea level. The altitude develops complex flavors in the coffee beans and is part of what makes Ethiopian Limu coffee special.
The area is predominantly made up of small-hold farmers, with a couple of large government-run estates thrown in too. Here, you can find coffees traced to small cooperatives in Limu with very interesting flavors.
JIMA
The Jima region is sometimes written as "Jimma", "Jimmah" or "Djimmah" but they all refer to coffee from the same place in the southwest of Ethiopia – Oromia. This is the most popular Ethiopian coffee region in terms of volume of production, if not for the quality as a large portion of the total coffee produced comes from Jima from farms at 4,600 to 6,600 feet above sea level.
In terms of high-quality specialty coffee, Jima has taken a back seat so it doesn't carry the same kudos as the sexier regions of Yirgacheffe and Harrar. But there are still many excellent and interesting coffees being produced in Jima meaning you can find some real gems for a slightly lower price than other areas.
GHIMBI/ LEKEMPTI
The growing regions surrounding the towns of Ghimbi and Lekempti are almost always combined into one region. Coffee roasters will use one name or the other (and sometimes both) to describe their coffee, irrespective of where in the region it was actually grown. So, whilst Lekempti is the capital city of the region, a coffee labeled as such may actually be grown around Ghimbi which is 62 miles away.
HARRAR
Harrar is one of the oldest coffee growing regions in the country, situated around the city of Harrar in the east of Ethiopia. The coffee farms can be found 4,900 to 6,900 feet above sea level.
Coffee from Harrar tends to be like no other coffee grown in Ethiopia and probably even the world. Many are grown in environments requiring extra irrigation and the natural processing can produce unique flavors from woody earthiness to bright and vibrant blueberry.
In fact, Ethiopian Harrar coffee is so unusual that many coffee professionals cite them as what opened their eyes to the diversity of flavors that is possible in a cup of coffee.
Although the incredible natural flavors are best enjoyed as they are and not dampened by the addition of sweeteners or fancy milk foams. To really enjoy those great tastes, these are (in our humble opinion) the best Ethiopian coffee brewing methods.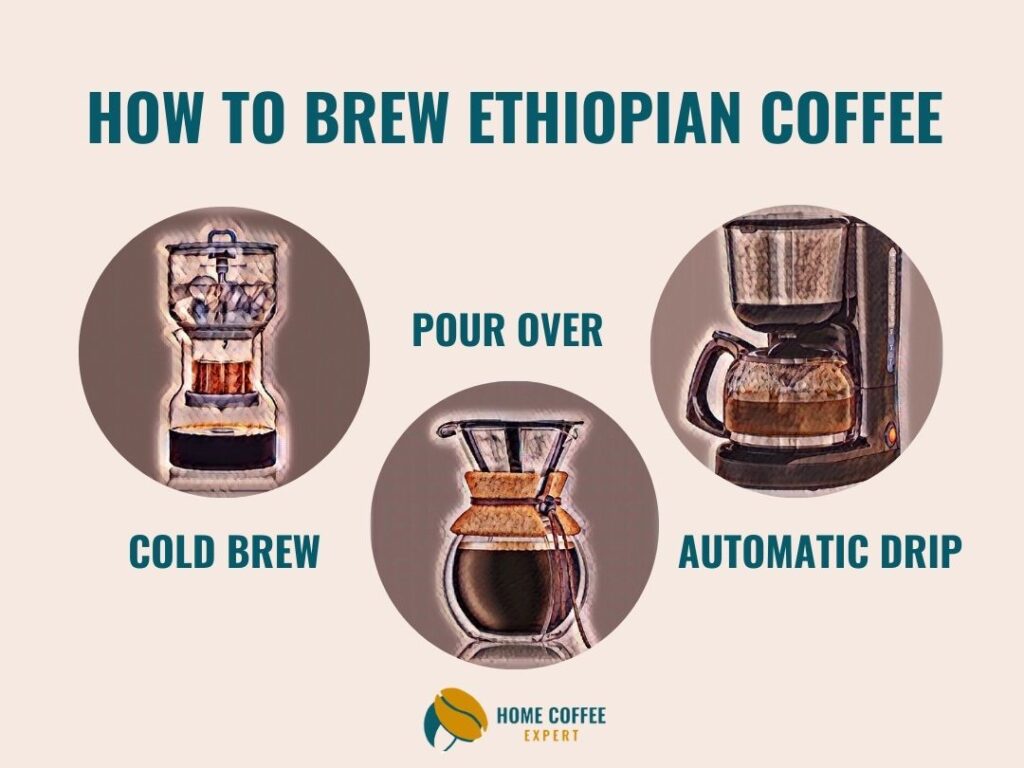 COLD BREW
All the best Ethiopian coffees are renowned for their bright, citrusy and floral flavors which make them perfect for cold brewing. The result is a refreshing, smooth brew bursting with flavor.
Just turn your grinder to the coarsest setting to avoid over-extraction and you are good to go.
POUR OVER
To get the best results from your Ethiopian coffee beans, you can't go wrong with a pour over coffee. With this method you have complete control over the brewing process, allowing you to extract all the deep nuance of flavor from your beans.
The paper filter lends itself to lighter-bodied coffees, allowing you to taste the full range of flavors. The thickness of the paper filter used will have an impact on the end result. So, for washed Ethiopian coffees you can get away with thicker filters whereas natural processed ones will work best with thinner filter paper.
AUTOMATIC DRIP COFFEE
Your trusty drip coffee maker will yield a great tasting cup of Ethiopian coffee – just be sure to freshly grind your coffee beans and opt for recently roasted beans. The paper filter allows you to extract the light body and bright acidity whilst still allowing you to enjoy the complex flavor profile.
Instead, most Ethiopian green coffee is delivered to the ECX warehouse where they are categorized for export. First, they are assigned a number based on regional indication, separated by washed or natural processed coffee beans. Then, they are assigned a grade between 1 and 9 (or UG for under-graded) based on quality and basic cup evaluation.
This process strips most Ethiopian coffee beans of their traceability. But it does mean that the farmers receive full payment for their coffee faster than they did under the old system.
It also restricted which coffees could be offered on the international market, increasing the price for high quality Ethiopian coffee. Plus, an increase in the financial transparency of the contracts. All of this ultimately benefitted the majority of Ethiopian coffee farmers.
Nowadays, the system is more flexible which has allowed Ethiopian coffee production to go from strength to strength. There are now more opportunities to trade directly with farms that sell high-quality coffee beans. Utilizing the Direct Trade model puts the farmers in a much better negotiating position which is great for the Ethiopian coffee industry overall.
Each ceremony is a 2 to 3 hour performance and many families will participate in the Ethiopian coffee ceremony 2-3 times per day. That's a lot of time for coffee!
The host (usually a woman) prepares coffee for the guests starting with green Ethiopian coffee beans. The coffee is cleaned, roasted, ground, and brewed – all by hand – before being served.
It is used for all occasions for friends or family to meet and discuss all manner of subjects from politics to the community to the weather.
The coffee is served in one continuous pour from around 1 foot above the small ceramic cups. They are all filled equally, leaving the coffee grounds in the jebena (brewing pot).
Traditionally coffee is served three times, getting increasingly weak. Each round is known as the "abol", "tona", and "baraka" respectively. Sugar and spices are sometimes added but almost never milk.
This diversity makes it one of the most exciting nations to explore for the variations in coffee style, growing regions, and processing.
If you haven't tried some of the best Ethiopian coffee beans yet, what are you waiting for?
You Might Also Like
Naming your new furry friend is a tall order. But if you love coffee as much as your pup, get inspired by one of these Coffee Names for Dogs

The Kyoto Latte is an incredible addition to the coffee world from % Arabica's flagship store in Japan. Discover what makes it so special