Are you put off from using a French press because it just seems too confusing? Or, maybe your brew just never hits that sweet spot?
We have taken the guesswork out of the coffee to water ratio for French press to make things simple for you. Just use our simple French press ratio calculator and enjoy a perfect brew each time.
This article may contain affiliate/ compensated links. As an Amazon Associate, we earn from qualifying purchases at no additional cost to you. For more information please see our disclaimer here.
Generally, French press coffee makers come in four different sizes:
3, 4, 8, and 12-cup.
The cup size here refers to a traditional coffee cup which is 4oz – a tasse à café if you want to be all technical.
However, coffee mugs for home use are generally 12oz (can be anywhere between 8 and 12oz). So keep this in mind to prevent someone from only getting half a cup.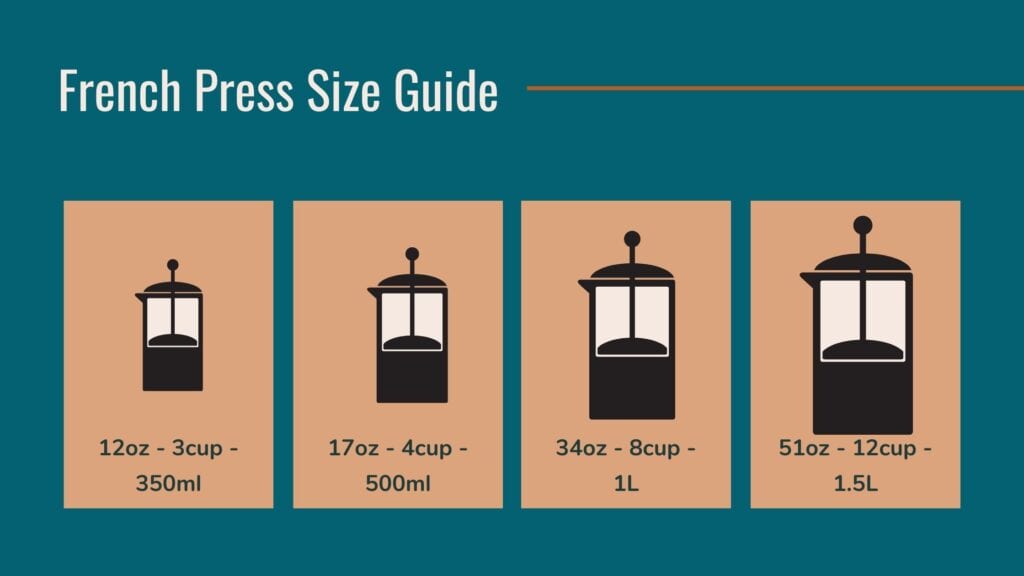 When we work out strength, it is based on the coffee to water ratio – this is the same for French press or any other brewing method.
Ratios are expressed as something like 1:16 but what does that actually mean?
Whistle-stop math tour coming up: Coffee ratios work by splitting up your whole drink into equal parts. So, in the case of a 1:16 ratio – it would split into 17 parts. One of those parts will be coffee (the first number) and 16 will be water (the second number).
If you spend some time searching the internet for the perfect French press ratio – or golden ratio – you will find very different answers. So, you may need to experiment to find exactly what works for you.
We use the following ratios for French press:
Mild – 1 : 16 for a subtle, light taste
Regular – 1 : 12.5 for a straight down the middle coffee that should please most people
Strong – 1 : 10 for a bold brew, packed full of flavor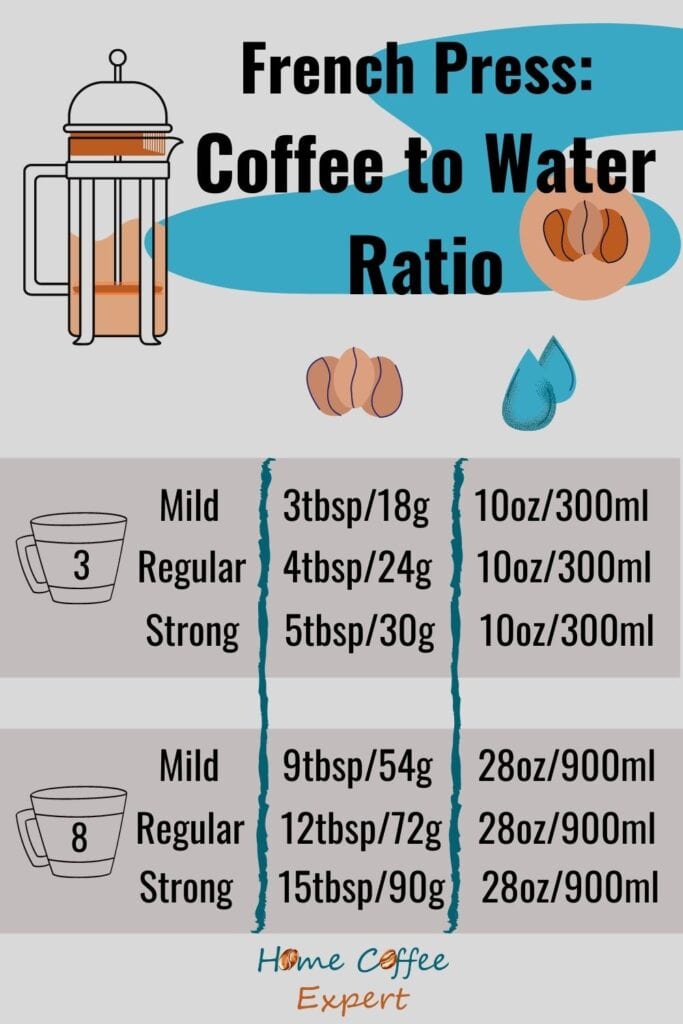 Coffee Beans – The better quality of beans you put in, the better quality cup of coffee you will get out. Luckily, the French press is pretty flexible and can handle pretty much any style of coffee. But our list of the top choices is a good place to start.
Grind Size – You need a coarse grind. The best way to perfect this every time is to buy the best whole bean coffee and freshly grind the beans yourself. You'll know when you've got it right because if you go too fine, your coffee will taste bitter.
Water Temperature – For optimal extraction of your ground coffee, you need your water to be 200ºF/ 93ºC. If you go too cold, your coffee will taste watery or even sour.
Time – Letting your coffee brew for too much or not enough time will cause over or under extraction. For the perfect French press, aim for four minutes. Even better, bloom your coffee grounds for 30 secs before steeping for 3 mins 30 secs.
Psst.. Want to dig down on how to use a French press for the best brew? This guide has all the answers:
We hope by using this French press ratio calculator, you will have the perfect balance of coffee to water for a delicious brew every time.
You Might Also Like
Unlock the secrets of exactly what is an Americano. Delve into its origins and learn how to make this coffee classic at home

The short answer to 'what is magic coffee?' is a double ristretto with textured milk (but no foam). But you can read the in-depth answer here