Sometimes you need different coffee for a different coffee brewer. That's why we've written this guide to the best coffee for Chemex, sifting through the overwhelming number of choices to find your ideal beans.
The best coffee for Chemex should be aromatic with a good body and acidity. The filter tones down the bitter notes of the beans allowing any roast to taste great. But medium roast beans from regions with complex aromatic profiles, like Ethiopia and Guatemala, give you the best coffee.
Chemex works with lots of different types of coffee, so we've picked out a few different ones so you can choose the best coffee option for you. We've also included tips on using your Chemex to get delicious coffee every time. So, let's get this pour-over show on the road:
This article may contain affiliate/ compensated links. As an Amazon Associate, we earn from qualifying purchases at no additional cost to you. For more information please see our disclaimer here.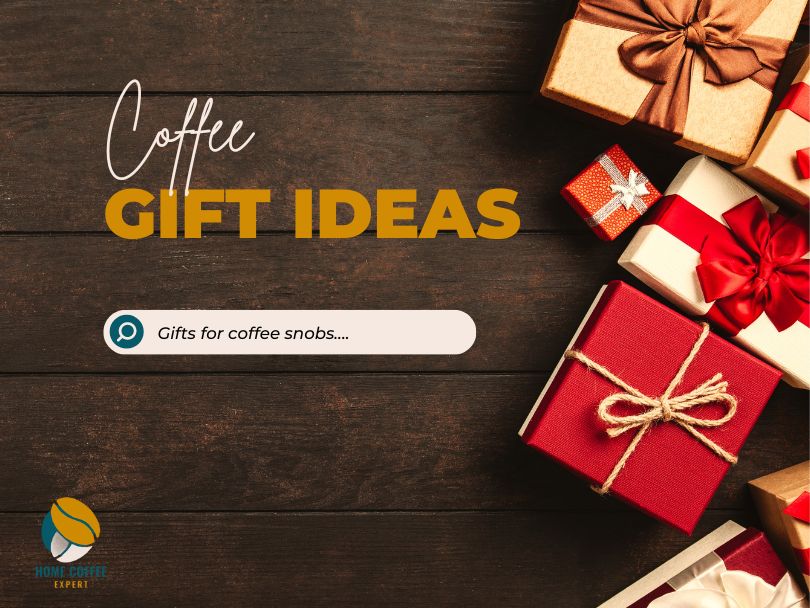 The holidays are coming. Which means stressing over the perfect gift is here too.
But stress no more. We've put together a list of all the best coffee gifts to please even the most discerning of coffee lovers in your life.
Check out our guide if they're on your 'nice' list. Or maybe be 'naughty' and buy something for yourself!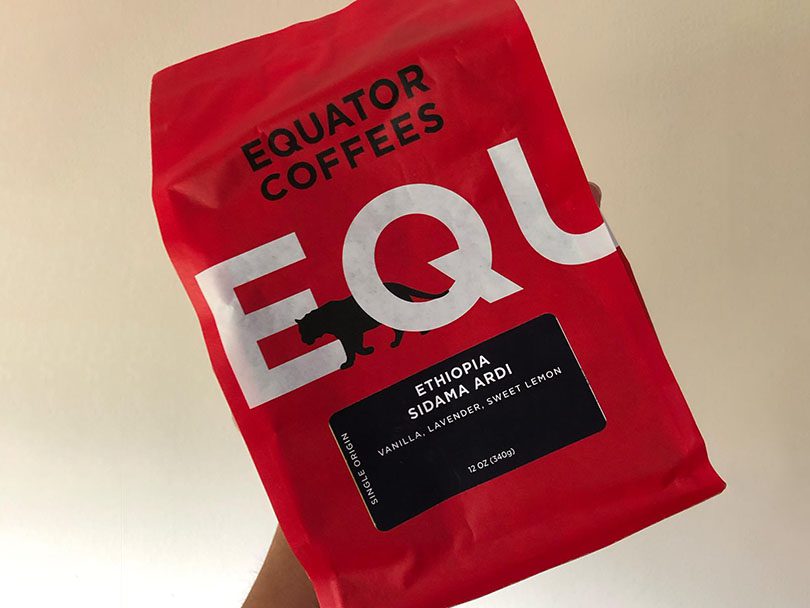 Image
Product
Details
Equator Coffees – Ethiopia Sidama Ardi

Light roast
From Guji, Ethiopia
Flavors of blueberries, jasmine tea, cocoa nibs

Koa – Swiss Water Decaf 100% Kona Coffee

Medium roast
From Kona, Hawaii
Flavors of chocolate, honey, brown sugar, tropical fruit

Volcanica – Peruvian Coffee

Medium roast
From Chanchamayo, Peru
Flavors of plum, herbal tea, cocoa

Spirit Animal – Parainema

Medium-Light roast
From Yoro, Honduras
Flavors of peach, honey, raspberry

Out of the Grey – Antigua SHB, Guatemala

Medium-Dark roast
From Antigua, Guatemala
Flavors of vanilla, caramel, baking spices, dark chocolate

Cooper's Cask – Rwanda Micro Lot

Medium roast
From Rwanda
Flavors of caramel, honey, brown sugar, ginger tea

Java Planet – Organic Colombian Single-Origin

Medium-Dark roast
From Colombia
Flavors of fruit, chocolate, nuts
In the search for the best tasting coffee beans for Chemex, we've whittled it down to these top picks. Here, you can check out what to expect from each of the recommended Chemex coffees and what makes them such a good choice:
Ethiopia Ardi Natural, Equator Coffees
From the Southern region of Ethiopia comes this exceptional coffee. Sourced from many smallholder farms in the Guji region, the intense aromatics and sweet fruit notes can completely change people's perceptions of what coffee can taste like.
The coffee farmers behind Ardi work in Direct Trade with Equator Coffees – a relationship that has been in place since 2013. Their farms are located at 5,800 feet above sea level. It is here that they hand harvest the coffee cherries and naturally process them. 
The result is a quintessential Ethiopian coffee that shows its origin at its very best and most striking. It really has to be tasted to be believed.
We also love that Equator Coffees are B Corp certified. They work alongside farmers from all over the world to help ensure fair prices, fair wages, and a more sustainable coffee future.
For us, these are the best coffee beans for Chemex. When brewed this way, all of the unique and exciting flavors are shown off at their best.
Peru Coffee, Volcanica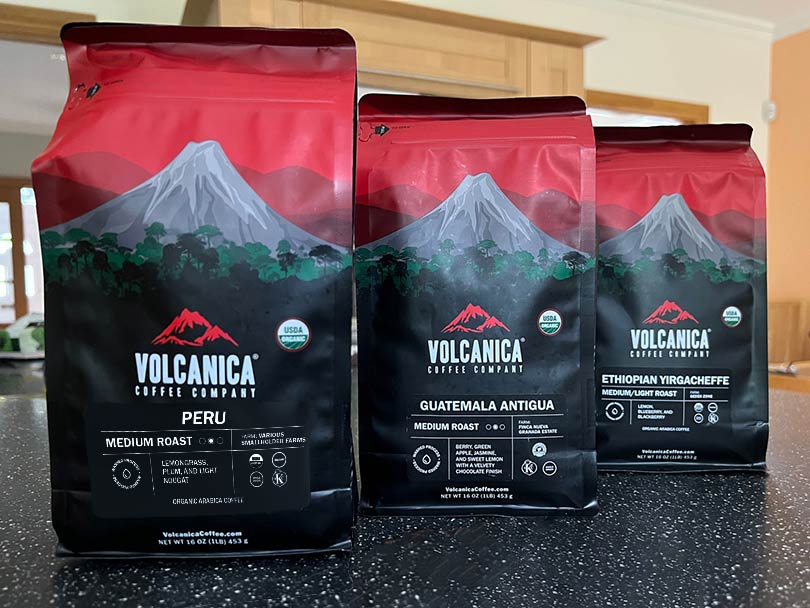 What to Expect:
Roast Level: Medium Roast
Source: Chanchamayo, Junin region, Peru
Varietals: Typica, Bourbon, Catuai, Catimor
Processing Method: Washed
Tasting Notes: Mild acidity with light notes of plum, herbal tea, and cocoa
Important Notes: Fair Trade certified and grown organically (although Organic certification too expensive to obtain)
Peru is often overlooked in the coffee world in favor of the neighboring Colombia and Brazil – two of the biggest and most famous coffee-producing nations. But Peruvian coffee beans grown high in the Andes have a unique style and flavor profile that is quickly demanding more attention in the specialty coffee world.
This superb coffee is from the Chanchamayo area of the Junin region, high in the Andes between 4,500 and 6,200 feet asl. The area is famed for producing amazing coffee beans that account for around a quarter of all Peruvian coffee production.
Volcanica source the Arabica coffee beans (Typica, Bourbon, Catuai, and Catimor varieties) from various smallholder farms in the area. They are washed processed which shows off the bright, fresh flavors of the region. Then, they are medium roasted to draw out the notes of plum, green tea, lemongrass, and cocoa all balanced by a light acidity.
Parainema, Spirit Animal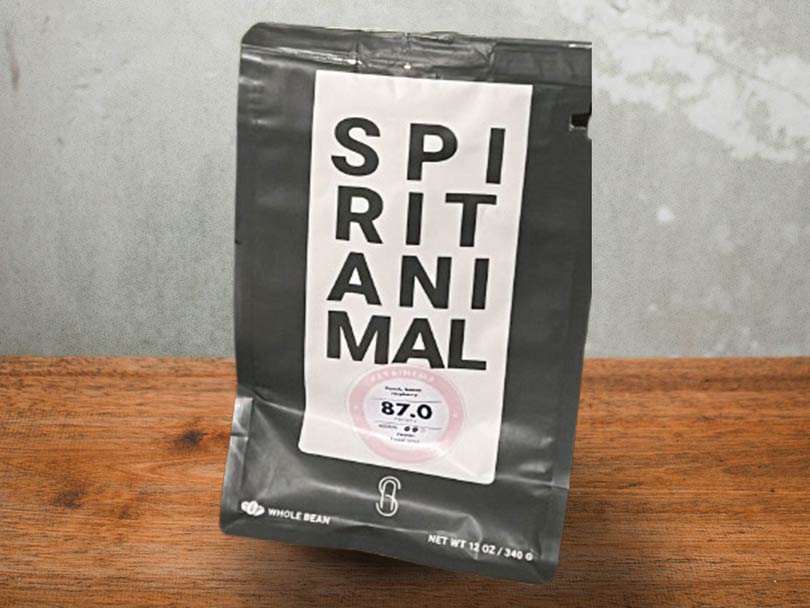 When choosing the best coffee for Chemex, showcasing Spirit Animal was a no-brainer. What was hard, however, was choosing just one. They partner with smallholder Honduran coffee farmers who produce exceptional single-origin coffees with a focus on good ethical practices.
Their single-varietal Parainema coffee beans are grown by Raquel Giron, a fourth-generation coffee grower in the Yoro region of Honduras.
The medium-light roasted coffee beans are ideal for Chemex or Hario V60. Brewing this way highlights the delicate fruity flavors of peach, raspberry, and honey. It really allows you to taste the unique flavor of the Parainema coffee varietal and what Honduras has to offer.
By removing the middleman, Spirit Animal is able to pay a fair wage (at least Fair Trade prices) whilst still delivering specialty-grade coffee to your door for a reasonable price. Every batch is roasted at source in Honduras – essential for the greatest support of the local economy. Then, it is sent via air freight to ensure optimal freshness.
Antigua SHB, Guatemala, Out of the Grey Coffee
What to Expect:
Roast Level: Medium-Dark Roast
Source: Antigua, Guatemala (Single-Origin)
Varietals: Bourbon and Typica Group
Processing Method: Washed
Tasting Notes: Vanilla, caramel, baking spices, and dark chocolate
Important Notes: Low acid, shade-grown, strictly hard bean coffee grown by the Echeverría family
Strictly Hard Bean (SHB) is the highest coffee designation in Guatemala. Only the very best SHB coffees can be sold with a regional designation (like Antigua in this case). So, if you see different coffee beans from Guatemala simply labeled as "Guatemalan SHB", they will be lower quality.
This coffee grows on the slopes of the stunning Acatenango Volcano, next to the very active Fuego Volcano. It shows all of the great power and complexity that makes Guatemalan coffee so special.
Grown between 4,500 and 6,000 feet asl in nutrient-rich volcanic soil, the specialty coffee beans have developed a powerful palate and full-bodied mouthfeel. This is balanced by a gentler acidity, great for those with sensitive stomachs.
Guatemala produces superb Chemex coffee beans. With the bitter notes mostly filtered out, you'll get a sweet and heady brew packed with flavors of vanilla, caramel, lychee, and dark chocolate.
Rwanda Micro Lot, Cooper's Cask
What to Expect:
Roast Level: Medium Roast
Source: Micro Lot in Rwanda (Single-Origin)
Varietals: Bourbon
Processing Method: Washed
Tasting Notes: Caramel, honey, brown sugar, and ginger tea
Important Notes: Grade 1 specialty coffee beans purchased through Direct Trade with the Rwandan coffee farmers
From one of the most underrated coffee nations in the world, this single variety Rwandan micro lot coffee is grown at elevations between 5,900 – 6,200 feet asl. Known as the 'Land of 1000 Hills', Rwanda is a stunning country with the perfect climate and soil for high-quality coffee growing.
Cooper's Cask sources only Grade 1 specialty coffee beans which they handle with great care. They roast only in small batches in their Rhode Island roastery which gives them full control of the flavor profile.
The medium coffee roast brings out the caramel and brown sugar notes. But this is more a medium than a full-bodied coffee which benefits from the pour over method. As a result, you can expect gentle tea-like flavors and a spicy finish to round off these great coffee beans.
Organic Colombian Single Origin, Java Planet
What to Expect:
Roast Level: Medium-Dark Roast
Source: Blend of Colombian coffees
Processing Method: Washed
Tasting Notes: Full-bodied with flavors of bold fruit, chocolate, and nuts
Important Notes: Grown with the environment in mind, these coffee beans are USDA Organic and Rainforest Alliance certified
Garish packaging aside, Java Planet has flavorful coffee that's both good for the environment and tastes amazing.
Their Colombian single origin is not only USDA Organic, but it's also Rainforest Alliance certified. This means the workers are getting fair wages, the farmers are getting a fair price, and the environment is being protected.
The bold flavor of Colombian coffee works really well in a Chemex, the fuller style can have a very pleasing chocolatey character with reduced bitter notes.
With this coffee, you get vibrant fruit notes balanced with roasted nuts and chocolate. When brewed in a Chemex, the medium-dark roasted coffee tastes sweet and spicy. This, combined with the mild acidity and full body, make for a very rich and luxurious brew.
Koa Coffee – Swiss Water Decaf 100% Kona Coffee
What to Expect:
Roast Level: Medium Roast
Source: Kona, Hawaii (Single-Origin)
Varietals: Guatemalan Typica
Decaffeination Method: Swiss Water Process
Tasting Notes: Chocolate, honey, and brown sugar with light, tropical fruit notes
Important Notes: Koa's hand-picked Kona Coffee's have won multiple awards
If you're looking for great decaf coffee, you shouldn't have to compromise on taste. So there's no better place to look than Kona Coffee – widely considered as some of the finest coffee money can buy. And Koa Coffee's Decaf Coffee is no exception.
There are a lot of confusing coffee labels surrounding coffee from the famous Hawaiian islands, many of which are inferior in quality and taste. But with Koa Coffee, you're getting the real deal. They've been growing and selling 100% Kona coffee beans on their family estate since 1997.
This decaf Kona coffee is grown on the slopes of the Mauna Loa Volcano, on the west coast of the Big Island. Here, they hand-harvested the cherries to ensure only the ripest are selected to undergo Swiss Water Processing. From there, only the best beans make it into the roaster. So, at every stage perfection is demanded.
By using the Swiss Water Method for decaffeinating their coffee beans, the natural flavors of this unique growing region are preserved. The chocolatey, sweetly fruity, honey flavors are typical of Hawaiian coffees, and work perfectly with an AeroPress or Chemex coffee brewer.
It doesn't matter what style of coffee maker you're using or what coffee geeks like us say, if you've found something you like to drink, stick to it.
However, if you're still looking for those special coffee beans for Chemex brewing, the following buying guide should keep you right: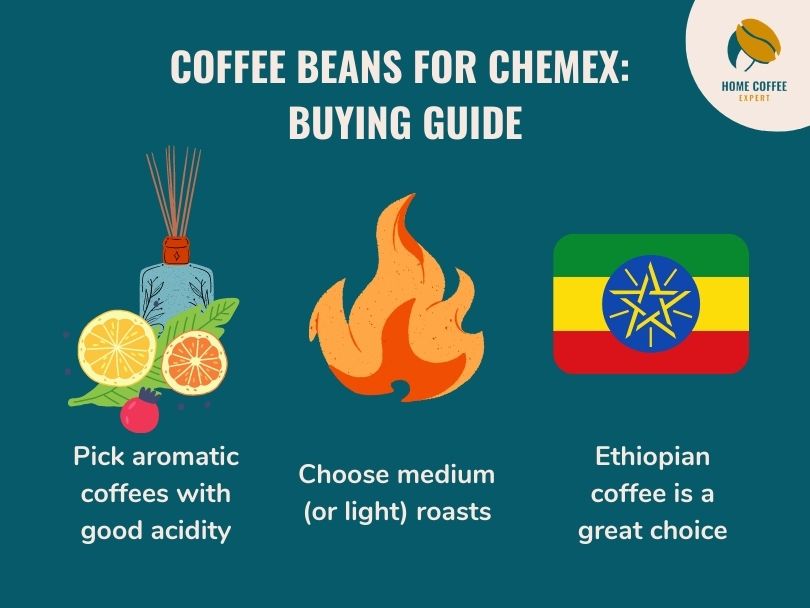 Best Style of Coffee for Chemex
Generally, you will get the best results from an aromatic coffee that has good body and acidity.
Different coffee makers will bring out different characteristics from your coffee beans. And the slow extraction of Chemex means that more delicate and complex notes can be brought to the fore where they would be lost in espresso, for example.
It also means you can experiment with different varieties, styles, and roasts to get the full flavor of the bean and decide what you like the most.
Best Roast for Chemex
The coffee roast level of your beans will make a huge difference to the flavor profile of your coffee, more so than the origin. There are a lot of different names given to coffee bean roasts, but they can be generally placed in one of three categories: light, medium, or dark.
Light roast coffee shows off the nuance of single-origin coffee beans better than any other roast. But, it is also harder to extract these flavors as the oils are further from the surface. However, brewing in a Chemex is slower than many other coffee makers which allows these flavors to be extracted. So, it's a great brewing method to taste different coffee regions.
Medium roast coffee is, not surprisingly, a middle ground. The unique flavors of the farm are still quite well preserved, but the extra roasting time makes it easier to extract them. It also adds some of the "quintessential coffee flavor" of bitter and roasty notes like chocolate, brown sugar, and caramel.
Overall, medium roasted coffee beans are the best for Chemex as they deliver a balanced cup bursting with aromatics unique to the bean's growing conditions.
Dark roast coffee is the easiest to extract flavors from, which is why they're the preferred coffee beans for espresso – a short extraction processes. The oils are nearest the surface so are very easy to extract. You tend to taste more of the roast than the origin and the bitter notes are more prevalent.
The thick Chemex coffee filter will remove some of the more bitter notes when brewing coffee, giving a sweeter style to the dark side.
Where do the Best Chemex Coffee Beans Come From?
Not all coffee is created equal. There are a lot of steps on green coffee beans' journey from the farm to your cup so you can get bad coffee from a great coffee-producing country and pretty decent stuff from a traditionally poorer quality area (although less likely).
For us, Ethiopia grows the best coffee beans for Chemex. This brewing method really helps the unique aromas and floral flavors of Ethiopian landrace beans to shine in your cup. And, as light and medium roast beans are the two best roasts for Ethiopian coffee, it really is a match made in heaven.
For other great regions, we recommend looking to Central and South America:
Peruvian and Guatemalan coffee beans both offer high-altitude grown coffees that have the depth and complexity that shines in a pour over. Or, look to micro-lot Honduran coffees or honey-processed Costa Rican coffee.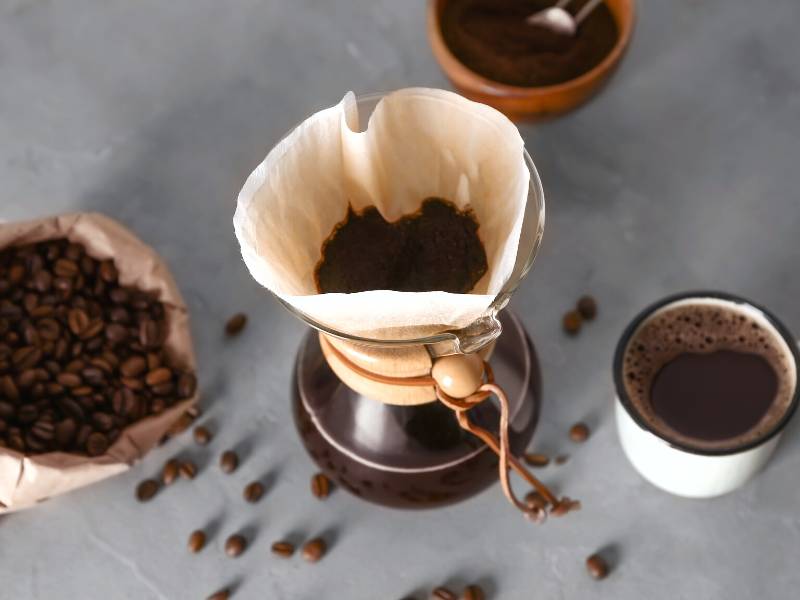 For the most flavorful coffee, Chemex recommends a grind size similar to that of sea salt. For those who prefer precision measurements, this is around 800-1000 microns. Every coffee lover will have their own preference which may vary depending on the choice of beans or type of grinder, but it should fall within this range.
If your coffee tastes a little sour and thin, use a finer grind size.
If it tastes bitter, use a coarser grind.
After a few attempts, you should be able to nail down the perfect grind for you. Getting one of the best manual grinders can make coffee brewing at home easier, and save you money over an electric grinder.
Our top choice for Chemex grinding is the 1Zpresso J-Max thanks to its precision and range. But there are great grinders out there at all price levels. Investing in a good grinder will help make your Chemex coffee taste delicious.
Place the special Chemex coffee filter into the top of your brewer with the triple-layered side over the spout. Rinse with hot water to remove any lingering flavors from the filter and seal it to the sides of the Chemex. Discard the water.
Grind and add your coffee. For best results, always use whole bean coffee and freshly grind it before brewing. As a good starting place, Chemex recommends a 1:15 ratio. Getting the coffee-to-water ratio just right will be a personal preference, so play about until you find the sweet spot (our Chemex ratio calculator will help).
Place your Chemex on a coffee scale to accurately measure the water added. You can use a measuring jug if you don't have a coffee scale. But, to brew Chemex coffee more accurately, a scale with a fast response and even a built-in timer will make brewing coffee easier and better.
Add a small amount of water, just enough to cover the grounds, and allow them to "bloom". This allows all the gases that are trapped during roasting to escape and will lead to better flavor from your favorite coffee beans.
Pour around half of the water in a slow spiral pattern. Ensure you cover all the beans and pour over any dark spots that you see. Wait until the water level has dropped to nearly gone before restarting.
Pour the rest of the water in the same manner over the grounds. Once the water has all filtered through you can discard the filter and grounds and serve. The brewing process should take around 4 minutes to get the right coffee flavor.
But generally, this pour over brewing method works best with full-flavored, bold, and aromatic coffees. Medium or light roast are great options too as Chemex really shows off the unique flavors of the region the beans were grown in.
So, no matter what your preference we hope one of these top choices will inspire you to pour over greatness!
You Might Also Like
All the best coffee deals in Amazon Prime Big Deal Days 2023 in one place so you don't have to go searching for them yourself.

Naming your new furry friend is a tall order. But if you love coffee as much as your pup, get inspired by one of these Coffee Names for Dogs