Honduras is now the largest producer of coffee in Central America. But for some reason, it remains relatively unknown across a lot of the world. So we are going to dig into what makes Honduran coffee so special and why it should be on your shopping list.
You will find Honduras sandwiched between Guatemala, El Salvador, and Nicaragua. Here, the growing conditions are ideal thanks to the rich volcanic soil and mountainous terrain – elements that are sought after by coffee growers all over the world. Plus, the last 50 years have seen large government investment to improve the quality of Honduras coffee beans.
Dive in and get to know this little country boasting prodigious coffee production. Then find the best Honduran coffees to add to your next coffee order.
This article may contain affiliate/ compensated links. As an Amazon Associate, we earn from qualifying purchases at no additional cost to you. For more information please see our disclaimer here.
Spirit Animal – Catuai and Lempira
Spirit Animal is hands-down the best Honduran coffee brand. Every one of their offerings is special and creates a phenomenal cup of joe. Our current favorite is the Catuai and Lempira especially for making pour over where the light, fruity, and citrus flavors shine.
Image
Product
Details
Spirit Animal – Catuai and Lempira

Medium roast
From Marcala region
Flavors of citrus, honey, sweet fruit

Fresh Roasted – Organic Honduran Marcala

Medium roast
From Marcala / La Paz, Montecillos
Flavors of walnut, milk chocolate, vanilla, lemon

Out of the Grey – Honduras Marcala

Medium-Dark roast
From Marcala
Flavors of honeydew, dark chocolate, wild berrries

Portland Coffee Roasters – Honduran Light Roast

Light roast
From Marcala
Flavors of herbs, chocolate, malt

Fresh Roasted – Honduran Swiss Water Decaf

Medium roast
From Copán
Taste of chocolate, redcurrant, toffee

Coffee Bros. – Paraideli

Light-Medium roast
From Danlí, El Paraíso
Flavors of hibiscus, lime, peach

Volcanica – Honduras Copán

Medium roast
From Copán
Flavors of stone fruit, brown sugar, graham cracker

City Girl – Honduras Medium Roast

Medium roast
Multi-region Honduan blend
Sweet fruit, chocolate, nuts
Instead, each region produces different coffee flavors and styles unique to its location. So, it doesn't matter if you're looking for something sweet and fruity, bright and acidic, or even deep and complex, you are sure to find something you love in Honduras coffee.
However, you will commonly find a marriage of lighter tropical fruity notes with darker caramel tones. In the best Honduran coffee, you will find complex fruit with lively, juicy acidity.
The following graphic breaks down the typical flavor profiles of each Honduran coffee region.
No matter which single-origin Honduras coffee beans you choose, we recommend buying whole-bean rather than pre-ground. By grinding your own coffee, you will get the best out of your beans.
Best Overall: Spirit Animal – Catuai and Lempira
What to Expect:
Roast Level: Medium Roast
Region: Marcala
Varietals: Catuai and Lempira
Processing Method: Washed
Tasting notes: Citrus and honey, sweet fruit with floral notes
Important notes: This organic Honduran coffee is grown at strictly high altitudes. Spirit Animal are also Fair Trade certified, paying all the farmers a fair wage
Spirit Animal is one of the best Honduran coffee brands, supplying exceptional quality single-origin coffees. All of their coffees are micro-lot sourced from small farmers, focussing on ethical practices and flavor.
Their Catuai and Lempira coffee beans come from a farm in the Marcala region. Grown at 6,000 feet above sea level, the complexity and nuance in this coffee are superb.
It is ideal for Chemex or Hario V60 pour-over or drip coffee and is possibly the best coffee produced in Honduras. Brewing this way will allow the delicate fruity and floral flavors to shine through, allowing you to really taste what the country has to offer.
By cutting out the middleman, Spirit Animal pays a fair wage to the farmers (at least Fair Trade prices) and delivers specialty-grade coffee to your door for a reasonable price. Every batch is roasted at source in Honduras – essential for the greatest support of the local economy. Then, the medium roast Honduran coffee beans are air-freighted to you to ensure optimal freshness.
Budget Pick: Fresh Roasted, Organic Honduran Marcala
Freshly Roasted do a superb job of keeping the time from roast to delivery very short despite selling on massive sites such as Amazon.
Their Honduran coffee is from the Marcala and La Paz sub-regions, grown at altitudes of 4,200-4,900 feet. This coffee comes from a cooperative of 62 farms and holds organic, Fair Trade, and kosher certifications.
If you want to try Honduran coffee but don't want to break the bank, this is a great choice. The medium-roasted coffee beans have a rich, robust flavor. The nutty, milk chocolate flavors are commonly found in this region. But, unlike many other Honduran coffees, the bright hit of lemon gives this brew a unique character.
As a complex coffee, it is ideal for French press, pour over, or Chemex brewing.
Coffee Bros. – Paraideli (2022 Cup of Excellence Winner)
Coffee Bros. is knocking it out of the park with not one, but two, limited-edition 2022 Cup of Excellence coffees. The Paraideli coffee placed 8th overall with a cupping score of 88.63.
But you'll need to be quick if you want to taste this great Honduran coffee. There will be just four roasting dates: 15th October, 19th November, 17th December 2022, and 21st January 2023. And once it's gone, it's gone.
It's not often you see the Parainema variety although it was bred by the Instituto Hondureño del Café (IHCAFE). Generally, it only yields a good (not great) cup. But for every rule, there is an exception. And this is most definitely the exception.
The light-medium roast superbly balances fruity sweetness with citrus acidity that shines best as a pour over.
Volcanica – Honduran Copán
Volcanica, as you may have guessed, focuses on coffee grown in volcanic soil. Volcanic soil is much sought after, not only by Honduran coffee growers but also by wineries and basically all fruit and vegetable growers worldwide. This is due to the nutrient-rich soil that adds a superb flavor to whatever is being grown.
Their Honduran offering comes from a single-family-owned farm in Copán. Certified Direct Trade, this micro-lot coffee has sweet brown sugar and stone fruit notes as well as the complexity you'd expect from high-quality, volcanic coffee.
Best for Espresso: Out of the Grey, Honduras Marcala
What to Expect:
Roast Level: Medium-Dark Roast
Region: Marcala
Varietals: 100% Arabica
Processing Method: Washed
Tasting notes: Honeydew, dark chocolate, and wild berrries
Important notes: From the Cafe Organica Marcala (COMSA) cooperative. This coffee is organic certified and makes sustainable practices the focus of coffee production. Started in 2001, COMSA now has over 1,200 smallholder farmers and a waiting list. They want to promote the unique flavor of te Marcala region coffee.
From the renowned region of Marcala comes this excellent organic medium-dark roast. After a rocky start, the COMSA cooperative has overhauled farming practices and greatly improved the yield, quality, and sale price of the coffee from its farmers. They now run an education course for other coffee farmers looking to improve their coffee beans by using organic methods.
Marcala coffee is known for being medium-bodied with bright fruit flavors and this one is no different.
If drunk straight, the wild berry and melon notes make for an enticing espresso. The addition of milk just heightens the sweetness of the fruit and brings the chocolate notes to the fore. A superb choice for any espresso or espresso drink lover looking for a Honduran option.
Best Light Roast: Portland Coffee Roasters Light Roast
Next up is an interesting option from the Portland Coffee Roasters.
This light roast Marcala coffee shows the unique profile of Honduran beans. The herb and chocolate notes dominate with only slight hints of citrus on the finish.
It hails from a small cooperative and is USDA Organic certified. We recommend them as coffee beans for French press or pour over as you will really taste the delicate flavor profile of these unique Honduran coffee beans.
City Girl Coffee, Honduras Medium Roast
City Girl is a woman-owned coffee business that only sources its coffee from women-owned farms and cooperatives. They are empowering women all over the world by paying a fair price for their products and supporting initiatives in their countries that support women in the workplace.
Their Honduran medium roast is Fair Trade and USDA organic certified with a bold, sweet fruit style and a finish of chocolate and flowers. A blend of all the best bits of Honduran coffee.
Best Decaf: Fresh Roasted Honduran Swiss Water Decaf
What to Expect:
Roast Level: Medium Roast
Region: Copán
Varietals: Caturra, Catuai, Bourbon, Pacas
Processing Method: Washed
Tasting notes: Rich warm flavors of chocolate, redcurrant, and toffee with a light, fruity finish
Important notes: Decaffeinated through the Swiss Water Process to deliver great flavor without keeping you awake. The coffee beans are Organically grown and Fair Trade certified
The Swiss Water Method is a top-quality process for decaffeinating coffee that involves immersing the beans in Green Coffee Extract. This is water that is rich in all the flavorful oils and compounds that make coffee so delicious but minus the caffeine. The immersion process draws out all the caffeine molecules, leaving behind caffeine-free coffee beans that haven't lost any flavor or used any chemicals.
Fresh Roasted's Honduran Decaf is impressively similar to the quality of their caffeinated Honduran coffee from the Marcala region. So you are definitely not giving up great flavor for a good night's sleep.
The medium roasted beans boast a floral nose, with hints of milk chocolate, redcurrant, and toffee.
If you want to try your hand at roasting your own green coffee beans, you can also buy Unroasted Honduran Swiss Water Decaf from Fresh Roasted.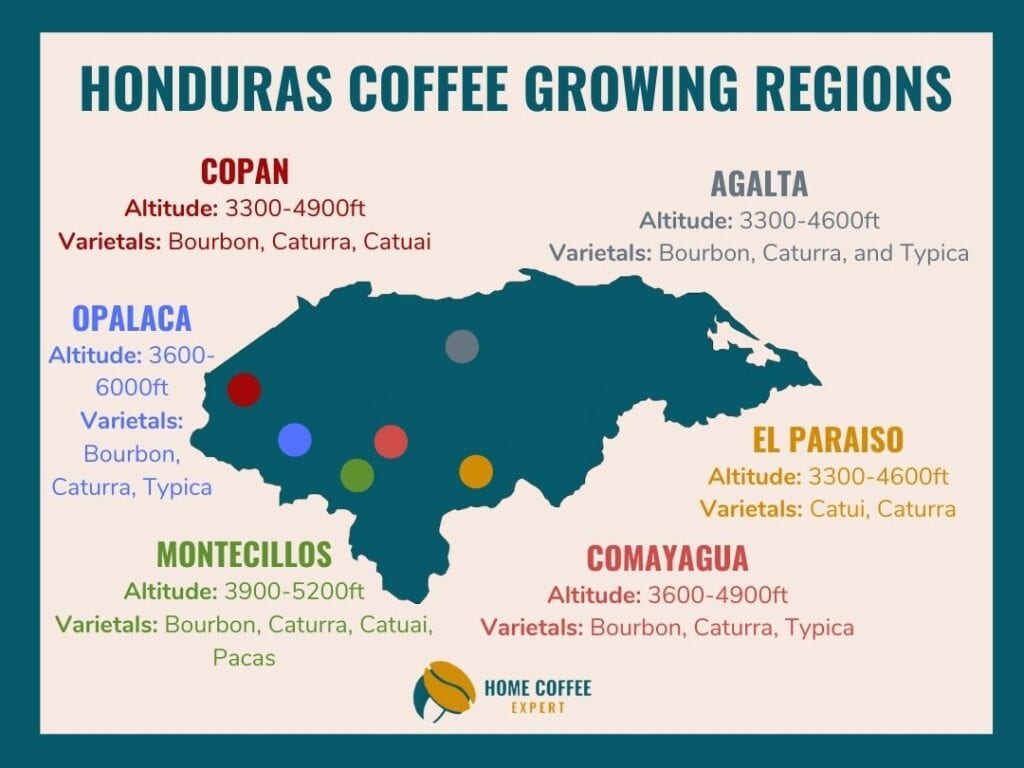 COPÁN
Named after the city which resides in the region, famous for its Mayan ruins, Copán borders Guatemala. Though many may feel Guatemalan coffee is vastly inferior to the Honduran offering, the growing regions run into each other as most country borders are fairly arbitrary lines.
You will see some Honduran Coffee labeled as "Santa Barbara" which lies within the northern part of the Copán region and often wins awards for the quality of its coffees.
In Copán, the widest variations in humidity and temperature are experienced. Bourbon, Caturra, and Catuai varieties are most commonly grown here at altitudes ranging from 3,300 to 4,900 feet above sea level.
The result is bold and creamy coffees with light citrussy acidity and notes of chocolate and caramel. The area is famous, known for producing some of the highest quality coffee Honduras has to offer
MONTECILLOS
The Monetcillos region is home to a couple of important sub-regions, most notably the sub-region of Marcala. Only the highest quality coffees can bear the Café Marcala name as, in 2005, it became Honduras' first coffee to have the legally recognized Denomination of Origin.
Marcala is a well-established name in the Honduran coffee scene. So, coffee beans are regularly labeled as Marcala or La Paz – La Paz being the wider area that houses Marcala. Doing so increases the accuracy of coffee labeling and attracts higher prices but strict conditions have to be met to be labeled as Marcala. Whereas La Paz has a little more leniency.
The highest coffee farms in Honduras are also found in Montecillos, at altitudes ranging from 3,900 to 5,200 feet above sea level. This is a contributing factor to the very good quality coffee beans from this region.
Here, you will find Bourbon, Caturra, Catuai, and Pacas coffee varietals. In your cup, you will most likely experience more fruity notes like peach or apricot alongside a nutty caramel flavor.
AGALTA
Agalta stretches across the northern part of Honduras, just inland from the Atlantic coast.
Most of this area is protected forest and is very important for tourism in the country. The extra money from eco-tourism helps protect the environment around the coffee farms and ensures the best environmental farming practices are observed.
Bourbon, Caturra, and Typica are grown in Agalta at altitudes from 3,300 to 4,600 feet above sea level. Here, the climate is more tropical which is reflected in the tropical fruit flavors of the Agalta coffee beans.
OPALACA
Opalaca is situated between the regions of Copán and Montecillos, bordering El Salvador to the south. It is named after the mountain range that stretches through the region.
The region of Opalaca is home to the coffee-producing areas of Intibucá and Lempira.
Here, Bourbon, Caturra, and Typica varieties of Arabica coffee beans are grown. The farms can be found at altitudes from 3,600 to 6,000 feet above sea level. High altitude means slower ripening coffee cherries and more complex flavor profiles.
COMAYAGUA
With dense tropical rainforest, Comayagua is named after the old capital city of Honduras which lies within the region. Although the new capital, Tegucigalpa, is also within this central Honduran region.
Bourbon, Caturra, and Typica are grown in Comayagua on farms at altitudes of 3,600 to 4,900 feet above sea level. Although it is possible to find other coffee beans like Parchi and some small yields of other hybrid varietals.
You can enjoy sweet, citrus flavors and full-bodied richness from a cup of Comayagua coffee.
EL PARAISO
One of the oldest and biggest growing regions in Honduras, El Paraiso is near the border with Nicaragua in the east of Honduras.
During the coffee rust emergency in 2012/13, El Paraiso was the hardest hit Honduran coffee region. But, it has recovered since then and many high-quality Honduran coffee brands continue to successfully grow their coffee here.
Both Catuai and Caturra are grown in El Paraiso, alongside smaller quantities of Parainema. This makes it an unusual region as it doesn't grow any Bourbon coffee. As one of the lowest coffee-growing regions in the country, you will find the farms at altitudes from 3,300 to 4,600 feet above sea level.
Flavor-wise, you can expect higher acidity which is balanced by a subtle sweetness.
The coffees can be classified as one of the following:
Strictly high grown: A minimum of 4,400 feet above sea level
High grown: Coffee grown between 3,900 and 4,400 feet above sea level
Central standard: Anything below 3,900 feet above sea level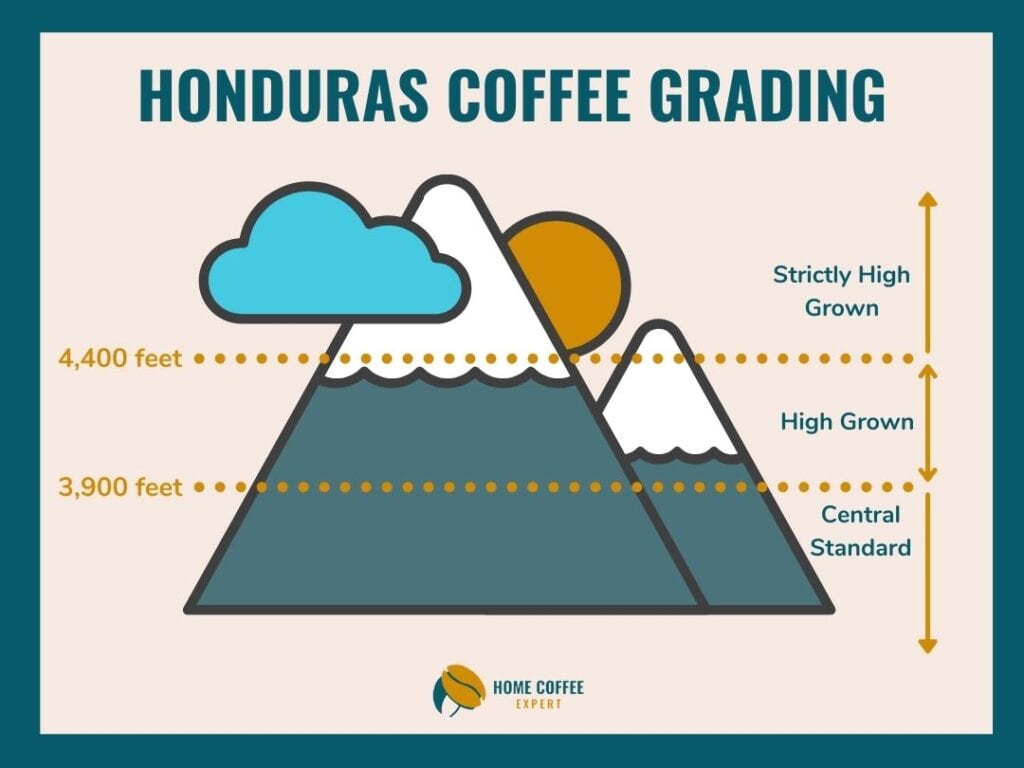 So, if you want to enjoy the very best quality of coffee that Honduras has to offer, you should look for strictly high-grown coffee. This is the highest quality coffee designation in the country as the additional elevation adds to the rich depth of flavor.
Over and above altitude classifications, you can also find Bird-Friendly and Shade-Grown specialty Honduran coffee labels. Not only are these classifications better for the environment, but they produce a more robust flavored brew.
Honduran coffee farmers predominantly grow Bourbon, Caturra, Catuai, and Typica varieties of Arabica coffee beans.
Of these, Bourbon and Caturra are the most commonly grown Honduran specialty coffee varieties. Bourbon coffee typically has notes of vanilla, pear, and chocolate and is famous for its balance. It is common across Central America. Whereas, Caturra (a natural mutation of Bourbon) is more fruit-driven and has a more citrussy edge to its flavor.
Smaller plantings of Typica, Catuai, and Pacas are found in the coffee-growing regions of Honduras. But Bourbon and Caturra are the dominant coffee plants in the country.
However, the complex fruity notes don't generally lend themselves to being dark roasted. Basically, anything darker than a medium roast is too far.
Whilst the bright acidity and sweetness absolutely make great dark roasts, you lose some of the more subtle flavors that make Honduran coffee so special.
Drying is a vital part of coffee processing and is usually done outside under direct sunlight. But the rain is making it more and more difficult to fully dry the green coffee beans. So, many farmers use a hybrid method of sun drying and mechanical drying.
Mechanical drying can cause the quality of the beans to drop off a cliff very suddenly if not done correctly. This has put an extra emphasis on freshness with Honduran coffee in order to avoid this issue. That said, many of the best Honduras coffee beans will hold up just as well over time as coffee from anywhere else in the world.
In 1804, the first mention of the quality of coffee grown in Honduras appears. So, at the very latest, coffee trees were planted in 1799 as it takes a few years to get a good harvest.
For decades, Honduran coffee beans were only used as part of blends. And it is only in the last 20 years that Honduras has seen a meteoric rise to being one of the biggest coffee-producing nations in the world.
During the 19th century, growing coffee drove improvements in infrastructure across Central America. But Honduras was a late bloomer so similar improvements took place much later.
This lack of infrastructure meant that the destiny of Honduras coffee beans was the high-volume mass market. In fact, it is only in the last decade or so that they have built quality coffee processing facilities. Plus, the increased traceability allows us to truly appreciate the premium Honduran coffee flavors.
In 1970, the Instituto Hondereno del Café (IHCAFE) was established. Their goal was to improve the high-quality coffee beans grown in each of the 6 defined regions. Each region has its own coffee tasting lab that works with the farmers to get the best possible coffee seeds from their farms.
By 2011, Honduras was producing more coffee than Costa Rica and Guatemala combined.
Now, small to medium family farms dominate the Honduran coffee industry. In fact, there are around 120,000 families involved in the cultivation and production of coffee in the country, supporting around 300,000 rural workers. This is despite an issue with leaf rust that devastated the harvests of 2012 and 2013.
In 2020, Honduras produced over 6 million 60kg bags of coffee. It was actually one of the few Central American nations where coffee production grew from 2019.
But, despite the setbacks, the Honduran coffee industry has gone from strength to strength, particularly in the last 20 years. Thanks to investment in the industry and a shift in focus towards quality, coffee beans from Honduras have exponentially grown in popularity. And with good reason:
Single-origin specialty Honduran coffee has widespread appeal. There truly is something to suit every palette and brewing method.
If you're as convinced as we are that Honduras coffee is worth every cent, put it straight to the top of your shopping list. The Catuai and Bourbon coffee from Spirit Animal is one of our favorite Honduran coffees and really shouldn't be missed if you are looking for the best quality and flavor out there.
You Might Also Like
Naming your new furry friend is a tall order. But if you love coffee as much as your pup, get inspired by one of these Coffee Names for Dogs

The Kyoto Latte is an incredible addition to the coffee world from % Arabica's flagship store in Japan. Discover what makes it so special