If you're looking for simplicity, the French press coffee maker is one of the easiest ways to brew great-tasting coffee. But it takes time. And not everyone has 4 minutes to leave their coffee grounds to steep before running out the door.
And that's where the traveling French press coffee mug comes in, changing the portable coffee-making game forever.
These travel-friendly, easy-to-use devices are the coffee gadgets you didn't know you needed but will fall in love with. Thanks to the clever, subtle designs of the coffee maker/ travel mug combo, you can plunge your coffee on the morning commute without raising any eyebrows.
The French press brings the best out of almost every type of coffee beans. So, using a French press travel mug not only delivers on quality but will also save you money on expensive coffee shops during your commute. Plus, you no longer have to play coffee roulette when staying in hotels.
Don't get us wrong, making French press on the go is not without its challenges. But, here, we'll take a look at how the best traveling French press coffee makers rise to the challenge. And, most importantly, which will deliver that rich and delicious brew wherever you are. So let's press on…
This article may contain affiliate/ compensated links. As an Amazon Associate, we earn from qualifying purchases at no additional cost to you. For more information please see our disclaimer here.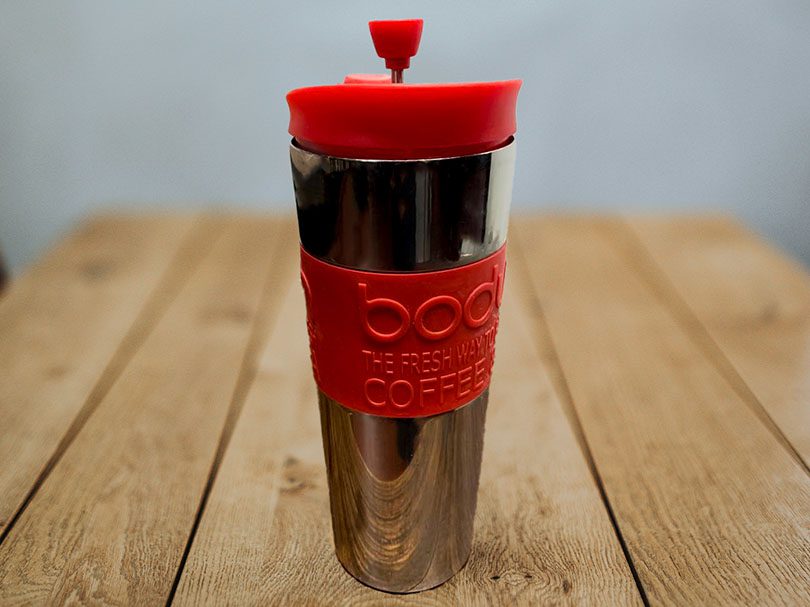 Image
Product
Details
Cost ($$$$$)
Bodum Travel Press

9.1 x 3.5 x 3.5 inches
Weighs 0.9lb
15oz capacity

$$$
BruTrek OVRLNDR

9.75 x 3.75 x 3.75 inches
Weighs 1.4lb
24oz capacity

$$$$$
Stanley Classic Travel Press

10.3 x 5.06 x 5.06 inches
Weighs 1.3lb
16oz capacity

$$
AeroPress Go

5.3 x 3.9 x 3.9 inches
Weighs 0.72lb
8oz capacity

$$$
Espro P1

8.1 x 2.8 x 2.8 inches
Weighs 0.8lb
12oz capacity

$$$$
Kohipress

10.6 x 2.7 x 2.7 inches
Weighs 0.8lb
12oz capacity

$$$
Well, does your morning routine usually include a rush to get out the door? Or do you regularly travel for either business or pleasure? If you answered yes to either of these, you need a super-efficient travel French press mug in your life.
Here are some of the benefits that make a French press travel coffee maker a great investment: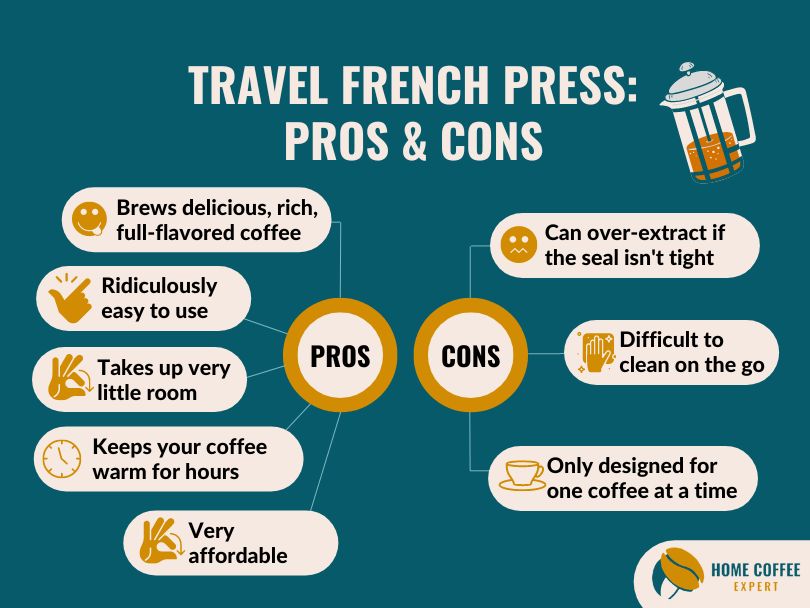 Great Tasting Coffee
French press coffee lovers sing the praises of their favorite coffee brewer. The steeping method retains all the delicious oils, rewarding you with a rich, full-flavored cup.
Even if you use pre-ground coffee, the impressive French press coffee is still a huge step up from instant hotel coffee and even some branded coffee chains.
Easy to Use
On busy mornings, the idea of properly brewing fresh coffee may feel like a bit more hassle than you have brain space for. But it couldn't be simpler with a traveling French press coffee maker.
All you need to do is put your coffee grounds and hot water into the carafe. Then, 4 minutes later, push the plunger and you're done.
It's the same method and the same coffee-to-water ratio for making regular French press. So, you can leave it to brew away whilst you put your shoes on. Or, you can plunge whilst on the road to save even more time.
Portable
If you're making coffee for one, a French press is hardly a bulky item. But on its own, you would also need a separate mug, and all of a sudden your bag is starting to fill up quickly.
But with a French press travel mug, you combine both these items for maximum space-saving. Then, whenever the caffeine need hits, you are ready to brew great coffee.
Keeps Your Coffee Warm
The design lends itself really well to being integrated with a travel mug. By swapping out the standard French press carafe for an insulated thermal coffee mug, your coffee will stay warm for hours.
Relatively Inexpensive
There are plenty of other portable coffee brewing options out there from portable espresso machines to the AeroPress. But, by comparison, French press travel mugs are more affordable options. Plus, it means no more stops at expensive coffee chains with their dreaded disposable coffee cups.
Read next: French Press vs Espresso
Risk of Over Steeping
It is all well and good that the insulated travel coffee mug can keep your coffee warm for hours, but that might not be the only thing it's doing:
Because of the design, the coffee grounds are still in the same cup you will drink from. So, if the seal isn't tight, extraction will continue (although much slower) and you can end up with a very bitter, over-extracted, and unpleasant coffee.
Difficult to Clean on The Go
Compacted coffee grounds aren't the easiest thing to clean out, especially when you're on the go. And, thanks to the small parts of some French press travel mugs, they are incredibly difficult to get clean.
Limited Capacity
Traveling French press makers are really only designed for drinking one cup of coffee. Until you have fully cleaned it out, it's not possible to make another batch. So, they're not the best for anyone looking for multiple caffeine hits throughout the day.
Psst.. To get the best out of your Travel Coffee Press, you need freshly ground coffee beans. Check out our grinder guide to complete your on-the-go coffee setup:
1. Bodum Travel Press – Best All-Round French Press Travel Mug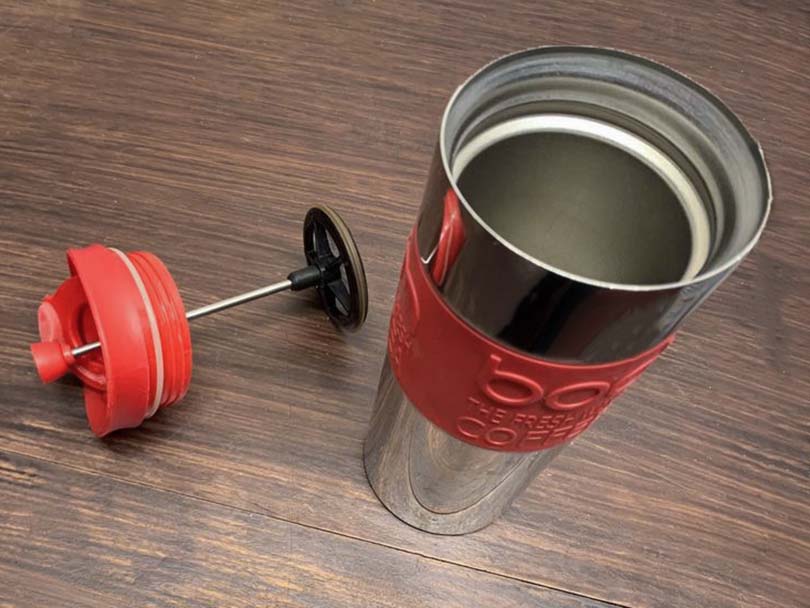 Pros
Can be used for either coffee or tea
Dishwasher safe
Hot French press coffee for hours after you brewed it
Comes with 2 lids – 1 with plunger and 1 to use as a regular travel coffee mug
Cons
Coffee over extracts if left too long
Only suitable for 1 person
Not the best French press travel mug if you have smaller hands
Back in the 1950s, Bodum bought the rights to the "Chambord" name and factory, which were synonymous with the French press coffee maker. Today, their reputation remains on top and any time you look to buy any type of French press, Bodum will appear near the top of the list.
The Bodum French Press Travel Mug does exactly what you expect it to: it combines the steeping brewing process with an insulated mug. So you can make French press on the go and sip from the same container, saving space and making outdoor coffee drinking much easier.
The double-insulated stainless steel body will keep your coffee warm for hours and the tight-fitting plastic lid helps to prevent spillages.
Bodum claims their travel press holds 15oz. However, we've had a fair few overflowing experiences when it's this full. So we recommend slightly under-filling it to be on the safe side whilst you're on the go.
Not only can you freshly make rich, robust coffee but you can also make loose-leaf tea. Or, by popping this French press travel mug in the fridge overnight, you can make cold brew coffee too.
The only real issue is that the coffee continues to extract whilst in the cup. So it will keep your brew hot for hours but after 10 minutes it will be bitter and over-extracted, which kind of defeats the purpose of keeping it hot.
As a cheap, solidly built, and durable coffee maker, it is firmly in the "good but not great" category. But, as it ticks so many boxes, it's still the best all-round French press travel cup.
Overall, the Bodum Stainless Steel Travel Press is a well-executed celebration of simplicity in design. If you're looking for a well-made, easy-to-use travel French press just to drink as soon as your coffee has brewed, this will work well for you. But, if you're planning on brewing your coffee and putting it in your bag for later, you're better of with a device that keeps the grounds separate.
2. BruTrek OVRLNDR – Best for Camping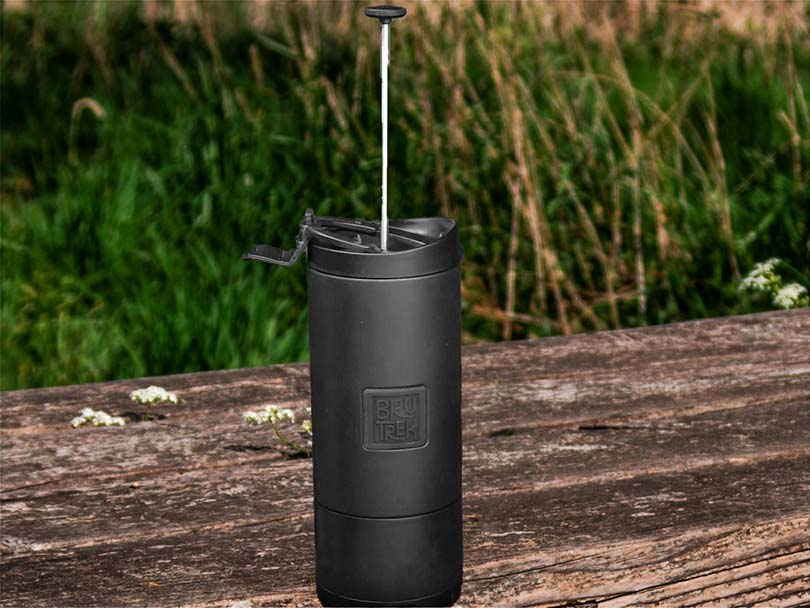 Pros
The insulated container keeps your coffee warm
Removable base plate for easy cleaning
24oz capacity
Perfect for 2 people
Grounds kept separate so no over-extraction
Cons
Relatively bulky – doesn't fit in a standard cup holder
Not ideal for one person
More expensive than the other French press travel mugs on the list
The BruTrek range by Planetary Design boasts high-quality coffee brewers and cups for those who love the outdoors. So, if you are looking for a camping French press, then the OVRLNDR is for you (buying a vowel would have added to the price tag, I guess).
Here, you get a solidly built travel French press/cup hybrid, perfect for anyone who loves to camp or hike.
At 1.4lbs, it's a fairly hefty piece of kit. That said, it does boast an impressive 24oz capacity which, unless you're a coffee fiend, makes it a great double shot French press travel mug for 2 people.
The larger size and weight make it a bit too big for the daily commute or for space-conscious backpackers. Plus, if you spend a lot of time in your car, it is annoying that this coffee maker won't fit into a standard cup holder. In that case, you would be better off with one of the integrated French press/ travel mug options. Unless, of course, you routinely drink 24oz of coffee in one sitting – there's no judgment here!
For an added touch of customization, you can choose between 4 different colors: brushed steel, black, blue, and orange.
For us, the best feature of the BruTrek French press travel mug is the removable bottom section:
Not only does this really help with removing the used coffee grounds and cleaning the OVRLNDR, but it also ensures a better-tasting brew. Keeping your coffee and grounds separate means your brew won't over-extract and become bitter after plunging. So, you can make an entire hike's worth of coffee and sip it throughout the day without losing any quality.
So, if you're in the market for a solidly built, portable camping French press, you can't go wrong with the BruTrek OVRLNDR. Yes, it is more expensive than a lot of the traveling French press makers on this list. But you may feel the extra cost is worth it for the extra capacity, ease of cleaning, and design – we certainly do.
3. Stanley Classic Travel Mug French Press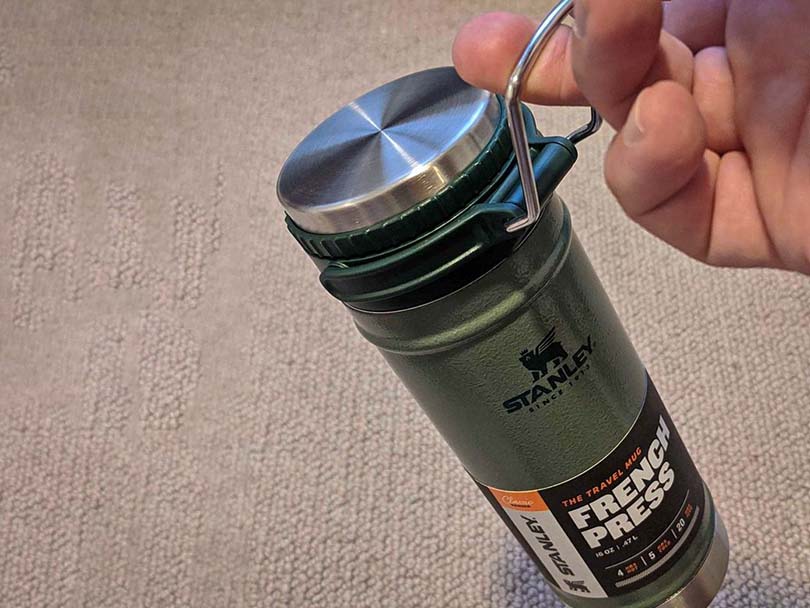 Pros
Fine mesh sieve
Superb insulation
Easy to clean
No over-extraction of coffee grounds
By removing the plunger, it can also be used for soup
Cons
Heavy
Not ideal for one person
Too big for a lot of cup-holders
Old-fashioned design
Stanley has been making camping gear for over a century, including making quality thermoses for decades now. So, you know you are getting something top-notch when you buy from them.
The familiar olive green look of their Travel Mug French Press won't be to everyone's taste. But if you spend a lot of time outdoors, there's a high chance you already have quite a bit of that color in clothing and backpacks anyway.
The Stanley Classic travel coffee press is completely dishwasher safe. And, for the ultimate in versatility, it can be used, not just for coffee and tea, but as a thermos in its own right for soups, hot chocolate, or any hot liquid that doesn't require plunging.
Sadly, it's a little too wide for most in-car cupholders. But that's not a hard and fast rule, so you'll have to get the measuring tape out to see if it will fit your vehicle.
The grounds are kept separate from the coffee after plunging so you don't have to worry about over-extraction whilst your coffee is kept warm in the flask.
At 16oz capacity, it sits at the top end of single-person travel mugs. Although it could be shared by 2 if you had a spare cup and don't drink as much coffee in one sitting. You also don't have to fill it to the top but doing so does help with heat retention.
The Stanley camping French press offers unbelievably good insulation, keeping your coffee hot for 4 hours thanks to the great build quality. Or, if cold brew is more your style, it will keep a drink cold for 5 hours or iced for 20. It is, however, designed for the camper with space to spare:
It's big, chunky, and awkward to fit into cup holders or side pockets of backpacks. Plus it's heavy compared to the other travel French press coffee maker options. But, if you like the classic design and aren't too concerned about space, you can't argue with the quality.
Overall, it is a much-loved piece of coffee gear for campers. But if you're a backpacker looking for a versatile thermos flask, the Stanley travel mug French press is well worth your consideration too.
4. AeroPress Go – Best Quality Coffee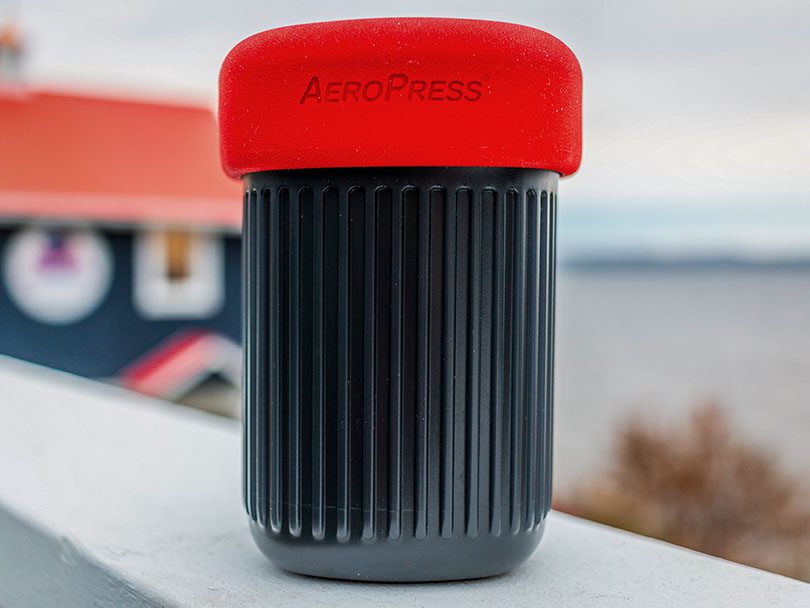 Pros
Produces superb quality coffee
Packs away very small – perfect for traveling
Easy to clean
Simple to use
Cheap
Flexible coffee maker to suit your preferences
Cons
Needs paper filters
Only makes 8oz coffee
No lid on the integrated up so would need a separate coffee travel mug for commuting or hiking
OK, so the AeroPress Go isn't technically a travel French press (compare French Press vs AeroPress here). But it's pretty close and, as one of the best coffee makers you can buy, it would be outrageous to miss it out.
The AeroPress Go works in exactly the same way as the regular AeroPress – a cult icon of the coffee world. It's just slightly smaller and comes with its own little travel cup, making it even easier to take on the road with you.
With yearly competitions and endless tutorials online, you don't need us to tell you how good the coffee quality is. (Spoiler alert: it's really good).
Whether this is the one for you boils down to when you're looking to use your traveling French press maker:
If you're commuting, hiking, or generally looking for a coffee whilst you're out and about then the Aeropress Go is a bit too much messing around to be really useful. Plus, the integrated cup doesn't have a lid so is really only useful when you're sitting in one place.
However, if you spend a lot of time traveling and frequently stay in hotels or hostels then this could be an ideal travel companion to start your day off with great coffee.
As portable coffee makers go, you can't argue with the quality or ease of use. When you're done, all the parts simply pack back up inside the travel cup, and off you go.
The downside is that you do need paper filters for each coffee which isn't the greatest for packing or sustainability. That said, they aren't exactly big so you can always pack loads before you leave so you don't have any issues re-stocking on the go. Plus. there's a built-in filter holder which takes up to 20 at a time.
Being just 8oz, if you feel the Go is too small you can always opt for the original AeroPress which is 10oz. Although it does need a little more room in your bag, you can grab one for nearly the same price.
But for daily use in hotels or hostels, it's a brilliant little coffee maker that will improve the quality of your morning coffee tenfold.
5. Espro P1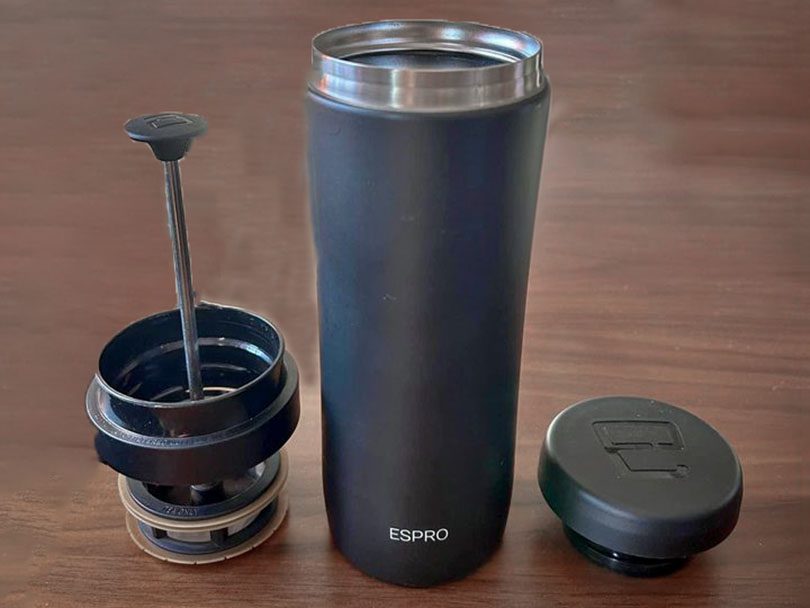 Pros
Excellent double mesh
Keeps coffee hot for a very long time
Coffee doesn't over-extract over time
Secure lid stops spills
Makes a great French press coffee
Cons
Fiddly to clean
Need a separate cup to drink it from
Only makes 12oz of coffee
The Espro P1 differs from most French press mugs in that it's more of a plunger and thermos rolled into one. You still need to pour your freshly brewed coffee into a separate cup to drink. And packing another bit of kit may be a dealbreaker for some people. Although it is easy to pick up collapsable travel mugs that take up minimal space.
There is a very fine mesh in the Espro travel coffee maker which promises to completely separate the grounds from your coffee. Plus, it can keep your coffee impressively hot for a long time – around 4 hours. So as a French press/ thermos combo it's very good.
Like all things, it all comes down to what you want to use it for:
If you're looking for a travel brewer to take on your daily commute, then this isn't great. You don't want to be pouring your coffee out to drink on the subway.
But, if you're camping or hiking, then carrying 1 or 2 flat-pack cups to pour your coffee into isn't much of a hassle. And the quality of coffee more than makes up for the tiny extra inconvenience.
Espro claims that their travel brewer has a 14oz capacity. But, realistically, it's more like 12oz which might be a little small for some people.
That said, we really can't fault the rich, sediment-free java made by the Espro P1. So, if coffee quality and temperature retention are your priorities, then it's a great option. The focus here is clearly on the quality of the coffee:
Espro includes paper filters that can be placed between the mesh to remove some of the oiliness from the coffee if you prefer. We would argue that this is a waste of delicious flavor, but it does give you more versatility for a pour-over style of brew.
Due to the high quality of mesh on the filters, you need to be careful whilst cleaning your Espro travel coffee press as it can easily be damaged. And dismantling can get messy if you do it wrong.
It sounds like we are being down on the Espro, but that really isn't the case. It's very, very good at what it does. But there are other traveling French presses that can do more for the same price or less. However, if you don't need the extra functionality and really only care about the quality of your brew then this could be the one for you.
6. Kohipress – Best for Commuters
Pros
Excellent heat retention
Coffee doesn't over-extract
Easy to carry and drink from
Looks brilliant
Tight-fitting filters for smooth coffee
Cons
Messy to operate
Takes quite a bit of force to plunge
The Kohipress portable French press coffee maker is comfortably the most stylish in the group for traveling.
You will turn heads with this tall, sleek design that has an indent for comfortable hand placement and an easy-to-use travel lid. If you rock into the office sipping from this, people will instantly assume you care very deeply about whatever beverage is inside it.
The industrial-grade stainless steel and double-walled insulation work very well. So you can reasonably keep your coffee in there for 6 hours and still have an enjoyable hot brew. Plus, the double filter will keep your coffee from over-extracting. So it really is a superb piece of kit for those who are looking to enjoy a great coffee whilst out and about.
Despite having premium looks, it doesn't come with a premium price tag which is always a nice surprise. Given the complex design with springloaded gaskets, it's very welcome just how affordable it is.
The Kohipress French press coffee maker claims to have a 16oz capacity. But realistically you're looking at more like 12oz, which is ok but not great. Especially if you need a big caffeine hit to get going or if you're looking to have enough coffee to last you several hours.
The Kohipress is outstanding once you've made your coffee – no complaints at all. Making the coffee, however, is a bit awkward.
Filling to the line at 16oz will mean spraying hot coffee over you and your counter when you try to press the plunger. And, even at 12oz, you may have some coffee spray over the top. Everything is so tightly fitting it's practically impossible not to end up with some splashback.
The increased pressure is supposed to reduce the brewing time. But we found leaving it for the full 4 minutes was still the best in order to get a full-bodied cup of joe. That cup was still perfectly extracted several hours later. So the separation of grounds from the coffee works very well.
This is a brilliant travel French press for commuters. You can make your coffee at home (perhaps in the sink), then a quick wipe down and you've got an amazing travel mug with wonderful tasting coffee that also fits in the cup holders for your travel to work.
If you're a camper, hiker, commuter, office worker, backpacker, or just someone who likes to wander with their coffee then you'll be able to take your travel coffee game to the next level.
Armed with the best travel French press, you no longer have to forgo caffeine or be at the mercy of what is available on your way to work or where you're staying. Win, win.
You Might Also Like
If you're wondering 'Why Does My Coffee Taste Watery?' And more importantly, 'How Do I Fix It?', then this is the simple guide for you

Both coffee makers are budget-friendly. Both make great tasting coffee. So how do AeroPress vs French Press compare & which is best for you?