The southern Central American country of Nicaragua is a diverse nation, rich in culture and natural resources, like coffee. Nicaraguan coffee stands proud beside its fellow coffee-growing nations. Having been fortunate enough to visit some coffee farms in Nicaragua, I may be slightly biased in my love of the nation's coffee.
Whilst coffee farming came quite late to Nicaragua's shores, the country boasts an ideal climate and topography for growing quality coffee.
This is why, in 1840, the plantations gained economic significance. Now, amidst the stunning volcanic and beach landscapes, the incredibly well-balanced and flavorful coffee beans grow. The success is thanks to the abundance of volcanic soil and high-altitude farms perfect for shade growing.
Here's everything you need to know about Nicaraguan coffee, including reviews of the top Nicaraguan coffee beans. I've also included some tips on brewing Nicaraguan coffee picked up over my years as a barista.
This article may contain affiliate/ compensated links. As an Amazon Associate, we earn from qualifying purchases at no additional cost to you. For more information please see our disclaimer here.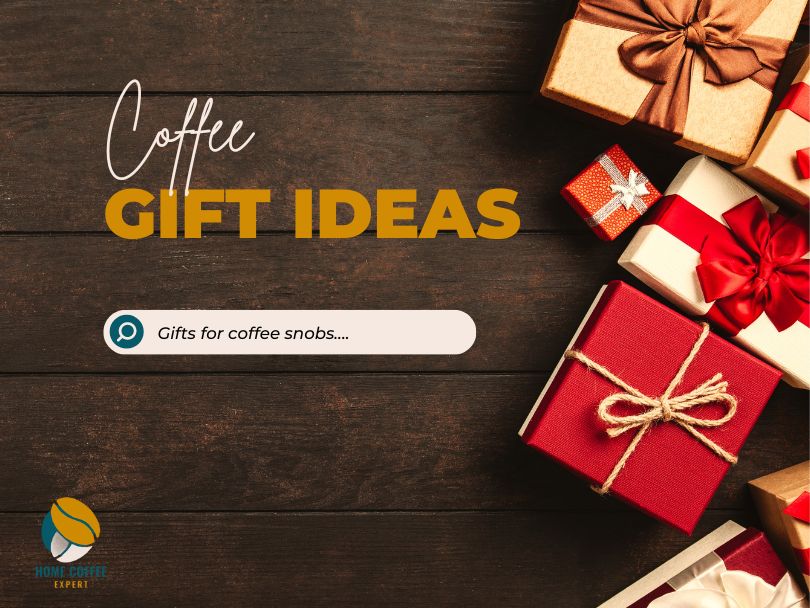 The holidays are coming. Which means stressing over the perfect gift is here too.
But stress no more. We've put together a list of all the best coffee gifts to please even the most discerning of coffee lovers in your life.
Check out our guide if they're on your 'nice' list. Or maybe be 'naughty' and buy something for yourself!
Equator Coffees – Nicaragua Sacaclí
The first certified regenerative organic coffee in the world. Not only is this coffee good for the environment, but it shows off all the best characteristics of Nicaraguan beans. Sweet apple, chocolate, mint, and low acidity make this a joy to drink. The light to medium roast allows the flavors of the Jinotega region to really shine.
Image
Product
Details
Equator Coffees – Nicaragua Sacaclí

Medium-Light roast
From Jinotega
Chocolate, apple, walnut, mint

Volcanica – Jinotega Region

Medium roast
From Jinotega
Apple, cherry, raspberry, rose

Alma Coffee, Dreamer Decaf

Medium-Dark roast
From Matagalpa
Citrus, dark chocolate, brown sugar

Lifeboost – Medium Roast

Medium roast
From Mt Kilambé
Cocoa, caramel, earthiness

Tiny Footprint – Nicaragua Segovia

Dark roast
From Nuevo Segovia
Chocolate, apricot, fig, spice

Blueprint Coffee – Cerro Datanlí

Light roast
From Jinotega
Nuts, Brown Sugar, Ripe Fruit

Red Rooster – Organic Nicaragua

Extra-Dark roast
From Jinotega
Sweet Cherry, Dark Chocolate, Vanilla
Equator Coffees, Nicaragua Sacaclí
What to Expect:
Roast Level: Medium-Light Roast
Region: Jinotega
Processing Method: Washed
Tasting Notes: Sweet red apple, chocolate, walnut, and mint
Important Notes: The world's first Regenerative Organic Certified coffee
Prefer to Buy on Amazon? Click Here
This careful cultivation ensures a great-tasting cup of Nicaraguan coffee. You'll find the classic flavors of the Jinotega region with citrus, chocolate, and bright fruit alongside a hint of floral notes.
In 1994, members of the Sacaclí community founded the Cooperativa de Servicios Múltiples Sacaclí. Their aim was to focus on and promote sustainable agriculture practices, improved quality of life, and gender equity. Based in the Jinotega region of Nicaragua, they have produced the world's first Regenerative Organic Certified coffee.
You're going to see a lot more about regenerative farming in the coming years if you haven't already. It's a holistic approach to agriculture that works on the idea that everything is connected and vital. The aim of farming in this manner is to help mitigate climate change and have a healthier planet.
The coffee is excellent too of course. Grown at 3,000-4,000 feet asl and washed processed, the natural herb flavors are maintained as well as tastes of apple, chocolate, and nuts.
Overall, this is a coffee you can feel really good about drinking on all levels.
Volcanica Jinotega Medium Roast
What to Expect:
Roast Level: Medium Roast
Region: Jinotega
Processing Method: Washed
Tasting Notes: Fruity flavors of cherry, raspberry, apple, and a hint of rose
Important Notes: Strictly High Grown (SHG) in the lush, volcanic soil of a single coffee farm
Prefer to Buy on Amazon? Click Here
No matter what you order from Volcanica Coffee, they always serve up reliable, fresh, and full-flavored coffee beans. Within their range is an excellent selection of single-origin coffees, including Nicaraguan. Plus, they have an unwavering commitment to sustainable growing practices.
This medium roast coffee comes from Nicaragua's main growing region, Jinotega. Here their coffee is grown ethically, not only being Shade Grown but also Rainforest Alliance Certified.
By growing the coffee beans in lush volcanic soil at high elevations, more complex flavors are able to develop. The growing is carefully overseen by Don Francisco and his wife Blanca Nieve on a microlot farm (Finca San Francisco).
Lifeboost Medium Roast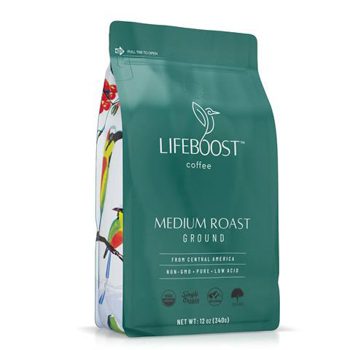 What to Expect:
Roast Level: Medium Roast
Region: Mt Kilambé, Jinotega
Processing Method: Washed
Tasting Notes: Full–bodied with hints of cocoa, caramel, and earthy undertones
Important Notes: Low-acid, mycotoxin-free, Fair Trade, USDA certified Organic, and shade grown
Prefer to Buy on Amazon? Click Here
Lifeboost Coffee is one of the best Nicaraguan coffee brands with all their coffee coming from a single farm on Mount Kilambé.
Their coffee ticks a lot of boxes. On the ethical side, it is shade grown, certified organic, and is Fair Trade. But they also put your health at the forefront, producing low-acidity coffee which is tested by a third party to ensure there are no unsuspected nasties in the beans.
This makes Lifeboost one of the healthiest coffee brands you can get your hands on. The low acidity is not only great for your stomach but also for anyone wanting to enjoy a rich, sweet cup of coffee.
In fact, they are so confident you'll love their coffee that they offer a 60-day money-back guarantee and they'll let you keep the coffee. An absolute must-try.
Read Next: Lifeboost Coffee Reviews
Tiny Footprint Nicaragua Segovia Dark Roast
If you want to feel really good about your cup of joe, look no further than Tiny Footprint Coffee.
They are a carbon-negative coffee company and use a portion of its sales to preserve and re-plant the Mindo Cloud Forest in Ecuador. As a company, they are fully committed to environmental protection.
This brand's Nicaraguan whole bean coffee comes from the stunning region of Segovia. Here it is shade grown as well as certified Organic and Fair Trade.
The rich flavors from the dark roast work nicely with the Nicaraguan style of apricot, vanilla, and bright fruit. It is a testament to the distinctive Nueva Segovia coffee taste profile.
Alma Coffee, Dreamer Decaf
Alma Coffee roasters are based in Canton, GA but they purchase the beans for their Dreamer Decaf via Direct Trade. This partnership is with a family-owned farm called Selva Negra in the Matagalpa region.
As a small roastery, they are committed to only selling the freshest coffee beans from family farms. But this is no easy task when it comes to decaf due to the volumes often involved with making decaf coffee. So they really struck gold when finding Selva Negra and the use of the mountain water decaf processing method.
This isn't the most common method but it is a very effective one. Basically, pure water from high in the mountains is used to steam the green coffee beans. Then, a water-based solution is added to remove the caffeine whilst keeping the bean's natural flavor compounds unaffected.
The result? Incredible tasting coffee with none of the caffeinated buzz. The rich tones of dark chocolate, orange peel, and brown sugar make this decaf coffee perfect for a nightcap or paired with dessert.
Cerro Datanlí – Blueprint Coffee
Blueprint Coffee is a coffee bar and specialty roaster based in St. Louis. Among their many excellent single-origin coffees is this stunner from Cerro Datanlí in the Jinotega region of Nicaragua. Grown between 3,600-4,100 feet asl, the cloud forest helps to keep the temperatures down for slower ripening. The natural mulch from fallen leaves also gives superbly fertile soil on the steep slopes of the mountain. Ideal for shade-grown coffee.
Sourced from a collection of 10 smallholder farmers who realized the immense potential of the area for quality coffee, the beans are washed processed to show off the area's wonderful flavor profile. With sweet fruit, roasted nuts, and brown sugar notes, this is a sweet and aromatic coffee that is ideal for pour-over, AeroPress, or French press brewing.
Red Rooster – Organic Nicaragua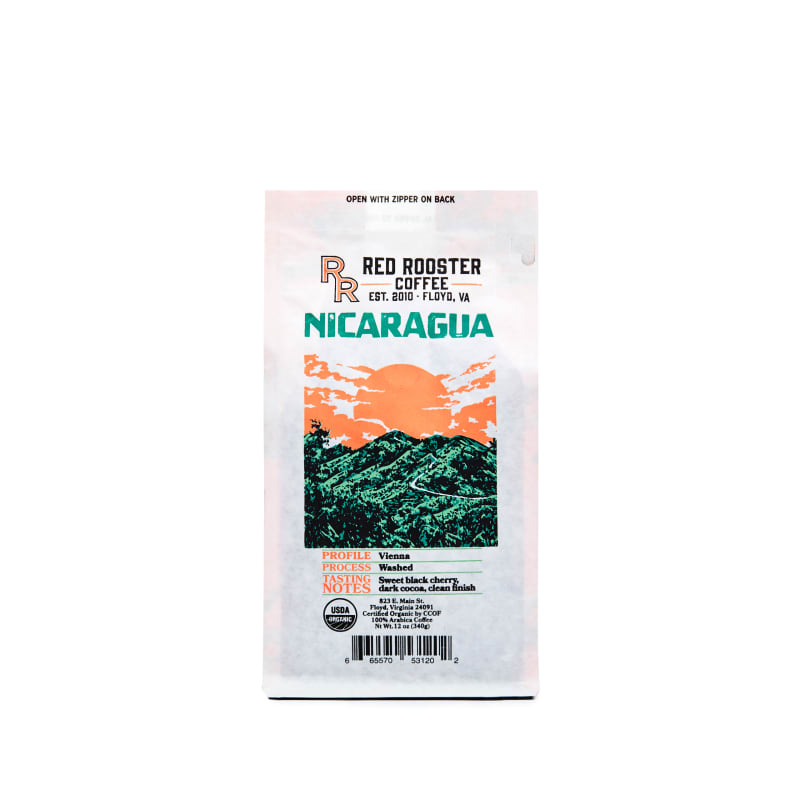 What to Expect:
Roast Level: Extra Dark Roast
Region: Jinotega
Processing Method: Washed
Tasting Notes: Dark Cacao, Vanilla, Black Cherry
Important Notes: Organic and Fair Trade Certified
Prefer to Buy on Amazon? Click Here
Virigina-based coffee roaster Red Rooster works with smallholder farmers to deliver exceptional coffee with transparent supply chains and a focus on ethical practices. The Jinotega single-origin coffee is organic and Fair Trade certified and comes from a small group of family-owned farms that are part of Cooperativa Multifuncional Family Coffee R.L., or COMULFAC.
Maintaining the unique profile of a region with an extra dark roast is seriously difficult. Red Rooster have kept the delicate acidity and chocolate notes that Nicaragua is known for whilst amplifying the caramelized flavors and adding a hint of smoke. This is due to washed processing and taking great care during roasting.
This is an ideal coffee for the Moka Pot crowd or anyone who likes their espresso more in the Italian style. Notes of black cherries, dark cacao, vanilla, and sweet smoke.
The wide variety of specific flavors in coffee from Nicaragua can make it hard to pin down a definitive "style".
However, as a general rule, most Nicaraguan coffee beans are more gentle and reserved than other coffees, offering up a medium body and mild acidity.
Flavor-wise you can expect mild fruit, citrus, floral, and chocolate notes. And, depending on the roast, hints of toast and vanilla, with great complexity of flavor.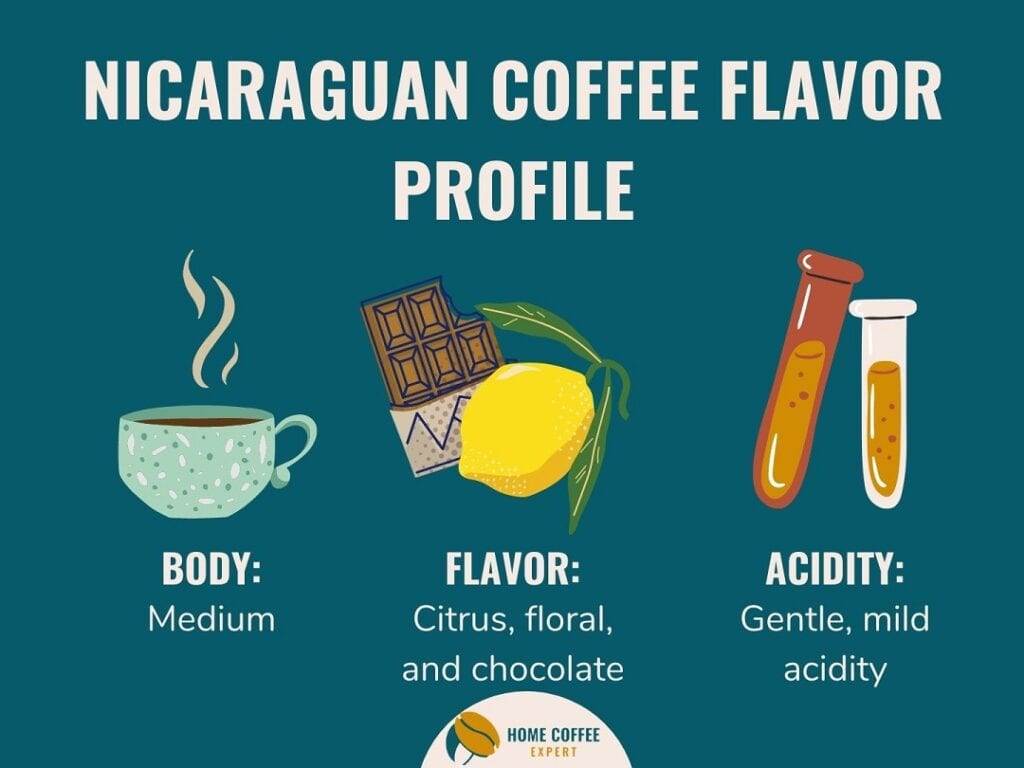 When it comes to buying coffee from Nicaragua, or any other nation, take the time to find ethically sourced coffee. Labels to look for are USDA Organic and Shade-Grown certifications.
For the best flavor, you want coffee beans that are roasted to order and delivered directly to you. This preserves as much of the flavorful oils as possible, ensuring you get the best cup of coffee.
To go one step further for the sustainability of the Nicaraguan coffee industry, try to find beans that are roasted at source, in Nicaragua. These aren't the easiest to find and the flavor will suffer slightly. But it is the best way to support the people in Nicaragua through your coffee choices.
Confused about the different Ethical Coffee Labels? Our beginner's guide cuts through all the confusion:
Globally, many of the best coffees are grown between 3600ft and 5600ft above sea level. As Nicaragua focuses more on quality coffee, the majority of their coffee is "high altitude grown".
Additionally, 95% of Nicaraguan coffee is also "Shade Grown". This labeling puts an emphasis on environmental protection as well as fair wages for coffee workers. Just another excellent reason to buy Nicaraguan coffee, even before you consider the outstanding quality.
However, the majority are located in Nicaragua's northern mountainous regions. The high altitude leads to the high-quality coffee beans the country is now so well known for.
Outside of the main coffee growing regions, there are a few smaller areas that also produce excellent coffee. Although finding coffee from any of these smaller regions for purchase outside of Nicaragua is pretty darn hard. These areas include Madriz, Managua, Boaco, Granada and Carazo.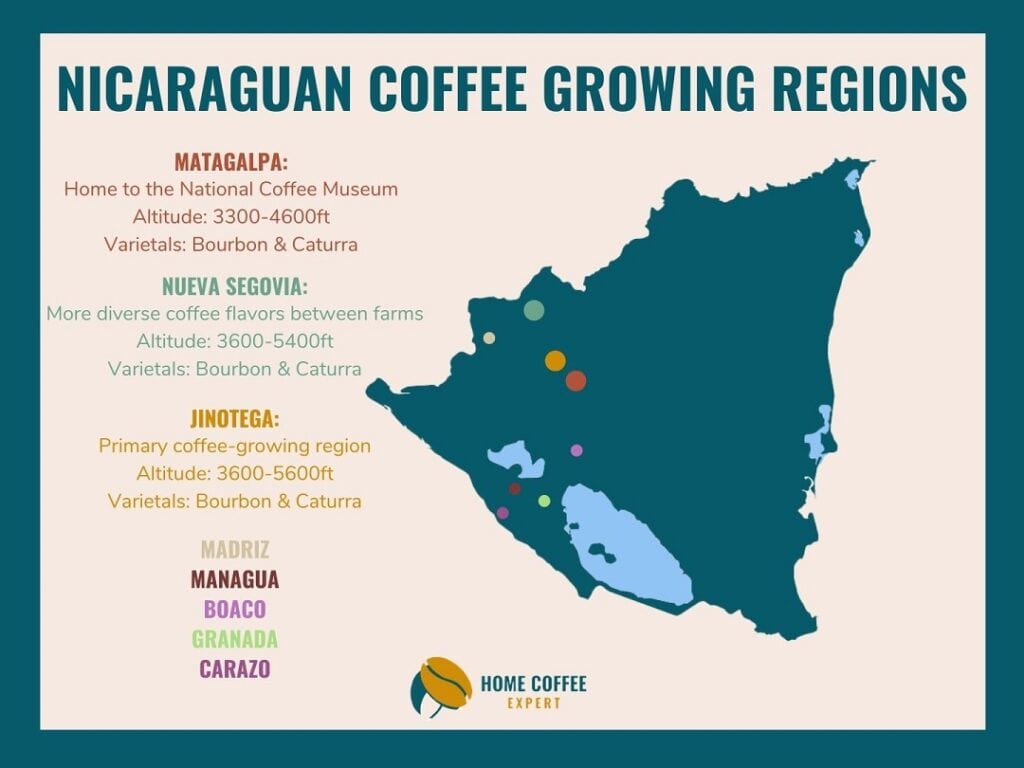 JINOTEGA
Jinotega is Nicaragua's primary coffee-producing region, named after the regions main city.
As far as the Nicaraguan coffee industry goes, it is the head honcho. Therefore, the local economy is heavily reliant upon coffee. The success of the region is a combined result of the high altitude, humid climate, and volcanic soil. So, it's a pretty ideal location for growing quality coffee.
Jinotega Nicaraguan coffee is predominantly the Bourbon and Caturra varietals. Here, they are grown between 3600 and 5600 feet above sea level.
MATAGALPA
Located in the north of Nicaragua, just south-east of Jinotega lies the Matagalpa region. This region is also named after its main city.
The area boasts the excellent National Coffee Museum alongside its large number of coffee farms. Similar to Jinotega, it also benefits from a superb climate, high altitudes, and volcanic soil. These elements lend themselves to producing top-notch coffee beans.
The Bourbon and Caturra coffee varietals are the main ones in this region, 3300-4600 feet above sea level.
NUEVA SEGOVIA
Located near the northern border of Nicaragua, Nueva Segovia produces some of the most exciting single-origin coffee beans. Although they can be harder to find. Here, the combination of varying soil types, altitude, and climate leads to more diversity in coffee flavors between farms.
Again, it is mostly Bourbon or Caturra varietals grown in Nueva Segovia at altitudes between 3600 and 5400 feet above sea level.
The Bourbon coffee plant is the main one grown in Nicaragua. It produces a well-balanced coffee with a flavor taste profile of mild vanilla notes, pear, and chocolate.
The Caturra coffee plant is also prevalent across the main growing regions of Nicaragua. This varietal has a slightly more citrus-driven flavor profile, creating coffee with an excellent flavor balance.
Throughout the country, other types of coffee beans are grown in small plots. There include Pacamara, Maragogype (also known as Elephant Beans), Maracaturra, Yellow and Red Catuai, and Catimor.
MARAGOGYPE (MARAGOGIPE)
Maragogype or Elephant Beans are the largest variety of coffee beans in the world.
Coffee's giant comes from a plant that produces unusually large leaves and cherries, leading to much larger seeds. These plants have lower yields and take up more space, so you won't find them grown on a massive scale. But they are heavily sought after.
Elephant Beans first appeared as a mutation of the Typica varietal of the Arabica coffee plant. First found in Brazil, itself an enormous producer of coffee, they grow exceptionally well in the Nicaraguan Highlands, 2000-2500 feet above sea level.
These monster coffee beans have an excellent depth of flavor with balanced acidity. You find varying reports from "world-class" to "sub-par" which the variation almost certainly down to how they're grown, processed, and roasted. The potential for exceptional coffee is definitely there.
They aren't the easiest things to get hold of. But if you do come across "elephant bean coffee", make sure you grab some and give these delicious monsters a try. Maragogype whole coffee beans lend themselves tremendously to cold brewing as it highlights the unique flavor profile.
Most of the coffee grown in Nicaragua is wet-processed. This is when the flesh of the cherry is "washed" off the beans. However, there is also a small amount that is "dry-processed". In this instance, coffee beans are left out to dry in the sun. And, finally, a tiny minority which is "honey processed" – a combination of the two.
Psst.. Want to understand more about the different coffee processing methods? Check out our full guide here:
A medium roast will preserve the fresh, bright Nicaraguan coffee brews whilst also bringing out the richer, darker flavors of the coffee beans. This should result in a well-balanced cup, allowing you to fully enjoy the range of flavors present.
To be honest, if you're buying the same roast level from the same roaster you can easily compare different beans at the roast level you prefer. You may not find as much of a difference between different growing regions at darker roasts, but you'll still find some nuance.
To better understand different coffee roasts – what they mean and what to expect from them – check out our full guide:
Rather than having just one strong coffee to jolt them into the day, it is common in Nicaragua to sip on many coffees throughout the day.
Therefore, most cups of coffee you find in Nicaragua are weak, watery, and often very sweet.
Hotels geared toward western tourists will offer a style that you will be more familiar with. But you need to remember that the majority of the best coffee in Nicaragua is reserved for export. However, if you travel with a manual grinder and a portable or battery coffee maker, you can definitely get a good cup of coffee very cheaply.
As Nicaraguan beans are best-enjoyed medium-dark roasted, they are ideal for all espresso-based drinks. Medium and dark roasts stand up well to the addition of milk or cream, so you can enjoy a cappuccino or latte to your heart's content.
Cold brew is another great option. Brewing this way tends to dampen the more acidic notes from the beans. This can give you an incredibly rich and unctuous coffee with the vanilla, caramel, and chocolate flavors really coming to life.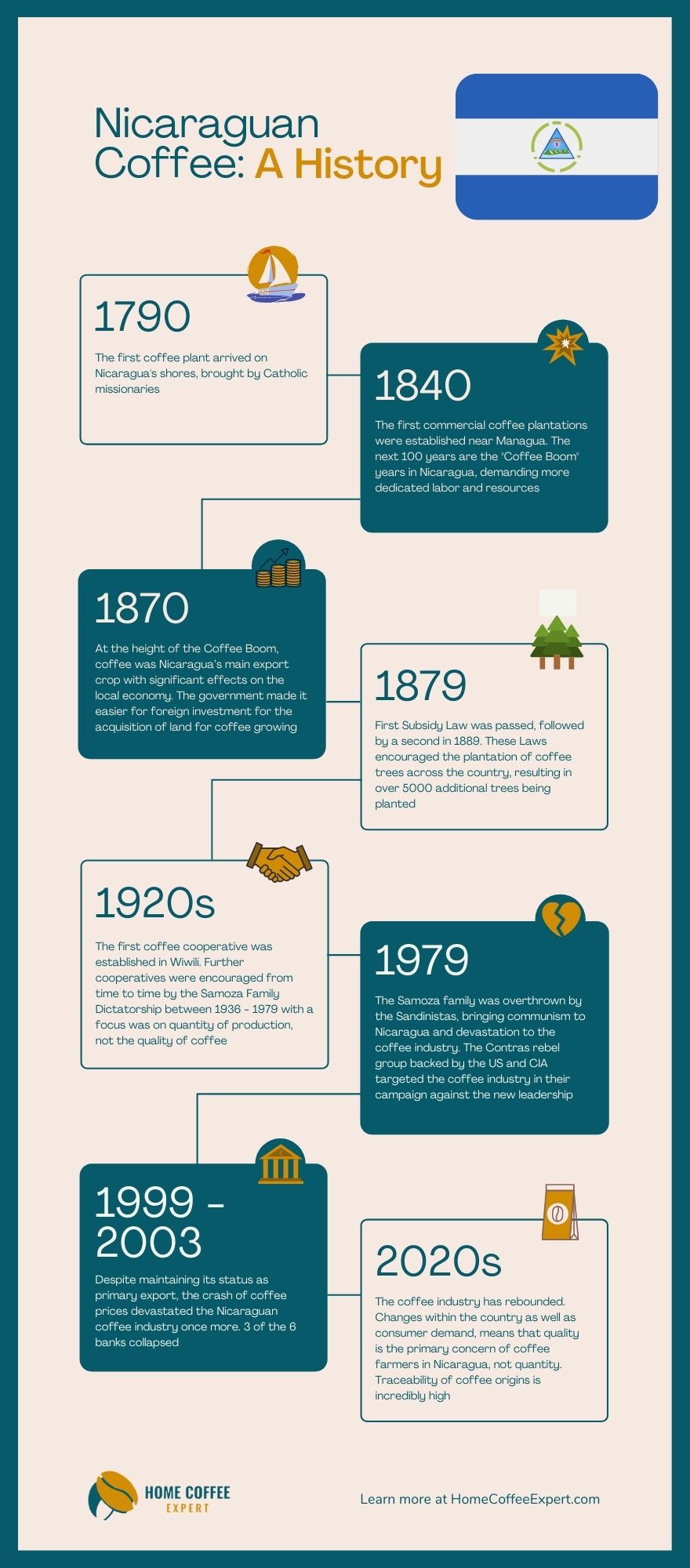 Catholic missionaries first brought coffee to Nicaragua in 1790. Initially, it was considered a curiosity, not a potential cash crop. But, as global demand for coffee increased, it became more commercially viable to plant coffee. So, in 1840, the first commercial Nicaraguan plantations were established.
The next 100 years saw a Coffee Boom with the crop having a dramatic effect on the country's economy. As the value of coffee increased, more resources and labor were directed toward the Nicaraguan coffee industry.
By 1870, coffee was Nicaragua's main export crop. So, the government made it easier for private, foreign companies to buy public land. Then Subsidy Laws incentivized the planting of over 5000 trees and the creation of large farms.
The early 20th century marked the appearance of the first grower cooperative. And, throughout the Samoza Dictatorship from 1936–1979, coffee cooperatives were periodically encouraged. At this time, the focus was on mass production and not quality coffee products.
In 1979, the Samoza family was overthrown by the Sandinistas, bringing communism and a severe hit to the coffee industry.
In response, a rebel group formed. They were known as the Contras and backed by the US / CIA (this was during the Cold War after all). They targeted the Nicaraguan coffee trade, attacking vehicles and farmworkers with the aim of damaging the economy and forcing a change in political leadership.
Despite the setbacks, coffee was still Nicaragua's primary export in 1992. But, the crash in coffee prices between 1999 and 2003 pushed Nicaragua's coffee industry into another crisis. Three of the six largest banks collapsed due to their level of investment in coffee.
Today, Nicaraguan coffee is thriving. There has been a shift towards high-quality, single-origin beans. As consumers want more sustainable coffee, focusing on quality is a more viable option.
Now, they are in the top 12 coffee-producing nations in the world, exporting over 90% of the coffee grown. As there are only 6 million people in Nicaragua, they'd have to drink A LOT of coffee to consume more of it themselves.
They are ideally placed to appeal to modern coffee consumers as over 95% of the farms are either small-scale or micro-producers. Plus, they focus on organic and shade-grown coffee.
That said, some farms struggle to get Organic certification. Due to a lack of resources, many farms operate organically not through choice, but as an access issue.
Plus, there is additional uncertainty from hurricanes which have the potential to devastate the local coffee industry.
Western consumers are placing more focus and importance on ethical coffee consumption. There is a desire for specific sustainable coffee marks like Fair Trade. And this makes a huge difference to the lives of those at the beginning of the coffee supply chain.
Provided this focus remains at the forefront, Nicaragua (and other coffee nations) can continue to improve the lives of those growing our coffee. Plus, we get to enjoy a superior product – even if it does cost a little more.
In recent years, infrastructure investment has made a big difference in the Nicaraguan coffee industry. The Common Fund for Commodities provided one such investment, offering loans for projects like building coffee washing stations.
Doing so helps ensure better quality coffee products. Plus, those living downstream from washing stations no longer have to worry about water pollution.
Every improvement is a step in the right direction to securing the future of Nicaragua's coffee farms.
So, if you're in the market for an outstanding cold brew or an Americano, getting yourself some coffee grown in Nicaragua can only improve your morning coffee.
With superb examples of ethical growing practices and a commitment to the highest quality, Nicaraguan coffee might just become your new favorite.
You Might Also Like
Naming your new furry friend is a tall order. But if you love coffee as much as your pup, get inspired by one of these Coffee Names for Dogs

The Kyoto Latte is an incredible addition to the coffee world from % Arabica's flagship store in Japan. Discover what makes it so special