French press is a wonderfully simple thing. In fact, it's one of the favorite brewing methods of home baristas – anyone who loves good coffee but doesn't want to spend a fortune on a coffee maker.
But the perfect brew needs the perfect grind size. Otherwise, you risk a bland or overly bitter cup of joe. This is why you need the best coffee grinder for French press that you can get your hands on.
No matter how good your coffee beans are, if you get the grind size wrong, you are throwing away great flavor. And, that's where we come in. No matter whether you are looking for something big or small, manual or electric, there's a perfect grinding solution for you.
Here we've listed the best burr grinders for French press currently on the market. The difference is staggering when you get fresh ground beans at the right size and consistency compared to pre-ground or even using a blade grinder.
Make a life-changing decision (well, your coffee life at least) and grab a great coffee grinder for your French press.
1. Breville Smart Grinder Pro – Overall Best Coffee Grinder for French Press
The Breville Smart Grinder Pro is a superb-looking, high-quality electric coffee grinder. The easy-to-use technology makes it easy to get the perfect grind each time, no matter how many cups you're looking to make.
Grinding coffee is fast and easy thanks to the simple features. Anything that makes our mornings easier gets our vote! Plus, the grind precision is great for getting it just how you want it. You can expect great performance and perfect French press grind size from this machine.
That said, the Smart Grinder doesn't have the precision offered by a stepless grinder. And we would prefer it to be a little quieter. But, if consistency is what you're after, then this is a fantastic coffee grinder for French press or any other type of coffee maker.
Finding a machine that grinds evenly from French press to espresso is fairly rare. But the Breville Smart Grinder Pro does just that – and looks great whilst doing it. So, if you're looking for a great all-rounder grinder, you really can't go wrong with the Breville Smart Grinder Pro.
Our clear winner for best burr grinder for French press.
2. Rancilio Rocky – Runner Up for Best French Press Coffee Grinder
The Rancilio Rocky is a serious coffee grinder for serious coffee people.
But it also comes with a serious price tag. The kind of price tag that you can only justify when you're the best electric coffee grinder. So, luckily, the Rancilio Rocky is. It's an investment piece designed to get all the deliciousness from your top-notch French press coffee beans into your cup.
This grinder misses out on best overall as it's more expensive than the Breville Smart Grinder Pro. But that doesn't stop it from being a fantastic piece of kit, the fact that is a top-of-the-range coffee grinder is simply reflected in the price.
Sadly, it's not the most user-friendly option out there. But it's fantastic where it counts:
Superb consistency across a huge range of grind sizes. And, with 55 different grind settings, you're sure to find the one that is perfect for your delicious morning brew.
So, if French press is the order of the day or you would prefer to mix up your brewing method, you are sure of a great result.
3. 1Zpresso J Max – Best Manual Grinder for French Press
The latest installment in 1Zpresso's incredibly impressive "J" series of manual grinders is the 1Zpresso J-Max.
A serious step up on the already very impressive JX Pro, the J-Max boasts an incredible 8.8 microns per click and a functional range of around 350 clicks. This covers everything from Turkish coffee up to French press and cold brew with incredible precision to get the best from your coffee beans.
The 48mm stainless steel burrs have been coated in titanium for extra longevity. Plus the grounds container simply pops off the magnets connecting it to the bottom. If it sounds like we're gushing, it's because we are – it's hands-down our favorite manual coffee grinder.
We also love the new dark grey color and the fact it comes with a nice carry case for easy transportation. It's still fairly bulky, but it's easily the best manual coffee grinder you can buy. It's our grinder of choice at home.
This is an incredible piece of grinding engineering. So, whilst it is an expensive manual coffee grinder, the actual performance is on par with electric grinders double the price. Plus, it is built to last the best part of a decade and will move with you as your change your brewing style.
If perfecting your French press extraction is what you're after then the 8.8 micron per click adjustment will keep you happily tinkering until it's just right. Suddenly want an espresso, or pour over, or Turkish coffee? No problem, the J Max can easily handle these too.
4. JavaPresse Manual – Best Budget Grinder
Getting great coffee isn't exclusive to those with endless budgets.
Maybe you're new to this grinding coffee lark. Or, there are other purchases vying for your attention. Either way, we get it – you don't want to splash out on something until you know it'll drastically improve your coffee experience (it will).
If this is the case, then the JavaPresse Manual coffee bean ginder is the one for you.
This is about as cheap as burr coffee grinders get. And it outperforms some models at triple its price. So it truly is a fantastic option for beginners or the budget-conscious who still want a quality grind.
Is it the greatest grinder in the world? No. But it's one of the most affordable French press coffee grinders with the wallet-friendly price taking it from good to great.
If espresso is your preference, then this isn't the one for you. Whilst the JavaPresse manual coffee grinder can certainly produce fine grinds, it won't knock your socks off. But, if you're after coarser ground coffee for French press or pour over – and we guess you do, since that's what you're here for – then you won't find anything quite as good for such a great price.
For the budget-conscious coffee enthusiast, the JavaPresse manual burr coffee grinder is a must-buy, for use at home or on the road.
5. Baratza Virtuoso+ Conical Burr Coffee Grinder
Baratza makes high-end home coffee grinders and machines. And the Virtuoso Plus is no exception.
This electric coffee grinder is a very solid all-rounder which is built to last.
Performance is particularly good at the coarser end of the spectrum – perfect for French press, pour over, and cold brew. So, it's a home coffee maker's dream, even if it isn't at an "entry-level" price point.
Whilst the Baratza Encore conical burr coffee grinder offers a cheaper price point, it doesn't perform nearly as well as the Virtuoso+. Instead, you can expect an easy-to-use grinder that has both the precision and consistency to put a smile on the face of most coffee enthusiasts.
It's a high-quality machine with superb build quality that's built to last. But if you have any problems, you will receive Baratza's superb customer service, giving you added confidence when buying their products.
This is a great option for anyone looking for a coffee grinder to enhance their home coffee experience.
6. 1Zpresso JX Pro
1Zpresso makes excellent grinders – that's their whole business model and it's working really well for them. It's why they appear twice on our list of the best French press coffee grinders available.
Depending on your exact needs they offer the Q, J, K, and Z models. Each has a slightly different focus as broken down in our full JX Pro review – here.
But, in terms of quality, the JX Pro is only bested by their latest offering, the J-Max. It's around $40 cheaper though and still an incredible, durable manual coffee grinder.
If you're looking for a manual grinder for French press, espresso, or anything in between then the JX-Pro will look after your precious beans perfectly. It will perform on par with electric coffee grinders nearly triple its price which sums up the quality pretty perfectly.
To use, you need to be happy weighing ou your beans or grounds. But as long as you are, you will be rewarded with the consistency and precision needed to make a great coffee, regardless of the brewing method you prefer.
7. Hario Skerton Pro
The Skerton Pro is the third generation of the Skerton manual grinder from Hario. And they have improved the design with each iteration.
Whilst newer hand grinders have overtaken this model in terms of speed and price, the Skerton Pro remains a great choice:
This handy manual grinder is high-quality and creates excellent consistency across the grind settings. The glass grounds bin isn't ideal for those looking to travel but, if it breaks, you can replace it with any mason jar thanks to the universal thread. For everyday use at home, in the office, or both it certainly isn't brittle and will stand up to heavy use.
Overall, this is a high-quality manual grinder for everything from espresso to French press.
8. OXO Brew Conical Burr Grinder
The OXO Brew Grinder performs very well at its price point:
High-quality burrs and motor make for an excellent grinding experience. That said, it's not perfect including as a French press grinder: there are no scales and it's not the easiest to "dial-in".
If you're looking for added convenience you can invest in the model with the in-built scale – but it will set you back nearly double the price. For us, that model doesn't justify the price when you can pick up a dedicated coffee scale much cheaper.
Being quite a big machine, you'll need to make sure you have enough space. Although it does look great on your kitchen counter and will become an essential, everyday piece of kit if you make the investment.
Where it does shine is in affordability (by electric coffee grinder standards). Plus it does a good job of consistently grinding across the size spectrum whilst being easy to use.
Overall, this is a very good option at a good price point. It should satisfy most moderate coffee enthusiasts.
9. Capresso Infinity
The Capresso Infinity conical burr coffee grinder is not the most precise grinder out there. But it is also a lot cheaper so compromises have to be made and if you aren't too worried about the precision in size of your coffee grounds, then this is an excellent option.
Entry-level grinders will always be a trade-off in some respects. And this one works well where it really matters: consistency of grounds.
When using coarser grinds for French press, the lack of precision isn't much of a drawback. So, despite its imperfections, it is still very much one of the best coffee grinders for French press.
If you're looking at setting your espresso pull time to the second, it's not going to work. But if you're looking at getting a setting you're happy with and just rolling with it, the Capresso Infinity will do the job well.
Plus, it will do it for a good few years at a fraction of the cost of the top-end electric burr grinders.
10. Handground Precision Coffee Grinder
Handground has made a grinder with sleek looks and ease of use in mind:
The side-mounted handle makes it much easier and smoother to use than other manual coffee grinders. And the grind settings adjuster is a lot simpler to use too.
As long as the size of your manual grinder doesn't concern you, then the wider base help to stabilize the Precision making grinding easier.
By focusing on the ease of use, some compromises have had to be made:
There is a relatively small range of grind sizes on the Handground Precision. And it does start to lose consistency at the coarser grind settings. That said, it's not a huge issue and you'll still get a great French press brew from it. Where this grinder really excels, however, is at pour-over and AeroPress grind levels.
Overall, this is a solid option that will do the job for you nicely and with easy cleanup. It's better for use at home as, unfortunately, is a little bulky and fragile for traveling.
11. Cuisinart Supreme Grinder
On a budget, this is one of the best electric coffee burr grinders for French press – or any brew type, for that matter.
Despite the low price tag, the Cuisinart Supreme grinder looks like a premium piece of equipment.
The downside is that it isn't the most consistent grinder available. But there are always trade-offs when we go to the budget end of the spectrum.
If you're looking to move from pre-ground to fresh ground coffee and are unsure if the investment is worth it (it is), this machine is a good entry-level option for you.
The Supreme Grind (also known as Cuisinart flat burr grinder or DBM8) is one for the masses.
More specifically, it is for those who want French press or drip coffee in large quantities.
Where this coffee grinder is not suitable, is if you are looking to make espresso. And, it's also a bit of a pain if you are making coffee just for one.
But if you want to grind coffee beans for the whole family to enjoy on a budget, then this grinder will do the job admirably… If a bit loudly.
Once ground, coffee loses "freshness" after about 15 minutes. What this means is that the oils from within the beans start decaying or evaporating. The end result is a loss of flavor and aroma.
So, pre-ground coffee will just never measure up to freshly ground coffee beans. Even from a poor quality coffee grinder.
You also need a coarse grind size for French press, if you want the best results. And, unfortunately, most pre-ground coffee is just too fine.
By using a decent coffee bean grinder, you are laying the groundwork for a great coffee at home. In fact, the type of coffee grinder you choose is one of the most important factors in determining how good your French press coffee will be.
Why?
The French press is an immersion brewing method. This means that the coffee grounds stay in contact with the water for a long period of time (4 minutes is optimal). Doing so allows the flavors to be extracted slowly.
If your grounds are very fine, they will get through the mesh filters. This will create a very gritty, unpleasant coffee. The flavors will also be extracted too quickly, leaving behind a very bitter taste that nobody wants.
So, it is important to get yourself a good coffee grinder that performs well at the coarser end of the spectrum. Some specialize in only one style of grinding like coarse French press or fine espresso which you don't want to mix up.
For us, the top performer is – hands down – the Smart Grinder Pro. It is just so easy to use, clean, and customize for the perfect French press grind size. Coming in as a close second is the Rancilio Rocky. But it was knocked off the top spot due to its hefty price tag.
If manual grinders are more your thing, the 1Zpresso J Max knocks it out of the park. Not only will it perform well at home, but you can also take it on the road with you.
Or, for the ultimate in affordability and portability, there is the JavaPresse manual coffee grinder.
When it comes to French press coffee grinders, you are truly spoiled for choice.
But, we understand that grinder shopping can be confusing. So, to cut through the jargon, we have included some of our top pointers to look for when buying a French press grinder or you can check out our full grinder buying guide here.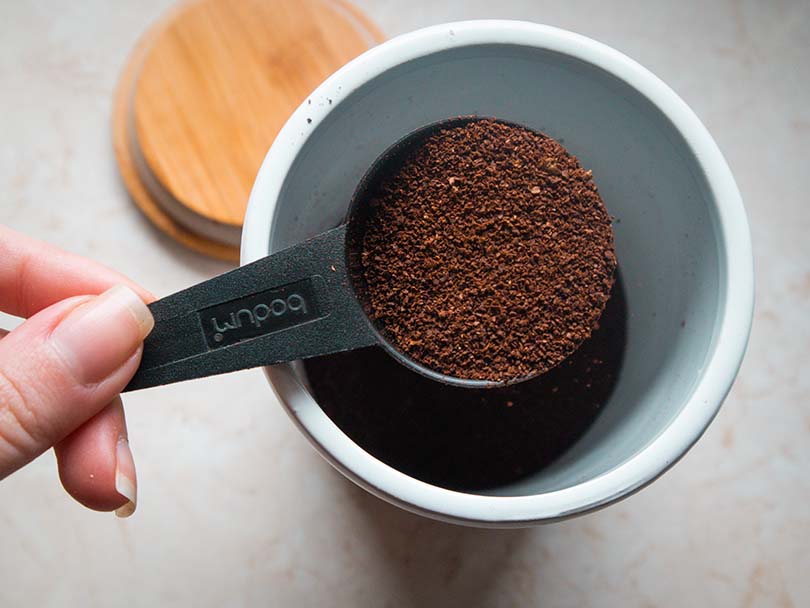 Grind Consistency is Key
When you're making French press, you want to extract all the rich, sweet, fruity notes from the coffee beans. All without getting the bitter flavors that come from "over-extraction".
Having a uniform particle size is key to ensuring this happens.
If some are vastly different sizes, they will extract at different speeds meaning you'll never get the coffee just right.
No matter what else you look for, having a consistent grind at the coarser end of the spectrum should be your top priority in a French press grinder.
Is a Blade or Burr Grinder Best for French Press?
French press is one of the few brewing methods where you might be able to get away with a blade grinder rather than a burr grinder. But we would only recommend this if you're looking for a truly budget option.
Blade grinders produce very inconsistent particle sizes from the beans. But this is less of an issue when using low-pressure steeping methods like with French press.
That being said, you can pick up a burr grinder for only a small amount more than a blade grinder and they really are vastly superior.
You also have to remember that with the French press, you are only able to the type of coffee beans used, the grind, and the brewing time.
This makes your grinder the most important piece of kit in your coffee-making process. So, it's probably worth investing in the best burr grinder for French press that your budget can stretch to.
What Type of Burr?
Now you've narrowed it down to a burr grinder, your next decision is if you want a conical burr or a flat burr.
For French press, a conical burr is absolutely fine. And you'll find many superb grinders, including all the ones we've listed above, use conical burrs to grind the beans.
Flat burrs can be more precise but a lot more expensive. And, for home use, it's dubious if you will get a significant bump in taste for your added investment.
Stainless Steel or Ceramic Burrs?
Stainless steel burrs are better for longevity. They are sturdier and will stay sharp for many years.
Whilst they produce more heat than ceramic, it's unlikely to be an issue with the coarse ground beans you are looking for here.
If you're looking at the budget end of the market, you'll see most grinders have ceramic burrs.
The only concern with ceramic is that they are brittle and can chip, which ruins your grind consistency. This only happens if a stone or something gets in. So they can last just as long as steel burrs if you're careful.
And the grind itself is just as good or better than stainless steel. So, you will most likely be looking at conical ceramic burr options.
Manual or Electric Grinder?
The manual vs electric debate really comes down to personal preference and how you intend to use your grinder:
If you're looking to use a travel press on the go, or you like to go camping or travel a lot then a manual grinder is the way forward.
Even if you're on a tight budget, you can get a manual grinder that performs just as well as an electric one for a fraction of the price.
Yes, a hand grinder will take longer and require some effort. But, as you aren't grinding super fine coffee, it shouldn't take more than 90 seconds of cranking the handle per cup. Of course, this may not be ideal if you're making a lot of coffee.
Electric grinders are great, fast, and easy to use. Just be aware that they'll generate some heat, which can evaporate all those delicious oils we want in our coffee. So lower RPMs are better. This will also help preserve the motor and after investing in the best coffee grinder for French press, you want it to last as long as possible.