Great grinding is the key to great coffee at home. And, if you can do it without breaking the bank, even better!
In this OXO Brew Conical Burr Coffee Grinder review, we will detail everything you need to know about this electric grinder. After reading this, you will know for sure if it is the one for you.
We have scoured the internet for all the reviews on this conical burr grinder to collate with our own. This means we have the most comprehensive buying guide you can find. Whilst, not all home coffee experts give numerical scores, we have averaged these out. Therefore, you can get a consensus opinion on how good this machine really is and know for sure if it is right for you.
This article may contain affiliate/ compensated links. As an Amazon Associate, we earn from qualifying purchases at no additional cost to you. For more information please see our disclaimer here.
At a Glance: Oxo Brew Conical Burr Grinder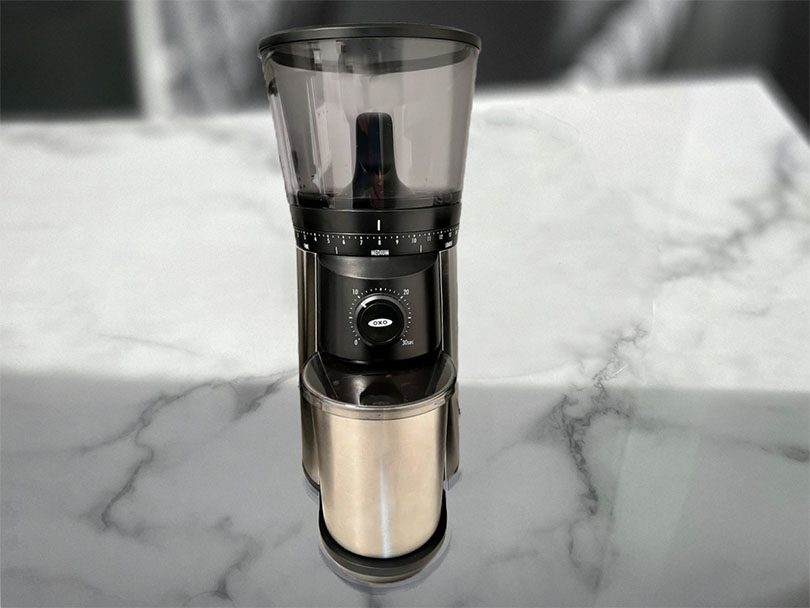 Oxo Brew Conical Burr Grinder
Cheap, sturdy, easy to use, and portable: The Bialetti espresso maker has a lot going for it.
The basic OXO Brew Conical Burr Grinder is not perfect. There are no scales for weighing grounds. Not unless you spend double the price and upgrade to the option with integrated scales.
Plus, it's not the easiest to "dial in".
But where it does shine is it's affordability (by electric coffee grinder standards). And it does an excellent job of consistent grounds across the spectrum whilst being easy to use.
It even looks pretty good too, even if it is quite big.
Overall, this a very good option at the price point. It should satisfy most moderate coffee enthusiasts.
Pros
Easy to use
Retains preferred settings
Consistent grounds
Relatively quiet
Reliable and durable
Low static prevents mess
UV tinted, airtight hopper
Cons
Can't grind fine enough for many espresso machines
Inconsistency at coarsest grind
No scales
Electric grinder so still noisy
1. 40mm Stainless Steel Conical Burrs
Generally speaking, the larger the burrs the better the grind. This is due to the larger surface area. And, on the OXO Brew, the stainless steel burrs are 40mm and are of excellent quality for this price point.
2. 15 Grind Settings
15 grind settings may not seem like a lot but on the OXO coffee grinder, there are micro-settings in between each one. So you actually have a much bigger range than this for getting the exact grind you're after.
3. Large Bean Hopper & Grounds Container
The bean hopper can hold up to 12oz of beans. And the grounds container can hold 4oz of ground coffee. So there is lots of capacity if you're grinding for multiple cups at once.
4. Grind Timer which Retains Last Setting
You can get the same grind every day using the grind timer, which will stay at whatever it was last set to. Once you have your daily settings sorted, you can just push the button to get the perfect amount and grind of coffee.
OXO has kept things very simple with the operation of their conical burr coffee grinder:
You twist the bean hopper to select the coarseness of grind you are looking for which is helpfully marked out along the bottom of the hopper. Then you turn the dial for how many seconds you want to grind for. And simply push the button to grind your beans.
This will require a little trial and error to get just right. It will take different lengths of time to grind a certain amount of beans based on how fine a grind you are looking for.
One big plus is that your settings all stay in place. So, once you've got it set up exactly how you like it, you can just push the button each time to get your perfectly ground coffee.
But if you frequently change between brewing methods, we find it tedious to get perfect again each time.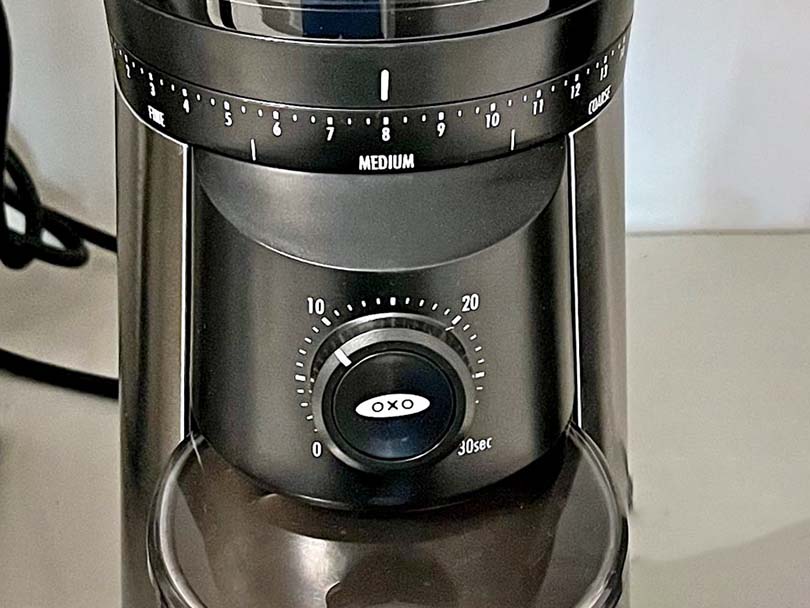 The OXO Conical Burr Coffee Grinder is 14.8″ tall by 4.8″ wide by 11.8″ deep.
This is quite a large footprint if you're short on space. Although it is very narrow so can easily slide in next to other appliances on your counter.
Weighing 5.6 lbs it isn't as heavy as some other electric grinders. We generally find heavy electric grinders quite reassuring as it makes them feel sturdy. But a slightly lighter grinder by no means indicates inferior quality.
The look of the OXO Brew grinder is very simple. However, the stainless steel body is sleek and will match most modern kitchens.
The opaque, airtight bean hopper is excellent as it allows you to store your beans in the hopper if you prefer. Thanks to the 12 oz capacity you won't need to dig around in the cupboard for your whole coffee beans every morning before grinding.
If you're planning to use this grinder with light sleepers in the house, be aware that it is noisy. Luckily, waking up to the sound and smell of coffee being made sweetens the blow. That said, compared to other budget coffee grinders like the Cuisinart Burr Grinder, it's not that loud.
The low RPM burrs make it ideal from a longevity standpoint.
While this grinder doesn't have an auto shut-off if it gets too hot, it is still a very well-made machine. Plus OXO has a superb reputation for making quality products.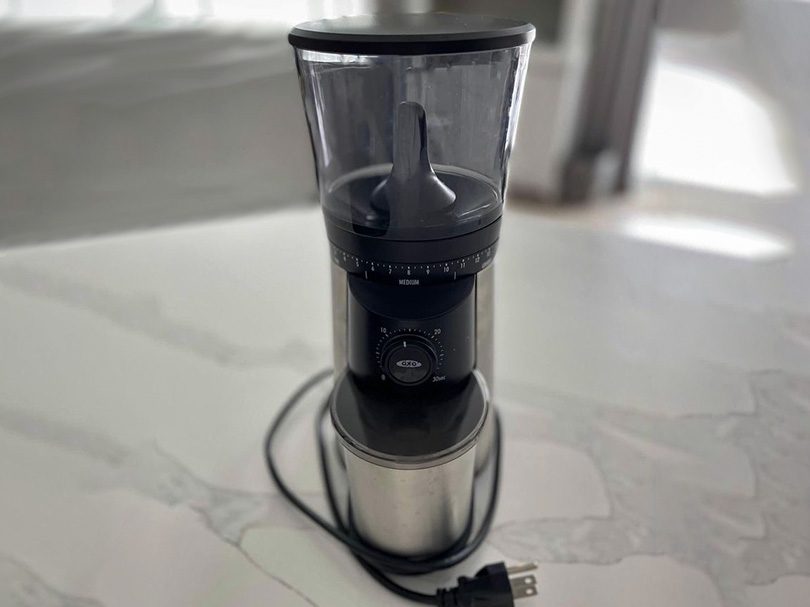 Even at the $200 price mark, being able to control your grind by weight is an exceptional offering and an added bonus. It also saves you from buying an additional, separate, kitchen gadget.
The weight automation feature does result in a slightly less accurate result than when done by hand. But the difference isn't huge and it's pretty reliable.
The size of the integrated scale model is 11.1 inches deep by 7.3 inches wide by 16.4 inches tall. This makes it less deep than the original, but taller and wider to accommodate the scales. So, overall it's a pretty big footprint.
In terms of grinding performance, both models perform admirably and without any significant differences.
So, the preference for one over the other comes down to what you value most: convenience or price.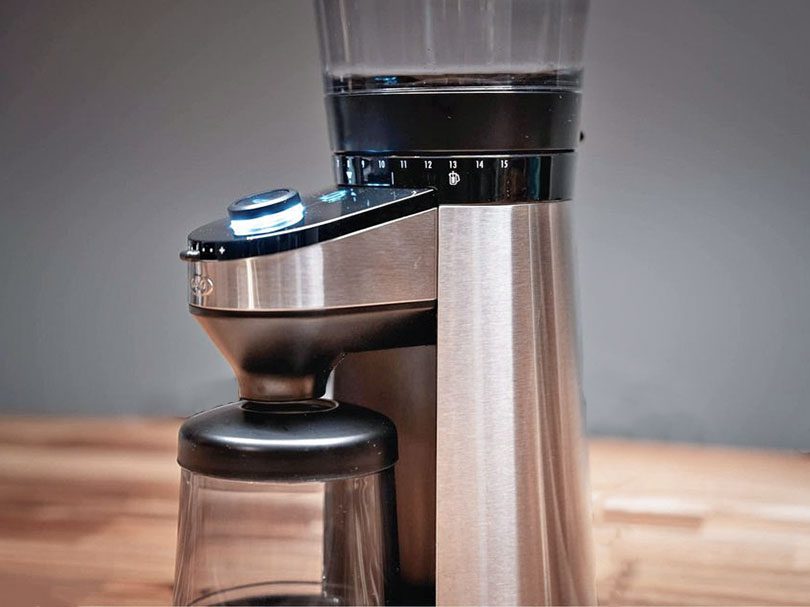 Even at a great budget price point, you need a consistent grind size. Otherwise, there's no point in using it.
The OXO conical burr grinder delivers well for the price in this regard.
It is a very low static machine – so no clumps of ground coffee. And, across the scale, the grounds are fairly uniform making it a good match for most types of coffee maker.
It starts to get a bit diverse at the coarsest end of the settings, for French Press. However, this is common for a lot of coffee grinders.
Plus, it may not grind fine enough for serious high-end espresso machines with loads of pressure. (Although, if you're buying a top-end espresso machine, you should spring for a top-end grinder to get the best out of it anyway).
Overall, OXO Brew's coffee grinder performs well. It's not perfect, but then it's also a lot cheaper than most grinders so we must consider that as a factor.
You do have to pay slightly more to get the added benefits and versatility of the Encore when compared to the OXO.
But, when it comes down to the overall grind consistency – what really matters – the OXO Brew outperforms the Baratza at the finer end of the spectrum. Although they are like-for-like when it comes to coarser grinding.
Despite being slightly more complicated to use, the OXO Brew results are much better. So that, combined with the cheaper price point, makes it the better grinder for us.
Which Grinder Do You Prefer?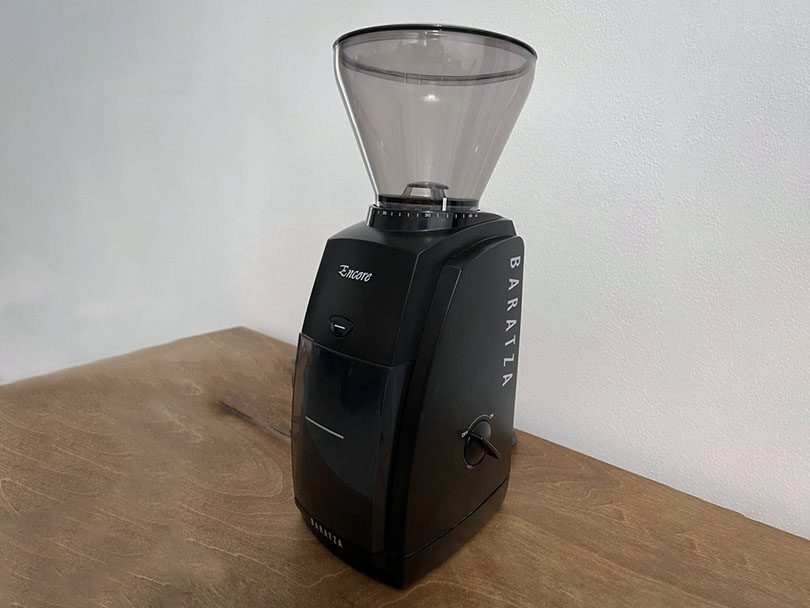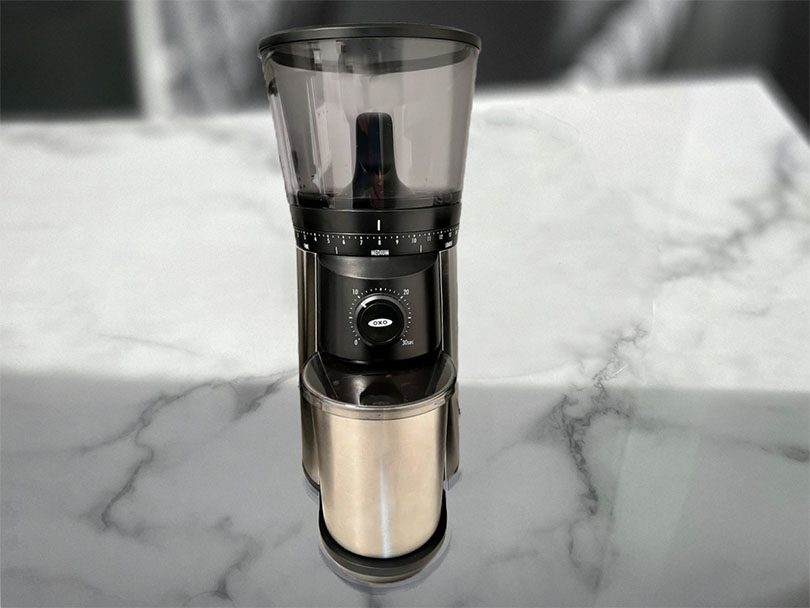 The handle on the top burr just needs to be lifted and twisted to unlock. Then, you can take it off and brush the inside of the burrs to remove any grounds which are stuck in there.
Both the bean hopper and the grounds container can be washed by hand easily enough.
As the OXO burr grinder doesn't create much static whilst it grinds, it isn't too bad for having coffee grounds stuck inside the machine. But you will need to clean it regularly to ensure you're getting the best out of the machine.
Overall, it should only take around 20 minutes to take apart, clean, and put back together again. However, you do need to clean it every week or two, depending on use.
This entry-level coffee grinder from OXO doesn't have a built-in scale. Sadly, you need to spend almost double the money to get the OXO Brew Burr Grinder with Integrated Scale. Doing so will give you extra ease and precision.
But for the moderate coffee enthusiast, the original will do the job admirably and will look good doing it.
Overall, the OXO Brew Conical Burr Grinder is an excellent budget grinder option that will leave you happy.
Don't forget to Buy Your Oxo Brew Burr Grinder Today
You Might Also Like
Find the perfect gifts for coffee snobs in your life. From budget-friendly to high-end, there are gift ideas for every coffee lover

The biggest sale of the year is here and we've hunted down the best Black Friday coffee maker deals so you don't have to. Get prepared here!