Do you want to take your home coffee game up a notch? A quality burr grinder will do that for you way faster than a new coffee maker will. But we get that the price tag of some coffee grinders can be an instant turn-off.
Never fear, this Capresso Infinity review shows how you can get freshly ground coffee without breaking the bank.
As one of Capresso's best sellers, we had to get our hands on this grinder and put it through its paces. Here we share our in-depth, unfiltered thoughts so you can know for sure how good this machine really is. And, most importantly, whether it's right for you.
This article may contain affiliate/ compensated links. As an Amazon Associate, we earn from qualifying purchases at no additional cost to you. For more information please see our disclaimer here.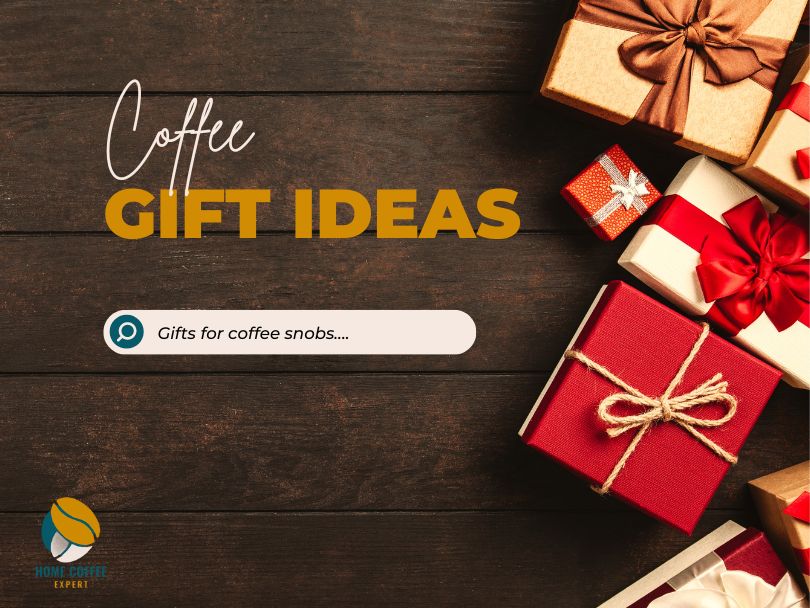 The holidays are coming. Which means stressing over the perfect gift is here too.
But stress no more. We've put together a list of all the best coffee gifts to please even the most discerning of coffee lovers in your life.
Check out our guide if they're on your 'nice' list. Or maybe be 'naughty' and buy something for yourself!
At a Glance: Capresso Infinity Review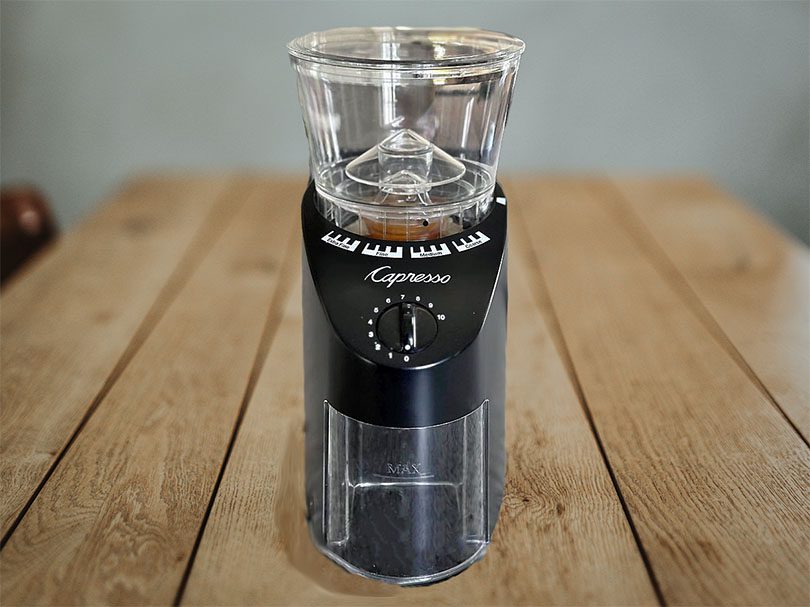 Capresso Infinity
The Capresso Infinity conical burr grinder is not the most precise grinder out there. But it is also a lot cheaper than those that are more precise.
Entry-level grinders will always be a trade-off in some respects. And this one works well where it really matters: consistency of grounds.
If you're looking at setting your espresso pull time to the second, it's not going to work. But if you're looking at getting a setting you're happy with and just rolling with it, the Capresso Infinity will do the job well. Plus, it will do it for a good few years at a fraction of the cost of the top-end burr grinders.
Pros
Very well priced
Wide range of most popular grind settings
Made of high-quality materials
Very user friendly
Can grind fine enough for Turkish coffee
High quality burrs
Cons
Other burr grinders have more precise settings
Not dishwasher safe
Not the best for coarser grounds for French press
1. 40mm Stainless Steel Burrs
When looking for a grinder, you'll either see blades or burrs.
A blade grinder is similar to a kitchen blender in that it spins around and chops up anything that gets in its path. So the results tend to be really uneven and haphazard. Great for your onions, not so great for your coffee beans where consistency is key to brewing a quality cup of coffee.
Burrs, on the other hand, crush the beans between them and will only allow grounds of a pre-determined size to fit through. So you get much better consistency and a better tasting cup of joe.
The Capresso Infinity has large conical burrs which are made from high-quality stainless steel. Not only does this ensure an even grind size but also the longevity of your coffee grinder.
2. Multiple Gear Motor
The multiple gear motor spins the burrs at 450 RPM.
For a burr grinder, this is pretty low but that's actually a good thing:
The result is low heat generation (which can ruin the coffee), and a quiet grinder. Plus, the Infinity also reduces the static created which would cause the grounds to stick to the inside of the machine.
3. Safety Auto-Lock
The safety auto-lock feature on the Capresso Infinity makes it impossible to turn the grinder on whilst the bean hopper is not connected. This is a great safety feature, making cleaning your coffee grinder better and safer for any wayward fingers.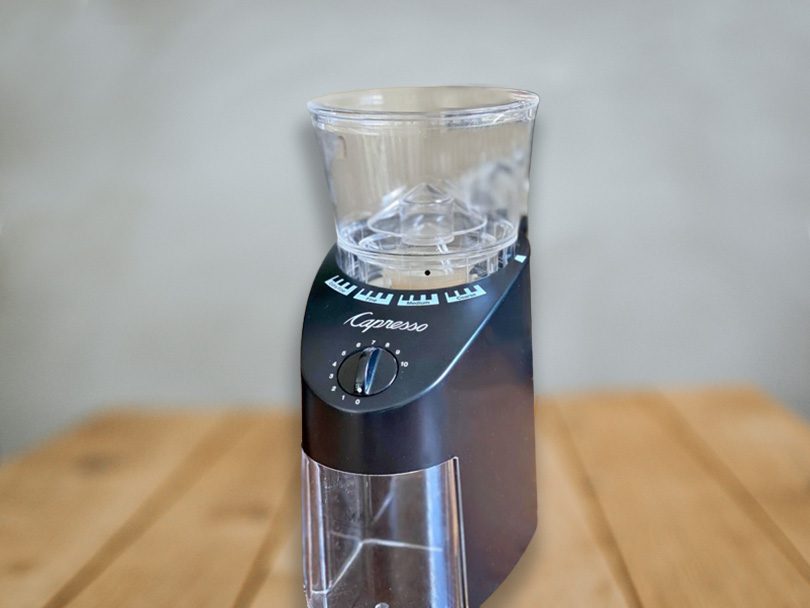 The grind settings are clearly laid out on the front of the grinder. 
To use, you simply twist the bean hopper to set it to the appropriate grind size for the style of coffee you are making.
Then turn the smaller dial to set the grind time between 5 seconds and 60 seconds. However, the dial is confusingly labeled 0-10. So it will take a little trial and error to find the setting that gives you the right amount for your grind size and brewing method.
If you want to stop grinding before the timer has run down, you need to twist the bean hopper anti-clockwise. Keep turning until the black dot on the hopper is outside the grind range. But, be careful not to twist it all the way off or you'll end up picking up beans from all over your kitchen.
Whilst easy to use, the Capresso Infinity will take some practice to get exactly what you want from the grinder in terms of size and weight. However, this is true of all grinders at the entry-level price point.
You'll have to remember how long you set the grind timer for each time as it doesn't retain your settings.
The timer dial also moves in 5-second increments. So, it's not the greatest for precision grinding.
The slow rotation of the burrs means the Infinity will take slightly longer to grind than its competitors.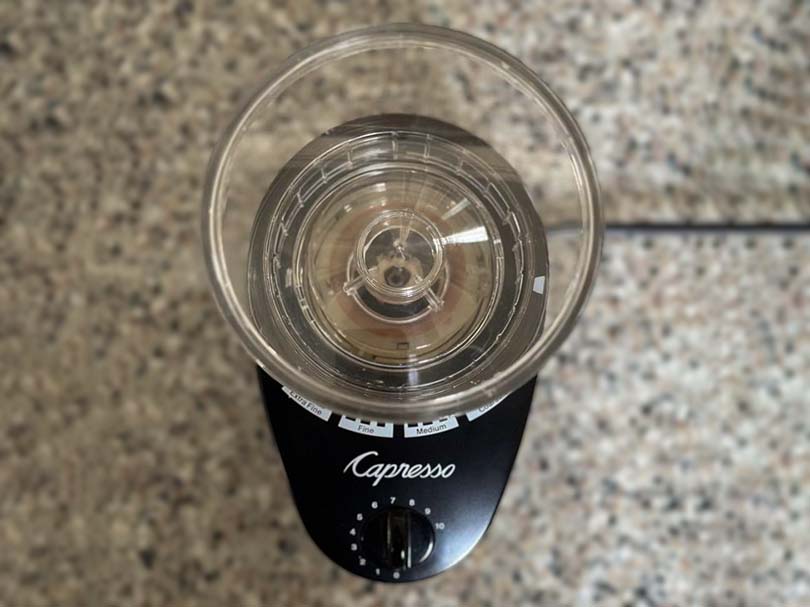 The Capresso Infinity boasts a simple yet classic design. It is available in four different colors (with different model numbers):
Black plastic – 560.01
Plastic with stainless steel finish – 560.04
Brushed chrome finish – 565.04
Zinc die-cast – 565.05
Of these models, the heavy-duty zinc die-cast model can be considerably more expensive. However, the internal machinery is identical for each.
So if like us you aren't too worried about aesthetics, then the black plastic version is the one to go for.
The gear reduction motor and stainless steel burrs are both high quality. Combined, they make the Capresso Infinity a very durable grinder – even if it's used daily.
One important note:
If you are grinding lots of coffee, enough to require multiple turns of the timer dial, then you need to let the motor cool down in between. Doing so will preserve your grinder.
Unlike some competitors, there's no auto-shutoff if the motor starts to overheat. Burning out is one of the main reasons for grinders (and humans!) breaking down in the long run.
If you never grind that much coffee though, it's not something to worry about.
The bean hopper can hold 8.8oz of beans. And the grounds bin holds 4oz.
However, the bean hopper isn't UV-protected or air-tight. So, we don't recommend leaving your beans in it for a long time particularly if it's in direct sunlight. If you do, the beans will quickly lose their flavor.
Another frustration is that the grounds bin isn't anti-static. But we find that giving it a good tap against the counter helps them settle right down.
These are small frustrations though on an otherwise well made burr grinder.
It performs best for drip, pour over (like Chemex), or French press.
Whilst the Infinity can grind fine enough for espresso, it's really only good if you have a pressurized portafilter which is more forgiving of slight inconsistencies.
You can even use it to grind fine enough for Turkish coffee which is really impressive. And it's not common on an entry-level grinder. Having said that, if Turkish coffee is your thing we'd recommend a specialist grinder as it's not the greatest at this size (no budget grinder is).
We were impressed with the grind consistency across all the settings. At both the finest and coarsest settings, it does get a bit more erratic. However, that's an issue for all entry-level grinders.
If you're a French press connoisseur, you might be disappointed as even the coarsest setting isn't really coarse enough. But, in this price range, it is still very good.
Our main issue with the Infinity grinder is that it only has 16 settings. This is fine if you're a casual coffee drinker looking to enjoy a few different styles of coffee and aren't too worried about precision. But, if you're a serious coffee fanatic looking to fine-tune your grind, this will be frustrating.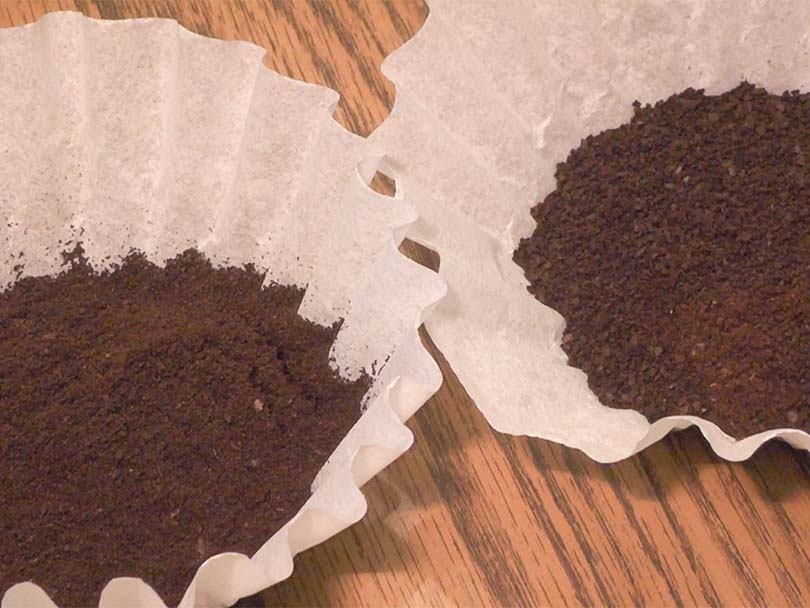 Psst.. Is French press your favorite brewing method? If so, check out our top grinder picks to get the best out your beans:
The bean hopper and grounds bin are both see-through plastic so you know when you need to clean or re-fill. They can also both be easily removed, making cleaning fairly straightforward.
The only real issue is in the chute between the burrs and the grounds bin:
This area can get a buildup of grounds which end up collecting behind the grounds bin or mixing in with your fresh grounds. And it can be quite difficult to reach too.
But, overall, it's not too complex to keep on top of. And all grinders are a bit of a pain to clean as the fine dust tends to collect anywhere and everywhere.
Long-term, the Capresso Infinity is made from durable parts so maintenance shouldn't be an issue.
It comes with a standard 1-year warranty. But as long as you keep on top of cleaning and prevent the motor from overheating, I would expect this coffee grinder to run for at least 3 years without issue.
With entry-level grinders, we wouldn't ever expect any more than 5 years of use. But, even taking this into account, you still get an excellent return for not too much money.
However, the Infinity Plus is a slightly smaller machine with a slightly larger bean hopper – 12oz vs 8.8oz for the Infinity. Although the grounds bin is the same size on both machines.
The Plus' timer dial has a curved design which makes it marginally easier to turn, but that's if we're being really pedantic. And the numbers on the dial show 0-12 rather than 0-10. So we're talking about small differences here.
You can often find the Infinity Plus for the same price as the Infinity as long as you opt for the black plastic casing. But it can be $60 more for the stainless steel or die-cast zinc options.
Honestly, I don't think it's worth the extra money unless you have a real issue with the style of the Infinity. But, if you're looking at the black plastic version anyway, getting the Infinity Plus for the same price (or cheaper) makes sense.
Spot the Difference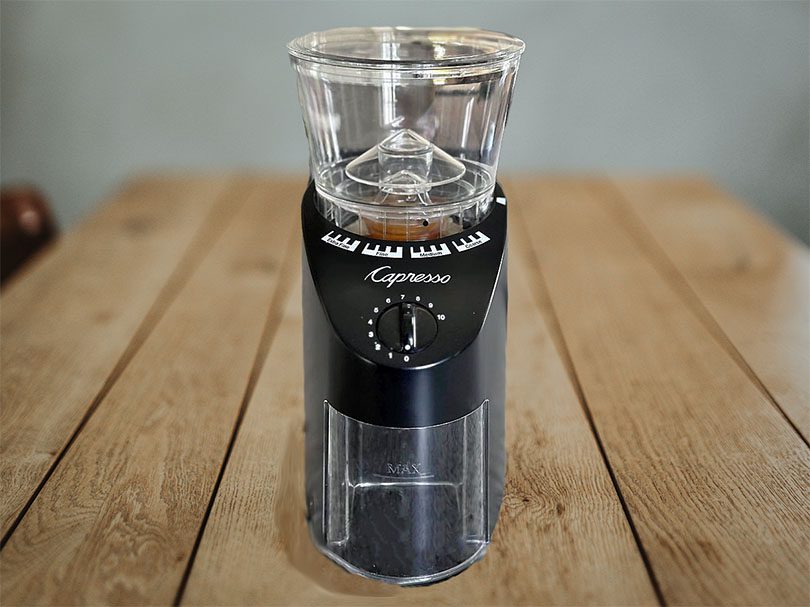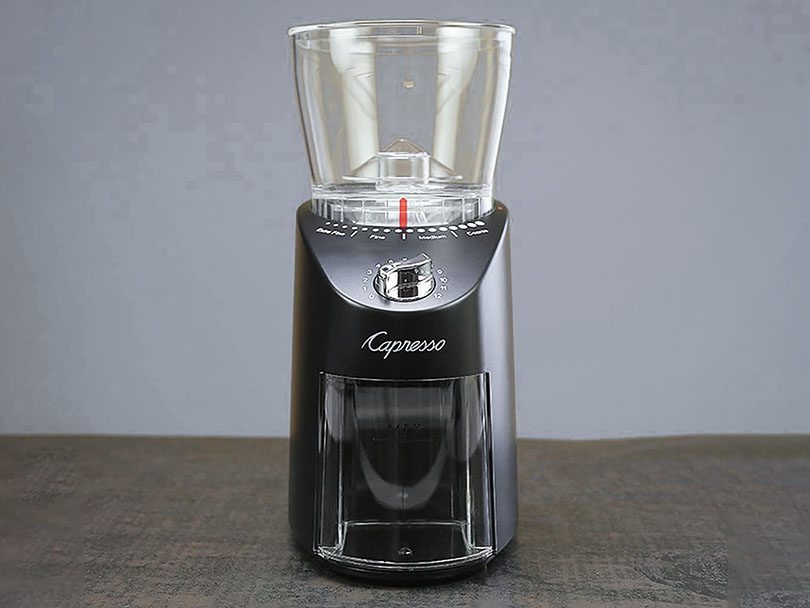 They both use conical burrs, providing a significant step up over blade grinders or even budget disc burr grinders.
The main difference between the 2 is in the grind settings for espresso:
The Capresso Infinity doesn't really have the precision you need to dial in your shot. But it will deliver a very even, consistent espresso grind that allows you to get pretty close. Although we still recommend sticking to a pressurized portafilter.
The Baratza Encore, on the other hand, has a much smaller range than the Capresso and isn't designed to grind fine enough for espresso at all.
You can calibrate the Baratza Encore for espresso, but it puts tremendous strain on the motor. This will significantly impact the life span of the grinder and the results aren't particularly great either, so it's really not worth it.
For other brew methods, their abilities are very similar. However, given the similarity in price, we think it's worth getting the Capresso for the option to pull espresso.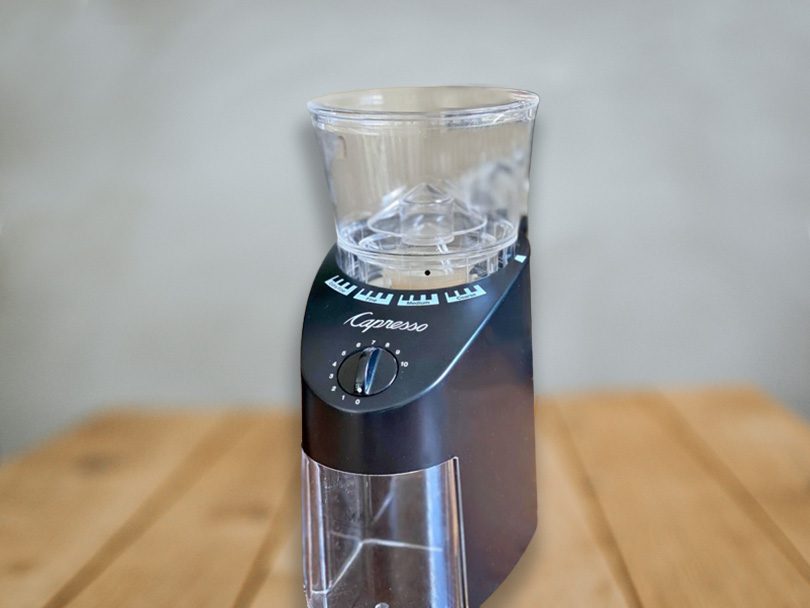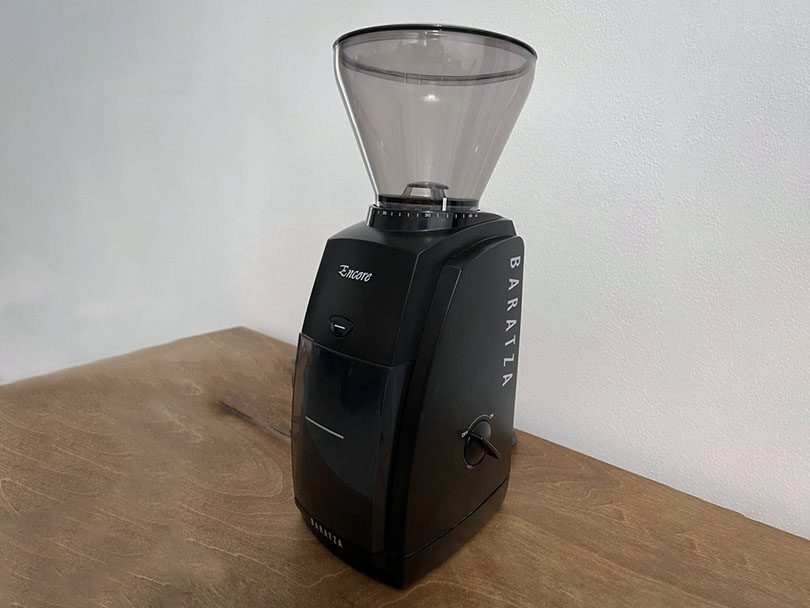 The Capresso Infinity offers a strong entry-level conical burr grinder option:
It is easy to use, if not the most precise. And, if care is taken to look after the motor as detailed in this Capresso Infinity review, you will be rewarded with a very durable machine.
This is a great offering for those just looking for a solid coffee grinder for their daily cup. You can enjoy a rich and smooth French press or drip coffee. 
However, if you're a coffee enthusiast looking to fiddle with grind settings and brew times for your favorite beverage, then this isn't the one for you.
Considering how much extra you can pay for the features that come with a more precise coffee grinder, this is a good grinder for the casual home coffee drinker. If you're just looking to step up your coffee experience with freshly ground beans, you're onto a winner here.
Don't forget to Buy Your Capresso Infinity Conical Burr Grinder Today
You Might Also Like
All the best coffee deals in Amazon Prime Big Deal Days 2023 in one place so you don't have to go searching for them yourself.

Find the perfect gifts for coffee snobs in your life. From budget-friendly to high-end, there are gift ideas for every coffee lover