Do you find yourself looking at the seemingly never-ending options for coffee grinders, and wanting one that just knows what it's doing? That, with no complicated input, knows exactly how to get you the best quality coffee?
If so, then this Breville Smart Grinder Pro review is the one for you. It's an outstanding burr coffee grinder that delivers the exact amount of coffee grounds for the exact style of drink. Every. Time.
With a hefty price tag, you would be forgiven for questioning whether all the bells and whistles are worth it. Breville hasn't scrimped, packing as much technology as possible into this grinder. But it pays off, as the Smart Grinder Pro really does think like a barista, taking on the heavy lifting for you.
Here, we have scoured the internet for all the reviews on this electric coffee grinder to collate with our own. This means we have the most comprehensive buying guide you can find. Whilst not all home coffee experts give numerical scores, we have averaged these out. Therefore, you can get a consensus opinion on how good this machine really is and know for sure if it is right for you.
This article may contain affiliate/ compensated links. As an Amazon Associate, we earn from qualifying purchases at no additional cost to you. For more information please see our disclaimer here.
At a Glance: Breville Smart Grinder Pro Review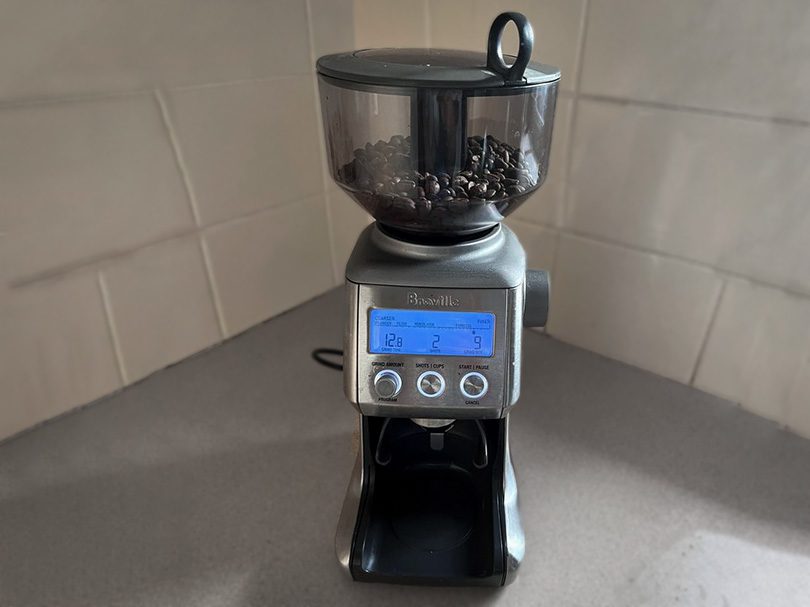 The Breville Smart Grinder Pro is a great all-rounder.
There are plenty of features that make grinding coffee fast and easy in the morning. Plus, the grind precision is great for getting it just how you want it.
The Smart Grinder doesn't have the range of different grind settings as some of its competitors. And we'd prefer it to be a little quieter. But, if consistency is what you're after, then this is a fantastic coffee grinder.
Finding a machine that grinds evenly from French press to espresso is fairly rare. But the Breville Smart Grinder Pro does just that – and looks great whilst doing it.
Pros
Easy to understand interface
Quality grind consistency
Decenet espresso grind
Coffee grounds cup doubles as storage
Incredible programmability and customizability
Remembers your choices for ease of repeated use
Easy to clean
Cons
Manual override is a pain to use
No scale for easy, precise weight measurements
No "pots" measurement – only cups and shots
Not the most affordable coffee grinder
1. 60 Grind Settings
Straight out of the box, the Smart Grinder Pro has 60 settings to choose from. These are broken down into 4 categories to quickly get you where you need to be: manual press, percolator, drip, and espresso.
Most of the settings are for drip and espresso, which makes sense as the finer espresso grind settings generally need much smaller, more precise adjustments.
But wait, there's more:
If you remove the bottom conical burr, you can make a further 10 micro-adjustments per setting. This means there are actually 600 possible grind settings! It's not easy to make these micro-adjustments, but if you really want to dial in, you can go nuts.
2. Grinding Timer
The grinding timer on the Breville Smart Grinder Pro is excellent. It allows you to choose a grind time in 0.2 second increments, giving you the ideal precision to get the perfect dose.
3. Dose IQ
So, now you've nailed down your time, you want to show off your awesome coffee skills to your friends. Which simply means multiplying up the time, right?
It's not even that complex.
The Smart Grinder's Dose IQ means you simply tell the machine how many doses or cups you're making. Then, it will work everything out for you. No math involved, no complicated sums before your caffeine hit.
4. Hot Button
If you're in a hurry or just don't want to fiddle with timers, you can use the "hot button".
The Breville Smart Grinder Pro lets you grind directly into a portafilter for your espresso machine.
And, just behind the portafilter holder, you will find the hot button. To use, you push your portafilter back and the grinder will grind until you release it.
The timer also counts up how long you hold it in place. So, you can then set your timer for your perfect dose next time.
The central, blue, LCD display clearly shows the grind setting, grind time, and the number of cups/doses the grinder is set to.
The grind setting is changed with a dial mounted on the side of the grinder. The time is changed by twisting the knob under the LCD screen. There, you will also find a button for the number of cups and a start/ pause/ stop button.
So, although there are a few steps, it's all pretty straightforward to use:
Simply load your coffee beans into the hopper. Then, select your grind size with the side dial and the grind time with the front dial, then just press the button to grind.
Now if you want to get seriously precise, you can fiddle to your heart's content. You can adjust the time in 0.2 second increments; use one of the 60 grind settings; or even one of the 600 micro-adjustments if you really want to get it just perfect.
You can also set programs for each category of grind: espresso, percolator, filter, and plunger. Then the "Dose IQ" makes it easy to scale up or down the amount of coffee you need.
The only real usability issue is that there is no scale. So, if you're looking to get the perfect weight of grounds, you will need to buy a separate scale. Whilst a bit annoying, it's hardly catastrophic.
The "hot button" is also a bit clumsy to use with a portafilter or even the grounds bin. Being able to manually grind until you have enough makes sense in theory, but we always find it to be a little awkward in practice.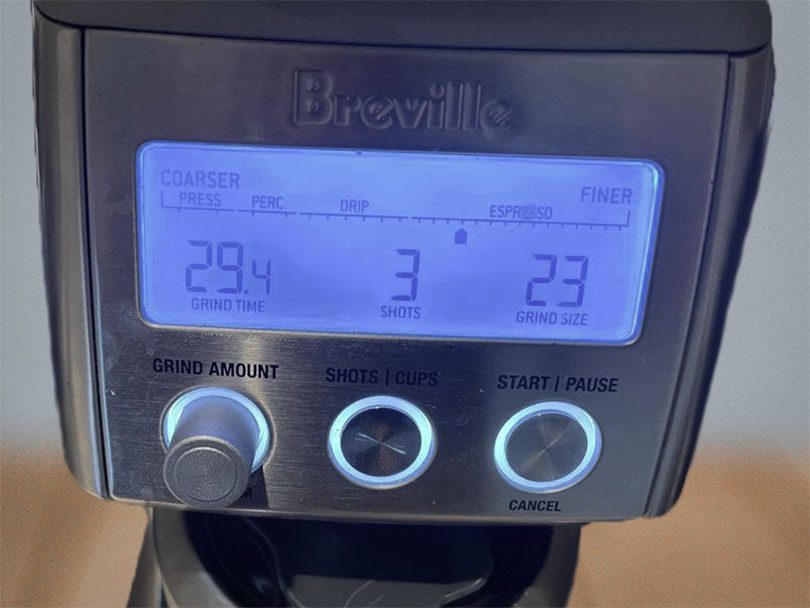 At 15.3" high, 6.3" wide, and 8.4" deep, it won't easily fit into a cupboard. The good news is you won't really want to as it looks great. It is mostly made of plastic but the brushed stainless steel gives it a premium look. Plus, you can choose from a range of colors to suit your decor.
The Smart Grinder Pro houses 40mm stainless steel conical burrs. This is a fairly standard burr size and quality at this price point.
The motor spins the burrs at 450 RPM, reducing heat build-up and keeping those precious oils in the grounds.
Our one small complaint is that the motor is a little louder than we'd like, particularly considering the price. But that's us being a bit pedantic – you probably won't notice unless you have a sleeping baby right next to your grinder.
Along with the grounds bin, the Smart Grinder Pro comes with two portafilter holders. One takes 50-54mm portafilters and the other fits traditional 58mm portafilters. This is a nice touch that adds to the "premium" feel of the coffee grinder.
One of the best design features of this grinder is the bean hopper which is a good size. But what we love most about it is that you can remove it with the press of a button and it remains sealed. This makes cleaning the burrs easier and prevents you from accidentally covering your kitchen in coffee beans.
With the amount of tech stuffed into this coffee grinder, the chance of something going wrong increases. Whilst we've never experienced any issues or seen many reports from others, it's always possible something will just break. In particular, the stainless steel parts are prone to corrosion so it's important you keep them as dry as possible.
A more robust engine would also be a bonus. Being underpowered can cause the grinder to seize.
The good news is Breville's customer service is generally excellent. So we wouldn't expect there to be any major issues.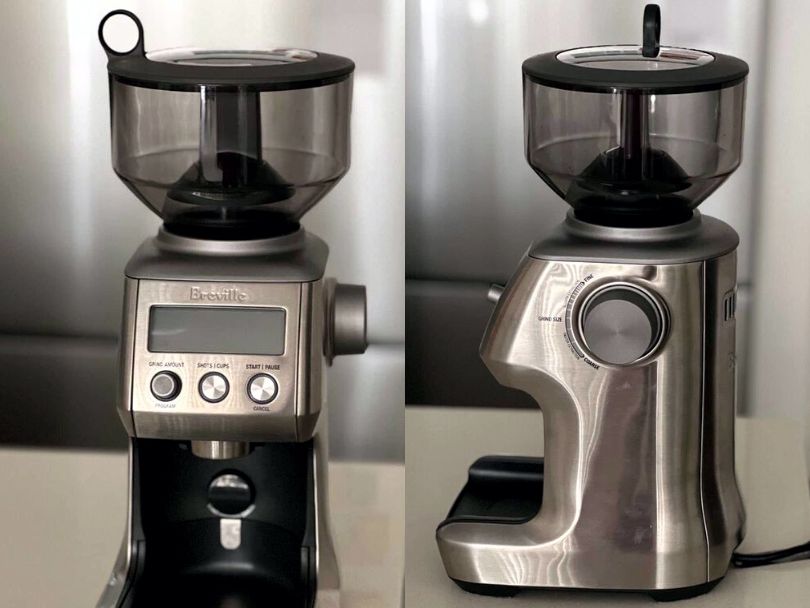 Although the Breville coffee grinder has, in theory, 600 grind settings it doesn't have the range of some of its competitors.
However, what it loses in range, it makes up for with consistency. At every grind level, the consistency is excellent making it a top performer for espresso, pour over, and even the coarser French Press.
It does start to get a bit looser at the coarser settings, an issue with most burr grinders. But it never reaches the point where it would become problematic.
This makes the Smart Grinder Pro an ideal burr grinder for a wide range of coffee makers and coffee styles. This is where it excels, rather than trying to hone in super precisely on one particular style – although it is capable of this to a degree.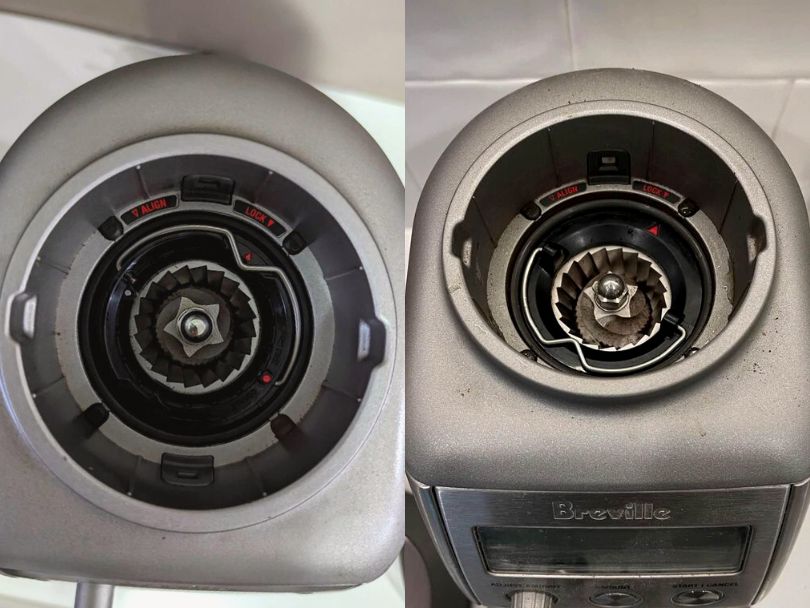 It doesn't generate much static which can cause grounds to stick in the burrs, chute, or grounds bin. Nor does it generate "fines" which end up everywhere.
That said, you do still need to give the Smart Grinder a monthly deep clean. This involves unscrewing the top burr and brushing out any grounds that have gotten stuck in there with the brush provided.
You can simply rinse the grounds bin and bean hopper in water to keep them nice and clean.
Overall, it doesn't take much time or effort in coffee grinder terms but it's still a 20 minute job. But, considering some grinders get pretty badly gunked up, it performs admirably.
You shouldn't run into any issues with maintenance as everything is well-designed and put together. However, on the off chance that there is a problem, Breville's customer service has an excellent reputation.
Where the Smart Grinder Pro excels is the wide range of possible grind settings and the control you have over the finer settings. This makes it good (if not great) for espresso grinding and, given the fact typical espresso grinders can set you back megabucks, it's pretty awesome for $200.
It does have it's limitations and isn't perfect. But, for the price, it's hard to complain.
So, as an entry-level espresso grinder it's incredible. But, if you just want to take a step up from using pre-ground coffee then it's a pretty big step when there are cheaper options out there.
Psst… Confused about all the tech terms and different types of coffee grinder? Check out our ultimate guide to make grinder shopping a breeze:
The most notable difference is the level of control you have over the grind time:
With the Smart Grinder Pro, this can be adjusted in 0.2 second increments. Whereas, the Dose Control Pro can only be changed in much bigger, 1 second increments.
Both grinders work similarly in that they produce the exact amount of coffee you need.
However, the Dose Control Pro is less user-friendly. It has no LCD screen. Instead, you make selections via a timer dial.
Being a simpler machine, the Dose Control Pro comes in cheaper. But not by much. So, for the ability to fine-tune your grinds to your preferences, the Smart Grinder Pro gets our vote for just a little extra cash.
Pick Your Winner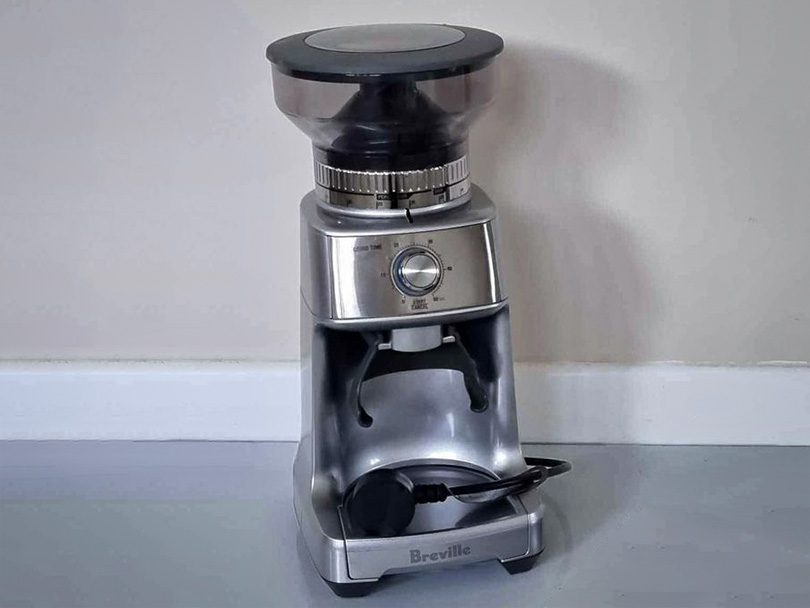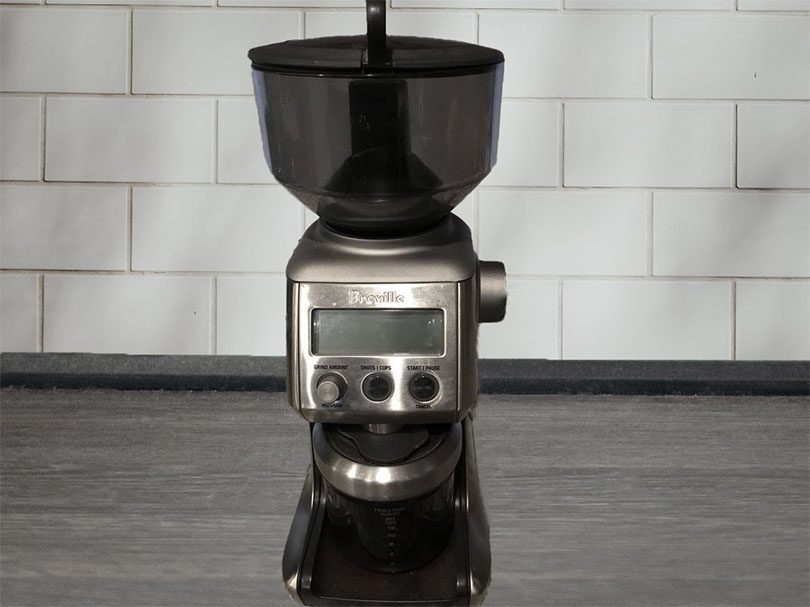 But, as an all-around grinder that will allow you to really dial in your grind, the Breville Smart Grinder Pro is a superb machine.
Consistency of grounds is a real strong point, even at the coarser settings. And the fancy controls outlined in this Breville Smart Grinder Pro review like Dose IQ make grinding the perfect amount every time really easy.
It might take a bit of fiddling to get your settings perfect for you. But this is true of almost any coffee grinder – until you go into the really big money ones, that is. Once you've found your ideal settings, it's a doddle to use.
Plus, this is a great-looking piece of kit to have next to your coffee machine of choice.
Don't forget to Buy Your Breville Smart Grinder Pro Today
You Might Also Like
Find the perfect gifts for coffee snobs in your life. From budget-friendly to high-end, there are gift ideas for every coffee lover

The biggest sale of the year is here and we've hunted down the best Black Friday coffee maker deals so you don't have to. Get prepared here!