If you're looking for a manual coffee grinder to improve your coffee at home and on the go, JavaPresse is here to save the day.
In this JavaPresse Manual Coffee Grinder review, we will detail everything you need to know about his hand grinder. After reading this, you will know for sure if it is the one for you.
The ability to grind your own coffee beans will take your cup of coffee to a whole new level. Particularly one that works as hard as you – like the JavaPresse.
As a company, JavaPresse has only been around since 2015. But, since then, they have taken the coffee-loving world by storm. Their ethos of great quality that doesn't cost the Earth sings to the heart of many coffee aficionados.
Here, we have scoured the internet for all the reviews on this ceramic conical burr grinder to collate with our own. This means we have the most comprehensive buying guide you can find. Whilst, not all home coffee experts give numerical scores, we have averaged these out. Therefore, you can get a consensus opinion on how good this device really is and know for sure if it is right for you.
This article may contain affiliate/ compensated links. As an Amazon Associate, we earn from qualifying purchases at no additional cost to you. For more information please see our disclaimer here.
At a Glance: JavaPresse Manual Coffee Grinder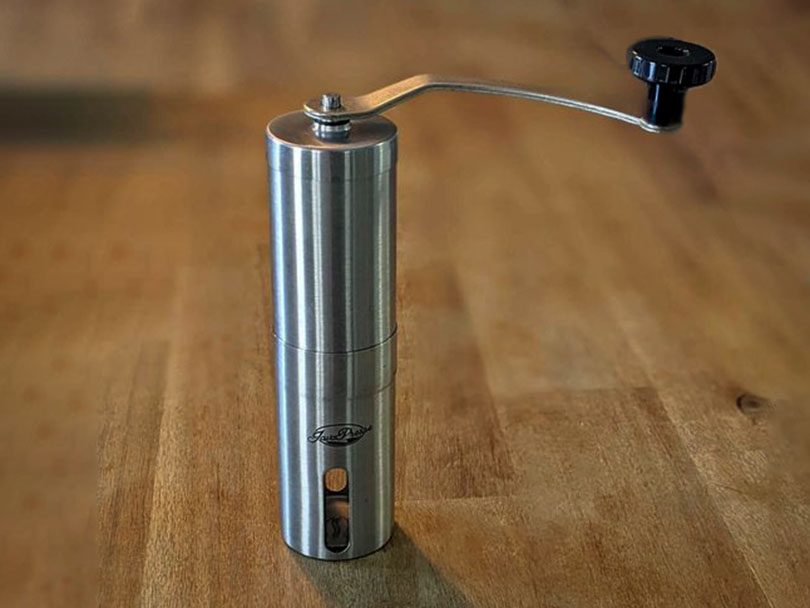 JavaPresse Grinder
JavaPresse offers up a very good manual grinder. And, for the price, it's a brilliant manual grinder.
If you're looking to make espresso on the go, this isn't the one for you. Although it can certainly handle it, just not enough to blow you away.
But, for those making a coarser ground coffee like French press or pour over, you won't find anything as good as this for as great a price.
For the traveling coffee enthusiast on a budget, the JavaPresse manual burr coffee grinder a must-buy.
Pros
Amazing value for money
Versatile and durable thanks to the small, stainless steel design
Dual plate ceramic burr design creates decent particle size distribution
Excellent customer service from JavaPresse
Cons
Slow for fine grinds
Detachable hand crank can slip off during grinding
Not the easiest to clean
Not feasible to grind large volumes of coffee at a time
1. Ceramic Conical Burrs
Ceramic burrs are harder than stainless steel burrs and can last much longer.
They also don't suffer from overheating in the same way that stainless steel burrs do. This means that the delicate flavors of the coffee beans are preserved for a better tasting cup of the good stuff.
2. Very Lightweight
The JavaPresse manual grinder only weighs 9.4oz and is less than 2 inches in diameter. This makes it a great portable coffee grinder, ideal for traveling and having fresh ground coffee anywhere.
3. 18 Grind Settings
The JavaPresse can grind finely for espresso all the way up to the coarseness required from a coffee grinder for French press. It's easy to switch between the 15 grind settings to suit your preferred brewing method.
There is the bottom section where the grounds are collected. This has a narrow glass window, allowing you to see how much you have ground.
The main body contains the burrs and the coffee beans chamber.
Then, the lid with a handle seals the grinder and turns the burrs.
Beans go in the top, handle turns to grind, and stop when you have the right amount of grounds.
There are, however, a couple of things that make this process slightly more complicated:
Underneath the burrs on the main body of the grinder is a black knob for adjusting the grind settings. However, there is no indication of what setting you are on.
First, you tighten the knob as much as you can – it is now at setting zero. When you loosen it anti-clockwise, you will hear and feel a slight click – this is a grind setting.
So, 1 click is the very finest setting. And, for French press, you want 6 or 7 clicks.
Not ideal but not exactly complicated either.
There is also no way of measuring how much coffee you have ground. But you will get pretty good at eyeballing this with some practice.
Turning the crank itself, whilst time-consuming for the finest settings, doesn't require much effort. It can take well over a minute to grind 20 grams of beans on a fine setting and around 45 seconds on a coarse setting.
Grinding coffee for one or two is OK, especially if traveling. But you won't want to be making coffee for a crowd unless you have a lot of time and patience.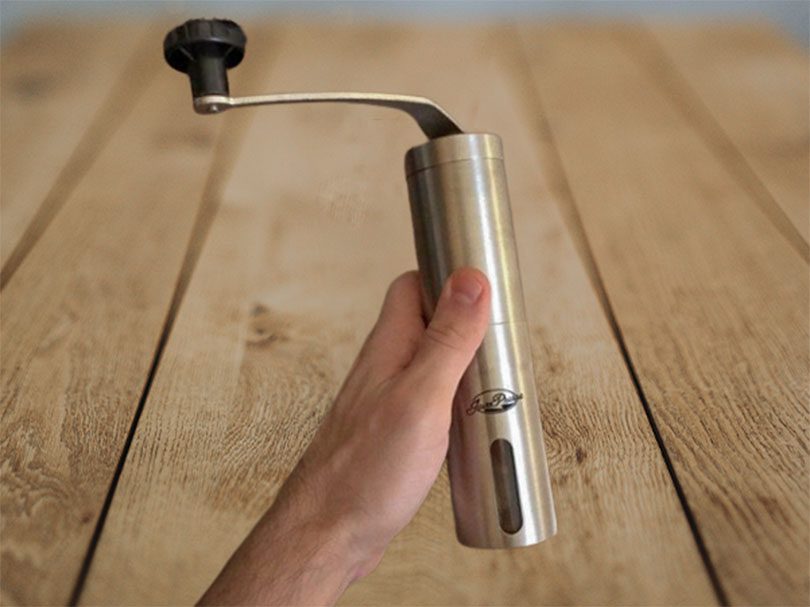 At a mere 1.8 inches in diameter and 7.5 inches tall, it will easily fit into a purse or backpack to be taken with you wherever you go. It also only weighs 9.4oz so you'll barely notice the extra weight.
The ceramic conical burrs used in the JavaPresse have both strengths and weaknesses:
Being ceramic, they are harder than stainless steel. They also don't generate as much heat when they are turned, although this is less of an issue for a manual grinder.
They are, however, more brittle. So, if a small stone or anything finds its way in there they can chip. If chipped, you will be left with very inconsistent grounds sizes.
JavaPresse claims that their ceramic burrs last 5 years longer than stainless steel burrs. However, this claim is assuming only coffee beans and no weirdly solid ones, are placed in the grinder.
They've put the best burrs in that they can for the price. So it's unfair to mark them down for this when the price is so low. Particularly as they can last for years at a time with no issues at all.
Luckily, the consistency from the JavaPresse is very impressive for a hand grinder.
There is always the odd couple of grounds that are the wrong size. But there are far more expensive grinders that don't offer this level of consistency from very fine all the way to coarse grounds.
The JavaPresse manual coffee performs much better at the slightly coarser end of the scale. If you're looking to make espresso, it's maybe not quite consistent enough. But for medium to coarse ground brewing methods, it's very good.
So, it's not a perfect solution. But at the price, it is superb and outperforms many manual grinders at double or even triple the price.
Not sure about the JavaPresse?
Check out the Hario Skerton Pro ceramic coffee mill for an alternative portable hand grinder:
You'll need to clean your grinder fully every couple of weeks or so. This will ensure you're always getting fresh grounds and there isn't anything building up inside the mechanism.
To do this you need to completely dismantle your grinder. This involves removing a few small parts which you can definitely lose if you aren't careful.
JavaPresse recommends using warm soapy water to clean everything thoroughly and then reassembling once dry. This will take 30-45 minutes so is a bit of a hassle, to be honest, but nothing is perfect I guess.
But it's also under $50. So what you do get for that price is quite incredible – there's a lot to love.
You can enjoy good ground consistency, especially at coarser grind sizes. This hand grinder is easy to use, small, light and durable.
Overall, this is a really top-quality grinder that probably can't be beaten at this price.
Don't forget to Buy Your JavaPresse Grinder Today
See how the JavaPresse compares to the other top manual coffee grinders in our full comparison:
You Might Also Like
Find the perfect gifts for coffee snobs in your life. From budget-friendly to high-end, there are gift ideas for every coffee lover

The biggest sale of the year is here and we've hunted down the best Black Friday coffee maker deals so you don't have to. Get prepared here!