It doesn't matter what your preferred coffee brewing method is – if you don't put high-quality ground coffee in, you won't get a high-quality cup of coffee out.
And that's where this Rancilio Rocky review comes to the rescue. As you read on, we will dig into all the pros and cons of this machine so you know for sure that it's the right one for you.
When purchasing the Rocky coffee grinder, you have the choice of two models – either doserless or dosing. Both will infinitely change your home espresso making game thanks to the incredible quality conical burrs.
And superb quality, delicious coffee is what Rancilio is known for:
They are one of the biggest names in commercial espresso machines and grinders. And now they have packed the professional features into the Rancilio Rocky coffee grinder for home use.
Here, we have scoured the internet for all the reviews on this electric grinder to collate with our own. This means we have the most comprehensive coffee grinder review you can find. Whilst not all home coffee experts give numerical scores, we have averaged these out. Therefore, you can get a consensus opinion on how good this machine really is and know for sure if it is right for you.
This article may contain affiliate/ compensated links. As an Amazon Associate, we earn from qualifying purchases at no additional cost to you. For more information please see our disclaimer here.
At a Glance: Rancilio Rocky Review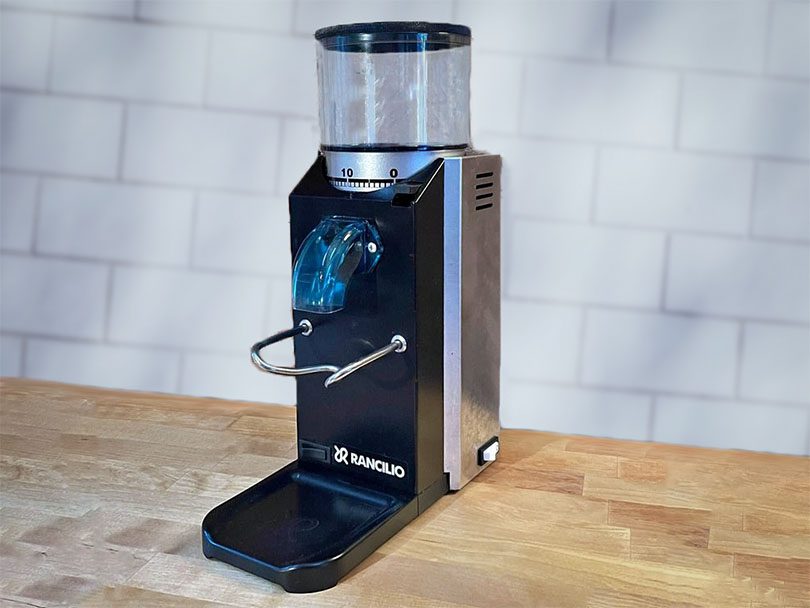 Rancilio Rocky
The Rancilio Rocky is a top-of-the range coffee grinder, which is reflected in the price.
Sadly, it's not the most user-friendly but it's fantastic where it counts:
Superb consistency across a huge range of grind sizes, particularly the finer end of the spectrum making it an ideal espresso grinder. Although, with 55 different grind settings, you're sure to find the one that is perfect for your morning brew.
If you're serious about upping your home coffee setup, you need to give real consideration to this as your grinder.
Pros
Wide range of grind settings
Consistent across all grind sizes
Excels as an espresso grinder
Very fast and quiet
Great design
Available with and without doser
Durable
Cons
An expensive coffee grinder
Not stepless
Adjusting grind settings isn't easy
Bean hopper isn't airtight
Can be messy
Not many extra features
1. Commercial Quality Burrs
Generally speaking, the larger the burrs the better quality the grinder. The Rancilio Rocky has 50mm tempered steel burrs which are industrial grade. These ensure a superb grind and longevity of your machine.
2. Direct Drive Motor
The 166W direct drive motor is whisper-quiet. It generates very little heat or static whilst grinding your whole coffee beans which adds to the durability of the machine.
3. Stepped Grinder Adjustments
Stepped grinder adjustments make it easy to switch between finer and coarser grinds for espresso or French press respectively. The Rancilio Rocky offers both macro and micro-adjustments – 55 in all – for getting the perfect grind size making it one of the top home espresso grinders.
4. Available in Dosed or Doserless
There are two Rancilio Rocky models available. Both have exactly the same spec but with or without a doser, depending on your preference. The Rocky SS model has a doser and the Rocky SD model is a doserless coffee grinder.
This means you can choose if you want your ground coffee delivered in exactly the right quantity or if you would prefer to use a coffee scale for precision yourself. Having the choice is a nice touch, making it simple to have high-quality burrs and motor with your preference for how it's dispensed.
Having stepped adjustments means that, *in theory*, it's easy to dial in to suit your preferred coffee brewing method. But, in reality, it's difficult to adjust the grinder settings:
You need to hold down the locking button (to the right of '30' in the below image) while you twist the bean hopper on the top which is a bit awkward to do. It's very easy to lose your grip (particularly if, like my wife, you have small hands) meaning you have to start again.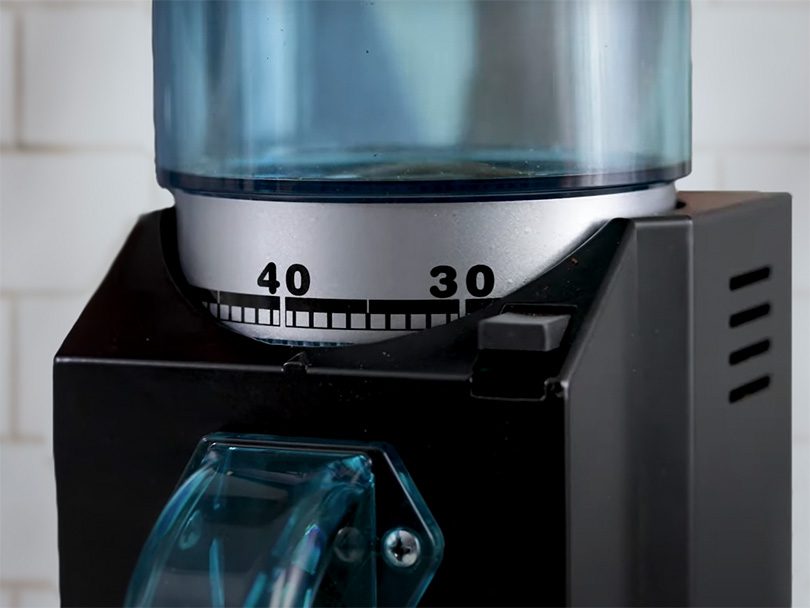 However, once you've got the Rancilio Rocky onto the right settings, it's a good coffee grinder and is not difficult to use:
The coffee grinding is controlled by an on/off button on the side of the grinder and the ground coffee comes out of the chute.
With both models, you need to eyeball/weigh how much coffee you need to grind each time. Or you end up grinding slightly too much and trashing the rest.
It will grind for as long as you manually push the button. So, for best results, we recommend using some good coffee scales to weigh out your whole coffee beans before putting them in the bean hopper (which isn't quite airtight anyway). There will be a little retention so you'll need slightly more than your coffee-to-water recipe calls for.
With practice, you'll probably get really good at grinding the right amount for your espresso machine's portafilter, French press, or whichever type of coffee maker you prefer. But it's slightly annoying especially when you compare prices with the many other great coffee grinders out there.
For example, the cheaper OXO Brew with Integrated Scale will weigh out your coffee for you at the touch of a button.
So, if you're using the Rancilio Rocky SD burr grinder (doserless version), the freshly ground coffee will automatically dispense out of the chute into your chosen vessel.
Whilst the Rocky SS (dosing model) will dispense into the ground coffee chamber. You then have to use the lever on the right to dispense each dose into your portafilter. As ground coffee goes stale pretty quickly after grinding, there's no point in grinding more than you need. Which makes the dosing option pretty pointless in our books.
The Rancilio Rocky doserless coffee grinder is quite a tall machine:
It comes in at 13.8″ high. But it is just 9.6″ wide and 4.6″ deep. So, as long as you don't have low overhead cupboards, it has a relatively small footprint and should squeeze in nicely next to your espresso machine, if you have one.
It also won't take up a lot of cupboard space if you need to store it away. However, it is quite heavy – 15.5 lb – for lifting in and out. Although, you would expect a heavier weight due to the very high-quality motor and grinding mechanism.
Visually, we think it looks great:
Quite stark and simple but sleek enough that it doesn't look old-fashioned. Plus, the neutral coloring will fit with most kitchens.
The stainless steel casing is easy to wipe down to keep it looking its best too.
Build quality is what Rancilio is known for and this is very apparent with this machine – it looks like a heavy-duty coffee industry equipment piece:
The burrs are of the highest quality and will last forever.
The really impressive part of this grinder is the direct drive motor which spins the burrs at 1750 RPM. So, it takes around 20-30 seconds to grind enough coffee beans for an espresso coffee.
It's a heavy-duty motor with an automatic shutoff when it gets too hot. This preserves the quality of the ground beans and the longevity of the motor.
Overall, every part of this grinder feels built to last and will be a hard-working member of your coffee kit.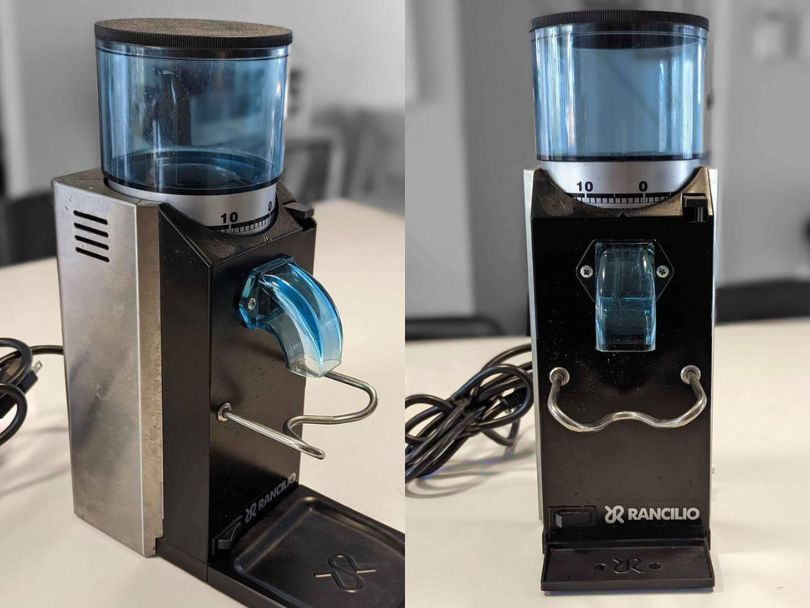 From the finest grind of coffee suitable for, all the way to your coarsely ground coffee suitable for French press, the Rancilio Rocky has superb consistency. Plus, thanks to the high-quality parts, there is no degradation over time.
This is where you get what you pay for. And, ultimately, it's the size of coffee particles that matters most with coffee grinders.
To get the best out of your preferred type of coffee maker, use this handy Coffee Grinding Guide for Rancilio Rocky. Just select the setting that suits your favorite coffee:
Espresso – 0 to 10
Pour Over – 10 to 20
Drip Coffee – 25 to 35
French Press – 40+
One thing to keep in mind is that using different types of coffee beans or blends will have an effect on the correct grind settings. So as you experiment with new varieties, you may need to change the settings slightly.
Is the Rancilio Rocky Good for Espresso?
If you're an espresso lover, the Rancilio Rocky will really help you up your coffee game as this is where it excels.
We don't tend to go any lower than setting 5 and are always blown away by the consistency of the grinds.
Confused about the different types of coffee grinder out there? Check out our full guide to make sure you biu the right grinder for your preferred brewing method:
Cleaning may seem a complex process but it's actually fairly simple.
However, it does need to be done regularly to maintain the quality of the grounds and ensure you have consistently great tasting coffee. After all, you don't want any old coffee grounds sneaking in with the fresh stuff and ruining the flavor.
Firstly, the bean hopper and chute need to be cleaned out every couple of days. This only takes a couple of minutes to do and is no real hassle.
If you have the Rocky SS model with the doser, the grounds chamber will also need to be thoroughly cleaned every couple of days to ensure no stale coffee finds its way into your brew.
The burrs need to be cleaned every week and this is a little bit more effort to do:
You need a flat head screwdriver to take apart the grinding mechanism. Once apart, you can use a wire brush to remove all the gunk that is in there and a fine brush to get rid of any small particles that are in the crevasses.
When it's all nice and shiny, just put it back together. Just take care to avoid cross threading and to align the hopper on zero with the body's screws. Doing so will prevent damage and ensure your grinder settings remain accurate.
The whole process only takes around 10 minutes. But you really need to stay on top of it if you want to get the best out of this grinder.
There really isn't any other maintenance needed. The high quality of all the components makes this grinder incredibly durable and long-lasting. Buying the Rancilio Rocky is an investment that should pay off for years.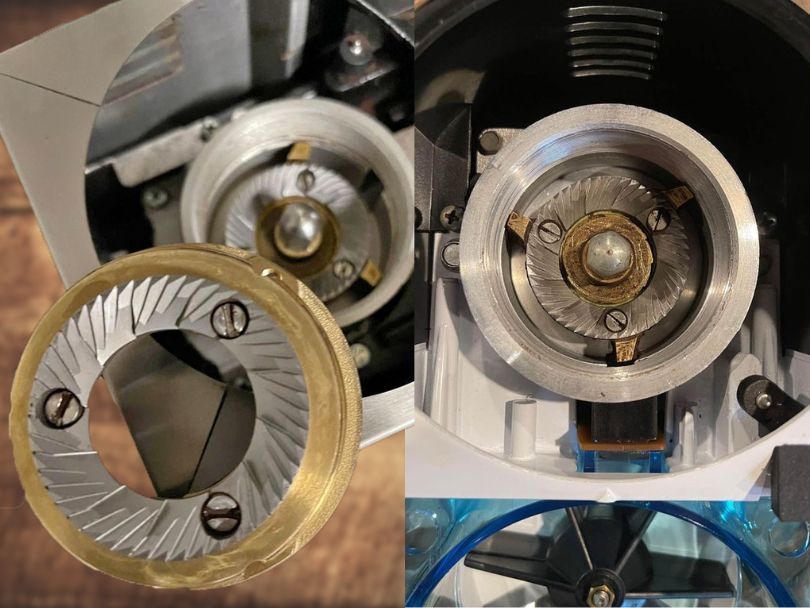 The Rancilio Rocky is an expensive coffee grinder. But if you're serious about making high-quality coffee at home, you need a serious grinder to make sure that happens.
If you've chosen to invest in a super-automatic espresso-machine, a more budget-friendly machine, or even a manual espresso maker then you need a high-performing grinder. It will help you get the best coffee taste from your beans and really, isn't that the point?
And both the Rancilio Rocky doserless grinder (SD) and dosing model (SS) certainly qualify as high performing. Although, our Rancilio Rocky review would be doing a disservice if we said both models were created equal as we don't really see the benefit in the Rocky SS for at-home use.
No matter what your preferred coffee brewing method is, this coffee grinder will put a smile on your face. The grinds are always consistent thanks to the high-quality, fast burrs. And, it is built to last so you can enjoy great coffee for years to come.
Don't forget to Buy Your Rancilio Rocky Today on 1st in Coffee or at Amazon
You Might Also Like
Find the perfect gifts for coffee snobs in your life. From budget-friendly to high-end, there are gift ideas for every coffee lover

The biggest sale of the year is here and we've hunted down the best Black Friday coffee maker deals so you don't have to. Get prepared here!