Great coffee at a fraction of the price is within reach. Cuisinart has just one grinder in their lineup – an electric burr grinder – and you can snap it up for a bargain price.
In this detailed Cuisinart burr grinder review, we will go through the pros, cons, and great features of this machine so you can decide if it is the best burr grinder for you.
If you are a casual coffee lover who enjoys pour-over, drip coffee, or French press then this is for you. And, with 18 grind settings, you can alternate between your preferred beverages too.
This grinder can be found under a few different names. But, as Cuisinart only has one grinder, they are all the same machine. So, don't be confused by the interchangeable DBM8, Supreme Grind, or simply Cuisinart Automatic Burr Mill Grinder.
Here, we have scoured the internet for all the reviews on this electric coffee grinder to collate with our own. This means we have the most comprehensive buying guide you can find. Whilst not all home coffee experts give numerical scores, we have averaged these out. Therefore, you can get a consensus opinion on how good this machine really is and know for sure if it is right for you.
This article may contain affiliate/ compensated links. As an Amazon Associate, we earn from qualifying purchases at no additional cost to you. For more information please see our disclaimer here.
At a Glance: Cuisinart Burr Grinder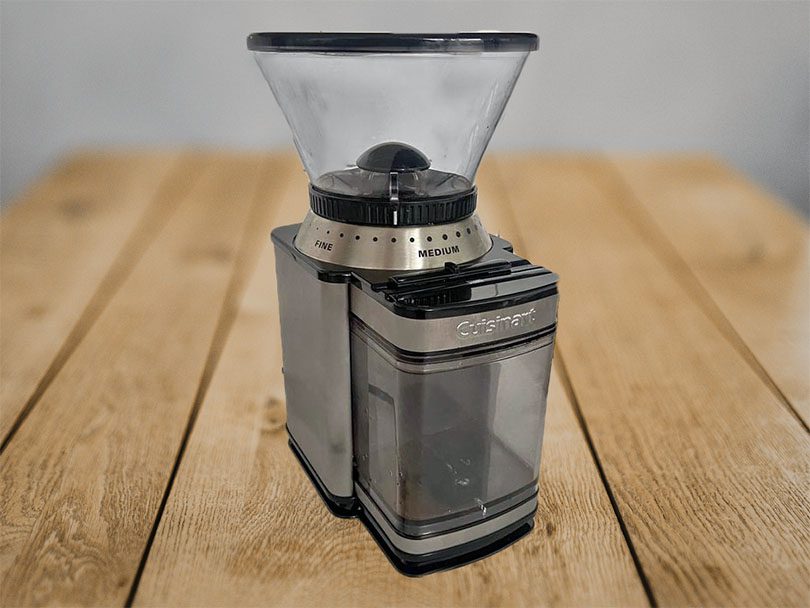 Cuisinart Burr Grinder
The Cuisinart flat burr grinder (also called Supreme Grind or DBM8) is one for the masses
Where this coffee grinder is not suitable, is if you are looking to make espresso. And, it's also a bit of a pain if you are making coffee for one.
But if you want to grind coffee for the whole family to enjoy on a budget, then this grinder will do the job admirably… If a bit loudly.
Pros
Simple to use and clean
Large grinding chamber and 32 cup capacity
18 grind settings
Ideal for drip, pour over and French press
Automatic grind and timer
18 month warranty
Cons
Can be very loud
Not suitable for espresso
Static makes coffee cling to plastic parts
Not ideal for delicate blends
1. 18 Grind Settings
The Supreme Grind makes it easy to switch between each of the 18 grind settings. You can choose from extra fine to extra coarse, allowing you to customize your grind depending on your brewing method and preference.
2. 4-18 Cup Slide Dial
The pre-programmed slide dial allows you to choose the number of cups of coffee you're brewing. Then, it will grind the correct amount of grounds for the number of cups you're making. Saves you from doing any complicated maths.
3. 18-Month Limited Warranty
For a budget coffee grinder, an 18-month warranty shows real confidence from the manufacturer in the build quality. Most cheap grinders are not built to last, but Cuisinart clearly feels that theirs is.
4. Stainless Steel Design
This burr grinder really looks the part. The stainless steel casing gives the look and feel of a far more expensive grinder. Nothing about the Cuisinart DBM-8 Supreme looks cheap, so you will be happy to display it on your countertop.
Just follow these steps:
Fill Hopper: Add your coffee beans of choice to the bean hopper on the top of the grinder

Put Grounds Bin in Position: Make sure the grounds bin is properly in place so you don't cover your counter in precious coffee

Select Grind Size: Twist the dial on the bean hopper to select your preferred grind size

Select Amount: Move the slider to select an amount between 4-32 cups for grinding

Start Grinding: Simply push the button to grind the exact amount of coffee you need
Using the number of cups selector sets how long the machine will grind for. Then it will automatically shut off once it has run for the preset time.
If you're looking to grind for less than 4 cups of coffee, simply move the cup selector to 0 once the amount of coffee you need has been ground. You will need to be paying attention though – you can't just walk away.
This level of simplicity comes with a couple of issues:
It's very difficult to fine-tune the Cuisinart to get exactly the amount of coffee grounds that you want. Plus, manually judging the correct amount for 1 or 2 cups, makes errors pretty likely.
Being a budget machine, this really isn't for you if you're looking for coffee grinding precision.
Instead, it's for anyone looking to dip their toes into the world of fresh ground coffee, but who don't want to break the bank in doing so.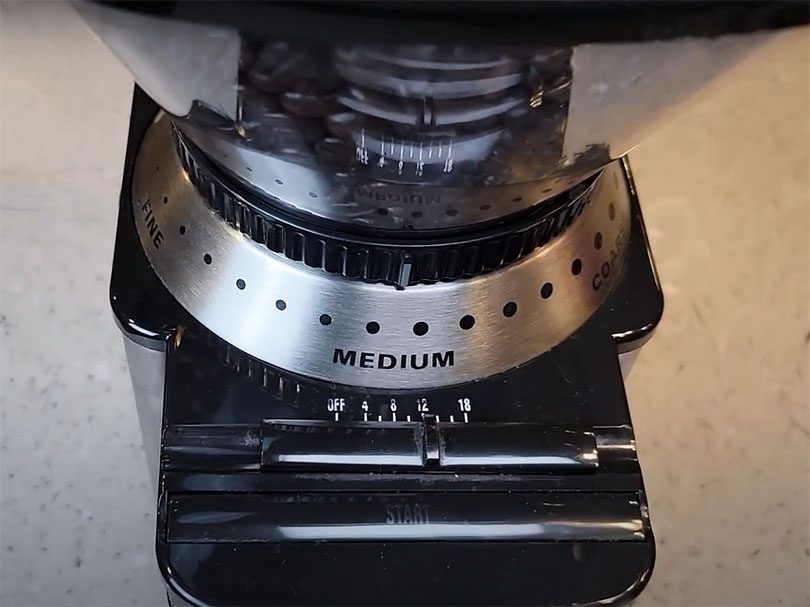 At 10.75″ tall, 7.13″ wide, and 6″ deep, it's quite a compact machine too. It'll fit nicely on most countertops and even underneath those with cupboards above without any difficulty.
It also only weighs 4.75lbs. So, if you need to move it in and out of cupboards, it isn't much of a hassle.
The low-power motor and stainless steel block burrs are, unfortunately, not high-grade parts. But Cuisinart does offer an 18-month warranty with their burr grinder. And, realistically, 18 months to 2 years is about all you can ask for from a grinder at this price. So that's a definite plus.
The in-built safety features which stop the machine from working unless the bean hopper and grounds bin are in place may seem basic enough. But it's a feature that's not always present on entry-level machines so another plus for the Cuisinart.
There are no bells or whistles and not really many features that will wow you with this machine. But it's a solid and simple to use design.
One thing that does need to be mentioned is that this is a loud grinder. If you have someone sleeping near the kitchen and you use it, that person will most likely be woken up by it. Luckily, you can apologize with a freshly made cup of coffee!
This may not be an issue for everyone but it should definitely be taken into consideration when purchasing this grinder.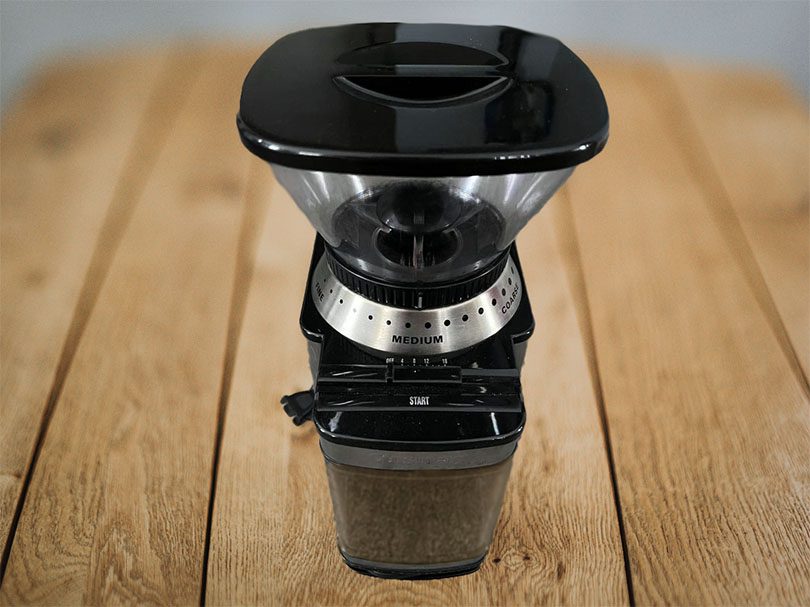 The Cuisinart burr grinder uses stainless-steel block burrs.
Block burrs are like flat burrs but with big blocks on them to "crack" the beans. This allows the use of much smaller and lower-powered motors.
But it does create a couple of issues:
The main issue is the presence of "fines" at all grind settings. Fines are incredibly small coffee particles, like very fine dust, and they tend to stick to the inside of your grinder. This causes uneven grind size in the grounds you use to brew your coffee which isn't ideal.
The grinder also doesn't grind finely enough and with a good enough consistency to make espresso. Even the finest setting can't get fine enough to make a good espresso. So we wouldn't recommend this grinder if you're looking to use it alongside an espresso machine.
The "fines" also cause some slight issues at the coarsest end of the scale – used for French press and drip coffee. But it doesn't make the coffee quality worse than buying pre-ground coffee – it's definitely still an improvement.
If you're looking to make a lot of pour over, drip or French press coffee, then this will do the job. Not perfectly by any stretch but you get what you pay for.
All grinders are a bit of a pain to clean and this is no exception:
You need to clean the Cuisinart Supreme Grind weekly to ensure you get the best out of it and that it lasts a couple of years.
Due to the "fines" that are generated by this grinder, you need to put in the work for cleaning the inside as they stick to everything. It is important to keep on top of the fines, otherwise, you will end up with coffee dust all over your kitchen.
The burrs unscrew so you can clean the inside of them with the brush provided. And both the bean hopper and grounds bin can be hand washed.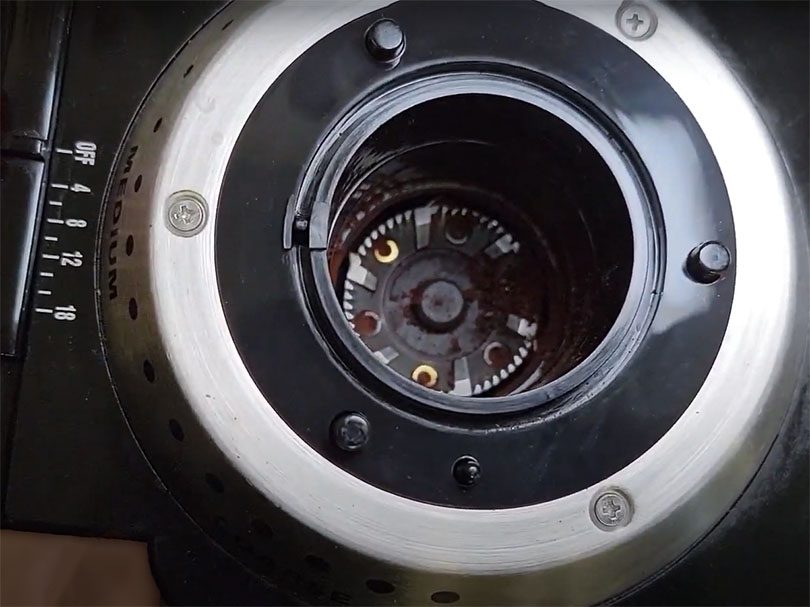 Where it falls down is if you're looking to make espresso. Or if you want to enjoy coffee for one each morning.
However, like this Cuisinart burr grinder review details, it's a solid option for big families or even offices. Basically, any situation that requires grinding for the masses without splashing the cash.
Don't forget to Buy Your Cuisinart Coffee Grinder Today
You Might Also Like
Find the perfect gifts for coffee snobs in your life. From budget-friendly to high-end, there are gift ideas for every coffee lover

The biggest sale of the year is here and we've hunted down the best Black Friday coffee maker deals so you don't have to. Get prepared here!