When looking to make the best possible coffee at home, you know you need a good grinder. But there are so many options to choose from. The original Virtuoso was so well-loved that it remained unchanged since its launch in 2005 until recently. And the changes have certainly put a lot of smiles on face with the additional features.
The Baratza Virtuoso Plus is a superb grinder that will easily last a decade or more of home use. Perfect for AeroPress, Pour Over, and Siphon brewers but with the range to cover all but Turkish coffee brewing methods. This is a superb coffee investment that's easy to use and produces great grind consistency.
In this Baratza Virtuoso Plus review, we dig into usability and performance, as well as cleaning. Everything you need to know to find out if the Virtuoso Plus is ideal for you.
Here, we have scoured the internet for all the reviews on this electric coffee grinder to collate with our own. This means we have the most comprehensive buying guide you can find. Whilst not all home coffee experts give numerical scores, we have averaged these out. Therefore, you can get a consensus opinion on how good this grinder really is and know for sure if it is right for you.
This article may contain affiliate/ compensated links. As an Amazon Associate, we earn from qualifying purchases at no additional cost to you. For more information please see our disclaimer here.
At a Glance: Baratza Virtuoso Plus Review
Baratza Virtuoso+
The Baratza Virtuoso Plus is a superb electric coffee grinder:
It is easy to use and has both the precision and consistency to satisfy most coffee enthusiasts.
Whilst the Virtuoso+ isn't the cheapest coffee grinder on the market, it's a high-quality machine. The build quality is superb – this grinder should comfortably last 10 years.
Absolutely perfect for AeroPress and Pour Over brewing but with the range to handle almost any coffee style.
This is a great option for anyone looking for a coffee grinder that's easy to use and will stand the test of time.
Pros
40 grind settings
Professional feel
Excellent consistency of grounds
Customer service is superb
Top quality build
Easy to use
Cons
It's quite loud
Not the best for espresso
Quite a big footprint
Quite expensive
1. 40mm Stainless Steel Conical Burr
The Baratza Virtuoso+ has high-quality conical burrs that grind up to 2.4g/second. They provide a very consistent grind thanks to a precision mount system that keeps the burrs stable during grinding.
2. 40 Grind Settings
The high number of settings can be easily changed to suit your needs. Whilst the Virtuoso Plus excels at the coarser end of the spectrum, it can still grind as fine as 200 microns for espresso if needed.
3. LED Display
The easy-to-read, bright LED display allows you to change the grind time by 0.1 of a second. This ensures you get the perfect amount for your coffee and that the results can be replicated time and time again.
4. Gear Reduction
The gear reduction transmission allows the burrs to turn more slowly. This reduces heat and possible damage to the beans whilst grinding. There is also a thermal shut-off to stop the motor from overheating.
Then you twist the central knob until it displays the length of time you would like to grind for. You have the choice of 0-40 seconds, changing in 0.1 second intervals, allowing excellent precision and repeatability. Though it goes up in 1-second increments and only down in 0.1 second ones.
Once selected, all that's left to do is push the button. And you're done.
Since the Vituoso+ doesn't measure by weight, it will take a bit of fiddling to get precisely the amount of ground coffee you are after. But, once you know, it becomes a touch-of-a-button job each morning for the perfect grind of your beans.
You can also just push and hold the button to use the "pulse" setting. This will give you a quick grind of the beans which is useful if you've not ground exactly enough or if you're looking to purge the last of an older set of beans from the grinder.
This is also superb for setting the grind time on your Virtuoso Plus. You can hold down the button to grind, while the timer counts up. Periodically weigh the grounds until you have the perfect amount. The timer on the LED screen will show you what to set it to.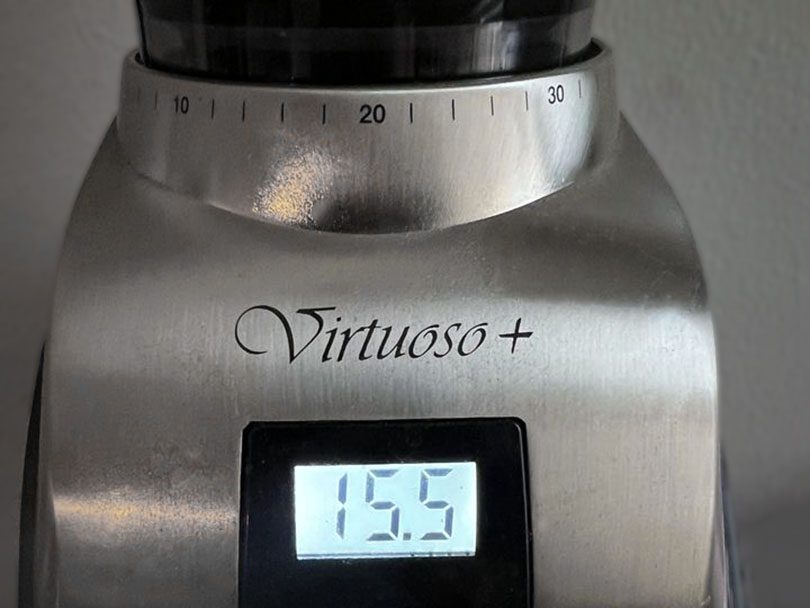 Ideally you'll want to leave it on the counter as it has a lovely sleek design that is worth showing off. The silver and black coloring should fit in with the decor of most kitchens.
It is on the more modern end of the scale when it comes to a grinder. So, if you prefer a more "old-fashioned" look, then it may not be for you.
The 40mm conical steel burrs are precision made and fantastic for the job at hand.
The Virtuoso+ uses a gear reduction system on its DC motor. This means that the burrs rotate at a steady 550 RPM. Doing so not only reduces heat build-up from ruining the grounds but also means it isn't as loud as some other coffee grinders around this price point.
The DC motor means you get the full force of torque from the start. This really helps with grinding speed.
Everything about the Virtuoso Plus feels sturdy – from the plastic bean hopper and grounds bin to the metal chassis.
The auto-shutoff to stop the motor from overheating also adds to this electric coffee grinder's durability.
But it's important to remember this is made for the domestic market. So, despite many of the components being "commercial grade", it has been designed solely with home use in mind.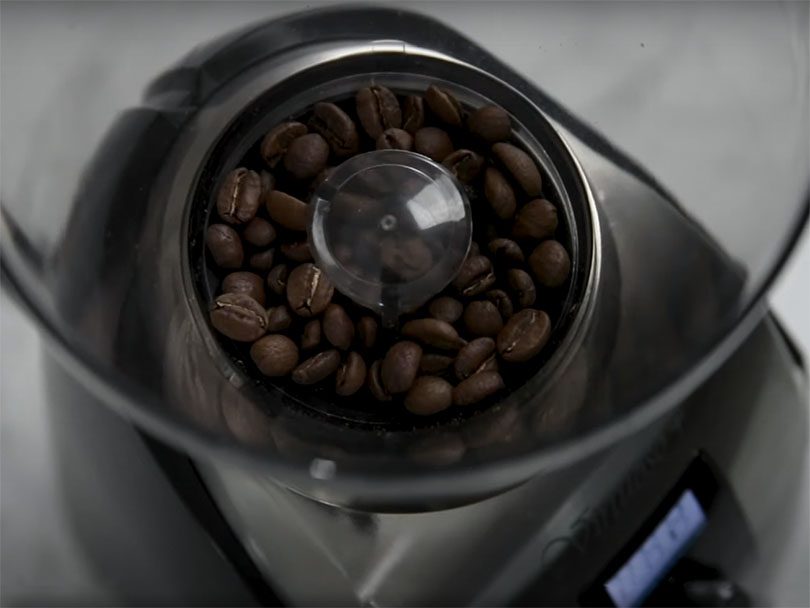 The consistency across the grind spectrum is superb with barely any deviation from the desired grind. It is particularly good at the mid-range settings for AeroPress and pour over.
Whilst it can make grounds fine enough for espresso, some of the "macro" jumps between settings in the espresso range make it a little hard to dial in. From 300-350 microns, settings 5-8, it works well. Outside of this, you start to see some bigger jumps in grind size which can be frustrating.
Overall, if you're looking for medium to coarse ground coffee, it is superb. Or, if you're looking for a grinder that will give you a consistent grind for your espresso and you aren't too worried about extreme fine-tuning, it will do this admirably too.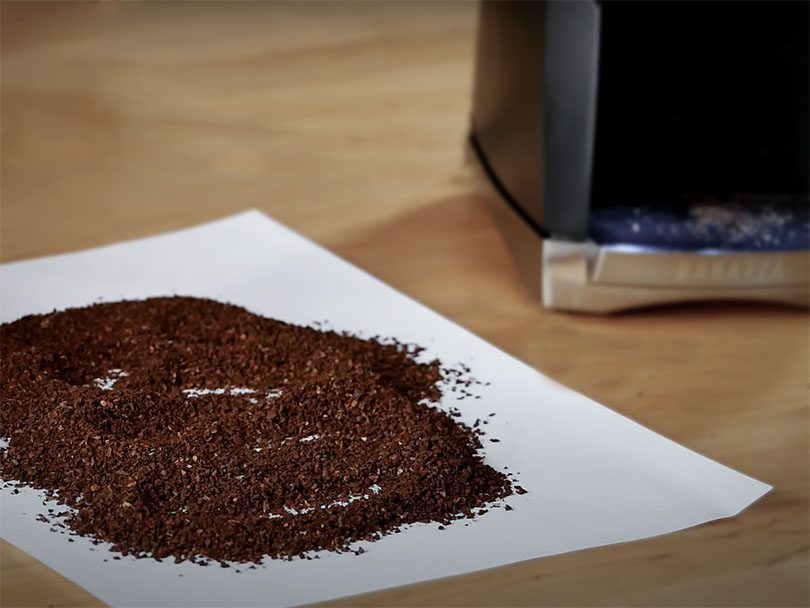 Psst.. Is French press your brewing method of choice? If so, check out our top grinder picks to get the best from your beans
Grinds don't really get stuck in the chute. So, you can quickly rinse out just the grounds bin after use so it's ready for the time you need to grind. Just make sure it's completely dry before then.
Grounds can find their way into some of the small gaps between the bodywork. If this happens, it can be a pain to clean if they start to build up. Although, luckily, very few grounds find their way to these places.
The top burr of the Baratza Virtuoso Plus can be easily removed. Doing so allows you to give the burrs a good, deep clean which is required to ensure peak performance over time.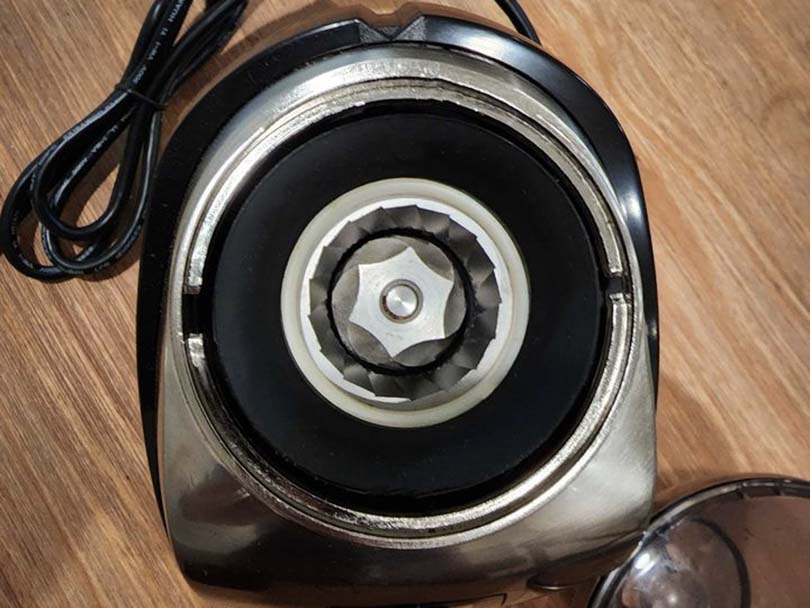 As far as coffee grinders go, this is about as easy as deep cleaning gets. Grinders are notoriously difficult to keep spotless so don't fret. 
Maintenance shouldn't be much of an issue either:
Everything on or in the Virtuoso+ is sturdily built and Baratza uses high-quality parts. If the previous generation is anything to go by, this grinder should last you 10 to 15 years with proper care.
However, if something does go wrong Baratza's customer service team is renowned for being very helpful and generally superb.
Overall, the Virtuoso+ sits somewhere between the entry-level machines, like Baratza Encore, and the more feature-packed advanced machines like the Breville Smart Grinder.
If you're an espresso lover looking for serious fine-tuning at the finer end of the grinds scale, this isn't for you. Unless you know you want 300-350 micron grind size. Otherwise the jumps in grind size are just too big on this electric coffee grinder.
However, if all you're after is consistent ground coffee, then you're in the right place. Particularly if you're looking to make AeroPress, pour over, French press, or cold brew, then the Virtuoso+ is the grinder for you.
Don't forget to Buy Your Baratza Virtuoso Plus Today
You Might Also Like
Find the perfect gifts for coffee snobs in your life. From budget-friendly to high-end, there are gift ideas for every coffee lover

The biggest sale of the year is here and we've hunted down the best Black Friday coffee maker deals so you don't have to. Get prepared here!