If you're looking for a manual coffee grinder, Hario Skerton is one of the top names you will come across.
The Japanese company, Hario combines quality, user-friendliness, and simple Japanese designs. Now, they have a range of coffee gear from the Hario V60 pour over cone, to kettles and grinders. The Skerton Pro falls into the mid to high-end range of their grinders whilst still being an affordable entry-level manual grinder that will turn your coffee Pro
So, dive into this Hario Skerton Pro review – the top offering currently in the Skerton hand grinder series. Here we look at the pros, cons, and whether this grinder is right for you.
Here, we have scoured the internet for all the reviews on this ceramic conical burr grinder to collate with our own. This means we have the most comprehensive buying guide you can find. Whilst, not all home coffee experts give numerical scores, we have averaged these out. Therefore, you can get a consensus opinion on how good this device really is and know for sure if it is right for you.
This article may contain affiliate/ compensated links. As an Amazon Associate, we earn from qualifying purchases at no additional cost to you. For more information please see our disclaimer here.
At a Glance: Hario Skerton Pro Review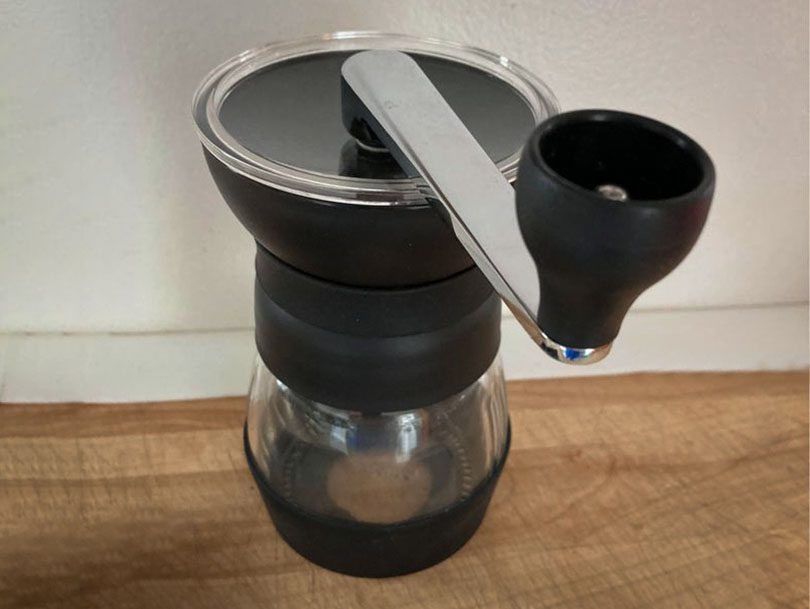 Hario Skerton Pro
Compared to other manual grinders currently on the market, the Hario Skerton Pro is a little slower and a little more expensive.
But it looks good, and it does work very well. So, these things are by no means deal-breakers.
The glass grounds bin is not ideal for the rough and tumble of traveling. But this can easily be protected. Or, if you're just taking it to work each day, it will hold up fine.
Overall, this is a high-quality manual grinder for everything from espresso to French press.
Pros
Good grind consistency at all settings
User-friendly: easy to use, adjust, and clean
Slow grinding which prevents loss of flavor or aroma
Cost-effective
Can grind fine enough for espresso
Large enough capacity for a few cups
Cons
Slow grinding speed so time-consuming process
Glass container makes it unsuitable for travel
Cheaper hand grinders are available
1. Ceramic Conical Burrs with Stabilizers
The 39mm ceramic burrs maintain a sharp edge and allow precise grinding across the range of grind sizes.
Hario has now stabilized the upper burr and uses springs underneath the lower burrs which keep them stable. This really improves the coarser grind settings and overall grind consistency.
2. Reinforced Handle
When you are grinding by hand, the ease of movement and feel in your hand are very important factors. When designing the Skerton Pro, Hario has upgraded the handle compared to earlier models. Now, you can enjoy a smooth, more solid grinding experience.
3. Stepped Grind Adjust
The grind adjustment on the original Skerton was difficult to alter. They have replaced this with an easily adjustable stepped version which will click as you move to each new grind position. This makes for a much easier user experience overall.
4. Silicone Grip
The last thing you want whilst hand grinding is for your grinder to slip all over the place. The Hario Skerton Pro comes with a wide silicon grip. This makes stabilizing the grinder whilst grinding much easier, further improving the uniformity of the grounds.
Beans go in the top. Lid on. Handle on. Turn until they are ground.
The silicone grip helps you keep it stable. And the rubber underneath the grinder will stop it from sliding around as you turn the handle.
The Hario Skerton Pro's grind settings are also fairly simple to adjust:
There is a small ring underneath the burrs which you turn to adjust the grind. This gives a small "click" as you reach each grind setting making it easy to switch between fine and coarse grinding quickly to suit your preferred brewing method.
As it is a manual grinder, the Skerton Pro doesn't come with any features which make grinding your coffee easier.
There's no in-built scale or timer so you know you're grinding exactly the right amount. Instead, you either need to weigh out your beans before putting them in or, more realistically, just eyeball it. With a bit of practice, you'll be nailing it down pretty quickly.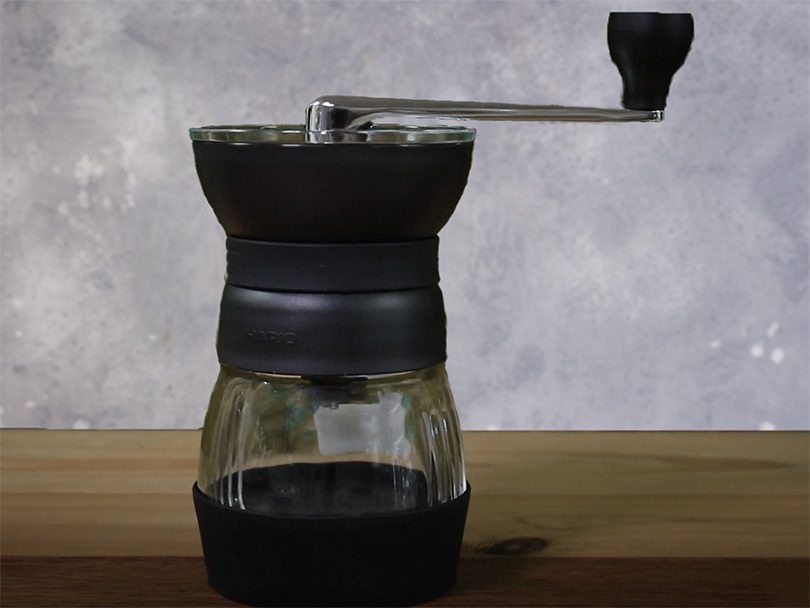 The glass casing for the grounds hopper is, however, a bit of a problem if you're backpacking or expecting some rough and tumble. But this can be wrapped in socks or something equally high-tech to keep it safe. So, it's not an automatic deal-breaker.
The glass looks really nice too. The black and glass combo gives a stylish and certainly not a cheap look to the grinder.
When designing the Skerton Pro, Hario made improvements to how secure the handle feels as well as the ease in gripping the hand grinder. Doing so has not only improved the experience of using the grinder compared to earlier models, but also the quality of grounds produced. The addition of the springs stabilizing the burrs is welcome too.
The 39mm ceramic burrs are of excellent quality. Plus, the choice of ceramic over stainless steel burrs offers a couple of benefits:
Firstly, there is no heat build-up during grinding which preserves the delicate oils in the grounds.
Ceramic burrs also stay sharper for longer than steel burrs, improving the longevity of the grinder.
The downside to ceramic burrs is they are more brittle than stainless steel. So, if you get a small stone or a particularly solid bean, they can chip which causes inconsistency in the grind. Therefore, you need to take care and look after them.
But the ceramic burrs can give you a very consistent grind for a long time.
At the fine settings, the grounds are very uniform with just a few fines getting in there. So, it's not perfect but certainly good enough for your daily cup, including espresso.
The coarser settings were a real issue with the earlier Skerton and Skerton Plus models. But the burr stabilization springs seem to have sorted this out. Now you can get a good coarse grind making it a great grinder for French press, drip, or cold brew coffee. Again, a few fines find their way in, but not catastrophically so.
The time taken to grind can be a bit of a pain:
For a double shot of espresso, it can take around 2 minutes to grind your beans. And for French press or drip coffee, you're looking at around 90 seconds.
This is pretty slow compared to the 1zpresso JX Pro which takes about 35 seconds for the coarse setting and just over a minute for espresso.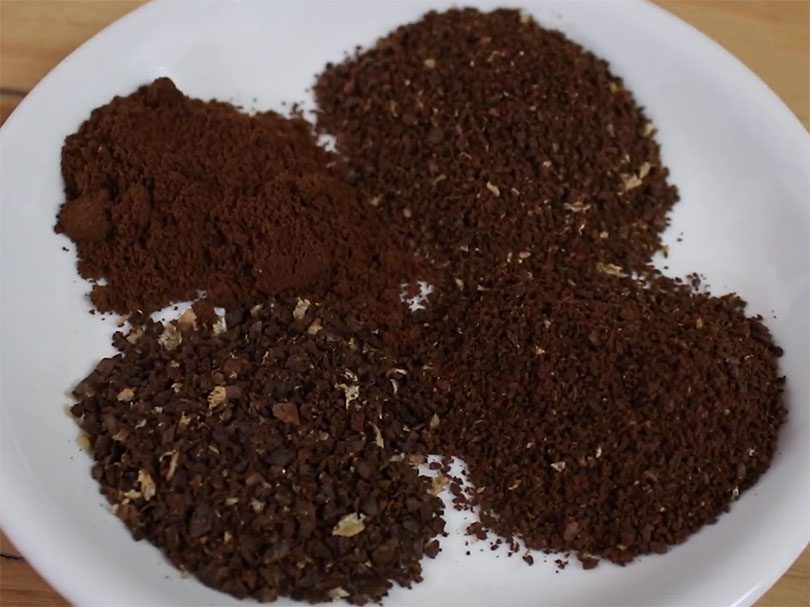 Psst.. Not sold on the Skerton Pro and want to check out other options?
Check out our full review on the 1Zpresso JX Pro – a faster portable manual grinder.
Deep cleaning your grinder isn't too difficult as the Skerton Pro comes apart fairly easily. But there are quite a few pieces to keep track of.
However, the good news is that it won't need to be done too often.
The slower speed grinding speed reduces static. So the build-up of fines in the burrs isn't too bad.
If you do a deep clean once a month you should be absolutely fine. And it's not so difficult a process as to make it a chore.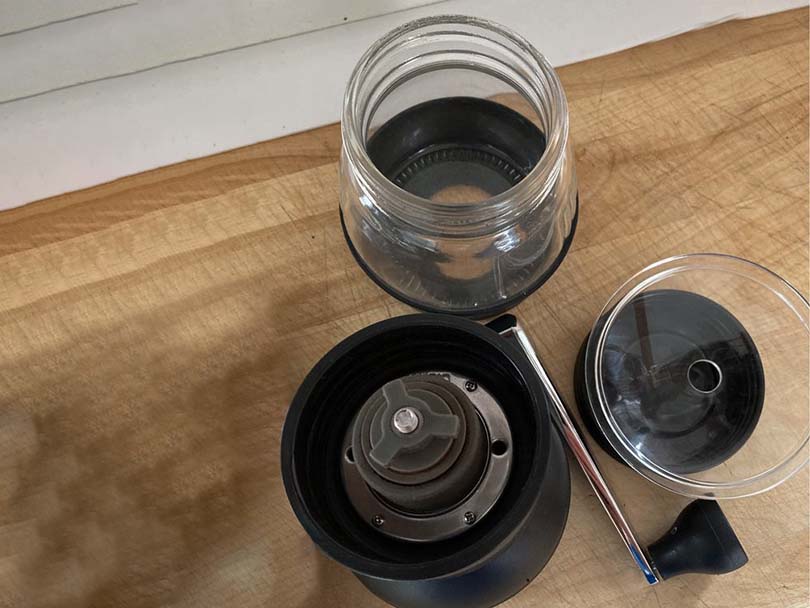 Each iteration is an upgrade on the previous. But what are the differences?
Skerton: The Hario Skerton is the original and not the one you want to buy. The other two are significant upgrades and not much more expensive. In fact, they are actually cheaper from some sellers.
Skerton Plus: The Skerton Plus has the addition of a stabilization plate on the burrs. This helps with the consistency of the grounds. Plus, the thread for the grounds bin is changed to a universal thread. This means that if the grounds bin breaks, you can use a regular mason jar or similar to screw onto the bottom of your grinder and you don't need a replacement from Hario.
Skerton Pro: The most up-to-date edition in the Skerton series is the Skerton Pro. It has all the features of the Plus, but with the addition of easy grind adjustments. A ring just beneath the burrs makes it significantly easier to change the settings.
As there is generally little to no price difference between the models, we would recommend getting the Skerton Pro. Of the three, it is definitely the best.
It ticks a lot of boxes:
Looks good
Feels great to use
Gives consistent results across a variety of grind sizes
So, this ceramic burr grinder should please everyone from the espresso drinker all the way to the French press lover.
The major drawbacks as outlined in this Hario Skerton Pro review are the slow grind speed and the fines that find their way into the grinds.
It's also relatively expensive in the manual grinder field. But you certainly won't be disappointed if you choose it for your manual coffee grinding.
Don't forget to Buy Your Hario Skerton Pro Today
Psst… Know you want a manual grinder but not sold on the Hario Skerton Pro?
Check out our picks of all the Best Manual Coffee Grinders here:
You Might Also Like
Find the perfect gifts for coffee snobs in your life. From budget-friendly to high-end, there are gift ideas for every coffee lover

The biggest sale of the year is here and we've hunted down the best Black Friday coffee maker deals so you don't have to. Get prepared here!