All Jura espresso makers are premium products with features, build quality, and looks to match. At the top of their range are two fairly staggering super-automatic espresso machines, the Jura Z10 and the Jura Giga 6.
If you're in the market for a serious piece of coffee technology then there are no better Jura coffee machines. But in the Jura Z10 vs Giga 6 battle of the Titans, who comes out on top?
Well, that depends on your needs. If you're after a machine to use at home that has the most functionality and the best coffee for the least effort then the Z10 is for you. For those after a high-volume coffee maker that could serve a busy home or even a small office, then the Giga 6 has the beef needed to keep everyone happy.
These two different Jura espresso machines are serious investments. So you'll want all the info before deciding which is perfect for you. Having put them both through their paces, we've gone deep into the weeds on the Z10 and Giga 6 so you can pick your perfect coffee partner.
This article may contain affiliate/ compensated links. As an Amazon Associate, we earn from qualifying purchases at no additional cost to you. For more information please see our disclaimer here.
At a Glance: Which Is Best?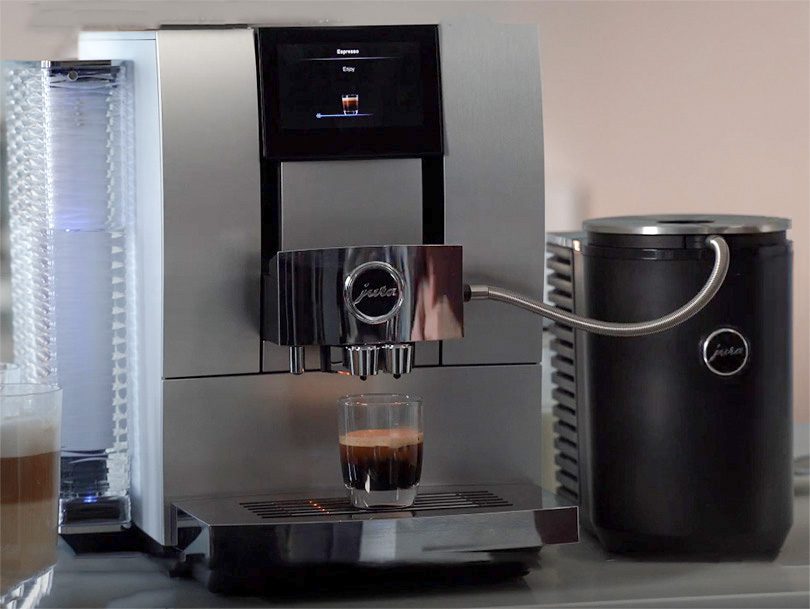 Choose the Jura Z10 if you:
Love cold brew coffee and want it at the touch of a button
Need the capacity to caffeinate 4-6 people
Want the very best quality espresso
Prefer 1st in Coffee? Click here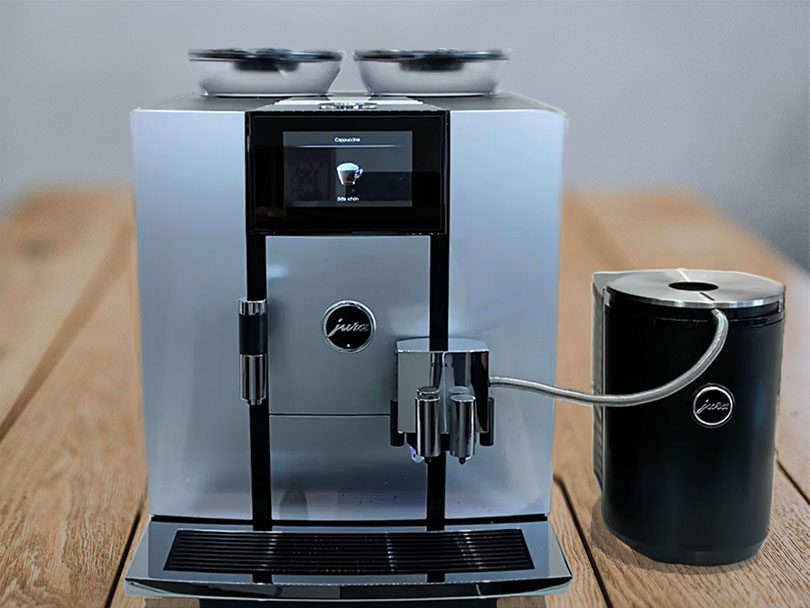 Choose the Jura Giga 6 if you:
Like to mix it up and try different types of coffee beans
Need the capacity to caffeinate lots of people
Have the extra space in your budget
Prefer 1st in Coffee? Click here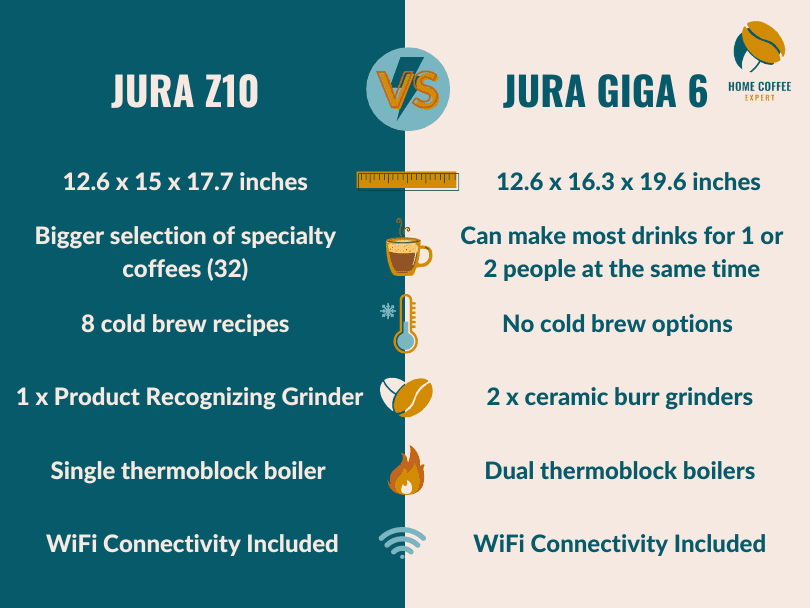 Size
Both the Jura Z10 and Giga 6 are big machines so you'll need a good amount of space in your kitchen or office.
They are both 12.6 inches wide, which isn't too bad for this type of espresso machine.
The Z10 is 15 inches tall so it might cause issues with any cabinets above the machine. It's also 17.7 inches deep, though this is relatively standard for super-automatic espresso machines.
However, the Giga 6 is even taller at 16.3 inches. So you'll really struggle to fill the bean hoppers if you've got wall-mounted cabinets. Realistically it needs a space to itself with nothing that could get in the way.
Whilst sizing up at a huge 19.6 inches deep, this Goliath Jura coffee maker should still fit on your countertop without issue.
Brew Group
Many of the top Jura espresso machines, including the Z10 and Giga 6, have a larger brew group giving you a dose range of 5-16g.
The 16g dose is great for getting full-bodied espresso shots and coffees. It's not that common to get such a large dose from a super-automatic espresso machine and is a big plus in the Jura E, Z, and Giga series machines.
Customization Options
When it comes to personalizing the coffee and milk options, the Z10 and Giga 6 have the same number of adjustment settings. There are 10 levels to adjust the strength of your coffee and 3 options for the temperature.
The milk similarly has 10 temperature options on both machines. Although the hottest setting is 150°F (66°C) which is pretty scorching for milk. But anyone who lives burning hot coffee should be happy.
For the non-coffee drinkers, you can also get just hot water at a choice of 3 temperatures – green tea drinkers of the world rejoice. Depending on your temperature preference, this can also be good for Americano or Caffè Barista.
App Connectivity
If, like us, you like playing with your coffee selections on your phone (or just want the option to be able to), then you'll enjoy that both the Jura Giga 6 and Z10 come with WiFi Connect installed. Whilst both espresso machines have very nice and intuitive displays, using the app can make customizing your coffee even easier.
It also means that you can line up drinks in a queue for the machine to make one at a time. This is ideal if you're entertaining or in an office environment when there is a mad pre-meeting rush for caffeine.
Jura doesn't often include WiFi Connect as standard, you usually have to buy the connection dongle separately. So, having it on both machines is a welcome rarity. Though I suspect there would be riots if a $3500+ espresso machine expected you to shell out extra for the necessary connector to use the app.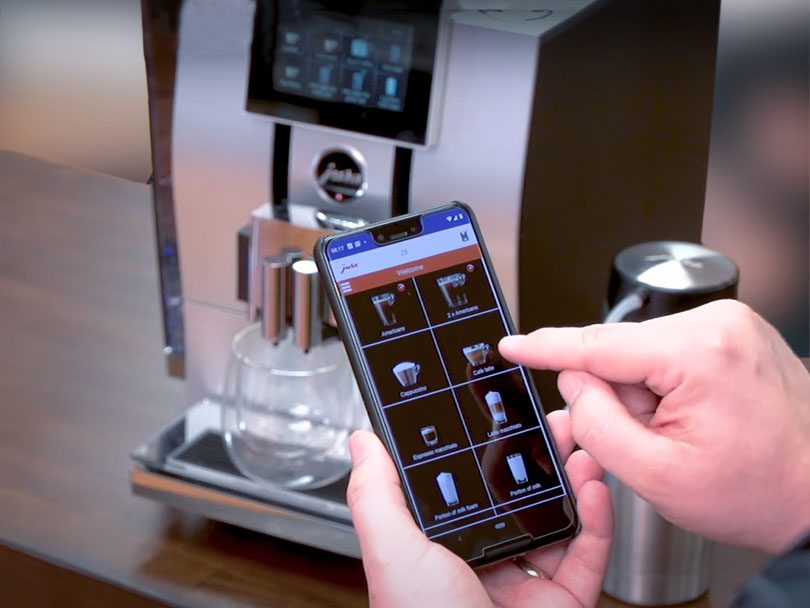 Grinder
The Jura Z10 has a special "Product Recognizing Grinder" (P.R.G.) which is currently the best grinder in the Jura lineup.
The idea is that to make the best possible cup of coffee, you need to adjust the grind size depending on the length of coffee you're making. So, you'd need finer grounds for espresso, coarser for lungo, and even coarser for the pot of coffee and cold brew options. To save you from endlessly fiddling with grind settings, the Z10's grinder automatically adjusts its settings to your chosen drink.
Whilst you only get 5 settings (which is low compared to other Jura coffee makers), the automatic adjustments work so well that you won't care.
However, the Giga 6 has a previous generation of this same concept. The "Automatic Grinder Adjustment" does the same job, but not quite as well as the P.R.G.
Where the Giga 6 comes into its own it that it has not one, but two ceramic plate grinders. Whereas the Z10 has just one stainless steel burr grinder. Using ceramic grinders reduces the amount of heat generated during grinding and can mean more of the flavorful volatile oils remain in your grounds.
The big benefit of having two grinders is you can use two different types of beans. So maybe you'd want one for regular and one for decaf coffee. Or maybe mix things up from two different coffee growing countries. You can even go one step further by creating your own blend from both the grinders.
For most people, creating their own blends is probably a bit much. But in an office setting or if you share a home with a decaf drinker, this could be a total game changer.
Cold Brew Coffees
For cold brew drinkers, this round of the Jura Z10 vs Giga 6 battle is a clear win for the Z10.
It has a fairly incredible trick of brewing cold versions of all your favorite coffees. Now these aren't actually cold, they're room temperature but they're closer in style to smooth, sweet cold brew. You can also chuck some ice or whiskey rocks in there and have a beautiful iced coffee.
This works really well too. The coarser grind size and slow extraction get a beautiful espresso from room temperature water. There are other machines that offer "over ice" coffees that brew lukewarm coffee which you cool and dilute with ice (for example, see our review on the DeLonghi Eletta Explore).
But the Z10 cold coffees are in a different league entirely in terms of quality.
The Giga 6 doesn't offer these and this is where the big difference in available coffee recipes comes from. If you never drink cold coffee or you don't trust that a super-automatic machine can produce good ones, then this feature may not excite you. But we're big fans and feel it really should get you excited, even if only to show off to guests.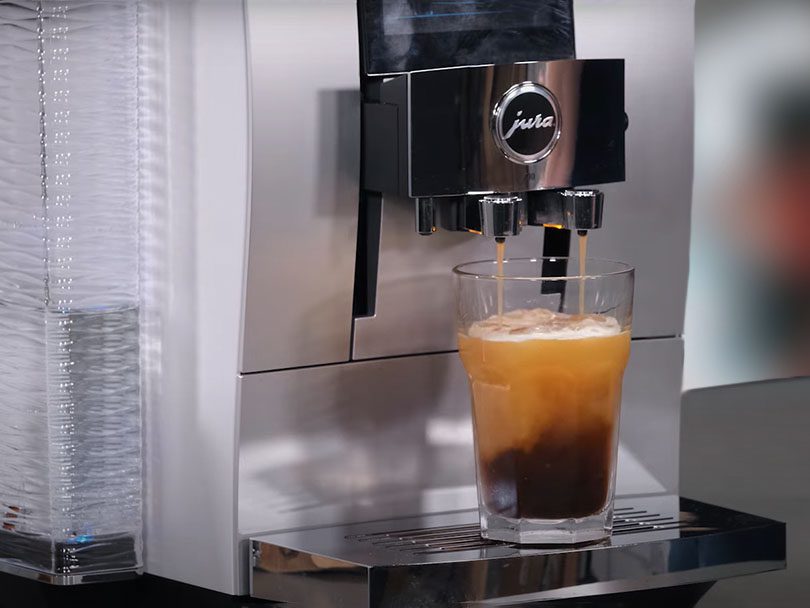 Drinks Recipes
It's not just the cold brew options that differ between the Giga 6 and Z10. There are also some differences in the hot coffee options. Whilst there aren't many, if your favorite is missing from the lineup on one machine then that can make a huge difference to deciding which is best for you.
So use this table to make sure you won't be left without your favorite style of espresso drink:
| Drinks | Jura Giga 6 | Jura Z10 |
| --- | --- | --- |
| Espresso | ✓ | ✓ |
| 2 x Espresso | ✓ | ✓ |
| Espresso Doppio | ✓ | ✓ |
| Cold Brew Espresso | ✕ | ✓ |
| Coffee | ✓ | ✓ |
| 2 x Coffee | ✓ | ✓ |
| Jug of Coffee | ✓ | ✓ |
| Cold Brew Coffee | ✕ | ✓ |
| Caffè Barista | ✓ | ✓ |
| 2 x Caffè Barista | ✓ | ✓ |
| Americano | ✓ | ✓ |
| 2 x Americano | ✓ | ✓ |
| Cortado | ✓ | ✓ |
| 2 x Cortado | ✓ | ✕ |
| Cold Brew Cortado | ✕ | ✓ |
| Macchiato | ✓ | ✓ |
| 2 x Macchiato | ✓ | ✕ |
| Cold Brew Macchiato | ✕ | ✓ |
| Latte Macchiato | ✓ | ✓ |
| 2 x Latte Macchiato | ✓ | ✕ |
| Cold Brew Latte Macchiato | ✕ | ✓ |
| Latte Macchiato with Extra Shot | ✕ | ✓ |
| Caffè Latte | ✓ | ✓ |
| 2 x Caffè Latte | ✓ | ✕ |
| Cold Brew Caffè Latte | ✕ | ✓ |
| Caffè Latte with Extra Shot | ✕ | ✓ |
| Cappuccino | ✓ | ✓ |
| 2 x Cappuccino | ✓ | ✕ |
| Cold Brew Cappuccino | ✕ | ✓ |
| Cappuccino with Extra Shot | ✕ | ✓ |
| Flat White | ✓ | ✓ |
| 2 x Flat White | ✓ | ✕ |
| Cold Brew Flat White | ✕ | ✓ |
| Flat White with Extra Shot | ✕ | ✓ |
| Portion of Milk | ✓ | ✓ |
| 2 x Portion of Milk | ✓ | ✕ |
| Portion of Milk Foam | ✓ | ✓ |
| 2 x Portion of Milk Foam | ✓ | ✕ |
| Hot Water | ✓ | ✓ |
| Hot water for Green Tea | ✓ | ✓ |
With 28 vs 32 specialty coffee drinks, that's a lot to go through. But, aside from the cold brew options, the differences reflect who these two machines are aimed at:
The Giga 6 is more suited to an office setting or a house that drinks a lot of coffee. You can see that almost all the drinks are also able to be poured two at a time – absolutely key when you need a machine to dispense 10+ coffees relatively quickly.
On the other hand, the Z10 focuses more on having variations of individual drinks. In doing so, it sacrifices the ability to pour two coffees at the same time. Although, the coffee fanatic in search of a big caffeine hit will appreciate having all the "extra shot" options on their favorite specialty coffees.
Boilers
The Jura Z10 has a single thermoblock boiler meaning you can't foam milk and brew coffee at the same time. However, the thermoblock is so fast that this won't present any issues unless you're looking to make 5 or more milky coffees in a row. In that case, it may start to feel a little slow and sluggish.
The Giga 6 has two thermoblock boilers, plus two pumps and two fluid systems. It's essentially two super-automatic coffee machines in one box. This is why it can make 2 of almost any coffee at the same time. Absolutely ideal for offices or homes where lots of coffees are needed quickly.
Extraction Technology
While the Z10 and the Giga 6 both have the same brewing unit size and customization options, the Z10 has one extra piece of coffee extraction technology to tip it above the Giga 6.
The "3D Brewing" technology is designed to ensure that there is even extraction throughout the entire coffee puck. This leads to bolder-tasting espresso with more nuanced flavors.
Now, we drink a LOT of coffee and in blind taste tests we really struggled to tell the difference in the espresso quality. But it's something that Jura believes in enough to put it in all their newer espresso makers.
For those who need a high volume of really good coffee with all the choice to satisfy various tastes then the Giga 6 is a perfect machine. Having the ability to freshly grind both regular and decaf coffee plus pour lots of drinks in a short time is ideal for offices or households with a lot of coffee drinkers.
For regular home use, the Z10 is the better machine. It has more drinks options, a better grinder, better extraction, and the wonderful cold brew options too. It's also ever so slightly smaller, which may matter to you too.
You Might Also Like
Beautiful, simple, and delicious espresso for around $1000? We had to test if such a thing was possible – read our Jura ENA 4 review to see

Jura ENA 8 vs Gaggia Babila is a battle of philosophies. Is the convenience of the ENA 8 superior to the precision of the Babila?