Jura makes luxury espresso machines that always perform at the top of their game. But within that high-end range, they do still have a range of price brackets available. It's at what Jura would consider a "budget" offering that the Jura ENA 8 falls.
They've taken their incredible E8 espresso machine and stripped it back. So in this Jura ENA 8 review, we take a deep dive into whether this more basic version offers incredible value for money or whether it just falls short.
By the end of this review, you will know whether this is the perfect Jura coffee maker for you. So let's jump right in:
This article may contain affiliate/ compensated links. As an Amazon Associate, we earn from qualifying purchases at no additional cost to you. For more information please see our disclaimer here.
At a Glance: Jura ENA 8 Review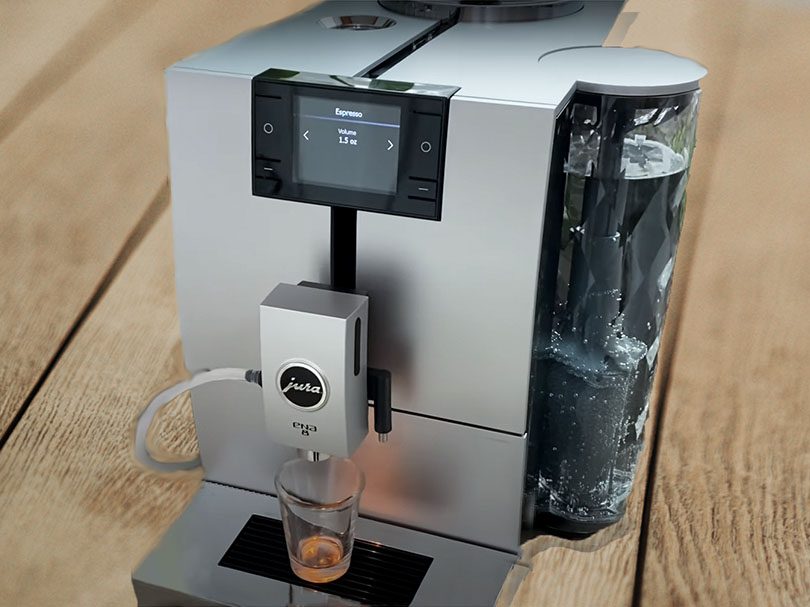 The ENA 8 is a "budget" version of the spectacular Jura E8. It is around $400 cheaper and is stripped back in terms of functionality.
But the coffee quality is still amazing, and when it comes to customizing your espresso you get all the same options. There are 7 fewer pre-programmed drinks, and the milk isn't customizable.
So the obvious question you need to ask yourself is "do I need those things?"
For a lot of people, the answer is no. If you care about how good your espresso is but the milk is just a bonus, the ENA 8 could be your perfect machine. It looks great, is easy to use, makes superb drinks, and comes with all the build quality of Jura.
It is still expensive. But it offers a fantastic middle ground for espresso lovers who want fuss-free amazing coffee at home but don't want to stretch to the upper echelons of Jura super – automatic espresso machines.
Pros
Superb coffee quality
Compact (10.7 × 12.7 × 17.5 inches)
10 pre-programmed drinks
One touch operation
Easy to use
J.O.E. app connectivity
Automatic cleaning
2 year warranty
Cons
Still an expensive coffee machine
Relatively small water carafe (37 oz)
Bean hopper is also on the small side (4.4 oz)
Power button is on the back
1. 10 Pre-Programmed Drinks
Choose between 8 specialty coffees, hot water, or milk foam at the touch of a button. You can also customize each drink and save your coffee creation so your perfect coffee is waiting for you.
2. Incredible Coffee Customization
Make your perfect coffee just how you like it by choosing between 3 temperature settings, 10 strength settings, and volume adjustments in 0.5z increments.
3. J.O.E. App Compatible
You can connect to your ENA 8 through the Jura app to customize and save your favorite coffees then order them from your phone. The only downside is that you need to buy the Smart Connect Bluetooth dongle separately (around $60).
4. 3D Brewing
Jura's unique 3D brewing technology ensures all the grounds in the puck are extracted evenly for more flavorful espresso.
5. Pulse Extraction Process (P.E.P.)
Jura tech is full of complicated acronyms but this one's pretty cool and unique to the Swiss coffee powerhouse. Water is pulsed through the coffee grounds, rather than a constant flow. The result of this process is better extraction and fuller flavored coffee.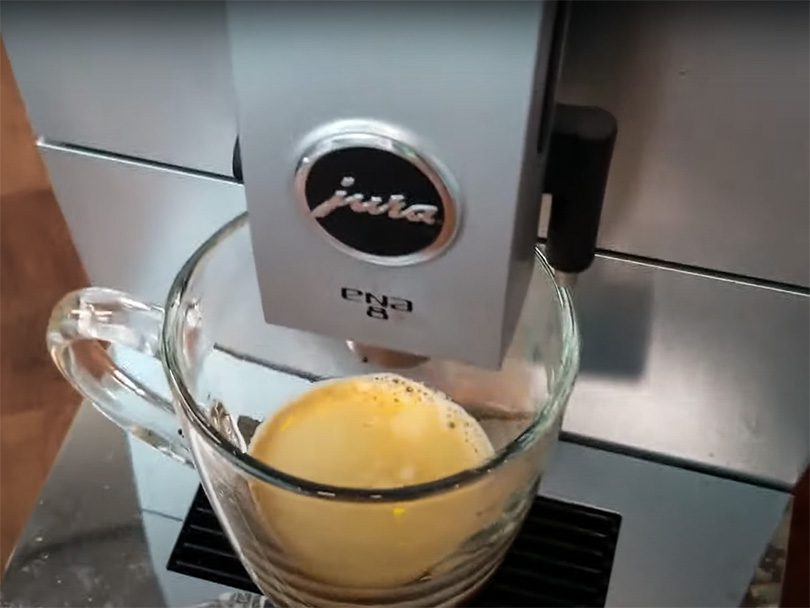 The large screen allows you to scroll through the available coffees, then choose your favorite. One push is all it takes for the ENA 8 to brew your drink of choice.
If you want to adjust the settings of a coffee, simply hold down the button next to your preferred drink. Doing so will bring up the menu to adjust the temperature, strength, and size of the coffee. All your changes can be saved so next time one touch is all you need.
You can also adjust the strength and size of your coffee as it pours. But you've got to be fast to adjust the strength as the grinder will be whirring away as you do it. To reduce the volume, you can press the button again during brewing to stop extraction. Giving you back this level of control is pretty standard on quality coffee machines.
Then there's the J.O.E. app.
For some people, using the app will be the easiest option of all. But where it really comes into its own is in busy households with several flat white drinks, for example, who don't all agree on the optimum settings for their flat white.
To avoid any arguments, you can save your preferred settings to your phone then everyone gets their perfect drink at the tap of their phone.
Annoyingly, the Smart Connect dongle costs extra. On an automatic coffee machine at this price, we'd like to see it included.
Jura has obviously decided that they should market the ENA 8 to those who use single-serve capsule machines with their tagline of "always ground, never capsulated."
This machine houses the excellent Aroma G3 grinder which produces good, consistent ground coffee. No matter your preferences or tastes, the coffee produced from freshly ground beans will always be vastly superior to that made with capsules.
Most of the top super automatic espresso machines have a ground coffee bypass option. And the ENA 8 is no exception. We're a fan of the flexibility this gives you if you occasionally want a decaf or to try out a new variety of coffee beans before committing.
As always, the quality of the beans you put in really matters. If you buy cheap, nasty, coffee beans you'll get cheap, nasty coffee out of your machine. Always buy the best espresso beans to ensure the best coffee from Jura espresso machines.
The Looks
The ENA 8 follows a long tradition of Jura coffee makers being great to look at. The big, bright screen and chrome accents will make a sleek addition to any kitchen.
Where the Jura ENA line stands out is the diamond pattern on the water carafe which gives the machine a kinda faux crystal look which is also quite nice, if a little unusual.
They have also deviated from the usual options of only black or white in terms of color. With the ENA 8, you can choose to have different colored side panels in 'Metropolitan Black', 'Nordic White', or a (not at all sunset-like) 'Sunset Red'. All offer a sleek, neutral aluminum front as is the Jura way with as few buttons as possible. It makes the machine look like an extension of your kitchen cabinets and not some control panel from an 80s sci-fi.
By high-end espresso machine standards, the ENA 8 is a compact super-automatic coffee machine – it's only 10.7 inches wide and 12.7 inches tall. So, if you're short on counter space, that's pretty good. But at 17.5 inches deep, it's going to cover most of the depth of your countertop.
Most compact coffee machines are quite deep so we can't complain too much – all that espresso brewing wizardry has to go somewhere. But our one gripe about the ENA 8's depth is that the power button is on the back. So it's not the easiest to reach if you have little arms like my wife, Katie.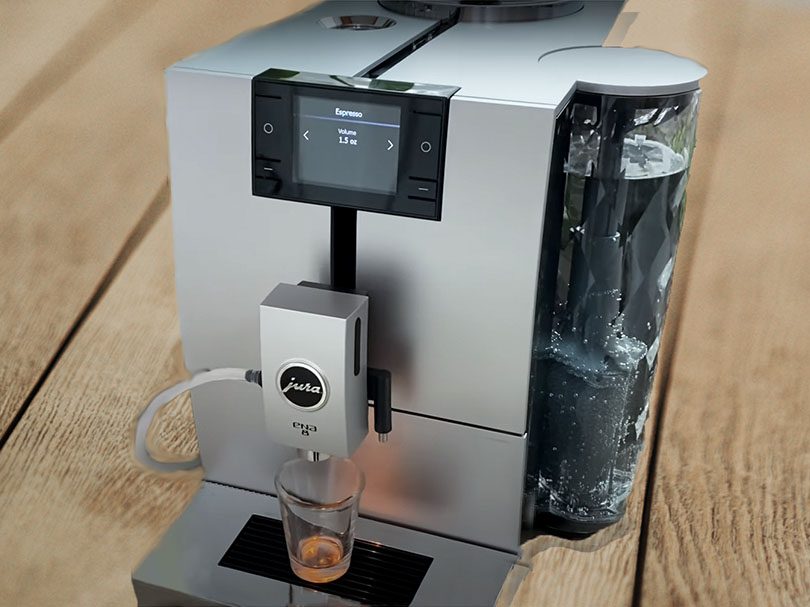 The Build
This may be a more "budget" offering in the Jura range, but by anyone else's standards, it's still a premium coffee machine. The good news is it also feels premium.
The quality of all the parts from the drip tray, to the buttons, and the water carafe look and feel high quality. A special shout goes to the water carafe which feels especially nice if a little small at only 37 oz.
Similarly, the bean hopper is a little on the small side at 4.4oz. We never found this to be an issue, but then there are only 2 of us. Perhaps for a family of 4 coffee drinkers, you'd find this more irritating. Also, as this is smaller than most bags of specialty coffee, you need to have an air-tight container to store the rest of your beans when they're not in the hopper.
The high-quality build of the important parts – the grinder, brewgroup, and thermoblock boiler – means the ENA 8 is more of an investment than some cheaper machines. But you're looking at 5 to 10 years of coffee from the ENA 8, especially if you pay to get it serviced every year. Longevity is always something to consider when looking at espresso machine prices.
However, if you do have any issues, the ENA 8 comes with a 2-year warranty as standard.
You get the same grinder, 10 strength levels, and 3 water temperature options as the fantastic Jura E8. Plus, the pulse extraction process and 3D brewing are more than just marketing gimmicks, these features really set Jura super automatic espresso machines apart from the competition like Breville.
Almost all the settings are usable too, not something we often say in super automatic espresso machine reviews. We find the bottom two strength levels a bit weak, but coffee taste is subjective so they may be ok for you. It's most likely that you'll find one setting you like and never change it. But we're confident you'll find the setting that produces espresso you love.
The milk foam customization is where the big cut backs have been made compared to the E8.
The ENA 8 makes superb cappuccino or latte macchiato foam. But we feel it's a bit frothy for latte or flat white, but again, that's just our opinion. It still has the options for these specialty coffee drinks on the menu but, in our opinion, they fall a little short.
If you're not a big milky coffee drinker or if you love a cappuccino/ latte macchiato, then you probably won't even notice the lack of milk customization.
Instead, you get a pure coffee box that's just got the essentials. Although these essentials still mount up to a greater range of customization than most coffee machines available.
Even app connectivity is becoming the norm these days. Though the ENA 8, like so many Jura coffee machines, only has this as an added extra. The functionality is there, but you need to buy the adapter to let your machine talk to your phone. This annoys me since they cost so much but maybe we're the weird ones for wanting to use it?
Talking of added accessories, the Jura ENA 8 doesn't include a milk container. It does come with a hose though so you have a couple of options:
Buy the super-expensive but super-impressive Jura Cool Control
Buy the branded clear Jura milk container
Use literally any other container you already have, including just putting the milk in a glass and popping the hose straight into it
It will auto-rinse both the coffee and milk systems after each use. Then, at the end of the day, it will run a quick auto-clean cycle which will take around 2-3 minutes. The screen will have a little red indicator to remind you to rinse the milk hose after you've used it too.
The fact that the milk system is just a hose that you can put into any milk jug really cuts down on cleaning. There are no corners or milk container tubes that are often hard to clean. It really is a dream come true.
The one knock on Jura automatic espresso machines is the inability to remove the brewgroup and clean it yourself. Jura insist their own cleaning schedule keeps it clean, and we've seen no reason to doubt this. But I get why some people would prefer to be able to remove and clean it out.
Keeping on top of cleaning your machine will not only keep it looking good, it will also ensure your machine lasts for years to come and stops you from drinking burnt tasting coffee. For peace of mind, there are various approved Jura service sites where you can get your Jura coffee machine deep cleaned every couple of years if you like.
The water filter keeps descaling down to around twice a year, depending on usage. However, you do need to use their expensive branded cleaning products. It takes around 30 minutes to do which is all very standard for espresso machines.
Well, for starters, the ENA 8 has 7 fewer pre-programmed drinks, no touchscreen, and no milk customization. It's also more compact with a smaller bean hopper and water tank.
Now, if none of that bothers you, then the ENA 8 could be the perfect choice for you. Not paying for features you won't use is a big mantra for us. Especially when looking at new super-automatic espresso machines with their super shiny price tags.
However, if you are a flat white or latte drinker, enjoy making a cortado, or maybe you just like to have the option, then that $400 difference to get the Jura E8 maybe isn't so big. After all, the best super-automatic espresso machines last 5 to 10 years. So it's not a huge amount extra over that time period.
If you want to dive deeper into the E8, read our full review here. Or, for an even more stripped-back version, see how the ENA 8 and ENA 4 compare.
It comes packed with over 40 specialty drink options including their "to go" and "over ice" versions. Even just having the option for iced coffees sets it apart from the ENA 8. And for slightly less money. So the Eletta Explore may feel like a no-brainer.
However, do you actually want all these things?
The coffee isn't as good as the ENA 8. And while the iced drinks are good, do you actually drink iced coffee? Or use a travel mug for that matter?
If you answered yes to those questions, then the Eletta Explore is the machine for you (full review here).
But for my fellow purists or those with more simple tastes, then the simple perfection offered by the Jura ENA 8 takes the win. But, either way, they're both great coffee machines.
Another alternative for less simplicity but way more control over the finer details of your espresso quality, see how the ENA 8 stacks up against the Gaggia Babila, here.
More Options or Greater Simplicity?
Here, the focus is solely on the espresso quality with really good milk foam – just as long as you like cappuccino.
It's expensive for what it is. So if you want more functionality, or a cheaper machine in general, then the DeLonghi Eletta Explore is a fantastic option for a little less money.
Similarly, if you feel you want all the quality and it's worth the extra cost, then the Jura E8 is a brilliant machine that we think is one of the best you can buy.
The aim of this Jura ENA 8 review is to highlight that there is a niche in the market for a stripped back coffee maker like this. It's beautiful to look at, easy to use, and makes amazing coffee. That's a lot of ticks in the positive column.
So, if you're hesitating over the cost of the E8, the ENA 8 could be the perfect option.
Don't forget to Buy the Jura ENA 8 Today.
You Might Also Like
Beautiful, simple, and delicious espresso for around $1000? We had to test if such a thing was possible – read our Jura ENA 4 review to see

Jura ENA 8 vs Gaggia Babila is a battle of philosophies. Is the convenience of the ENA 8 superior to the precision of the Babila?