Not all coffee needs to be served with milk – a wildly controversial opinion, I know. But there are plenty among us who only ever drink black coffee. So why pay extra for a milk frother you don't need?
Our Jura E4 review looks at the latest Jura coffee maker to shun the milk frother in favor of espresso purity. At around $1200 it's a bold move. But if any company can justify it, Jura can.
Here you'll find our complete Jura E4 review and buying guide. We've tried to see what it would be like living with the Jura E4 so you get the best information on whether this is your perfect espresso machine.
This article may contain affiliate/ compensated links. As an Amazon Associate, we earn from qualifying purchases at no additional cost to you. For more information please see our disclaimer here.
At a Glance: Jura E4 Review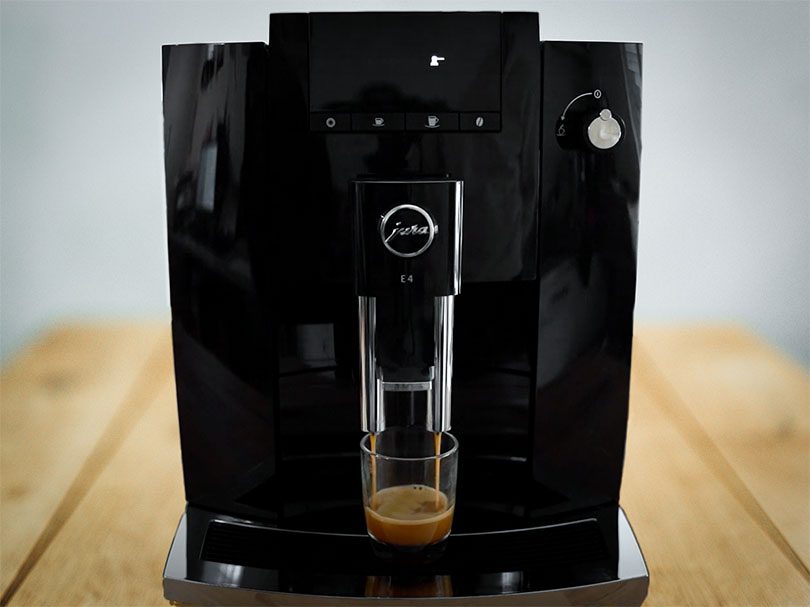 Jura has really focused on having a machine that makes the best possible black coffee. They have unleashed a full raft of technology in the E4: intelligent pre-heating, 3D brewing, and a professional-grade grinder.
The results are spectacular.
You will not find better black coffee specialties from a super-automatic without paying a lot more money. And it's so easy to use too – just push a few buttons and you're done. Or tap away on your smartphone.
Yes, it's expensive. It's limited. And it's annoying that the app connectivity costs extra on a machine at this price.
But if you love espresso/ black coffee and want professional coffee shop beverages easily and quickly, then there's no better machine out there at this price.
Pros
Makes incredible espresso
Compact
Looks fantastic
JOE app compatible
Features all the latest tech
Can brew 2 coffees simultaneously
Easy to clean
Dial for hot water only
Cons
Expensive
No milk frother
Only makes espresso, coffee (lungo), or doubles of each
WiFi Connect has to be purchased separately to use the app
1. Professional Aroma Grinder
The Professional Aroma Grinder is Jura's top grinder model and features stepless adjustments and the best grind consistency for more even extraction and better flavor.
2. Intelligent Pre-Aroma Brewing System (IPBAS)
If there's one thing that Jura loves, it's a wild acronym. Their IPBAS pre-infusion system allows the coffee grounds to "bloom" which releases trapped CO2. The result is better flavor extraction.
3. 3D Brewing
Two-dimensional coffee brewing is so last year. Instead, Jura's cool technology ensures even water distribution through the coffee puck. This guarantees full flavor extraction from the whole puck and a better cup of joe.
4. Pulse Extraction Process (P.E.P.)
This bit of tech is unique to Jura and involves pulsing the water through the puck. As a result, you get exceptional quality coffee.
5. 5-16g Dose
Programmable coffee strength levels allow you to get the perfect flavor to suit you in both espresso and longer coffees.
6. J.O.E. App Compatible
Using the J.O.E. smartphone app takes the Jura E4 up a notch. It allows you to customize and order your drinks from your phone and also gives you access to 2 extra craft coffee options: café barista and lungo barista. The downside is that you need to purchase the WiFi Connect dongle separately for around $60.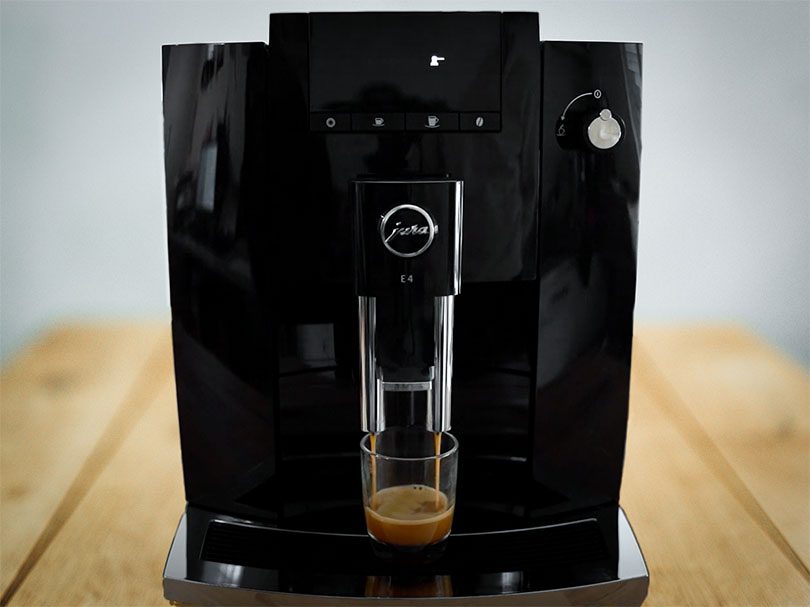 As shown in the following image, you have 4 buttons and a display with 3 beans and a scoop. Cryptic right? From left to right, there's a button to go into the settings for cleaning, a button for espresso, one for coffee, and one to adjust the strength.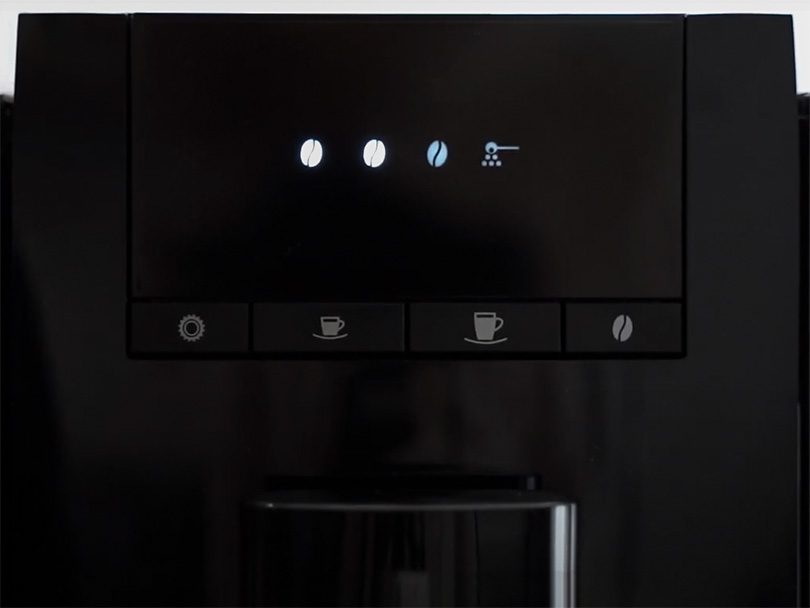 To use, you simply press the coffee bean button to cycle through the three strength options or to choose the pre-ground coffee bypass. Then push either espresso or coffee to get what you want. If you want 2 espressos or 2 coffees, simply press it twice.
Incredibly easy, nigh on impossible to mess up.
If you want to adjust the size of your coffee, you can manually control this by pushing and holding the button until the display flashes. Then press it again when the volume you want has poured.
For even greater ease, everything can also be done in the app if you prefer.
The app also gives you extra black coffee specialty recipes – the café barista and lungo barista. These are Jura's versions of americanos. But you can also make your own versions of these without the app by using the hot water switch on the front right of the machine and then adding espresso to it.
The coffee spout is also adjustable so you can make sure it sits nicely above your favorite cup.
The whole process from turning the on Jura E4 to sipping on your delicious espresso will take less than 2 minutes. A coffee lover's dream.
The Professional Aroma Grinder is really superb. It's the newest and top-of-the-line version from Jura which is a real selling point of the Jura E4.
The grinder is whisper quiet, is stepless, and produces incredible quality and consistency of coffee grounds. And, when the quality is this good, it would be a real waste to use pre-ground coffee.
However, if the need for something different strikes, there is a pre-ground coffee chute. This is standard across all the top Jura coffee machines and is a great feature if you want to use the occasional ground decaf coffee beans or if you're making coffee for someone who doesn't appreciate your amazing quality beans.
To get the best results from your shiny new automatic espresso machine, you need to start with the best espresso beans.
Check out the top choices from experts throughout the coffee industry:
The Looks
Jura machines are all beautiful. The minimalist style is timeless and the black or white, sorry, 'Piano Black' or 'Piano White' Jura E4 coffee maker will age like a fine wine in your kitchen.
With 4 buttons and a very simple display, the minimalism has gone maybe a bit too far. It'd be nice to have a touchscreen but it doesn't ruin the look and keeps simplicity at the fore.
We've come to expect big coffee makers from Jura. But the E4 is only 11″ wide and 13.8″ tall.
So, if you're struggling for counter space this is a good size coffee machine. Don't get us wrong, it's not something you can shove in a corner. Instead, it will become a feature of your kitchen proudly displaying all its espresso glory.
The Build
We've had a lot of Jura machines over the years, and we've never had to question the build quality – they are always great. But, in case you're incredibly unlucky, they do come with a 2-year warranty as standard.
Every part of the E4 looks and feels premium quality. Yes, it's mostly made of plastic but we aren't going to pretend that all plastic is created equal or that it's really an issue from a build quality standpoint.
The latest generation integrated coffee grinder is joined by their 8th-generation brewhead too. All these upgrades to the actual workings of your Jura machine do more than make amazing coffee. They also ensure your machine will continue to make amazing coffee for up to 10 years.
The 10oz bean hopper is a nice size for most bags of specialty coffee beans and the 64oz water tank means you won't be rushing to refill it all that often. The used coffee grounds container capacity is 16 pucks which gives you a little wiggle room before you have to empty it.
Luckily for Jura, all the fancy tech acronyms actually do produce spectacular specialty coffees. It's why Jura remains the leader in coffee quality from super-automatic coffee machines.
From the superb stepless grinder to the improved brewing unit with pre-infusion, every stage is carefully managed to get the best possible results. You don't need the finest grind with the max dosage to get a great coffee (a common issue with this type of espresso machine). So, you have lots of room to tailor your espresso.
By the time you've set your grind, dose, and water volume you'll be enjoying rich, intense, flavorful espresso with the touch of a button. You can make americano manually on the machine or automatically using the app though it's called "café barista" for some reason.
There's no adjustable coffee temperature, but we don't really think you need it. The E4 is already calibrated to brew espresso at the optimum temperature and we generally find that machines with this feature only really work well on one setting anyway.
For black coffee drinkers, the Jura E4 automatic coffee machine is absolutely perfect.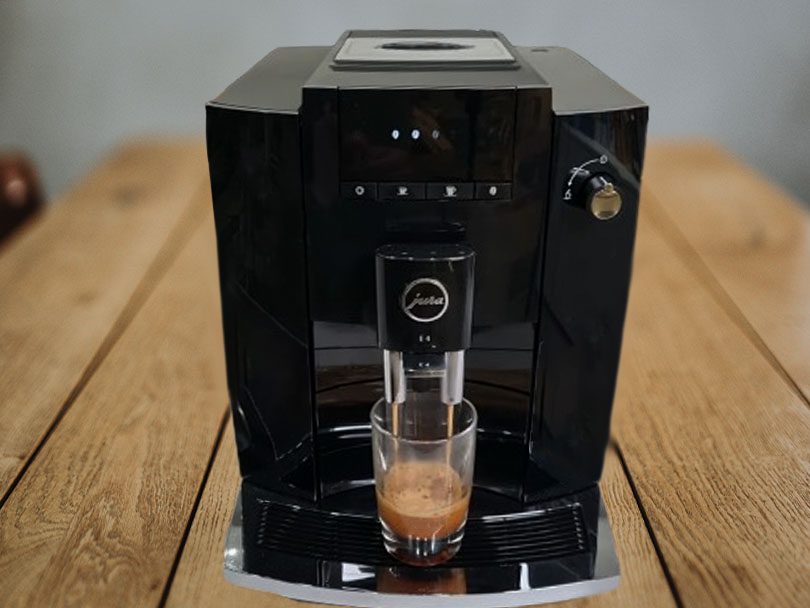 On the outside, this is a pretty stripped-back espresso machine. But it's really all about the technology inside the machine. The result of all the fancy wording and overly complex brewing jargon is a great coffee. And surely that's the most important aspect of this Jura E4 review?
What sets this machine apart from competitors like Breville is the app connectivity. This isn't a common feature at this price point. So in that respect, Jura should be commended.
Where that applause falls down is that you have to pay around $60 extra for the WiFi Connect dongle in order to use the smartphone app. When we're spending over $1000 on a machine, it seems ridiculous to us that it doesn't come as standard. Particularly when the E4 has limited specialty coffee options.
But maybe you never wanted it anyway so it makes no difference to you.
Not having a milk frother means one big cleaning element is removed. But as much as possible is handled automatically making your life as smooth as possible.
Sadly you do still need to empty and rinse out the coffee grounds container and the drip tray. But that's all the daily cleaning you need to engage in. Which is excellent.
The E4 needs to be descaled every 180 drinks or so, even with the water filter in. But this process takes around 20 minutes and is very easy to do. The downside is the need for their expensive branded cleaning tablets. Sadly this is the same with most top-end coffee makers as you need to keep them in condition to make them last so they lock you in.
You can't remove the brewgroup to clean yourself which is a common complaint of Jura machines. However, in all our years of using Jura's, we've never had or even heard of any long-term issues reported as a result of this. So we choose to believe that the internal cleaning processes work just fine.
Both are black coffee-focused machines at the "budget" end of Jura's price range. They even look fairly similar, though the diamond water carafe on the ENA 4 is pretty distinctive.
However, the inner workings are vastly different:
The E4 has all the latest brewing gear and tech. Whilst the ENA 4 is working with the still excellent, but not as good, grinder and brew group from previous generations.
On the front of the Jura E4, there's also a dial if you want to dispense hot water. This is really handy if you like to drink Americanos or are mixing things up with a cup of tea. But there's no functionality for this on the ENA 4 (read our full review here).
Price-wise, there's around a $300 difference between the two. But if you're serious about your black coffee quality, the E4 is the only choice (in our oh-so-humble opinion). The coffee quality really is on a different level and well worth forking out a little extra to have at home.
Or, compare the ENA 4 to the ENA 8 – another entry-level machine but this one has the ability to make milk-based drinks.
It is expensive, and maybe justifying the cost *just* to make black coffee specialties is more than you can handle.
But every sip of coffee we've ever had whilst completing our Jura E4 review has been exceptional. So good that we do think it's worth treating yourself – especially if you're a black coffee fanatic like me.
Don't Forget to Buy your Jura E4 today
You Might Also Like
Beautiful, simple, and delicious espresso for around $1000? We had to test if such a thing was possible – read our Jura ENA 4 review to see

Jura ENA 8 vs Gaggia Babila is a battle of philosophies. Is the convenience of the ENA 8 superior to the precision of the Babila?