The DeLonghi Eletta Explore may not be the flagship of the revamped Eletta series, but it's the one we're most excited about by far. DeLonghi has taken a big swing by going with as many drinks recipes as its marketing team could dream up. Plus there are two separate milk carafes and a display that tries to talk to you like a real person.
But does any of it actually work? Is our wild excitement for this DeLonghi Eletta Explore review justified?
Whilst this espresso machine doesn't do anything revolutionary, all the pieces bundled together make an exciting prospect. So, let's dive right in as we break down all the pros, cons, features, and functions put to the test by a pair of ex-baristas with high hopes for high-quality espresso.
This article may contain affiliate/ compensated links. As an Amazon Associate, we earn from qualifying purchases at no additional cost to you. For more information please see our disclaimer here.
At a Glance: DeLonghi Eletta Explore Review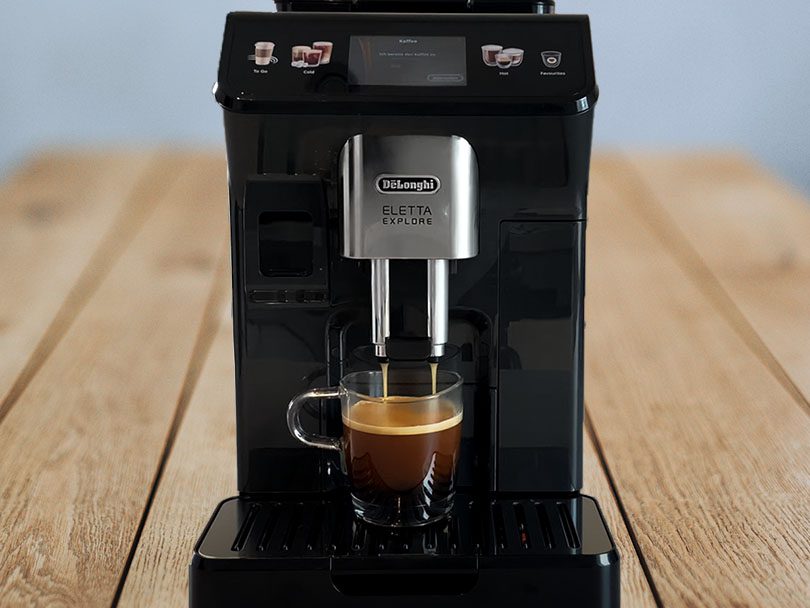 DeLonghi has decided to take a couple of chances on some different features with the Eletta Explore and we think it works out really well.
The coffee options are essentially sorted into 3 buckets: hot, cold, and to go. This really helps cut down on the overwhelming choice from the menu. Plus, all those options produce great coffee.
With such an arsenal of coffee choices, an app would be nice (I think the European version has app connectivity) but the machine talks you through things nicely. "Talks" is definitely the word – this very clever espresso machine explains everything as it's doing it. There are even reminders and little tips like computer game load screens.
If you're not going to use the iced coffee section, it's really not worth it. But if you love an iced coffee, you're not going to get this level of options anywhere short of the Jura Z10 at nearly $4000.
The DeLonghi Eletta Explore fully automatic coffee machine is amazing value for money.
Pros
Hot and cold milk options
Over Ice coffee function
Touchscreen display
Easy to use
Travel mugs can fit under coffee spout
Cons
Range of coffee options can be overwhelming
No app connectivity
1. Hot and Cold Milk System
What could be better than DeLonghi's LatteCrema automatic milk system? What about having 2 LatteCrema systems?
The Eletta Explore has two separate milk carafes – one for hot and the other for cold foamed milk. So, using the specialized milk system, you can get the perfect foam no matter what your favorite coffee is.
2. To-Go Function
This is a new feature that we will hopefully start seeing on other Delonghi espresso machines. It provides space for travel mugs to fit under the coffee spout and gives you the option for any of your favorite coffees in 8, 12, or 16-oz sizes. Simply select "to-go" on the menu and choose the coffee you want to fit your travel mug.
3. Iced Coffee Functions
Choose from a wide range of iced coffee options to enjoy perfect chilled coffee with, or without, milk. Just add the appropriate number of ice cubes as indicated on the Eletta Explore's screen for perfect chilled coffee, with or without milk.
4. Interactive Touchscreen
An easy-to-use touchscreen that also gives you reminders and suggestions to improve your coffee. Choose your coffee, change the settings, and save for later. Simple.
5. Four User Profiles
Have all your personal coffee preferences saved to your profile so you don't need to make adjustments every time. Everyone (well, 4 of you) can customize every drink to their own tastes for one-touch personalized coffee.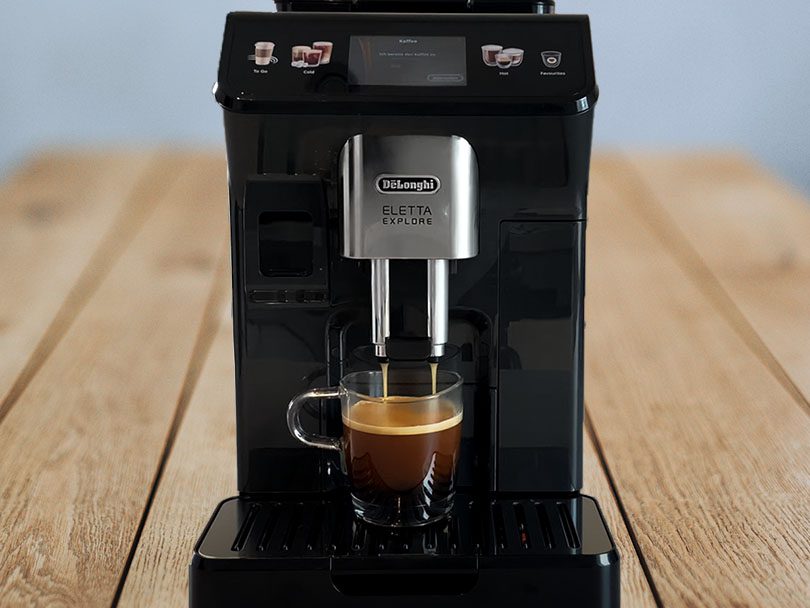 Simply start by choosing Hot, Cold, or To-Go from the drinks screen. Then pick your preferred coffee from the menu.
The Eletta Explore will offer strength and size customization from 4 size presets and 5 strength presets. You then have the option to save these settings to your profile. If it's a milk-based drink you'll get reminders to attach the correct milk system and adjust the dial on top.
Once you've made your selection, the coffee will take around 30-60 seconds to pour.
There is also the "my" button on the strength and size screen which is a programmable coffee option. You can customize exactly how much coffee and milk you want. So you can fully tailor any of the drinks to fit your favorite coffee cup.
It's not manual coffee machine levels of control but still pretty impressive. Saving these personalized coffees to your own user profile is also very useful.
Making iced coffees, iced lattes, etc. requires you to add a certain number of ice cubes, depending on the drink. This is because the "cold" milk foam comes out at around 68°F (20°C) and the coffee is around 165°F (75°C), so not exactly cold but definitely a lot cooler than normal. The machine is aiming to serve the finished drink at around 50°F (10°C). Which is a nice temperature, if not ice cold.
And if you do as you're told with the number of ice cubes, you will get beautifully chilled specialty coffee drinks. Following instructions pays off! Who knew?
We'd only suggest using the pre-ground chute for the occasional decaf or some other switch-up from your normal beans. It would be a real waste to use pre-ground when freshly ground coffee beans are an option.
While the grinder has 13 settings, we recommend you start around the 5th finest. We generally end up going finer than this, but you don't need to go to the finest possible setting to get a decent coffee from your Eletta Explore.
To change the grind settings, the adjustment dial is located inside the bean hopper. Just turn it to your preferred setting but always remember to have the grinder already running when you do this.
No matter your preferred coffee roast level, or where your coffee comes from, always use the best quality you can get your hands on. Even the best espresso machine can't turn poor-quality beans into a great-tasting cup of joe.
Very oily beans can clog up your grinder, so please don't use very shiny over roasted beans for your coffee. They don't taste very good and they'll damage the inner workings of your grinder too.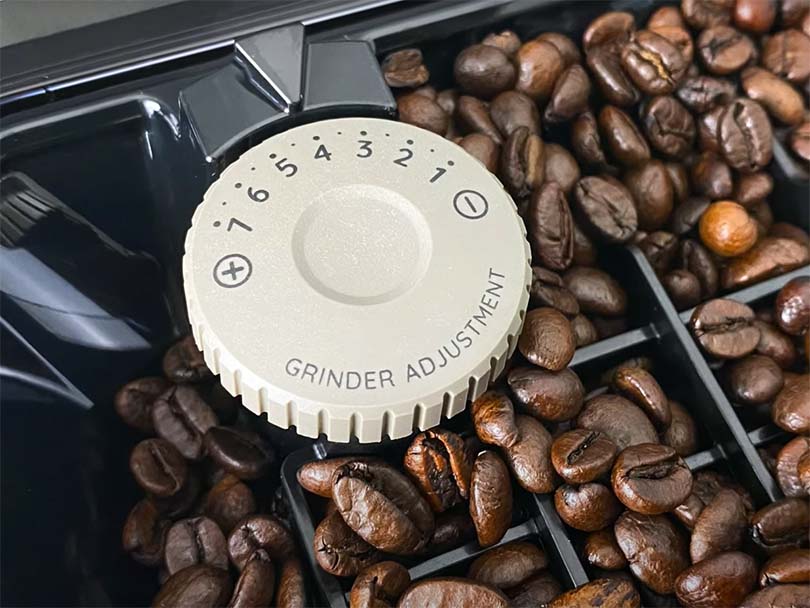 The Looks
The nice backlit pictures are something of a trend just now on many of the best fully automatic coffee machines, you see them on the Philips machines too. But they're also really useful and the Eletta Explore's touchscreen is nice to use and keeps a modern look.
Personally, I don't think it's the prettiest machine in the world. There's nothing inherently bad about it, it's just kinda a box. But, given that it's a Red Dot Design 2022 winner and also the recipient of the iF Design Award 2022, I'm clearly just uncultured.
The milk containers do spoil the look a little bit, but they'll be in the fridge when you aren't using them so not a problem really.
You may also complain about the large amount of plastic in the Eletta Explore's construction but unless you're buying a top-end Breville espresso machine, your automatic coffee machine is going to be made from a lot of plastic.
The DeLonghi Eletta Explore coffee machine is, of course, quite large – there's a lot going on inside the box, after all. But at only 10.3" wide, you should be able to find space.
The water carafe is front loading but the bean hopper is refilled from the top. So you need some clearance above the 15.1" height to ensure you can easily top up your beans.
The Build
All DeLonghi coffee makers come with a 2-year warranty as standard. As an added bonus, you also get an extra 1-year protection for registering your product. Perfect for peace of mind with an expensive coffee machine.
Now despite the plastic dominant design, it doesn't feel like a cheap machine.
The drip tray and water tank slot nicely into place and feel of decent quality. The milk carafes and sliding nozzles also don't look or feel likely to break. Most other coffee makers, even top-end ones, are plastic-dominant too.
The parts that really matter – the grinder and brewgroup – are both built to last. The stainless steel grinder should last around a decade if cleaned properly. And the brewgroup needs to be rinsed every couple of weeks, but you can remove it to do this meaning you can ensure it stays in good condition.
As you make your coffee, the machine will explain what it's doing. So messages like "I'm preparing the milk" will pop up on the screen, just in case you weren't sure why there was milk coming out of the carafe.
I may mock these little things but it's actually pretty great. You get helpful hints on how to customize your drinks, ideas for new things to try, and very accurate instructions on how many ice cubes to use. After a while, it will mostly be something that just happens in the background without you noticing. But you'll still find a nice occasional hint.
It's extremely easy to navigate and contributes to the high-quality coffee brewing experience. Although experienced users may find it a little pedantic.
For the coffee or tech uninitiated, it simplifies the baffling array of popular coffee drinks. In an impressively polite way that would please your Mom.
We find that 4 out of 5 on the "aroma" setting with the grinder at the 5th finest setting produced the best coffee. That's just our preference, you will obviously enjoy playing around to get it to your liking.
Having wiggle room is nice as cheaper super-automatic coffee machines often require the finest grind setting and the largest dose to get good coffee.
The Eletta Explore offers preset length options. But, if you want to set a custom size, there's also the "my" button within each coffee.
The "cold" drinks are also really good. But you do have to make sure you add enough ice to them. Since the coffee and milk aren't actually cold, they rely on some dilution from the ice melting to get the balance right.
These aren't as good as the cold drinks on the Jura Z10. But then, the Z10 is also nearly double the price and much superior in basically every way (full Jura Z10 review here). So, at this price, the cold drink options are a brilliant addition if you actually want them.
Having two separate carafes, one for hot and one for cold foam, is kind of annoying. But I understand why they've done it this way. If you only ever have milky espresso-based drinks at one temperature, it won't bother you either.
However, the one thing that (probably irrationally) annoyed me when putting together this DeLonghi Eletta Explore review is their milk recommendations:
Both carafes have a simple dial at the top so you can change the style of foam/froth as prompted by the screen. And, to stop you mixing them up, the hot milk jug has a black lid and the cold milk one has a white lid.
However, the one thing that (probably irrationally) annoyed me when putting together this DeLonghi Eletta Explore review is their milk recommendations:
They recommend using semi-skimmed milk for the hot milk and skimmed for the cold. Ignoring the fact that skimmed milk isn't milk, it's just white water. Who on earth is having 2 kinds of milk just for hot or cold drinks? Plant-based milk lovers can rejoice as they don't tell you to have 2 different types of plant-based milk.
Semi-skimmed works fine in both. Maybe skimmed is better, I don't know, and am willing to die on my non-skimmed-milk hill.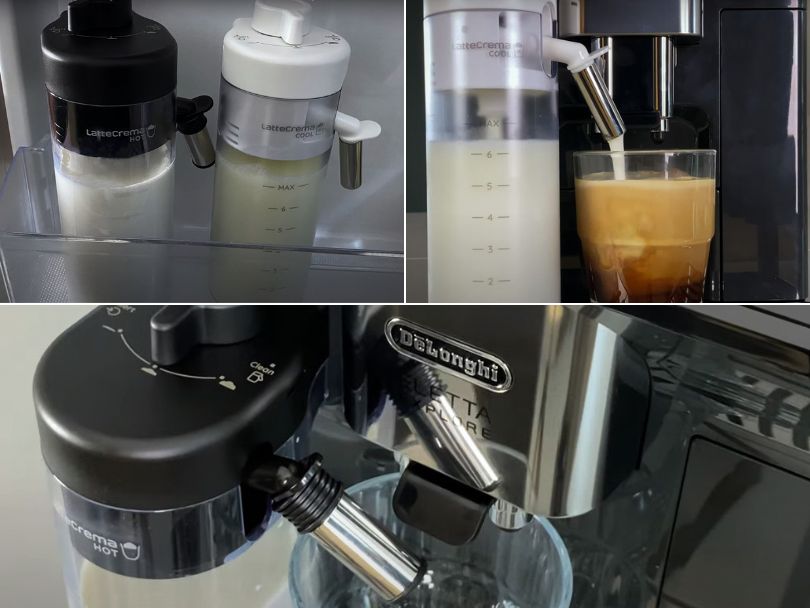 First up, the iced drink options are an obvious feature that's very uncommon on home coffee machines. In those summer months, it's a life-saver to make delicious cold drinks at the touch of a button. The feature works really well and they even provide you with an ice cube tray.
The "To-Go" function is another interesting idea that works really well.
Press the "To-Go" button and it will ask you if you want hot or cold drinks. Then, lift the little hatch in the drip tray to give you enough room to place your travel mug under the spout. You'll be offered 8oz, 12oz, or 16oz versions of your favorite coffee to fit your mug. Easy as that.
For some people, this feature might be more of a gimmick than genuinely useful. But, if you often take a travel mug of coffee out the door, this could be the thing that tips the scales to being your dream coffee machine.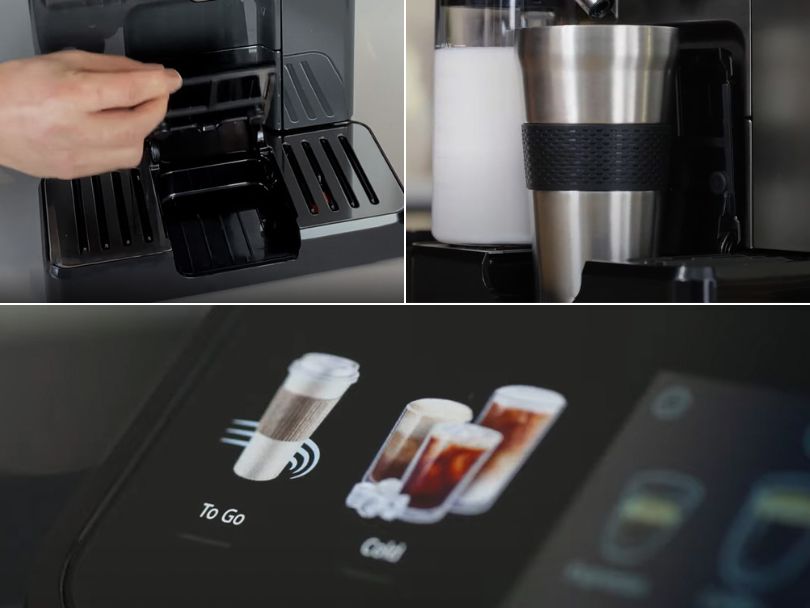 It will flush water through the milk system after every use to keep any nasty bacteria from building up. Plus, it will flush water through the coffee system when it turns on.
Both of the milk carafes are very easy to take apart and thoroughly clean. Even if they live in your fridge, you should do this every few days to make sure no nastiness builds up.
The drip tray can also be lifted out easily to give it a rinse.
Every week, you should take out the brewgroup (very easy to do) to give it a rinse. Don't use any soap – just warm water – then pop it back in. And, every few weeks, the grinder needs to be brushed (or vacuumed). Avoid using super oily beans as these can damage the grinder and require it to be fully dismantled and deep cleaned.
Descaling is the only time-consuming part of cleaning the Eletta Explore but this should only need to be done every 6 months or so, depending on your usage and water hardness. Luckily, it's also very simple to do. Our friend, the Eletta Explore user interface, walks you through the whole process. It should take around 30 minutes.
By taking the time to care for your machine, you will prevent your coffee quality from deteriorating and also help your shiny new espresso machine last longer.
The Dinamica Plus doesn't have the cold milk foam or to-go features, the shiny touchscreen, or the personality of the Eletta Explore. But it's around $100-200 cheaper (DeLonghi prices can fluctuate quite a lot).
What the Dinamica Plus does have though is app connectivity.
For us, this just tips us over in preference for the Dinamica Plus. Some of the Eletta Explore's features are a little gimmicky and not ones we used all that much. But if you're reading this and thinking cold foam technology and to-go features are exactly what you want, then the Eletta Explore is absolutely the ideal coffee machine for you.
If like me, you drink hot coffee 99% of the time and don't use a travel mug, then you'll find the Dinamica Plus is the best automatic coffee machine from DeLonghi. It's a great coffee machine that can replace your favorite local coffee shop without paying for features you don't use.
Want to see how the Eletta Explore stacks up against the basic De'Longhi Eletta model? Check out our full review here:
The coffee is good, it's very simple to use, and has a dizzying array of options including hot and cold milk, and to-go options. Really a great list of features. They're also laid out nicely on the menu which makes customizing your drinks easy. Plus there are user profiles for saving your settings to.
Will you actually use the cold foam and to-go settings? That is the big question.
I'll never get over DeLonghi suggesting two different milk types for hot and cold foam either. Maybe this doesn't both you as you have two milk types anyway, or maybe you use a plant-based alternative.
This machine comes with a high price tag. So you need to look at all the features and decide whether they're the ones you will actually use. If you won't then there are almost certainly cheaper alternatives.
But to get these features on another machine you have to spend A LOT more money. So even if you only make iced coffee one month a year, the DeLonghi Eletta Explore will 100% be worth the money.
Don't forget to Buy the Eletta Explore today
You Might Also Like
Beautiful, simple, and delicious espresso for around $1000? We had to test if such a thing was possible – read our Jura ENA 4 review to see

Jura ENA 8 vs Gaggia Babila is a battle of philosophies. Is the convenience of the ENA 8 superior to the precision of the Babila?