Precise pouring and temperature control are vital for anyone looking to up their pour over coffee game. To achieve this you're going to need the best gooseneck kettle like the Fellow Stagg EKG.
With a truly staggering array of options out there, we've hand-selected the 10 best options for any home pour over brewer that will suit any budget and skill level. The result? Your coffee drinking experience will improve dramatically.
Let's dive right in!
This article may contain affiliate/ compensated links. As an Amazon Associate, we earn from qualifying purchases at no additional cost to you. For more information please see our disclaimer here.
Image
Product
Details
Cost ($$$$$)
Fellow Stagg EKG Electric Kettle

Single degree temperature control
Hold temperature for 1 hour function
Built-in stopwatch

$$$$$
Hario V60 Buono Stovetop

Precision spout
Works on any stove
Available in 3 sizes

$
Willow & Everett Electric Kettle

Fast boiling
Precision spout
Large Volume

$
Brewista Artisan Electric Gooseneck Kettle

Single degree temperature control
Flash boil setting
Temperature hold for 1 hour

$$$$$
Cosori Electric Gooseneck Kettle

Single degree temperature control with app
Delay timer
Rapid Boil

$$$
Bonavita Variable Temperature Gooseneck

Single degree temperature control
Hold temperature setting
1 liter capacity

$$$$
Bodum Melior Electric

Sustainable cork accents
Available in 2 finishes
One button operation

$
Coffee Gator Pour Over Kettle

Built-in thermometer
Works on any stovetop
Available in 2 sizes

$
Kalita Wave Drip Kettle

Wood accents
Precision spout
Gorgeous design

$$$
Fellow Stagg EKG Electric Gooseneck Kettle
Pros
Adjust temperature by single degrees
Temperature hold function
Easy to precision pour
Looks great and available in various finished
Comfortable to hold
The Fellow Stagg EKG ticks all the boxes you would want from a precision kettle. It is definitely the best electric gooseneck kettle available, as long as you can afford the hefty price tag:
Temperature range from 135 – 210°F, adjustable by single degrees
Easy to use precision pouring spout
Comfortable handle
Amazing looks
Plus some fun features you don't expect like a built-in stopwatch and "hold temperature" for up to 1 hour if you're having a hectic day
Sounds perfect, right? But with all this greatness comes the price: it is expensive. The price does vary depending on the finish you prefer, but some are near $200. Even if you're an avid pour over coffee drinker or tea lover, this is a lot to spend on your gooseneck kettle. The 1-year warranty and raft of features do make this feel less egregious, but it's still a big factor to consider.
Overall, it's just too good a product to get too wrapped up in the price. If you're a big fan of pour over coffee or specialty tea, then this is the best gooseneck kettle you can buy. For many, that's all that matters. When it looks as good as this, then even those who just enjoy pour over, but love great design, could be persuaded.
Brewista Artisan Gooseneck Kettle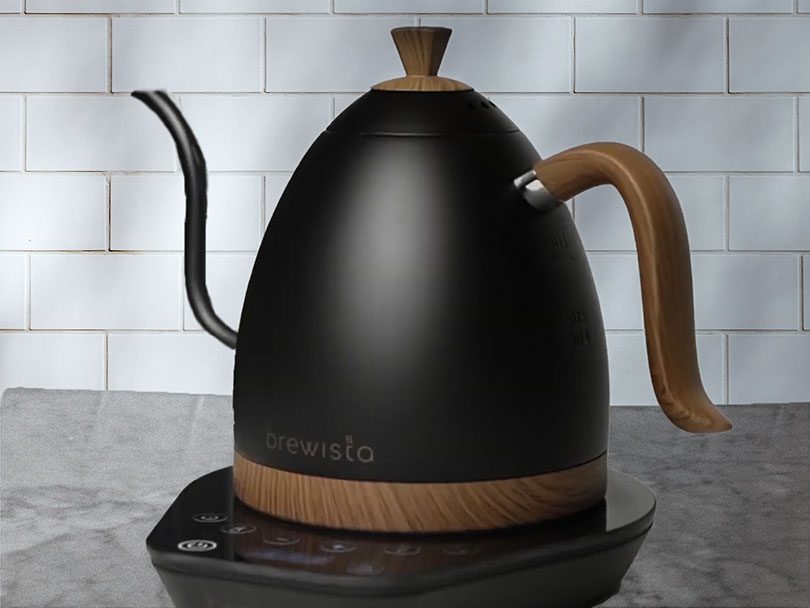 Pros
Great Design
104-212 F temperature range
Flash boil function
Keep warm for 1 hour
Stopwatch on base
Cons
Expensive
Controls on base look cheap
Another absolutely stunning gooseneck kettle, this time from Brewista. Available in several finishes from matte black to pearl white, you're bound to find the color scheme for your kitchen. The design is maybe a bit too elaborate for some, though we quite enjoy its flamboyance.
Single degree temperature selection is available all the way from 104 to 212°F, and it will maintain that temperature for 1 hour too. This kind of range is much wider than most electric gooseneck kettles and is ideal for tea drinkers as well as coffee aficionados. It also has a "flash boil" feature if you just need boiling water in a hurry. You can time your pour with a stopwatch on the base and the spout makes precision pouring pretty easy and comfortable.
All really good, but again, it's very expensive. The looks aren't to everyone's tastes either though our only real issue was with the light-up buttons on the base that look quite cheap and aren't very elegant. It's still a great coffee kettle though, and the only thing that puts it below the Stagg is the look of the buttons and the fact it's maybe a bit "extra" for some.
Cosori Electric Gooseneck Kettle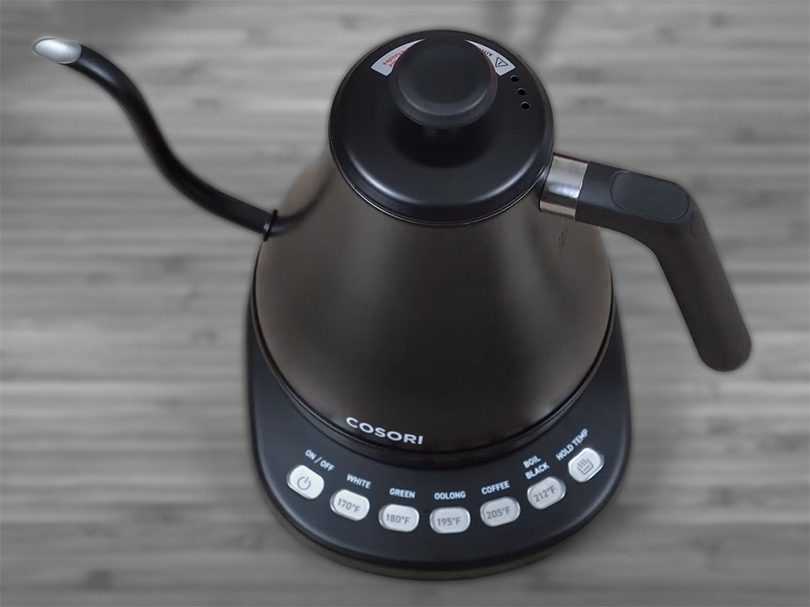 Pros
Precise temperature control 140-212 F using app
Four presets for easy use
Baby formula setting
Looks great
Ergonomic handle
Delay timer
Cons
Pouring not as easy as some
Needs the app for full functionality
The Cosori is the best gooseneck coffee kettle for those who are willing to sacrifice a little bit of control pouring for a cheaper kettle. While pouring is a little harder than on the more premium kettles, it is still very possible to make great pour over using this kettle, it just takes a bit more care. The angled handle is nice to hold and is set up well for controlled pouring, the spout is just a fraction away from being perfect for minute pouring adjustments.
The base only has 4 presets for temperatures, but for those of us who are glued to our phones, this is no problem. The free app allows you to set your own brewing temperature between 140 and 212°F, you can also set a delay timer to have hot water ready when you need it, which is fun. I can imagine the baby formula setting being a really handy addition for those with young children and is fairly unique among electric coffee kettles.
Overall the Cosori electric gooseneck kettle is half the price of the top performers on the list. You're losing some control over your pour and some ease of use, but saving a huge amount of money. For those looking for more of a "budget" pick, that still looks great, the Cosori is a brilliant option when paired with the Bluetooth app.
Bonavita Variable Temperature Electric Kettle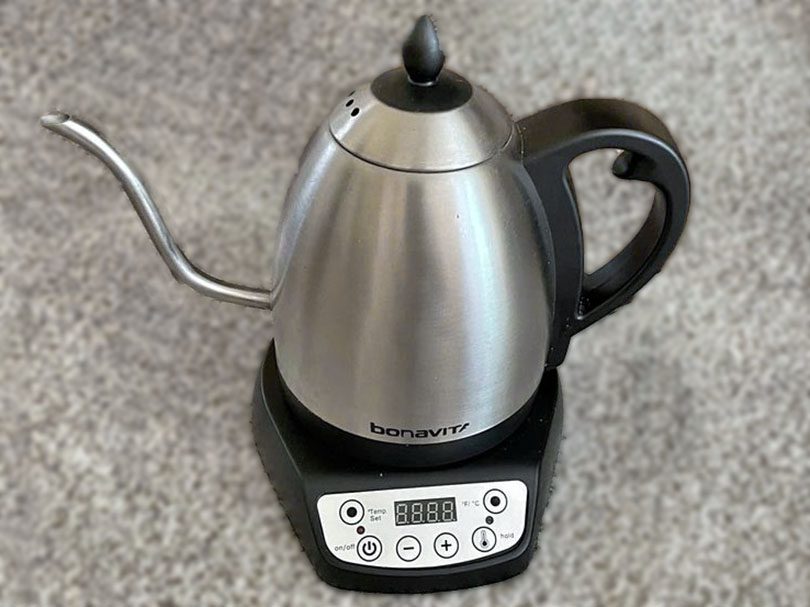 Pros
Adjustable temperature from 140-212 F
Ergonomic Handle
Hold temperature feature
Real time temperature display
Cons
Plastic parts make it look a bit cheap
Slow to heat up
For those looking for a high-quality kettle that doesn't cost the world then the Bonavita could be the best gooseneck kettle for you. With an admirable temperature range of 140-212°F, encompassing tea and coffee ideal brewing temperatures, a hold temperature feature, and a real-time display of the current temperature, it ticks most of the boxes.
The downside really is the look. The plastic makes it look cheaper than it is, which is a real shame. Also, you have to press the button to "hold temperature" each time you replace the kettle on the base, which is slightly annoying too. These are little things, but there are plenty of other electric gooseneck kettles without such annoyances.
The Bonavita does the job really well, it's supremely well-made, and is a much more affordable option than some of the more aesthetically pleasing options without losing much functionality. It's easy to see why this is such a popular electric gooseneck kettle. It can be a little slow, but if you want something that looks more like a standard coffee kettle, it'll be a great pour over partner for years to come.
Hario V60 Buono Gooseneck Kettle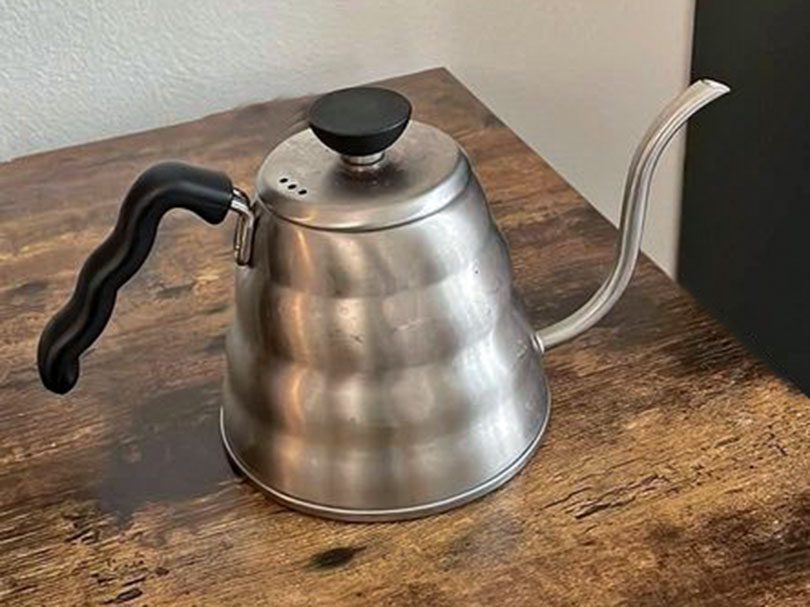 Pros
Great value
Can be used on any stove
Amazing pouring control
Looks fantastic
Cons
No temperature control
Needs polishing to stay looking its best
One for those looking for a simple coffee kettle to give them great control over their pour. The Hario V60 Buono is obviously designed to be used with the V60 dripper and this is very apparent when you use the kettle. The control over pouring is superb and the handle feels great to hold. Being able to use gas, electric, or induction stovetops also helps.
The downside is obviously that there is no thermometer or temperature control, not a common feature on non-electric gooseneck kettles. You may already own a thermometer, or have a system of boiling then waiting to cool for 2 mins or so. The Hario Buono boils so quickly that this doesn't take much time and will work perfectly well for 90% of people making pour over. There is also a Hario Buono electric gooseneck kettle available, but we feel it isn't worth the extra cost over the stovetop.
I have to admit I love the design, it's very 1920s Parisienne café and as an avid Orwell fan, I love it. You do need to polish it relatively frequently but it's absolutely worth it for me. At 1/3 the price of the premium options it's a great kettle for those looking to complete a budget pour over set up with the Hario V60 and Javapresse manual grinder.
Bodum Melior Electric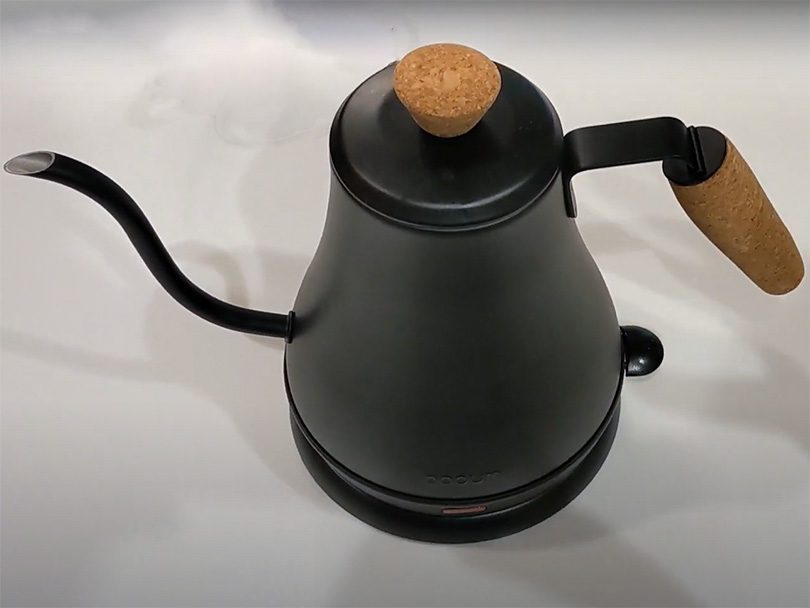 Pros
Budget friendly
Comfortable to use
Easy operation
Cons
No temperature control
Cork accents aren't for everyone
Another great budget gooseneck kettle is the Bodum Melior electric. Being a standard "push button to boil water" kettle makes life incredibly easy but obviously limits functionality as there are no options for lower temperatures. It is easy enough to get the temperature roughly right by boiling and waiting, but that also takes time you may not have.
The Melior is comfortable to hold and pour from, though the control isn't as good as other coffee kettles such as the Hario V60 Buono. You can still make a really good pour over from it and the handle is comfortable to hold while pouring.
The design splits opinions, lots of people seem to like it. Personally, I feel the cork just looks odd with the matte black finish, like they ran out of money and had to make the best of it. Allegedly sustainable, checking this claim is complex, I can see why some would see it as a big plus. A really solid option for those on a budget though.
Coffee Gator Gooseneck
Pros
Built-in thermometer
Money-back guarantee
Works on all stovetops
Good value
Cons
Can't use full capacity
Not as good looking as others
The coffee gator gooseneck kettle has one big advantage over many of the other budget options, it has a thermometer built-in. It isn't exactly precise, but it has a green area for the ideal brewing temperature which is a big step up from guesswork. The company also offers a 30-day money-back guarantee which is great.
The kettle is listed as either 34 or 40 oz, however, you can actually only boil 24 or 30 oz in them. To their credit, they make this very clear but it is a little bit annoying. We also don't love the black plastic handle, it isn't the most comfortable to hold and it doesn't look as good as several of the other kettles in the budget price range.
The pour control is pretty good and the thermometer is a great feature. If you're looking for a rough guide to getting the right temperature and a budget option this is a great kettle. It's only small quibbles that we have with the design but compared to how good some of the other options are, these small quibbles are important.
Kalita Wave Drip Kettle
Similar to the Hario V60 Buono, the Kalita wave drip kettle channels the early 20th-century coffee house aesthetic into a beautifully crafted design. A taller and more imposing kettle with wooden accents adding a kind of artisanal feel to the design, absolutely gorgeous. The pour is easy enough to master, though the spout looks quite wide, and you shouldn't have any issue brewing with a Kalita wave or Hario V60.
Upsettingly those lovely wooden accents are it's downfall. The wooden knob on the top of the kettle becomes loose very quickly and feels like it could fall off if you use this kettle constantly for a few months. Similarly the handle starts to crack with lots of use, and I want to be using my kettle daily.
It's slightly more expensive than the other stovetop kettles, though arguably is the best looking. It's just a shame that the design can't seem to stand up to heavy use. If you're an occasional pour over brewer and want a kettle that can sit on your shelf and look great the rest of the time, this is the one.
Willow and Everett Gooseneck Kettle
Pros
Very fast to boil
Good value
Easy to control pour
Comfortable handle
Cons
No temperature control
Doesn't look great
For those looking for an upgrade on their regular kettle, we have the Willow and Everett gooseneck kettle. Classic design with a surprisingly comfortable handle, this kettle can boil water in around 2 minutes, making it the fastest on our list. The spout allows for good control while pouring so pour over coffee is very possible with this kettle.
The design looks a little cheap perhaps, but certainly not poorly designed at all and it works exactly how you want it to. If you want precise temperature control then you'll need to splash out a little more money, but if control over the pour is what you're after, then this could be the one.
Willow and Everett were set up by a couple who wanted quality household appliances that didn't break the bank. They certainly deliver that with this kettle. Two minutes to boil your water, wait two minutes to reach the appropriate temperature, and start pouring. That's as quick as many electric gooseneck kettles will get to their 200 F setting. A great coffee kettle for the pour over beginner.
A gooseneck kettle is simply a kettle with a long thin spout like the neck of a goose. In the coffee world, having a nice simple name makes a welcome change from the often confusing terminology.
The design has been specially crafted to give you more precision and control when pouring. So it is the perfect partner for pour-over coffee.
Depending on what you are looking for, you can get either an electric or non-electric gooseneck kettle. Plus, there is a range of various features, designs, and prices. What remains the same, is that they all have that distinctive spout for perfect pouring.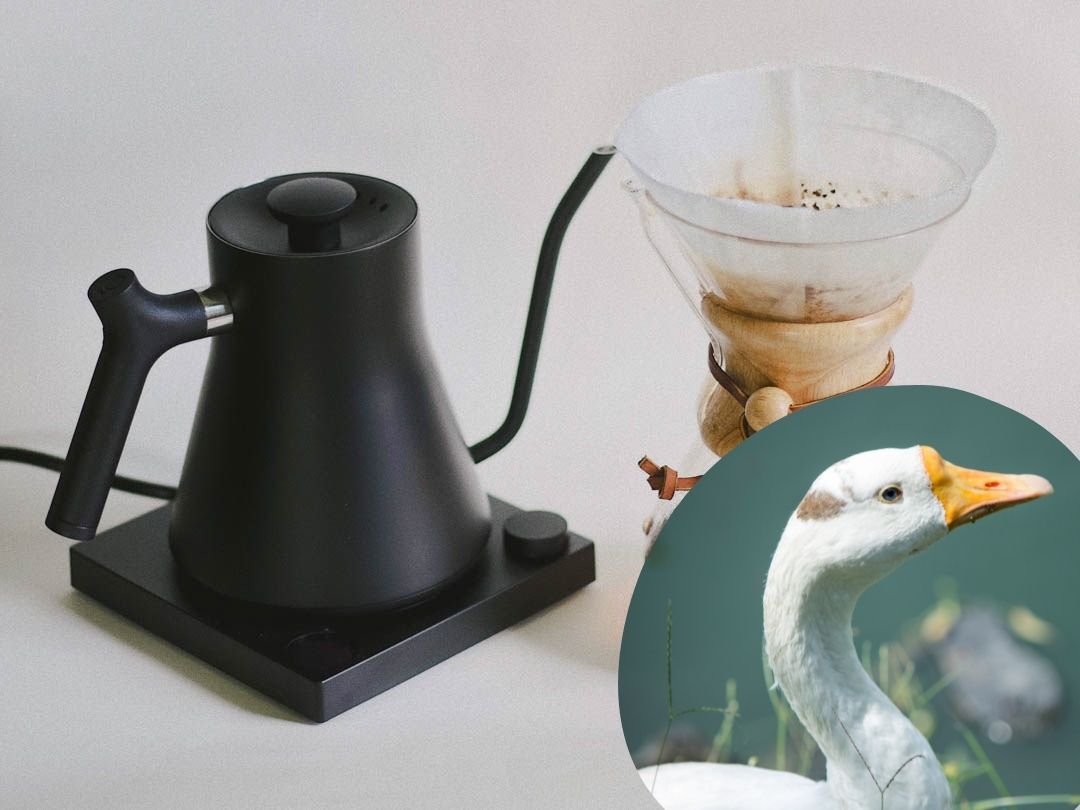 Temperature Control
The temperature at which you brew your coffee, or tea, is crucial for getting the best flavor from your beans. If the water is too hot, you'll burn the precious grounds giving you a bitter brew. If it is too cold you will not extract all the flavor compounds in the brewing time giving a thin and acidic coffee.
Lots of gooseneck kettles come with some kind of temperature control as a feature, and this is generally really useful. You can set your kettle to 200 F and be safe in the knowledge that you're using the right temperature water for your coffee. If you like different teas this is even more important to get all the nuance from the various styles.
But if you solely brew for pour over coffee, this could be a bit unnecessary. You can judge pretty well by boiling and then letting the water sit for 2 minutes to get the temperature right. You can also use an instant thermometer, like the one you stick in your roast to make sure it's perfectly cooked, to check the water temperature. These are generally much cheaper when added to an entry-level kettle than one with precise temperature controls.
If you're looking to improve your home coffee set up, you'll need an amazing grinder. Check out the best manual grinders to get the most flavor from those beans
a href="https://homecoffeeexpert.com/best-manual-coffee-grinder/">
Stovetop or Electric
This is probably a relatively easy decision for most people to make. Electric has the obvious advantage of switching off when it hits the correct temperature, but you need a power outlet. For those of us who make coffee at home 99.9% of the time, this is absolutely fine. But for those who like to take their coffee set up on the road, hiking, camping or in an RV, having a stovetop kettle is vastly superior.
There is also a price component, stovetop coffee kettles are generally cheaper than electric ones. Though they will be more expensive to run on electric stoves as there is more energy wasted heating externally than with a submerged element. Probably not really a big factor but something to think about when price is important.
If you're planning to use your kettle only at home, and have a spare power outlet, get an electric gooseneck kettle. If you want the flexibility to take your set up on the road, then a stovetop gooseneck kettle is the best option for you.
Capacity
How much hot water do you need? Are you brewing for 1, 2, or the whole squad? There aren't many with a capacity over 1 liter, which is a lot to be fair. Generally, you're looking at making a maximum of 3 cups of coffee if you're using pour over, this means capacity shouldn't be a big issue. But make sure the kettle you get can heat enough water to make your desired amount of coffee.
Extra Features
You'll see keep warm features, delay timers, brewing to specific temperatures at 1-degree intervals, and temperature ranges starting at as low as 105 F (40 C). Decide if you need a variable temperature gooseneck kettle at the outset, this will save you spending money on cool-sounding things you don't need.
We have always used a standard electric gooseneck kettle that only offered 4 preset temperatures as we didn't need anything else. If you're an avid tea drinker, it's worth getting more functionality. If you're a coffee perfectionist those 1-degree changes could be vital. For most, getting it around 200 F every time will be just fine.
You Might Also Like
If you're wondering 'Why Does My Coffee Taste Watery?' And more importantly, 'How Do I Fix It?', then this is the simple guide for you

Making delicious coffee requires delicious coffee beans. So if you're in the market for the best coffee for Chemex, look no further