Taiwanese company 1Zpresso make superb manual grinders, the J-Max is their latest offering in the J series grinders. It's an upgrade on the JX grinders and based on the quality of the other 1Zpresso grinders, this one is probably superb. So that's the review over.
Fine, I guess we should probably check if it is actually good. So, what are the new features? Is it worth the extra money? Read our full 1Zpresso J-Max review for all the facts on the newest addition to the J series of grinders.
We have scoured the internet for all the reviews on this manual grinder to collate with our own. This means we have the most comprehensive buying guide you can find. Whilst not all home coffee experts give numerical scores, we have averaged these out. Therefore, you can get a consensus opinion on how good this grinder really is and know for sure if it is right for you.
This article may contain affiliate/ compensated links. As an Amazon Associate, we earn from qualifying purchases at no additional cost to you. For more information please see our disclaimer here.
At a Glance: 1Zpresso J-Max Review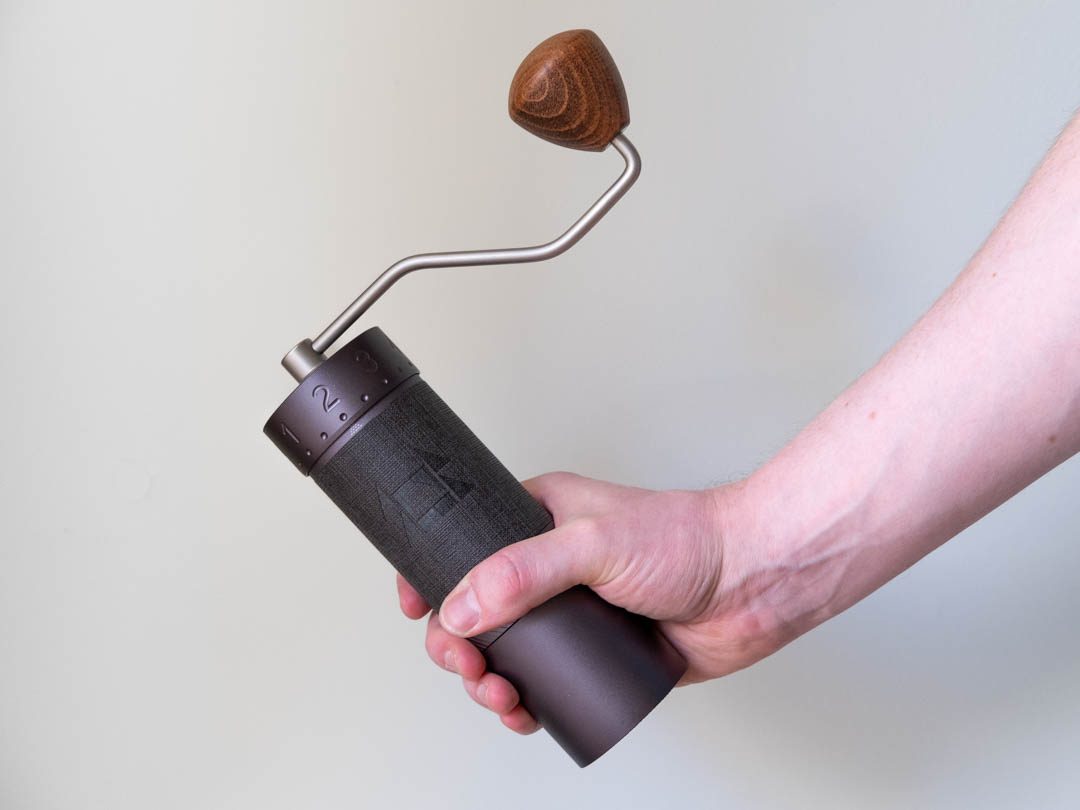 1Zpresso J Max
1Zpresso continue to make exceptional grinders that massively outperform their price point.
The J-Max has exceptional precision and range making it the only grinder you'll ever need, no matter how you like to brew your coffee.
It takes a bit of time to grind at the finest settings, but that is true of all hand grinders and it's still not a "long time".
Comfortably outperforms electric grinders over double the price in terms of grind precision and consistency and is one of the best grinders available.
It's brilliant, buy it.
Pros
Great Design
Incredible Grind Range
8.8 micron stepped adjustment
Fast grinding
Ergonomic handle
Great value for money
Quiet
Easy to use
Cons
Slow at very fine settings
Needs stable surface to grind on
Expensive compared to other manual grinders
1. 48mm Titanium Coated Stainless Steel Conical Burrs
48mm is a large burr for a manual grinder. The conical burr works beautifully and is incredibly stable. The titanium coating is new for the J max and adds durability, meaning your grinder will last even longer.
These are the kind of burrs found in electric grinders at double the price.
2. 8.8 Micron Stepped Adjustment
The J max is still a stepped adjustment grinder, like the others in the J series, however each step is a mere 8.8 microns difference in grind size. This makes it almost as good as a stepless grinder for precision.
3. Incredible Grind Range
From Turkish coffee all the way to French Press. There are over 350 grind settings, easily changed by turning the top of the grinder, for every brewing method currently in use. No matter how you want to brew, you'll find the perfect setting.
4. Fast Grinding
It takes around 30 seconds to grind your beans for 1 coffee, whether that is espresso, pour-over or French press. It slows as the grind setting gets finer but it's by no means slow.
5. Ergonomic Design
The wooden knob on the handle and the textured sleeve on the grinder makes grinding your beans easy and comfortable.
Setting Up
First thing you'll need to do is pick your grind setting. The J-Max, and the JX-Pro, are overall grinders. This means they'll grind for lots of different brewing methods.
Adjust the grind setting by turning the top of the grinder, which has a white arrow and is numbered to help out. The only issue is that with such a staggering grind range, you can turn it multiple full rotations, making changing between brewing methods slightly more complex.
There is a very handy image as part of the instructions which shows how many rotations you need to get to the range for each brewing method, each method has about a 60 click range. Very quickly I worked out how many clicks past the start of the range for each brewing method, espresso, pour over and French press, I wanted and that was that.
One note, the instructions come via QR code on a small piece of cardboard that we definitely didn't throw away by mistake and have to go and find.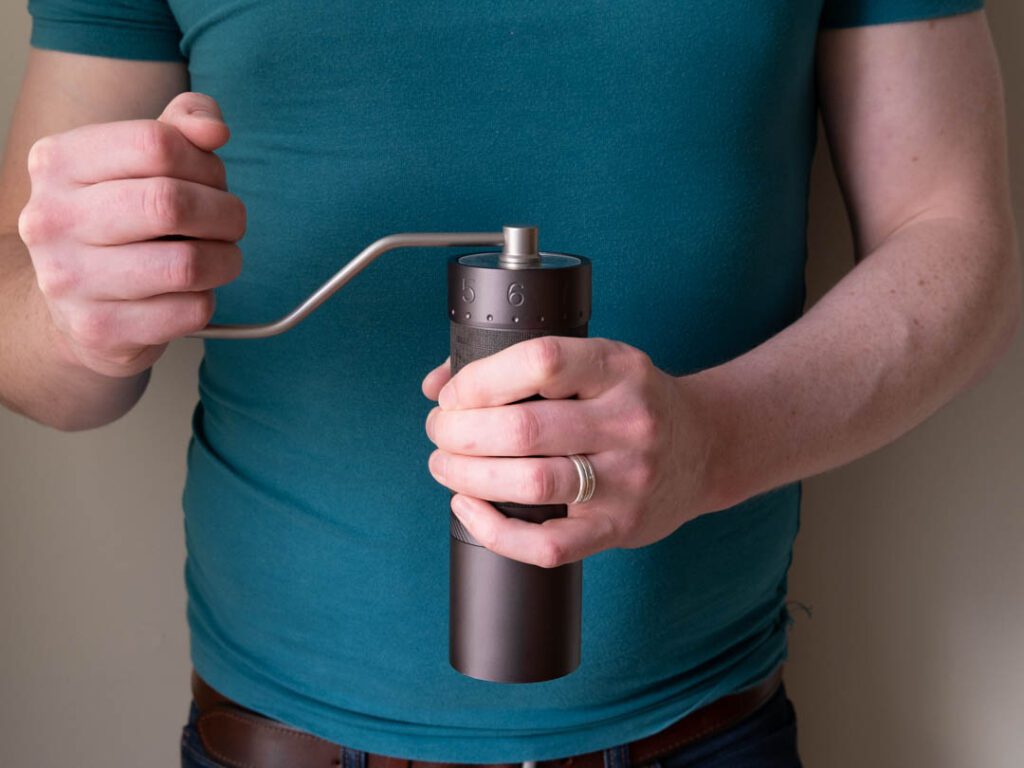 Grinding
Beans go in, I'd weighed mine out beforehand, handle attaches to the top and off you go. I found grinding very easy with the 1Zpresso J-Max sat on the kitchen countertop, very little effort was needed, and took around 30 seconds to grind my beans, this was for French press. It will take longer if you're grinding for pour over or espresso.
Being physically able to grind using the handle is an issue all manual coffee grinders have. If it would be painful or not possible for you to turn the handle with reasonable force then you'll need to get an electric grinder for your beans.
My wife also had a go, considerably smaller hands than me, and she also had no issues keeping the grinder stable whilst grinding. Even at the espresso grind range there is minimal force required and keeping the grinder steady is relatively easy.
The grounds collector at the bottom is magnetic and pops off easily with your grounds sat, ready to go. Very simple. This is a new feature and other premium grinders, as well as other 1Zpresso grinders, screw the bottom chamber to the grinder. The move to magnetic doesn't make much of a difference, but it's quite a nice feature when you're tired.
The only complication is getting your grind setting sorted, but unless you constantly jump between brewing methods, this won't be an issue. Even if you do, it won't be an issue for long.
The Looks
It looks fantastic, we're big fans of the move away from silver to a dark grey for the body and sleeve. The numbered dial at the top of the grinder for grind adjustment is a big improvement from the JX-Pro.
The other new feature for this grinder design-wise is that the grounds chamber attaches to the bottom by magnets, instead of being screwed on. This certainly makes it easier to get at your grounds but can feel a little unstable at first. After 10 or so uses I stopped worrying about it coming off the bottom and the pros of having it be so accessible massively outweigh any misgivings I initially had about it. There is also a textured silicone foot to help keep it stable while grinding on a surface.
There is also a rather nice carry case included with your J Max grinder. Now we'd not be so bold as to call the J Max a "travel grinder" as it is not exactly small. But with the case, it's certainly a lot easier to chuck it in your bag for a week away. Or if you're someone who spends a lot of time on the road, it will certainly fit in your bag and could save you from some fairly grim coffee while working away.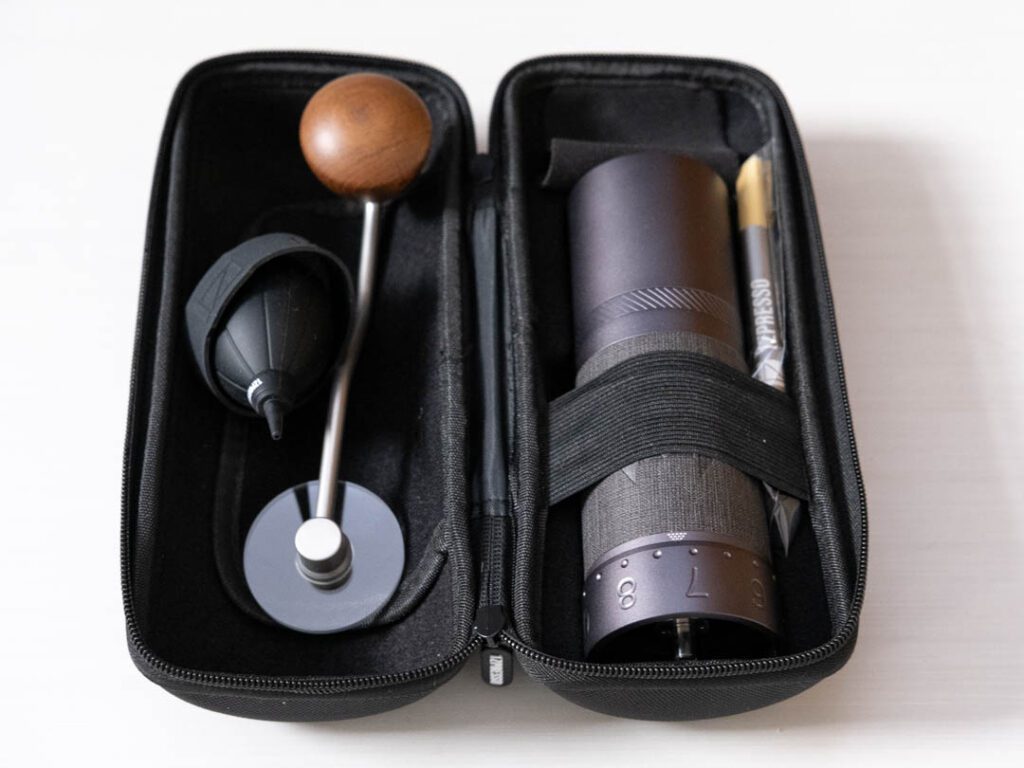 The Build
The J Max is basically exactly the same size as the JX-Pro, 2.2″ in diameter and 7.1″ tall. The 48mm burrs dictate the diameter and the space above and below them is needed for the 40g grinder capacity. It's not huge or bulky, but we wouldn't describe it as "compact" either.
The build quality is of the standard we have come to expect from 1Zpresso. It's solid in the way that I'd be more concerned for the floor than the grinder if I dropped it. The body is made from a stainless steel/aluminum alloy, with a silicone sleeve for grip and a metal and wood handle.
The silicone sleeve and wooden handle feel nice on your hands as you're grinding too. Many manual coffee grinders at the cheaper end of the spectrum use a lot of plastic and feel quite "flimsy". Whilst this isn't an issue, it's nice to use something that feels solid.
No longer do you need to look underneath the grinder to turn the little dial to adjust the settings. Easy to move with audible clicks for each step to compliment the numbers on the outside. Finding your grind setting is a relatively simple process.
This is a grinder that is built to last and the addition of the titanium coating to the burrs means that you should get around a decade of use out of this grinder with no issues if maintained properly.
There are very few things to go wrong in a manual grinder compared to an electric one, longevity is a huge plus point when you're spending $200 on something.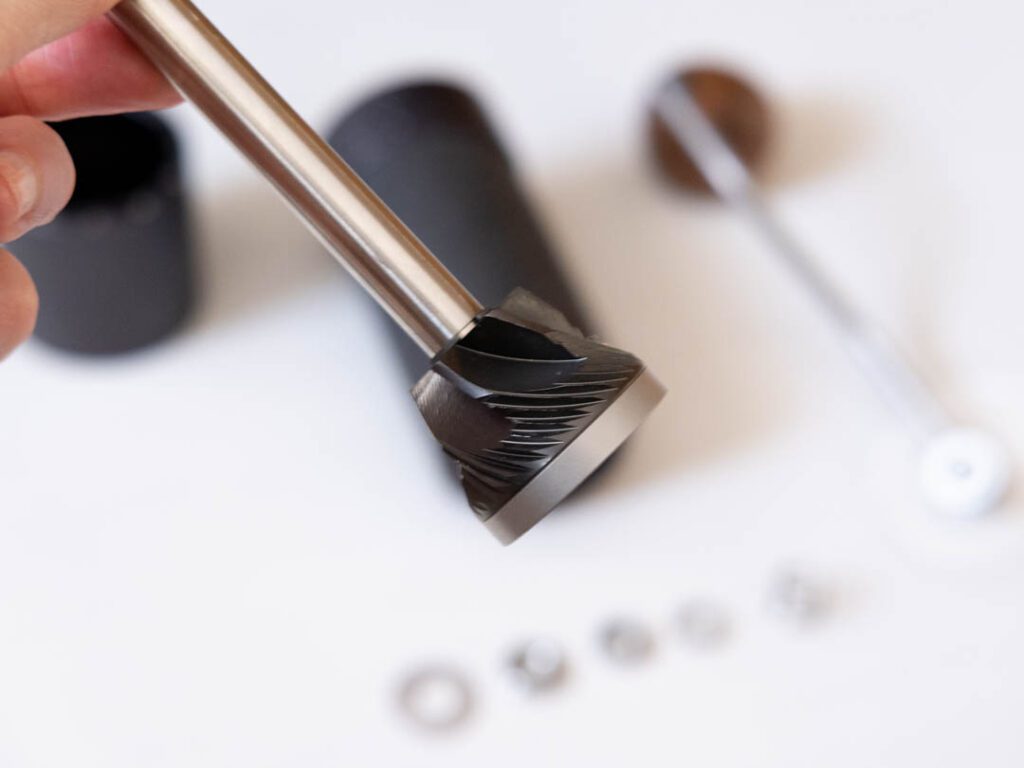 There may have been some variation at the coarsest setting but nowhere near enough to affect the quality of the coffee brewed. With 8.8 microns between settings, the level of precision should satisfy even the most perfectionist of espresso lovers. This level of precision is far better than other manual hand grinders.
The range is staggering, from the finest recommended setting (Turkish coffee) to the coarsest (French Press) is an incredible 350 clicks. If you brewed a coffee a day on each setting it would take you nearly a year to get through them all. Truly the only grinder you'll ever need.
There is very little static created by the grinder during use so there aren't many fines left to clean out afterward. Though the brush and blower are very good at doing so.
Need the best beans to go with the best grinder?
Check out the best espresso beans according to experts here
In your travel case, you'll find a double-sided brush and a little squeezy air blower for cleaning all the random bits of coffee from your grinder. This is all you need too, never use water on your coffee grinder to clean it. You can use a soft, dry cloth if needed, but the brushes and blower should be all you need to keep it in great shape.
After cleaning you may need to re-calibrate it, 1Zpresso say you don't but we're unconvinced. This is really easy and, honestly, not even something you really need to do. Whether the arrow points at 0 or any other number when burrs are touching doesn't change how you count the clicks for your perfect setting anyway. But it's easily done and here's a handy wee video of how to do it if you so desire.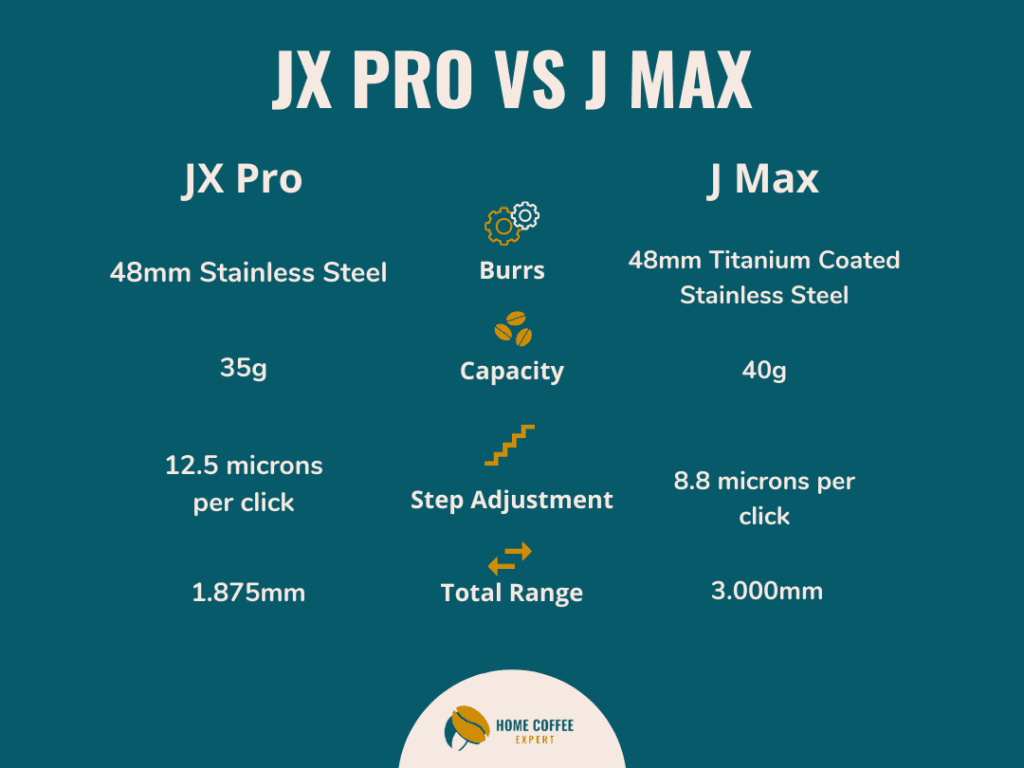 So, the big difference here is in the precision and the range. The JX-Pro will work for many brewing styles but is designed to work more at the finer range of coffee grinders. The J Max is designed to do everything, from the extremely fine Turkish grind all the way to the coarsest French Press. All this with far more precision too. This isn't just exceptional for the 1Zpresso JX series, this is better than many other premium grinders. This includes many, very expensive, electric grinders on the market.
The addition of the titanium coating to the burrs will help the longevity of your coffee grinder. Stainless steel conical burrs will last for years, titanium coating them adds a few more years to that lifespan.
If you want a full review of the 1Zpresso JX-Pro, you can read all about it here.
Do you want a manual grinder but not sold on the J-Max?
Check out our picks for the best manual grinders
So maybe a bit more detail is needed. It is $200 dollars or so, but it performs at the level of an electric grinder over double that price. It's sturdy, beautifully designed, easy to use, easy to clean, and will probably last nearly a decade.
If you're considering the JX-Pro, it's absolutely, unequivocally, worth paying the extra $40 for the J-Max. I'd pay that just for how much cooler it looks. The superfine adjustment and grinding range would just be bacon bits for me.
Yes, this is the grinder we will be using for our own coffee from now until forever (will update if this changes).
Don't forget to Buy Your 1Zpresso J Max Today
You Might Also Like
Find the perfect gifts for coffee snobs in your life. From budget-friendly to high-end, there are gift ideas for every coffee lover

The biggest sale of the year is here and we've hunted down the best Black Friday coffee maker deals so you don't have to. Get prepared here!