Breville is one of the premier espresso machine manufacturers in the world, despite being relatively new to it. All their espresso machines focus on quality coffee, design, and engineering. So, it's no surprise that they're one of the more expensive brands to buy from. The Barista Touch and the Oracle Touch both use an LCD display to make pulling espresso easier. There is, however, a large difference in features and price.
The battle of Breville Barista Touch vs Oracle Touch boils down to whether you think the extra features of the Oracle Touch are worth the extra cost. For the big coffee nerds who like to tinker endlessly with settings, they are. For everyone else, the Barista Touch offers convenience and quality at a significantly lower price which you'll love.
There is obviously much more nuance to it than that. So grab a cup of coffee and dive in as we help you pick out the perfect premium to mid-range Breville espresso machine for you:
This article may contain affiliate/ compensated links. As an Amazon Associate, we earn from qualifying purchases at no additional cost to you. For more information please see our disclaimer here.
All of Breville's espresso machine range is based on their "4 Keys Formula". What does that mean?
Well, it's basically marketing talk for 4 features found in all the best Breville espresso machines that they claim result in consistently superior coffee.
So, what are these four killer features?
18-22g Dose – The larger dose size makes sense. Many super-automatic espresso machines (particularly budget ones) use a 7-12g dose which can lead to some pretty uninspiring espressos. Getting a professional-sized amount of ground coffee into the portafilter means richer, more flavourful espresso drinks.
9 Bar Extraction – This isn't exactly revolutionary stuff here – 9 bars is the minimum pressure required for espresso. But where they do stand out from the crowd is by offering low-pressure pre-infusion followed by consistent extraction. It's this low-pressure pre-infusion that's more important as not every espresso machine does this.
200°F Water Temperature – Again, almost every coffee machine will tell you it brews at 200F. But it's the consistency that matters here. Not only are Breville coffee machines incredibly consistent, but you can also adjust the brewing temperature on their more expensive machines if you prefer.
266°F Steam Temperature – Now this is something you don't often see. Steam temperature matters as it will dictate how much is well, steam, and how much is water. Having high-temperature steam will texturize milk faster, leading to better microfoam. So, if you're a cortado, latte, or cappuccino drink this will make a big difference.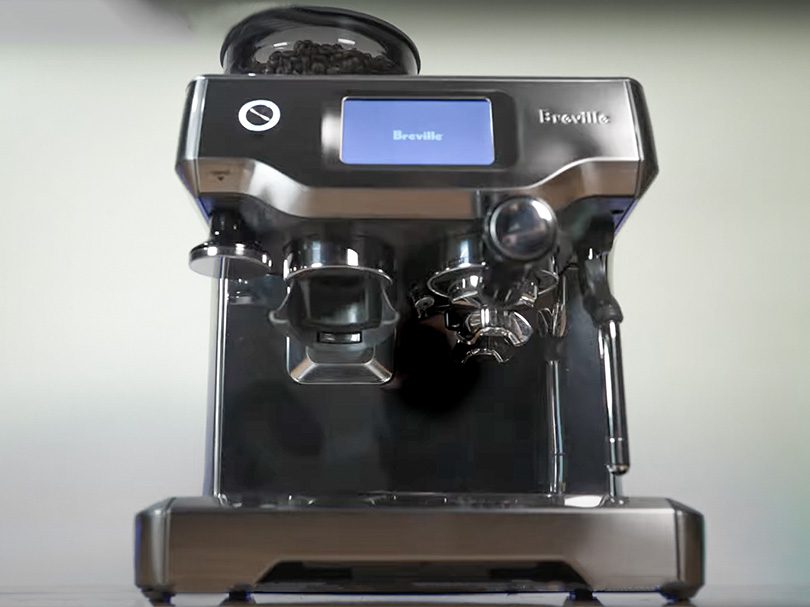 The Barista Touch sits as the best mid range Breville espresso machine. The aim is to make brewing exceptional quality espresso at home very simple without charging the world for the privilege.
You do have to tamp the grounds yourself, so the Barista Touch isn't a true super automatic espresso machine. But it does include a superb tamper and trimmer with a convenient holder to make things as easy as possible.
It comes with 5 pre-programmed drinks as standard: espresso, americano, flat white, latte, and cappuccino. Plus, you can save up to 8 different espresso drinks to have instantly available from the Home Screen.
If you're going to have a few people using the machine regularly, this sort of feature is perfect. It ensures everyone gets their coffee just how they want it without having to fiddle with settings.
Pros
Superb coffee quality
Built to last
5 pre-programmed coffees and ability to save 8 custom drinks
User-friendly and easy to clean
Budget-friendly (for an automated espresso machine)
Cons
No automated tamper
Single boiler
The Breville Oracle Touch is the flagship machine from Breville. As a more high- end espresso machine, the whole process is automated for you although you do have to move the portafilter from the grinder to the brew head. But it's designed to make coffee brewing easy. Really easy.
It's also designed to consistently allow you to get the perfect coffee. Every part can be personalized to an incredibly impressive level, with a somewhat overwhelming number of different customizable coffee settings to be played with.
With all this comes a couple of drawbacks:
The Oracle Touch is pretty big (15.4" x 14.7" x 17.8") and it weighs 37lbs. It's also very expensive, coming in at over $2500. That said, you do get a lot of features compared to most other espresso machines at that same price point.
Pros
Suitable for beginners and experts alike
Pulls very high quality espresso
Auto milk frothing
5 pre-programmed coffees and ability to save 8 custom drinks
45 grind settings
Dual boiler
Cons
Very expensive
Big and heavy
Can take a while to perfect
Coffee Grinder
The Barista Touch essentially has the Breville Smart Grinder Pro attached to the machine. This outstanding burr coffee grinder gives you 30 grind settings to choose from, adjusted by a dial on the side of the machine.
Breville recommends starting at 14 and adjusting from there. But we find most standard settings result in a pretty weak cup of coffee, so we'd start at 10 and take it from there.
The dosing is all done by timer. So to get your perfect dose of grounds you just need to get the length of time and size of grind right. But don't worry as this isn't as difficult as it sounds and the machine will generally keep you right. The result will be excellent grounds consistency with 30 settings to choose from which is plenty for most people to get the perfect espresso.
The grinder in the Oracle Touch has a spectacular 45 grind settings. The machine also tamps the grounds for you so there's no need to worry about messing that up. You will be hard pressed to find another super-automatic espresso machine that offers this level of customization in grind size.
In reality, you'll probably never need to use anything like the 45 settings available. We change the type of coffee beans we're using a lot. So having this level of precision and the ability to really finely tune our espresso grind for each espresso bean is a huge plus.
As both the Oracle Touch and Barista Touch feature dosage control grinding and excellent consistency, it's just a question as to whether you'll actually use the extra settings.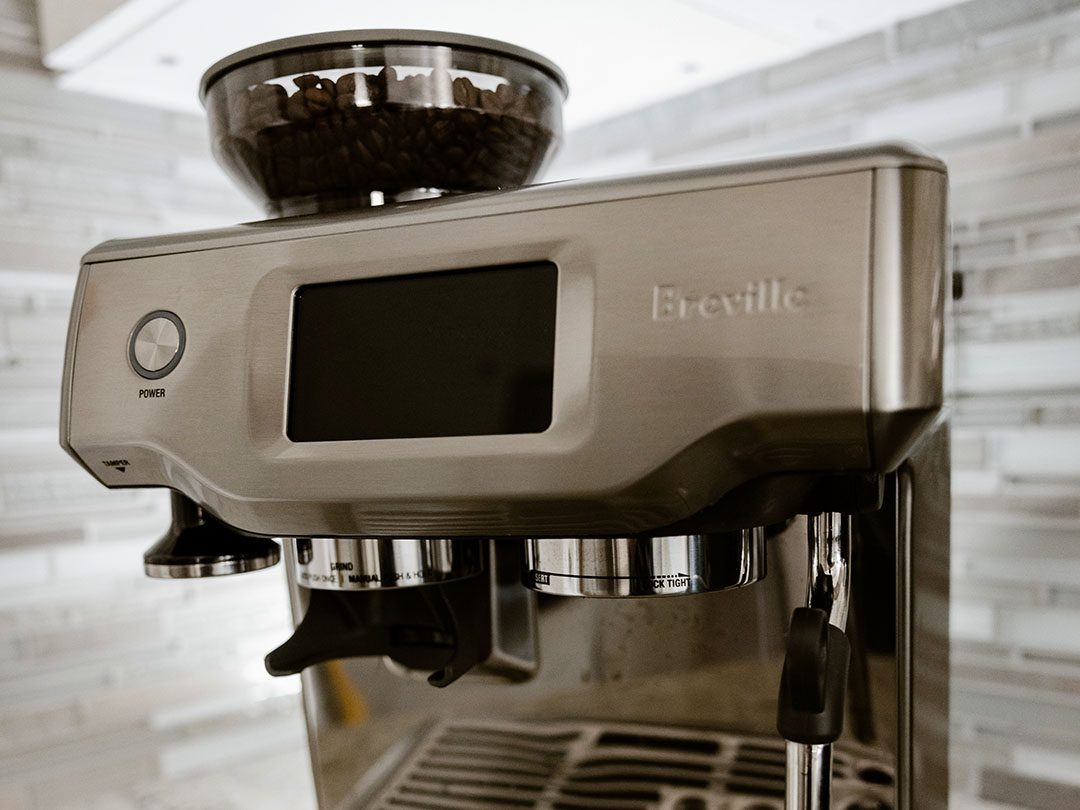 Milk Frothing
Both machines offer the ability to customize the temperature and amount of milk foam produced. One of the components of Breville's 4 Keys Formula is the 266°F steam temperature for milk frothing. The result is microfoam comparable to a professional standard and it means you can start practicing your latte art if you're that way inclined.
The difference between the Oracle Touch and Barista Touch lies in the level of customization available to you. But that difference is actually pretty small:
Both machines allow you to adjust the milk temperature in increments of 1°F and choose your foam level. With the Barista Touch, you have a range of 113°F to 167°F and 8 foam levels. Whereas the Breville Oracle Touch espresso machine has a range of 104°F to 167°F and 9 foam levels.
So unless your perfect milk settings fall between 104 and 112°F, the Barista Touch has you covered.
Size
When it comes to buying an automated espresso maker, size really does matter. Especially if you have a smaller kitchen and are having to give up prime countertop real estate.
The Breville Barista Touch espresso machine is a much smaller machine at 12.5 x 12.7 x 16 inches and a weight of 27lbs. By contrast, the Oracle Touch is 15.4 x 14.7 x 17.8 inches, weighing in at 37lbs. When measuring up your available space, you also have to keep in mind that the bean hopper loads from the top so you need some clearance above the machine too.
In terms of capacity, both espresso coffee makers have a 0.5lb bean hopper. But they differ in water tank size. The Barista Touch can hold 67oz of water whilst the Oracle Touch can hold a whopping 84oz meaning fewer trips to the faucet.
Boiler
The Breville Barista Touch espresso machine has a single boiler, meaning there is a wait between brewing espresso and foaming milk or vice versa.
However, the Thermojet heating system that is used by Breville works really well so the waiting time is actually pretty short. This also means the heating up time when you switch on the Barista Touch is really short. And, when time is tight in the morning, this sort of thing makes a big difference.
On the other hand, the Oracle Touch has two separate boilers. This gives you the option to brew coffee and steam milk at the same time. It is this flexibility that pushes up the price of double boiler espresso machines but if you're making a few coffees in the morning then this makes a huge difference in terms of time.
It's not all good news though as the Oracle Touch doesn't use the Thermojet technology that the Barista Touch does. This means it's slower to heat up when first switched on. Although it still doesn't take a long time, it's just something to be aware of if time is short when you need that caffeine hit.
Coffee Quality
Being great coffee machines, both the Oracle Touch and the Barista Touch make exceptional espresso. The quality of the grinder, the larger portafilter, and the low-pressure pre-infusion followed by consistent extraction combine to produce a fantastic result.
The real difference in coffee quality comes not from the machines themselves but from us using them. If you're willing to adjust all the possible settings with your beans to get the best result, you can get something truly exceptional. But if you're happy with the standard settings and just a couple of small tweaks, you'll merely get excellent espresso.
I would say it is possible to get better espresso from the Oracle Touch:
For a start, the dosing and tamping are automatic. But it's also the better espresso machine for allowing you to tweak everything to a higher degree of precision. The result is a better-tasting espresso.
The question is "Do you want to spend the time to perfect your espresso craft?".
If you're just looking for a machine that will allow you to tweak the settings once and leave it, the Barista Touch will be great for you. If you're looking to dial-in each new set of beans you buy and tweak things until it's perfect, then the Oracle Touch is a much better option.
Custom Drinks
Both machines allow you to save up to 8 custom drinks to the home screen. These are in addition to the 5 that are pre-programmed as standard. For most households' daily coffee machine usage, 8 will be plenty to ensure everyone has their favorite coffee saved for future use.
If you're looking at an office setting then this may not be such an elegant solution. Having twenty coffee drinkers and 8 slots feels like a recipe for issues. Unless everyone is happy to drink the standard options anyway.
Cleaning and Maintenance
One of the big things we love about the Breville designs is the ease of cleaning.
Due to the portafilter style, you can easily get into the brew head and give it a good clean. Compared to other high-end espresso machines like Jura, this is a big selling point. You can also easily clean out the portafilter after each use, meaning there is no way for anything untoward to build up in your coffee machine over time.
The milk wands need to be wiped down after each use. But again, this is not time-consuming and is very easy to keep in good condition. Whilst some people may not like the milk wand setup with the jug, it does mean there's no milk container to clean. Milk containers can get really disgusting really quickly so we prefer machines without them whenever possible.
Every couple of months you need to descale both the Barista Touch and Oracle Touch. The grinder will also need to be taken apart and cleaned too. But all of this is standard across all coffee machines. Sadly no one has created a fully self-cleaning espresso maker. When they do, we'll be first in line.
Overall, the Breville Oracle Touch is clearly the better espresso machine.
It is more automated, has more customization options, and can pull the best possible espresso. But, and it's a big BUT, as a more premium, high-end espresso machine it is around $1500 more expensive than the Barista Touch.
The Barista Touch is a simpler machine but the quality of the final espresso may not be that much different. Yes, you lose the automated tamping and some of the customization ability of the Oracle Touch but depending on your usage, this may not bother you at all.
The question is, are you going to use all these features?
If you're planning to set up your custom drinks then let the machine do it all from there, the Barista Touch is a fantastic choice. As long as you're happy to tamp your own grounds with their excellent tamper and trimmer (it's really easy, don't be scared of it) then save yourself the money and get the Barista Touch.
For coffee geeks like us who look at all the extra options and dreamily imagine sitting surrounded by espresso cups, adjusting things to get it "just right" then the Oracle Touch is the hands-down winner.
Similarly, if tamping and trimming seem like more work than you want to do, get the Oracle Touch and relax knowing it's all taken care of.
So, who is the real Breville Barista Touch vs Oracle Touch winner? Well, that all depends on you.
Check the latest prices of the Breville Oracle Touch on Amazon | Direct from Breville
Check the latest prices of the Breville Barista Touch on Amazon | Direct from Breville
You Might Also Like
Beautiful, simple, and delicious espresso for around $1000? We had to test if such a thing was possible – read our Jura ENA 4 review to see

Jura ENA 8 vs Gaggia Babila is a battle of philosophies. Is the convenience of the ENA 8 superior to the precision of the Babila?