Are you looking to add a super-automatic coffee machine to your life? But not ready to splash the big bucks? Then this De'Longhi Magnifica XS review (ECAM22110) is for you.
De'Longhi is one of the biggest names in coffee whose mere mention can conjure up images of a perfect espresso in cafés across the Italian peninsula. They have built an excellent reputation through years of producing some of the best espresso machines you can buy.
Rarely at the top end price bracket, De'Longhi products are simple, well-made, and borderline invincible. In this De'Longhi Magnifica XS review, we'll see how one of their more budget-friendly offerings stacks up against the competition. Then you can decide if it is worth splashing out on a fully automatic espresso machine to have your morning coffee at the touch of a button.
To compile this review of the Magnifica XS, we have scoured the internet for all the reviews to collate with our own. So this is the most comprehensive espresso machine review you will find. Whilst not all home coffee experts give numerical scores, we have averaged these out. Therefore, you can get a consensus opinion on how good this coffee maker really is and know for sure if it is right for you.
This article may contain affiliate/ compensated links. As an Amazon Associate, we earn from qualifying purchases at no additional cost to you. For more information please see our disclaimer here.
At a Glance: De'Longhi Magnifica XS Review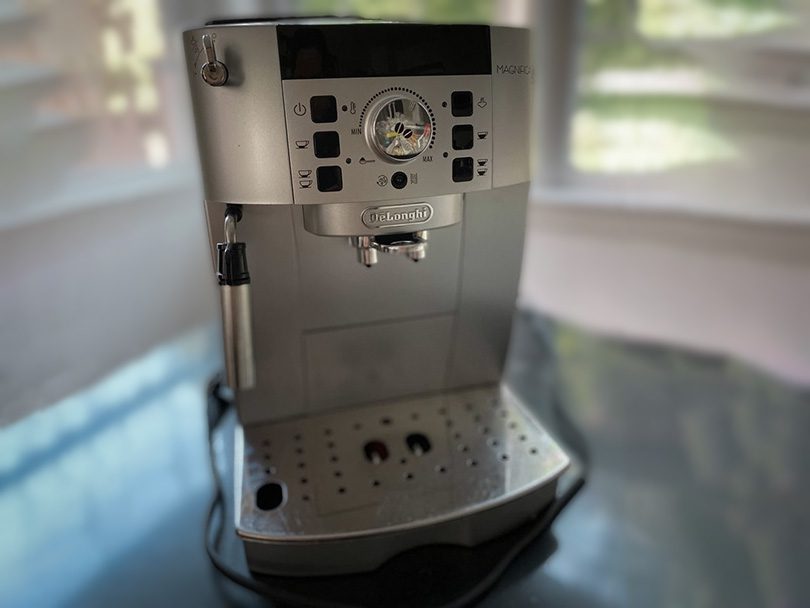 The DeLonghi Magnifica XS is a great option at the budget end of the super automatic espresso machine market.
It is not without its faults – only having a manual milk frother and a single boiler being the main two. But it does everything it's designed to do really well.
Overall, this bean-to-cup machine is very simple to use. It will pull a really good shot of espresso once you've tinkered a bit, plus it's easy to keep clean.
All you need to work out is if you need the extra functions of the more expensive machines when it comes to milk foaming and having a dual boiler. If you don't, or you are on a budget, this is a great option.
Pros
Compact
Simple to use
Coffee spout is height adjustable
Easy to clean and maintain
Drinks are customizable
13 easily adjustable grind settings
Quick
Cons
Manual milk frother
Plastic covering scratches easily
Single boiler
1. Stainless Steel Burr Grinder
A high-quality burr coffee grinder is essential for getting the best tasting espresso. And the Magnifica XS doesn't disappoint as its grinder is low RPM and whisper-quiet, ensuring the flavorful oils from your espresso beans aren't lost.
With 13 easily changeable settings, it allows you to dial in the perfect grind for your beans – although we wouldn't recommend anything above a 5.
2. Thermoblock Heating System
Thermoblock boilers ensure fast heating of water for coffee and steam. By only heating the water required for each coffee, the De'Longhi Magnifica XS saves energy and heats up quickly.
3. Brews 2 Coffees at Once
With height-adjustable dual coffee spouts, you can make 2 coffees at the same time. This takes a little pain out of the morning rush.
4. Sealed Bean Hopper with UV Filter
The 8.8oz bean hopper has a UV filtering lid and rubber seal which ensure you are only ever using the freshest coffee beans.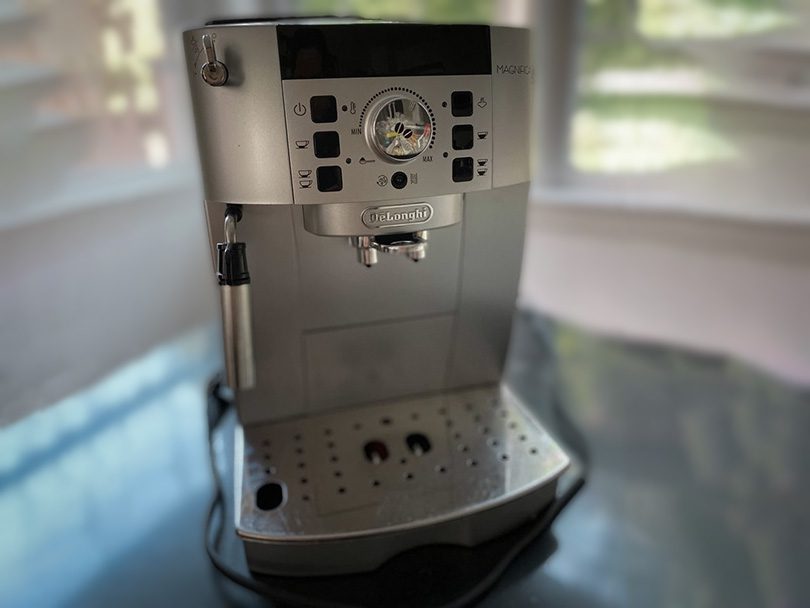 The user interface on the Magnifica XS espresso machine would be called "classic" by some and "old-fashioned" by others. Buttons and knobs are used to select your drinks and to make adjustments. For many people, this is the preferred method as it keeps things simple.
You can vary the volume of water that passes through your freshly ground coffee. To do so, you simply hold down your preferred drink button, then press it again once it has poured the desired volume. So it's entirely up to you if would prefer espresso, ristretto, lungo, or something entirely of your own creation.
To select your preferred grind setting, there is a knob inside the bean hopper. Just make sure to only do this whilst the grinder is already running.
Finally, to adjust the coffee strength levels you can turn the big knob in the middle of the display. This works by changing the amount of coffee used to brew coffee each time.
Overall this makes the Magnifica XS very straightforward to use and to adjust to your coffee preferences.
The milk frother is manual which won't appeal to everyone. The "cappuccino tip" works fairly well for foaming milk nicely, but if you are a flat white fan it may be difficult to get the texture you're looking for. Having to hold the milk jug in place while it foams is a bit of an annoyance on a machine at this price but hardly a dealbreaker. Just don't forget to keep an eye on it so you don't burn your milk!
If you're the kind of person who enjoys an occasional decaf or flavored coffee, there is a chute for adding pre-ground coffee to your machine. It's a nice feature for convenience and particularly helpful if entertaining, when people may have different coffee preferences than you.
The stainless steel burr grinder has 13 settings, is very quiet, and the low RPM helps to maintain all the delicious oils from your coffee beans. So your favorite fresh whole coffee beans are in good hands (burrs?)
At first glance, the option to use pre-ground coffee may seem a little odd – why compromise on quality and freshness? However, it gives you the flexibility to occasionally brew your favorite decaf coffee or a flavored variety, if the mood takes you, without having to empty and refill the bean hopper.
For me, this feature comes into its own when I have guests who prefer decaf.
It's now pretty standard on bean-to-cup machines. So don't feel like you're paying extra to have a pre-ground coffee compartment if you don't think you'll use it.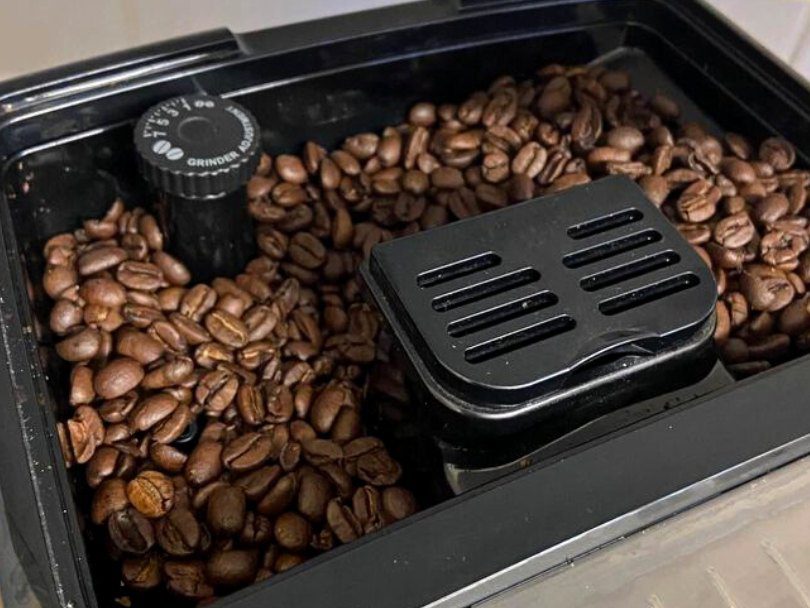 The Looks
The De'Longhi Magnifica XS is 9.4″ by 17″ by 13.8″, making it a pretty compact automatic espresso machine. So, If you're looking at a pretty full countertop and wondering if you have the space for some of the bulky behemoths on the espresso-making market then this is great news.
With buttons and knobs, it's more of an "old-school" design than you'll find on many of the best bean-to-cup machines. This doesn't affect the functionality and, for some people, may actually make it much easier to use.
It is currently available in a range of colors – fully silver, fully black, or a black and silver color combo The latter looks modern enough to fit in most kitchens. But, the fully silver model looks a little 90s (DeLonghi ECAM22110SB).
The Build
All De'Longhi espresso machines are built to last – and this is no exception. Everything is very well built and put together, as you would expect. It also comes with a 2-year warranty just in case you do have any issues.
We have a small gripe in our De'Longhi Magnifica XS review: there's just a single boiler for both coffee and steam. This means you have to wait between using water or steam (for milk). And, on a relatively expensive super-automatic espresso machine, this seems pretty poor.
That said, it only takes around 10 seconds to switch between coffee brewing and milk steaming. So calling this a big problem is blowing it way out of proportion.
The thermoblock also "auto-flushes" hot water when you switch between functions. So there is no fear of burning your coffee or pouring water instead of steam into your milk.
The milk foamer is manual, which some may prefer – annoying for others. It means you have more control but also need more technique.
To help you along, De'Longhi's "cappuccino tip" does a decent job of getting a good microform without too much practice. But it also means that getting the perfect foam for a latte or flat white is more difficult. Whether this will annoy you comes down to what drinks you want to make and how fussy you are about your milk.
The water tank holds 60oz of water and the bean hopper holds 8.8oz of coffee beans. Both are good sizes and easy to refill when necessary.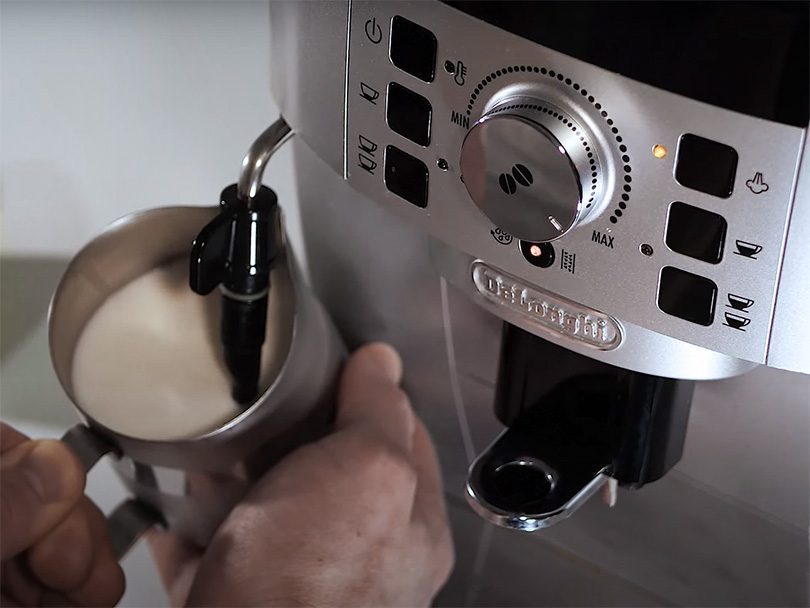 But, if you turn the strength up to the max, choose the finest grind setting and the correct volume of water, then you'll be rewarded with a very good espresso shot.
With the ability to adjust the grind, temperature, amount of coffee, and volume of water, you should be able to pull really good quality coffee no matter what your preference is. This also allows you to make subtle adjustments depending on the type of coffee beans you are using.
If you're a cappuccino drinker, the milk foaming will work really well for you once you have perfected your frothing technique. However, latte and flat white drinkers may not like the foam to textured milk ratio. If this is you, you'll have to play around a bit to get it right.
For best results, we recommend removing the panarello – the sheath on the milk frother. De'Longhi has made it very easy to remove (usually to help with cleaning) and reveal the plastic steam nozzle underneath. It will give you more control and vastly improve your milk quality.
When investing in your first super-automatic espresso machine, these little things can quickly become big frustrations. If you drink milk-based espresso drinks and don't want the headache (and heartache), then a Jura coffee machine will likely be a better match.
It doesn't have the same additional features, but then it is priced as "entry-level" for these types of coffee machines.
The grinder, however, is excellent and very quiet.
Plus, the customization options are also pretty good and give you a wide range of options to tailor your coffee to your particular tastes.
The lack of different user profiles to save your drinks preferences to and not having an automatic milk dispenser are small irritations. But you're also saving a fair few hundred dollars to forego these features. So the question needs to be asked if you need, or just want, them.
Parts of the De'Longhi, such as the drip tray, are dishwasher safe. And the brew group can be easily removed for a proper clean too.
There is an option to use a filter on your water which can cut down how often your coffee machine will need to be descaled. But this will depend heavily on the hardness of your water and may not be necessary at all.
Like all thermoblock machines, in fact, all espresso machines in general, the Magnifica XS will need to be descaled occasionally. This isn't a difficult process and takes around 30 minutes or so.
You'll also want to clean out the grinder once a month to make sure it's kept in top condition and there aren't any clumps of grounds stuck in there. De'Longhi has a special "tube system" for its grinder which is supposed to eliminate this problem. But it's best practice to give it a monthly clean with a soft brush anyway.
Overall, this machine is pretty easy to look after and the only part that really needs to be cleaned after each use is the milk frother. A hot damp cloth can usually do this. The cappuccino tip is also removable for deeper cleaning and will probably be necessary every week or so, depending on how often you use it.
Magnifica S vs Magnifica XS
DeLonghi model numbers are notoriously unhelpful to get your head around. And this is abundantly obvious when it comes to the Magnifica series.
In this Magnifica XS espresso machine review, we have been looking at the ECAM22110. But this used to be the model number for the Magnifica S which is now the ECAM23270. So you will sometimes see the newer Magnifica XS with Magnifica S written on the front. Lost? I don't blame you – just keep an eye on those serial numbers.
But there aren't too many differences between the two automatic espresso machines. The Magnifica S is around $300 more expensive and for that, you get a sleeker user interface, a marginally smaller machine, and the option for automatic milk frothing.
Whilst the milk frothing does give you more flexibility on the Magnifica S, we don't feel it justifies the big hike in price. If auto milk is a dealbreaker for you, check out our De'Longhi Magnifica Evo review as a better option.
Philips 3200 LatteGo
The Philips LatteGo series and the DeLonghi Magnifica range hold a lot of similarities when it comes to looks. But, for a very similar price, the 3200 LatteGo super automatic espresso machine is a better option than the Magnifica XS.
For starters, it looks a lot more modern. The screen is intuitive and makes it easy to select all your preferred drinks. And, from that list of drinks, you have more pre-programmed options.
It also has an automatic milk dispenser, making things a lot easier of frothing is new to you.
Yes, it's still expensive but these machines generally are. It makes a very good espresso at the touch of a button, once you've sorted the correct amount of water. And it will make a cappuccino as good as most baristas.
Don't get us wrong, it is by no means perfect for all types of drinks. The manual milk foamer being the main issue. But for black coffee, espresso, cappuccino, or macchiato fans it will do a really good job. Plus, it will do it quickly and easily too, which is always a bonus.
Having 13 grind settings is actually pretty impressive as many more expensive bean-to-cup machines have less. And the simplicity of buttons will appeal to many over touchscreens.
Overall, it's a classic example of compromise:
It doesn't do all the tricks of more expensive machines but if you don't actually want those tricks, why pay more money to have them?
Don't forget to Buy Your De'Longhi Magnifica XS Today
You Might Also Like
Beautiful, simple, and delicious espresso for around $1000? We had to test if such a thing was possible – read our Jura ENA 4 review to see

Jura ENA 8 vs Gaggia Babila is a battle of philosophies. Is the convenience of the ENA 8 superior to the precision of the Babila?