Breville coffee machines are some of the best in the business. For those of us who prefer a more "traditional" espresso machine design, they're the go-to company. But choosing your perfect machine for you can be tricky: you will be bombarded with features and technical jargon. So being able to cut through the noise isn't always easy.
Deciding between the Breville Oracle vs Oracle Touch comes down to how involved you want to be with making your coffee. If you want to adjust every step or feel like a Barista, the Oracle is the best machine for you. For those looking for a more automated approach, the Oracle Touch offers your cafe quality coffee at the touch of a button so you don't have to think about anything. Plus, you can save your customized coffee drinks to make with ease.
There is a lot of amazing technology and great features in both of these machines. So let's take a detailed look at each so you can decide which is the better automatic espresso machine for you:
This article may contain affiliate/ compensated links. As an Amazon Associate, we earn from qualifying purchases at no additional cost to you. For more information please see our disclaimer here.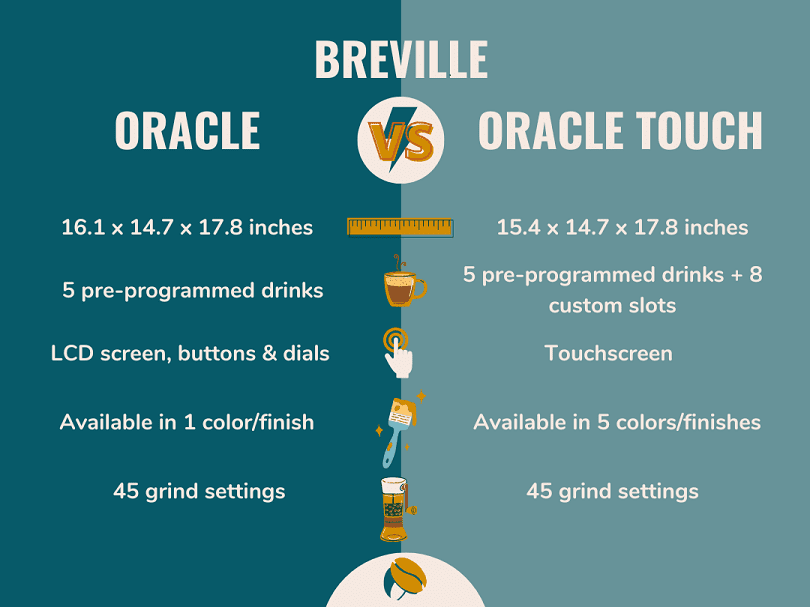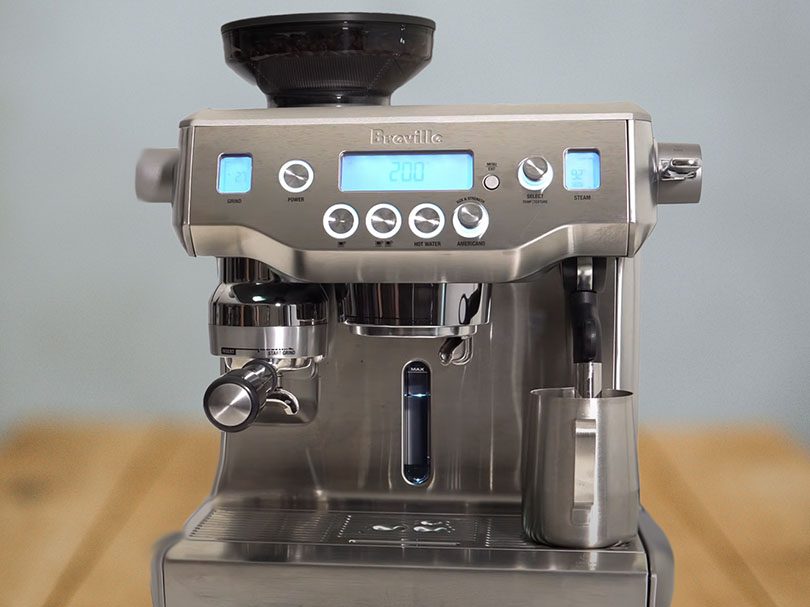 The Breville Oracle is a feature packed machine that is every home coffee nerd's dream. The LCD display keeps track of every aspect of extraction. It also has a multitude of options to tweak grind, dose, time of extraction or pre-infusion, temperature and volume of extraction, or temperature and consistency of milk.
The only downfall is not really a downfall but a feature: it's not a super automatic machine.
You can choose single espresso, double espresso, or americano. But the rest is mostly up to you. This is obviously a selling point for super nerds, like us, but can be a drawback for those who just want great coffee hassle free.
With the Breville Oracle espresso machine, anyone can be a top barista. It makes dialling in your espresso very simple and consistently getting perfect milk a breeze.
If you want incredible control but don't want to pay for automated features, it's perfect.
Pros
Superb quality coffee
LCD display makes adjusting settings simple
Incredible number of customizable coffee settings
Accessible for beginners; great for experts
Dual boilers
Automatic milk frothing
45 grind settings
Cons
No "one touch" coffees
Expensive for an automatic machine
Big and heavy
Boiler takes a while to heat up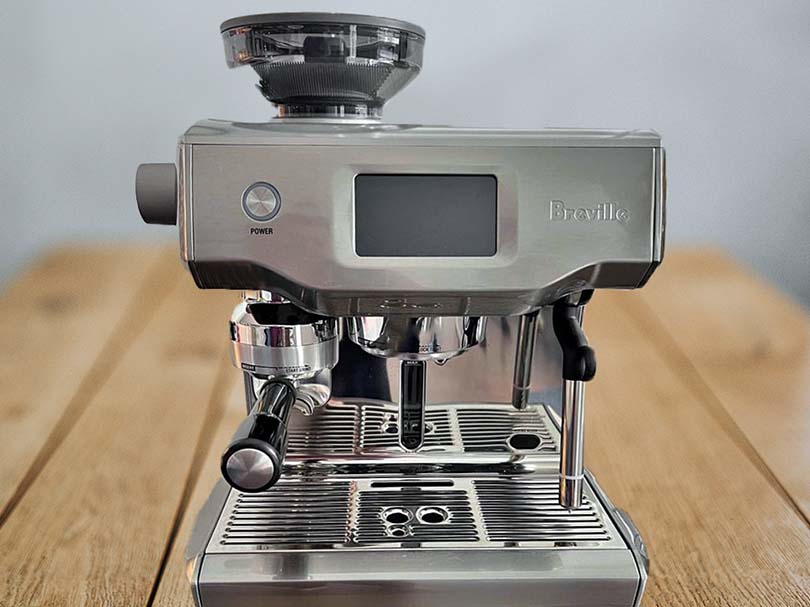 The Oracle Touch is the flagship machine in Breville's range. And has a price to match it too.
What it also has is incredible features, stellar quality coffee, and a brilliant interface. While it only has 5 pre-programmed coffee settings, it also has 8 slots for custom drinks. This means you can fill your machine with coffee options you actually drink, instead of the memory being stacked with things you don't like.
The Oracle Touch is expensive, but it's features are as good, if not better, than many other super-automatic espresso machines at it's price point. It also has a wonderful design of brushed stainless steel that looks like a coffee machine, rather than a coffee spaceship.
Whether or not the Oracle Touch is worth it will come down to whether you think you'll want or use all the amazing features. But if you love the looks and aren't worried about the price, it's probably worth it on that basis alone.
Pros
Pulls high-quality espresso shots
Accessible for beginners whilst also being customizable for amateur home baristas
Automatic milk frothing
Easy to clean
Consistency is superb
Can make pretty much any coffee your want at the touch of a button
45 grind settings
Cons
Very expensive
Big and heavy
Takes a while to heat up
Breville's espresso machines all contain the same 4 Key Features that they feel are necessary for top quality third wave specialty coffee.
While these features aren't all unique to the coffee machines market, having a focus on quality across their range makes you feel good about buying any of the best Breville coffee makers.
9 Bar Extraction – So every espresso machine, Breville or otherwise, should be giving you this. It is the minimum pressure required for espresso.
However, Breville preach on the consistency of this pressure, which is very important. They also have a low pressure pre-infusion stage. This is critical for getting the best flavor from the coffee beans and is not a common feature in espresso machines.
200°F Water Temperature – This is another common feature across best coffee makers since almost everyone agrees 200°F is the ideal temperature for espresso. That said, Breville does use a clever system that constantly measures the temperature and makes smaller and smaller adjustments as it gets closer to 200°F. It's complicated, but works well and again, consistency is key.
18-22g Dose – You'll see a lot of people saying 7g is the ideal dose for an espresso. This feels a touch light for us and can result in some really underwhelming shots. The larger dose does result in fuller flavor in better tasting espresso drinks. We're big fans of this feature.
266°F Steam – So steam temperature probably isn't something you think about a lot, after all, steam is steam. But hotter steam means less water, which also means faster milk foaming. This gives better micro foam and nicer texture to your milk. A big plus if you delicious coffee drinks such as latte, cortado, or flat white.
Touch Screen
OK, let's start with the big and glaringly obvious difference. So obvious it's in the name:
The Oracle Touch has an LCD touchscreen display. It lets you cycle through the options and choose from standard coffees or your own personalized coffee recipe settings that you've saved. It's easy to navigate and looks really good.
The Breville Oracle coffee machine has a standard LCD screen that shows all the settings you currently have selected. This lets you see the grind, dose, extraction time/volume, and milk settings. The screen is good, it makes it easy to see and adjust settings via buttons and dials. But you lose the one touch coffee options and the color display.
"One Touch" Drinks
The Oracle Touch comes with 5 common espresso coffee drinks saved to its home screen: espresso, americano, flat white, latte, and cappuccino. There are also 8 spaces for your own creations. This is probably plenty for most home coffee drinkers but may become problematic in an office setting with many coffee drinkers.
Having only 5 drinks as standard is very low compared to other automatic coffee machines at this price. But Breville has deviated from having a long list of drinks (of which most people only use 20%) simply as a marketing ploy. Instead, their focus is more on allowing you to create your perfect drinks and save them.
On the other hand, the Oracle has 3 built-in options: a single espresso, double espresso, or americano. You can also choose your own milk volume and settings to go along with any of these 3 to create basically any espresso-based drink you can imagine.
If you are happy to create your drinks yourself, on the spot, rather than having them saved to the machine then you can save yourself around $600 by opting for the Oracle. Or, if everyone is happy with the same espresso settings (usually not the case in larger houses or offices), then all you need to do is customize the milk settings which are very simple to change.
Looks
Aside from the very obvious screen differences in the middle of the Oracle and Oracle Touch coffee machines, the two do look quite different. And can look drastically different.
The Oracle has some plastic accents, though none look or feel cheap to us. Whereas the Oracle Touch is brushed stainless steel with almost no plastic used.
The main aesthetic difference is the color options available with the Oracle Touch:
If you buy direct from Breville (Amazon doesn't currently stock all models), you get a choice of 5 finishes. These are admittedly all pretty neutral – sea salt (white), black truffle (black), or damson blue (navy) in a matte finish, and black or brushed stainless steel (dark grey or silver). The Oracle only comes in brushed stainless steel.
For most people, this probably doesn't make much of a difference. But some of the other colors look really good and may suit your personal style better.
Coffee Quality
With basically all the same working parts and customization options, you can expect exceptional quality espresso no matter which of these automatic coffee machines you choose.
The standard settings are pretty good. So, with just a little tweaking (or none if you prefer), you'll be sipping delicious fresh specialty coffee brews. Your milk preferences may take a little longer to figure out and perfect. But the microfoam texture is superb meaning latte art could be a new hobby/obsession.
Grinder
Comparing grinders in the Oracle vs Oracle Touch is a pointless exercise – it's the same bit of kit. So you can expect consistent grind quality over the full range of settings (45 to be exact).
The coffee grinding capability on an automated espresso machine is fundamental to how good your espresso shot will be. So, you won't be disappointed with the espresso-grade coffee grinder and the high-quality drinks it produces in both these machines.
Size
Both machines are big and pretty heavy:
The Oracle Touch is fractionally smaller than the Oracle – by a whole 0.7 inches in width. This makes no practical difference to whether the machine fits on your countertop or takes up too much space. They're both big machines so you need space for them.
It's also worth keeping in mind that the bean hopper loads from the top. So you will also need some wiggle room for top-ups – not always the easiest if your machine sits underneath some cupboards.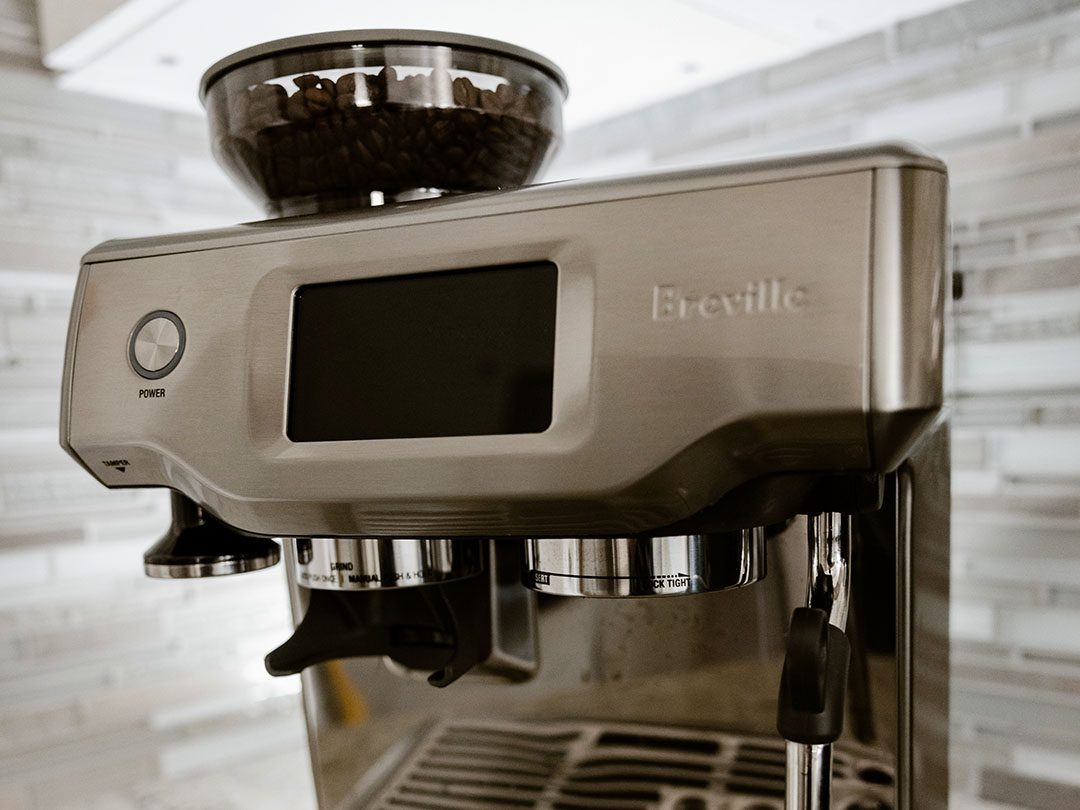 Boilers
Both the Oracle Touch and the Oracle have dual boilers.
This means you can foam milk and brew espresso at the same time. It's the kind of feature that is amazing for anyone who needs to make multiple drinks in a hurry. It also guarantees excellent temperature for espresso extraction and steam.
The downside is that the boilers don't use the Thermojet technology that some of the single-boiler Breville automatic espresso machines use. This means it takes a little longer for the Oracle and Oracle Touch to warm up when first switched on. But between the two machines, the length of time is the same.
Cleaning and Maintenance
The difference in cleaning between the two is near non-existent:
They both need to be descaled occasionally. The milk frother needs to be wiped down after each use. The portafilters need to be rinsed out after each use.
Overall, this style of coffee maker requires more of a "little and often" clean than an "occasional but thorough" clean. It also allows you to remove and clean the brewhead (what separates Breville from Jura) as often as you like. So there's no danger of any build-up in the inner workings of your espresso maker.
Customization Options
As the user, the method of adjusting the settings and saving them to your machine is different between the Oracle Touch vs Oracle. But the options you actually have are exactly the same.
You can adjust the milk temperature in 1°F increments over 9 foam levels; choose between 45 grind settings; change the adjustable coffee temperature in 1°F steps; set the dose timer; and (if that's not enough), you can alter the extraction by either volume or time.
All of this adds up to insane precision and control over the final coffee from either the Oracle or the Oracle Touch espresso machines. It's merely a choice in how those changes are made and if they can be saved.
The Oracle will save the settings you last used. So once your espresso is dialled in, you can come back to the exact same coffee adjustments until you change your espresso beans. So in a house with just a couple of coffee drinkers, the Oracle could well suit your needs just fine without the additional expense.
Do you just want incredible customization options at the touch of a button? If so, the Breville Oracle is the perfect espresso maker for you. You can endlessly fiddle with settings, revel in dialling in each new set of beans, and focus on getting that latte art just right.
But, for many casual coffee drinkers this level of customization is a little too much.
So, if you're looking for something super simple whilst still making your highly specialised coffee exactly how you want it, then you'll want to spend the extra on the Oracle Touch. You just need to customize your drink settings once then it's ready at a touch forever.
So the Breville Oracle vs Oracle Touch winner is really a question of what features you'll actually use. Either way, you'll get a great looking espresso machine that delivers consistently exceptional coffee for a long time.
Check the latest prices of the Breville Oracle Touch at Amazon | Direct from Breville
Check the latest prices of the Breville Oracle at Amazon | Direct from Breville 
You Might Also Like
Beautiful, simple, and delicious espresso for around $1000? We had to test if such a thing was possible – read our Jura ENA 4 review to see

Jura ENA 8 vs Gaggia Babila is a battle of philosophies. Is the convenience of the ENA 8 superior to the precision of the Babila?