Choosing an espresso machine is a daunting process. There are seemingly endless options all promising the best coffee, all selling different angles of the same dream. But Breville is consistent in its style of espresso maker and commitment to putting you in charge of the process.
In this Breville Oracle review, we break down why this is an ideal espresso machine for anyone who wants total control over their espresso extraction but would also like the safety net of automation. Your coffee. Exactly how you like it. Mistake free.
It may sound too good to be true – and it isn't perfect – but the Breville Oracle is a brilliant espresso machine. Read on as we take a deep dive into why you'll love it.
We have scoured the internet for all the Oracle espresso machine reviews to collate with our own, meaning we have the most comprehensive review you can find. Whilst not all home coffee experts give numerical scores, we have averaged these out. Therefore, you can get a consensus opinion on how good it really is and know for sure if this is the right automatic coffee maker for you.
This article may contain affiliate/ compensated links. As an Amazon Associate, we earn from qualifying purchases at no additional cost to you. For more information please see our disclaimer here.
At a Glance: Breville Oracle Review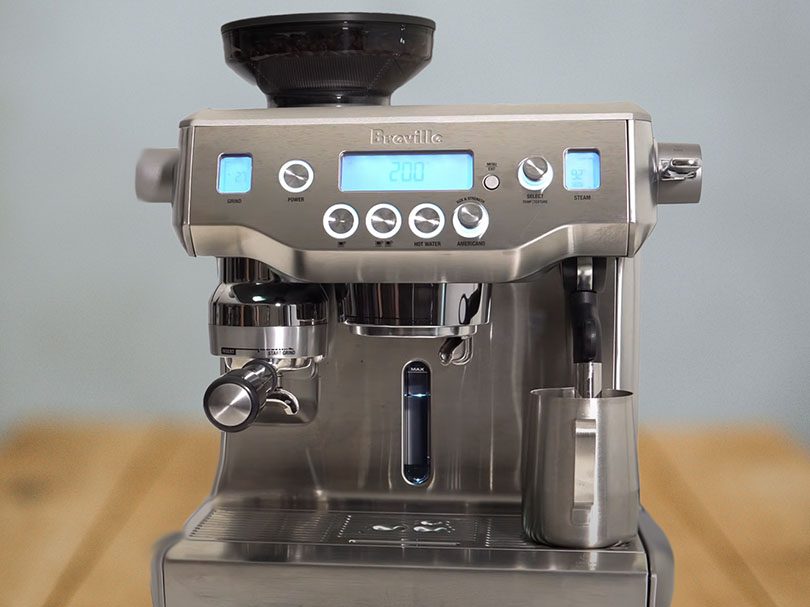 Breville Oracle
The Breville Oracle espresso maker has features for every conceivable step of espresso brewing. Whilst this may appear overwhelming, the automation means you only need to adjust what you feel comfortable playing with. It also means an experienced espresso maker or a beginner can get the results they want.
Latte art is very achievable (with practice) on the automatic settings. But those with more experience in home espresso machines can work in manual mode for that perfect milk foam.
There are some downsides though: it's big, it's heavy, and it's expensive. It also doesn't have the same level of automation as super-automatic machines for the same price.
But the Breville Oracle is the best machine for you if you're looking for a coffee machine that lets you:
– extract espresso like a pro with no fear of getting it totally wrong
– customize to your heart's content without having to pay for automated features you won't use
Pros
Excellent espresso
Customize every aspect of your coffee
45 grind settings
Superb milk frother
Easy daily cleaning
One-touch americano
Suitable for beginners or experts alike
Cons
Expensive
Big
Very hands on
Slow to heat up
1. Dual Boilers
Having two boilers allows you to simultaneously froth your milk and extract the shot of espresso, reducing the time to that first delicious sip.
2. Adjust by Time, Volume, or Temperature
Make sure your espresso is exactly how you like it by adjusting either the length of time for coffee extraction or the volume of water to be pushed through the puck. For more control, the adjustable coffee temperature can be altered in increments of 1°F.
3. Low Pressure Pre-Infusion
This is part of the Breville 4 Keys Formula and basically allows for a more even extraction from your coffee grounds by saturating them at low pressure as the first step. You can also customize the length of pre-infusion if it's not quite right for you and your chosen coffee bean variety.
4. Automatic Milk Frother
No matter what type of espresso drink you are making, you can expect perfect milk thanks to the customization offered. You can alter the milk temperature in 1°F increments and choose between 9 different foam settings. Or, if you prefer, you can opt for manual mode.
5. One-Touch Americano
Using either a single or double espresso shot, you can get a perfect americano made to your specification at the touch of a button.
If you stick with the standard settings, you can just push the single or double espresso button and you'll get a good quality espresso. Similarly, the automated milk frother will give you a nice texture, not far off flat white milk.
However, if you want to make adjustments you can easily keep track of what you're doing thanks to the individual screen showing you the grinder, extraction, and milk settings. Therefore, you can change one aspect, say grind size, knowing that everything else is constant. This makes it a great coffee machine as most automatic machines require you to do more of the work.
So, if you're looking to learn more about espresso or just want a perfect cup of joe without worrying about the process, this could be the perfect prosumer espresso machine for you. (That's a machine for the everyday coffee drinker but with professional parts and features found in commercial machines). Simply adjust what you want, when you want, and ignore the rest.
Seasoned espresso pullers will fall into two camps:
Either you love the ability to keep all other things constant while adjusting a single setting.
Or you'll feel stifled by the fact you have preset options for everything.
Personally, I love being able to see how adjusting a single aspect affects my espresso. I think this is the easiest way to dial in your machine for each new set of espresso beans to really let the unique flavors shine. But maybe that's just the geek in me shining out.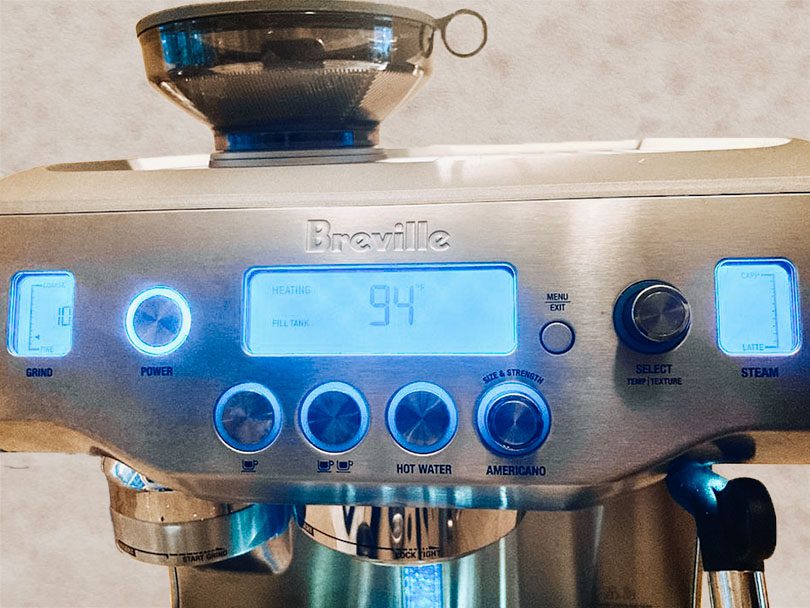 On the end of the milk wand there is a temperature probe that ensures you always get the correct milk temperature. There are also 9 foam levels to choose from so you can get it exactly how you like it.
If you prefer to take more control, you can, of course, use it manually. As a manual milk wand, it works really well allowing you to get a really nice microform thanks to the high pressure and consistent temperature.
How to Make Latte Art With the Breville Oracle
If you're looking to practice and master your latte art with the Oracle, set the temperature between 140 and 147°F (60-64°C) and on foam level 2 or 3. The exact settings will depend on your milk (i.e. fat content, dairy or plant-based) but that's a good starting point.
The Oracle will take it from here so you can foam your milk to perfection every time, once you've got your ideal settings.
After the machine has finished foaming your milk, tap the jug on your counter a few times to knock out any large bubbles and you're good to go.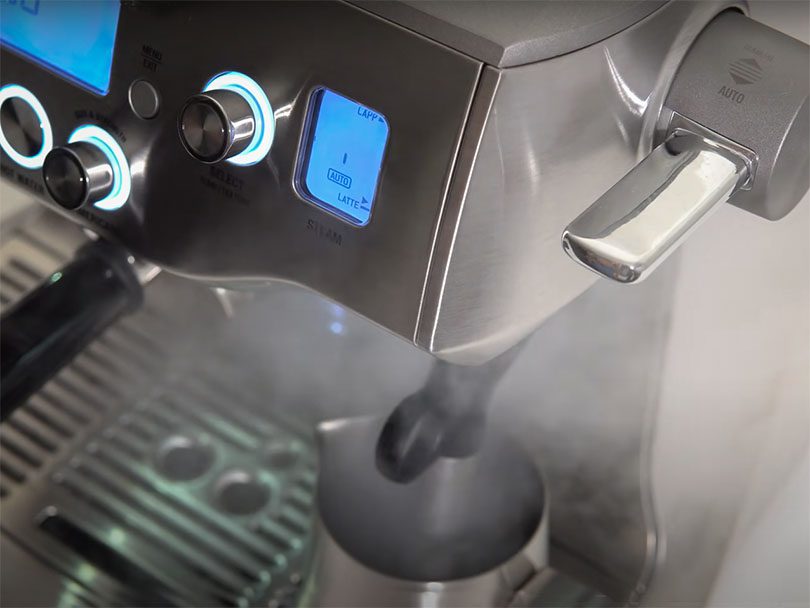 The built-in grinder is excellent and has a staggering 45 espresso specific grind settings for you to choose from. This is obviously a lot more than most people need, but it's nice to have the options.
Being an automatic portafilter machine, the Oracle will dose and tamp 22g of coffee straight into the 58mm portafilter. So after setting the auto coffee grinding to go, you can sit back and watch the magic happen.
Those with a desire for absolute precision will appreciate being able to make such fine adjustments to their espresso grinder. Especially if you like to change your beans a lot.
Similar to other Breville espresso machines, the Oracle uses a portafilter so it's easy enough to use pre-ground coffee if you want to switch to your favorite decaf coffee, for example, as a one-off. Obviously, the quality will dip significantly when you move away from freshly ground coffee, but this is a useful feature, especially when guests come over.
The Looks
Breville automatic espresso machines all follow the same style – they're designed to look like a traditional espresso machine. If this is your style preference, it's a welcome change over competitors like Jura who opt for more spaceship-esque machines.
You can expect brushed stainless steel, a few plastic parts but not many, portafilters, and milk wands. They very much look like an espresso maker. And make you feel like a barista too.
Some of the Breville models come in a choice of colors but sadly the Oracle only comes in one color. Though it's probably the color most people would choose anyway – the classic stainless steel – as it fits well in both modern and traditional kitchens.
The various buttons and dials may spoil the look for some people compared to the simplistic and beautiful Oracle Touch. But it's a much less affordable espresso machine just for a touch screen and a little extra tech so it's unfair to compare on looks alone. (If you want to compare the two head-to-head though, check out our full comparison here.)
Each of the 3 LCD displays is bright and easy to read. The dials have nice chrome finishes and the whole machine looks and feels like a premium coffee maker, which it is. This is a great machine for those who don't want plastic anywhere near their coffee.
The downside is the space you'll need.
The Oracle is 16.1 x 14.7 x 17.8 inches. As the bean hopper loads from the top, you need to be wary of cabinets above the machine as you'll need a good 6 inches more in clearance. It's going to take up a lot of counter space but it is worth it for coffee lovers.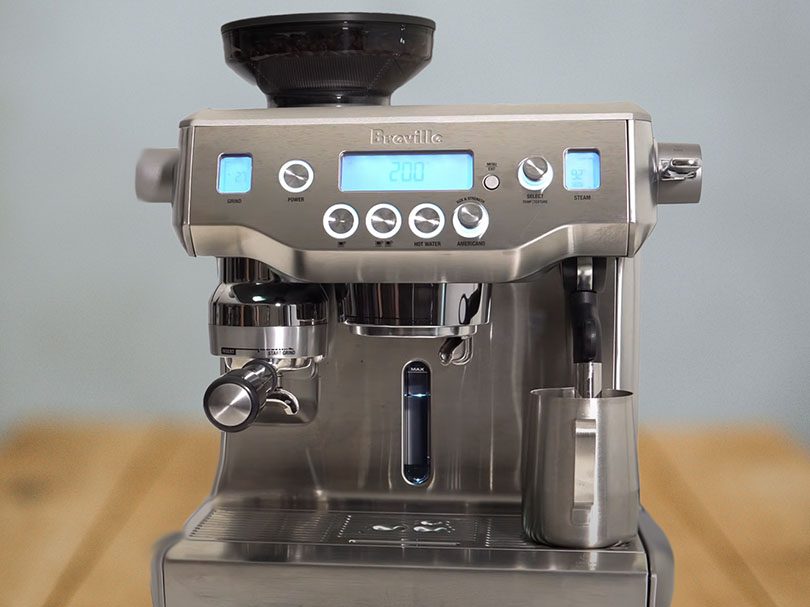 The Build
The use of quality espresso machine parts is why you go to a company like Breville in the first place.
While you will find the odd plastic accent on the Oracle, all the bits that matter are made of stainless steel. The dials and buttons also feel nice to use and aren't fiddly. As with each of the amazing Breville espresso machines, you can realistically expect your Oracle to last at least 5 years if not closer to 10. Which makes the roughly $2000 outlay a little easier to swallow.
Compared to the beautiful touch screens available on some high-end espresso machines the LCD displays may seem a little basic. But they're easy to read and display all the information you need clearly which is pretty much all you can ask.
Due to the portafilters, which are professional grade and sturdy, there are fewer internal components that can go wrong. This is obviously good news for cleaning and maintenance as well as longevity. Less complexity is usually a big plus for lifespan.
The larger dose, the high-quality grinder with automated tamper, and the dedicated boiler all add up to a consistently excellent espresso experience.
I will caveat that with the fact it's entirely possible to pull a bad espresso since you're in control of the settings. You have near total control over the final product with the ability to adjust the grind, dose, pre-infusion, extraction time/temperature/volume. But the good thing is, you'd need to try pretty hard to succeed at being bad.
If you're used to a manual espresso machine, you may feel handcuffed by having so many – but not infinite – settings to choose from. Realistically, I think you'd have to be exceptionally good at pulling espresso shots for that to be true. But, for you, that may well be the case. If so, we recommend checking out the Breville Dual Boiler instead.
For the majority of coffee lovers, this is the perfect espresso machine. Simply adjust as many or as few settings as you like and be rewarded with great-tasting coffee every time. It certainly gets our vote.
Psst… Want to see how the Breville Oracle stacks up against the super-automatic DeLonghi Eletta Explore? Check out our comparison of the two big brands below:
Ok, this Breville Oracle review may make us sound like a broken record but, armed with this feature-packed machine, you can brew your perfect coffee with ease. All the available adjustments are just as good or better than the competition.
In the very packed coffee machines market, the only espresso machine that offers more custom settings than the Oracle is the Oracle Touch.
One thing you may miss is the ability to save drinks to have at the touch of a button (or screen). This is where the Oracle Touch edges ahead. But the Oracle is more for those who are happy to use the machine "as is" once it's set up rather than changing settings for each coffee.
Inside the box, you can expect all the accessories to allow you to hit the ground running. Alongside the 58mm portafilter, you will find single wall filter baskets for both single and double espresso and a mini grounds bin. For the milk, you get a 16oz milk jug and spare parts for the steam wand. Plus, a basic starter cleaning kit.
The daily cleaning of the Oracle is very simple.
Once you're done making your coffee, all you need to do is clean out the portafilter and wipe down the milk wand. And you're done.
Every so often, the machine will prompt you to "Clean Me" – a simple process that cleans the shower screen and back flushes the group head. All you need to do is place the included grey silicone cleaning disk into the portafilter alongside a cleaning tablet. Ensure the water tank is full and the drip tray is empty then select 'Clean cycle' and 'Push' from the screen. The Oracle will set to work and clean itself for you… if only it could do the rest of the kitchen.
When it comes to cleaning, the only downside is that descaling takes time. A lot of time.
It can take up to 90 minutes to fully descale the Oracle. However, this does only need to be done every couple of months and Breville has a handy video to show you exactly what to do. But 90 minutes is a long time, so the machine has to be worth it.
You will also need to dismantle and clean the grinder every month. This takes far less time and is not problematic at all. Just remember to never clean your grinder with water. Soft brushes and air only.
It's for someone who will love getting the settings just right for each new set of beans they buy. Those of us who drink the same drinks all the time will love it. Or those who will use the same espresso settings and just adjust the milk.
On the other hand, this automatic espresso machine isn't for people who drink wildly different coffees. You don't want to be adjusting all your espresso settings between each shot. It's heavy, it's big, it's expensive, and it can take time to clean. So you've got to want to sit and perfect your espresso pulling to make these things worth it.
For all those drawbacks, we love it.
The Breville Oracle is an exceptional piece of engineering. It's the perfect hybrid espresso machine, tying together the desire to control and tinker with all the settings with a little extra hand-holding and automation.
If that sounds like you, we hope this Breville Oracle review has convinced you that this is the perfect machine for you.
Don't forget to Buy Your Breville Oracle Touch Today
You Might Also Like
Beautiful, simple, and delicious espresso for around $1000? We had to test if such a thing was possible – read our Jura ENA 4 review to see

Jura ENA 8 vs Gaggia Babila is a battle of philosophies. Is the convenience of the ENA 8 superior to the precision of the Babila?